15 Best Paraben Free Sunscreens In India - 2023 (With Reviews)
Maheroo Butt
Updated At 17 Feb 23
Parabens are part of a formulation, present in most of the cosmetic products, especially sunscreens. However, it has been found out that parabens can cause severe health problems leading to various diseases. Its hence recommended to go for a paraben free sunscreen.
Why Should You Avoid Products With Parabens?
Research has shown that parabens can impact normal functioning of hormones leading to increased risk of specific types of cancers.
Picking a paraben free sunscreen which one can use daily is one way to minimize the negative impact of this harmful chemical.
We list the best paraben free sunscreens in India which includes the popular ones like Aroma magic sunblock lotion with SPF 30 PA++, VLCC Matte sunscreen and many more alongwith their pros and cons. Pick the one which meets your requirements.
Skin protection from the UV rays needs to be a top priority of everyone!

15 Best Paraben Free Sunscreens In India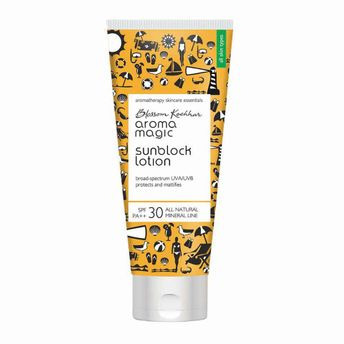 1. Aroma Magic Sunblock Lotion With SPF 30 PA++
Aroma magic sunscreen lotion comes with SPF 30 and is one of the best sunscreen for women.
The formulation is richly composed of green tea and zinc oxide extracts. Even on the burnt wounds, green tea extracts and chamomile works wonders.
Packaging is ideal for travelling purpose as well. This paraben free sunscreen does not feel sticky on the skin and can last for a long time by blending well.
It not only prevents you from sun, but provides vitamins, keeping your skin healthy and preventing aging.
Pros:
100% natural
Delays aging process
Good coverage
Blends perfectly
One of the best paraben free sunscreen
Cons:
Might not be suitable for oily skin type
Check the detailed review of this Aroma Magic Sunscreen Here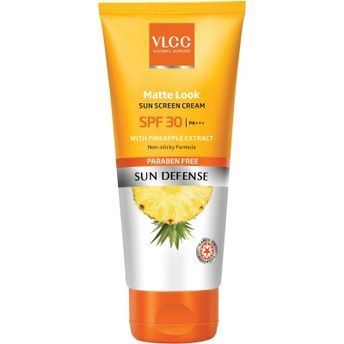 2. VLCC Matte Look Sunscreen Lotion SPF 30 PA++ with Pineapple Extracts
VLCC has always been a renowned brand for skin care products in the market since a long time.
VLCC Matte sunscreen contains natural pineapple extracts including 4 percent of zinc oxide, carrot seed oil, jojobal oil and even almond oil.
This paraben free sunscreen also provides a great matte finished look to your skin.
VLCC mate look sunscreen works really well not only as a sun protector, but also gives the oily skin right kind of moisturization and wide coverage along with it.
Pros:
Suitable for oily skin
Great coverage
Settles quickly
Contains natural ingredients
Pineapple and carrot extracts make skin soft
Cons:
Not highly suitable for dry skin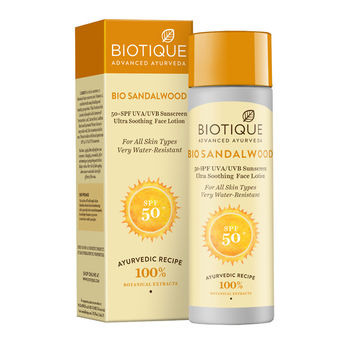 3. Biotique Bio Sandalwood Sunscreen
Biotique bio sunscreen stands as the best spf sunscreen for dry and sensitive skin types. The contents are rich in sandalwood saffron, bark of arjuna tree and wheat germ.
The application does not give a greasy effect at all and is an amazing source of hydration for summer and winters. The packaging is travel friendly and has a very pleasant fragrance.
Pros
Wide spectrum SPF 50 sunscreen
Moisturizes skin
Water resistant
Good fragrance
One of the best paraben free sunscreen
Cons
Not suitable for oily skin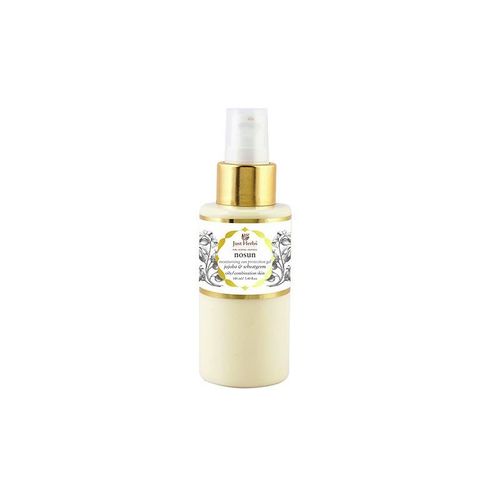 4. Just Herbs Nosun Sun Protection Gel
The next sunscreen which is organic and free of the parabens is Just Herbs Nosun gel. I have not use this brand a lot but this is one of the promising brands in skin care in India.
This is rich in jojoba oil and grapeseed oil that is appropriate for dry skin and even the sensitive skin.
The moisturizing organic sunscreen contains zinc oxide along with Shea butter and organic aloe vera.
Being lightweight and water based, this sunscreen acts as a moisturizer plus sunscreen lotion.
Just herbs nosun gel is completely organic and simply paraben free gel based sunscreen. The formulation is rich in jojoba oil and grapeseed oil, which are great for skin health.
The sunscreen contains moisturizing elements of zinc oxide, shea butter and aloe vera.
The product feels like a natural sunscreen as the ingredients are super light and water based.
Pros:
Rich in natural skin care elements
Moisturizing quality
Reduces hyperpigmentation
Long lasting and lightweight
Cons:
Feels sticky, if not evenly distributed.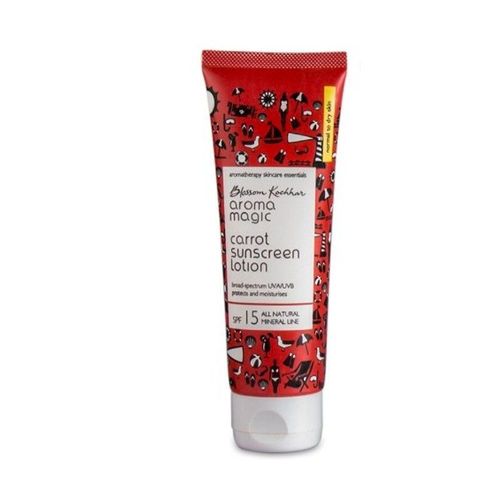 5. Aroma Magic Carrot Sun Screen Lotion - SPF 15 PA++

Aroma Magic carrot sun screen lotion SPF 15 is the best sunscreen for dry skin.
Carrots are a great way to hydrate and nourish your skin. The product contains physical ingredients like zinc oxides which scatter harmful rays from the sun.
It works really smooth on skin without leaving a whitish tint on your face.
If you are looking for a paraben free sunscreen that is organic and has no harsh chemicals then you can use Aroma Essentials carrot sunscreen lotion with SPF 15.
The lightweight sunscreen gets into your skin extremely well without giving you a whitish appearance on your face.
Pros:
Naturally provides sun protection
Broad spectrum UVA/UVB protection cream
Prevents aging and non greasy
Contains essential oils to hydrate skin
Does not give a cakey layer
Cons:
Not suitable for oily skin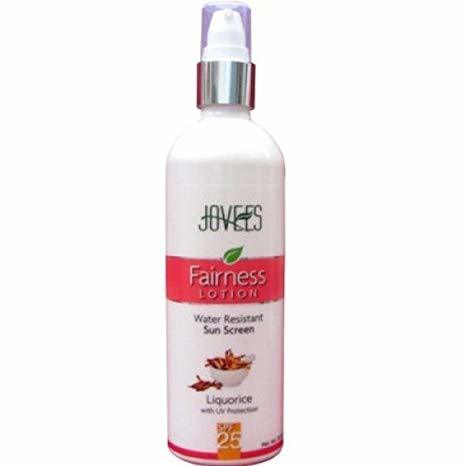 6. Jovees Water Resistant Sunscreen - SPF 25

If you are someone who prefers herbal and organic products over chemical based ones, Jovees sun cover sandalwood sunscreen SPF 25 is the best spf sunscreen for you.
The sunscreen contains sandalwood and jojoba extracts along with hazel and liquorice.
The non greasy texture of the cream penetrates and blends well on your skin smoothly without giving a grease texture.
The cream not only prevents the stubborn skin tan but also makes your skin appear non-oily in the scorching summer and will improve your skin complexion too.
Pros:
Herbal based
Non- greasy
Improves complexion
Prevents Tan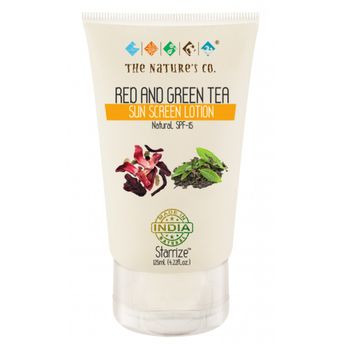 7. The Nature's Co Red and Green Tea Sunscreen
Nature's co red and green tea sunscreen is one of the best sunscreen for women.
The best part about this sunscreen is its richness in the antioxidants like red tea and green tea.
These contents have polyphenols which fight against radicals, the leading cause of premature aging. This product can also act as a great makeup base.
The cream works effectively both in summer heat and winter tan.
The greatest quality of red tea is its capability of protecting harsh UV rays whereas the green antioxidant extracts infuse to the skin keeping i protected and hydrated.
Pros
Provides full coverage
Contains powerful anti-oxidants
Pleasant fragrance
Cons
Might requires re-application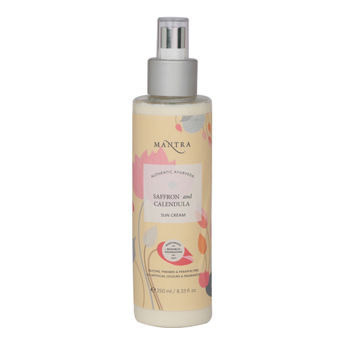 8. Mantra Authentic Ayurvedic Saffron And Calendula Sun Cream, Paraben Free – SPF 30 PA++
Mantra saffron and calendula sunscreen as the name suggest is a perfect blend of the two leading skin care ingredients saffron and calendula.
These two in combination not only provide sun protection but also reduce dark circles and fine lines.
This is undoubtedly one of the best sun protection cream for face. The texture is non greasy and suitable for both men and women.
Pros
Whitens skin tone
Suitable for all skin type
Non-greasy and non-sticky texture
Prevents tanning
Cons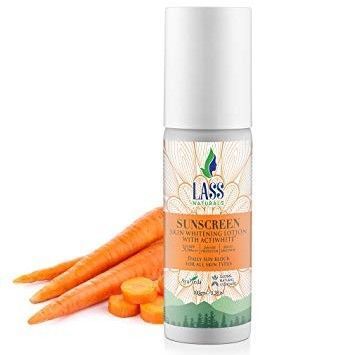 9. Lass Naturals Sunscreen Skin Whitening Lotion SPF 30
Lass naturals sunscreen lotion in composed of titanium dioxide and carrot seed oil extracts. Carrot is a natural sunscreen in itself, due to its effective skin lightening properties.
Along with preventing the skin from harmful UV rays, it also hydrates the dehydrated skin layer and provides full coverage without giving away the cakey patches.
The sunscreen is paraben free and has a strong fragrance to it. The next great thing about product is it is 100% vegetarian. It provides a matte finish look and hence is suitable for people with oily skin.
Pros:
Provides full coverage
100% vegetarian
Suitable for oily skin
Skin hydration
Cons:
Not suitable for dry skin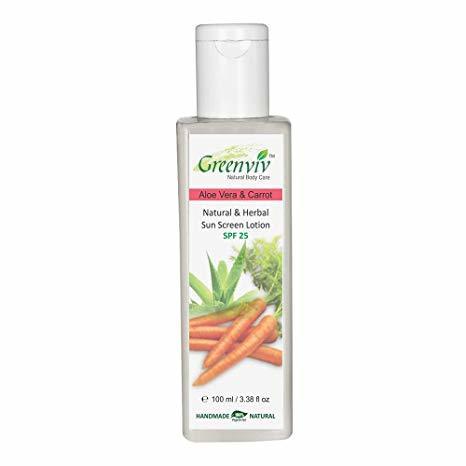 10. Greenviv Natural Sunscreen Lotion SPF 25
Greenviv sunscreen formulation includes zinc oxide and various other nourishing oils giving a super hydrating and smooth skin texture after a balanced application.
The cream penetrates deep into the skin and provides great protection from the harmful UV rays.
The sunscreen is SPF25 and is free from all toxic and harmful chemicals like paraben.
Pros:
Smooth skin texture
Free from harmful chemicals
Hydrates well
Cons: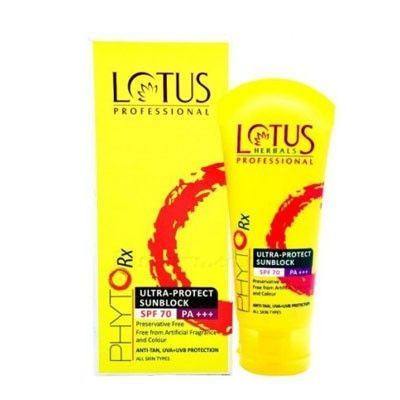 11. Lotus Professional Phyto-Rx Ultra-Protect Sunblock SPF-70
Majority of women in India prefer lotus skin care products over any other cosmetic brand. Even the lotus professional sunscreen is the most preferred sun protection cream.
The elements used in making the sunscreen include thyme and sage, providing an ultimate sunblock with SPF 70.
The high content of SPF can work really well on a beach day or pool day.
Pros:
Trusted brand
High SPF content
Includes natural ingredients
Perfect for outdoors
Cons: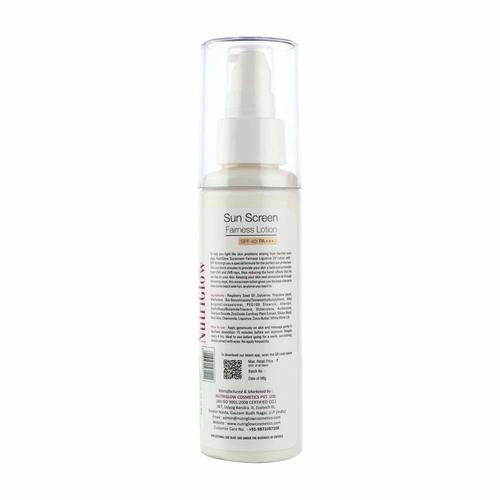 12. NutriGlow Sunscreen Fairness Liquorice UV Lotion
Nutriglow sunscreen is very high on antioxidants and provides many advantages of chamomile, carrot, aloe vera and lemon grass extracts that are naturally rich in nourishing properties.
Majorly, vitamin B3 present in the sunscreen highly protects the skin from harmful UVA and UVB rays. The spf 40 give a full coverage and protection for a long lasting effect.
It also minimizes blemishes, dark spots and pigmentation on the skin.
Pros:
Protects skin from harmful UVA UVB rays
Rich in anti-oxidants
Reduces dark spots and pigmentation
Easy to use
Cons:
Does not blend well with all kinds of skin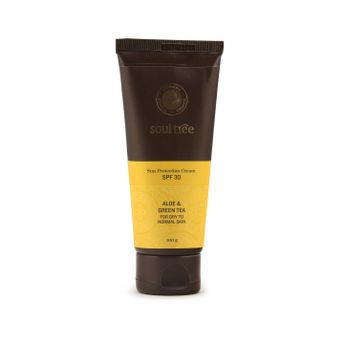 13. SoulTree Sun Protection Cream SPF 30
Soultree as the name suggests, uses only organic products like olive oil, green tea, sunflower oil, aloe vera, almond oil and other products rich in anti-oxidants, without usage of any harmful chemicals like alcohol, lead, silicones and paraben.
The product works wonders on dry and normal skin type.
Pros:
Chemical free formulation
Cruelty free
Suitable for normal and dry skin type
Prevents tanning
Cons:
Not recommended for oily skin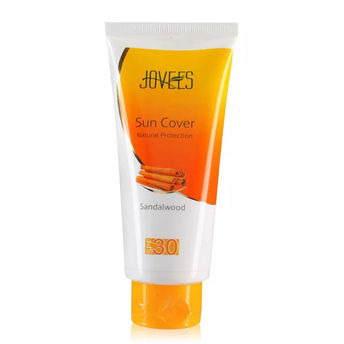 14. Jovees Sandalwood Natural Sun Cover - SPF 30
The texture of the cream is not at all sticky and greasy and also prevents tanning and UVA/UVB rays to cause damage to your skin.
The application gives you and calming and refreshing sensation, as the coating is overall lightweight with medium consistency and works great on dry and sensitive skin.
Pros
Contains natural skin care products
Non-greasy non-sticky
Makes skin smoother and glowy
Cons
May not work well for oily skin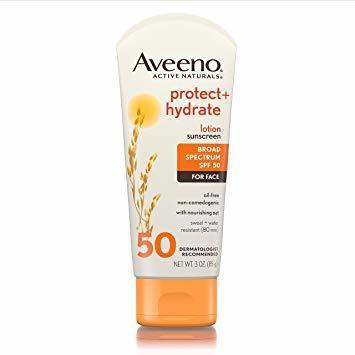 15. Aveeno Protect + Hydrate SPF50 Lotion
A perfect sun protector for women with all skin types, be it oily or sensitive; the broad spectrum of spf 50 provides a complete protection both during summer and winters.
The lotion give a soothing and relieved feeling on the skin and does not even leave an ashy whitish layer over the uppermost skin.
Aveeno has been popular and trusted brand in the market because of the usage of its natural ingredients. The sunscreen is made of a unique enviroguard technology and active natural colloidal oatmeal preventing tan.
Pros
Makes the skin glowy
Absorbs gently on the skin
Brightens the skin
Blends well with oily skin
Comedogenic free
Oil free sunscreen
Cons
Not highly recommended for dry skin
Related Articles: