Organic Affaire: A New Organic Brand You Must Know About
Sweta
Updated At 14 Sep 22
Organic products have grown in popularity in recent years as users have started understanding the harmful effects of chemicals used in our daily products. There are many new brands which are coming up with organic and natural products to meet the growing demand.
As a customer, one needs to be careful while purchasing "organic" or "natural" products as although many brands claim to produce them, the products are often adulterated with harmful chemicals which are detrimental to the skin and health!
While brands like Forest Essentials and Kama Ayurveda have been known to offer ayurvedic natural products, there are very few brands which offer handmade organic products.
We recently tried 2 products from Organic Affaire, a luxury organic brand, as we heard a lot about this new brand from bloggers and the beauty community.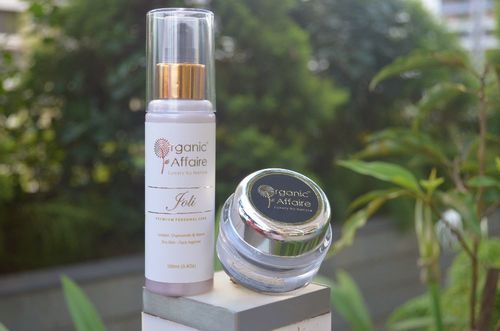 About the brand

Organic Affaire is a new premium personal care brand, which makes handmade organic products.
All of their products are free of toxins, parabens, alcohol, mineral oils, SLS and other harsh chemicals. They use certified organic ingredients and avoid testing their products on animals.
Built with the main motto of preserving the beauty of mother nature and giving it back to the society, the philosophy of the brand has been to make luxury organic products without compromising on the quality.
Our Experience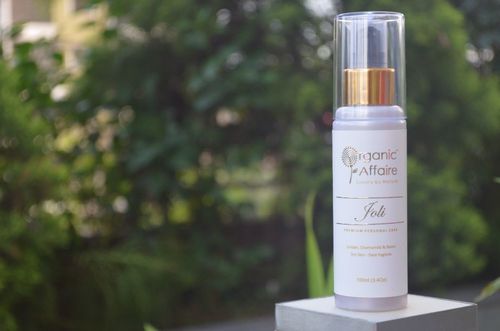 1. Joli (Face Wash)

This organic handmade face wash is mild and works well for dry to normal skin beauties. This face wash is paraben, sls free and contains no chemicals.
It is not a cream and is more of a fluid. One needs to be careful while using it, as it might flow out of your hands easily.
For using the face wash, we just need to apply it on our face. Rubbing it gently produces the perfect amount of lather which can then be washed away with water.
The skin looks clean and fresh after using this face wash. The moisture content in the skin definitely gets replenished as it also becomes soft. This is easily one of the best face moisturizers for dry skin we have used till now.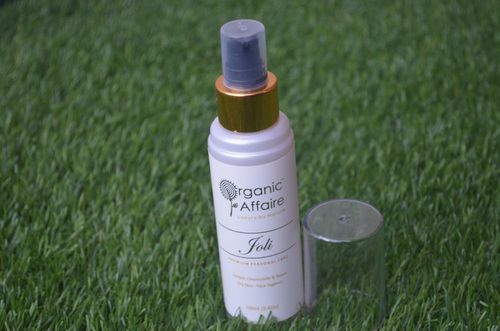 Coming to packaging, this face cream has a double cap which makes it very convenient to use. One can easily carry it while traveling because of this double protection.
The white and golden combination of the product gives it a rich feeling!
Liquid texture – good or bad ?
While this face wash has a liquid texture which makes it slightly more inconvenient to use, but one needs to understand the reason behind the creamy or gel texture.
The cosmetic industry has been using emulsifiers to blend the water and oil components of a product thereby giving it a creamy or gel texture. Emulsifiers are full of chemicals and hence are harmful for our skin.
So the liquid texture isn't necessarily bad as the brand is consciously deciding to make the product chemical free. However, the trade off here is the incovenience the user might face while using the product.
Pros
Cleans and hydrates skin
Has no harsh chemicals like parabens, sulfates, mineral oils
Acts as a mild cleanser
Doesn't have a strong fragrance
Contains chamomile and juniper oils to nourish the skin
Is travel friendly
A perfect face wash for dry skin beauties
Cons
Slightly on the expensive side
One needs to be slightly careful while using it due to its liquid texture
Price: INR 579 for 100ml

If you are looking for a face wash for a long term, then you can definitely give Joli Face wash a try. It's organic nature and the purity of chamomile and juniper essential oils will work wonders for the skin.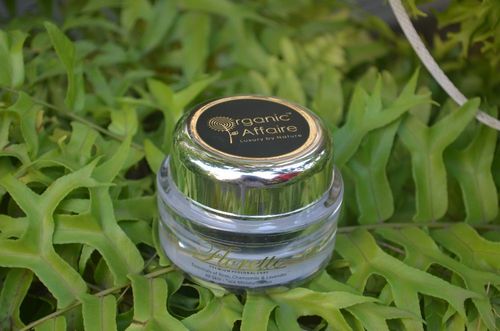 2. Florette (Night Cream)

If you would want to experience instant hydration, then this is your go to cream. Florette blends amazingly well with the skin and gives it all the required moisture. The rose and chamomile essential oils are the real ingredients which moisturize the skin from within.
For using the cream, apply it in required proportion on the face and gently massage in circular motion.
Regular usage of this cream at night definitely makes the skin soft and clean. This night cream also works for all skin types which is another big positive.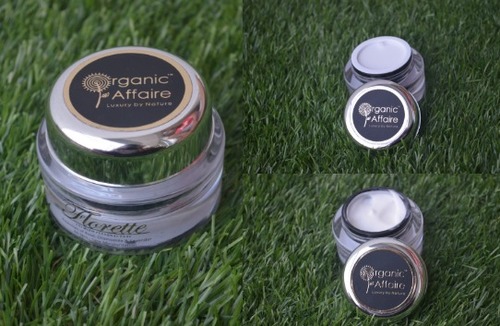 Coming to packaging, this night cream comes in a glass tub and has a lid top on the cap which ensures that the cream always stays inside even when you are traveling.
Pure organic products are expensive
Any organic product which uses pure ingredients like essential oils are bound to be expensive.
For e.g. pure lavender oil costs INR 12000 to INR 14000 per litre whereas pure rose oil costs INR 1 Lakh per litre.
Its quite understandable that any brand which decides to use "Pure" ingredients won't be able to offer products in the budget range.
Most brands claming to use pure rose oil and pricing their products around INR 100 to INR 200 are not using "Pure rose oil", but are rather using synthetic perfumes giving just the fragrance. Always make sure you pick the best organic skin care products in India even if its a bit on the expensive side.
Pros
Works for all skin types
Contains rose, chamomile and lavender essential oils which nourish and moisturize the skin
Has no harsh chemicals like parabens, sulfates, mineral oils
Is mild on skin and blends nicely
Makes the skin soft
Doesn't have a strong fragrance
Is travel friendly
One of the best moisturizing creams
Cons
Price: INR 799 for 30gm
Florette is an all-skin moisturizing cream which can be your perfect companion if you decide to invest in quality skincare products. It is one of the best night creams for glowing skin we have used till now.
Our Overall Experience
Organic Affaire products did live upto our expectations. Their quality simply justified the price tag!
We would certainly recommend everyone to try both the products as they are unique, non toxic and full of organic ingredients which are essential for our skin.