What Is Curly Girl Method And How To Follow It?
Shalu Bhati
Updated At 26 Sep 22
Has your curly hair become the bane of your existence? Does humidity fill you with fear and leave you stressed? Then, leave everything and read this article right now. Because you need to—for the health of your hair and most importantly for the peace of your mind—keep reading.
Having curls is a struggle of its own. Anything can upset them: the wrong product, the weather, an hour in the swimming pool or even a good gym session. And when your curls are upset, you get upset too. But you can put a stop to all this and enjoy bouncy, smooth, shiny and healthy curls. How? By simply following the curly girl method.
Yes, there is a method of hair care formulated specifically for all you curly-haired ladies. And we will tell you all about it in this article. You will also know curly girl method products alongwith the most popular FAQs. The curly girl method is definitely different from keratin and cysteine hair treatment.
We have specifically covered:
What is the curly girl method?
Why should you opt for this method?
Curly girl method hair types
Curly girl method step by step routine
Curly girl method approved products
Do's and Don'ts
Frequently Asked Questions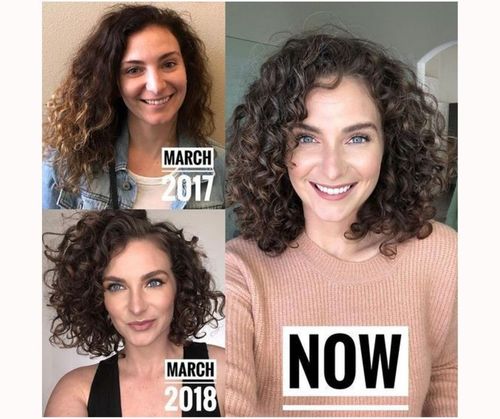 What Is The Curly Girl Method
The world has always lusted after poker-straight hair and looked down upon curly hair. A visit to the salon for a regular haircut was more difficult for curly-haired girls and women. When self-doubt wasn't enough, then it was people's pity that did the job. Curls were dreaded. Young girls with a head full of curls were expected to be grateful when your stylist straightened their hair after cutting them. And they were very grateful which is why they avoided getting their hair wet for the next few days.
Girls with such an experience growing up to be harsh towards their curls. They indulge in excessive straightening by using heat styling products and hair treatments with harsh chemicals. This obsession with straight hair leads to the loss of natural curl pattern and gives way to dry dull, damaged and frizzy hair. And then you hate your curls even more. But no more.
In 2001, a hairstylist named Lorraine Massey launched her book called Curly Girl: More Than Just Hair…It's An Attitude which brought a worldwide change in how women treated their curls. What is this method exactly about, let's find out.
The curly girl method as introduced by Lorraine Massey is all about showing your curls some care and respect that they deserve. This method is an attempt to uplift curly hair to their natural glory by following a certain set of rules and recommendations as well as by using certain products along with particular techniques.
The curly girl method brings about immediate and effective changes in the health and appearance of the curls by restoring their glory. It helps in bringing down the cost of hair maintenance. The focus here is on the use of chemical-free and natural products.
The method devised by Massey has come a long way from what it originally was in 2001. She came out with another book titled Curly Girl: The Handbook in 2010. Women too have embraced this method with open arms and adapted it to their own hair care needs, which is why the curly girl method can be easily followed. However, with all the knowledge and instructions flowing on the web, it can appear quite overwhelming. This is where we will help you.
Let's find out how you should start using the curly girl method as a beginner. But first, let's see why you should choose this method.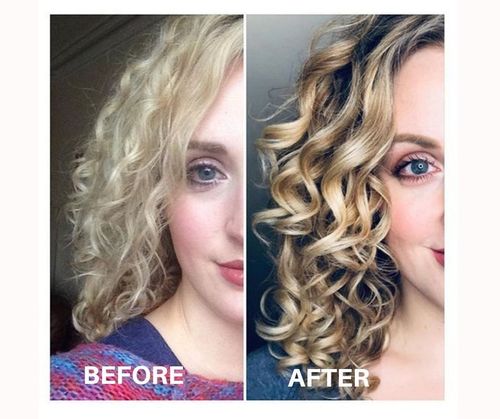 Why Choose This Method—What Does The Curly Girl Method Handbook Say?
The first question that might come in your mind is why should you opt for the curly girl method? Lorraine Massey took care of this question in her book. She gave the following very compelling reasons to get on board:
Healthy curls give you a younger appearance
You would feel free
This is a green and environment-friendly route
Life becomes simpler. Travel becomes easy as you won't have to carry so many products and appliances
You start to become more active as there won't be any fear of swimming pools or gyms
The rain or humidity won't worry you
You will save a lot of time and money
Most importantly, you will learn to accept and love your curls. You would learn to accept and love yourself as curls are a part of who you are
Who Needs The Curly Girl Method?
There are mainly four types of hair: straight, wavy, curly and coily. Each type is further divided into three categories based on their texture. The following are the curly girl method hair types:
1. Wavy Hair
2A: Fine hair with stretched S-waves
2B: Medium hair with distinct S-waves
2C: Coarse hair with distinct S-waves and spirals
2. Curly Hair
3A: Big loose spirals
3B: Bouncy ringlets
3C: Tight corkscrew curls
3. Coily Hair
4A: Tightly coiled S-curls
4B: Sharp Z-curls
4C: Less defined Z-curls
Therefore, any of the above mentioned curly girl hair types can follow this method.
The Curly Girl Method Routine
As we said earlier, a mere look at the google results on the curly girl method, plethora of advice and lists of recommendations can leave you overwhelmed and confused. But don't worry as we are here to tell you exactly how you should begin your journey towards healthy curly hair.
Preparation
Gather all your hair products from your shampoos to leave-in conditioners to hair mousse. Everything that goes on your hair needs to be checked. If the label shows an ingredient that is not curly girl method approved, drop it. The ingredients which you should strictly avoid are as follows:
Silicones: These are non-natural agents which provide an artificial sheen to the hair. Even though the sheen looks good, it is temporary and comes with its share of side effects. Silicones weigh the hair down making them look limp and lifeless. Avoid products with silicones or any ingredient which ends with "–cone", "-conol", or "-zane".
Sulfates: Sulfates are one of the most common ingredients found in shampoos. They are artificial cleansing agents which cause many scalp issues and leave your curls dry.
Alcohols: There are both good as well as bad alcohols. The bad ones include denatured alcohol, ethanol, isopropanol, propyl alcohol and must be avoided. However, lauryl alcohol and cetyl alcohol are considered good.
Artificial oils and waxes: These are another type of ingredients that you must avoid. They cause build-up on scalp which stops any nourishment to reach the roots. Look out for mineral oil, paraffin, and beeswax and avoid them for the sake of your curls.
After you are done sorting out the products, it is time to go for a final rinse. This means give your curls a thorough rinse using a gentle SLS-free shampoo to remove dirt, grime and build-up from your hair. After the final rinse, you are ready to begin the curly girl method routine as mentioned below.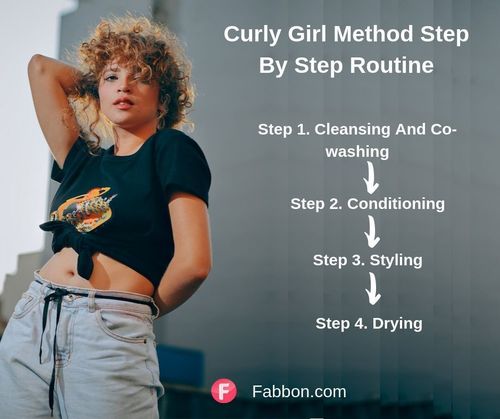 The Curly Girl Method Step By Step Routine
This is a pretty basic curly girl method routine which can be easily followed by everybody without any confusion. The following steps are involved in a beginner-friendly curly girl method routine:
Step 1. Cleansing And Co-washing
This step would require you to be familiar with three new terms: co-washing, low poo, and no poo.
The curly girl method requires you to give up on shampoo and adopt co-washing instead. Co-washing means washing hair with a conditioner. The buildup on the scalp is removed with swift finger movements which are aided by the conditioner's oil-dissolving action. But keep in mind, you don't use your regular conditioner for this step. You need a cleansing conditioner.
Low poo cleansers lather but only slightly and are suitable for hair with low porosity. No poo cleansers don't lather at all and contain only natural ingredients. These are suitable for very dry hair.
The usual method is to give up on shampoo entirely in favor of co-washing but if your hair is acting up due to the lack of shampoo, you can use either the low poo cleansers or the no-poo cleansers as an alternative to your old shampoo.
Step 2. Conditioning
After cleansing your hair, the next step is to condition. The conditioner you used in the first step as part of co-washing doesn't count. You will need a separate conditioner. The curly girl method approved products for this step must contain natural ingredients and moisturizing oils. Let the conditioner stay on your curls for 5 to 8 minutes. Depending upon your hair type, you can either leave some of the product or rinse it off completely.
Step 3. Styling
Styling is as important a step as cleansing and conditioning because this step helps your curls take shape. Scrunch the excess water from your hair and then using the same scrunching technique to apply a styling gel or cream uniformly over your hair.
Step 4. Drying
This is the final step of the curly girl method routine. Grab an old t-shirt or use a microfiber towel for this step. Wrap the towel around your hair and keep it for 10 minutes. Remove the towel and let your curls air dry. You can also use a hairdryer with a diffuser. Once your hair is completely dry, you will send your curls slightly stiff with gel. Scrunch your hair again to break the stiffness and reveal the natural shape of your curls.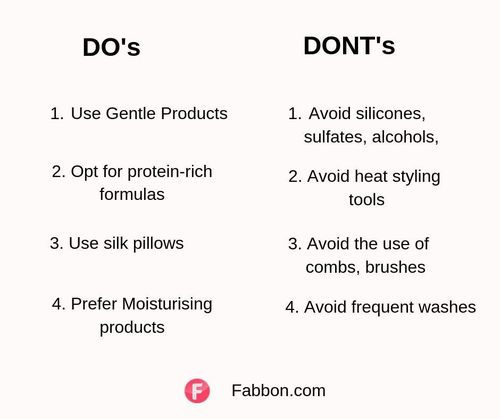 Some Do's And Don'ts
There are indeed some more tips that you must keep in mind. The following are some do's and don'ts that you should include in your curly girl hair routine.
Do's
Use products which are gentle
Opt for protein-rich formulas
Go green and look for natural ingredients
Moisturizing products are your real friend
Use silk pillows to avoid frizz while sleeping
Don'ts
Avoid silicones, sulfates, alcohols, and artificial fragrance
Stop the use of heat styling tools and products
Avoid the use of combs and brushes
Avoid frequent washes
Popular Curly Girl Method Approved Products
Following is a list of some of the best curly girl products:
1. Curly girl method approved shampoo: Yes To Carrots Nourishing Shampoo for Normal to Dry Hair
2. Curly girl approved dry shampoo: Kenra Platinum Dry Shampoo
3. Curly girl approved dandruff shampoo: Head & Shoulders Anti Dandruff Shampoo Infused With Eucalyptus
4. Curly girl method approved conditioners
As I Am Coconut Cowash Cleansing Conditioner
Shea Moisture Superfruit Complex Renewal System Conditioner
Curls Professional Coconut Sublime Moisturizing Conditioner
5. Curly girl approved leave-in conditioner: Kinky Curly Knot Today Natural Leave-In
6. More curly girl method approved products
DevaCure No POO Decadence Zero Lather Ultra Moisturizing Milk Cleanser
Jessi Curl Gentle Lather Shampoo
Jessi Curl Deep Conditioning Treatment
Camilla Rose Naturals Aloe Whipped Butter Gel
Shea Moisture Jamaican Black Castor Oil
Eden Body Naturals Curl Defining Crème
Shea Moisture Raw Shea Butter Deep Treatment Masque
If you are looking for trending hairstyles do check out the latest crew cut for women.
Frequently Asked Questions
Q. How often do you wash hair with the curly girl method?
Wash your hair every two to three days. If you feel some grease building up, you can indulge in co-washing in between shampooing.
Q. What is the best curly girl method routine?
There is no fixed curly girl routine. You can follow the basic guidelines and form a routine that suits your needs.
Q. Is it possible to use the curly girl method for straight hair?
Yes, the curly girl method can be used for damaged straight hair to regain their health and shine.
Q. What are some of the best curly girl method wavy hair products?
Some of the best curly girl method wavy hair products include:
Suave Essentials Tropical Coconut
Briogeo Be Gentle Be Kind Green Tea Shampoo
Shea Moisture Manuka Honey & Mafura Oil Intensive Hydration Conditioner
L.A. Sport Look Gel
Q. Which is the curly girl approved hairspray?
Nexus Frizz Defy Frizz Protection Hair Spray is a good curly girl approved product.
Q. Which is the curly girl approved mousse?
You can use shea moisture coconut and Hibiscus Frizz-Free Curl Mousse.
Q. How to find the best curly girl method approved products?
There is no straitjacket formula to find the best products for your curls. When you begin practicing the curly girl method, you would have to find what product suits your curls best by the good old trial and error method.
Related Articles