25 Best Face Framing Balayage Hairstyles On Dark Hair - 2023
Ankita Ghoshal
Updated At 26 Aug 23
If you are among the hair color enthusiasts, you are aware that balayage is at the top of all hair colour trends. While blonde and brown balayages have been making headlines, we are also fairly impressed by balayage colours for your dark hair! Balayage techniques are popular as they colour your hair in a very natural flow and if done in a certain way, they frame your face beautifully. Long layered haircuts with face framing balayage look even more stylish. Let's scroll down and check out all the creative face-framing balayage ideas that you can try on your dark hair. You are surely going to draw inspiration from this and try them on your own.
25 Best face Framing Balayage On Dark Hair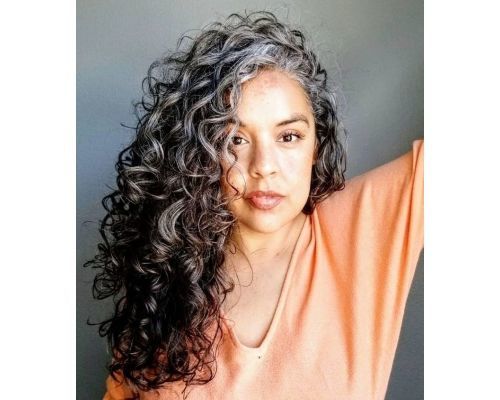 1. Sterling Gray Balayage
In this hairstyle, the transition of colours incorporating shades of charcoal and black look wonderful as they fade out to an incredible sterling. This is a very cool hairstyle and the highlighted pieces framing your face are just the cherries on the top!
Read More: Partial Balayage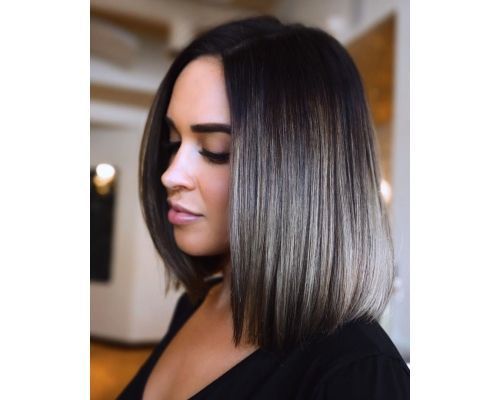 2. Black Ash Balayage
This classy gray ash balayage with subtle charcoal highlights give a very bold look to your face. Cool undertones and subtle style give more life to the middle and lower sections of your hair. This is great for women who believe in "less is more".
Read More: Airtouch Balayage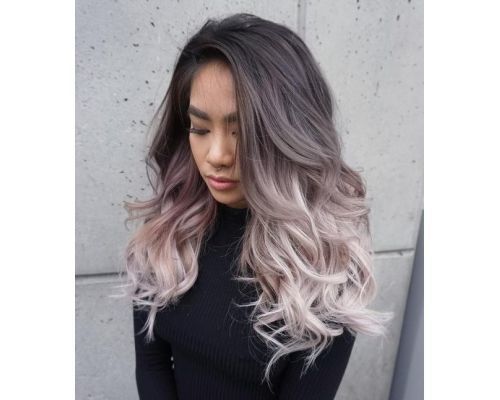 3. Ash Blonde Balayage
The smooth sweeping down of ash blonde balayage make the hairstyle a true masterpiece. The soft blonde tones add more element to the gray highlights, making the overall look very stunning.
Read More: Ash Brown Balayage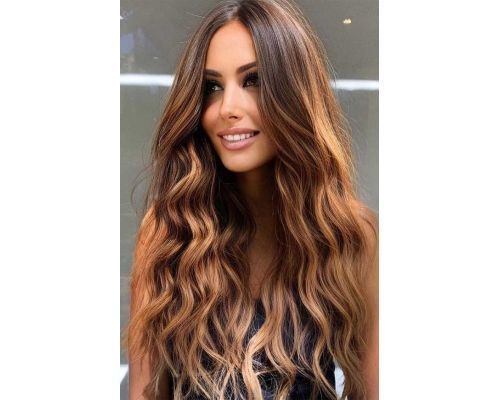 4. Dirty Blonde Balayage
Dirty blonde turns out to be very chic, if you do it the right way. This underrated colour in hairstyle along with strategically placed highlights form a very amazing face framing balayage on dark hair. The dark undertones add a lot of dimension to your features.
Read More: Face Framing Balayage On Brown Hair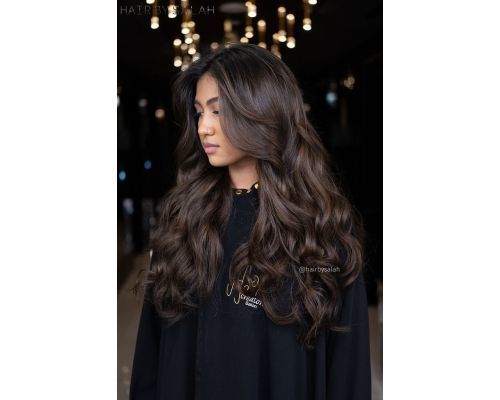 5. Hazelnut Mocha Balayage
This gorgeous hairstyle will remind you of freshly brewed coffee The hazelnut highlights blending with chocolate lowlights is a perfect hairstyle for ladies with jet black hair.
Read More: Brown Balayage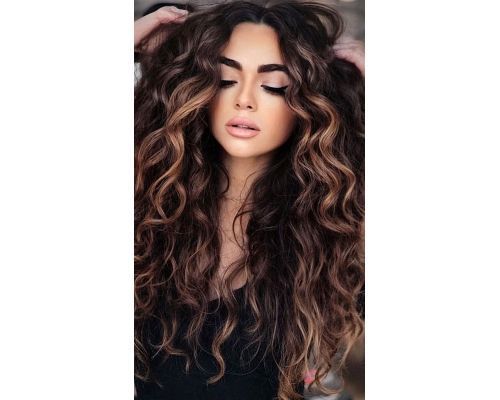 6. Dark Roast Balayage
The caffeinated hues in this hairstyle will steal the hearts of all the coffee addicts. The natural dark colour blending out to a soft brown roast is great for people with fine and medium-lengthed hair.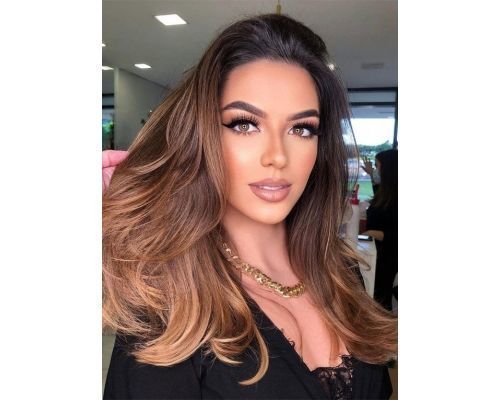 7. Chocolate Balayage
The smooth melting chocolate shade goes very well with black hair. The cocoa streaks placed meticulously an sparingly right from your mid-lengths towards the ends create a stellar fantasy. These warm tones are a great option for dark coloured hair and will accentuate your jawline too.
Read More: Face Framing Balayage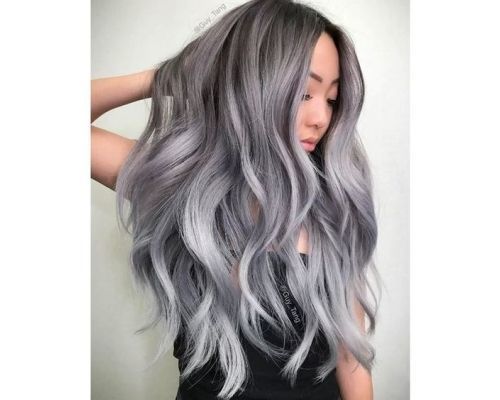 8. Storm Gray Balayage
If you are afraid of ageing, give your hairstyle a youthful take with a storm gray balayage. It will highlight your dark black hair and the gray streaks will give a beautiful frame to your face. Brown tones work as lovely transitional shade and the blend of colours will add volume to your hair.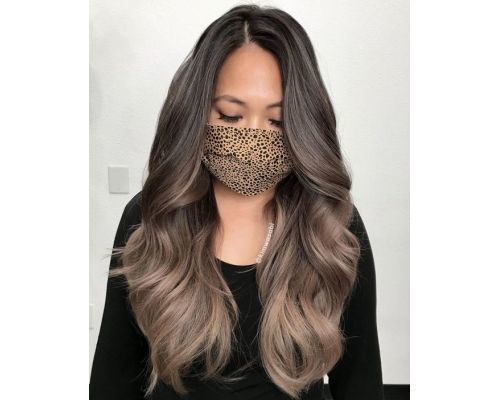 9. Cool Brown Balayage
If you are looking for a cool-toned face framing balayage on dark hair, go for a root-melt effect with cool-toned brown shades. The framing hair strands lightened and toned perfectly is all that you need for sprucing up your wavy black bob cut.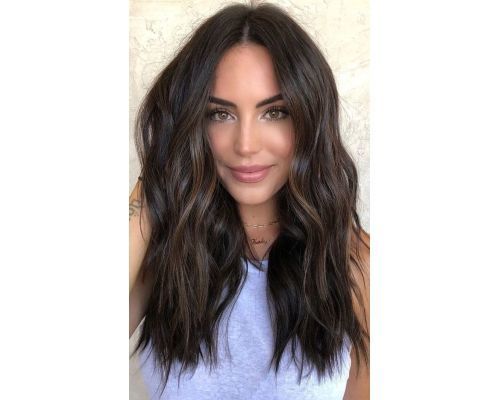 10. Soft Brown Balayage
If you are blessed with straight dark hair, you must make the most use of it by adding a subtle dimension. Soft brown highlights will give you a very natural sun-kissed effect without causing you much hassle. This is perfect for women looking for simple face framing balayage options.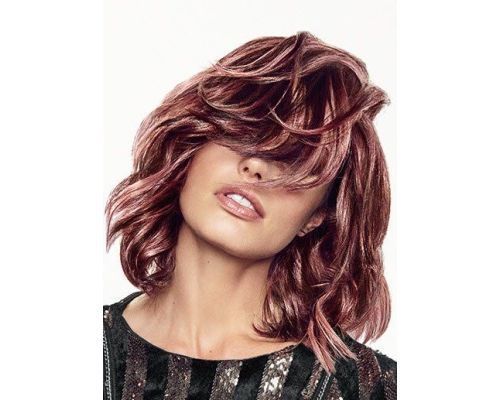 11. Rose Gold Melt
Rose gold balayage will never fail to disappoint you with its perfect balance of brassiness. The peach and pink undertones will be adding a lot of colour to your hairstyle. The shift from natural dark colour to the flawless highlights is just too awesome to skip out on.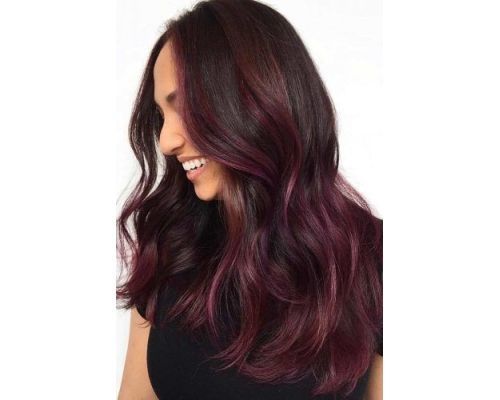 12. Mahogany Highlights
The natural warm-tone balayage will frame your face generously right from very near to your roots. The natural dark hair blending into a stunning mahogany brown will give you a great low-light effect, adding dimension to your hair.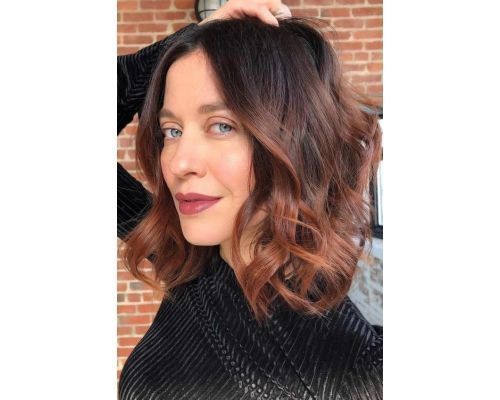 13. Auburn Balayage
The auburn balayage will concentrate highlights right near your face-framing strands as well as the lower part of your hair. This effect will steal your heart and is perfect for thin and wavy hair. You need to give it a shot especially if you have a long bob haircut.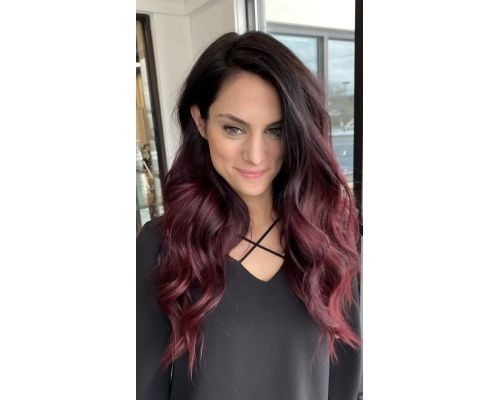 14. Burgundy Red Balayage
Burgundy red balayage is the display of superior artistry that will blow your mind. The framing hair strands are very concentrated and give a great dimension to your overall haircut. Your natural black hair colour will effortlessly blend into a bold wine red shade.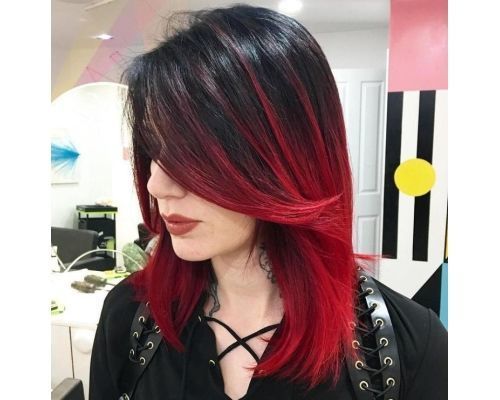 15. Crimson Red Balayage
The deep red highlights woven into your black hair will give you a superb bold warm hair palette. Your highlights placed near your roots will create a stunning masterpiece in no time. This will also accentuate your layered locks beautifully.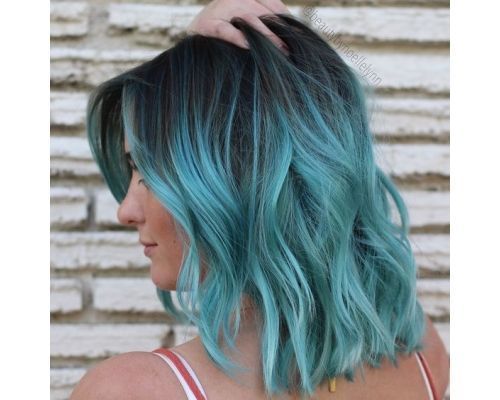 16. Turquoise Balayage
If you are looking for unnatural hair colour ideas, give turquoise blue a shot and you won't regret it. It will give you all the beachy vibes even if you don't have soft wavy hair. The blend of shades here will make your hairstyle look incredibly fresh and unique.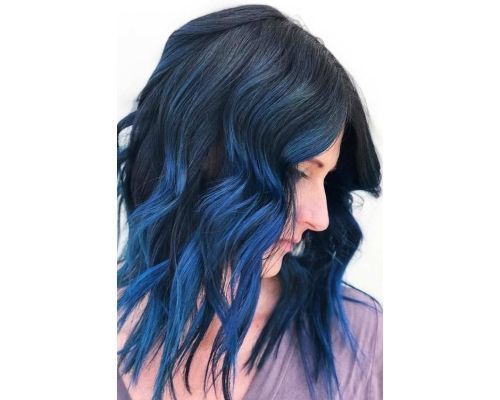 17. Midnight Shadows
Blue balayage incorporating midnight shadows brings together dark blue and subtle teal highlights which add dimension. This is amazing for people with thin, straight hair for making your tresses look more voluminous.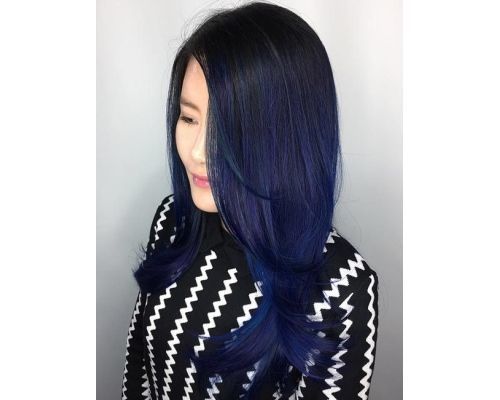 18. Poseidon's Whispers Balayage
Another blue root-melt balayage idea is the Poseidon's Whispers. The navy blue blending into teal undertones is the perfect bold hairstyle for ladies with dark hair. Be it the transitions or the beautiful undertones, everything about this hairstyle is just superb!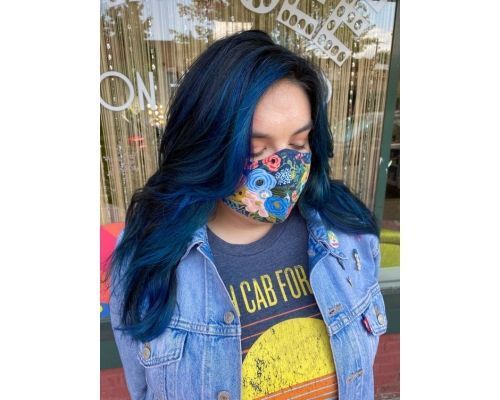 19. Hints of Blue
This hairstyle is bold yet subtle and that is why women love it. The blue streaks around the tips and mid-lengths create the stellar hairstyle without being too loud or gaudy.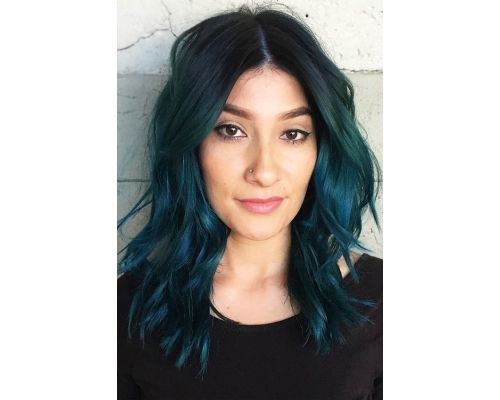 20. Teal Balayage
The straight dark hair gorgeously blending to a mesmerizing teal is what dreams are made of. If you have super long hair, the teal balayage will look even better and more magical on you. It is a wonderful face framing balayage on dark hair.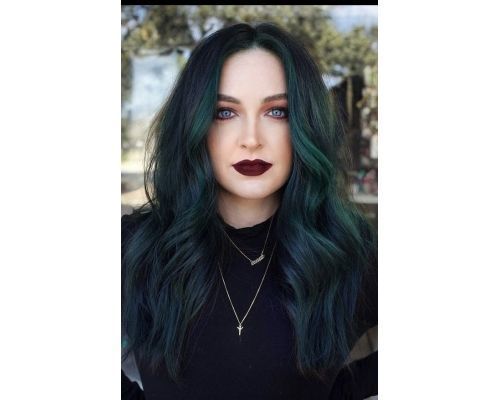 21. Emerald Hued Balayage
An emerald balayage bob is all that you need to make a statement and flaunting your tresses. This underrated hair colour will give you a very whimsical and sometimes, even gothic look. You are going to garner a lot of attention for sure.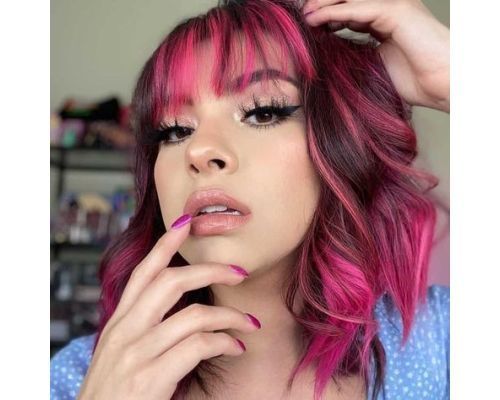 22. Pink Balayage
Pink balayage meticulously streaking through black hair will create a gorgeous ombre balayage. The sterling and rose gold undertones will give more dimension to your hair while looking absolutely amazing. The best part is this balayage will suit all hair textures and types.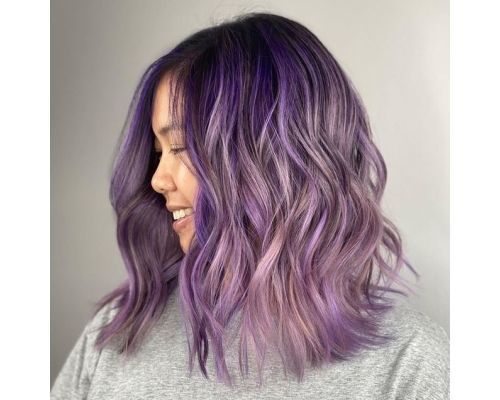 23. Lavendar Balayage
Lavendar balayage incorporates brassy undertones for adding subtle warmth to your hairstyle. The lavender gold finish with colour transitions from black to brassy lavender and light sterling lavender is beautiful.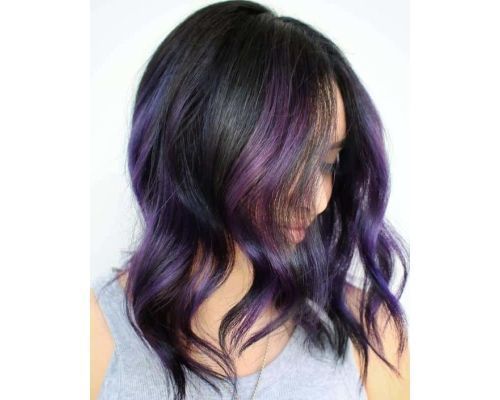 24. Eggplant Purple Balayage
If you have black hair, an eggplant purple balayage will give a very smooth finish, more texture and volume to your hair. The deep purple at your hair tips will steal your heart for sure.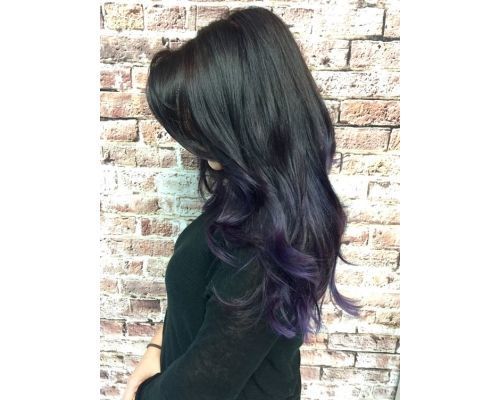 25. Subtle Purple Balayage
Purple shades blend naturally with darker colours like black. A soft purple balayage with customized highlights subtly blending into your hair is a great idea. The purple strands will frame your hair and is perfect for women with thick, dark hair.
These 25 stunning ideas for face framing balayage on dark hair are trendy, fairly low maintenance, and very easy to achieve. If you want to try out a new hairstyle and have dark hair, give these balayage ideas a shot and you will love the results for sure!