51 Stunning Neck Length Haircuts And Hairstyles - 2023
Sreedarshini Mitra
Updated At 21 May 23
Why not try one of these trendy neck-length hairstyles if you want to improve the way you look? There are a tonne of gorgeous looks to select from, so be as daring or conventional as you like! Want to get a polished, fashionable glow-up? With one of the many neck-length hairstyles available today, you can't go wrong. Whether it's a new hairstyle for a job interview or a makeover for a night out, the neck length is likely to get the proper reactions.
51 Stunning Neck Length Hairstyles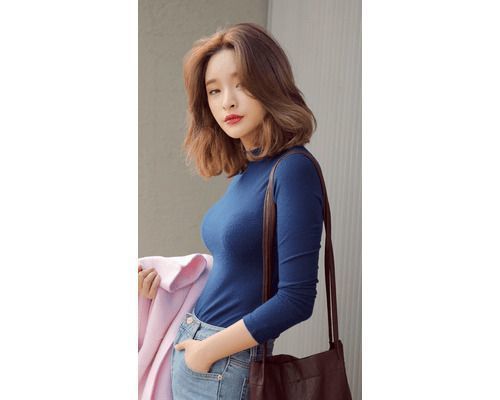 1. Korean Neck Length Hair With Bangs
This short hairstyle should work if you're seeking Korean hairstyles for women that draw attention to your jawline. Long bangs accentuate your features and give your hair more volume. To keep them in good shape, have them trimmed frequently.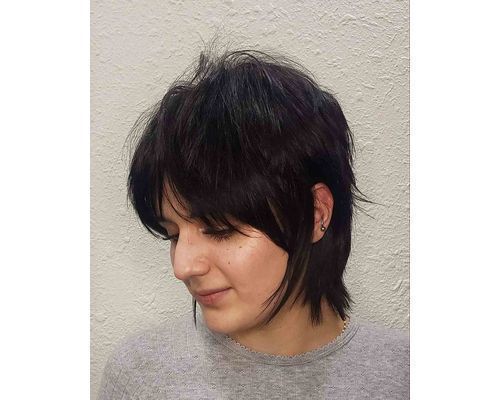 2. Neck Length Shag
The easy shag cut is ideal for many face shapes, and often the simplest variations on the concept of neck-length hair work best. For a more edgy appearance, get some razored strands around the face.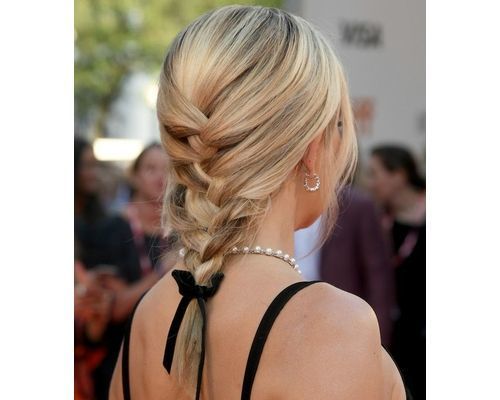 3. Neck Length Braided Hair
The neck length haircut is practical, stylish, and a genuine head-turner with lace crown braids dipping into the flowy neck-length waves. The best updos, suitable for a variety of situations. If you are looking for a new hairstyle, box braid can be the gamechanger!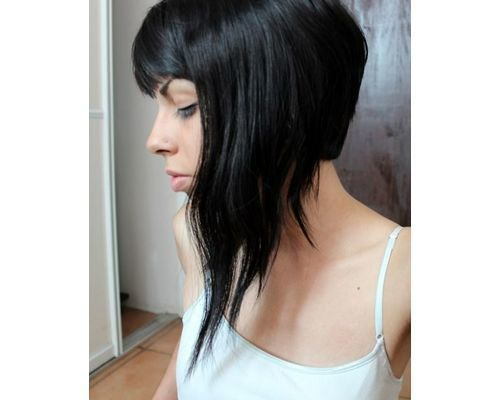 4. Long Front Short Back Haircut
A lengthier version of the pixie cut is more comfortable for people who shy away from very short hair but still want a shorter cut that allows for plenty of personality and is ideal for faces with delicate features. if you are looking for a new hairstyle, short inverted bob can also look amazing.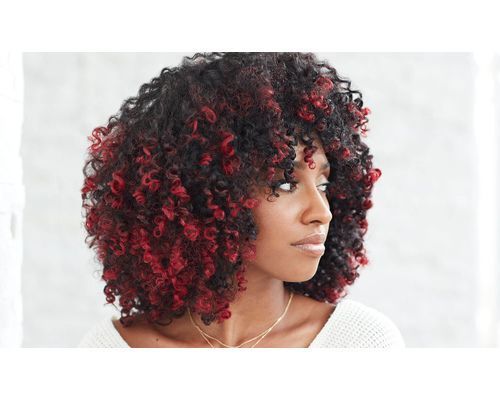 5. Neck Length Deva Cut
This short curly hairstyle features a lot of volume, all of which is advantageous. Everyone who sports this hairstyle will feel polished and prepared for a lovely day.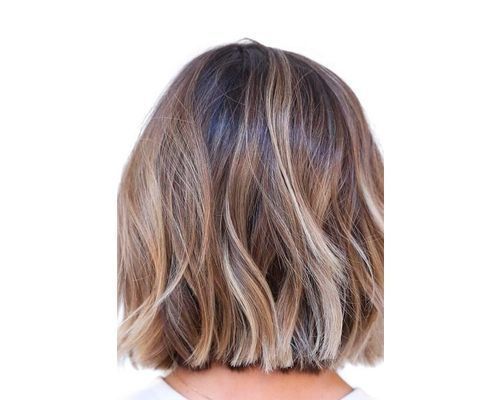 6. Blunt Haircut With Balayage
The cut shown here has sharp, modern lines that are reminiscent of the 1960s, but the texture immediately transports us to the present. a bold haircut that looks good from all angles.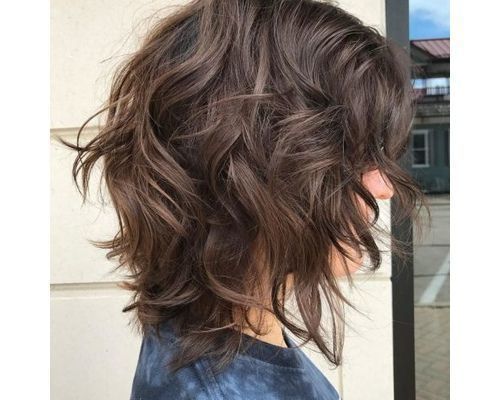 7. Uneven Tousled Cut
This striking lob, which you can pull off with thin hair, envelops the face and accentuates the texture-enhancing highlights. The cut isn't too extreme, but the finished look will garner compliments.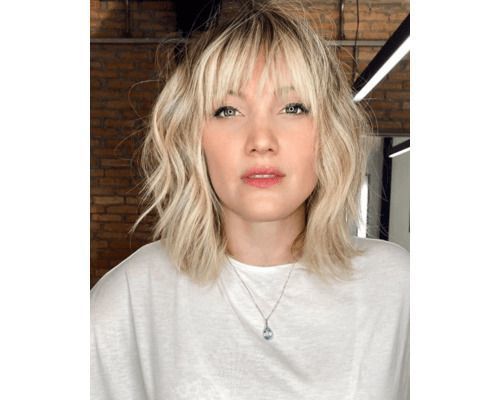 8. Wispy Neck Length Hair With Bangs
This bob from the 1980s provides a lovely option for fine blonde hair. You'll rock an effortless and cool hairdo that is unmatched, giving off a distinct Blondie impression. This shoulder length haircut with bangs can completly transform your look.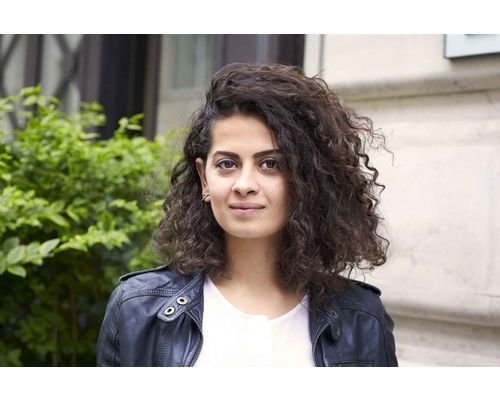 9. Neck Length Curly Hair
This neck length long bob is tousled and unfussy but exposes more chic when you look at hair closely, delivering an excellent, fierce frame. Wear this haircut with assurance!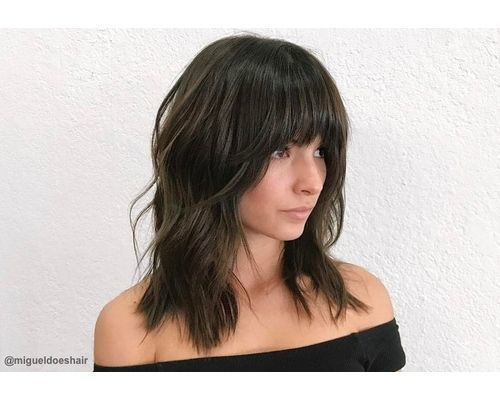 10. Textured Cuts With Bangs
This neck length hairstyle is charming and it is an inverted bob with longer front strands to softly and tastefully frame the face is the best hairstyle for emphasising a longer neck.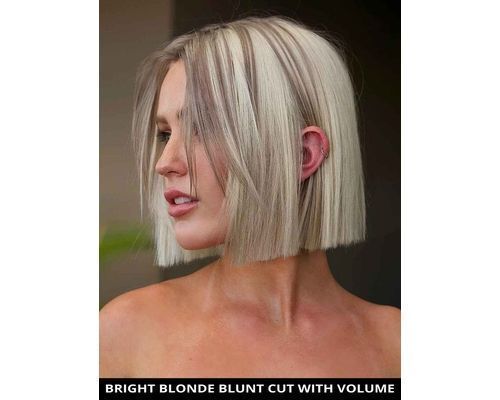 11. Blunt Blonde Neck Long Cut
Several neck-length hairstyles that are suitable for the catwalk have harsh contours. For straight hair, the rounded contour in the rear produces a consistently elevated, correct image.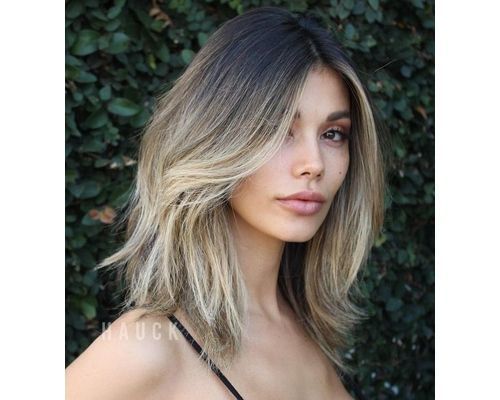 12. Thick Hair Neck Length Haircut
A message is always made by large waves. For girls who aren't quite ready for radical changes but want to spice up their casual outfits, a soft razored cut is a great option.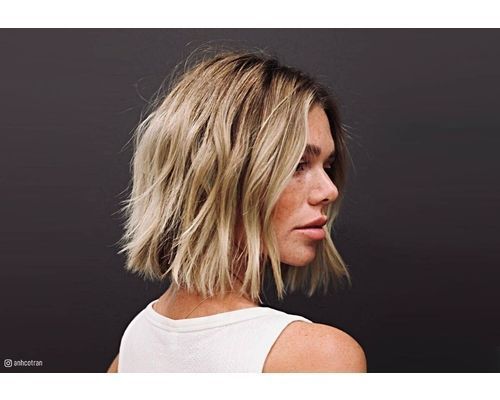 13. Choppy Neck Length Hair
If your hair already has enough volume and air, try a mild bronde balayage and a jagged cut to spice things up. It can be styled with beachy waves for a look that works for just about every event. Along with choppy hair for neck length hair, short ombre haircut also looks amazing.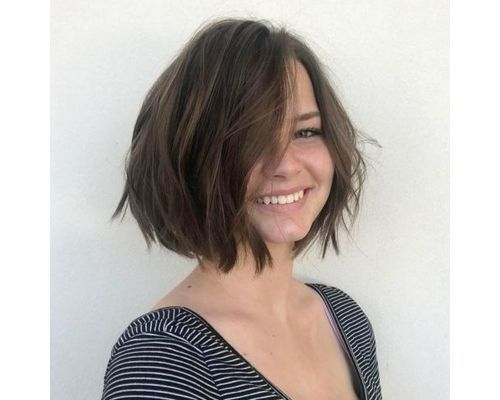 14. Neck Length Hair For Round Faces
Keep your haircut slightly inclined to the front if you notice that your face seems a little heavier than you'd prefer. In addition to subtly emphasising your greatest features, an asymmetrical stacked cut also evenly distributes your hair's volume.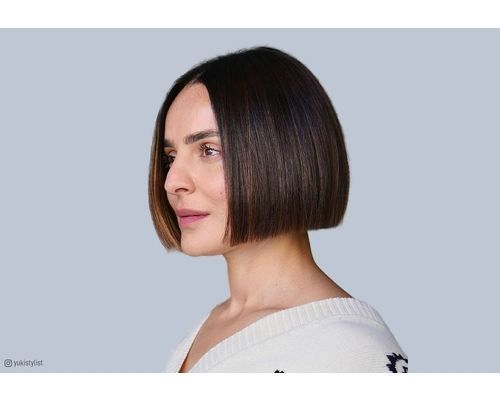 15. Pin Straight Neck Length Hair
Nothing compares to a timeless classic. The sleek A-line bob, which ends just above the collarbone and flatters both thick and thin hair, draws attention to the lower third of your face.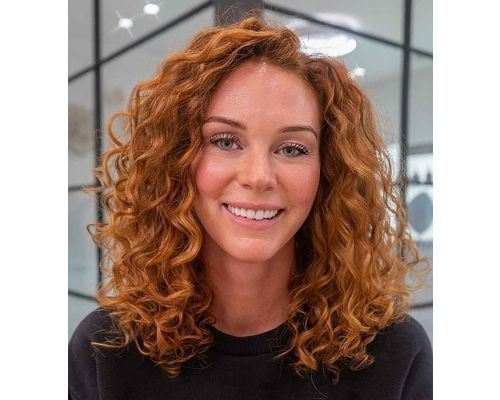 16. Red Curly Neck Length Hair
With a head full of bouncy curly ringlets, you may flaunt your vivacious spirit and tenacious personality. By adding a few stacked layers, you give the cut enduring volume while keeping the locks distinct and textured. This layered haircut with curls look amazing and can transform your hair completely.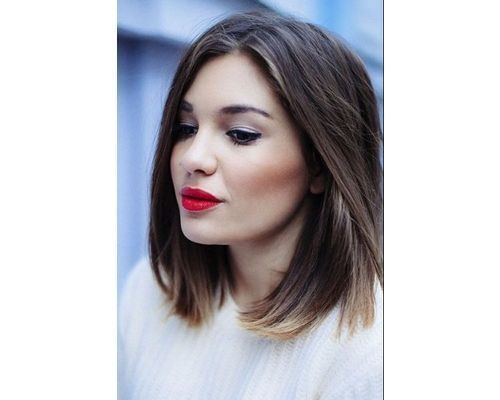 17. Neck Length Haircut For Thin Hair
To give thin hair the appearance of being puffier, stylists have a variety of methods under their sleeves. First, darker roots might help the style stand up a little higher and appear more airy. Then there are curtain bangs, which allow you to direct the volume in different directions and, if necessary, alter the form of your face.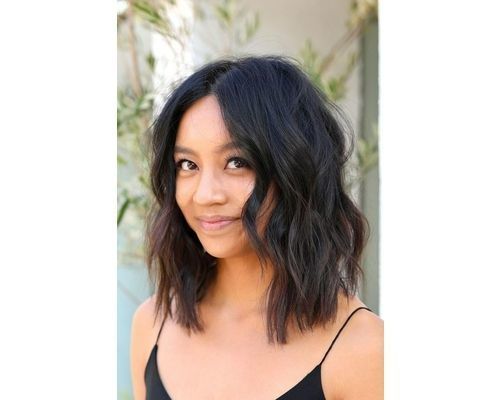 18. Wavy Shoulder Length Hair
Any outfit may be made attractive and charming with a side part, delicate waves, and a romantic hairstyle. It's simple and minimal upkeep, and the length also permits experimenting with colour.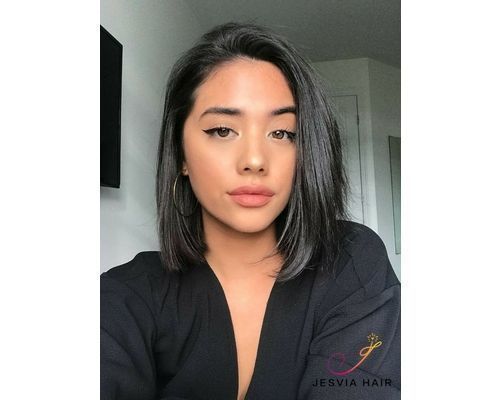 19. Black Hair Neck Length Bob
Natural or straightened, healthy black hair is attractive. The style has a lot to offer in terms of structure and neatly layered ends, so this chic side-parted Rihanna meets Michelle Obama bob will certainly liven up your appearance.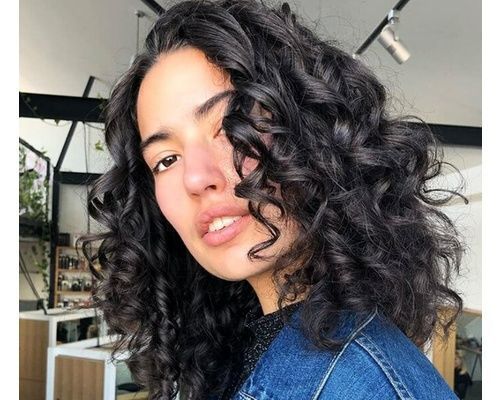 20. Neck Length Short Bouncy Curls
Often, curly hair is thought to be unmanageable and unsuitable for shorter cuts. Yet, using the appropriate styling tools and layers, you can achieve a raggedy, utterly lovely look. Depending on how you like to wear it, thicker hair may not even require waxes and gels.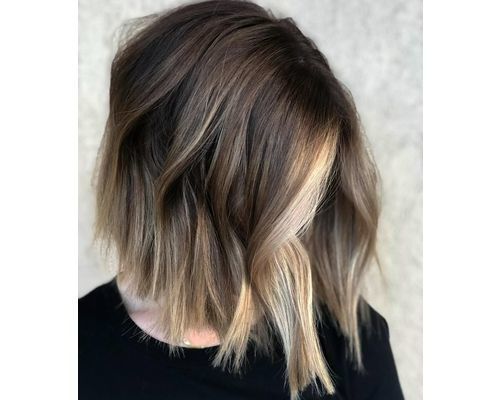 21. Money Pieces On Neck Length Hair
An eye-catching hairstyle with a delicate A-line shape and vibrant accent pieces to liven up your appearance. If you want something new this season, consider this highly trendy idea.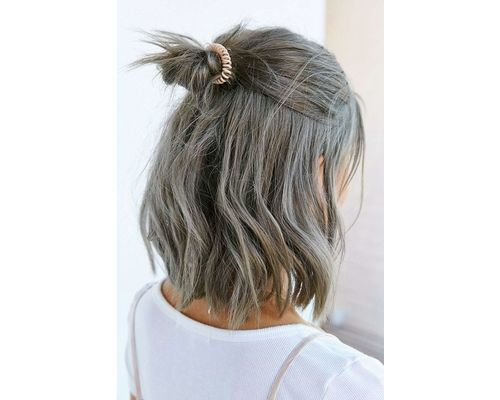 22. Half Up Half Down Neckline Haircut
The cutest neck length haircut is a half-up hairstyle with loose bits along your face and is unquestionably the nicest of all the neck-length hairstyles you may wear every day.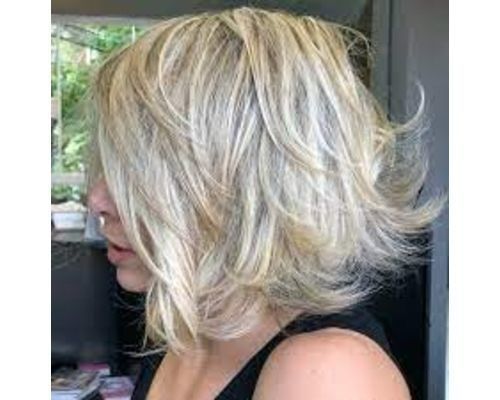 23. Slacked Neck Length Hairstyle With Layers
This is a mid neck length haircut. The hair gets the much-needed volume and dimension from inverted haircuts. Finish it off with a few waves for a chic-casual look.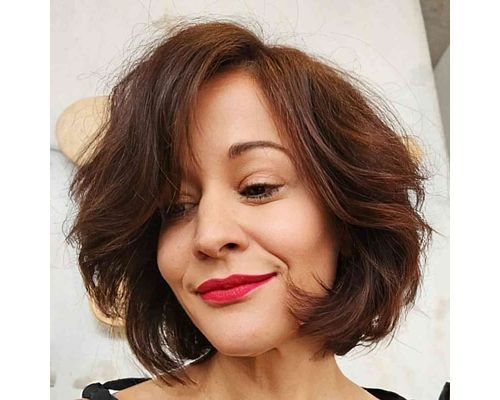 24. Neck Length Hair With Bangs
With some gentle cascading layers, you may frame your face and draw attention to your cheekbones with this neck length haircut. The flawless jawline is highlighted by the long side-parted fringe, which blends seamlessly with the rest of the length.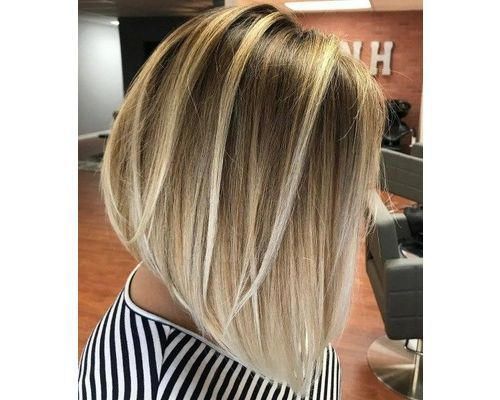 25. Angled Neck Length Haircut
An attractive asymmetrical hairdo that is ideal for girls who adore low-maintenance fashion. Also, it aids in giving your hair the right shape and natural volume to give the appearance of slightly thicker hair.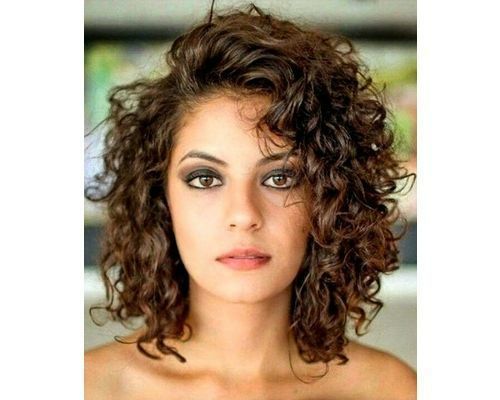 26. Naturally Curly Collar Length Hair
A layered cut will highlight your lovely tiny ringlets. You may achieve an easily stylish everyday look by texturizing it with some curl product and choosing your favourite parting.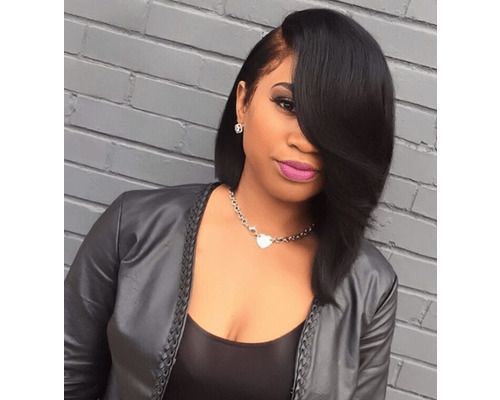 27. Neck Length Cut With A Deep Side Part
Although it might not appear like there is much opportunity for style and color with bob-length hair, there is actually a lot of room. Bulky eyebrows and delicate blonde tones go together like butter.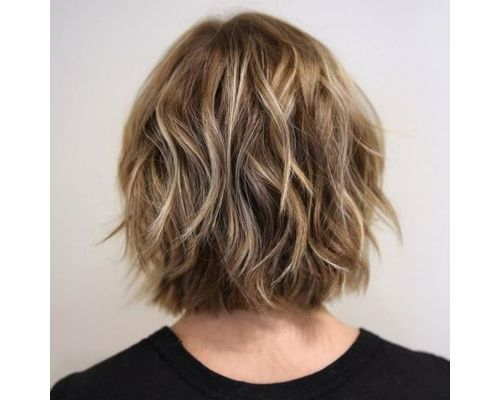 28. Shaggy Layered Neck Length Cut
A nice touch to the adorable shaggy haircut are the fuzzy curtain bangs. The easiest hair length to style is neck length. To achieve a tousled, damp appearance, simply add some texturizing spray or wax.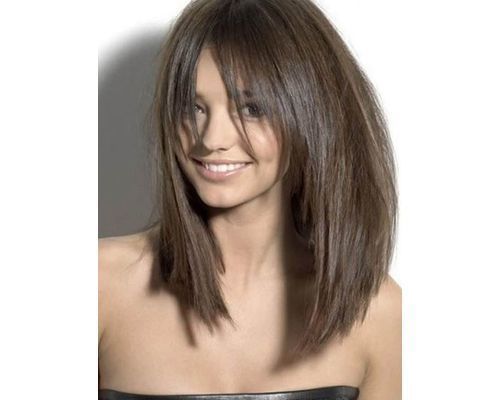 29. Neck Length Razor Cut
This shaggy bob is the ideal hairstyle for you if you want to draw attention to a particular facial feature. It provides an excellent foundation for any style you wish to wear. Flyaways may be stylish if you wear them with perfection!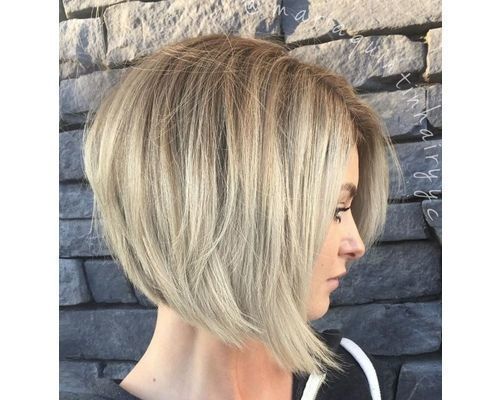 30. Cute Teased Bob
This stylish haircut is a well-known classic that provides a striking framing for your features and is flattering for faces with oval, long, and heart-shaped feature and is also one of the traditional neck-length haircuts.
31. Neck Length Layered Haircuts For Special Occasions
This gorgeous twisted hairdo may be worn to any event you can think of, including a beach party, date night, wedding, or prom. The layered haircut takes very less time to complete and is really attractive.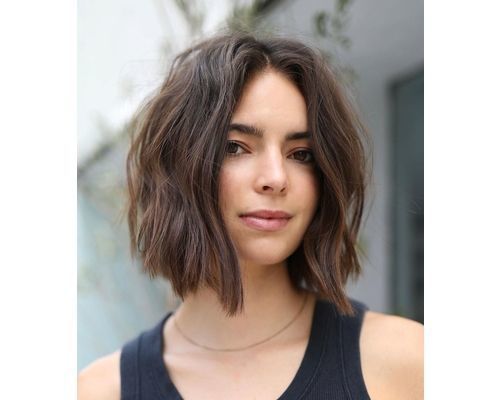 32. Centre Parted Mid Neck Cut
A rough classic that offers some camouflage when you're feeling timid? Or perhaps a stylish bob that highlights your greatest features? In either case, the appearance is cozy and carefree.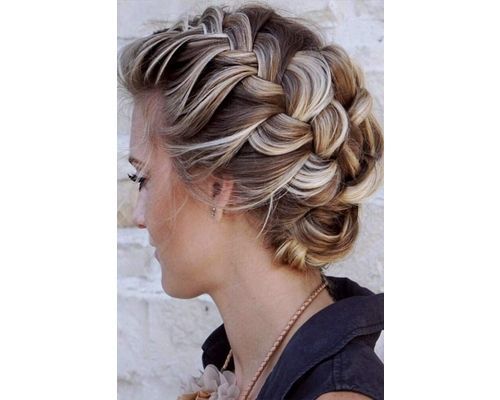 33. Braided Neck Length Updo
Shorter hair can be styled into a sophisticated updo for both formal and casual events. It incorporates a bouffant, a braid, and the chaotic texture that most contemporary updos call for.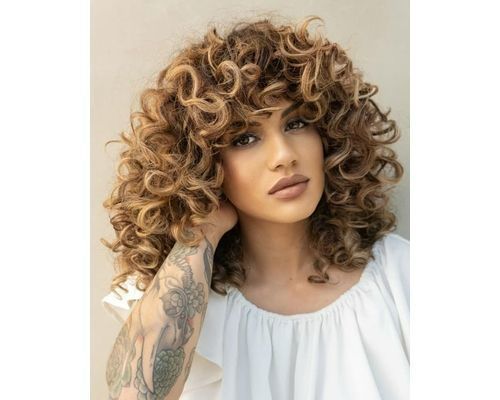 34. Neck Length Naturally Curly Cut
This neck length hairstyle is ideal for people with natural hair. The symmetry that flatters round faces in this shape and length is provided by the scissor technique in such a closely layered style.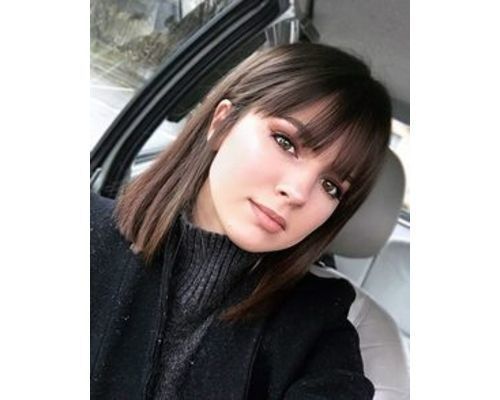 35. French Bob With Half Moon Bangs
This bob is really adorable and has a decidedly Parisian vibe; it's for all you pixies out there. The style certainly shouts "elegant" with its mid-neck length cut that is tailored to enhance the wearer's facial features.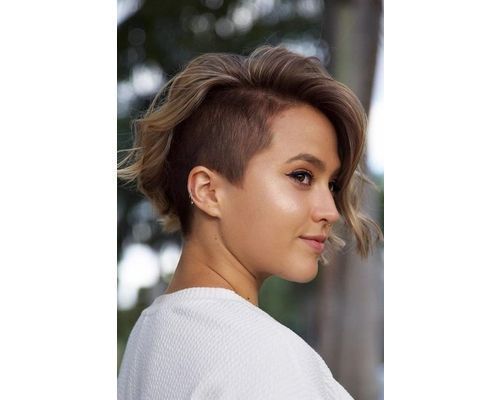 36. Asymmetric Hairstyle With Undershave
Here's a super-edgy hairstyle that will draw attention to the proper parts of your face and requires confidence to carry off. It fits in on the runway, but it also functions elsewhere.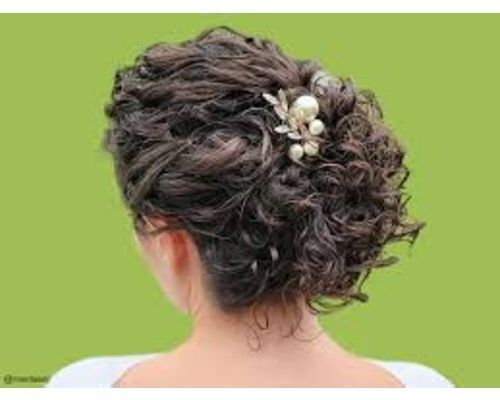 37. Neck Length Updo With Texture
The daring updo accommodates the curled layers that appear almost accidentally, but they are most clearly quite planned and incredibly stylish, making it the ideal hairstyle for highlighting your neck in all its beauty.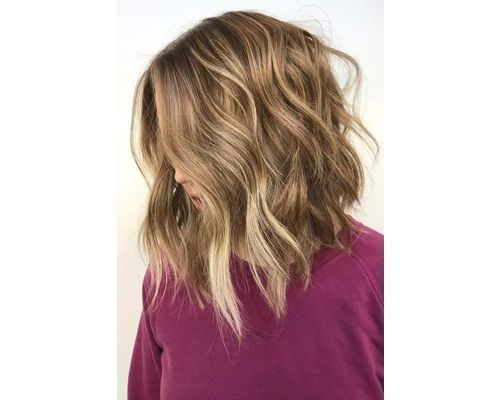 38. Wavy A-line Mid Neck Length Haircut
The lovely cut falling across the eyes on somewhat longer locks makes us think of the best movie stars. This is a classy, distinctive appearance that both looks dressed up and undone.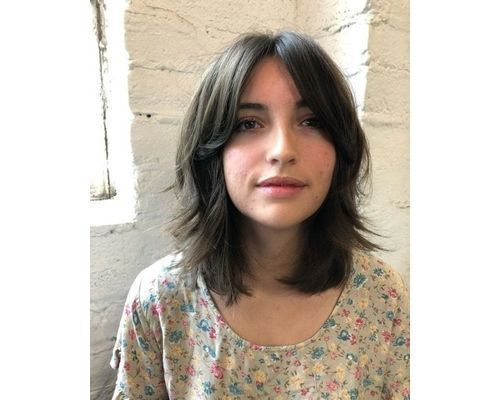 39. Neck Length Layered Bob
This neck length haircut has a dramatic design which is ideal when you need to create an impact because to the clever use of colour, the meticulously executed layers, and the airy shape.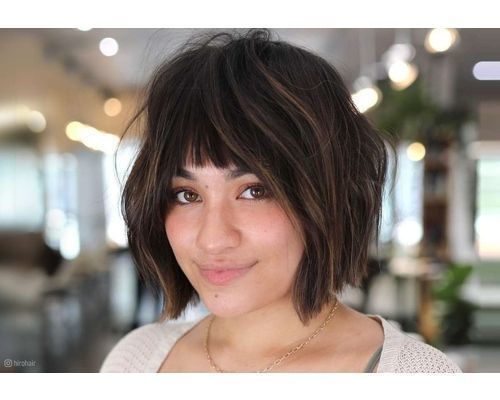 40. Neck Length Haircut With Bangs
The past few years have seen a significant increase in neck length styles. The versatility and effortless French charm of medium hair are undeniable. Finish the hairdo with some beachy waves and a small tease of the crown.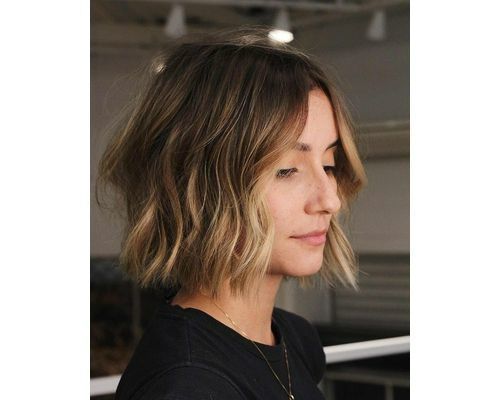 41. Messy Neck Length Bob
An elegant neck length cut with excellent layers and volume that is styled sloppy. You can complete your attention-grabbing style by adding it to hot, vibrant makeup and daring clothing. This neck length bob has various gradients of blonde which adds to its beauty.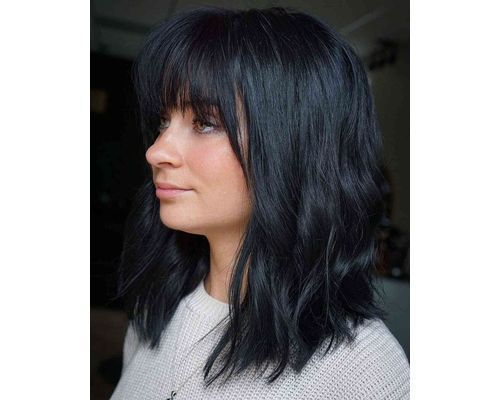 42. Messy Neck Length Natural Hair
Only a little teasing is required to achieve this super-chic look before you head out. It is a beautiful, trendy cut with a distinct feeling of elegance. It has a strong effect yet requires little upkeep.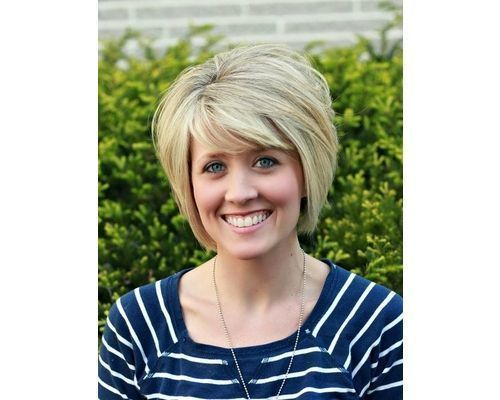 43. Short Bob With Volume
The well-styled neck length bob displayed here falls just below the chin and provides the ideal frame for the face, while the volume in the back gives the opulent bob cut a boxy form and some extra weight.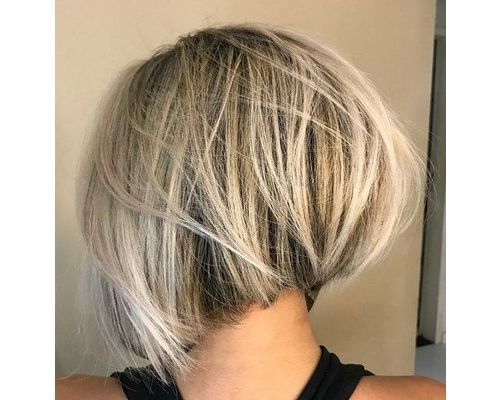 44. Concave Neck Length Bob
This stacked necked length haircut is not the most extreme choice for individuals wishing to flaunt neck-length haircuts due to its softened edges and casual layers, but it will stand out.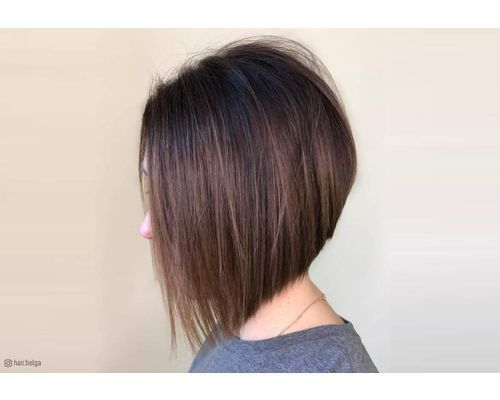 45. A Line Stacked Haircut
This neck length haircut is not the most extreme choice for individuals wishing to flaunt neck-length haircuts due to its softened edges and casual layers, but it will stand out.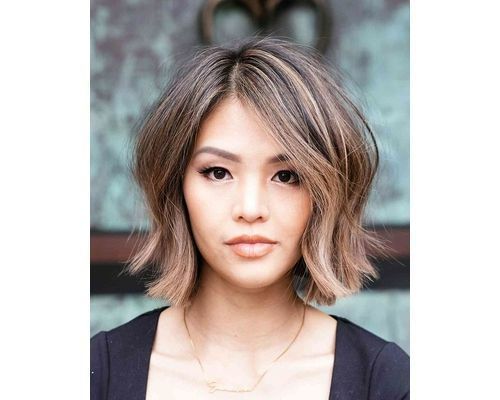 46. Mid Neck-Length Hair
What better way to channel the seaside than with a textured, wavy cut that makes use of every inch of your neck-length hair? Beachy blonde or copper brown balayage treatments are the ideal colour complements to the style.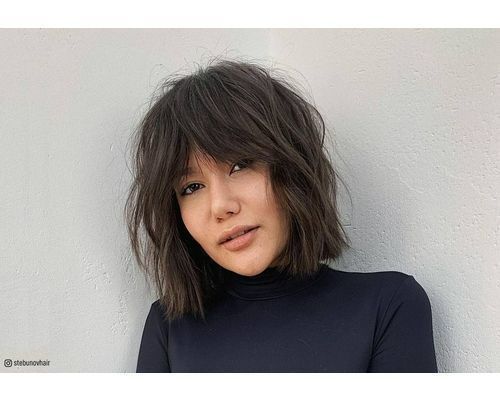 47. Shaggy Wavy Mob
The wavy mob with untidy bangs, which is longer than the typical bob, is a beautiful casual cut that radiates confidence and fun. This is the ideal playful coif because of the gently textured layers.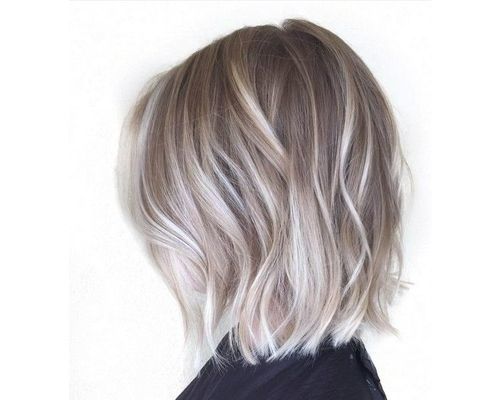 48. Ash Blonde Balayage
The best way to wear this opulent coif is with delicate metallic eyeshadow because it enhances the ethereal appearance of the shoulder-length hair and brings attention to the face. This neck length haircut is stylish and could be worn with any outfit.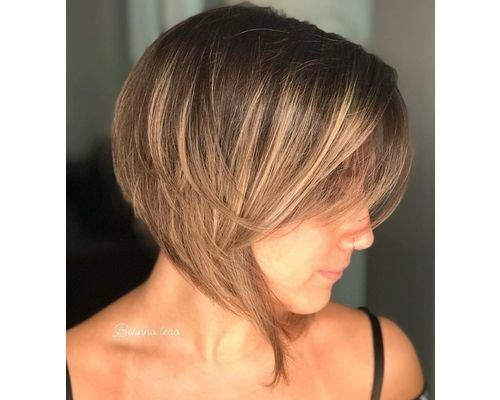 49. Feathered Rounded Bob
This carefree neck length haircut is likely to garner compliments thanks to its face-framing feathery strands, which offer timeless appeal. It is a longer bob with hair that will truly highlight the high and low tones of your recent balayage hair colour.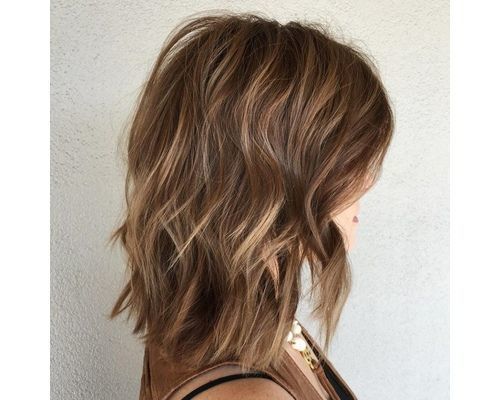 50. Classic Neck Length Shag
The shag cut was one of the most popular hairstyles in the 1970s. Sometimes the classics are the finest. The modest, soft bangs that frame the eyes still appear cool in the present era.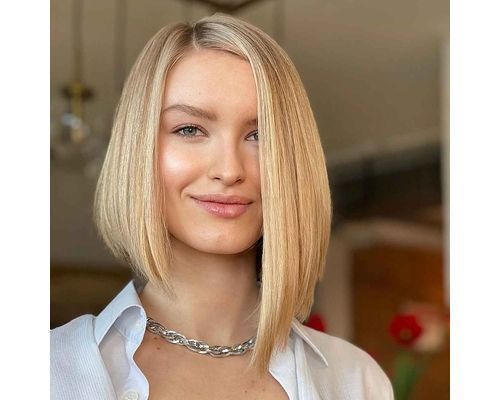 51. Asymmetric Neck Length Cut
Given how simple it is to maintain, the appeal of an asymmetric neck length haircut is all the more captivating. Accessorising with necklaces or earrings that highlight the shape is also a lot of fun.