18 Most Popular Deepika Padukone Sarees - 2022
Shalu Bhati
Updated At 18 Sep 22
With her dimpled cheeks and a beautiful smile, Deepika Padukone is not just a pretty face. Her acting skills have made a storm not just in the Indian film industry but in Hollywood as well. Her popularity knows no bounds. She is a well-known public figure across the globe.
Deepika Padukone in saree gives us major #goals and so we decided to cover her most popular sarees which are trending this year. These Deepika Padukone in saree pics will surely make you want to borrow some sarees from your mother's wardrobe or maybe get one of your own.
18 Most Popular Deepika Padukone Sarees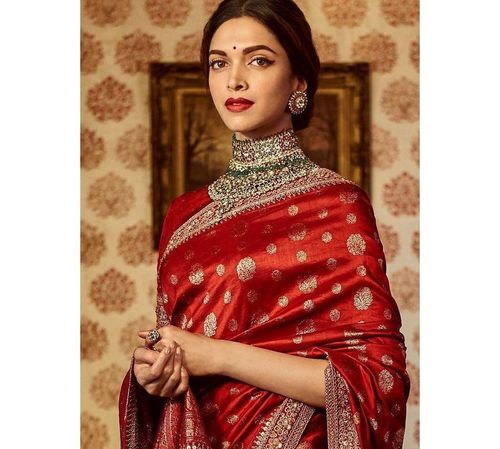 1. Deepika Padukone In Sabyasachi Saree – Red Silk
Silk is evergreen and so is a Sabyasachi creation. In this red Benarasi silk saree by her favorite designer, Deepika Padukone looks like an elegant queen (which she is, if we may suggest). Paired with a jeweled choker necklace and matching studs, she wore her hair in a slightly loose low bun to make her entire look even more elegant. This saree with its gold zari work is perfect for festivals and pujas.
Deepika padukone eyebrows are gorgeous which make this saree look even more stunning!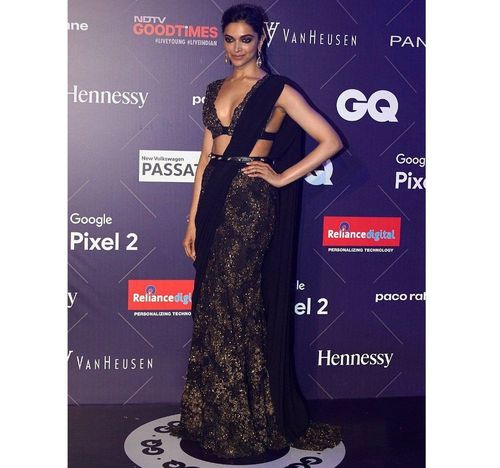 2. Deepika Padukone In Saree With A Bikini Blouse
Deepika looks sexy in this black shimmery belted saree which she paired with a bikini blouse by Sabyasachi. This fusion look is a head-turner and perfect for the events where you don't mind setting up the temperature a tad too high.
Deepika Padukone diet alongwith her strict fitness schedule are the key reasons behind her near perfect body!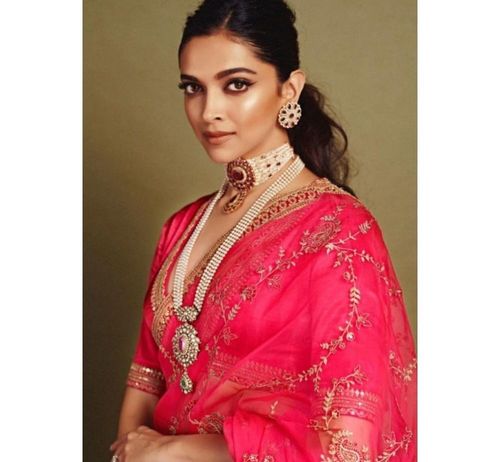 3. Deepika Padukone In Sabyasachi Saree – Hot Pink
Deepika Padukone attended the much talked about Akash Ambani- Shloka Mehta wedding in this beautiful hot pink Sabyasachi saree. She looks no less than royalty in this look. The pearl necklaces and the statement earrings complement her saree well. Learn it from the saree queen to balance it with accessories. Along with her sarees, padmavati unibrow grabbed all the headlines when the movie was released!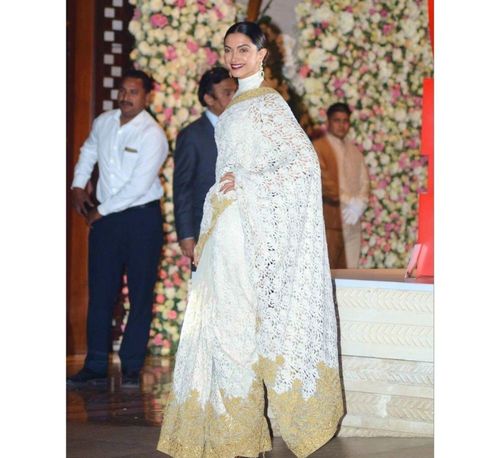 4. Deepika Padukone In Saree – Lacy White
The woman loves donning white sarees. There is no denying it. Here she is seen with husband Ranveer Singh wearing a white lace saree with a beige border. The matching halter neck blouse adds the extra oomph. Remember a blouse can either make or break your look. Choose your blouse style wisely.
Deepika padukone fashion style has evolved over the years. From starting with Om Shanti Om as one of her first movies, she has taken her style to the next level over last few years.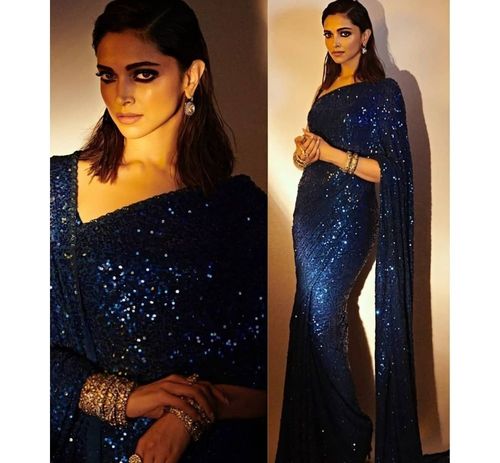 5. Deepika Padukone In Saree - Sequined Blue
Deepika wore this gorgeous blue sequinned Sabyasachi saree at the premiere of her movie Chhapaak in Mumbai. She gave this traditional Indian attire a modern spin with her styling and makeup. This modern twist included slicked back hair and smoky eyes along with chunky gold jewelry. This was a b old look from head to toe perfect for a night event. And Deepika hairstyle never fails to impress us!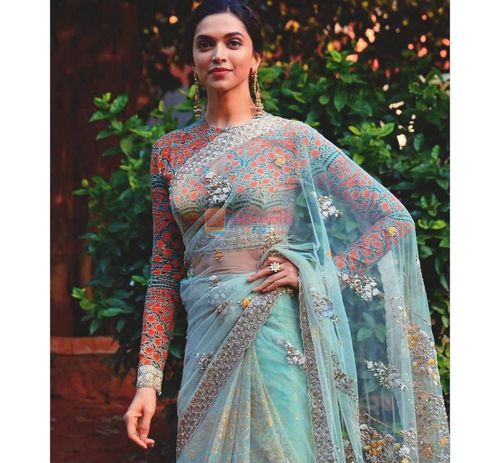 6. Deepika Padukone In Saree – Embellished
Look up close at this beautiful saree. It is a combination of embroidery, embellishments, and net. This type of sarees is trending this season. Deepika has matched her pastel-hued saree with a vibrant floral print blouse. Get inspired by Deepika and rock your version of this simple and charming look.
If you want to know more about her skincare regime and makeup products she prefers, do not miss out on Deepika Padukone beauty tips.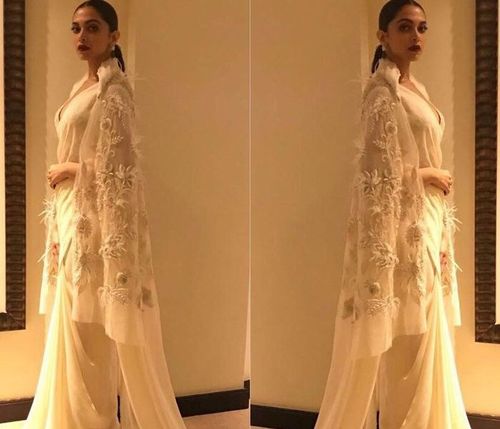 7. Deepika Padukone In Saree With A Cape
Sarees with cape are big this season. You can take inspiration from this Deepika Padukone look to get in terms of the latest trends. Deepika looks extremely gorgeous in this Abu Jani and Sandeep Khosla creation. Add some drama to your regular saree and wear it with a matching cape or you can also get a blouse stitched in a cape style. Or you can even pair a matching jacket or coat with your dear saree.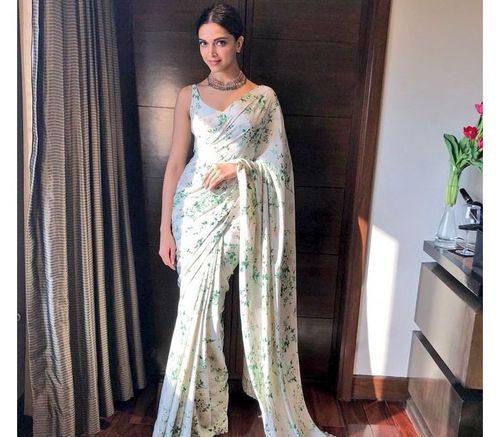 8. Deepika Padukone In Floral Saree
Florals are not dead yet. They have been in fashion for quite some time and refuse to go away. Good for us, right? Wear your love for spring on your sleeves just like Deepika in a floral print saree. From bold to subtle there is no dearth of options and if you ever feel a lack of inspiration, come and take a look at Deepika's various floral choices.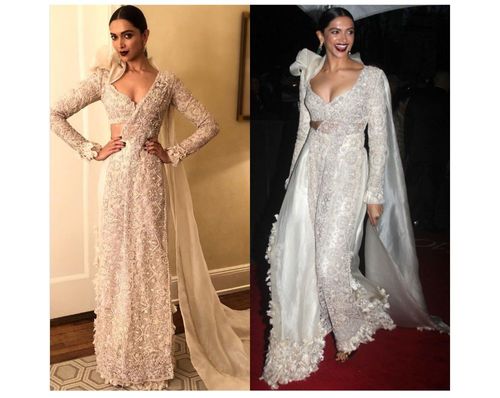 9. Deepika Padukone In Fusion Saree
Fusion sarees are the new hot trend and Deepika Padukone couldn't keep her hands off from this latest style. She wore this beautiful fusion saree by Anamika Khanna to attend the Times 100 Gala held in New York City. This saree worked with both the traditional and modern aspects of the outfit thus, creating this ethereal look.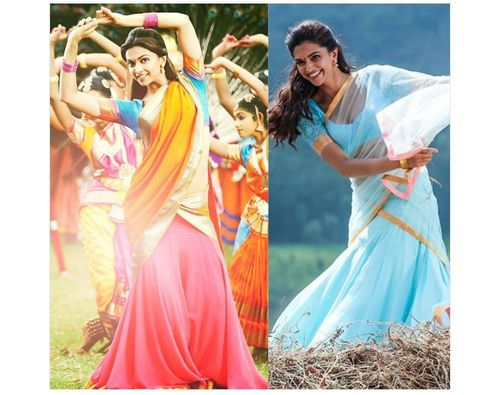 10. Deepika Padukone In Saree Chennai Express
Deepika Padukone made cotton sarees famous again with her breezy summery saree looks from her hit movie Chennai Express. She wore very vibrant sarees in this movie and also started a new trend. Cotton sarees are comfortable and a real blessing in the Indian summers. especially when they are as vibrant as the ones worn by Deepika. You can wear them daily or to a fancy event. It all depends on how you style them.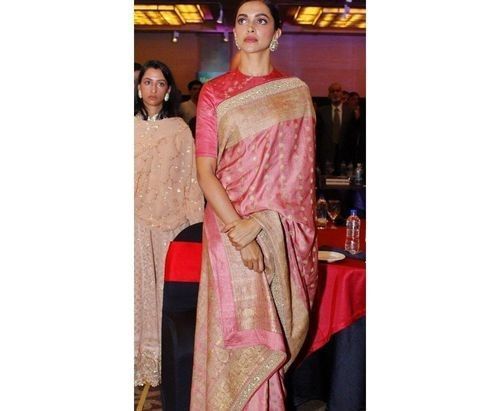 11. Deepika Padukone In Sabyasachi Saree
This pale pink saree is from Sabyasachi's heritage collection—a Benarasi saree with a marori border. What made this look complete was Deepika's choice of wearing a round neck blouse. We think it is seriously time you took a look at your mother's wardrobe and borrowed a few of her Benarasi's.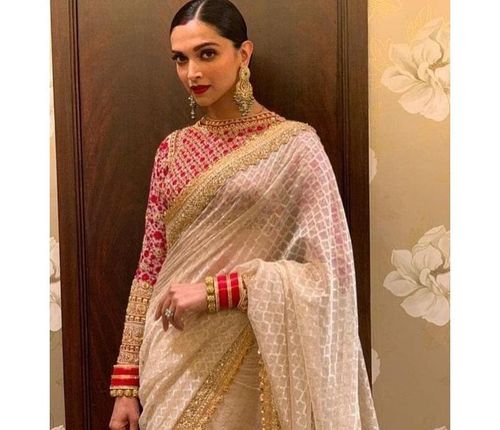 12. Deepika Padukone In Sabyasachi Saree – Net With Diamond Pattern
This was bound to happen. A Sabyasachi saree in white must have sounded like an obvious choice for Deepika. But what caught our eye was the diamond pattern that covered this beautiful net saree. The matching red full-sleeved blouse adds to the grace of this look. The diamond pattern has made a victorious return. Look out for it the next time you go saree shopping.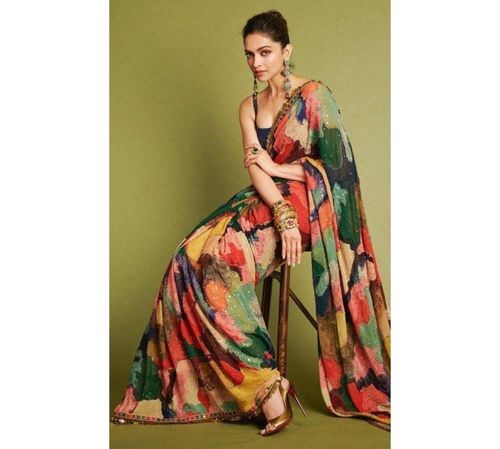 13.Deepika Padukone In Saree - Colour Blast
Deepika is not just a fan of silks. She also has a fair share of printed sarees in her wardrobe. This colorful digital printed saree won our hearts. It is also an ongoing trend. Deepika wore minimal makeup and let her saree take the center stage.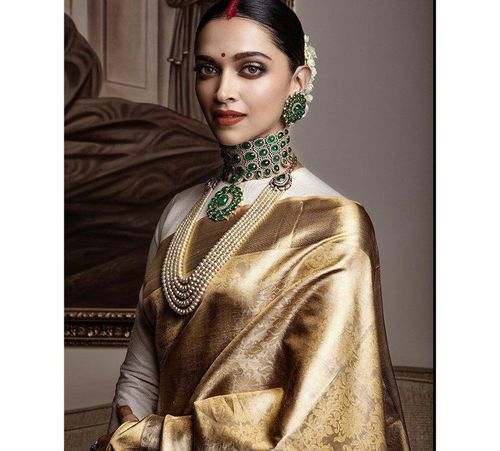 14. Deepika Padukone In Saree Reception Choice
Deepika's choice of bridal sarees has been very impressive. She surprised everyone with her unusual choice at her Bangalore reception. This golden kanjeevaram was a gift to the actress from her mother. It was deemed an unusual choice as north Indian brides rarely wear light colors for their wedding functions. But, this was Deepika's day and she decided to pay a tribute to her Konkani roots.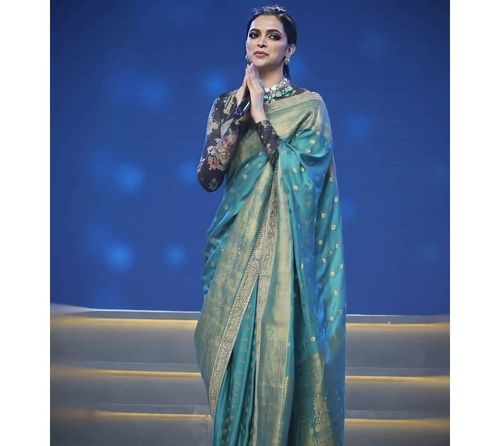 15. Deepika Padukone In Silk Saree - Green
Deepika's saree choice won our hearts again when she wore a Sabyasachi green silk saree for the 10th-anniversary function of the Reliance Foundation. She looked every bit of a royal in this one. And we cannot have enough of the Deepika Padukone in Sabyasachi saree.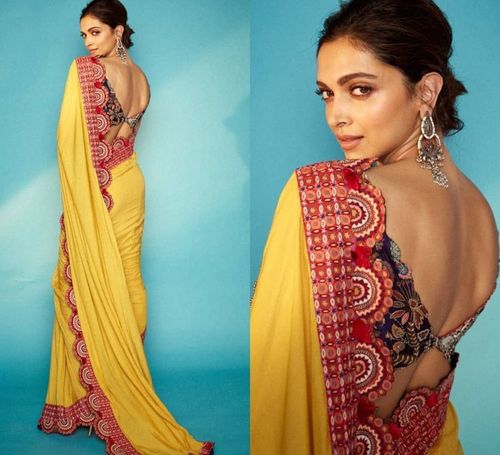 16. Deepika Padukone In Saree - Vibrant Yellow
Deepika showed the world that her saree game is as strong as ever when she turned up for Chhapaak promotions in this beautiful summery yellow saree with red cut-out border. Even her blouse was an ode to summer thanks to its floral motif and butterfly inspired shape.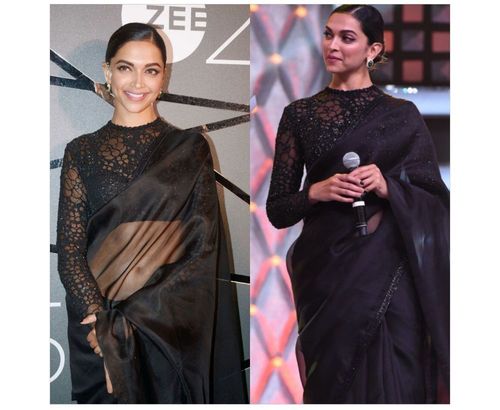 17. Deepika Padukone in Saree – Sheer Black
A black saree is a must in your wardrobe. You can never go wrong with it. Take a cue from Deepika who here is wearing a sheer black number paired with a full-sleeved net blouse. With minimal makeup and accessories, she wants to let her saree do the talking.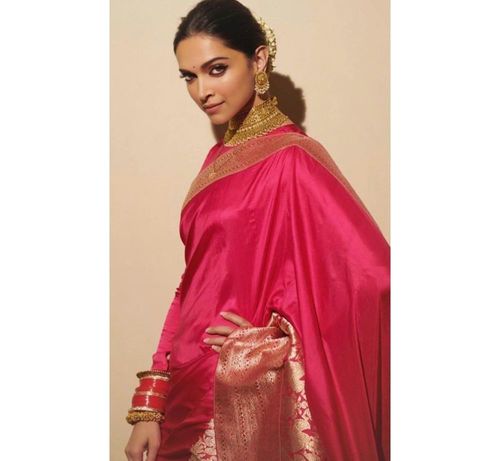 18. Deepika Padukone In Silk Saree – Pink
Deepika has mastered the art of carrying sarees with élan and especially silk sarees. Here she is donning a beautiful plain silk saree in pink from Raw Mango. The newlywed actress completes her look with a choker pearl necklace and matching statement earrings. If you are ever in a dilemma as to how to style your hair when wearing a saree, then do it as Deepika does. Wear your hair in a bun and finish with flowers. You can never go wrong with flowers.
Also Read: 16 Best Looks Of Deepika Padukone
Also Read: How To Get Deepika Padukone's 'Ghoomar' Beauty Look From Padmavati