Kriti Sanon's Beauty Tips, Diet Plan And Workout Routine
Shalu B
Updated At 14 Dec 22
Kriti Sanon has won our hearts with her acting prowess and her good looks. Though, a lot of discipline goes in to ensure that kriti looks as gorgeous as she does. Since we have been in so much awe of Kriti Sanon, we decided to uncover her beauty and fitness secrets for you.
Check out Kriti Sanon diet, beauty secrets as well as her workout plan. Also check out Anushka Sharma diet to find out the details of all her meals. You would be surprised to see the amount of food on her plate!
We specifically cover:
Kriti Sanon Beauty Tips
Kriti Sanon Diet Plan
Her Workout Routine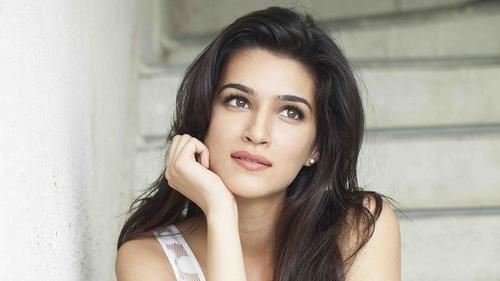 Kriti Sanon Beauty Tips
Body Stats:- Kriti Sanon's age is 31 years. She was born on 27 July 1990. Kriti Sanon's height is 1.75 meters. She weigh's 56 Kgs.

1) Follow CTM
One of the most important Kriti Sanon beauty secrets is the CTM (Cleanse, Tone, Moisturize) rule. It is the most basic rule of skin care and Kriti swears by it. If you don't have a skin care routine yet, follow in Kriti's footsteps and indulge in a good CTM.

2) Sunscreen Is A Must
Another beauty tip that Kriti Sanon swears by is the use of sunscreen. Sun's harmful UV rays can have an adverse impact on skin. Kriti understands the value of sun protection and always uses a sunscreen before going out in the sun. Listen to her and be SPF ready whenever you head out.

3) Moisturize At All Costs
Air conditioners, soaps, and many other factors are culprits of robbing your skin of moisture. Kriti religiously applies moisturizer especially on her face and hands to keep her skin nourished.
Also check out Deepika Padukone diet which is an integral reason for her perfect body and glowing skin. She makes sure to eat something every 2 hours!


4) Regular Hair Spa Is Needed For Healthy Hair
Pollution can damage hair and Kriti takes care of her hair by indulging in a hair spa on a regular basis. She also massages her hair and scalp with oil often to nourish and replenish them. Kriti and her beautiful tresses have given you one more good reason to start oiling your hair today.
5) Keep Your Body Hydrated
Hydration is the key to Kriti Sanon's glowing skin. Kriti stays hydrated throughout the day and ensures that she drinks a lot of water. Staying hydrated also detoxifies her body. Kriti is a huge fan of drinking vegetable juices. Do you want to know about her favorite blend? It includes spinach, cucumber, bottle gourd, amla, lime, mint and green apple.

6) Home-Made Face Packs
Another one of the Kriti Sanon beauty secrets involves raiding your kitchen cabinet. Yes, Kriti uses natural ingredients to make a DIY face pack. She uses besan, turmeric, almonds and cream to make a paste which she uses to give her skin an extra boost of nourishment. These ingredients are known for their anti-inflammatory and antiseptic properties as well.
You can also mix up coconut oil with coffee like Kriti and leave it on for 15 minutes. She also loves to apply pure coconut oil and aloe vera on her skin.

7) Remove Makeup Before You Go To Bed
Kriti stresses on the importance of removing her makeup before bed. She makes it a point to remove her makeup and properly wash her face every night.
Also check out Shraddha Kapoor diet plan which is one of the most important reasons for her slim and svelte figure.


8) Eat Consciously
Kriti is a firm believer of watch what you eat philosophy. She believes in eating healthy and avoids junk food. She eats a lot of fresh fruits and salads which is no wonder one of the Kriti Sanon beauty secrets for glowing skin.

9) Workout Daily
Kriti believes in working out on a regular basis as it improves fitness and keeps your body in shape. It works wonderfully well for the skin as well as it unclogs your pores to give you a visibly glowing and healthy skin.

10) Be You
At the end of the day, the most important thing is to be yourself and love yourself for who you are. Kriti says it is important to be comfortable in your own skin and body because when you are, it reflects.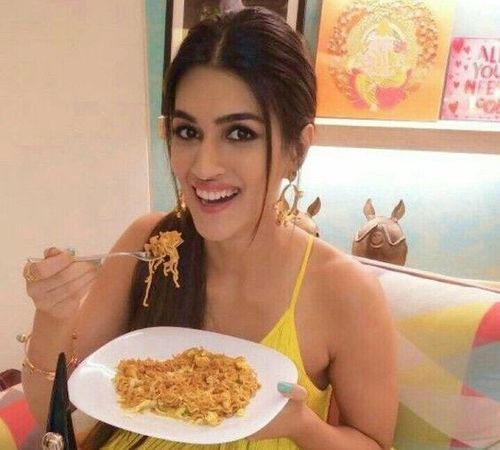 Kriti Sanon Diet Plan
Eat healthy and it will show on your skin as well as your body—this is what Kriti Sanon believes in. She swears by eating a healthy balanced meal. And what does the Kriti Sanon diet for glowing skin consist of?You can find it below as we reveal the details.
Kriti Sanon's diet includes a healthy mix of the following:-
Eggs and brown bread
Chicken
Fish
Dal/ Pulses
Vegetables
Sweet potatoes
Protein shakes
Brown rice
Kriti Sanon diet plan is nothing but eating healthy. She consumes foods which work the best for her body requirements.
Here is the ultimate Kriti Sanon diet plan:
Breakfast: 2 eggs, 2 brown breads, glass of fresh juice or protein shake
Lunch: 2 chapattis with brown rice and any vegetable or fish
Evening snack: A cup of corn or protein shake
Dinner: Chicken curry with steamed rice Or Dal and vegetables with rice
Also check out Disha Patani beauty secrets to find out everything about her skincare and beauty secrets. We cover all the beauty tips she follows along with her workout routine and detailed diet plan.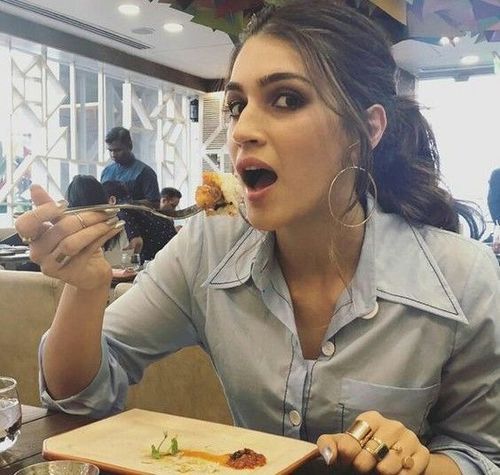 Kriti Sanon Diet Tips
Apart from sticking to a healthy diet and avoiding junk food, Kriti follows many diet tips to maintain her weight.

1) Salad Is Your Best Friend
Kriti likes to take fresh salad with every meal. Salads are a good source of fiber, roughage, vitamins and minerals.
2) Eat At Regular Intervals
She eats something every two hours. It helps her to feel full and avoid unhealthy binge-eating.

3) Light Dinner
As dinner is the last meal of the day, Kriti always prefers to have a dinner which is lighter than her afternoon meal.

4) Green Tea
She also consumes two cups of green tea daily. Green tea is loaded with antioxidants and nutrients. It is known for having a myriad of health benefits. Brew yourself a cup today!

5) Eat Light When You Feel Heavy
On days when she is feeling full, she prefers to have soup with a salad or a sandwich. This is another way of Kriti listening to her body. It is important that you listen to your body's requirements and act accordingly.
6) Snack Wisely
Kriti believes in healthy snacking. She keeps a box of dry fruits and nuts with her at all times. She loves oats chia pudding with berries. She avoids eating junk food at all costs. When she is not able to eat a proper meal for long hours, she likes to gorge on chocolates or bananas.

7) Have A Date With Dates
She prefers to eat dates when in need of instant energy. Dates are full of fiber, antioxidants and other nutrients. They are not only good for skin but also have tons of other health benefits.

8) Green Juice To The Rescue
On days when Kriti feels she has been having too much meat, she drinks green juice. Having green juices ensures detoxification and improves energy levels.
Also check out katrina kaif diet plan to find out all the details about her diet and fitness routine which helps her get the perfect toned body.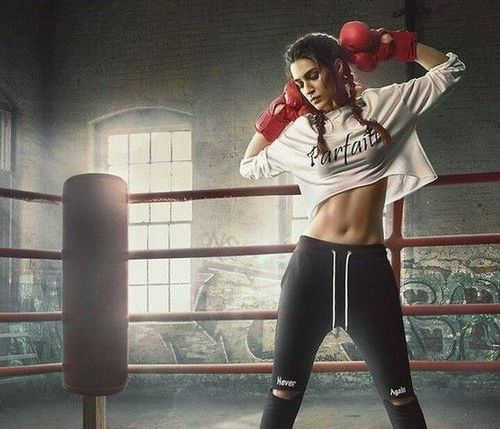 Kriti Sanon Workout Routine
Kriti Sanon workout is a mix of different activities from yoga to kickboxing and from Pilates to dancing. Kriti likes to mix it up. Keep reading to get inspired and choose a favorite for yourself.
Weight Training - Kriti undertakes a lot of weight training for about 4 to 5 times each week to keep her body toned. She does not do cardio as she has a tendency to lose weight quickly.
Kickboxing - Kriti loves kickboxing as it keeps her body fit and gives her the required flexibility.
Yoga - She also practices yoga and pranayama to keep her body and mind at peace.
Pilates - Since she needs to put on muscles, she likes to mix it up when it comes to the Kriti Sanon workout routine. She loves doing Pilates and her favorite Pilates trainer is Yasmin Karachiwala. Kriti performs pilates for 1 hour atleast 4-5 times a week. She says that doing pilates only looks easy however it involves a lot of core and improves your balance, flexibility and stamina.
Dance - Kriti also undertakes dancing two to three times a week. She likes to mix forms—jazz, bollywood, contemporary and salsa.
Even on her busy schedule, Kriti makes it a point to do any physical activity to stay fit. When no gym is available, she prefers to go on a run or prefers doing yoga. Similar to Kriti, Parineeti Chopra has been another celeb who preferred to go with intense workouts to get toned body.
FAQs On Kriti Sanon Diet And Beauty Secrets
Q - What does Kriti Sanon eat in a day?
Kriti Sanon follows the following diet plan at a daily level:-
Breakfast: 2 eggs, 2 brown breads, glass of fresh juice or protein shake
Lunch: 2 chapattis with brown rice and any vegetable or fish
Evening snack: A cup of corn or protein shake
Dinner: Chicken curry with steamed rice Or Dal rice with vegetables
Q- Is Kriti Sanon Veg or non veg?
Kriti Sanon is a Non vegetarian. Infact, she prefers eating chicken curry with steamed rice in dinner.
Q- What is the height of Kriti Sanon?
Kriti Sanon's height is 1.78 meters. In feet, her height is 5 feet 10 inches.
Q- What is the age of Kriti Sanon?
Kriti Sanon's age currently is 31 years. She was born on 27 July 1990.
Q- What does Kriti Sanon eat for breakfast?
She prefers eating eggs with brown bread alongwith a glass of fresh juice in breakfast.
Q- What is the beauty secret of Kriti Sanon?
There are various beauty secrets of Kriti Sanon. Few of the select few which are very important for her are:-
1) Face packs made of natural ingredients (like Besan, honey)
2) A regular CTM (Cleanse, Tone, Moisturize) routine and using sunscreen before going out in the sun
3) Keeping the body hydrated
4) Having a regular hair spa
5) Maintaining a proper diet and having an early and light dinner
Q- What is Kriti Sanon Favourite Colour?
Kriti Sanon's favourite color is blue.