Katrina Kaif's Skincare, Workout Routine And Diet Plan - 2023
Mohini Banerjee
Updated At 05 Apr 23
Are you looking for katrina kaif diet plan alongwith details of her workout routine?
Katrina Kaif is gorgeous, with or without makeup. Period. However, one must appreciate the effort this bollywood celebrity puts into her fitness, diet and beauty routines. They are simple but effective. We mention the details of katrina kaif diet, her workout routine and the tips she follows to get the perfect body. Well, that is what we are here for. Along with Katrina, do check out Deepika Padukone diet as well since she is amongst the fittest bollywood celebs and diet has been an integral reason for her perfect body!
You will soon know Katrina Kaif's Beauty secrets as we uncover the following:-
Katrina Kaif's Daily Routine
Katrina Kaif Workout Routine
Katrina Kaif Diet Plan
Her Skincare Routine
Her Makeup Routine
Katrina Kaif Beauty Tips
Katrina Kaif Hair Care
FAQs On Her Beauty Secrets
Katrina Kaif Diet, Workout Routine And Beauty Secrets
We unravel the fitness secrets of Katrina Kaif whos is considered as one of the fittest actors in bollywood. We capture her diet plan, skincare and beauty tips along with her workout routine in detail.
Katrina Kaif Daily Routine

The much sought after Katrina Kaif workout routine came to light after her trainer, Yasmin Karachiwala, shared details of the gruelling hard work that Katrina puts into her daily workout. With Yasmin Karachiwala fitness trainer, the Bollywood actress puts her best foot forwards so she can stay in shape.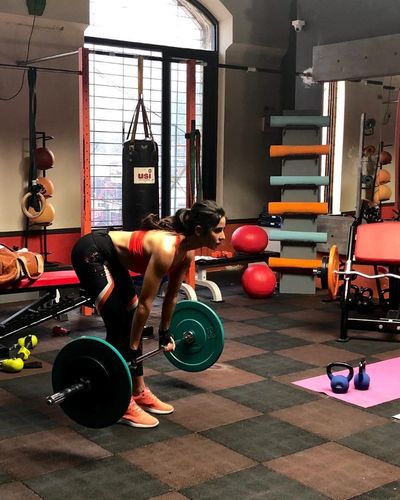 The daily Katrina Kaif fitness routine consists of Pilates, plyometrics, TRC, functional training, and cardio. The Pilates and cardio play a key role in developing Katrina's perfect abs. According to Karachiwala
Katrina has an amazing fitness level, so to achieve those abs, we just had tweak her workout a little.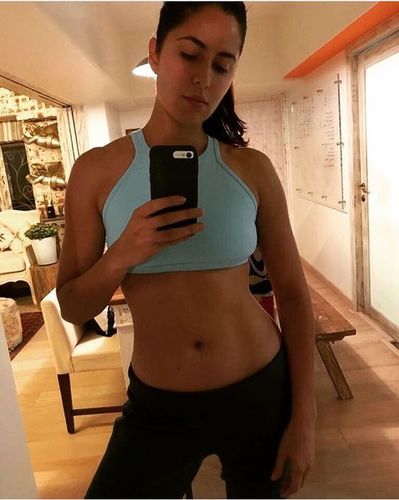 To maintain Katrina Kaif figure, she had to work out both at home and the gym. In spite of her busy schedule, she managed to hit the gym at least thrice a week. Katrina is also a firm believer in the art of yoga.
If you are also interested to look at weight loss, then Parineeti Chopra weight loss diet is an absolute must you need to check out!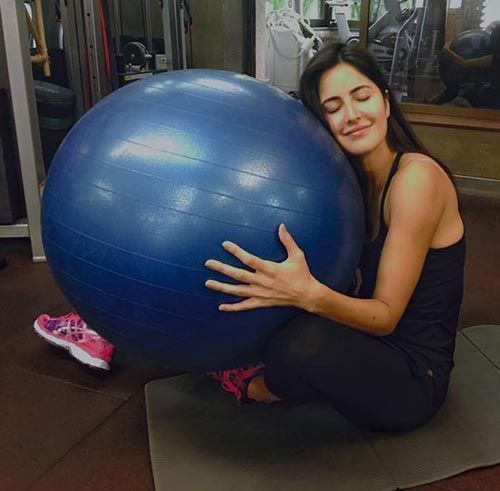 Katrina Kaif Workout Routine
She heads out for a run or a jog every day in the morning without fail. It keeps her body active and also helps burn excess calories.
If she goes to the gym, she engages in a number of core and abs exercises which include iso-planking, running, cycling and weight training.
She uses TRX, Bosu, Kettlebells, Medicine, Powerplate, and Swiss Balls when exercising.
Katrina loves to go swimming. Not only is it a fun way to spend time, but it also helps strengthen her muscles and keep her fit.
She swears by yoga and meditation because they help her attain mental peace.
Apart from Katrina, many celebrities like Priyanka Chopra, Alia Bhatt, Kriti Sanon have relied a lot on regular workouts for getting the perfect figure. However, if you are looking for one of the balanced diets then do check out Priyanka Chopra diet plan!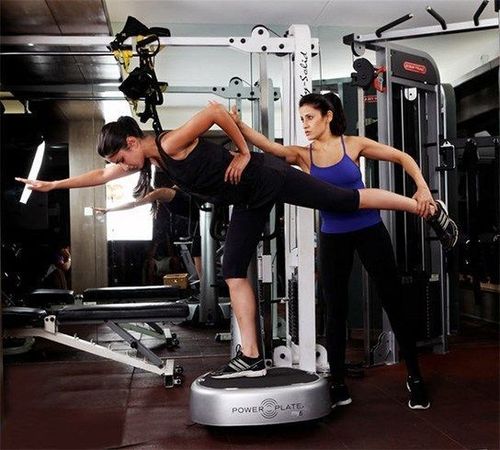 Yasmin Karachiwala is very proud of her girl and says,
Katrina is a very strong girl and she doesn't shy away from any kind of challenge. I can plan any workout for her and know she'll successfully complete it. It's very important for me to tell you that Katrina didn't magically get those amazing abs. She maintains very high fitness levels throughout the year and when a role demands a body like that because of her existing fitness level we plan a workout to achieve the desired results.
Yasmin Karachiwala further elaborated,
With Katrina, I plan a different routine every day to make sure she's constantly challenged. No matter how much you want to be fit, if you do the same thing every day, week after week, month after month, you will eventually feel bored and start losing interest.
Katrina Kaif Diet

Katrina knows that food plays a very important role in fitness and Katrina kaif diet plan reflects the same. To maintain the Katrina Kaif weight, she follows the Yasmin Karachiwala diet plan.
Katrina Kaif's diet includes a healthy balance of protein, complex carbs, fibre, and healthy fats on an everyday basis.
Do check out Kriti Sanon diet as well as its also balanced and apt for maintaiing the perfect weight.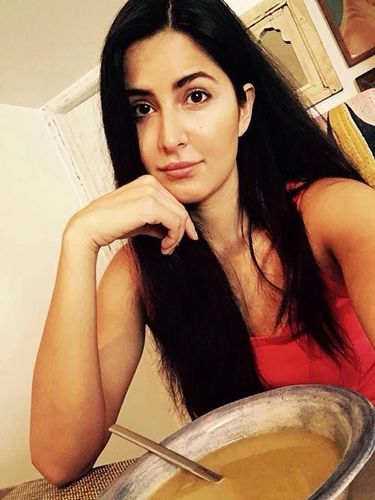 Katrina Kaif Diet Plan
Katrina kaif diet plan includes smaller and frequent meals throughout the day.
Morning - Katrina hydrates herself well. She drinks a minimum of four glasses of water just after she wakes up which cleanses her body.
Breakfast - Katrina takes her pick between oatmeal and cereals. She also has egg whites along with a glass of fresh pomegranate juice
Lunch - Katrina likes to have boiled rice along with helpings of veggies and legumes. She also has a healthy green salad. Alternatively, she is also known to have grilled fish and brown bread with a little bit of butter at times as well.
Evening Snacks - She has some brown bread with peanut butter or a regular sandwich.
Dinner - Katrina has a lot of vegetables that are cooked without even a drop of oil for her. She pairs them with a green salad, dal, chapattis and a vegetable soup. She also has egg whites sometimes.
Bollywood celebs like Rekha, Madhuri, Hema Malini have maintained the perfect skin even now. Madhuri dixit diet provides the details of everything she eats and as per her, the food she has been taking has been an integral reason for her glowing skin!
Katrina Kaif Weight Loss Tips
If getting all ingredients from food isn't possible, one can go for supplements, but only after consultation with your dietician. Katrina takes food supplements that contain superfoods like Acai berry and wheatgrass powder.
Have smaller meals in regular intervals. Katrina follows a macrobiotic diet which means that she needs to eat fresh boiled vegetables or fruits at alternative intervals so that her stomach is never empty.
Cut down on processed food and minimize your sugar intake. Katrina tries her best to cut down on processed foods completely because they can be unhealthy for the body.
Reduce oil in your diet. Katrina stays away from any oily food and prefers munching on fresh fruits and nuts instead.
Katrina Kaif's routine which includes her diet and workout schedule is fixed to a large extent and she tries to never cheat on her diet. However, she does take an occasional break and eats whatever she likes for a day or two so that her body is never totally deprived.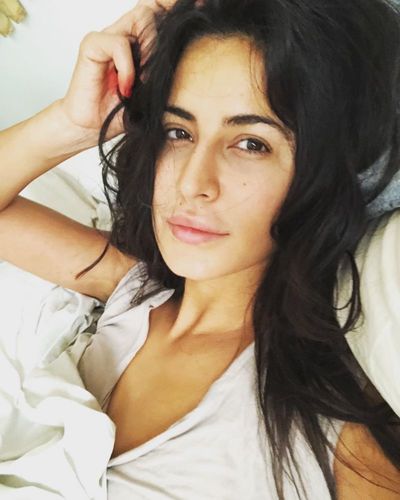 Katrina Kaif Beauty Secrets

Body Stats:- Katrina Kaif's age is 38 years and Katrina Kaif's height is 1.74 meters. She weigh's 58Kgs.
However, if you see Katrina Kaif's Instagram page, you will be confused as to Katrina Kaif age because she looks just as flawless as she did ten years ago. Moreover, Katrina Kaif without makeup is no less beautiful than her on set with heavy makeup. Anyways, lets deep dive into Katrina Kaif's beauty secrets.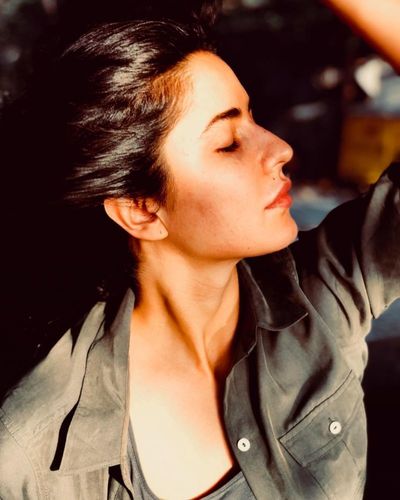 Katrina Kaif Skin Care Routine

Do you want to know the coveted Katrina Kaif beauty secrets? Then read on because we are revealing Katrina kaif skin care secrets. The following
Katrina knows that going to sleep without cleansing her face is a sin in the world of skincare. She makes sure that her face is squeaky clean before she settles in bed for the night. The Shu Uemura Skin Cleansing Beauty Oil is a staple in her collection. It eliminates all traces of makeup and impurities.
She believes in moisturising and hydrating her skin before bed, and uses the La Prairie night cream for that purpose.
During the day, she loves to use the facial cleansing lotion, Mene & Moy Face Wash.
She also loves the Lancome Cleansing Milk for her face and eyes.
Katrina uses mineral mud masks from Anne Semoin often to soothe her skin.
She prefers to go for body massages frequently to make sure the skin gets the required nutrients.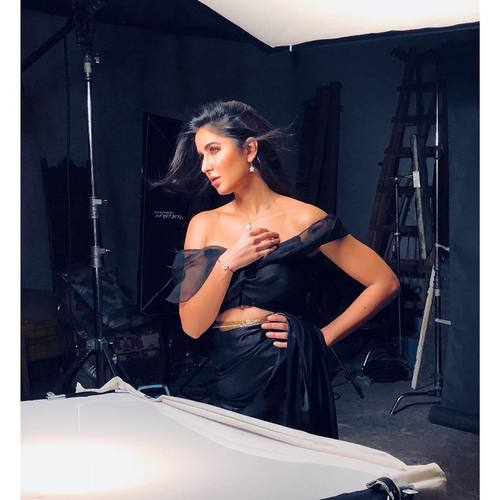 Katrina Kaif Makeup Routine

Believe it or not, Katrina Kaif does not love applying makeup on her face. She prefers to stay natural unless she is on a shoot.
To hydrate her skin before putting on any kind of makeup, Katrina wraps ice in a muslin cloth and rubs it all over her face.
The Apricot oil by Anne Semonin is a personal favourite of hers. It keeps her skin glowing and healthy.
Katrina swears by moisturizing sunscreens. She never leaves the house without applying some to prevent tanning.
Katrina Kaif Hair Care Routine
Katrina washes her hair almost everyday. She feels that clean hair sets the day nicely for her. She is a big fan of beauty oils and uses the same for providing nutrients to her hair. Katrina kaif loves to take care of her hair and ensures that she goes for a quick blow dry after washing her hair.
She loves using a leave in conditioner and uses the same to make her hair soft. Apart from washing her hair frequently, she als goes for frequent haircuts to get rid of split ends. She loves to get styled by Sapna Bhavnani which is one of her favourite hairstylists.
While going for hair treatments, she always makes sure to protect her hair by using heat protectants.
FAQs On Katrina Kaif Beauty Secrets
Q- What would be the best skin care tip from Katrina Kaif to get a glowing skin?
Though Katrina follows a lot of simple beauty tips, she pays a lot of attention to her diet and workout routine. One of her most important skin care tip to get glowing skin is to drink 4-5 glases of water on empty stomach in the morning.
Q- What does Katrina kaif eat during the evening or morning between meals?
Katrina kaif diet is full of nutritious food. She avoids havoing junk food and consumes a lot of vegetables and fruits. between meals when she gets hungry, she goes for nuts, juices or a protein shake.
Q- Which are the best diet tips from Katrina kaif?
Katrina recommends multiple diet tips to get a gorgeous body.
Drink 4-5 glasses of water after waking up.
Don't have tea or coffee as first think in the morning (especially on an empty stomach).
Include various fruits and vegetables in your diet.
Minimize oil consumption.
Q- Is katrina kaif workout routine the reason behind her washboard abs?
Katrina's strict diet control and her dedication to her workout routine is the key reason behind her washboard abs. She works out for 1-3 hours daily. Her trainer Yasmin Karachiwala makes sure that she performs different workouts at an evevryday level and also couples it with yoga.
Katrina does a mix of cardio, weight training, squats, pilates and push-ups to maintain her abs.
Q- What is katrina kaif body shape?
Katrina kaif body shape measurements are 34-26-37 Inches. She has a waist of 26 inches and her hip size is 37 inches. She has brown eyes and her hair color is black. Katrina kaifs age is 36 years and her height is 5 ft 8 inches. She weighs around 57 Kgs.
Q- What is the height of Katrina Kaif?
Katrina Kaif height is 5 feet 9 inches. In meters, Katrina Kaif is 1.74 meters tall.
Q- What is the age of Katrina Kaif?
Katrina Kaif was born on 16 July 1983. She is 38 years old.
Q- How much does Katrina Kaif weight?
Katrina kaif weighs around 57 Kgs.
Q- What does Katrina Kaif eat?
Katrina kaif diet is a mix of carboydrates, proteins and fats. She makes sure to contain her carbhydrate intake to maintain her perfect figure.

She prefers to take oatmeal and cereals or egg whites in breakfast. In Lunch, she prefers to go with boiled rice and vegetables or fish and brown bread. She likes to go with sandwiches during the evening. For dinner, she likes to consume vegetables with green salad, chapattis and soup.
Q- What are the favourite makeup products of katrina kaif?
Katrina kaif makeup products are pretty popular. She loves using the following products:
Mene & Moy face wash
Shu uemura skin cleansing beauty oil
Lancome cleansing milk for cleaning face
La Prairie night cream
The Apricot oil by Anne Semonin
Stila lip glaze
Q- Who is Katrina Kaif's dietician?
Mumbai-based celebrity dietician Shweta Shah is the nutritionist of Katrina Kaif.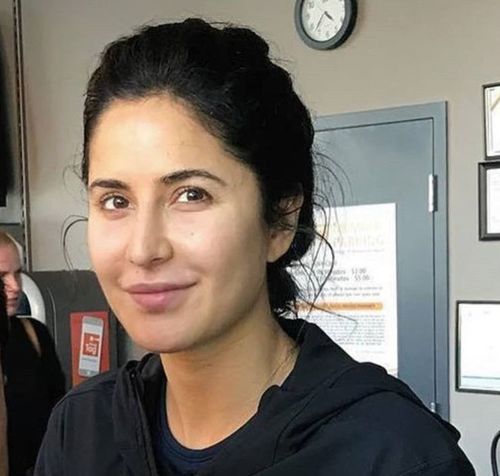 Q- Is katrina kaif without makeup also beautiful?

Katrina kaif without makeup is as beautiful as she is with makeup. Her no makeup selfie proves the same. She has a fair and gorgeous skin which she maintains really well by following a strict diet, regular exercises and using the right makeup products.
Q- Which products can one find in katrina kaif's makeup bag?
Katrina follows a normal makeup and skin care routine but sticks to it at all times. Her makeup bag usually contains:
A lip balm (its her absolute must)
Concealer
Lipsticks (She prefers red lipstick or a soft shade like pink)
Mascara
Eyeliner
Moisturiser
Compact powder
Sunscreen
Blush
Hair spray
Q- How did katrina kaif lose weight?
Katrina kaif lost weight by following a strict diet and going for regular exercises. She also made changes to her lifestyle and ensured she gets 8 hours sleep daily. She maintained a healthy mix of carbohydrates, proteins and fats in her diet. She consumed 4-5 glasses of water right in the morning and took frequent meals to avoid excessive eating.
Q- Which are the popular katrina kaif beauty tips?
There are many katrina kaif beauty tips which are simple and easy to implement. Most importantly, these beauty tips are very effective. We list a few of them below:
Always remove makeup before going to bed
Face cleansing is equally important in the night. Katrina makes sure she cleanses her face thoroughly before going to bed. She also uses a moisturiser to keep her skin hydrated.
Diet is very important to a healthy and glowing skin. Make sure to eat green leafy vegetables and drink 8-10 glasses of water.
Minimize caffiene in your diet (Especially avoid it on an empty stomach as the first thing in the morning)
Don't go out in the sun without applying a sunscreen
Minimize usage of chemicals
A body massage is very helpful so do go for it intermittently
How awesome is she! <3
Related Articles