How Melissa Mccarthy Lost 75 Pounds?
Shalu Bhati
Updated At 28 Aug 23
Do you wish to know more about Melissa McCarthy weight loss and her inspirational journey?
Melissa McCarthy started her career with television and it was her portrayal of Sookie St. James in Gilmore Girls that brought her widespread recognition. She went on to make her name as one of the most talented and funniest actresses in Hollywood with movies like Spy, Bridesmaids, Identity Thief, and Tammy among others. She is known to breathe life into these movies through the characters she played. She has a big presence on the screen, quite literally. Though, you would be surprised to see Melissa's new avatar. The comedy superstar has come a long way and lost a significant amount of weight—75 pounds to be exact.
So what led to Melissa McCarthy weight loss and how did she do the unthinkable? Let's find out how Melissa McCarthy lost 75 pounds and why her weight loss journey is inspirational. Also check out Melissa Peterman weight loss story as its equally inspirational.

We have specifically covered the following:
- How she gained weight?
- Melissa McCarthy Weight Loss Journey
- Melissa McCarthy Diet
- Did she take weight loss supplements?
- Melissa McCarthy Weight Loss Tips
- Melissa McCarthy Workout Routine
- FAQs On Melissa McCarthy Weight Loss
How Melissa McCarthy Gained Weight?
Melissa was not always a chubby kid. Infact she started gaining weight when she made the wrong food choices. She started eating a lot of junk food like burgers and fries which has a detrimental impact on her weight. As shown in her childhood photo, which Melissa fondly remembers, she was not fat.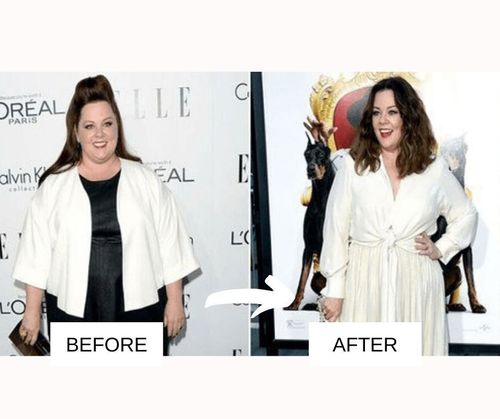 Melissa McCarthy Weight Loss Journey – Melissa McCarthy Then And Now
From Gilmore Girls to Spy, we have seen and loved Melissa McCarthy for each of her performances. We have always seen her as the overweight actress with an impeccable comic talent and screen presence. But she was not always overweight. Melissa was just a regular kid on the block who came to LA with big dreams and made some poor lifestyle choices. And before she knew it, she was way up top on the weighing scale.
However, her weight never really bothered her and surely didn't take away her peace of mind. She has always held a positive attitude and loved her body just the way it is. It is her body positivity which raised her status from an actress and a comedian to female role model not just for plus size women but for women of all shapes and sizes across the globe. "I've been every size in the world, from a six to a 22," said McCarthy in an interview while telling how little she cares about what people think of her weight.
Melissa has made her stand very clear. When asked about her weight, she once said,
"My weight? It is what it is. You could get hit by a bus tomorrow. It's about being content. And sometimes other priorities win." But, this doesn't mean that her journey has been smooth. She has had to struggle to find designers who would dress her for award functions. Even the biggest names refused to make clothes for her and it surely was disheartening.
She mentioned the following in an interview:
When I go shopping, most of the time I'm disappointed…two Oscars ago, I couldn't find anybody to do a dress for me. I asked five or six designers—very high-level ones who make lots of dresses for people—and they all said no.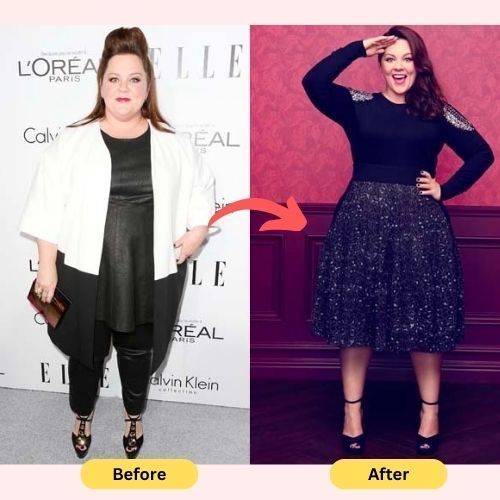 This was a disheartening experience but not enough to stop Melissa. She started designing her own clothes and soon came out with her clothing line for women that covered sizes 4 to 28.
Melissa already had a diet and workout routine but it was not working for her. She even took the liquid diet and it left her starving and unsatisfied with zero impact on her weight. Soon, things changed when she heard that she was going to star opposite Jude Law in Spy. She was quick to switch her lifestyle habits. She added martial arts as part of her workout routine and developed a more positive attitude.
Melissa McCarthy said in another interview,
I truly stopped worrying about it…I stopped over-analyzing, over-thinking, over-doing anything. I kinda went back to when I was pregnant and I just stopped constantly being worried about it and I think there's something to kinda loosening up and not being so nervous and rigid about it that, bizarrely, has worked.
This was the first time that she dropped quite a few pounds and witnessed better energy levels. She felt good and since then she has continued to the path of healthy eating and a strict workout regime which brought her to the loss of 75 pounds.
Melissa has worked very hard to reach where she is now and feels amazing about her journey. Let's find out more details about how she did it.
Also check out Kylie Jenner weight loss and Kim Kardashian weight loss stories as each one of them lost more than 20 pounds!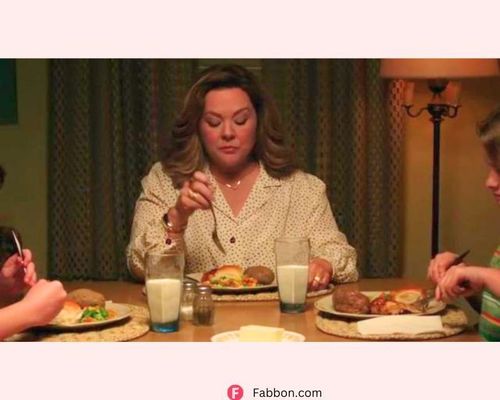 Melissa McCarthy Weight Loss Diet
It is pretty common for celebrities to take the shortcut and opt for surgeries or diet pills to shed off the excess weight. But, Melissa didn't do so. She followed the good old diet and exercise route and started losing weight.
Melissa focused on clean eating, eliminated junk foods from her diet and made a switch to a high protein and low carb diet. Her diet comprised of lots of organic fruits and vegetables, lean protein, and fiber accompanied by healthy fats as found in olive oil and avocadoes. She also gave up processed foods, chips, sugary treats and other unhealthy snacks as part of weight loss diet.
Also check out Seth Rogen weight loss and Rob Kardashian weight Loss stories as both have lost a lot (30 pounds+) of weight through diet and regular exercises!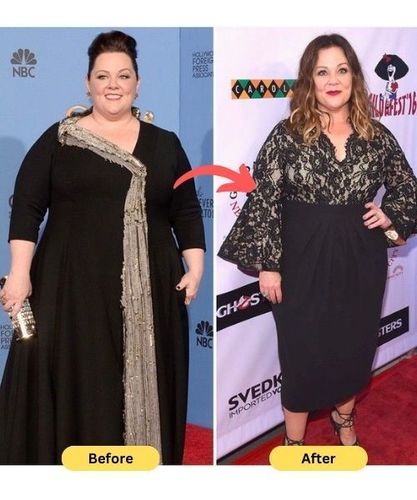 Did Melissa McCarthy Take Weight Loss Supplements?
Along with following a strict diet and workout routine, Melissa also took help of AtraFen Weight Loss Aid. It is a weight loss supplement which reduces appetite and burns fat. Regular consumption of these supplements over multiple weeks can really lead to a significant weight loss.
In case of Melissa McCarthy, her strict diet and workout along with weight loss supplements worked wonderfully well for her as she was able to lose more than 70 pounds!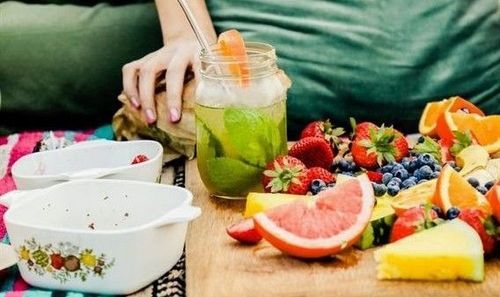 Melissa McCarthy Diet Plan
Following is the exact diet plan followed by Melissa McCarthy for her weight loss:
- Breakfast – 3 ounces grilled chicken breast, 4 scrambled egg whites with spinach & mushrooms, a green smoothie made with kale, apple, almond milk, and chia seeds
- Mid Morning Snack – 4 ounces grilled fish, 1 cup steamed broccoli & carrots, 1 large glass lemon water
- Lunch – 6 ounces grilled chicken breast, 1 cup steamed quinoa, 1 cup steamed mixed vegetables, 2 cups hot green tea
- Evening Snack – 6 ounces plain Greek yogurt, 1-ounce toasted almonds, 1 large glass lemon water
- Dinner – 6 ounces grilled beef, 1 cup steamed mixed vegetables, 1 large glass lemon water
Melissa McCarthy Weight Loss Tips
Here are some Melissa McCarthy weight loss tips:
Stop stressing over your weight. The more you stress, the worse it would get. Once you stop over-analyzing your body and embrace it, only then you can get in apposition to make real changes.
Don't go for crazy fad diets which promise quick results. Such diets might give short term results but are unhealthy and can have severe negative impacts on your body. Instead, opt for a diet that keeps you full and satisfied between meals while aiding in weight loss.
Avoid junk food. Eliminate processed food from your diet and eat clean fresh items.
Drink water throughout the day. Chances are you are just thirsty and not hungry.
Replace your carbonated and sugary beverages with green tea and a large glass of lemon water. Green tea is a rich source of antioxidants and boosts metabolism whereas a glass of lemon water is recommended before mealtime. It would not only make you full but also aid digestion.
Have your beauty sleep. It is the time where your body recovers and repairs itself. Having proper rest is an integral part of an effective weight loss plan.
You might be also interested to know adele weight loss along with Meghan Markle diet and exercise details.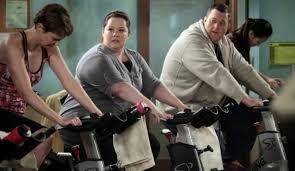 Melissa McCarthy Exercise And Fitness Routine
Melissa McCarthy now works out regularly. She has started working out for at least 5 days a week. She never liked hitting the treadmill and gets bored with the same old routine which is why her trainer tries to make it fun for her. He regularly introduces new circuit sessions in her usual cardio and weight training routines.
We already know that Melissa does martial arts to stay fit. Apart from this, the Melissa McCarthy weight loss workout routine comprises of kickboxing, rowing, strength training, and resistance exercises.
Would you like to know how the Melissa McCarthy fitness routine looks like? Then, keep reading! Along with Melissa McCarthy, Melissa Peterman weight loss story is also inspirational.
Melissa McCarthy Workout Plan
Diet and exercise routine has played a key role in Melissa McCarthy weight loss. She never skipped her exercise routine and maintained a strict diet to ensure her gradual weight loss stays on course.
Here is the typical weekly workout plan followed by Melissa McCarthy as devised by her trainer:
Monday - Total Body Workout –> Bodyweight exercises such as pushups, wall sits, jumping jacks, air squats, walking lunges and crunches
Tuesday - Cardio Workout –> 30 minutes of martial arts, 15 minutes on the rowing machine
Wednesday - Lower Body Workout –> Resistance training to work legs and glutes that includes exercises such as dumbbell squats, dumbbell walking lunges, barbell deadlift, barbell step-ups
Thursday - Cardio Workout –> 30 minutes martial arts, 15 minutes burpees
Friday - Upper Body Workout –> Dumbbell bench press, dumbbell shoulder press, dumbbell upright row, dumbbell triceps extensions, chair dips
Saturday - Cardio Workout –> 45 minutes martial arts, 15 minutes rowing machine
Sunday – Stretching and 45 minutes of yoga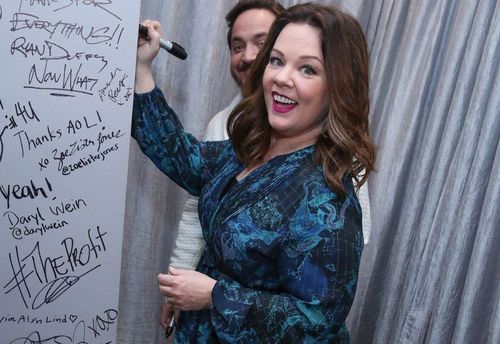 Frequently Asked Questions
Q. How did Melissa McCarthy lose weight?
Melissa McCarthy lost weight by a combination of a healthy diet, a strict workout regimen and taking the right weight loss supplements.
Q. How much did Melissa McCarthy weigh at her heaviest?
Melissa Mccarthy weighed around 180 pounds before she started her weight loss journey.
Q. What are Melissa McCarthy's preferred snacks and lunch options?
Melissa prefers steamed vegetables, Greek yogurt, nuts and seeds as snacks. She likes to eat lean meat along with steamed vegetables as part of her lunch.
Q. How much weight was lost by Melissa?
Melissa McCarthy is said to have lost a whopping 75 pounds.