Korean Skin Care Routine For Oily Acne Prone Skin
Shalu B
Updated At 14 Sep 22
Shiny skin, blackheads, pimple attacks, large pores— Sound familiar? If yes, then chances are that you have oily skin.
Sebaceous glands present in our skin produce sebum, a waxy, oily substance which hydrates the skin. You can think of it as the skin's natural moisturizer. But, there is a downside to it. Anything in excess can prove to be harmful. Similarly, when this sebum is produced in excess, real trouble begins.
Excess sebum in oily skin leads to a shiny appearance, large pores, blackheads and constant recurrence of pimples.
You have to be vigilant about the products you put on your face because one wrong ingredient and it is hello acne.
What Causes Oily Skin?
Excess sebum production can be caused due to a fluctuation in hormones. The major culprit? Androgens. These are the male hormones present in both males and females. The more the androgens, more the sebum production. Females have this hormone in lower levels. Events such as puberty, monthly menstruation cycle, pregnancy can lead to fluctuations in their levels resulting in excessive oiliness and ultimately acne.
Hormonal changes is the most common reason behind excess sebum production leading to oily skin. However, high stress level and improper care of skin are other significant reasons.
Your skin also becomes oily because of lack of moisture. Sounds strange? But it is true. You might think that skipping on moisturizer is not a big deal when you have oily skin. With excessive cleansing to keep the oil at bay and zero moisturization, your skin's balance is disturbed which then triggers excess oil production. This is definitely not what you wanted.
So what to do? How to tackle all these oily skin issues? Worry not. We have three words for you— Korean Skin Care
Apart from korean skincare, japanese skincare routine is also very popular. Do check out the 20 Most Popular Japanese Beauty Secrets For Getting a glowing skin!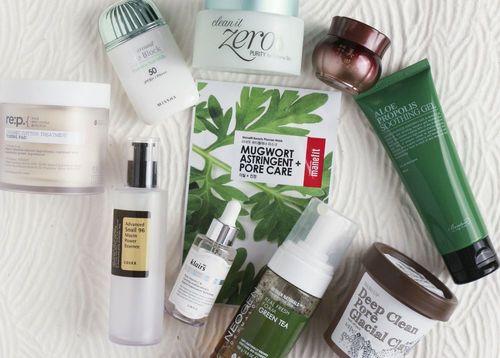 Why Korean Skin Care Routine Is Best for Oily Skin
You already must have a skin care routine. So why should you make this shift?
For starters, Korean women are known for their flawless glowing skin and the world has finally taken notice. Korean skin care has taken the beauty industry by storm with its innovative ingredients and effective techniques. It is easily accessible and is here to stay as it produces the results.
Korean skin care focuses on prevention and going to the root of the problems. The products are highly effective yet gentle and come in aesthetically pleasing packaging. Vitamin C, tea tree, volcanic clay¸ egg whites, green tea are some of the ingredients used which are known for their oil-controlling properties.
This skin care routine for oily skin focuses on hydration leaving you with dewy skin. And when your skin is dewy, it glows from within.
10 Step Korean Skin Care Routine For Oily Acne Prone Skin
The Korean skin care regime is meticulous and characterized as a multi-step process. But don't let this intimidate you. The results are totally worth it.
Here is the 10-step Korean skin care routine for oily skin that will change the way you look at skin care:
1. Oil Based Cleansing
You always start by wiping the slate clean. This is why Korean skin care routine comes with a two-step cleansing process. The first step involves using an oil-based cleanser.
Why would you add oil on your already oily skin? Well because like attracts like. An oil-based cleanser penetrates deep into your skin to remove all kinds of oil-based impurities such as sunscreen and makeup.
We recommend Innisfree Apple Seed Cleansing Oil Or The Face Shop Rice Water Bright Rich Cleansing Oil.
Also Read: What Is Double Cleansing And How To Do It At Home?
2. Foam Cleanser
After cleansing your face with an oil-based cleanser, move on to the second step of the double cleansing routine. The first step focused on removing oil-based impurities. This step will focus on removing water-based impurities such as sweat and dirt with a water-based cleanser.
Use a gentle, non-drying foam-based cleanser to remove whatever is left behind to give you squeaky-clean skin. Massage on a wet face using circular motions.
We recommend The Body Shop Tea Tree Foaming Cleanser or The Face Shop Rice Water Bright Cleansing Foam.
3. Exfoliation
Exfoliation helps in cleaning clogged pores and removes dead skin cells to reveal brighter looking skin. Gently exfoliate your face two to three times a week to smoothen your skin texture.
We recommend Neogen Bio-Peel Gauze Peeling Lemon Or Skin Food Black Sugar Mask.
4. Toner
Toning is an integral part of the Korean skin care routine. It hydrates the skin after cleansing. It balances your skin's pH levels which makes this step extremely essential for your oily acne prone skin. Use a lightweight alcohol-free toner. Pour a little on your hands and gently dab it on your skin.
We recommend Khadi Rose Water Or Plum Green Tea Alcohol Free Toner.
Also Read: Best Steps To Follow To Remove Makeup Correctly As Per Experts
5. Essence
Similar to a serum, but watery, essence is the secret Korean skincare ingredient that has taken the world by storm. Essence delicately hydrates your skin and gets absorbed quickly.
We recommend Cosrx Advanced Snail 96 Mucin Power Essence or Cremorlab Mineral Treatment Essence Cream.
6. Serum Or Ampoule
It is an additional step to give your skin an extra boost of hydration. It penetrates deep to target particular skin issues. You can customize this step as per your skin.
We recommend Anjou Vitamin C Serum, Complex C Anti-oxidant For Face With Hyaluronic Acid Or Time Revolution Night Repair New Science Activator Ampoule.
7. Mask
Using face masks is another important part of the Korean skin care routine. They address multiple concerns including cleansing, hydrating and brightening the skin depending upon the ingredients. Use them two to three times a week to give your skin an extra dose of nutrients.
We recommend Benton Snail Bee High Content Cream Or Innisfree Jeju Volcanic Pore Clay Mask Original.
8. Eye Cream
The area under your skin is extremely delicate. Its hydrations needs are also different than the rest of your face. Your normal moisturizer is no good here. Use a thick eye cream twice a day to hydrate your under eye skin. This will ensure younger looking and wrinkle free skin.
We recommend The Body Shop Moisture White Shiso 2 in 1 Brightening Eye Cream Or MIZON Korean Cosmetics Snail Repair Eye Cream.
9. Face cream Or Moisturizer
Hydration is the key for glowing flawless skin. Seal all these nutrients with a good face cream or moisturizer. Use a light weight formula which is easily absorbed into your skin with ingredients that are suitable for oily skin.
We recommend Missha super aqua ultra water-full cream or Laneige water bank moisture cream.
10. Sun Care
Korean skin care routine puts special emphasis on the use of SPF. You need to protect your skin from sun's harmful rays even if you are out for a few minutes. Use a gel based sunscreen,
We recommend Missha All Around Safe Block Total Moisture Sun Gel spf30/pa+++ or Dr. Jart+ Every Sun Day (SPF50+/PA+++).
How To Make The Skincare Routine Effective?
Ensure you follow these tips to optimize the results.
The essential part of this routine is the order in which the products are applied and how they are applied. So you must not skip a step in between or change the order.
You must also wait for 30 seconds to a minute between each step to ensure good absorption of the products.
If you get confused with which step is to come before what, remember the more watery the product is, the earlier it is to be applied.
This Korean skin care routine is the best skin care routine for oily skin. Have fun trying this skin regime and see the results yourself.
Related Articles