Nivea Shower Gel (Fresh Powerfruit) Is Worth All The Hype
Priyanka F
Updated At 14 Sep 22
Are you looking for a body shower to reenergize your spirit? Finding a good shower gel can definitely help you achieve it but Is Nivea Shower Gel the one that you should opt for? Read more to find it!
We recently tried the Nivea Care Shower Fresh Powerfruit gel and we will list below an unbiased review which will include the brand claims, our experience in detail, the pros and cons and our final recommendation.
Product Review: Nivea Shower Gel (Fresh Powerfruit)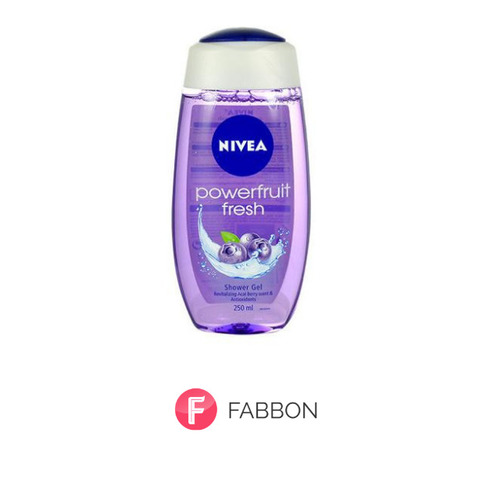 Brand claims
Packaged with anti-oxidants, this fresh shower gel is all about making your skin feel soft. The non-harmful foam imbibed with the vibrant scent of blueberries stimulates the senses and relaxes you in the shower itself. Moreover, the blueberries ensure that your skin feels moisturized even after taking a bath.
Packaging
Not much thought has been put into the packaging for the shower gel comes in a simple transparent bottle that reflects the colour of the gel- blueberries. However, the width of the bottle is not too big which means that it does not occupy much space and hence can be easily packed into an over-night bag as well.
Key Ingredients
Aqua, Sodium Laureth Sulphate(SLS), Cocamidopropyl Betaine, PEG-7 Glyceryl Cocoate, Parfum, Glycerine, Glyceryl Glucoside, Sodium Ascorbyl Phosphate
Make a note that this nivea shower gel does have SLS (Sodium Laureth Sulphate). So this nivea care shower fresh powerfruit gel might not be the best product if you are looking for chemical free shower gels.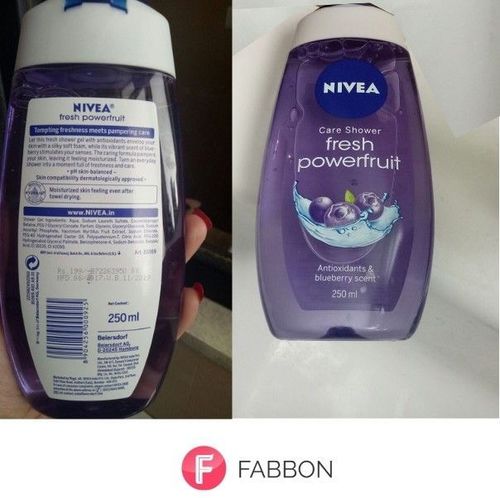 Our experience
If an affordable and rejuvenating shower gel is what you are looking for, then the Nivea Fresh Powerfruit gel is the one for you. The richness of moisturizer complimented with the sweet smell of blueberries makes for a heady combination. The best part about the shower gel is that the moment you start applying on the skin, you can feel the moisture and nutrients seep into it. Unlike other shower gels, the fresh powerfruit gel does not leave your skin dry even after hours of taking a bath. Moreover, it stands true to the claims of its name; it does make you feel fresh and rejuvenated.
As an additional benefit, it also removes tanning and helps you get clear skin. It lathers amazingly well as well. For all the dry skin beauties, this is a must have shower gel as it will work wonders on your skin by making it soft and soft.
You can enhance the experience by using it along with a soft loofah. This shower gel also lasts long as a small quantity is enough for daily use. A normal usage will easily last for one and a half month.
Why should you use it?
Two words will be enough to convince anyone to use this shower gel – fragrance and moisturizer. Along with its staying power, it gives us 3 amazing reasons to use it.
Who knew blueberries could smell so good on your skin? Apart from the fragrance which lasts all day long so much so that you don't even need a deodorant, the shower gel forms bubbles of tiny foam on your skin and ensures that none of the nutrients is lost. The shower gel is also recommended for dry skin as it moisturizes you and is in fact much better than regular soaps.
The runny shower gel not only makes you smell and feel fresh but also adds a glowing shine to your skin.
Product Features - Nivea Shower Gel (Fresh Powerfruit)
This shower gel ensures that you will have a very berry good time! It does have SLS and a few other chemicals, so if you are looking for a SLS free shower gel, then this may not be the best choice.
The exotic fragrance of Acai Berry is just refreshing. This Nivea shower gel also uses a Hydra IQ 24h+ moisture technology which keeps your skin hydrated for long hours.
Once you start using the gel, you will feel the difference as your skin will become soft. The long lasting fruity aroma is an additional bonus.
Pros
Easy to apply
Affordable
Intoxicating fruity fragrance
Moisturizing properties
Good staying power
Removes tanning
Has an amazing texture
Works really well for dry to normal skin
Lasts long
Cons
Might not be suitable for sensitive skin
Contains SLS
Final Recommendation
A thick shower gel with a smooth texture, this Nivea gel is best for daily use. It not only moisturizes your skin but also saves you from situations of embarrassing body odour.
For its aroma, smoothness and moisturizing properties, Nivea Fresh Powerfruit Gel is definitely worth every penny.
Click Here to buy it.
If you have a normal or dry skin, this is surely a must have shower gel. Buy it soon to experirnce soft and smooth skin with ana amazing mild fruity fragrance. You will surely not regret your decision!!
Note: This is an unbiased review and is not a sponsored post.
Related Articles