25 Micro Braids Hairstyles For Black Women - 2023
KRITIKA GUPTA
Updated At 18 Oct 23
Micro braids are very tiny braids that frequently resemble thick hair strands. As you might expect, micro braids take hours to install and frequently considerably longer to remove. But the work spent was well worth it because this braid technique is more adaptable than most others. This is due to the fact that because the braids are so thin, they are typically handled and styled in the same manner as your natural hair. When making micro braids, whether they are with your own hair or hair that has been added, only a few hair strands are utilized at a time. 
If you're a black lady who wants to think about micro braids as your next goto hairstyle, you should look at what we have planned for you. You can obtain many varieties of this hairstyle and learn more about what the micro braid is all about. Micro braids are a terrific protective hairdo.
25 Micro Braids Hairstyles For Black Women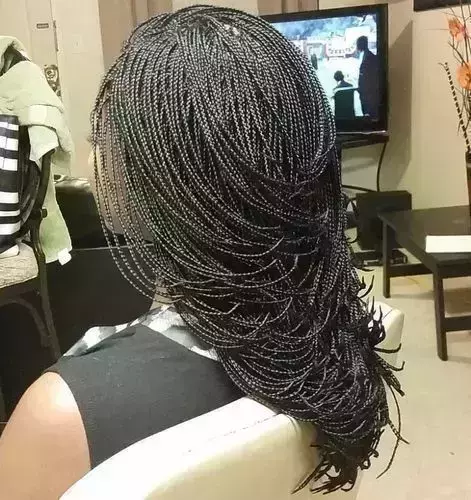 1) Layered Micro Box Braids
Small box braids are taken in a completely new way with this stunning look. They acquire a whimsical flair of numerous layers that draw near one another, giving off a charming appearance of feathers flipped inward. The result is a chic style that will have you twirling and stroking your hair all day.
One of the best black women haircuts, box braids continues to remain popular and is preferred by many.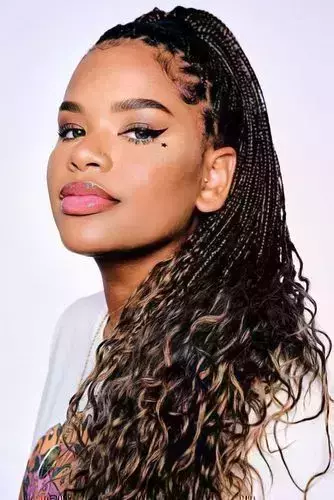 2) Micro Braids Hairstyle with Curls
This elegant hairdo easily transitions from braids to curls, resulting in a sweet head of curly hair. If you want a simple yet stylish hairstyle that doesn't take away from your face and personality, you'll appreciate this.
Read More: Curly Hairstyles For Black Women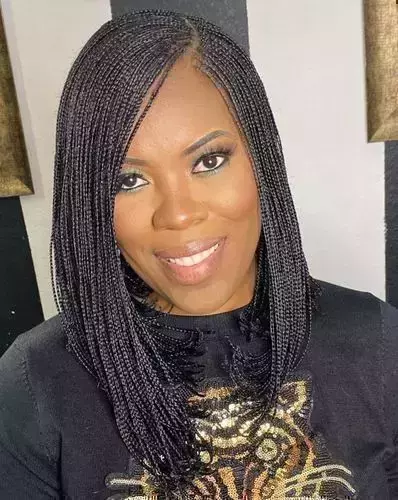 3) Mini Braids Bob
A sweet curly head of hair is the outcome of this romantic hairstyle's swift transition from braids to curls. If you want a hairstyle that complements your face and individuality while remaining modestly elegant, you'll adore this.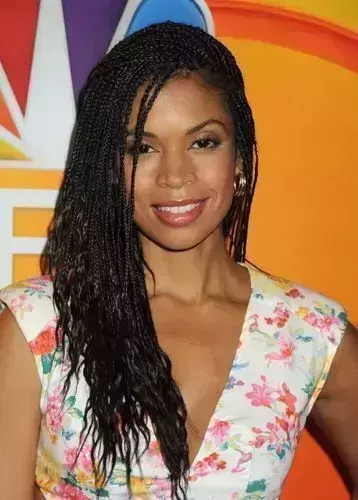 4) Side Parted Micro Twists
The best method for styling twists is by far a side part. It's a relaxed, youthful, and modern downdo. It's not necessary, however you can utilize more creative microtwists. Wear some blingy earrings and subtle, feminine makeup to celebrate your success.
Read More: What Are Crochet Braids?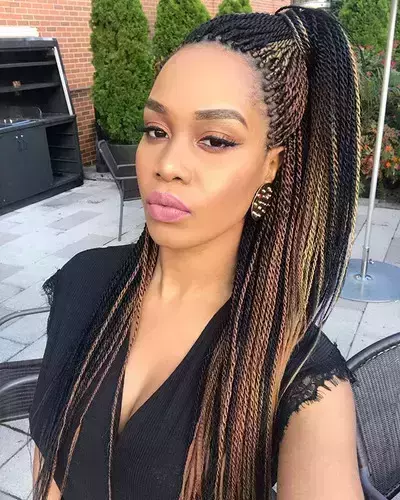 5) Micro Twist Ponytail
Micro twists are polished, manageable, and the perfect length and color, just like hair. Your natural hair is resistant to heat and chemicals, and styling it is easy. Enjoy your extralong twists while strolling by wearing them over your shoulders to feel like a queen or in a high ponytail to gently glide across your back. One of the top haircuts for long hair, the ponytail is always in trend.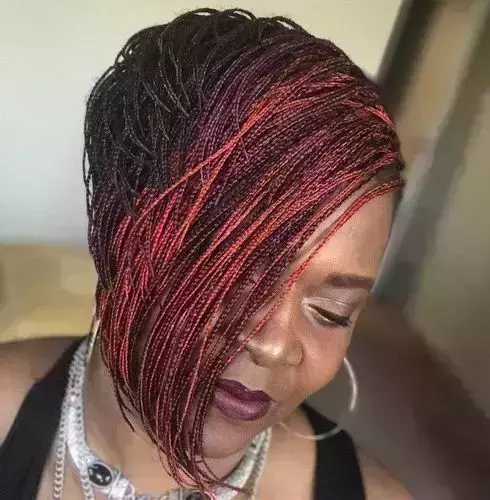 6) Short Stacked Bob Microbraids
Shorter, stacked micro braid designs can also look quite stunning. The braids' texture adds additional movement, and that "swish, swish" quality may be very seductive. Here, the neck is undercut, and the braids are a little chunkier. One of the popular afro hairstyles, this works both for long and short hair.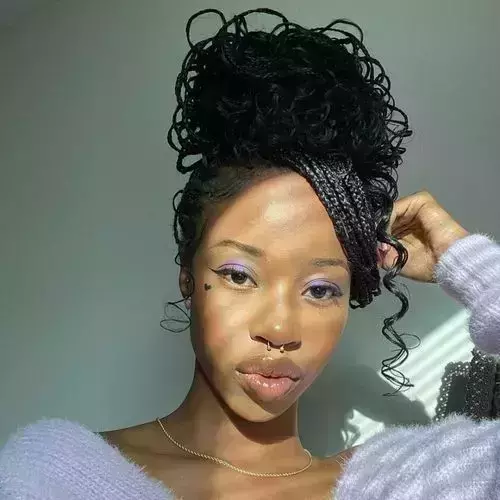 7)  Cute Updo With Micro Braids
What an intriguing take on what appears to be a simple updo! Catch those tiny strands in an inventive updo that resembles a crown and show off texture.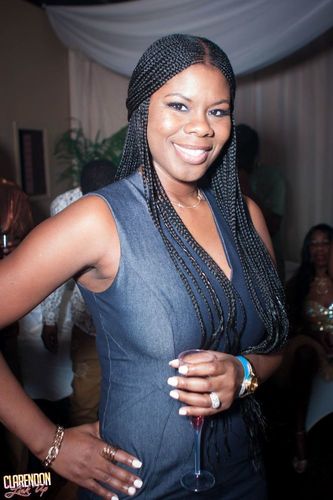 8) Sleek Micro Braids with a Middle Parted Hair
Your long microbraided hair will make a sleek canvas for you to experiment with if you part it like this. With this type of parting and little hair braids, the texture is not sacrificed but rather enhanced.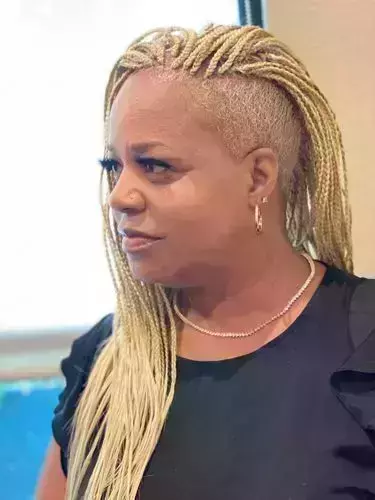 9) Powerful Micro Braids with Shaved Sides
Shaved sides combined with some hair styling and tiny braids create a striking image. Long micro braids can be tidily pulled back for a sassier look or neatly arranged in a high bun.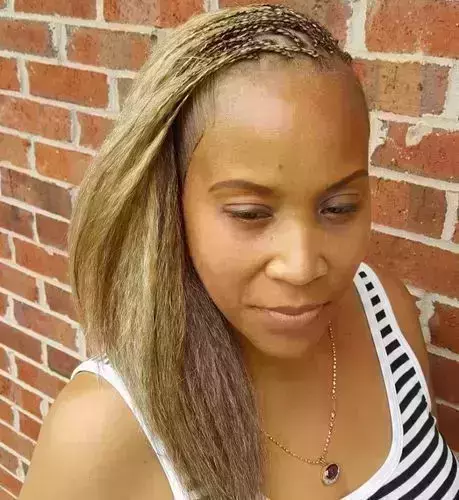 10) Invisible Micro Braids
Women who want a more natural appearance and feel will love this protective design. You may personalise this tiny braided hairstyle. Choosing the right hair colour to use and where to add or place highlights to accentuate your beauty is the best aspect of this style.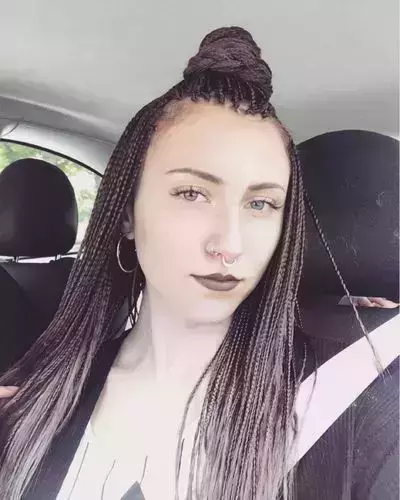 11) Simple Corchet Micro Braids
Movement is possible thanks to the layers of tiny feedin braids at the rear. The deep braids on the sides liven up the crochet micro braids, which have a tribalinspired ponytail at the top.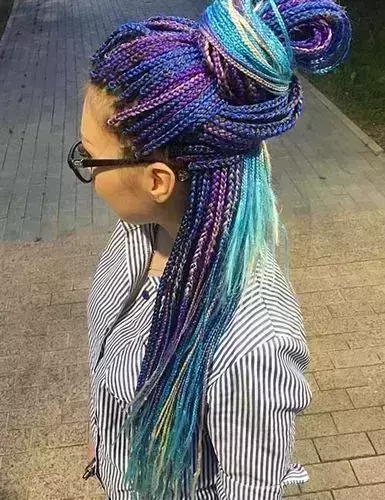 12) Rainbow Micro Braids
All of the fire emojis are appropriate for these vibrant microbraids. Why not select them all for your appearance rather than keeping with just one shade? Using a light mousse over your braids will prevent flyaways, so use this pro tip. One can also go for Senegalese twist hairstyles as these look stylish and elegant at the same time.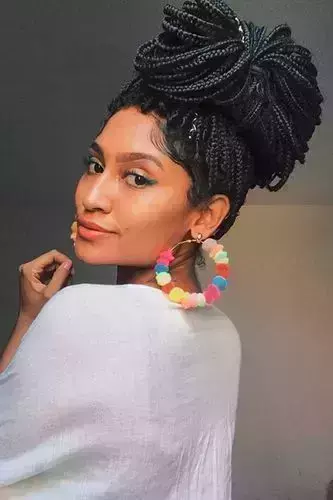 13) Micro Braids in a Bun
Instead of a neat bun, gather your microbraids on top of your head and create a messy bun with them using a hair tie. With a few bobby pins, finish off the style, and you're ready to go.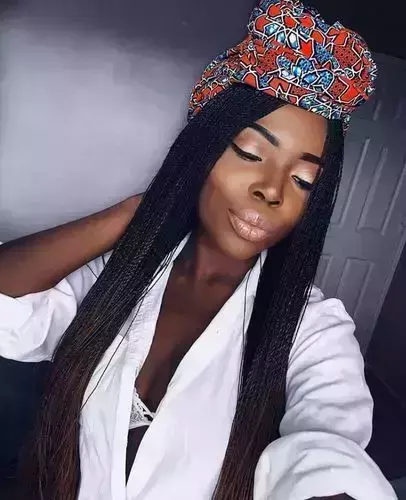 14) MicroBraids With A Scarf
How adorable is this scarf moment, really? When you don't feel like setting your edges, it's a terrific alternative and the ideal complement to microbraids.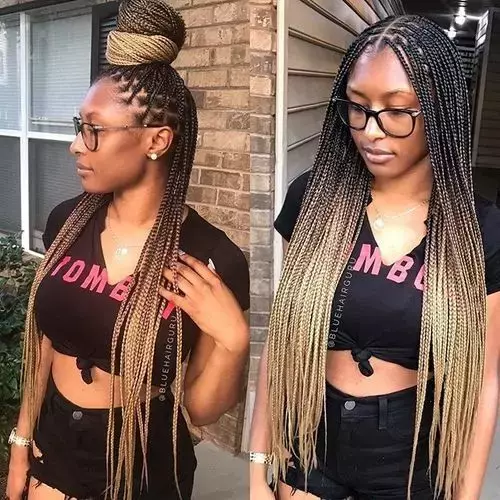 15) Ombre MicroBraids
Your microbraids won't fall flat if you have hair that is ombrécolored because it will help to give them depth and definition. Spray on a moisturizing spray to keep your braids moisturized if they are starting to appear a little parched.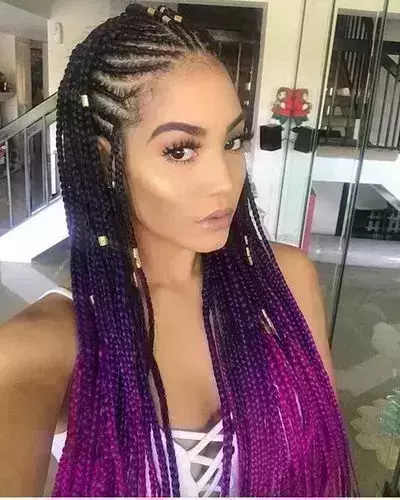 16) Purple Micro Braids
You didn't hear, what's up? Lilac, or more particularly, purple, is the color of the season. Choose a multicolored style and request that your braider utilize multiple braiding hair colors rather than just one.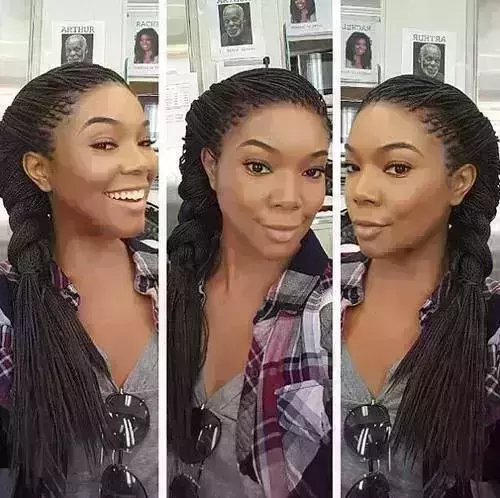 17) Side Braids
Gabrielle Union demonstrates how to wear side braids in the video below. Micro braids are thinner and simpler to style than box braids or poetic justice braids. To keep your micro braids off your face, neatly braid them into a side braid. straightforward and straightforward to execute, the style. Your main braid can either be left in place all the way down or you can cut it off in the middle, which looks gorgeous!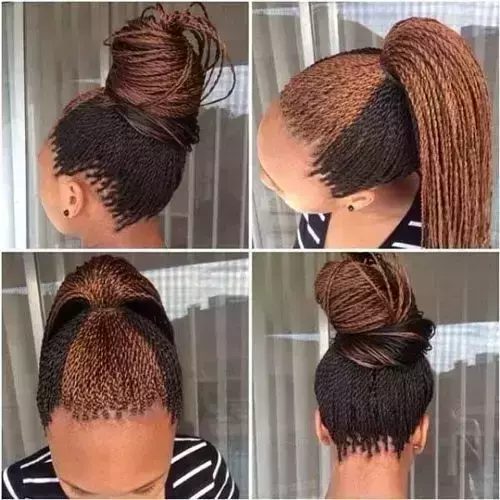 18) Two Toned Micro Twists
Choose a twotoned hairdo with twists to highlight your unique personality. It will appear amazing from all sides. This will look fantastic whether you wear your hair up or back in a bun. It will look amazing how the two colors differ from one another.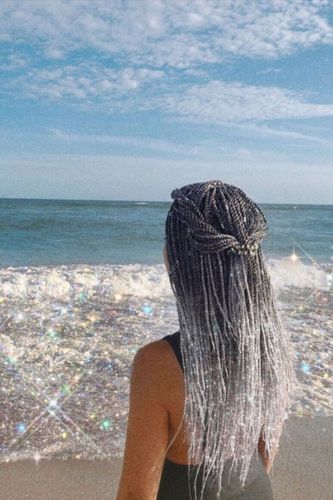 19) Gray Ombre Micro Braids
A fashionista's fantasy are micro braids in gray ombre. Gray hair was once only a hair color associated with older people, but in 2016, practically everyone wants or has it. We are all aware that braids look amazing with the gray color, which has been popular for some time.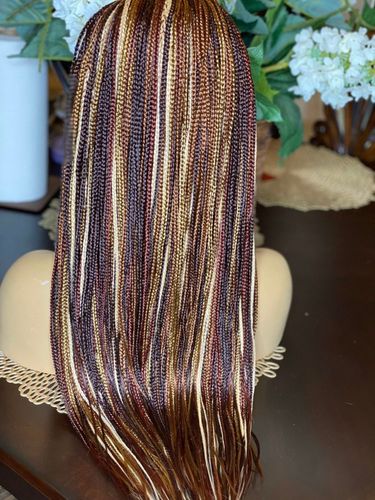 20) Micro Braids with a Pop of Color
A major change can take some time to digest, and it occasionally takes us some time to make the leap. Do you have any courage? Your braids should have a dash of blonde color. This brings life to your braids and will go with any outfit.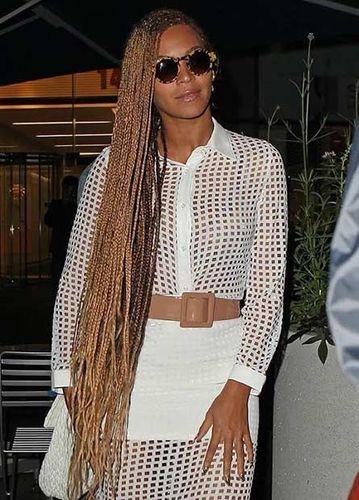 21) Beyonce's Super Long Micro Braids
Why can't you pull off those lengthy braids like Beyonce does? We all agree that long braids are beautiful, however there are different lengths of hair. You all will understand what I mean if you have long hair. Look at B's hair in this picture; it's very long, huh? Will you go the additional mile considering how amazing it looks?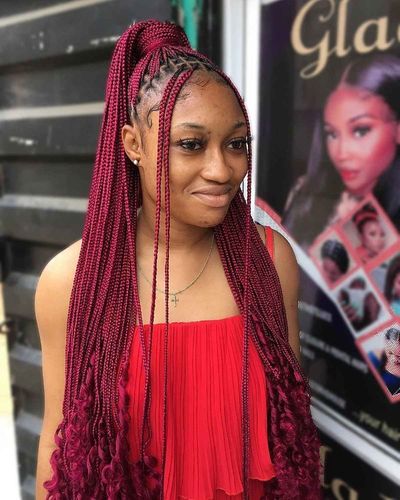 22) Red Micro Braids
Just having red hair looks so hot and bright. Combining braids with red hair looks incredibly seductive and vivid. Because this color stands out from the crowd, wearing your hair up or down will bring attention to your hairstyle.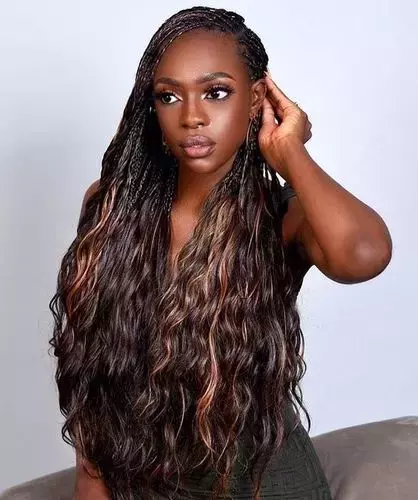 23) Micro Tree Braids
A protective hairstyle called tree braids is skillfully designed to hide the braided area. What makes this attractive? The end effect is a fantastic supernatural appearance that will last for weeks. The most fashionable combination is to try them with micro braids, giving you strands that feel current and fresh.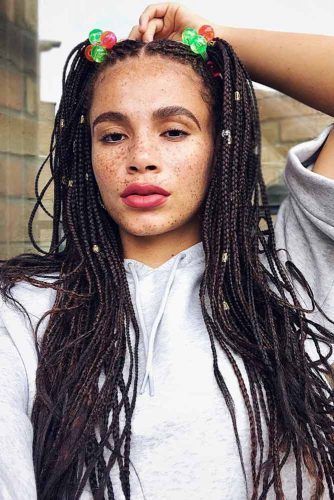 24) Micro Braids Pigtails
One ponytail on either side of the head is done with pigtails for a particularly adorable and youthful appearance. It's a straightforward, feminine hairstyle that's simple to achieve and looks gorgeous in a variety of lengths and textures. Alternately, you can upgrade your hairstyle by first forming tiny braids for a contemporary and expressive look.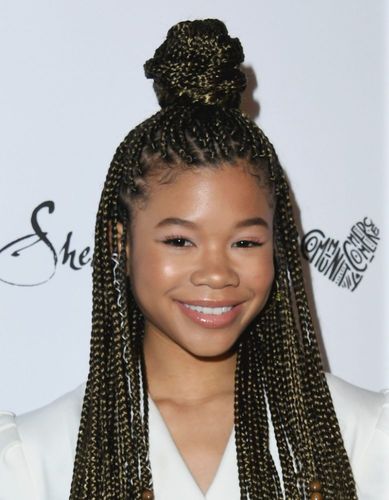 25) Half Top Knot Bun with Micro Braids
The half top knot bun is easy to make but packs a lot of style points. The size will depend on how thick and long your hair is, but the effect is still stunning. Micro braids are a great protective style that's also enjoyable and trendy, allowing you to up your hair game and change the way you look.
Related Articles