25 Stunning Eye Makeup Looks - 2023 Hottest Trends
Ashwini
Updated At 18 Sep 23
This year has given us many things in terms of makeup looks. The lovely makeup looks that are one of the nicest things to come out of it will make you want to try them all. For individuals who have become tired of their typical eyeliner and eyeshadow looks, they are the ideal pick-me-ups. How long can you truly maintain the same smoky eye routine, after all? As a result, we're here to motivate you with 25 best eye makeup looks that are the brightest. Let's get started!
25 Best Eye Makeup Looks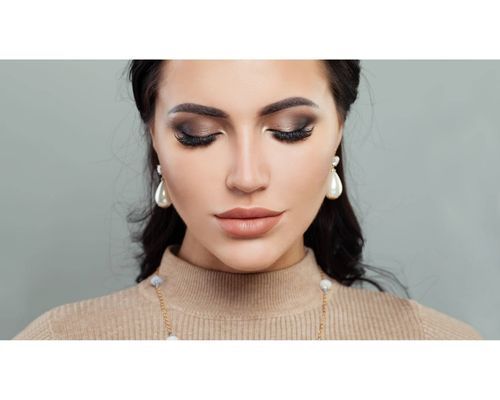 1. Taupe Eye Makeup
The most popular colourful eyeshadow looks of this year include taupe as a competitor. If you want it to stand out, start with a base of primer then colour your lids on top. You can also try combining taupe with brown or black.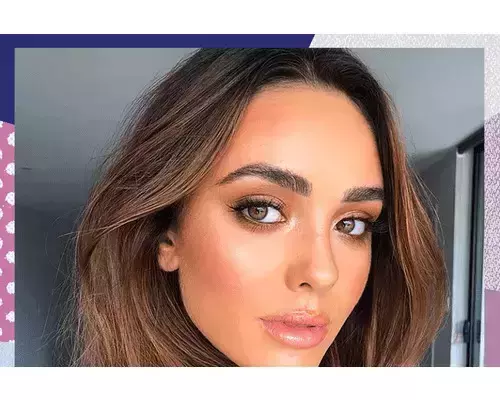 2. Peach Eye Makeup Look
With blushing contour, this peach eyeshadow look could have been the hottest thing in the summer, but in our opinion, no makeup style belongs to only one time of year. For added glitz: For a monochromatic appearance, use it with lip colour and eye shadow from the same colour family. You can also go for e-girl makeup looks which have been all over social media this year.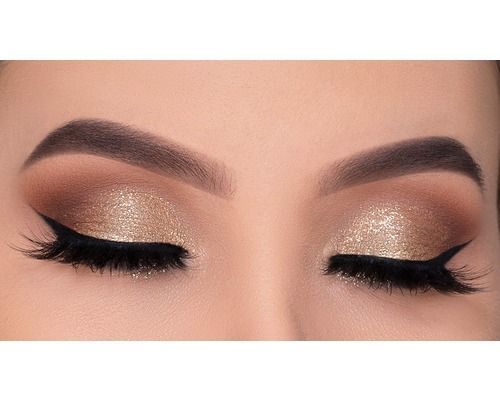 3. Golden Coloured Shimmer
This golden piece of beauty is one of the best party makeup looks we've seen, which includes some shimmer, which makes it the perfect party-wear eyeshadow of the season. Golden eyeshadow is one of the natural eyeshadow to go for with or without shimmer application. One of the trending eyeshadow looks this year, golden eyes never go out of style!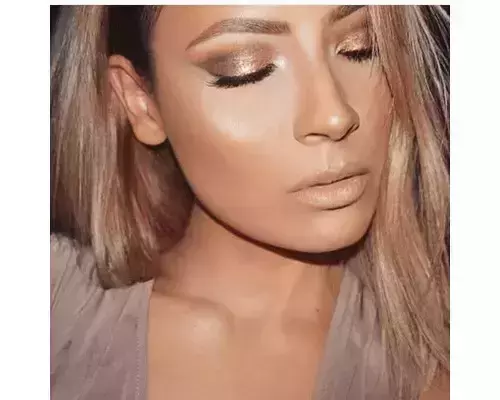 4. Bronze Eye Makeup
Apply a moisturiser to prepare your skin, then use the greatest face bronzer in your makeup collection without being afraid to show some skin. For a look that will have you giggling all New Year's Eve, add a touch of warm shimmer to your lids and use a glossy lip gloss.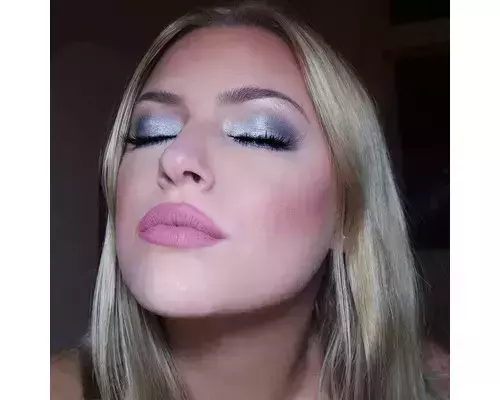 5. Dose Of The Blues
There are various makeup looks that you may choose from, but can they be as breathtakingly gorgeous as this one right here? No, we believe. Why? Because the warm and cool tones of this work of art are so lovely together. A delicate light blue tint on the upper lids and a peach-based nude on the lower lash line creates a flawlessly balanced appearance. It is a natural eyeshadow that looks for blue eyes.
Check out our guide to find the best blue eyeshadow looks which have been trending this year. We cover 30+ stunning blue makeup looks which have gone viral!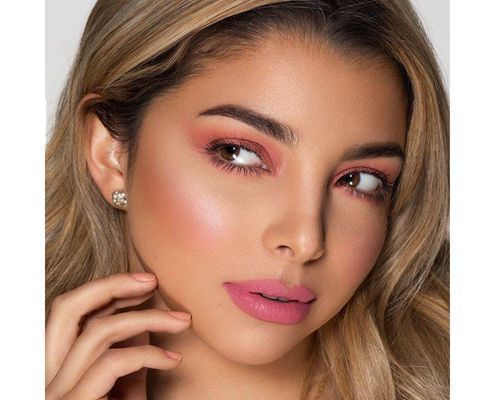 6. Soft Pink Eye Makeup Look
Yes, everyone's preferred colour for a natural make-up look is soft pink. This soft pink eyeshadow look looks stunning and elegant. It has a classic look. Not to mention the nicely placed mascara brushing to the eyes, of course, makes it a natural eyeshadow that looks for brown eyes.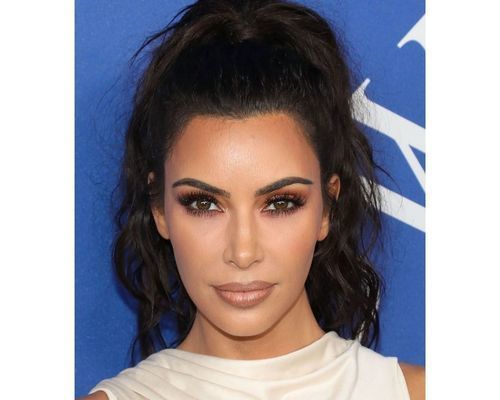 7. Smoke Eyeshadow Look
A great method to upgrade your makeup appearance is to play around with colour and its pattern or shape blending. The smoky effect with a base colour touch of brown creates a perfect natural eyeshadow look. Kim Kardashian looks stunning in this smoke eyeshadow look and is loved by many.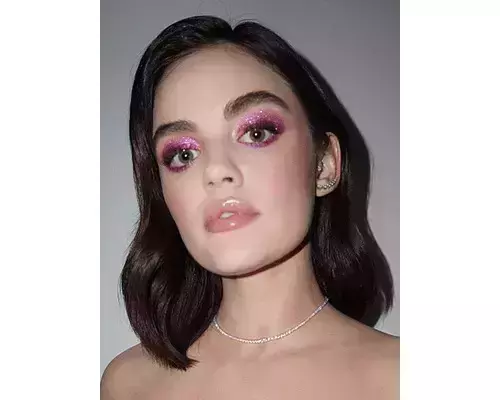 8. Pastel Pink Eyeshadow 
It's not necessary to wear a flashy and garish-coloured eyeshadow look. It can also be delicate and subdued for a different but still lovely result. For spring, pastels are a fantastic option. And this particular pastel pink makeup hue was one that we particularly adored.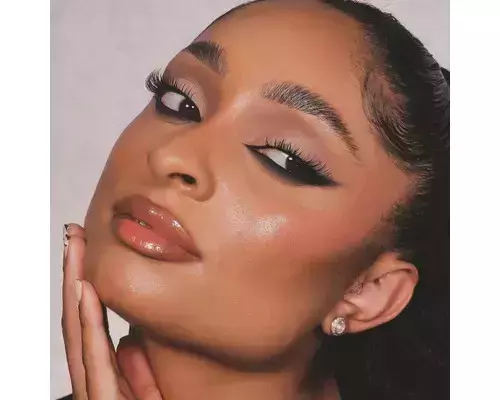 9. Minimal Eyeshadow With Reverse Eyeliner
If you've spent any time on TikTok in the past year, you've probably seen the reverse eyeliner trend made popular by the only Painted by Spencer. If you're like me, you've surely spent money on some or all of the greatest TikTok cosmetic products. This look goes well with minimal nude colour eyeshadow.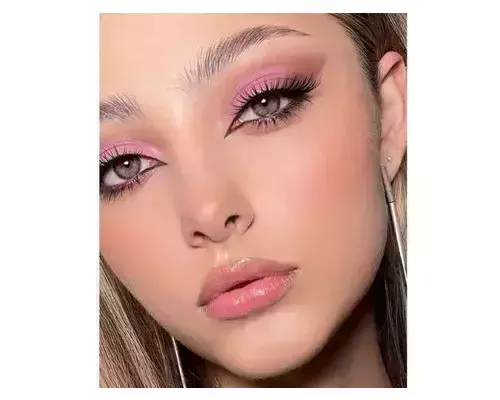 10. Rose Pink Eyeshadow Look
You can choose something like this if a soft pastel tint is not your cup of tea. Its pink hue is comparable to the finest roses. A tiny dab of black eyeshadow can be added to create a seductive contrast that will enhance the pink's brilliance.
Make sure to pay attention to eyeshadow dos and don'ts so that you always get the perfect makeup.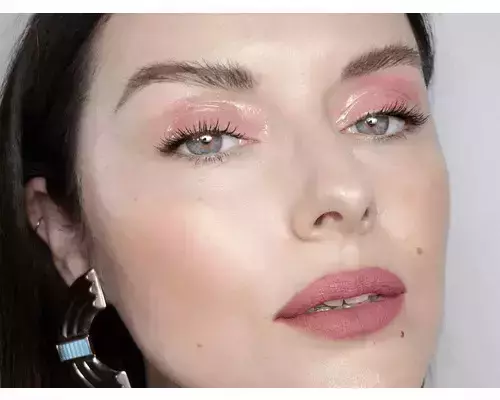 11. Glossy Lids
Don't worry; I'm about to alter your mind if your original reaction to this outfit was something along the lines of, "It's completely gorge, but I'm going to end up a sticky mess." The preparation and treatments you employ are the secrets to a glossy lid that lasts for a long time.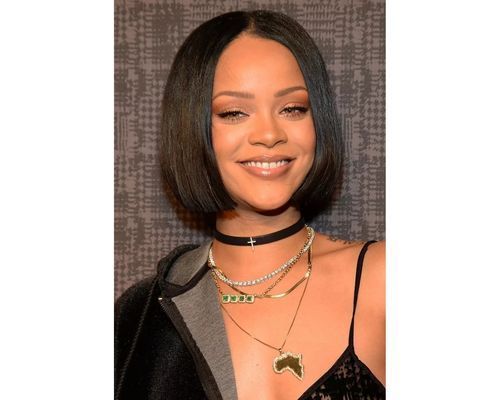 12. Copper Eyeshadow Look
The Singer and actress Rihanna flaunts her copper eyeshadow which looks stunning natural eyeshadow. The copper eyeshadow is given a shimmer base coat and makes it a perfect party look complimenting the blunt bob look.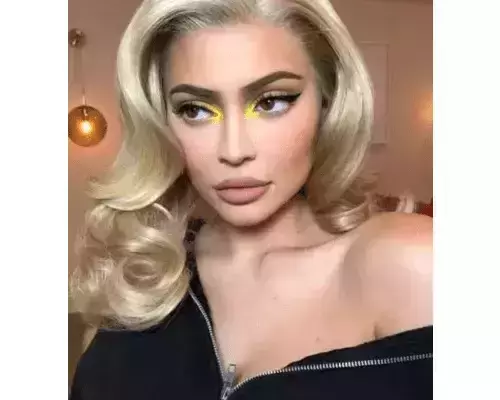 13. Colorful Inner Corner
If you enjoy wearing bright makeup but want to amp it up a level, prime your lids and add a bright, pigmented shadow to the top inner corners (Pat McGrath Celestial Eyeshadow Palette will never let you down). Then, blend it out with your preferred eyeshadow brush, being careful to keep the colour's intensity the highest just beneath the brow bone.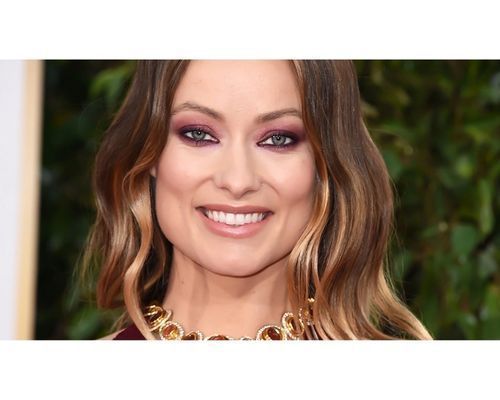 14. Burgundy Eyeshadow Look
Take a cue from the beautiful and accomplished Olivia Wilde. She is skilled at creating and wearing enchanted, vibrant makeup looks. This one right here is a genuine work of art with a burgundy shade. It has a grunge and glam atmosphere, which is the best of both worlds.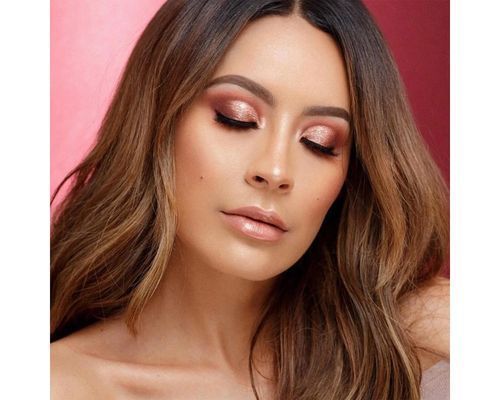 15. Rose Gold Natura Eyeshadow Look
If you're still looking for a little more glam, go all out because we're on that whole party trend. Primer for eyeshadow is essential once more. Apply a thick layer of the pigmented colour, then spread it out to create an edgy look towards the nose. To complete, add some glitter shadow to the outer corner and a darker shade of the same hue.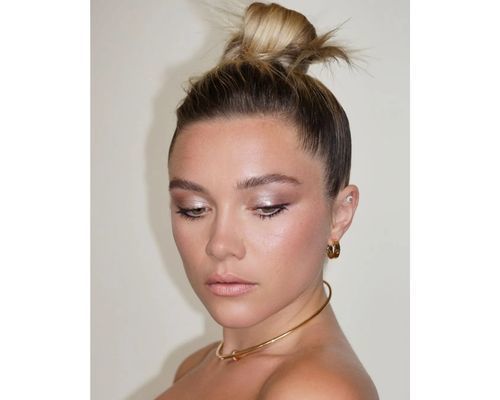 16. Mother Of Pearl Eyes
To bring attention to your eyes in a subtle way, the mother of pearl is the best way. Go for a  pearly blend of pink and beige shadows. Everything is nude shades now, including moisturisers, foundations, and lipsticks. It was only a matter of time before someone suggested creating matte eyeshadows as well. Now, it might not appear as glitzy and dramatic as creamy and sparkly eyeshadows, but boy! It can convey a message. This mother-of-pearl eyeshadow looks perfect. It is natural eyeshadow that looks for hazel eyes.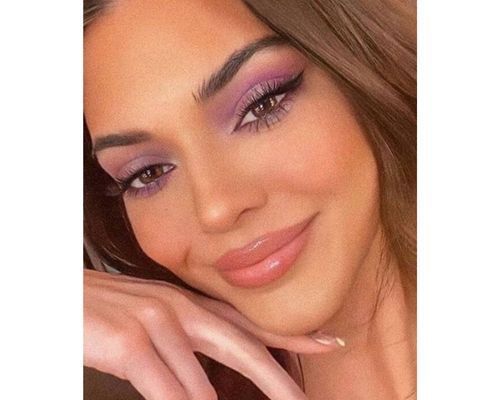 17. Plum Eye Makeup Look
Plum eyeshadow is for creating a  subtle look and is considered one of the natural eyeshadow looks for the season. A broad eyeliner mark and a plum colour eyeshadow with glossy peach lipstick make it a perfect look for the season. It's incredibly attractive and "glamorous," but surprisingly simple to imitate.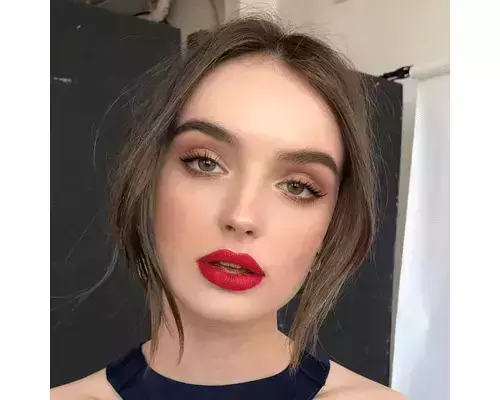 18. Matte Texture Look
Look for a red lipstick with a semi-matte texture eyeshadow rather than a high-shine finish to keep the look seeming contemporary. For maximum impact, layer on a pair of extending lashes.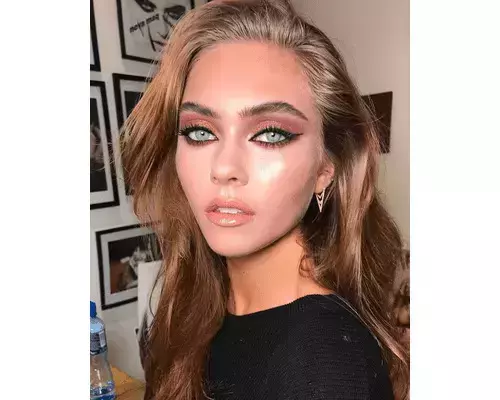 19. Cat Eye Makeup
On their own, these brushed-out curls are party-worthy, but when they're coupled with smokey, hazy copper eyes and a smudge of floating eyeliner? You look nice for New Year's Eve. Just apply iridescent orange eyeshadow all over your lids, then on the outside corners, create a delicate wing with gold liquid eyeliner.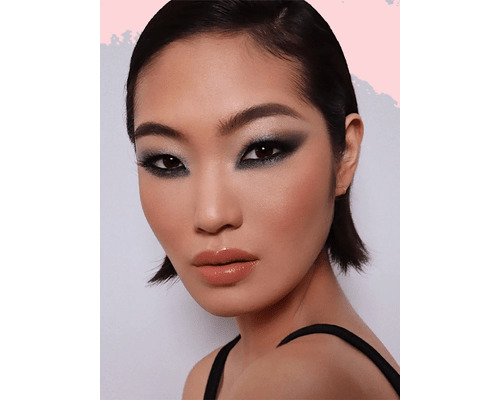 20. Softly Smoked Wings
This New Year's eyeliner look combines the greatest aspects of a smokey eye, a graphic liner and a cat eye. It may appear tough to duplicate at home, but it's quite easy: simply draw the Vs with black kohl eyeliner, then gently smudge the inside of the lines to produce a hazy inner shadow.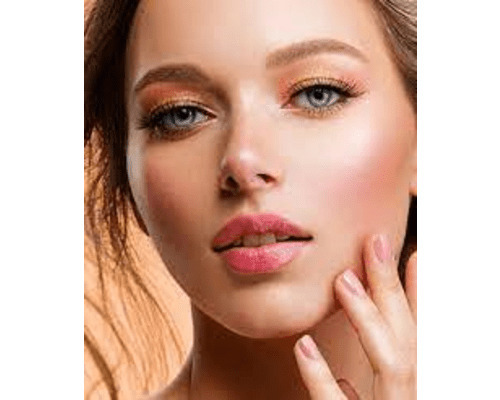 21. Peachy Orange Vibes
The colour is a warm peach-orange that is both bright and vibrant. Even if you didn't get to spend the day at the beach, it will make you think about the beach, making it ideal for summer.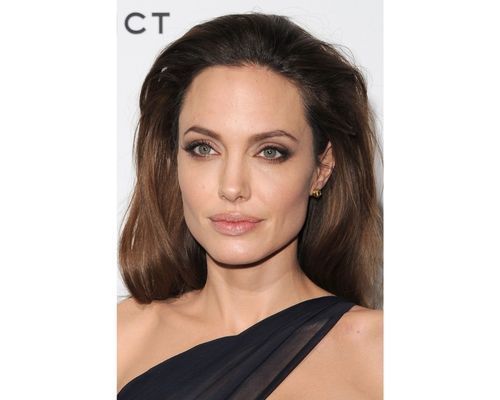 22. Neutral Brown Eye Makeup Look
Is there anything more subtle than this? A neutral brown eyeshadow looks in the hue of black is seen here, which looks stunning on Anjelina Jolie. It is one of the most prominent shades you can ever find to make a distinctive statement. Even less needs to be done with it. Simply create a minimalist eyeshadow look, and let the colour speak for itself.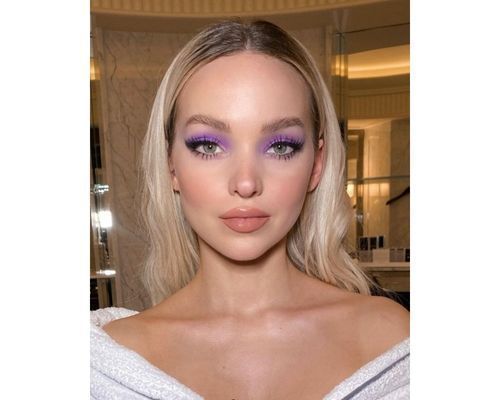 23. A Touch Of Purple
This is the year of colourful makeup looks and you will notice the frequent usage of funky and elegant colours. This particular makeup look features a purple tone and a broadside eyeliner in a dual tone. A work of art is produced by the contrast between the chill of purple and black eyelashes.
Check out our guide to find the best purple eyeshadow looks which have been trending this year as we list 30+ top purple eye makeup looks.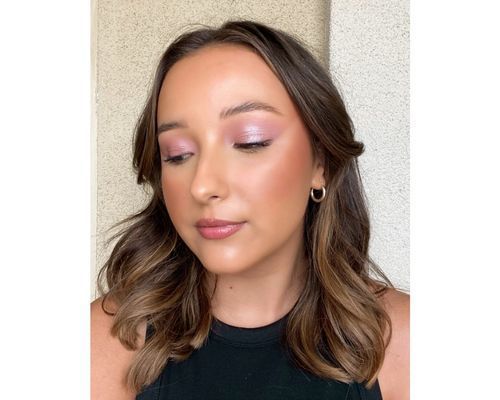 24. Lavendar Hued Eyeshadow Look
Take a cue from one of the most vibrant birds you've ever seen for brilliant eyeshadow looks. To achieve a beautiful lavender-hued eyeshadow look, combine some greens and blues.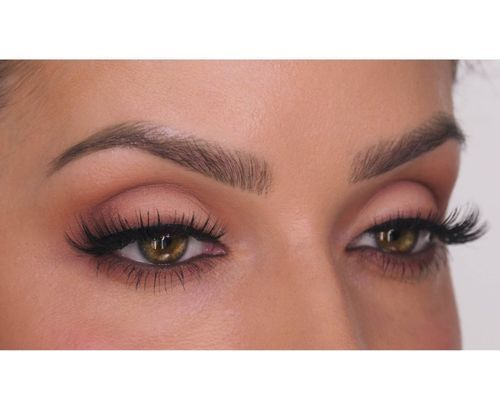 25. Nude Matte Eyeshadow Look
Take it from the person who invented the subtle eyeshadow look, herself. The season's trend. There are numerous variations, ranging from matte to shine and from peach to tan. Alternatively, you may simply choose a blending technique and black eyeliner.  It is natural eyeshadow that looks for hazel eyes.
Related Articles