56 Mehndi Designs For All Festivals And Occasions
Olivia
Updated At 01 Feb 23
Mehndi is a beautiful art and has huge importance during festivals or other occasions. It's considered an auspicious ritual or thing. During weddings, mehndi is applied to the hands and legs. A bride's hand is well decorated with mehndi designs during her wedding, for which a special event is organised as a mehndi ceremony during the wedding days. Mehndi is applied not only at weddings but also on different happy occasions. Similarly, people apply mehndi during festival seasons like Eid, Diwali, Teej, Karwa Chauth, Makar Sankranti, Baby Shower, and many other Indian festivals.
Let's take a look at 56 different mehndi designs for these festivals and occasions.
Festival Mehndi Designs - Ultimate Guide
56 Best Mehndi Designs For All Festivals
Mehndi designs are used in various festivals and its often difficult to find the best mehndi designs as there are so many to choose from. We cover the top mehndi designs across various key festivals like Weddings, Teej, Karwa Chauth, Engagement, EID, Diwali, Navratri, Raksha Bandhan, Makar Sankranti, Ganesh Chaurthi, New Year, Onam and many more. We also cover the top mehndi designs across all of these festivals. Lets begin.
Wedding And Bridal Mehndi Designs
We list the top bridal mehndi designs which have been trending this year. These include dulha dulhan full hand mehndi designs along with simple bridal mehndi designs.
You can also check out our guide on bridal mehndi designs as we cover the top 51 mehandi designs for this season.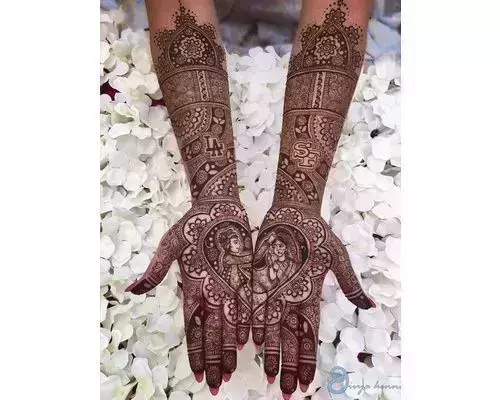 1. Indian Bridal Mehndi Design
Mehndi has always been an important and vital occasion and ritual for people during wedding times. Mehndi is a must-have for brides at their weddings. If you're a bride looking for the latest stunning designs, you can try or bookmark these beautiful and easy bridal mehndi designs for your D-day. One of the best front hand mehndi designs, this dulha dulhan mehndi is stylish and is an amazing option for all the brides.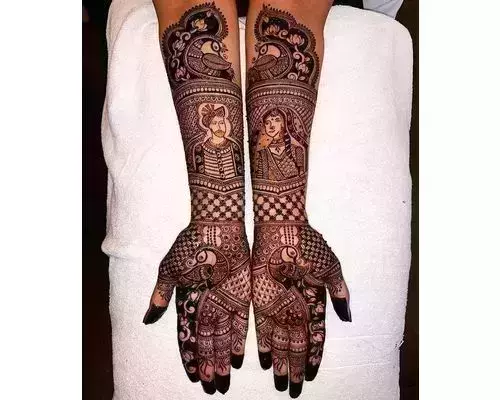 2. Full Hand Bridal Mehndi Design
Many Brides prefer full-hand bridal mehndi designs, which are intricate, well-detailed, and give a personal touch to the design. Mainly, the bridal designs consist of elements that symbolise happiness, good luck, and good times. The peacock in the mehndi design is for prosperity. You can also try creating portraits of the bride and groom on your hands.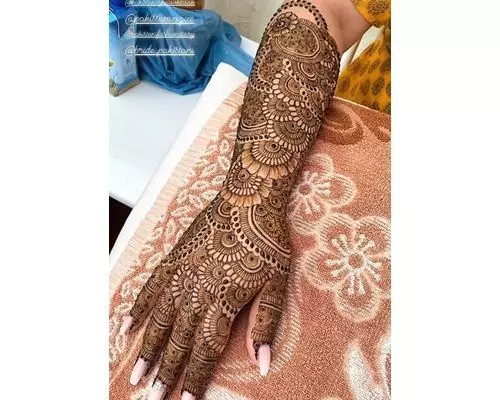 3. Bridal Mehndi Design Simple
If you're a to-be bride and looking for simple bridal mehndi designs that are quick and have a perfect finish, then you can surely try this type of design, which overall has florals, semi-circular motifs, and a well-organized layout.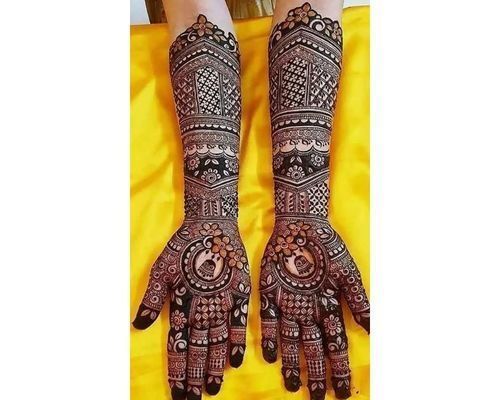 4. Stylish Bridal Mehndi Design
The bride can also opt for such stylish bridal mehndi designs, which have floral shading and wedding bells that look alluring in the middle of the palm. The criss-cross design and the wrist bracelet design are superb. You can definitely try this bridal design for the upcoming wedding season.
Teej Mehndi Designs
We also cover the trending 4 Teej mehndi designs below which have bene trending this year.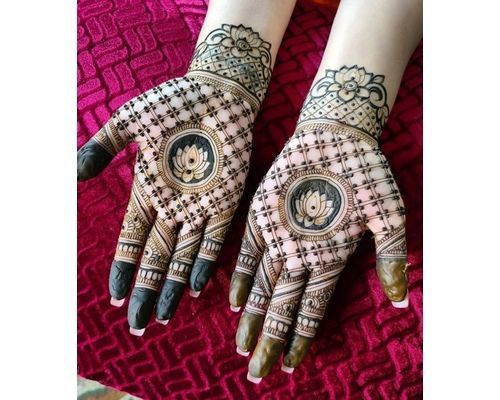 1. Simple Teej Mehndi Design
This easy mehndi design is so beautiful, yet so simple. Teej is an Indian festival celebrated by Indian wives who fast for the well-being of their husbands. This simple teej mehndi design with a shaded lotus in the middle of the palm is impressive. The mesh design on the hands complements the overall mehndi look.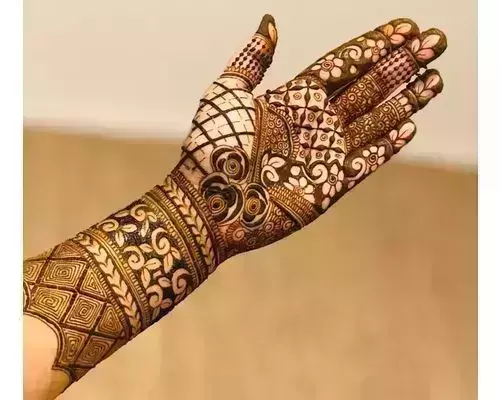 2. Easy Mehndi Design For Teej
Mehndi designs can be both beautiful and easy. Married females in Teej apply mehndi to their hands, which has been a tradition for many years, and we love how appealing this mehndi design is. This mehndi design is a thick, bold, shaded design consisting of mehndi elements such as florals, mesh, and diagonal boxes.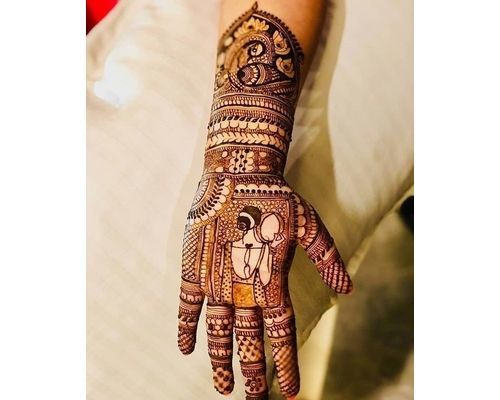 3. Royal Mehndi Design For Teej
This is a pleasing and personalised mehndi design for Teej. Following the teej rituals, a lady is drwan on the palm. The lad is doing puja while looking at the moon. The portrait is covered in minute details, giving the entire mehndi a royal appearance.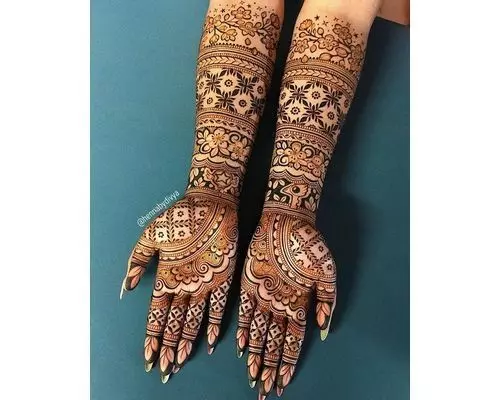 4. Teej Mehndi Design For Back Hand
You can try variations in the mehndi design, following various patterns and elements. This mehndi design has different designs with levels. You can create this back hand mehndi design.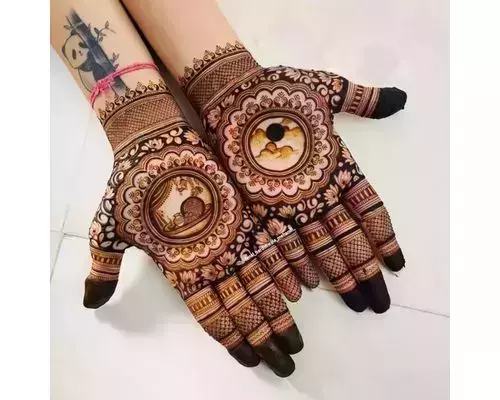 5. Hartalika Teej Mehndi Design
Try this trending festive hartalika teej mehndi design and a full palm design with wrist bracelet creation. The entire mehndi design is beautifully made, with a circle in between showing the moon and the festive decoration on the hands. The outerline of the circle has a beautiful design, and the outer part is filled with block-shaded lotus. The wrist and the fingers have intricate mesh work.
Best Karwa Chauth Mehndi Designs
Karwa chauth mehndi designs have been growing in popularity over the years. We list the top 4 designs which haven been trending recently.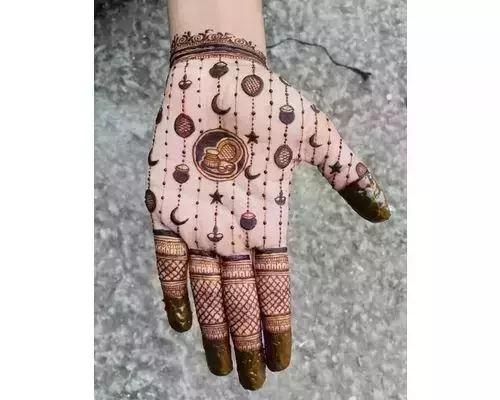 1. Modern Karwa Chauth Mehndi Design
Try making this simple, elegant, and moody karwa chauth mehndi design, and we are sure your beloved will like this mehndi pattern. The palm is nicely covered with stylish elements that are close to this festive karwa chauth. The moon, the water jug, and the wired plate for looking at the moon are nicely placed in the mehndi design.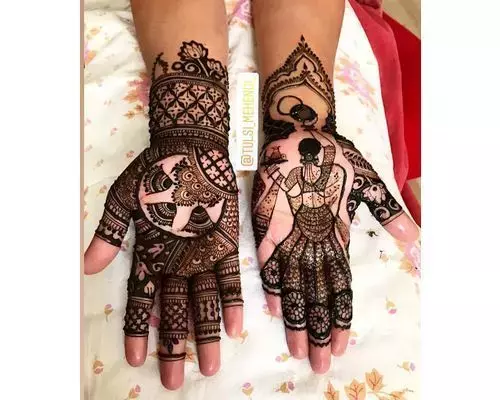 2. Karwa Chauth Mehndi Design
Karwa Chauth is a famous festival among Indians, and it is celebrated with much love and happiness. Married or unmarried females fast on Karwa Chauth for the well-being of their husbands, and unmarried females for a well-deserved husband. On this day, women draw mehndi on their hands and get ready in traditional attire. Hence, this mehndi design depicts this festive season beautifully. On one hand, we see a gorgeous woman in traditional attire performing rituals, or puja, looking at the moon and taking blessings for her husband. This is a personalised karwa chauth mehndi design.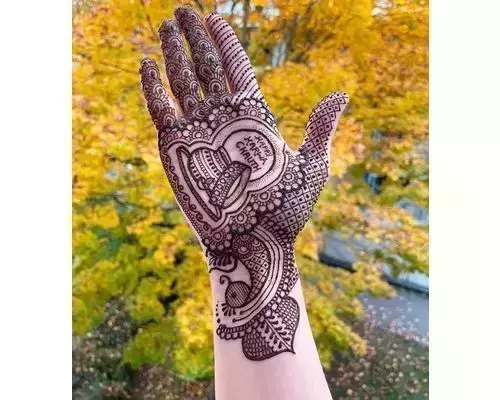 3. Modern Karva Chauth Mehndi designs
Wow! What an amazing and modern Karva Chauth mehndi design it is. The beautiful peacock around the wrist and on the palms mentions "Happy Karwa Chauth," with the ritual stuff drawn on the centre of the palm. The mesh work on the thumb and the peacock feathers on the fingers are pleasing.
If you are interested to check out more peacock mehndi designs, do check out our guide as we cover 50+ peacock henna mehndi designs.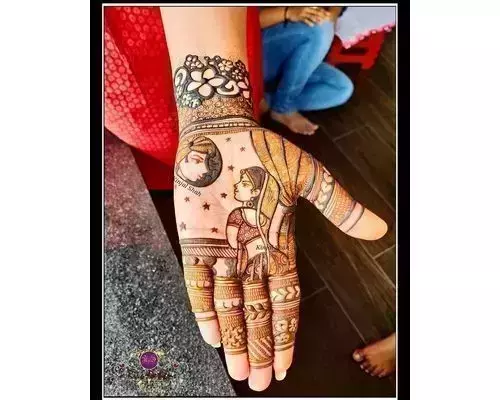 4. Easy Mehndi Designs For Karwa Chauth

This easy mehndi design for Karwa Chauth consists of a woman looking towards the starry sky and dreaming of her husband, which is seen on the shining moon. This is a dreamy mehndi design, and we can feel so much love from this mehndi design for beginners.
Engagement Mehndi Designs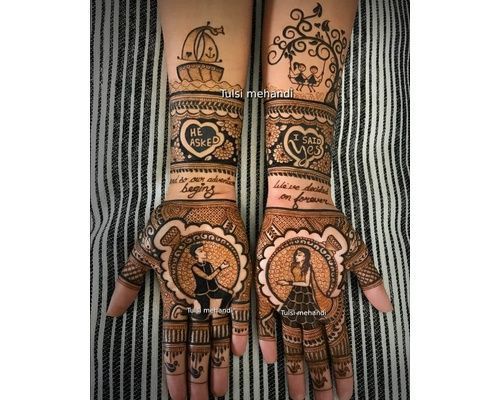 1. Full Hand Engagement Mehndi Design
To-be brides can choose this full-hand engagement mehndi design with a personal touch of love and special moments captured in this mehndi design. The palms have two huge rings in the center, and inside the rings are a bride and groom who are seen proposing to each other.This design also has some good quotes mentioned in it.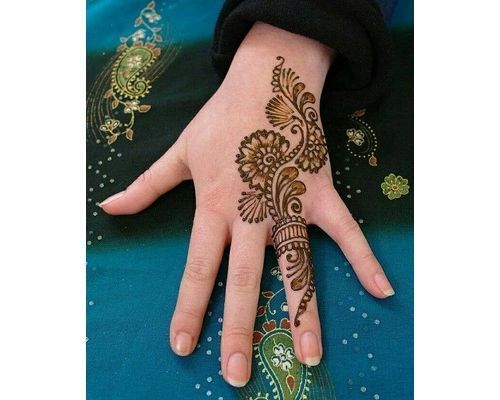 2. Simple Engagement Mehndi Design
If you're looking for a simple and quick design for your engagement, then you may like this simple engagement mehndi design for the back hand, which has a simple floral veil created on the finger ring. The bride looking for a minimalist design can opt for this pattern.
If you are looking for finger mehndi designs, do make sure to check out our guide as we list 55+ stunning henna mehndi designs trending this year.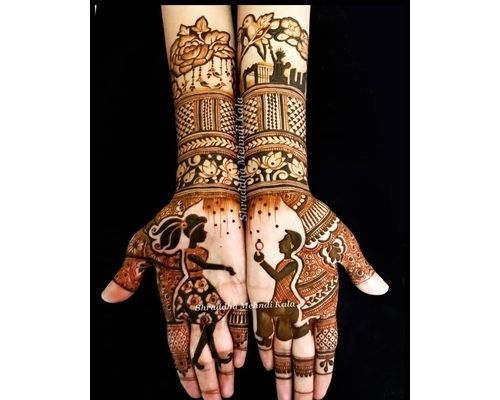 3. Engagement Mehndi Design For Bride
Lovely mehndi design, for the couple which shows bride and the groom with the engagement ring on the palms. When hands are joined, it shows a beautiful scene of groom on his knees ready to wear ring to the bride. The floral design around the arms and the mesh work looks nice.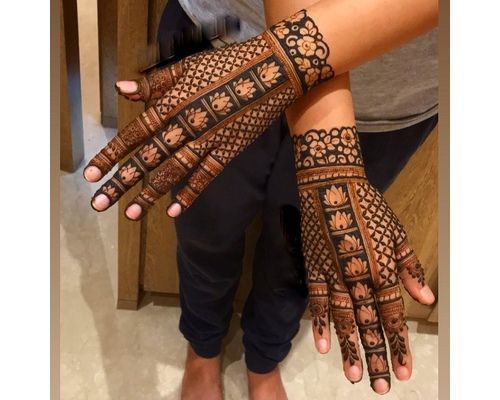 4. Beautiful Mehndi Design For Engagement
This backhand mehndi design for an engagement occasion looks mesmerizing. The lotus block shade design in the middle is charming. The florals at the wrist and meshwork along the sides complete the look.
EID Mehndi Designs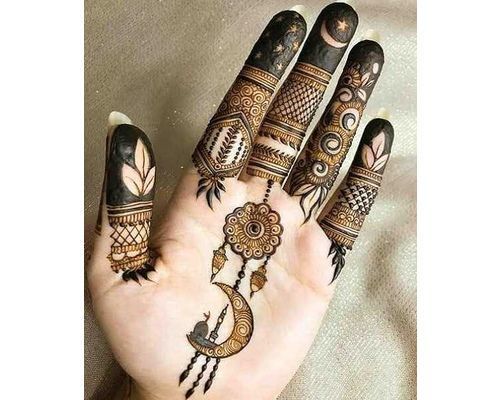 1. Simple Eid Mehndi
This simple Eid mehndi design is delightful. It's an eye-catching mehndi design for the festive season and shows a crescent moon, which is important in Eid rituals. The tips of the fingers also have florals, stars, and the moon has been drawn.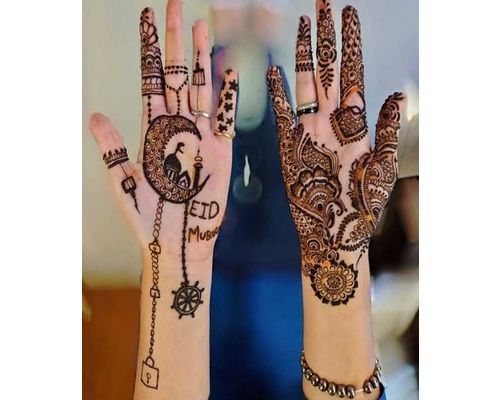 2. Arabic Mehndi Design For Eid
You can also try Arabic mehndi design for Eid,as this mehndi pattern will also give you the best look for your traditional attire for the festive day. You can try floral mehndi pattern or personalised design and festive symbols. You can also write Eid Mubarak on the hands as a happy mehndi note.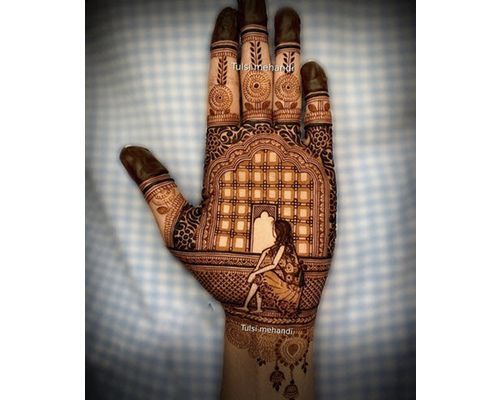 3. Eid Mehndi Design
This is an intricate Eid mehndi design which is a work of professional mehndi artist. The girls looking outside the window and looking for the moon, is nicely drawn on the hands. Thw window pattern in square shape design is also beautiful. The design looks so beautiful on the palm, that we do not need to extend this mehndi for full arms and looks elegant as a palm mehndi design.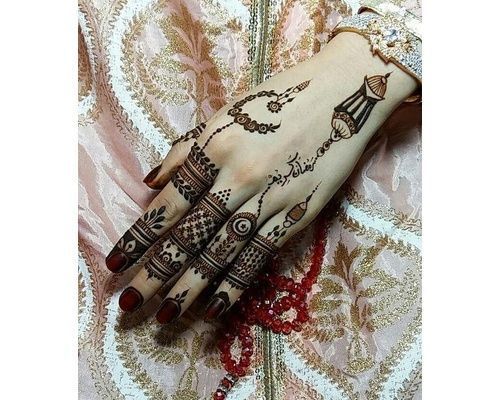 4. Bakra Eid Mehndi Design
This Bakra eid mehndi design looks pretty and gives a feel of wearing a jewellery. The elements used in this mehndi design symbolises the festival of eid. These elemnts are the main reason creating the beauty of this design and being unique. This jewellery mehndi design is stunning and is perfect for the occasion.
Diwali Mehndi Designs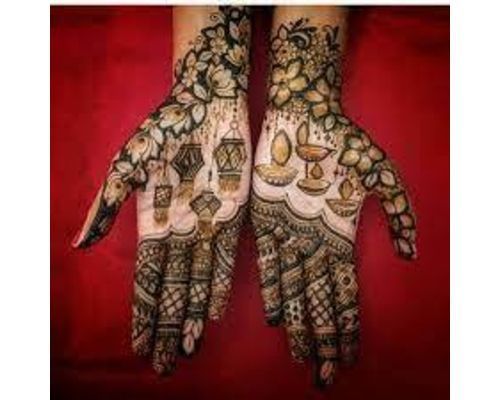 1. Creative Mehndi Design For Diwali
Diwali is a festival of lights. Lanterns are an important part of Diwali celebrations. Indians hang these lanterns outside their homes and lit diyas making the place brighter and happier. The floral, shaded design, as well as the hanging lanterns and diyas, make this mehndi design ideal for Diwali.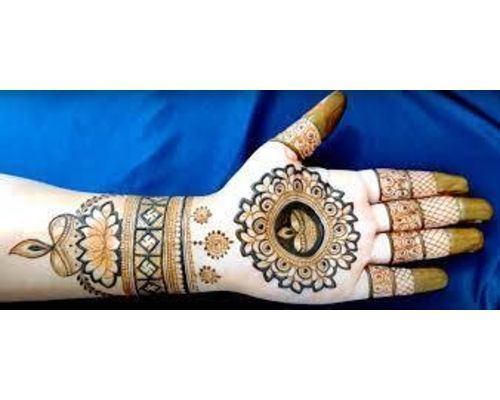 2. Simple Diwali Mehndi Design
This simple mehndi design is unique in its way, as the design reflects brightness and positivity. The lightened-up diya mehndi design in the centre of the palm, inside the circle, is alluring. The swastik made around the wrist is pure, and the diya design gives the perfect finishing line to this mehndi design.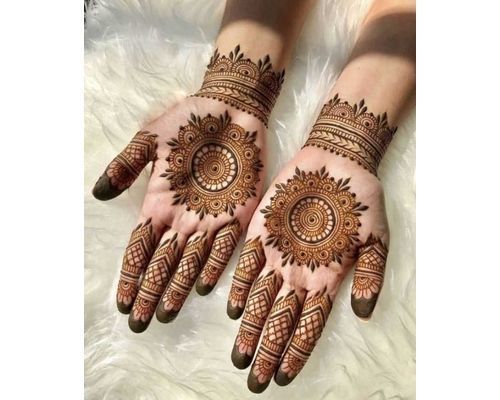 3. Elegant Diwali Mehndi Design
If you're looking for an elegant mehndi design for the most celebrated festival in India, then you can surely bookmark this mehndi design for Diwali. The perfect combination of mandala mehndi design art and Indo Western mehndi design makes this mehndi look stunning.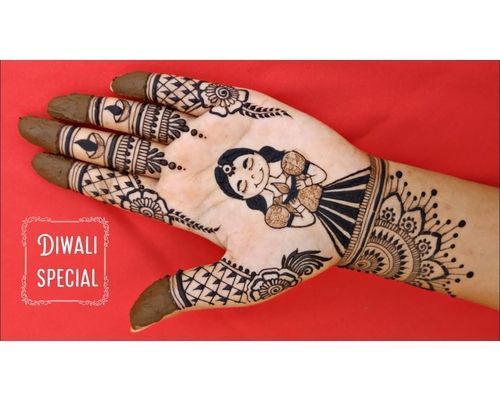 4. Diwali Mehndi Design For Kids
This is surely a mehndi design that kids would love to make for this festival. A kid with her hands folded looks so cute, and her traditional attire makes her look much more beautiful. The palms are covered with this portrait, and diyas and mesh work are created on the fingers.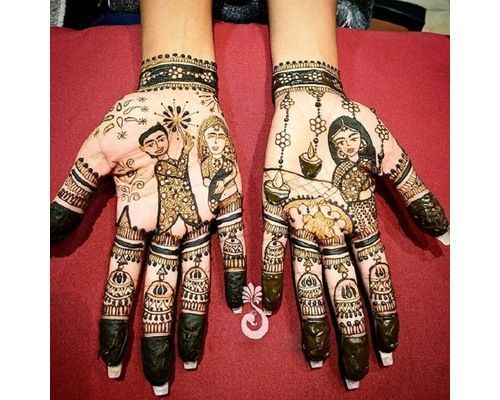 5. Impressive Diwali Mehndi
You can also try this super impressive mehndi design, in which you make a portrait of a couple celebrating Diwali with diyas and sparklers. Though this mehndi design is a work of art, it has a very traditional feel to it.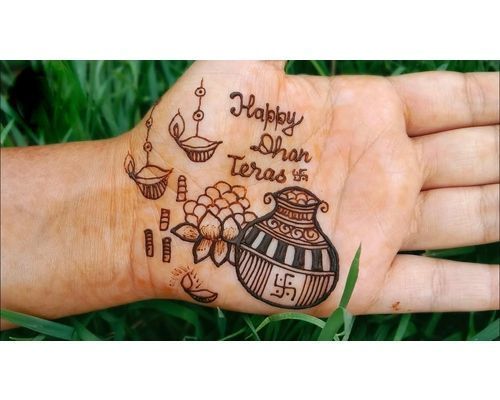 6. Dhanteras Mehndi Design
This simple and pretty mehndi design can go well with both males and females. Even kids can have this Dhanteras mehndi design, which has a pot filled with gold coins and some lighter-up diya. Also in the mehndi design, we can add wishes, mentioning "Happy Dhanteras" along with Swastik, which is a symbol of auspiciousness and good fortune.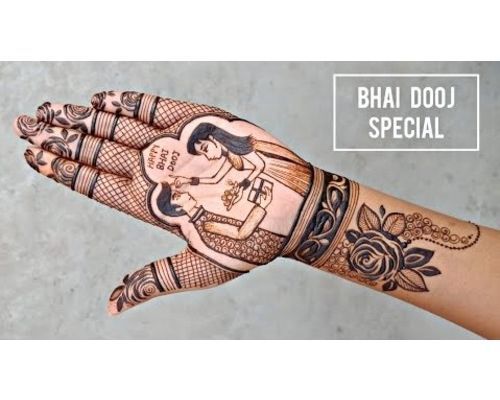 7. Bhaidooj Mehndi Design
Bhaiya Dooj is marked on the second day after Diwali celebrations. It is a celebration for the brother-sister relationship in which the sister performs rituals for his brother's well-being and prosperous future.This mehndi design for bhaidooj reflects the ritual in the same way. A portrait is made on the palm, and on the fingers, we see a mesh pattern.
Navratri Mehndi Designs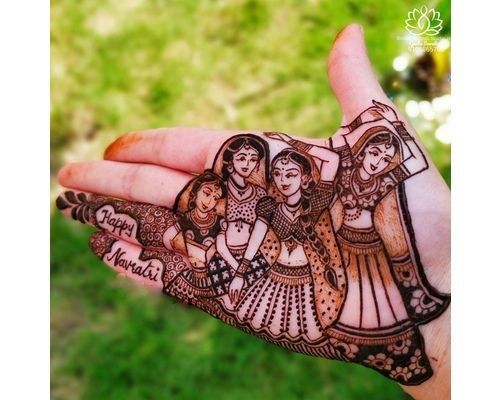 1. Navratri Mehndi Design
A nine-day celebration observed in honour of the goddess Durga is a fun-filled festival and a traditional ritual too. During these nine days, everyone dresses up in traditional attire and performs garbha, a type of dance. This Navratri mehndi design depicts beautiful females, decked out in traditional attire for rangoli and in the perfect dance pose. On the finger mehndi, wishes are mentioned as "Happy Navratri."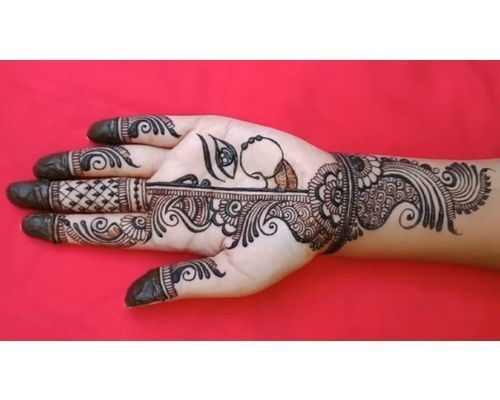 2. Traditional Mehndi Design
This mehndi design is a traditional mehndi for the Navratri festival. The pattern is divided into two sections, one with floral work and the other with a portrait of the goddess Durga.This mehndi design is very powerful and auspicious.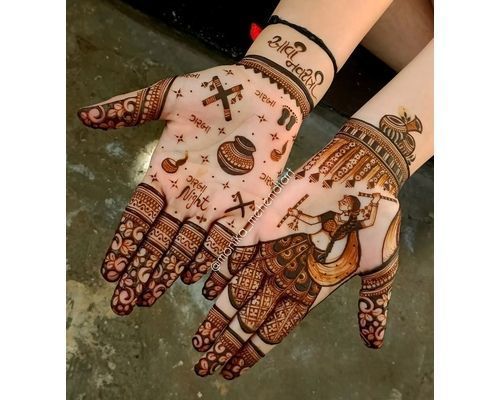 3. Garbha Night Mehndi Design
Garbha is a fun-filled event during the nine days of Navratri. One can go with this graceful mehndi design, which consists of a lady playing garbha and some unique elements like dandiya, stars, matka and diyas. The fingers have a well-detailed design.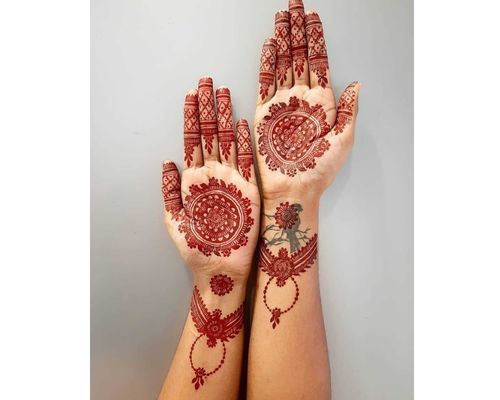 4. Simple Festive Design
This mehndi design is a circular pattern on the palms and a bracelet pattern on the wrist. You can have this mehndi design on both sides of your hands.
Raksha Bandhan Mehndi Designs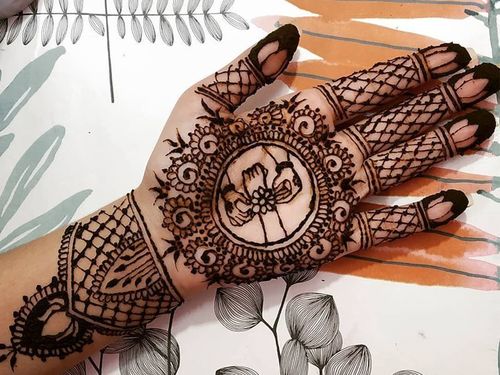 1. Easy Raksha Bandhan Mehndi Design
We share with you a simple Raksha Bandhan mehndi design that is pure love. This mehndi has a circle on the plams with a sister hand-tying a rakhi to her brother in the center.This is an easy mehndi design for beginners.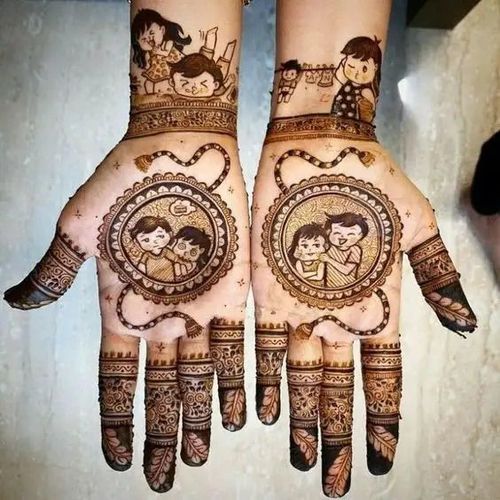 2. Siblings Mehndi Design
Rakha-Bandhan is a celebration of the pure and powerful relationship between a sister and a brother. A cute and innocent sibling love is reflected in this mehndi design.The centre of the design takes credit for this graceful mehndi design, which consists of a sibling portrait. Towards the wrist, the mehndi artist has drawn some funny sister-duo moments. A perfect Raksha Bandhan mehndi design to shower love.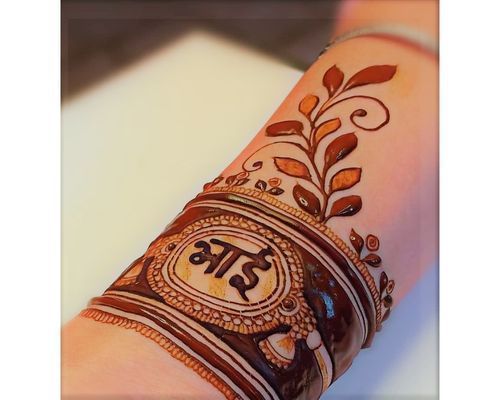 3. Mehndi Tattoo For Festive Season

You can surely suprise your beloved brother with this mehndi tattoo for Raksha bandhan. We are sure your brother will love this wrist tattoo, which nicely shows Bhai written at the centre of the circle with beautiful design outlining the circle.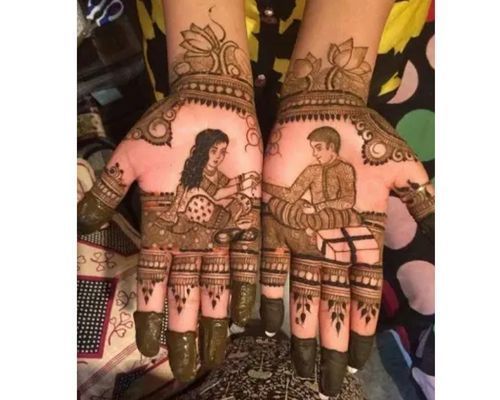 4. Raksha Bandhan Mehndi Design
This portrait mehndi design, shows the celebration of Raksha Bandhan between brother and sister. When both hands are brought close, the design shows the celebrations, wherein a sister is tying Rakhi on her brother's wrist. The wrist of this mehndi design is floral art.
Baby Shower Mehndi Designs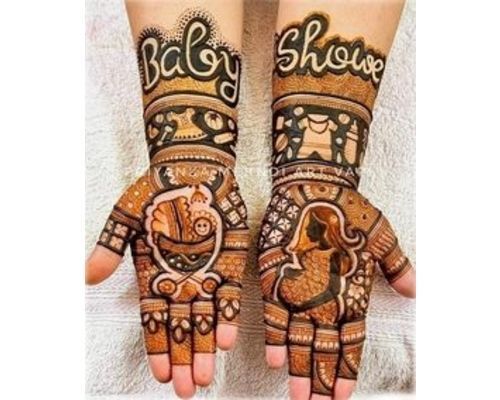 1. Baby Shower Mehndi Design

If you're looking for a cute baby in a cradle with lovely accessories and a lovely mother-to-be, this babay shower mehndi design is a must-have.This mehndi design will surely win your heart. This design has creative patterns, like the boy and girl dresses and "baby shower" written in a bold shade.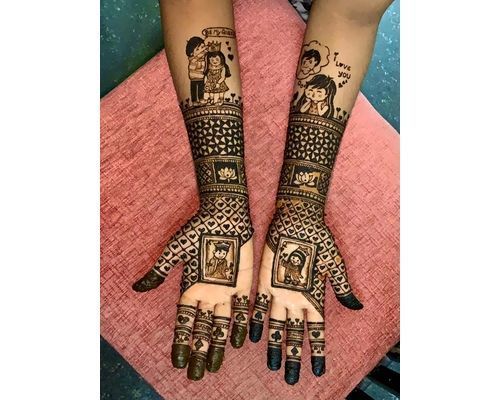 2. Unique Baby Shower Mehndi Design
A beautiful, full-hand, intricate mehndi design for a special occasion like a baby shower is just gorgeous. In the centre of this lovely mehndi design are picture frames of a girl and a boy, with an outer design of small square blocks and hearts. The design is well spread towards the arms, and the portraits on the end of the father-to-be are making the mom-to-be feel like a queen.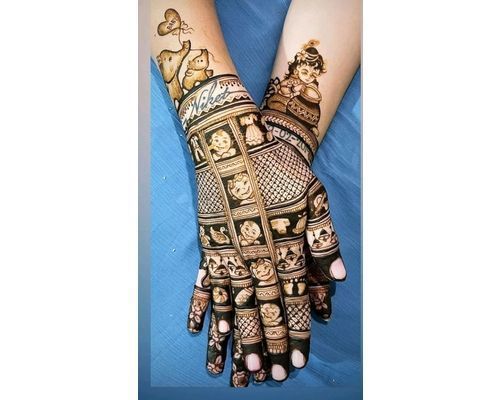 3. Baby Shower Unique Pattern
One cannot take their eyes off of this beautiful mehndi design, which shows infant portraits on the shaded block pattern and the mesh work. This is one of the best and most unique mehndi designs for a traditional baby shower event.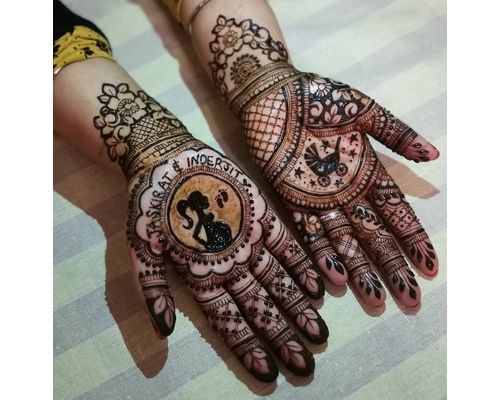 4. Personalised Mehndi Design

This personalised mehndi design for a traditional baby shower is perfect. You can have the names of the parents-to-be written on the mehndi design, as well as other elements related to the baby shower theme.
Makar Sankranti Mehndi Designs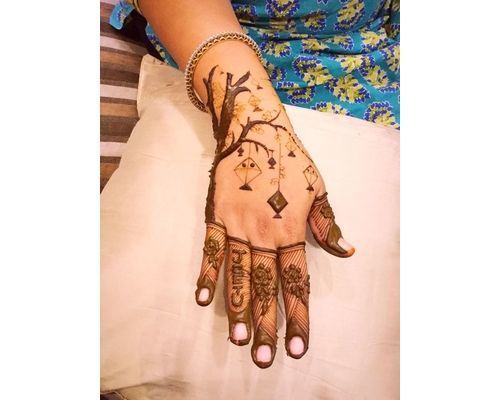 1. Makar Sankranti Back Hand Mehndi
This mehndi design is a modern and so symbolic mehndi design which depicts the festivals of kites. The mehndi design is crafted in such a way that the kites are seen hanging on the tree and the ring finger has a personalised name written.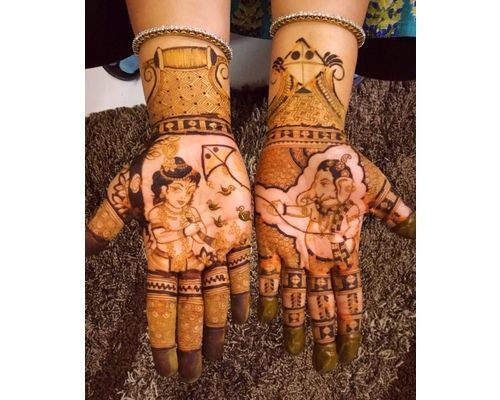 2. Makar Sankranti Classic Mehndi Design
This mehndi design is a classic and spiritual mehndi design. You can try this unique and stunning mehndi design for the festive season.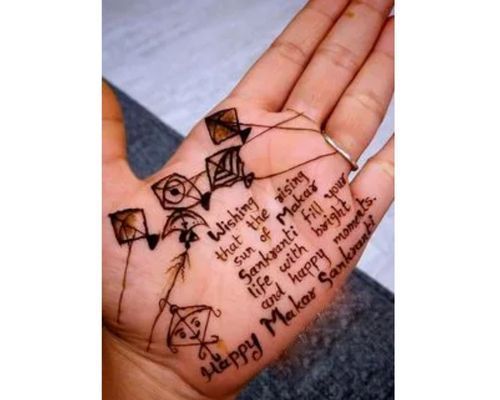 3. Mehndi Design For Men
Makar Sankranti is a festival of kites, and most men love flying kites and kite challenges on this festive day. Men and women, both can go for this simple kite mehndi design and write a greeting-filled message for Makar Sankranti.
4. Makar Sankranti Design For Women
During Makar Sankranti, Indian women invite their female friends and relatives to their place for the Haldi Kumkum event, which is a small traditional get-together for women. This mehndi design for women for haldi kumkum goes well, and one can apply this design, which will definitely suit their traditional attire.
Ganesh Chaturthi Mehndi Designs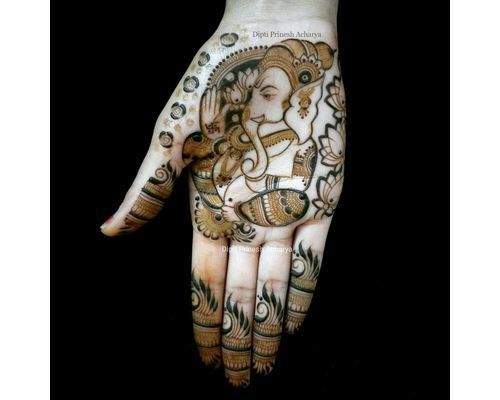 1. Simple Ganesh Chaturthi Mehndi Design
Ganesh Chaturthi is one of the most vibrant festivals. Mehndi design during this festival becomes an integral part of the celebration. A unique and brilliant portrait of Lord Ganesha is created on the palms, and some beautiful effects of design around the palms are enchanting.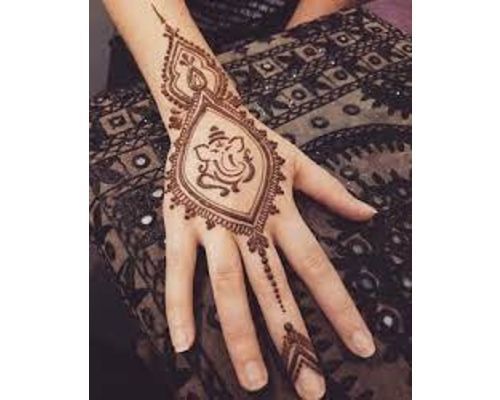 2. Back Hand Ganesh Chaturthi Design
A bold touch to this design makes this mehndi design look classic and gracious. The image of Ganesha in the centre is beautiful, and the entire design looks perfect for a festival.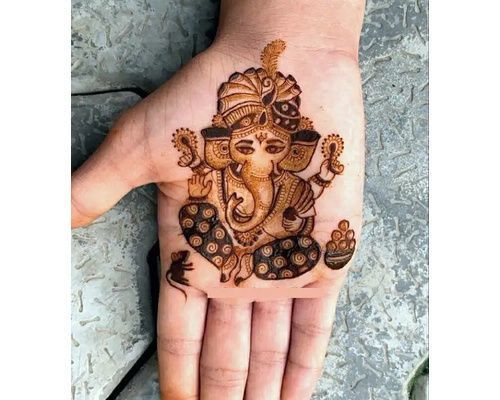 3. Classic Ganesh Chaturthi Mehndi
You can create a portrait design on the palms and make this type of mehndi pattern, which is a classic and loved mehndi design. Creating the portrait of Lord Ganesha on the plams with well-detailed, styled, and shaded textures makes this mehndi design a piece of art!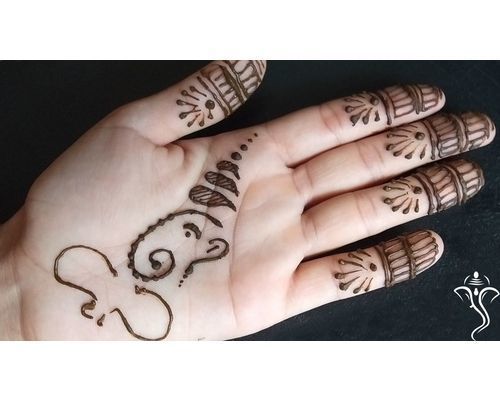 4. Easy Mehndi Design For Festivals
The most easy and simple mehndi design of Ganesh Chaturthi festival is this most quick design. This is an mehndi design for beginners. A simple sketch of god Ganesha is beautiful and so asuspicious.
New Year Mehndi Designs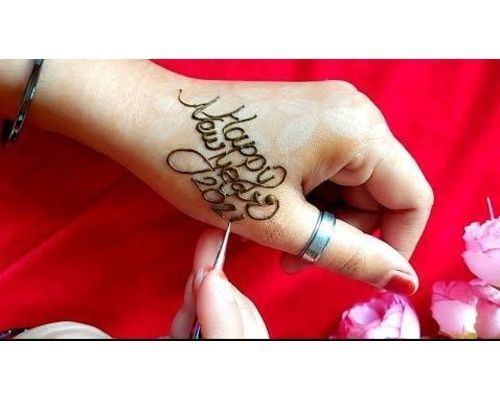 1. New Year Mehndi Tattoo
You can get this cool Happy New Year mehndi tattoo on your backhand near the thumb and make this design look fabulous for your casual event.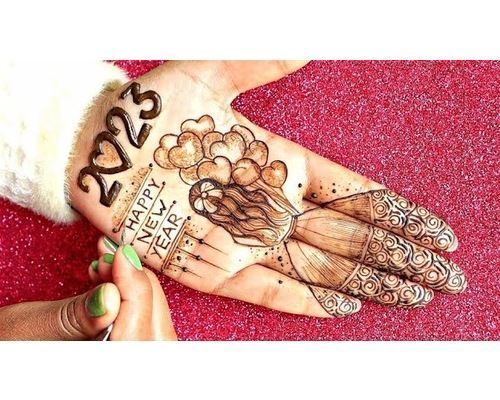 2. Elegant Mehndi Design
The perfect new year celebration scene depicted in this mehndi design is a beautiful portrait mehndi of a girl holding heart balloons.This new year's mehndi design can be a great choice for your semi-formal and casual attire for the perfect event.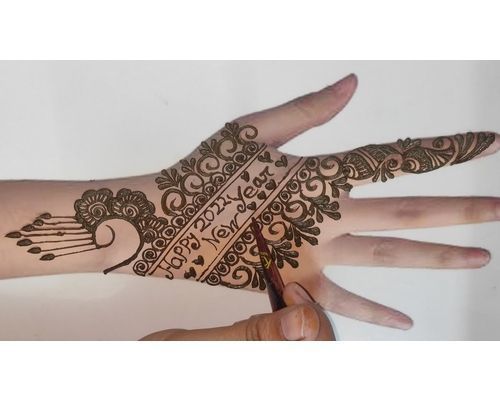 3. Simple New Year Mehndi
This Arabic mehndi design is also one of the options for your casual attire. You can have this simple new year mehndi design, which is a beginner mehndi design.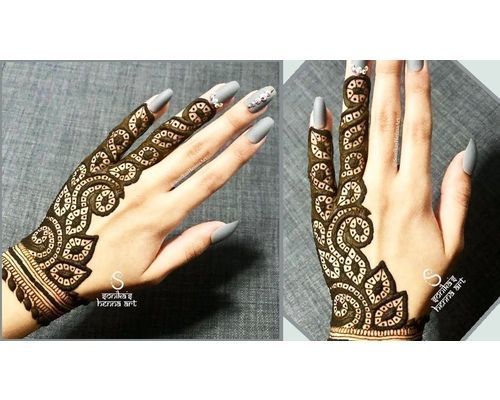 4. Trendy New Year Mehandi Design
The new year and new mehndi designs are so cool! Have you tried this bold and beautiful Arabic mehndi design for this new year? This mehndi design is fresh and new, and we are sure you will love making this mehndi art.
Onam Mehndi Designs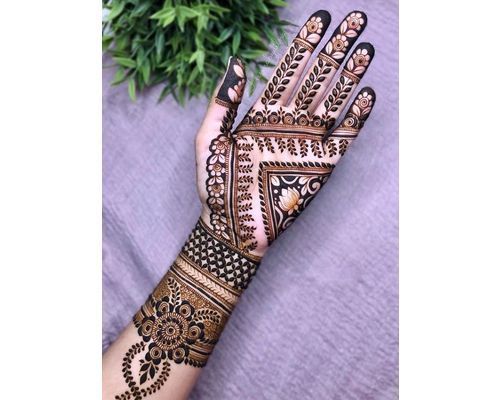 1. Beautiful Onam Mehndi Design
This creation is a beautiful Onam mehndi design, and one will love flaunting this mehndi design with perfect traditional attire. There are multiple patterns used in this mehndi design, including beautiful florals, criss-crossing leaves, and shaded flowers.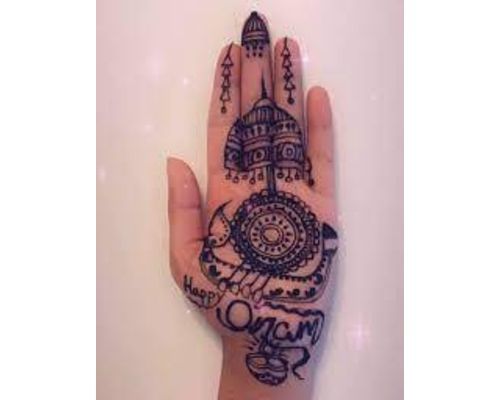 2. Onam Mehndi Design
If you're looking for a simple Onam mehndi design, then this mehndi design depicts Onam festival. You can try this design and also write "Happy Onam" near the wrist.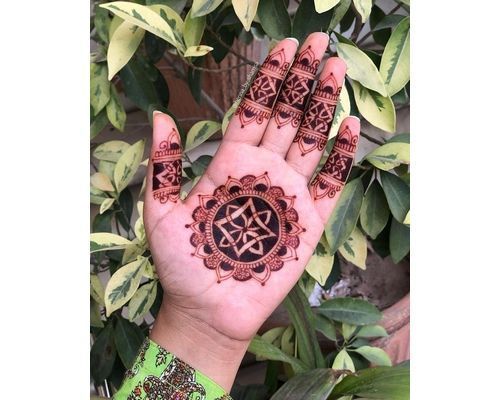 3. Simple Onam Mehndi
During festivals, mehndi art becomes an important ritual and everyone loves flashing there mehndi designs during festivties. Go for this simple yet elegant onam mehndi design, which can be replicated on both sides of the hand.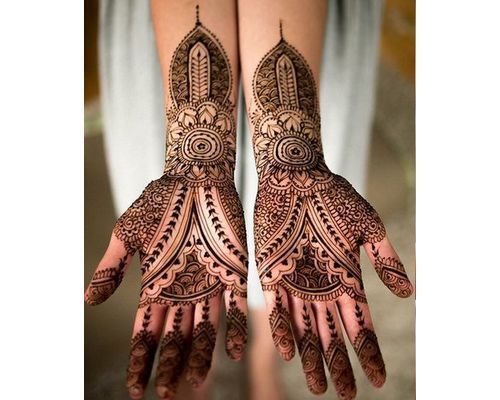 4. Full Hand Mehndi Design For Onam
One of the latest and freshest mehndi patterns to go for is this onam mehndi design, which is full-hand and has a unique and creative style. The entire design is perfectly made, with beautiful elements and detailed work.