Kim Kardashian Makeup, Diet, Skincare And Beauty Secrets – 2023
Mohini Banerjee
Updated At 08 Jan 23
Are you looking for Kim Kardashian beauty secrets and the details of her skincare and makeup routine?
If you have seen Kim Kardashian Instagram, then you know what perfection looks like. The tips and tricks of Kim Kardashian makeup, her skin care and diet are highly sought after by people all over the world who want to emulate her.
If you are one of them, then be ready to discover Kim's secrets as we reveal them one by one. We also cover the favorite Kim K makeup products , so do read on!
We plan to cover the following Kim Kardashian beauty secrets in the article:
Kim Kardashian Makeup Secrets
Kim Kardashian Makeup Routine
Her Skincare Secrets
Kim Kardashian Diet And Workout schedule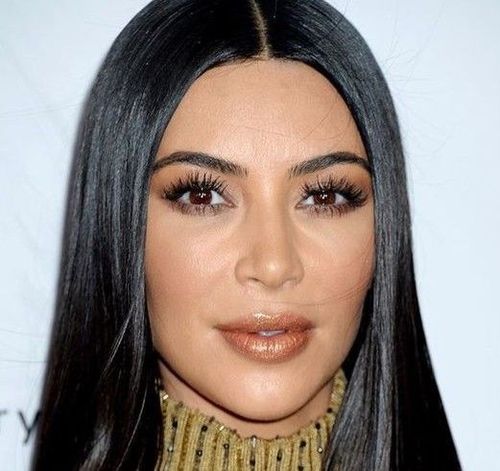 EVA CURATO / UK/PIN/348325352420967278/
Kim Kardashian Makeup Secrets
One of the integral part of Kim Kardashian beauty secrets, her makeup is a topic of immense interest among her fans and makeup lovers in general.
Kim K has changed up her makeup look quite a lot over the last few years, but the one thing that hasn't changed is her ability to look glam all the time.
If you check out Kim Kardashian Instagram account, you will find that she looks gorgeous even with minimal makeup.
Kim K has always been interested in makeup and launching KKW Beauty allowed her to get in the game herself. The Kim Kardashian makeup line has introduced some amazing products that the beauty community is obsessed with.
So it comes as no surprise that Kim K likes to use Kim Kardashian makeup products from KKW Beauty in her daily routine, but that does not stop her from discovering new makeup from other companies.
Kim Kardashian Makeup Routine
Vogue revealed the Kim Kardashian makeup routine recently.
At first, Kim likes to use the IT Cosmetics dual-ended complexion brush or her old M.A.C kabuki brush to lay down her base.
The La Mer foundation is one of her favorites.
Her favorite concealers are the KKW Beauty liquid concealer, the Kevyn Aucoin concealer and the Tarte Shape Tape.
For her brows, she mostly uses products from Anastasia Beverly Hills. Kim loves to warm up her face nicely and uses the Tatcha face mist to blend everything together.
The KKW Beauty baking powder is her favorite for baking the under eye area and setting her face.
When it comes to contouring, she sticks to her own KKW Beauty cream contour sticks which are creamy and easy to blend.
To add a nice color to her cheeks, Kim uses her favorite blush- NARS Orgasm.
The Kim Kardashian makeup line has some amazing eyeshadow palettes which Kim uses on a daily basis.
When she is in the mood for some shine, she opts for a Stila liquid glitter shadow. She also loves the KKW Beauty black eyeliner and the KKW Beauty brightening powder.
For her lashes, Kim uses a lash curler and a lash separator so that her mascara looks great. Her favorite mascaras are Lancome's Hypnose Doll Lashes and Charlotte Tilbury's Legendary Lashes.
To create her iconic nude lip, Kim K uses a combination of her KKW Beauty nude lip liners and the KKW Beauty Créme Lipsticks.
Along with her beauty and skincare secrets, Kim kardashian weight loss journey is equally inspiring as she lost 20 pounds to get the perfect body.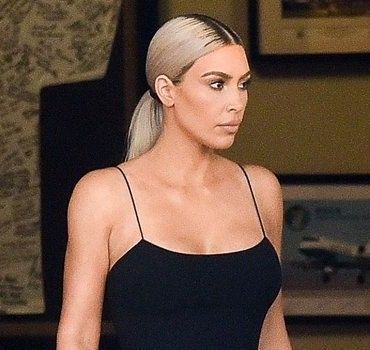 INSTYLE / UK/PIN/20195898312374180/
Kim Kardashian Makeup Tips
Moisturizing helps the foundation to go on smoothly. Kim K likes an oily slip when she applies the foundation, so she ends up double-moisturizing sometimes.
She likes to top her concealer and bake with a brightening powder for that glow from within. She uses the KKW Beauty: the Brightening Powder to achieve that blurred effect.
Kim K was the one who taught us the trick of contouring our face by drawing a 3 to cover all the areas. Now she is into lip contouring because it helps define her lips for the signature nude lip to pop.
Contouring below the nose will help your nose look sharper and smaller.
Other beauty products that Kim K cannot live without are the Ouai dry shampoo for her hair and the Kim Kardashian perfume Crystal Gardenia.
Also Read: What Is Glass Skin?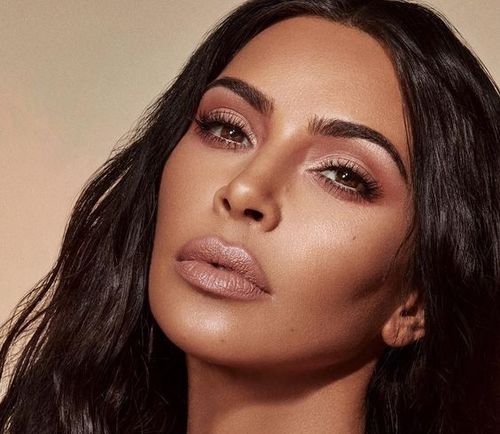 KKW BEAUTY / UK/PIN/835980749556483407/
Kim Kardashian Skincare Secrets
The reason why Kim Kardashian makeup always looks perfect is her flawless skin. We have revealed the Kim Kardashian skin care routine just for you.
Kim is a firm believer in the power of moisturizing. She prefers thick moisturizers like from Guerlain.
She believes that exfoliating the skin is essential. She likes to use her Dr. Lancer exfoliator to get the perfect base.
If you do not wear sunscreen regularly, Kim won't be happy. She wears sunscreen without fail, and the Dr. Barbara Sturm Sun Drops is her SPF of choice.
Kim K loves to use skincare products from Kiehl's and La Mer.
She goes for the Kiehl's Turmeric and Cranberry Seed Energizing Radiance Masque when wants to prep her skin before any major event.
Kim is a fan of the Kiehl's Midnight Recovery Concentrate which helps to repair skin damage overnight.
The Kiehl's Ultra Facial Cream SPF 30 and Creamy Eye Treatment With Avocado also feature in her beauty routine
For prepping the lips, she likes to use the Kiehl's Butterstick Lip Treatment SPF 25.
Kim has a weakness for La Mer products like The Perfecting Treatment, The Concentrate, and The Renewal Oil.
The iconic Crème De La Mer is one of her all-time favorites.
When Kim wants to see immediate results, she goes for laser facials which are incredibly effective.
Her regimen also includes spray tanning, laser hair removal, tightening laser treatments, teeth whitening, and daily skin vitamins.
The Kim Kardashian skincare routine is not that hard to replicate. As long as you follow the main dictas of the Kim Kardashian skincare routine, you can expect to see noticeable results.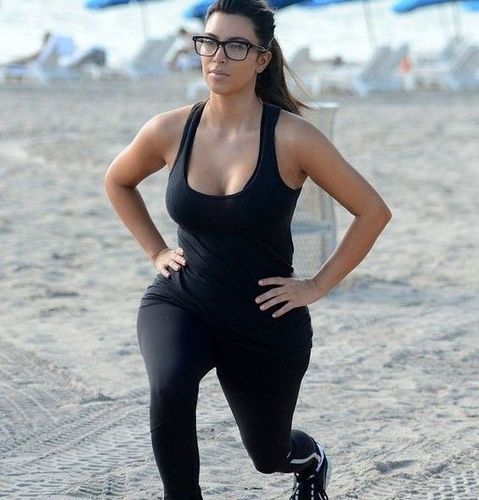 MY FACE HUNTER / UK/PIN/86342517828094244/
Kim Kardashian Workout
Kim Kardashian's trainer, Melissa Alcantara, is responsible for both the Kim Kardashian diet and the Kim Kardashian weight loss. She is a bodybuilder herself, and she makes sure that Kim pushes herself every day.
Kim wakes up at 5: 30 AM in the morning so she can train with Melissa at her house at 6 AM. She follows this routine six times a week.
After working out for an hour and a half, she starts her day. Kim K likes to mix up her workout by combining low-intensity internal training, high-intensity interval training and weight training. Her usual circuit consists of:
Weighted power sleds
Romanian deadlifts
Glute kickbacks on a weighted leg curl machine
Seated leg presses
Hex head lift squats using a barbell weight bar
According to KKW herself,
" work out about an hour-and-a-half every single day, heavy weights, I don't do a lot of cardio.... I've been working out really hard-core with a bodybuilder for one year.
Melissa and Kim work together to perfect her workout. They come up with a variety of leg and butt workouts which will help Kim build her muscles through weight training. One entire day of the week is dedicated to ab workouts so that the body is well-balanced.
Alcantara said to Women's Health, "85 percent of our training is weight training, and the other 15 is made up of cardio. Kim loves to work the back of her legs—the hamstrings and the booty!"
One of the reasons why Kim's body is so perfect is that she is deeply motivated to keep herself fit. Her love for weightlifting is ably supported by her reluctance to cancel workouts. She is responsible and unbelievably dedicated.
If you want to follow the Kim Kardashian workout, no more bunking the gym!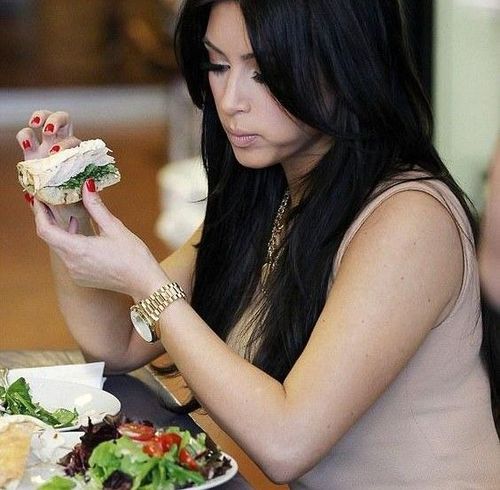 ALII / UK/PIN/454371049898214170/
Kim Kardashian Diet
You must be curious about the Kim Kardashian diet because the woman always manages to look perfect. On a usual day, Kim follows a version of the keto diet which is supposed to keep the extra pounds off your waist.
She has a lot of good fats which help to eliminate the hunger pangs. Cutting down on carbs is her primary goal. She likes to eat freshly cooked food because it is more nutritious and healthy for the body.
Processed food is not an option for Kim, and she religiously avoids it with some help from her trainer, Melissa Alcantara.
However, even Kim Kardashian is allowed her cheat days when she likes to have banana bread.
She does not end up overdoing it because too much junk food makes her feel sick. It might be that her body has become intolerant to greasy junk foods because of her strict routine.
Kim's regular eating schedule is something like:
Breakfast: She has some blueberry oatmeal pancakes.
Lunch: Her lunch consists of chicken, sweet potato and vegetables.
Dinner: She has fish and vegetables for dinner.
Kim K drinks four and a half liters a day to complete her keto eating schedule.
One time that Kim K really made headlines was when she managed to shed off her pregnancy weight.
Kim's nutritionist, Colette Heimowitz, stated that the key was to cut down on carbs and increase the protein intake. Want to know more about the Kim Kardashian weight loss?
We have all the deets about her famous Atkins 40 diet.
Also Read: KKW Beauty Launches Nude Lipsticks And Lip Liners
Kim Kardashian Atkins Diet
The Atkins diet involves cutting out carbohydrate intake and increasing the amount of protein and healthy fats in one's diet. After the diet is over, one should re-introduce carbs into the diet in small quantities because extremes are bad for the body. To drop 60 pounds of baby weight, Kim followed a version of this diet called the Atkins 40 which allowed her to have only 40 grams of carbohydrates per day.
The Atkins 20 diet focuses on three food groups:
Proteins: She had three to four 6-ounce servings of protein each day so that her muscle mass would not be affected.
Fiber-rich carbohydrates: Vegetables, nuts, and low-glycemic fruits were a part of her regular diet.
Healthy fats: As long as she did not have unnecessary junk food, Kim was allowed to have fats.
Kim's schedule was something like:
Breakfast: Eggs with vegetables and a slice of cheese
Mid-morning snack: Atkins bar
Lunch: Grilled salmon with asparagus and a side salad for lunch, Afternoon snack: Guacamole and vegetables
Dinner: Chicken breast with broccoli and a salad
The secret is to not skip any meals.
Now that you know how to nail the Kim Kardashian makeup routine, get ready to nail it!
Related Articles