Halle Berry Exact Diet & Fitness Routine - 2023
Ana Campbell
Updated At 05 Apr 23
Halle Berry is the name that comes to our mind when 'fitness inspiration' is talked about. Being an American actress and a mother of two, her life and journey has been in the limelight for years. She has made this limelight her friend and her Instagram account is its proof. She not only rocks on the big screen, but might even give tough competition to fitness influencers!
While she was prepping for Mixed Martial Arts (MMA) fighter in the film Bruised, she went through intense physical training and her pictures went viral. Looking at her toned body and ribbed abs, it is quite difficult to guess her age correctly!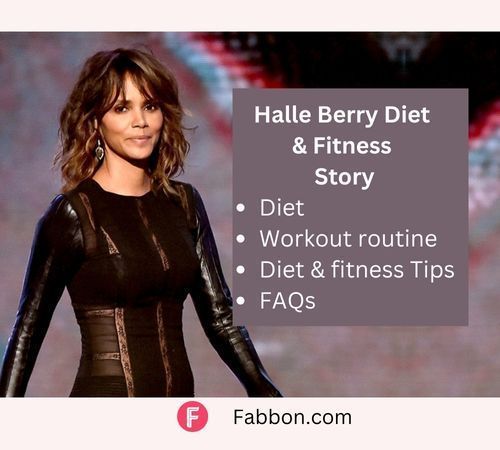 If you want to achieve her sustainable toned body and a healthy lifestyle, let us know about Halle Berry's diet and exercise, and lifestyle.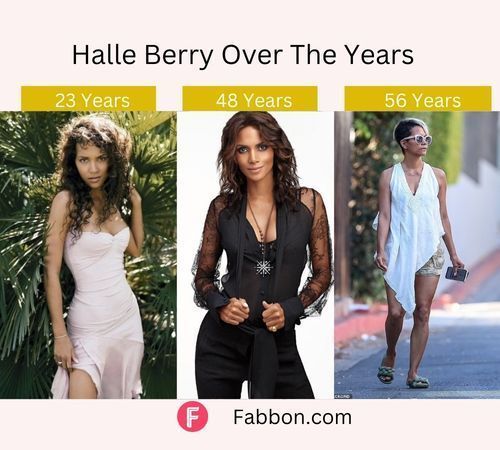 Halle Berry's Diet & Fitness Journey
Halle was diagnosed with diabetes at the tender age of 22. To manage it became her core motive which we will discuss later here. But Diabetes was what changed her perspective of living life. When she was 19 or 20, just before getting diagnosis, she was a sugar addict! She would start her day with cereals like Cocoa Puffs or Lucky charms that were loaded with sugar. She would always have a bar of hard candy with her. She was always on the insulin spike!
But the diagnosis made her understand that it was no more just a habit; that her habit has had adverse effects on her health and it is time to change the damage already done. She left eating sugary products immediately and though the withdrawal symptoms were massive, like headaches and constant sugar cravings, she felt better after a few weeks!
Now, after years of diagnosis, she consumes sugar rarely and on special occasions like her kids' birthdays.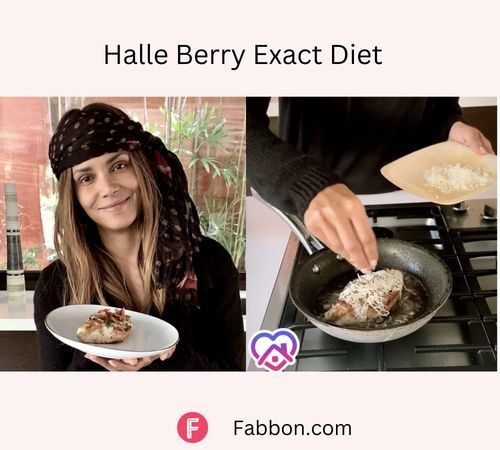 Halle Berry Diet
In any weight loss journey, diet is the most crucial part. Diet goes a long way in sustaining the weight loss for a long time. Therefore Halle Berry's diet secrets are here to give you an idea of how to go about with this weight loss.
Intermittent Fasting and Keto is what Halle has been following since years, and she has found great results. The time-restricted way of eating is miraculous if you follow it religiously. To manage her type two diabetes along with weight, she opted for high-fat, moderate protein keto diet.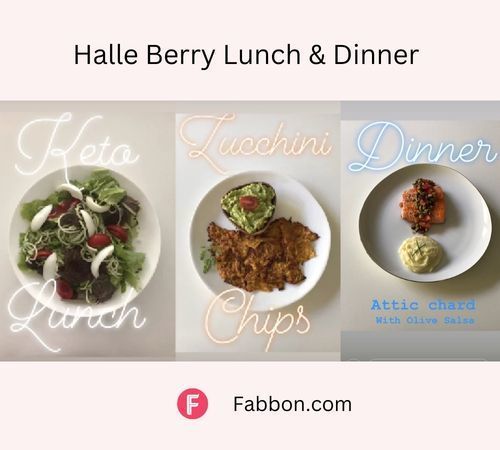 Halle Berry diet for diabetes includes just 2 meals in a day and she usually skips breakfast. But she makes sure to drink a large glass of water, with a lemon squeezed in it, to start her day.
The next step in Halle berry's diet is taking amino acids for muscles. She takes these from a company called Purium, according to her trainer. Amino acids are the best way to give the body the missing nutrition to sustain muscle.
Halle Berry goes on to consume coffee with some MCT oil, oil quite popular among the keto followers. This combination of coffee is named 'bulletproof coffee' and is said to speed up fat burning.
Brunch is her first meal of the day post workout. This meal is nutrition-dense and usually includes steak or chicken, along with green-leafy veggies or some eggs.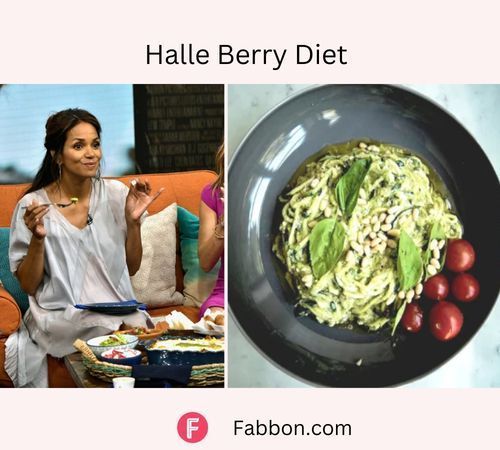 Her snacking includes berries and fruits which are organic. She also has cut up cucumbers or celery as snacks. She also loves avocado, given the good fat it contains. Halle berry is also a fan of bone broth and consumes it at different times of the day.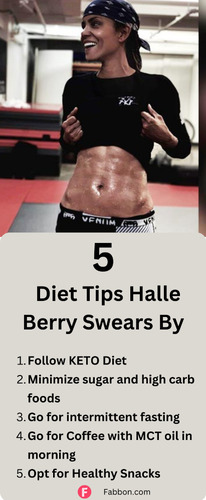 Dinner in Halle Berry's keto diet is the next proper meal she has and her chef prepares lamb stew! The stew is ketogenic, having lots of broccoli, cauliflower, and other veggies. Zucchini pasta is another option she opts for her dinner. This pasta is serves with pine nuts, pesto and some cheese!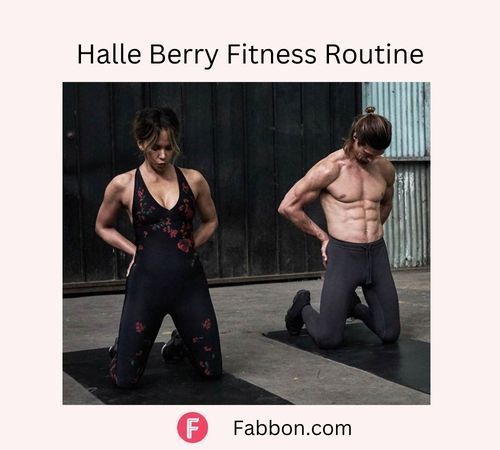 Halle Berry Workout Routine
Apart from a restrictive Halle Berry diet, she has a well planned workout! Here is the complete Halle Berry workout routine to give you an idea.
Halle loves and prefers full-body compound exercises like squats, to train the abdominal muscles, over crunches or sit-ups. She also includes planks in her routine now and has noticed an increased core strength and definition.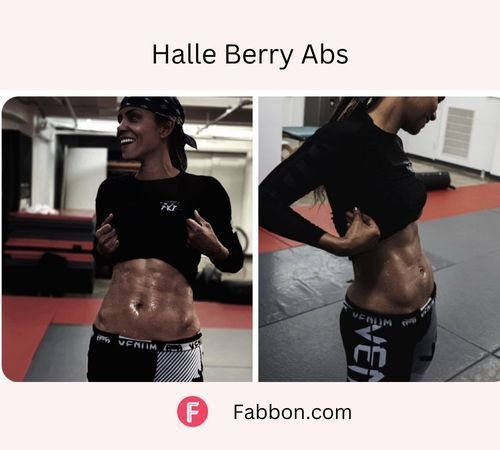 What is also of great importance in Halle Berry workout routine is just two moves of varied weights and reps. The two moves are overhead presses and bicep curls. Her workout starts with 40 lunges with bicep curls together with 20 squats to overhead presses. It then goes to 38 bicep curls and 19 squats to overhead presses; then 36 bicep curls to 18 squats to overhead presses and it continues by decreasing the reps.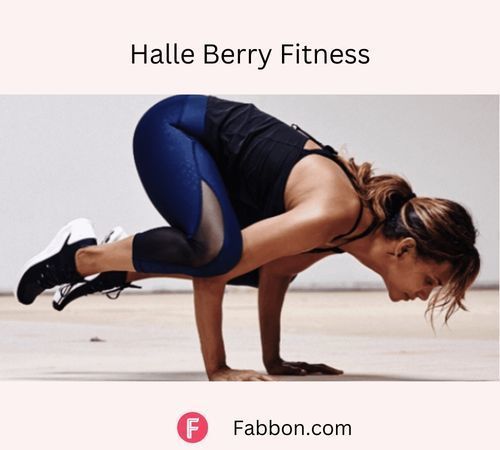 Apart from core workout, she also does other forms of workout:
· Boxing- Halle Berry workout routine has included boxing for the past 10 years. It is one of the best full-body workouts according to her. Through it she works different muscles.
· Yoga – Yoga is a necessary part in Halle Berry workout routine and she usually performs it before an intense workout, as a warm-up. She performs yoga to stretch and avoid injuries.
· Stretching- Halle Berry prefers stretching after an intense workout to stretch sore muscles and avoid injuries. It improves mobility and range of motions as well as stays limber.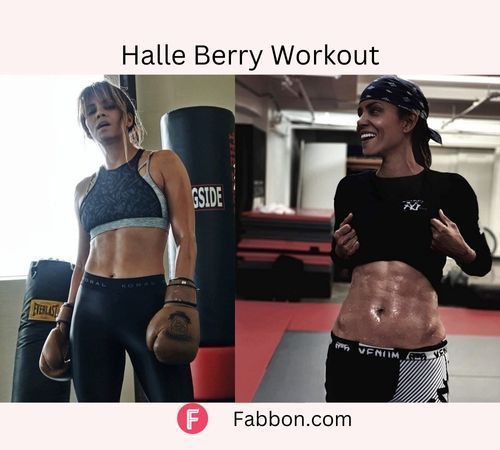 Halle Berry Diet And Fitness Tips
Halle Berry diet workout is well-known among her fans and followers but it becomes difficult to maintain it for a long time. Restrictive dieting and intensive workout can become tiring when you are low on motivation.
What really helps her is to indulge in things she loves to eat and do. For a better impact, she indulges on the healthier options available!
She loves drinking wine and though it is good for one's heart, she was told not to have just any wine. She therefore drinks sulphate-free, low-sugar and natural wines which goes along Halle Berry's keto diet as well.
Halle advices the same to people, that is, not to leave out the things one loves to eat for it isn't sustainable.
Hally Berry's diet and nutrition is well taken care of and cheat meals should also be included to maintain the sanity of mind.
Importance Of Self Care
Self-care is a necessity, especially as an actress. it calms her down, and makes her aware of her own requirements. For Halle, taking a long bubble bath is one such activity that caters to self-love!
Meditation is also an integral part to meditate on all things done, and to be grateful of whatever one already has. Halle Berry makes sure to meditate every day for at least a few minutes.
By taking care of her mental health, she has always stayed consistent on her workout regime, as well as diet!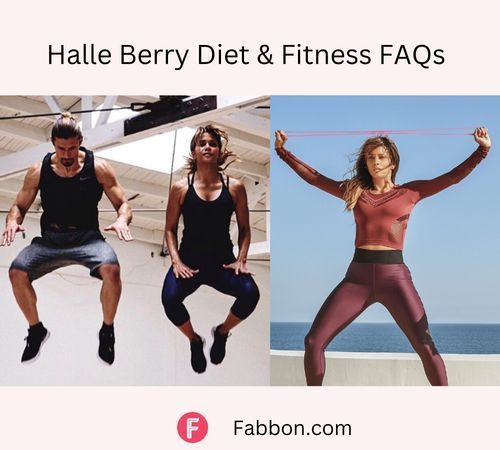 Halle Berry Diet And Fitness FAQs
Q- How many days does Halle Berry workout?
According to Halle's personal trainer Thomas, Halle trains for 6 days a week, excluding Sundays. She loves staying athletic and performs HIIT, squats, lunges, and anything else that gives her definition.
Q- How many hours does Halle Berry workout?
Halle makes sure to stay active throughout the week with some or the other form of workout. Each workout session lasts for an hour and is enough to let her body stay in shape.
Q- How did Halle Berry get abs?
Halley Berry has an intensive workout planned that she follows rigorously to attain abs. The workout routine includes abdominal exercises, planks, martial arts, core workouts, etc.
Q- What is Halle Berry diet?
Halle berry diet is all about keto and intermittent fasting. It consists of medium protein and high fat foods, perfect for her type two diabetes as well.
Q- What is Halle berry workout app?
For now, Halle does not have a particular app dedicated to her workouts. However, she has launched a series of workouts on Instagram, in its partnership. Fans can easily follow these videos for they are quite detailed and free to avail!