Samantha Akkineni's Beauty Secrets And Diet Plan - 2023
Shalu Bhati
Updated At 01 Jun 23
Samantha Akkineni is one of the fittest and most beautiful actors out there today. She is a remarkable actress with an established career in the Tamil and Telugu film industries. And if you follow her on Instagram, you know how remarkable can she be in the gym as well.
Samantha looks gorgeous, both on-screen and off-screen and one can say that it is due to her constant efforts towards her fitness, diet, and skincare routine.
Do you want to know more about the Samantha Akkineni beauty and fitness routines? Then get ready, as we unveil everything for you.
We specifically cover the following:
Samantha Akkineni Beauty Secrets
Samantha Akkineni Beauty Tips And Makeup
Samantha Akkineni Diet Plan
Samantha Akkineni Workout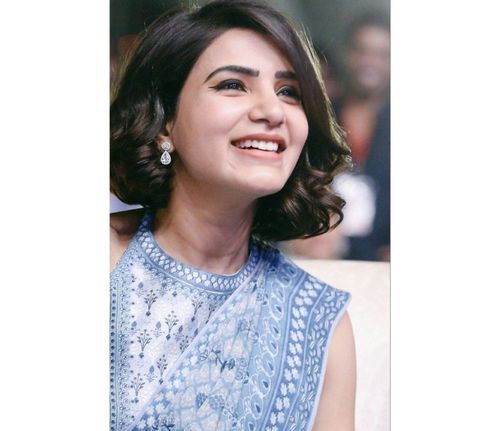 Samantha Akkineni Beauty Secrets
Samantha's Body Statistics: Samantha Akkineni's height is 1.65 m and her weight is 53 kg.
Just one look. That's what it will take for you to be mesmerized by the beauty of this 34 years old actress from the south. She looks equally flawless whether she is wearing makeup or not.
Want to know about the secrets behind her glowing skin? Let's begin!
One of the biggest Samantha Akkineni beauty secrets is hydration. Samantha likes to stay adequately hydrated throughout the day. She believes that hydration is the key to better skin and health. On the value of hydration, she said:
"The one thing we all tend to ignore that's the worst part. Because when you aren't hydrated, it shows on your skin and lips and your energy levels. Drinking water is the most important thing."
And it is not just water. She also adds other nutrition-rich drinks to her everyday routine which includes coconut water and fresh fruit juices.
Also check out Shilpa Shetty fitness tips to find out the reasons behind her perfect body.
Samantha religiously follows a CTM routine which is cleansing, toning, and moisturizing. It is the most basic and simple skincare routine which must be followed by everyone for better skin.
She never goes out without her trusted protector—sunscreen. Whether it is sunny, cloudy, or windy, Samantha always wears sunscreen to protect her skin from the damage caused by the harmful UVA and UVB rays of the sun.
Samantha has an oily and acne-prone skin which is why she has to be extra careful about what she puts on her face. She trusts and loves to use Neutrogena products. She also doesn't shy away from consulting her dermatologist when she needs some extra help.
Also Read: 15 Beauty Secrets Of Indian Actresses For Wrinkle Free Skin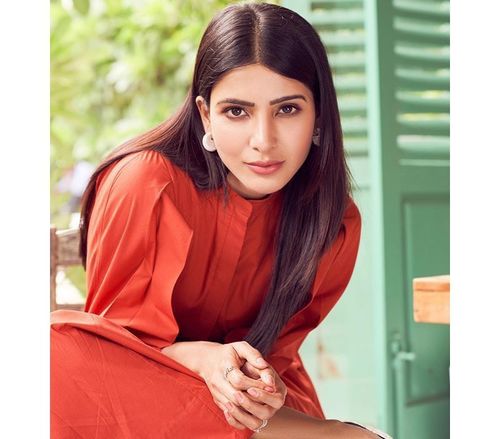 For maintaining her beautiful and shiny hair, Samantha chooses the natural route. She uses natural products which are SLS and paraben-free. Also, she oils her hair regularly to maintain their health.
Samantha is obsessed with skincare and has confessed it multiple times. She recently started following the 10-step Korean skincare routine and has been following it diligently.
Some of her favorite products are
1) Purito Galacto Niacin 97 Power Essence (for hydration)
2) Purito Snail Repair Advanced Serum (for hydration)
3) Jayjun Roselle Tea Eye Gel Patch (to depuff eyes)
4) Cosrx BHA Blackhead Power Liquid (to remove blackheards and control excess serum)
Jade roller forms an important part of Samantha's skincare routine. She uses it on her face to improve circulation and to reduce puffiness and inflammation.
Here is another one of the Samantha Akkineni beauty secrets for you. Samantha gives the credit for her glowing skin to Apple Cider Vinegar. She adds a spoon of ACV to a glass of water and drinks it daily on an empty stomach. And the result? Beautiful radiant skin.
Also Read: Katrina Kaif's Skincare, Workout Routine And Diet Plan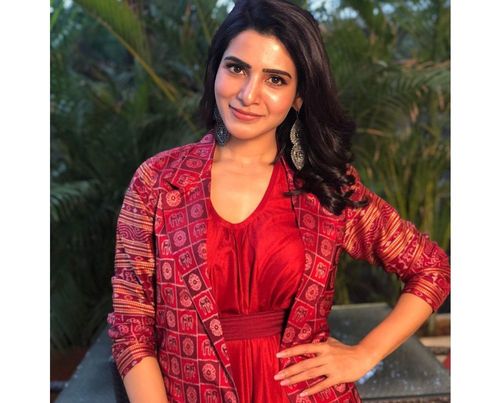 Samantha Akkineni Makeup Routine
Following are some tips and tricks from the Samantha Akkineni makeup routine:
Samantha likes to keep her looks as natural as possible. This is why she prefers to use a BB cream rather than a full coverage foundation
She has beautiful thick eyebrows and she likes to accentuate them with an eyebrow pencil
Her favorite lipstick shades are browns and nudes and these are the shades which she is often seen wearing
For her eye makeup, Samantha likes to go dark. She likes to wear a dark shadow, a lot of kajal and mascara
Since she has oily skin, Samantha depends a lot on face powder to control the excess oil and to keep her makeup in place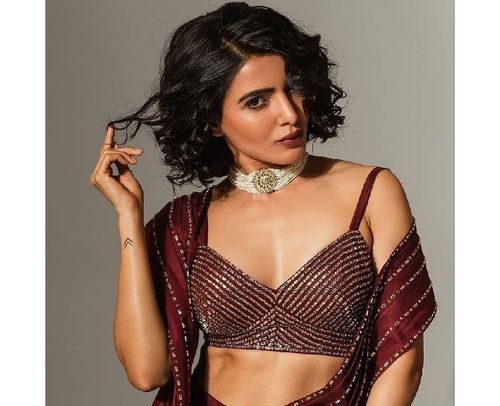 Samantha Akkineni Diet
Samantha has a simple, clean, and balanced diet. She does not believe in going on fad diets or fasting. She never skips a meal either. Her mantra is to eat all but in moderate quantities.
Her diet mostly includes salads, fruits, nuts, berries, vegetables, and lean meat. She loves food and often indulges in her favorite cuisines and dishes. She loves to eat sushi, sambhar rice, and paalakova among others.
Samantha knows the importance of eating healthy but she also likes to have cheat days on Sundays and it is then that she gorges on biryani, prawns, and lots of spicy food.
Also Read: How Parineeti Chopra Lost 28 Kgs?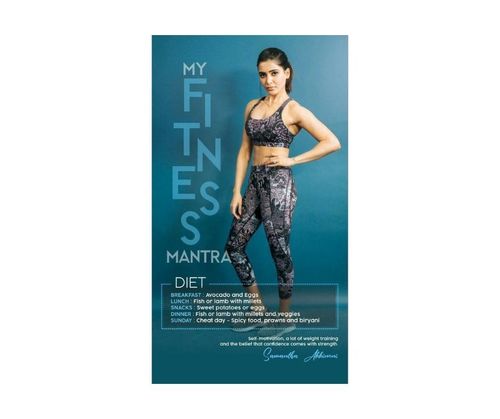 Samantha Akkineni Diet Plan
The typical Samantha Akkineni Diet Plan looks like the following:
Breakfast: Brown bread, avocado, and eggs
Snacks: Fresh fruits
Lunch: Fish or lamb with millets
Snacks: Sweet potatoes or eggs
Dinner: Fish or lamb with millets and Veggies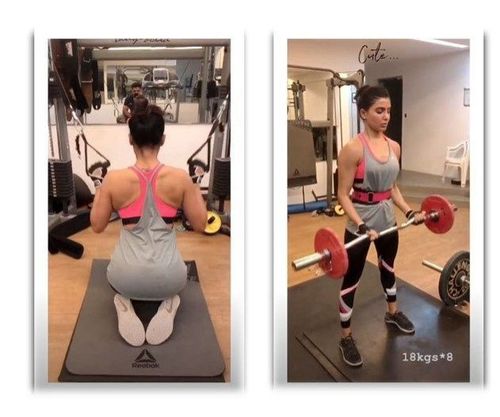 Samantha Akkineni Workout Routine
Samantha might have cheat days when it comes to her diet but she never cheats on her workout routine. She goes to the gym every day at 5 am to sweat it out with her trainer Dhaya Rajesh. Despite her show of commitment she still has to struggle. In this regard, Samantha said:
"I still struggle actually, to get to the gym. It's something that you know, well as an actor, you're forced to go to the gym, but when you see the results and when you know the high of after it's done, the adrenaline rush, it makes you happy…it becomes therapy."
Samantha is a huge fan of being fit but she does it not for the beauty aspect but to increase her body's strength. She does a mix of weight training and cardio.
For Samantha, a typical day in the gym includes:
Weight lifting/Cardio
Resistance exercises
Hip Thrusts
Backward lunges
Bench press
Push-ups
Pull-ups
Incline press
Narrow press
Squats
When she is too busy to get a workout she prefers to go out for jogging.
Also Read: Beauty And Fitness Secrets Of Madhuri Dixit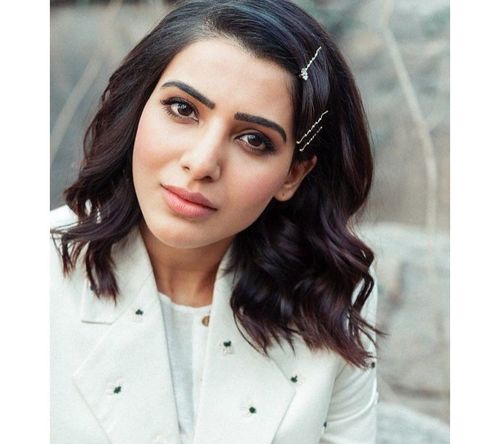 Samantha likes to challenge herself. She keeps on increasing the number of weights now and then. She struggles with it and first and often fails the first time with the new increased weights. But she doesn't give up and neither is she demotivated. She overcomes her failure by doing it again the next day only to be victorious. On failure, she says:
"I fail every time I add a pound or two to my previous best. I fail. The reason I love lifting heavy is because it has taught me to overcome the fear of failure. I go in I fail 2 days and then on the 3rd day I most definitely succeed. Failure is not permanent and I am reminded of that every week."
Samantha Akkineni is no wonder an inspiration to so many.
Also Read: 15 Ancient Arabian Beauty Secrets You Must Know
Related Articles