Beauty And Fitness Secrets Of Madhuri Dixit - 2023
Shailee Basu
Updated At 08 Feb 23
The process of ageing is often frowned upon and Madhuri Dixit is an exemplification that divas never get old. C'mon, let's face it, we're all going to get old at some point but the key is to not let that affect how we live our life. Fitness and taking care of your body should be an important part of your quotidian activities irrespective of your age.
Madhuri dixit is one such personality who continues to enrapture us with her warm and nonchalant disposition. Madhuri Dixit's diet plan alongwith her fitness schedule has been responsible for her youthless and glowing skin and of course, a fit body. Madhuri dixit skin care is simple and easy to implement as you will soon find out.
Mahuri dixit's age is 55 now and yet she's young at heart and has maintained herself to look youthful and radiant. Everyone wants to know Madhuri Dixit beauty secrets which make her skin glowing even at this age. To her, age is just a number and there's no expiry date for talent. She sure shows us how to age gracefully and feel young inside-out! She's the queen of Bollywood, a dance aficionado, a daughter, a wife, a mother and of course the beautiful woman that she is! She continues to rule the hearts of millions of people not only in India but all over the world. She's been conferred the coveted Padma Shri, India's fourth-highest civilian award for her outstanding skills in acting, other international and national film awards and the National Citizen Award for her contribution to Indian cinema.
She leads a simple and healthy lifestyle and Madhuri Dixit's exercise and fitness regime includes lots of dancing.
Now let us cut to the chase and know about the timeless beauty- Madhuri Dixit beauty secrets which include her diet plan, skin care routine and fitness plans. Additionally, do check out Anushka Sharma diet as it has helped her to maintain her perfect figure!
We specifically cover the following:-
Madhu Dixit Workout
Madhuri Dixit Diet
Her Weight Loss Tips
Her Beauty And Skin Care Regime
Madhuri Dixit's Skin Care Tips
Madhuri Dixit Beauty Tips
FAQs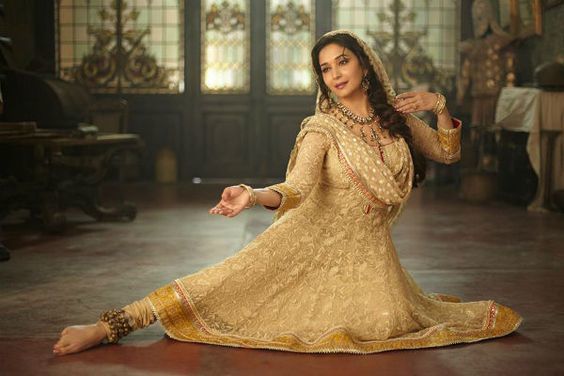 Madhu Dixit's Fitness And Workout Plan

Madhuri Dixit's workout is not complicated and she enjoys the same. She says,
Dancing for me is a passion- it gives me a spiritual high, rejuvenates me after a hectic day at work and home with the additional benefit of being a great workout routine! With each step, I yearn to learn more- it's a deep form of evolution for me.
Well, we all know that Madhuri Dixit is an astounding dancer and she's known as the Dhak Dhak Girl for the same so it's obvious that the "Madhuri Dixit fitness plan" will consist dancing.
It's a fun exercise combined with music and helps you burn a lot of calories. She absolutely loves dancing and is the best bollywood dancer due to her versatility so it's no surprise that dancing is her favorite exercise.
Do check out the details of Kriti Sanon diet as its been one of the most important reasons of how she has maintained her perfect body over the years!
Madhuri Dixit's Fitness Schedule
She practices Kathak 4 to 5 times a week at home and believes that dancing is an excellent cardiovascular exercise.
She's not much of a gym freak and indulges in light workout 2 to 3 times in a week. Her workout mainly consists of cardio, weights and yoga.
She believes in getting plenty of sleep
She staves off unhealthy lifestyle habits such as drinking or smoking
Being optimistic and staying happy is her key to a healthy life
She also posts dance tutorials on her social media sites frequently. Similar to Madhuri Dixit, many bollywood celebs like Priyanka Chopra, Deepika Padukone, Katrina Kaif have been maintaining a proper diet and regular workout schedule. Do check out Parineeti chopra weight loss diet as she lost more than 30Kgs by following a strict diet!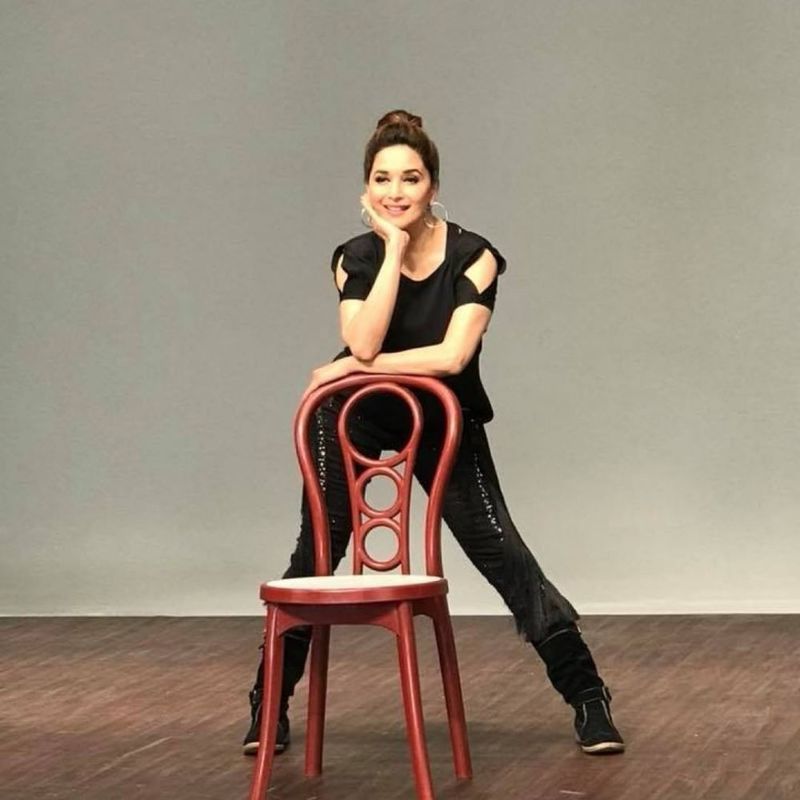 Madhuri says,
I've started doing my Kathak, and I rehearse almost every day. Also, I'm eating right and keeping in shape. I'm a non-smoker and non-drinker and essentially a happy person. That's what counts the most. Your well-being is reflected in your personality.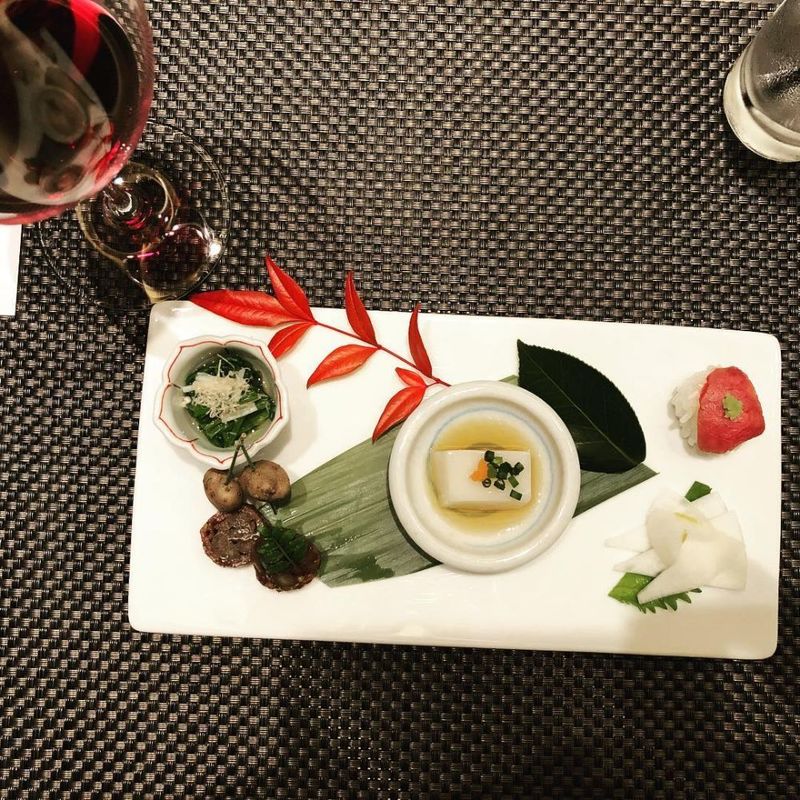 Madhuri Dixit Diet

Madhuri Dixit's diet plan is not a complex and stringent one as she believes in the tenets of simplicity.
Madhuri eats 5-6 small meals at regular intervals throughout the day and makes sure to incorporate lots of fruits and vegetables in her daily diet.
She avoids oily, fatty foods and prefers a diet rich in vitamins, minerals, low carbs and high quality protein and also takes supplements of essential nutrients and does not believe in fad diets.
The marathi mulgi loves authentic Maharashtrian food and has a penchant for Japanese cuisine as well which is known to be very salubrious.
Madhuri Dixit's Daily Diet Plan
Madhuri dixit diet plan is a balanced one as she focuses on eating carbohydrates as well as proteins.
Morning (Breakfast) - Oats or 3 egg whites with toast; A cup of tea
Mid Meal - Nuts Or Curd With Fruits
Lunch - Chicken, Vegetables And Rotis (She prefers roti over rice)
Evening - Egg white and a cup of tea
Dinner - Grilled Fish Or Chicken with salad and vegetables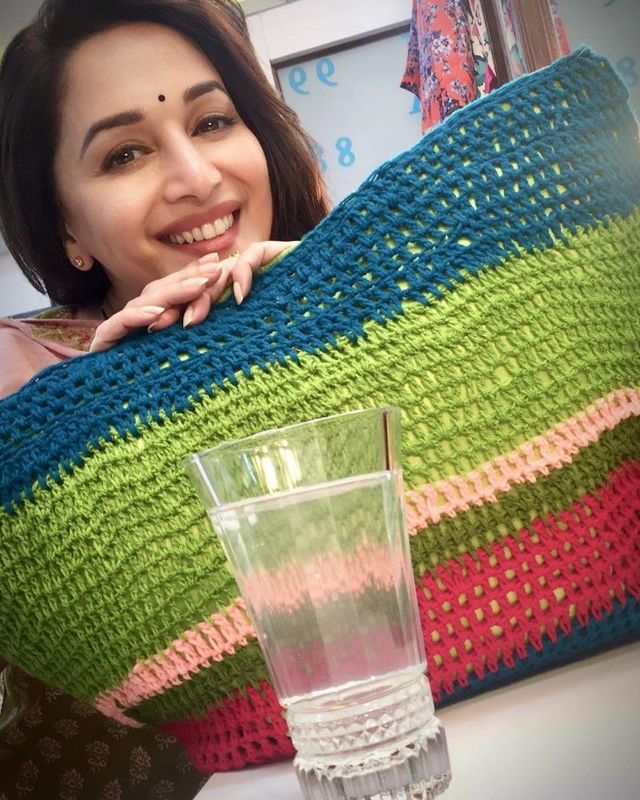 Madhuri Dixit's 'Monday essential' is coconut water. This low calorie nariyal pani boosts metabolism, strengthens immunity, gives you a glowing skin and also promotes weight loss.
Coconut water also replenishes lost electrolytes. It hydrates the body from within, and is also rich in potassium, fibre, calcium, magnesium and phosphorus.
She drinks herbal tea that is encapsulated with a multitude health benefits.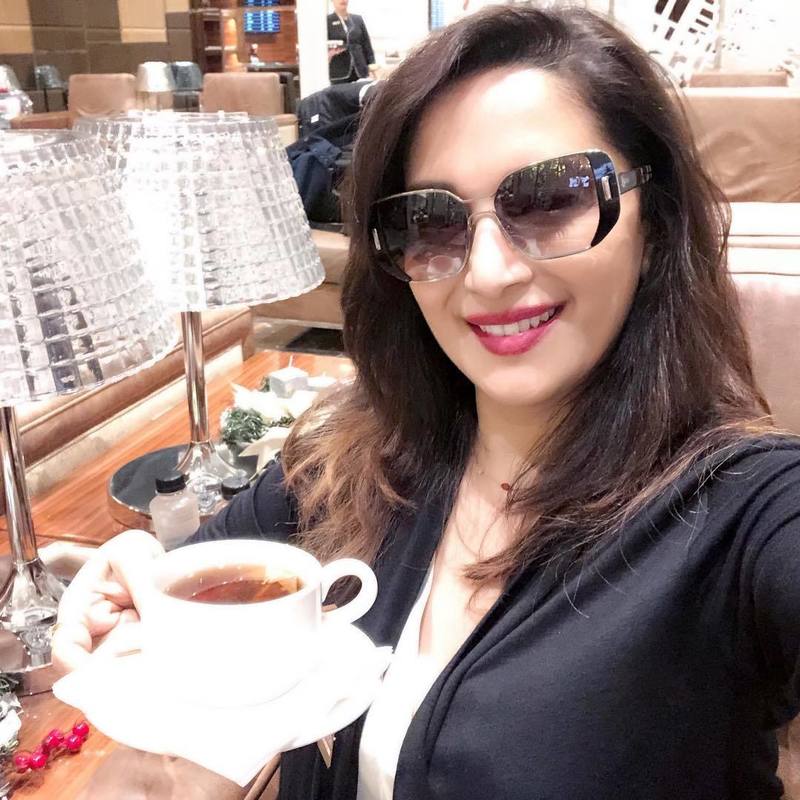 Madhuri Dixit Weight Loss Tips
While madhuri dixit diet is simple, she sticks to the following weight loss tips everyday to maintain her weight.
Eat small meals throughout the day
Finish your dinner before 7:30PM
Avoid processed and fatty foods
Drink coconut water
Drag fruits and vegetables to the top of your grocery list
Have colorful veggies and lots of green vegetables
Load up on low calorie and high protein foods such as broccoli and tofu
Do not overcook your food, it reduces the nutritional value
Eat balanced meals
Do not get swayed away by fad diets
Aerated and caffeinated drinks are a big no!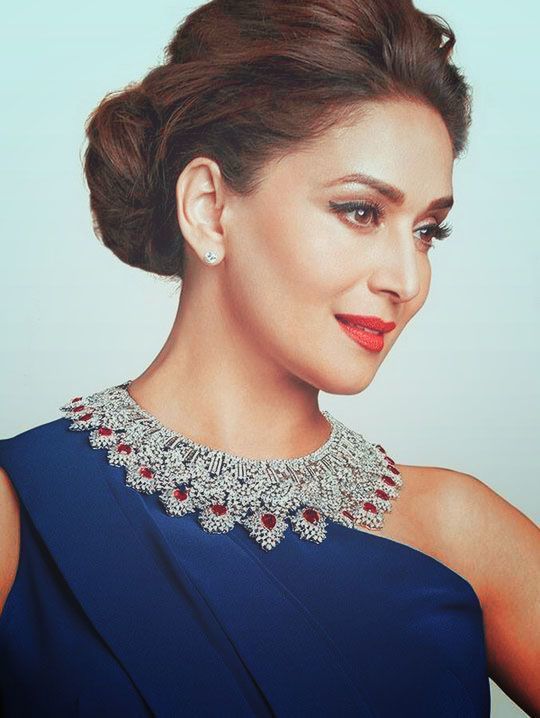 Madhuri Dixit's Beauty And Skin Care Regime
Now that we know everything about her fitness and diet, let's dig into Madhuri Dixit's beauty secrets and skin care regimen!
Madhuri Dixit's glowing skin is a result of nothing but a healthy lifestyle.
According to Madhuri, looking beautiful isn't just about what you apply on your face. It's the little things you do everyday that matter.
A combination of a good diet, exercise, healthy habits, discipline, dancing etc. is what her beauty routine consists of.
She has no bad habits; she does not drink or smoke. All these factors contribute to her being fit and looking good. She stresses on the importance of sleep and proper rest. Your body needs a break to repair, function better and to stay healthy. Not getting enough hours of sleep will be evident on your skin. Resting well, exercising, drinking plenty of water and eating a balanced diet will give you a fit body, calm mind and glowing skin. It will also fight premature ageing.
When it comes to decking up, Madhuri Dixit believes in simplicity.
A good eyeliner and a lip gloss and she's good to go. The better you are at maintaining a skin care routine, the less makeup and artificial products you will have to apply on your skin.
She endorses Olay Regenerist and uses it daily for a younger looking, smooth, supple and luminous skin.
The best way to stay youthful and beautiful is exercise. When you exercise the blood circulation increases through your body especially your face which boosts the production of collagen.
She cleanses her face twice a day and uses a toner following up with an SPF, serum and moisturizer in the day and a serum and night cream before going to bed.
She also swears by the age-old method of applying honey to your face.
Why Madhuri applies honey? Well, honey effectively rectifies umpteen skin problems. It has antibacterial properties which is precisely what acne prone skin needs. It is abundant of antioxidants, and slows down aging. It intensely hydrates your skin and boosts your complexion. So, hurry up, get that Madhuri Dixit glowing skin that you've always wanted!
Madhuri Dixit's Skin Care Tips

Follow a CTM routine, Cleanse, tone and moisturize atleast twice a day; follow up with a skin serum
Try to keep your face moisturized at all times
Apply honey to your face often
Keep an SPF handy at all times
Follow healthy lifestyle habits
Sleep for 8 hours at least
Do check out Disha Patani diet and beauty secrets as she also follows similar beauty tips and it has been really effective for her!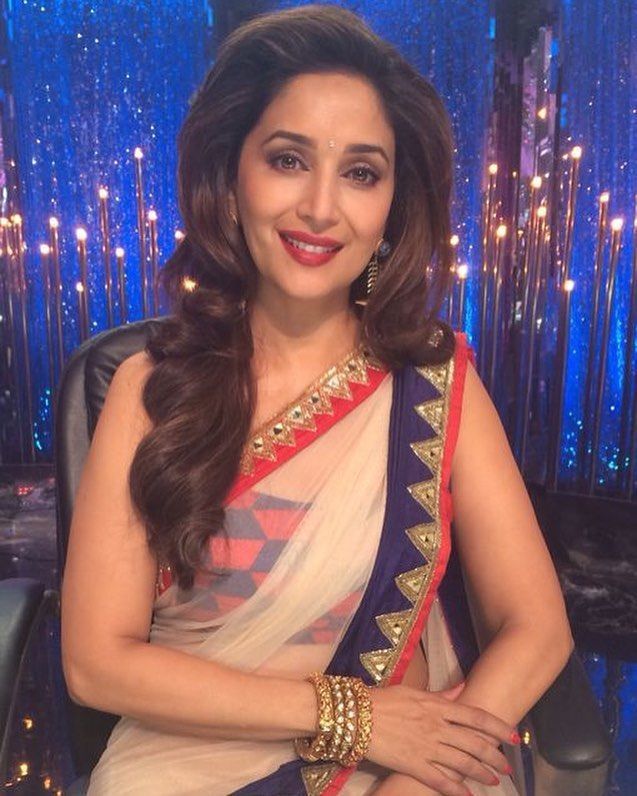 Madhuri's Hair Care Regime
Madhuri Dixit's hair care is limited to oiling, shampooing and conditioning. Hair styling products and tools are a part of an actresses everyday life and hence Madhuri's hair needs extra care to look healthy.
Madhuri oils her hair before every wash. Her favourite hair oil is a mixture of olive oil and castor oil and she likes to use homemade conditioners made of banana, mayonnaise and fruits.
Madhuri Dixit's Beauty Tips
Follow her KISS (Keep it simple, stupid) mantra to live a happy, healthy and fit life!
Personally she follows all of the following beauty tips to keep her in perfect shape.
Stay happy and do things that make you happy
Practice meditation for mindfulness
Dance it off and get proper rest
Do not follow crash diets
Apply a good moisturizer
Apply a sunscreen
Cleanse and tone twice a day, follow up with a skin serum
Oil your hair before shampooing and use a conditioner
Apply honey to your face once in a while to restore moisturize and repair skin
Eat a balanced diet
Make sure to include exercise in your everyday life
Have early dinner (preferably before 7:30PM)
FAQs On Madhuri Dixit Beauty Secrets

Q- Which are the top madhuri dixit beauty secrets?
Madhuri dixits's control on her diet and her fitness routine are mainly responsible for her gorgeous body. She also has no bad habits like smoking or drinking. She believes dance is also responsible for her beauty. She says,
For me, dance is also a form of beauty. So I dance & I recommend it to everyone.
She makes sure to eat regular short meals (4-5) every day and ensures she uses minimal chemicals. She always relies more on home remedies for taking care of her skin.
Q- Does Madhuri DIxit follow a CTM routine?
Yes, Madhuri sticks to her CTM routine and follows it everyday.
She makes sure to cleanse her face twice a day. She follows this with a toner, a SPF cream, serum and moisturizer during the day.
Q- Which are the natural ingredients used by Madhuri in her skin care and hair care routine?
One of the favourite natural products of Madhuri Dixit is honey. She applies honey to her face regularly to restore, moisturize and repair her skin.
She also oils her hair before every wash. her favourite hair oils are olive oil and castor oil.
Q- What is Madhuri Dixit's age?
Madhuri dixit was born on 15 May 1967. her age is 55 years.
Q- What is the height of Madhuri Dixit?
Madhuri Dixit's height is 1.63 meters. In feet, her height is 5 feet 4 inches.
Related Articles