15 Amazing Kareena Kapoor Makeup Secrets And Beauty Tips For Glowing Skin
Shweta F
Updated At 14 Sep 22
Want to know how kareena kapoor maintains her gorgeous skin? While her diet and exercise have helped her maintain her slender figure, but the beauty tips for glowing skin from kareena kapoor have helped her transform her skin. Kareena kapoor khan never fails to inspire her fans and her style and looks are always trendsetters.
We list the best tips for glowing skin from kareena kapoor which can also amp up your style game. Kareena kapoor face is always glowing and the beauty tips hold the secret to the same.
Though these makeup and beauty tips are followed by kareena kapoor, it can be followed by anyone as you will soon find out. All these tips for glowing skin are easy to implement even though they are followed by the queen of bollywood. Kareena kapoor skin care is simple and her diet and control enables her get the best out of it which reflects in her well toned body and glowing skin.
Kareena Kapoor's Beauty Tips For Glowing Skin And Makeup Secrets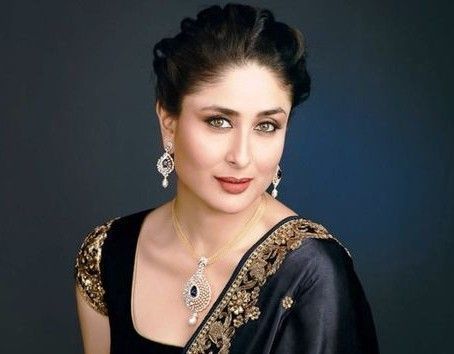 1) Kareena Kapoor's Secret Ingredient To Glowing Skin
Kareena drinks coconut water daily and its her secret ingredient which keeps her skin healthy.
It is rich in antioxidants and contains potassium alonwith several nutrients which helps to keep you healthy. Beneficial after long exercises it is a source which hydrates your skin naturally.
Drinking coconut water frequently indeed features as one of the top kareena kapoor beauty tips.

2) Contouring Can Accentuate Your Features
A big supporter of contouring for getting the perfect glam look, Kareena kapoor khan feels it definitely works wonderfully well for her. Contouring suits anyone with high cheek bones like her as it helps increase focus on her features. One of the best kareena kapoor makeup tips, she uses contouring to highlight her features whenever she is looking to go glam.
Applying the contour powder perfectly on your cheeks and jawline are crucial to getting the perfect look. Blending it along with the dark contour and using a highlighter helps her create a sharp look.

3) One Thing She Never Misses Out On
Kareena kapoor skin care involves strictly removing the makeup before going to bed. It hardly happens that she misses out on this important part even when she is tired after shoots.

4) The Most Important Step Of Her Skincare Routine
Kareena kapoor skin care plan is quite simple. While she tries to follow the CTM (Cleanse, Tone And Moisturise) routine, the most important step which she always focuses on is moisturizing her skin.
She always carries a moisturizer and ensures that her skin is hydrated at all times. With her busy and travel packed schedule, her skin has a tendency to become dry at times so she keeps a moisturizer handy at all times.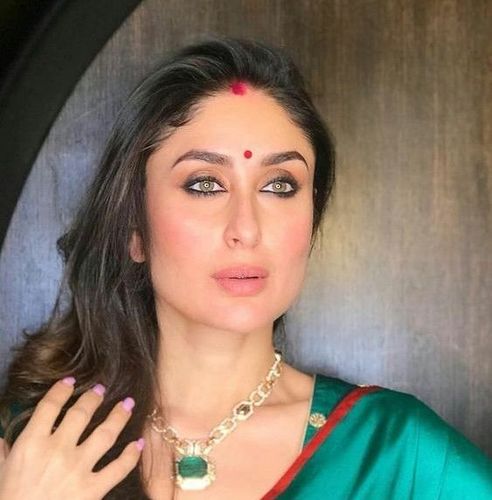 5) Eye Makeup Can Transform Your Look
Kareena always experiments with different looks but you would rarely see her not getting featured on the cover pages.
Her trick to always make her looks standout is pairing her eyemakeup appropriately with her attire. When she chooses monochrome color she goes for the soft smokey eyes whereas when she is wearing heavy accessories, she goes for bold eyes so that one does not overshadow the other.
Simple yet very effective, her eyemakeup has always complemented her looks. Many a times she goes for soft eyes with just an eyeliner to put the focus back on her eyes.

6) Maintaining Eyebrows Is Crucial
Be it any look, perfectly maintained eyebrows will always help make your look standout. Well shaped eyebrows definitely transform your look and makes it look sharp. One of the top kareena kapoor beauty tips, she adheres to this at all times.
Also Read: The Best Celebrity Eyebrow Transformations Of The Season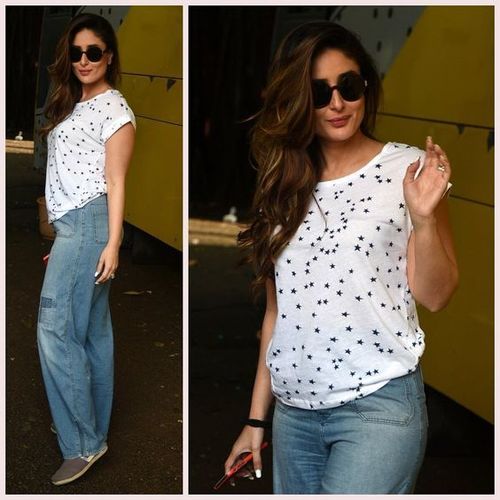 7) Her Go To Outfit Whenever She Is In A Hurry
Kareena feels that a pair of Jeans with a shirt works amazingly well in all situations. Moreover, whenever she is in a hurry she always prefers this combination.
8) Importance Of Following A Diet For Glowing Skin
Kareena absolutely believes that a proper healthy diet is an absolute must for a healthy body. It is even more important for getting a glowing skin.
No amount of exercises and workouts can balance the ill effects of an improper diet. She religiously follows the diet plan of her dietician Rutuja Diwekar and sticks to homemade food and multiple meals throughout the day. Her diet mainly comprises of green leafy vegetables, fruits, rice, dal, curd and chappatis. She also ensures that she gets 8 hours of sleep daily.

9) Want Glowing Skin - Drink Boiled Water
As simple as it may sound, but a robust metabolism is very important for a healthy body and skin.
Kareena makes sure she drinks 8-10 glasses of boiled water everyday. She also stays away from aerated drinks.
Drinking boiled water helps kill the bacteria which inturn prevents infections. Additionally, drinking warm water also increases the metabolism rate which improves digestion.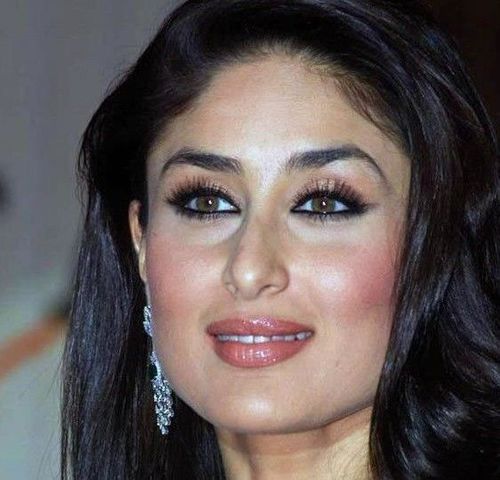 10) Applying Minimal Makeup Works Best
Kareena tries to stay away from makeup to the extent possible. Though her schedule and movie shoots do not allow her to be makeup free at all times, she makes an effort to keep her face without makeup.
She is not a big fan of facials and tries to avoid the same.
Also Read: Parineeti Chopra's Weight Loss Secrets: Revealed

11) Homemade Hair Masks Always Work
Kareena tries out a lot of hairstyles and loves to experiment with her hair. She often tries color shades like chocolate, dark brown and honey blonde. She is a brand ambassador of BBLUNT and prefers using a classic brown bblunt hair colour which can be worn everyday.
However, whenever she gets time, she prepares a hairmask comprising of castor oil, coconut oil, olive and almond oil. Amongst top kareena kapoor hair secrets, this hairmask helps to nourish her hair while keeping the scalp clean.
12) Her Go To Products
Kareena's go to products for her eyes are an eyeliner and a mascara. One can also find a sunscreen, lipstick, moisturiser and a foundation or compact in her makeup bag. For lips, she loves to go for neutral shades like the one offered by MAC Cherish lipstick.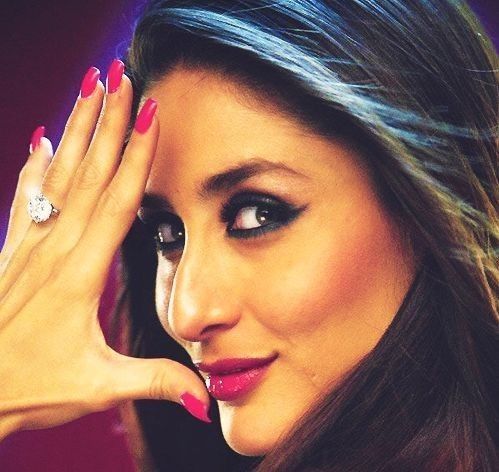 13) Care For Your Nails
Apart from defining her features, kareena also believes in picking the right nail enamel to amp up the look. She feels selecting bold and bright colors which go with your makeup can dramatically change the look.
14) Being A Vegeterian Helps
Kareena feels that her diet choices and she being a vegeterian also plays a role in getting a healthy skin and body. As a lot of animals are given injections to grow quickly, adding meat to your diet may add these toxins to your body. Many of these also take time to get removed from the body. This in turn can make the skin get dehydrated and dry sometimes.
Also read: This Is How Padma Lakshmi Looks So Young

15) Its Allowed To Have A Cheat Meal
Though Kareena kapoor sticks to her diet most of times she does have a cheat meal in between. She likes pizza which she eats whenever she goes for a cheat meal.
Her favourite healthy snack is chana and she makes sure to have a balanced diet most of times. She avoids sweet dishes, pastas and rather prefers healthy alternatives like fruits, vegetables and yogurt.
FAQs On Kareena Kapoor Beauty Secrets
Q- What are kareena kapoor favourite brands?
Kareena kapoor loves Ralph Lauren, Gucci, Saint Laurent, Zara, H&M and Sandro. She also loves to wear clothes from various boutiques.
Q- What are kareena kapoor favorite beauty products?
There is a long list of Kareena kapoor beauty products. From perfumes to sunscreens, she uses all the products.
Kareena kapoor prefers to use high end luxury products from brands like Lancome, MAC and Clarins and Lancome to get the flawless skin. She prefers using face wash from Lancome and a Clarins sunscreen. She also likes to use Lakme Kareena Kapoor Khan Absolute Face Contour foundation. She always carries a moisturiser, lipsticks and lip balm while travelling.
Q- Which natural ingredients are used by kareena kapoor in her skin care routine?
Kareena kapoor skin care involves usage of multiple natural ingredients like honey. Her hair care comprises of using a blend of hair oils like olive oil, castor oil and almond oil.
Q- Which beauty products are always seen in Kareena Kapoor's makeup bag?
Kareena kapoor uses multiple beauty products. The following beauty products can always be seen in her makeup bag:-
Moisturiser
A few lipsticks (she prefers nude, pink and red shades)
Lip balm
Mascara
Eyeliner
Sunscreen
Kareena kapoor beauty tips are simple and she does rely heavily on natural ingredients. She tries to minimize using products with chemicals. Indeed, she prefers not to go for facials.
Implement these beauty tips in your daily routine to have a gorgeous skin. Do let us know in the comments below which beauty tip you liked the most?
Related Articles