11 Best DIY Homemade Shampoos For All Hair Problems
Pooja Angurasu
Updated At 11 Feb 23
Your overall health and the quality of your hair are frequently interdependent, and how we address these situations will determine how they turn out. Some hair types are not compatible with harsh chemical products. Get rid of all your troubles. Let's look at 11 DIY homemade shampoo recipes for gorgeous, healthy, and long hair to show people how to give their hair some sensitive, loving care.The scalp and hair follicles can benefit from the vitamins, minerals, oils, and botanical extracts that are softly but efficiently delivered by natural ingredients in hair products. Additionally, they can improve the texture and appearance of the hair while gently stimulating the growth of new hair, assisting hair in retaining its natural moisture, and more.
Table of Contents
11 Best DIY Homemade Shampoos For All Hair Issues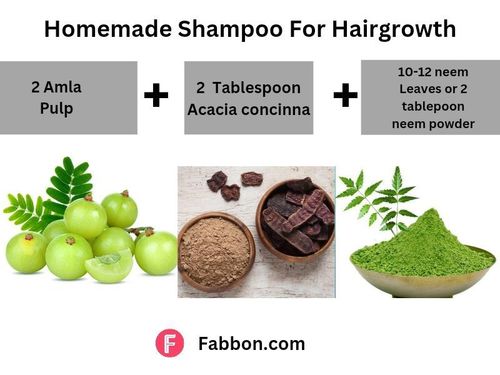 1. Homemade Shampoo For Hair Growth
Ingredients:10–12 neem leaves, powdered Acacia concina, and 2 amla (or gooseberry) pulp.
How to use:
Boil 10–12 neem leaves in a pot for 5–10 minutes.
Add the amla puree and Acacia concinna powder to the leaves once they have cooked and become squishy.
Apply this combination to wet hair right now, and leave it in for 45 to 50 minutes.
Frequency: Washing with cold water and repeating the practise at least twice a week will help you stop hair loss and other scalp-related problems over time.
Why it works: Neem leaves are recognised for their antibacterial and antiseptic qualities, which aid in the treatment of dandruff and hair loss. Additionally, it has been shown to encourage hair growth, increase blood flow to the scalp, and eliminate lice. On the other hand, amla, or Indian gooseberry, nourishes the hair and gives it a healthy sheen and thickness. Due to its high vitamin C content, it strengthens the root, stops hair loss, and helps create collagen. It also delays the premature greying of hair. Acacia concinna (shikakai) is an Indian Ayurvedic medicine. Shikakai is rich in antioxidants and vitamins (A, C, D, E, and K), and it works like a gentle cleanser for hair.
Looking for more remedies? Do check our guide to find the best home remedies for hair growth as we list 21 proven and most effective home remedies with FAQs.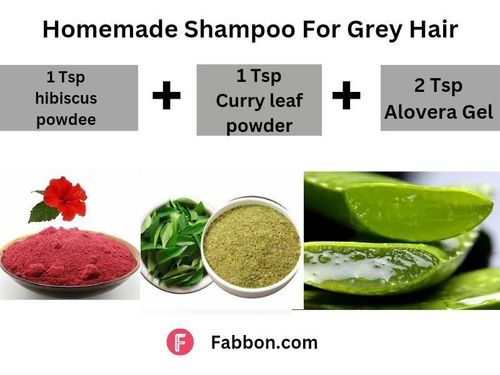 2. Homemade Shampoo For Grey Hair
Ingredients: 1 tablespoon, 1 tablespoon curry leaf powder, 3 tablespoon aloevera gel.
How to use:
Add the aforementioned mixture to a bowl.
Make a thick paste by thoroughly combining them.
Apply softly to your scalp and massage.
Wash your hair after 45 to 50 minutes have passed.
Frequency: Utilize it three times per week on your hair to deep-condition it and enhance blood flow.
Why it works: Hibiscus powder, which fortifies hair and reduces hair loss, is the key component of this homemade shampoo for grey hair. Aloe vera has many active ingredients, vitamins A, C , E and minerals that can provide nourishment to the hair. Curry leaves can help prevent thinning hair or hair loss. The leaves may also help remove dead hair follicles, which can interfere with hair growth. This remedy for grey hair works amazingly well and has all natural ingredients.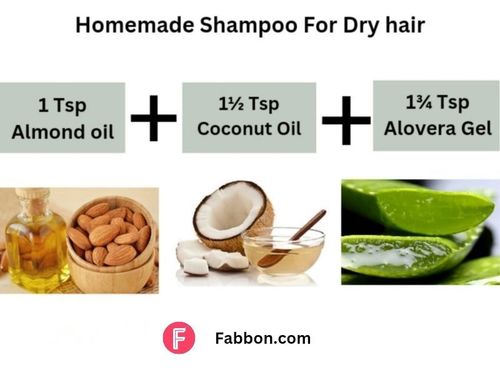 3. Homemade Shampoo For Dry Hair
Ingredients:1 tablespoon almond oil, 1½ tablespoon coconut oil, 1¾ aloevera gel.
How to use:
Add the aforementioned mixture to a bowl.
Make a thick paste by thoroughly combining them.
Apply softly to your scalp and massage.
Wash your hair after 45 to 50 minutes have passed
Frequency:Utilize this homemade shampoo for dry hair three times per week to get rid of dry hair.
Why it works: Your hair is moisturised by aloe vera gel, coconut oil, and almond oil. Your hair feels smoother to touch as a result. Over time, applying almond oil to your hair will make it softer. You can also see that your hair is easier to comb through and style after you start using almond oil in your daily hair care regimen. Aloe vera has multiple nutrients that can nourish and moisturise your hair as well. In addition to being good for your scalp, coconut oil also moisturises your hair.
Along with natural shampoo, one can also go for a natural conditioner for dry hair as this will make the hair smooth and silky.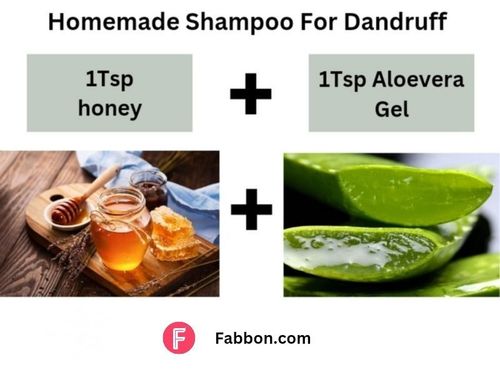 4. Homemade Shampoo For Dandruff
Ingredients:1 tablespoon honey, 1 tablespoon aloevera gel, ¼ cup water.
How to use:
1/4 cup of water and one tablespoon of raw, unprocessed honey should be combined in a mug or squeeze bottle.
Adding one tablespoon of aloe vera gel is optional but can provide additional soothing effects.
Apply honey shampoo to wet hair after thoroughly shaking it, and massage for one minute.
Thoroughly rinse.
Frequency: Repeat weekly
How it works: Honey is an excellent scalp cleanser because it's antibacterial, antifungal, and mild on the scalp. Honey can balance scalp pH, eradicate flakes, and leave hair silky and lustrous when used in a homemade shampoo for dandruff. When used on the scalp and hair, aloe vera is highly beneficial for treating dandruff. It works amazingly well to reduce itchiness and control dandruff.
If you want to check out more home remedies for dandruff, do refer to our guide as we list 9 most effective remedies for dandruff and cover all the popular FAQs to answer your queries.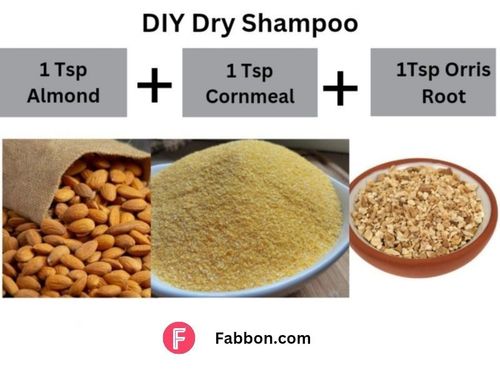 5. DIY Dry Shampoo
Ingredients: 1 tablespoon cornmeal, 1 tablespoon iris or orris root, and 1 tablespoon finely ground almonds.
How to use: Almond meal, iris root, and cornmeal should be thoroughly combined. To prevent the dry shampoo mixture from clumping on your hair, brush your hair thoroughly before applying it. After using the DIY dry shampoo, brush or dust off any extra.
A thorough mixing is required for your DIY dry shampoo.
Apply with your fingertips or a fresh makeup brush. Attempt to concentrate on applying the mixture to your hair's roots and other grease-prone places.
Spread the powder evenly into your hair with your fingertips or a makeup brush. For complete absorption, rub your roots.
If necessary, lightly wipe away any extra powder.
Style for the desired appearance.
Frequency: This can be repeated on a daily basis.
Why it works:The DIY dry shampoo powder will absorb oil, so if your hair isn't oily, we could be eliminating the natural oil that your hair needs to stay hydrated and healthy. Cornmeal, or cornstarch, is an inexpensive way to remove oil and grease. Plus, corn meal is a great source of iron, which helps generate the growth of hair cells.People who suffer from hair fall are given almonds to increase hair strength and prevent breakage. Orris root is also very effective in maintaining hair health and in treating hair fall problems.
If wrinkles and fine lines are troubling you, do check our guide to find the best home remedies for anti aging and glowing skin. We list top 15 remedies which are effective and answer all the top queries to resolve your questions.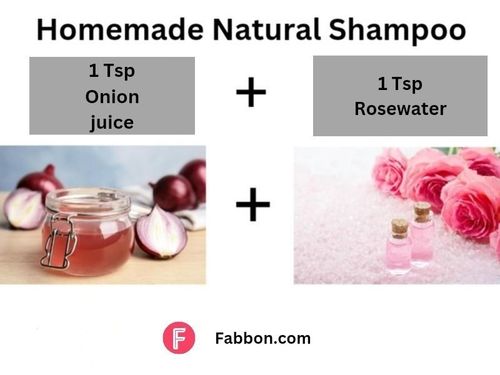 6. Homemade Natural Shampoo
Ingredients: 2 tablespoon of an onion juice,1 tablespoon rose water
How to use:
Grate a medium-sized onion and extract its juice into a basin.
Apply the mixture to your moist scalp after adding a tablespoon of rose water.
Keep it on for 30-35 minutes, then cover your head with a cloth.
Frequency: For desired results, rinse it off with cold water and use this homemade shampoo for hair growth every week.
Why it works: The anti-bacterial qualities of onions are well known for treating scalp infections. As a result, hair fall ultimately ceases as the hair roots become stronger. Additionally, onions increase blood flow, which is advantageous for healthy hair. Rose water moisturises the scalp, making it pliable and smooth to promote the development of soft, lovely hair.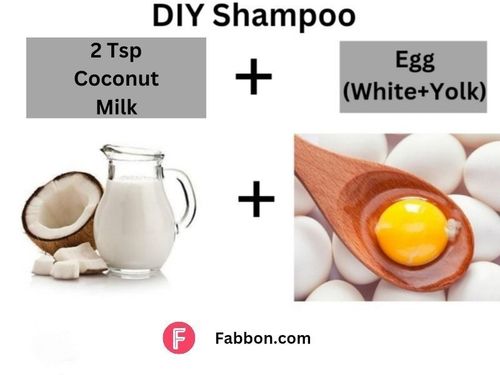 7. DIY Shampoo
Ingredients:2 tablespoons fresh coconut milk, 1egg.
How to use:
Two tablespoons of fresh coconut milk and one beaten egg are combined in a bowl to create a slurry.
Apply it with caution to the hair, working your way up from the tips to the roots, and leave it in for an hour.
Then rinse with cold water.
Frequency: Repeat the process weekly for the desired effects.
Why it works:One of the DIY shampoos for hair development is made of egg and coconut. Coconut is well known for encouraging hair growth and thickening. Additionally, coconut milk gives hair a natural sheen and strengthens hair follicles. Due to its high fat and vitamin E content, it nourishes hair and aids in preventing hair loss. Additionally, eggs are known to give natural gloss and stop broken ends.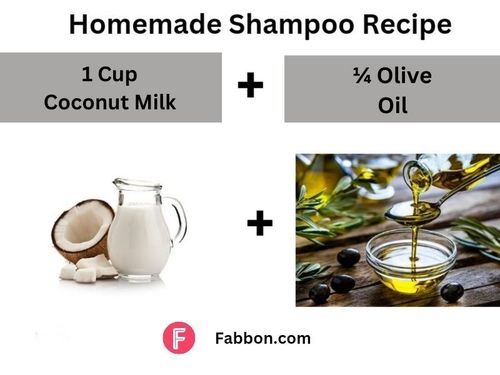 8. Homemade Shampoo Recipe
Ingredients: 1 cup coconut milk, ¼ cup olive oil.
How to use:
Add coconut milk and oil to a bowl.
To shampoo your hair, use this mixture. Leave it on and massage for a while.
Using warm water, rinse
Frequency: Twice in a week
Why it works: This homemade coconut milk shampoo, which is rich in nutrients and proteins, is ideal for dry hair. Additionally, using this shampoo will aid in reducing excessive sebum production on your scalp and avoiding problems like dandruff. Rich in fatty acids and antioxidants, one can use olive oil for hair growth and also reap its other amazing benefits, which range from strengthening to nourishing.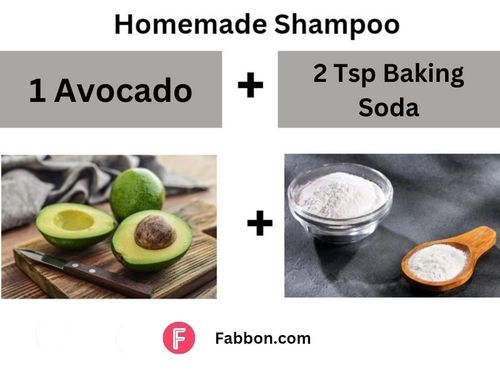 9. Homemade Shampoo
Ingredients:1 ripe avocado, 2 teaspoons baking soda, and 1/4 cup water.
How to use:
A smooth paste is created by blending the avocado, baking soda, and water.
Use a pump bottle to store it.
Give your hair a liberal coat of the homemade shampoo.
Use warm water to rinse.
Frequency: Once a week
Why it works: This is abundant in vital amino acids and omega-3 fatty acids (3). Your hair may receive deep hydration from the natural oils in it. As a result, it can be an excellent conditioner for damaged, dull, and dry hair.Avocado for hair helps unclog your follicles, boost blood circulation, and aid in stimulating growth. Massaging some avocado into your scalp means allowing the best nutrients to reach your follicles and therefore boosting your hair growth. Baking soda can be used as a cleansing agent.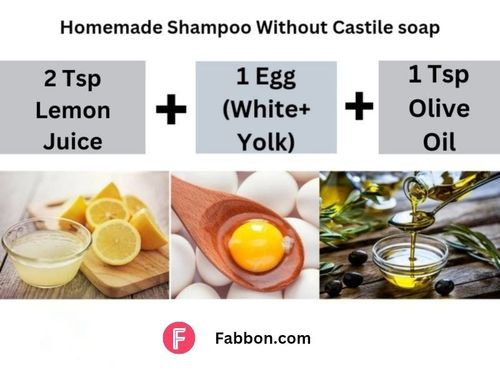 10. Homemade Shampoo Without Castile Soap
Ingredients:2 tablespoons olive oil,1 egg (yolk + whites),1 tablespoon lemon juice
How to use:
Measure each ingredient and blend them. Blend everything thoroughly.
Place the homemade shampoo in a tiny cup or bottle.
Shampoo your wet hair with the combination. Massage the scalp, starting at the roots. Rinse thoroughly with water.
Any leftovers should be thrown away because this mixture doesn't keep well.
Frequency: Weekly twice
Why it works: The majority of hair types respond nicely to this simple and efficient homemade shampoo without castile soap. This shampoo aids in clarifying the scalp and hair without making them feel greasy, whether your hair is normal, damaged, or oily.Lemons contain limonene, which helps renew dry, frizzy, and rough hair. Eggs are said to help keep hair thick and healthy. Olive oil nourishes and conditions the hair while preventing any sort of damage.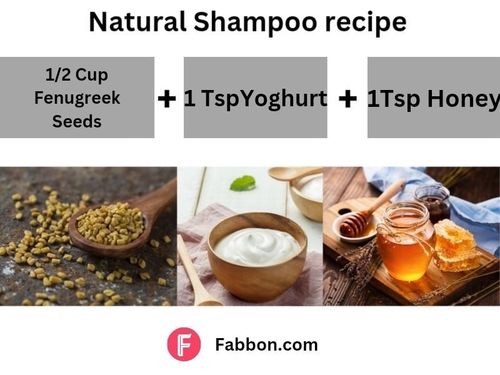 11. Natural Shampoo Recipe
Ingredients:1/2 cup fenugreek seeds soaked overnight; 1 tablespoon honey;1 tablespoon fresh yoghurt.
How to use:
Overnight, soak fenugreek seed in one cup of water.
Overnight soaked fenugreek seeds should be processed into a paste in a mixer.
Add one spoonful of honey and an equal quantity of fresh yoghurt to the paste.
Apply the paste to wet hair, then let it in place for 30 to 45 minutes.
Frequency:This fine natural shampoo recipe for dandruff and hair loss should be used at least once a week. Rinse with cold water.
Why it works: The ability of fenugreek to restore damaged hair roots and follicles is widely established.Fenugreek seeds are known to be highly beneficial for both scalp and hair health. They can be beneficial for small issues like hair dryness and more pressing issues like baldness and hair thinning as well. Yogurt and honey condition hair while moisturising the scalp, providing them with thick, wholesome hair.
DIY Homemade Shampoo FAQ's
1.How can I make hair shampoo at home?
We may produce hair shampoo at home using items that are readily available in our homes, such as honey, aloe vera gel, essential oils, and yoghurt.
2. Is homemade shampoo good for your hair?
Yes, it's beneficial and secure for hair. The natural components in them help the hair retain its natural moisture, gently stimulate the growth of new hair, and improve the texture and appearance of the hair overall.
3. What can I use instead of shampoo?
Numerous studies have demonstrated that apple cider vinegar has antifungal and antibacterial qualities, therefore it can be used as a cleaning agent and as a shampoo substitute.
4. How can I make ayurvedic natural shampoo at home?
Three tablespoons of aloe vera gel are added after one tablespoon each of hibiscus powder, amla powder, and Acacia concinna powder are taken. The natural shampoo made with Ayurveda is now ready!
5. What is a natural shampoo?
Natural shampoo is a hair-cleansing product made entirely of elements that can be found in nature. This is in contrast to the majority of commercial shampoos, which either include only synthetic components or a blend of natural and synthetic ones.
6. Is avoiding shampoo good for hair?
Shampoo avoidance is bad for hair. The oils could build up on the scalp. This may make the scalp smell bad and potentially harm the hair. To achieve healthy and gorgeous hair, we should use the right shampoo.