1000 Lb's Tammy Slaton Weight Loss Story - How She Lost 350 Pounds?
KRITIKA GUPTA
Updated At 08 Nov 23
Tammy Slaton's weight loss is being talked about all over the inernet with the questions of how she lost 350 pounds in a relatively short time period. Her weight loss jourrney though full of ups and downs is yet inspiring. She has gained ample amount of love from her followers and audience. Let us take a complete look at Tammy Slaton's weight loss journey.
We specifically cover the following:-
- Who is Tammy Slaton?
- How did Tammy Slaton gain weight?
- Tammy Slaton's Weight Loss Journey - Complete Details
- Tammy Slaton's Weight loss photos
- FAQs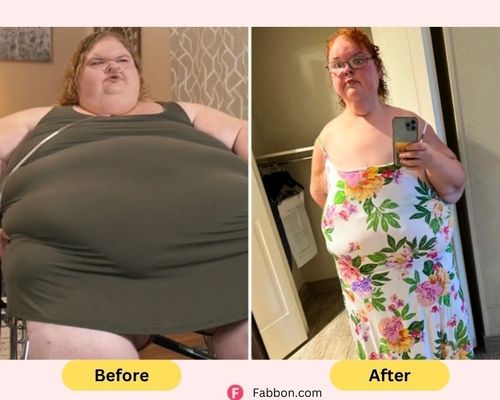 Tammy Slaton's Body Stats
Age: 37 years
Height: 5'9"
Starting Weight: 717 lbs
Reduced Weight: 360 to 375 pounds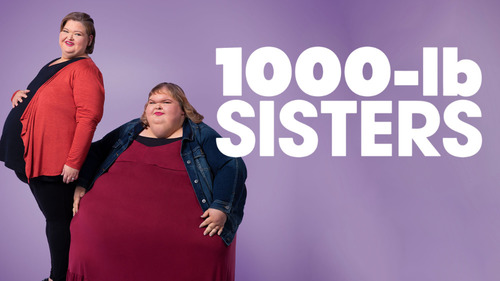 Who Is Tammy Slaton?
Tammy Slaton, a well-known American television personality, social media influencer, YouTuber, content producer, vlogger, and businesswoman from Dixon, Kentucky, is 37 years old and was born on July 27, 1986.
Tammy enjoys widespread acclaim for her attractive physique. According to the accounts, she has been overweight since she was a young child.
Also Read: Kelly Clarkson Weight Loss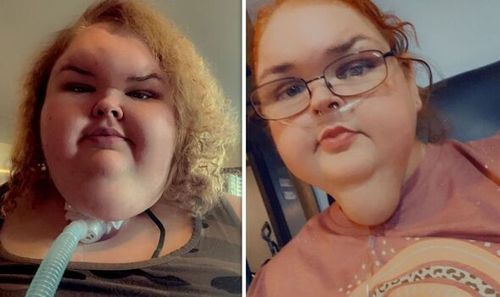 How Did Tammy Slaton Gain Weight?
Tammy and her sister Amy were significantly impacted by their family's financial problems, which began when Tammy was a child. Because she lived in a run-down neighbourhood, she frequently ate junk food to survive.
As she did not eat healthy meals, her chances of developing diseases such as diabetes, obesity, asthma, thyroid issues, and high blood pressure rose. Tammy's parents were also verbally and psychologically abusive, adding to her anxiety and tension.
As a result, she began eating excessively as a coping mechanism. These factors contributed to weight gain and weight swings. Tammy, on the other hand, decided to take action and make a change after realising she had overweighed herself to the point of danger.
Also Read: Missy Elliot Weight Loss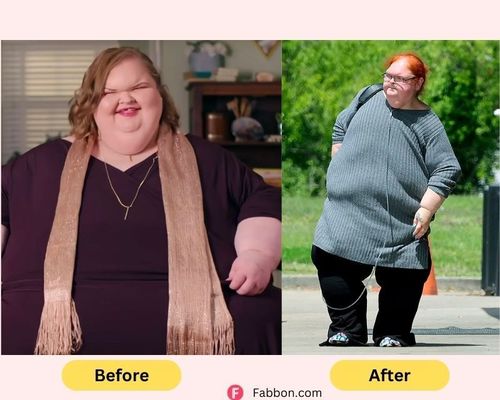 Tammy Slaton Weight Loss Before And After
Tammy Slaton has lost a tremendous amount of weight, as seen by the before and after images. Starting from 717 pounds to reaching 360 pounds, her 350+ pounds weight loss story is very inspirational.
Tammy's story has been made available to millions of people because to her significant role in 1000-lb Sisters, but she had a fascinating and challenging life prior to the show.
According to Tammy, they "ate to survive," therefore this was the start of her terrible diet. Amy and Tammy hoped that their appearance on 1000-lb Sisters would motivate them to keep losing weight.
Also check out Chrissy Metz weight loss story as she lost a whopping 100+ pounds through diet and workout.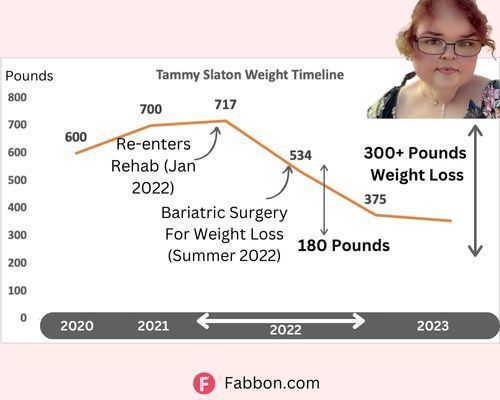 Tammy Slaton's Weight Loss Journey
1) Gains Weight In 2020 And 2021
Tammy gained weight in Covid times, gaining about 100 pounds before reaching 600 pounds in 2020. Her weight steadily increased throughout 2021, reaching about 700 pounds by the end of the year.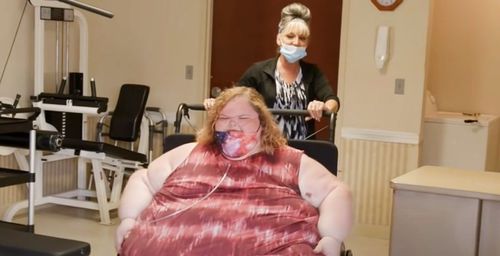 2) Re-enters Rehab In Jan 2022
Tammy first checked into Windsor Lane Rehabilitation Center due to concerns with food addiction, as depicted on 1000-lb Sisters. She ate to numb her emotions, and since weight gain was harming her health, she asked for assistance. The institution is the only rehab clinic in the country that offers patients who weigh up to 1000 lbs.
As her weight kept on increasing and she weighed 717 lbs at the start of 2022, she was advised to re-enter the rehabilitation center.
Tammy mentioned, 
"Two months ago, I decided to go back to rehab. I weighed the most I've ever weighed. I just don't feel good."
717 pounds was Tammy's highest weight ever and she was depressed over the same. However, she decided to put in her best and started focusing on weight reduction. However, Tammy's weight loss journey was not easy. On her bad days, Tammy would frequently shut down and wonder why she was even attempting to eat healthy. The personnel at the center wouldn't let her leave though, and several of them ended up supporting her personally.
Also Read: Raven Symone Weight Loss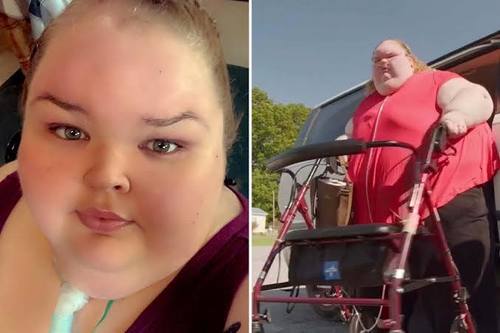 Tammy choose this hospital because the personnel could accommodate her requirements when it came to creating a plan that included a stringent diet regimen. The TLC diva first wasn't a fan, but she eventually came to appreciate the improvements. Most importantly, Tammy made an effort to educate herself about her eating problems. She learned the information she required, which she could then apply back in Kentucky.
During Rehab, Tammy mentioned on social media,
  
After I got off life support, they put a trach in, so, yeah. I'm trying to get used to that.
She continued to receives support from her fans throughout her weight loss journey. When she posted a new selfie many fans commented like, 
"Looking good Tammy! You can definitely see the weight loss in your face and forehead!" one fan wrote. Another fan added, "Your face looks so much less swollen. Rehab seems to be doing you good. I wish you the best on your journey."
Read More: Doja Cat Weight Loss
Tammy Slaton's Diet in Rehab
Tammy talked about her everyday activities in the facility on her YouTube account as well. Though the exact plan of Tammy Slaton is not available, she has briefly mentioned about the following plan on her social media.
- Breakfast - Box of honey nut cheerios, a cup of fat-free milk, a container of orange juice, a cup of coffee, a container of non-dairy creamer, and some butter. She also loved to have grape jelly, packets of pepper, Mrs. Dash seasoning, and Splenda. 
- Lunch -  Potatoes with herbs, a tiramisu, and a turkey BLT. She has a diet Pepsi as her beverage.
- Dinner - Grilled chicken strips and smashed potatoes. On a few days, she used to have scrambled eggs, turkey sausage, and dry bread.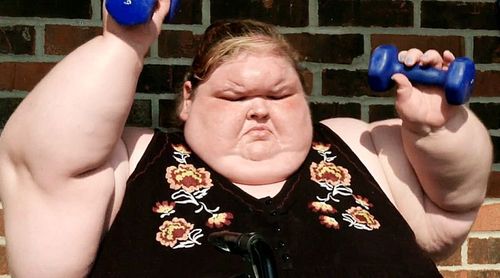 Tammy Slaton's Work Out In Rehab
Tammy took the initiative by going to the gym, despite the fact that these were only small steps. The 1000-lb Sisters star kept updating fans on her workout regimen. Tammy was filmed exercising on an arm machine in the medical center's gym in one of her TikTok videos.
Strict diet and exercise routine helped Tammy reduce weight and she reduced a whopping 180+ pounds during rehab and went from 717 lbs to 534 lbs.
She was required to reach a weight of 550 pounds to become eligible for the bariatric surgery, however, she reduced more weight than what was required.
In a reality show 1000-lb sisters, Tammy made a big anouncement when she reached her goal weight and was approved for weight-loss surgery. She was surprised to learn that she actually weighed 534.7 pounds when she wanted to be 550 pounds.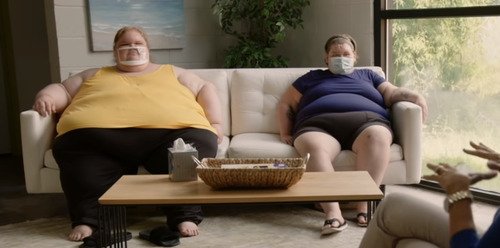 3) Tammy Slaton Bariatric Surgery For Weight Loss In Summer 2022
Once she reduced her weight to 534 pounds, she underwent the Bariatric surgery for weight loss. This weight loss surgery further removed excess fat from the body and this led to an additional weight loss of almost 150 pounds.
Though she was not able to walk properly after that and had to use a wheelchair or a support, she surprised everyone with her tremendous change.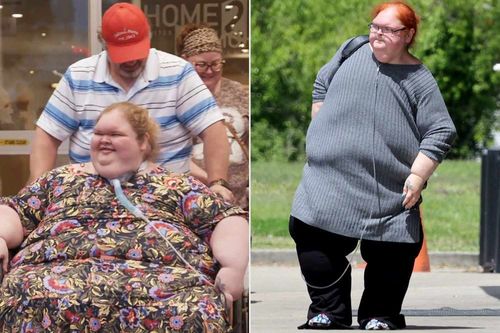 4) Tammy Slaton In 2023
She definitely weighs under 400 pounds now and many claim that hercurrent weight varies from 360 to 375 pounds.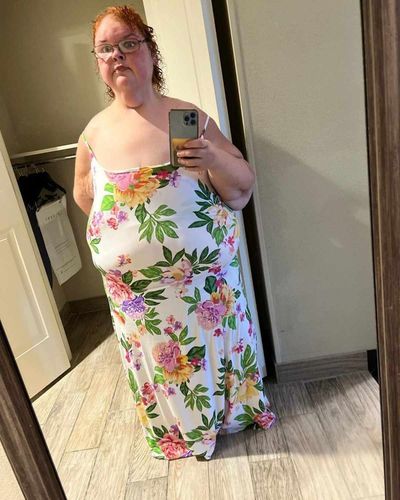 Tammy Slaton's Weight loss photos
If one has to go through Tammy Slaton's weight loss pictures and reflect upon her timeline, one can see a considerable change in her weight. She has lost a whopping 350+ pounds overall in her incredible weight loss journey. From battling various health issues to batling personal problems, her weight loss jpourney is really commendable as she overcame all challenges.
FAQ's On Her Weight Loss
Q) How heavy was Tammy at her heaviest?
The reality personality appeared on the show 1000-Lb Sisters to showcase her weight loss journey. She said that at 717 pounds, she was shown there was her heaviest weight
Q) How did Tammy Slaton come to be well-known?
The Slaton sisters were found after growing in popularity through their social media presence, which included cosmetic tips, various challenges and pranks, restaurant reviews, unboxing videos, and regular life updates. The popular TLC show then made its debut in 2020.
Q) Was Tammy ever operated on?
Yes, she has undergone bariatric surgery for weight loss in the summer of 2022. Through a combination of diet, workout and surgery, she has now reduced almost 350 pounds.