Missy Elliot's Weight Loss : How She Lost 66 Pounds?
Hanisha Sharma
Updated At 05 Nov 23
Missy Elliot is a well-known name; she is a talented rapper, singer, songwriter, record producer, and dancer. The American sensation sprang to prominence in the 1990s and has remained unstoppable ever then. Missy Elliot is one of the most powerful people in the music industry. Missy Elliot has been noted for experimenting with diverse styles, making creative music videos, and fusing numerous musical genres throughout her career.
Missy Elliot fans were surprised to see the artist in a new avatar recently. When the American wonder attended the 65th Annual Grammy Awards in February 2023, she had undergone a massive weight reduction change, dropping 66 pounds. One of the top celeb weight loss transformations, she showcases how weight loss can be achieved naturally.
Want to know how the American pop star did it? Well, you're in the right place. Let's get into the details of Missy Elliot's weight loss journey.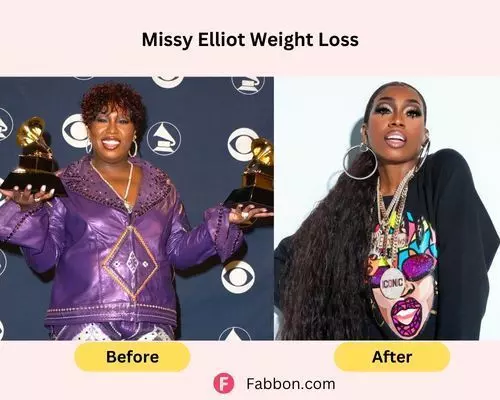 Missy Elliot Body Stats
Date Of Birth: 1 July, 1971 (Age: 52 years)
Missy Elliot Height: 1.57 m
Weight Before: 195 pounds
Weight After: 129 pounds
Weight Lost: 66 pounds
Similar to Missy Elliot, also check out Khloe Kardashian diet which has been integral to her 60 pound weight loss.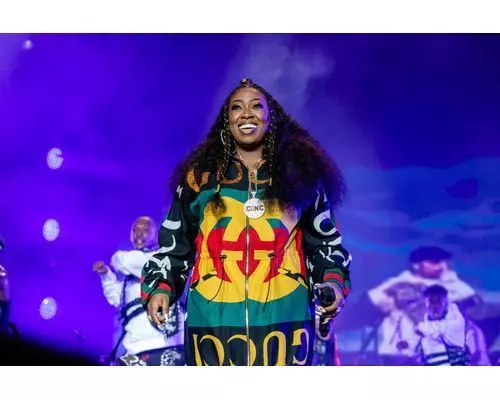 Why Did Missy Elliot Gain Weight?
Missy Elliot's weight gain may have been caused by various factors, such as her eating habits, level of physical activity, and water intake. Balancing a busy career and health can be challenging, making lifestyle a potential reason for her weight gain. Prior to starting her weight loss journey, Missy Elliot weighed 195 pounds.
Missy Elliot gained weight since she was diagnosed with Graves' Disease, an autoimmune illness that affects the thyroid, in 2011. This illness can cause a variety of symptoms, such as increased appetite, weariness, rapid heartbeat, agitation, irritability, diarrhoea, muscle weakness, difficulty sleeping, and the development of a big thyroid gland, known as a goitre.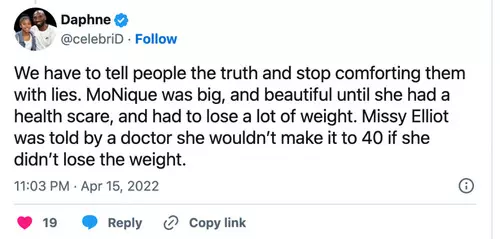 Missy Elliot was also told by her doctors that unless she loses weight she will face a lot of health issues.
Read More: Kelly Clarkson Weight Loss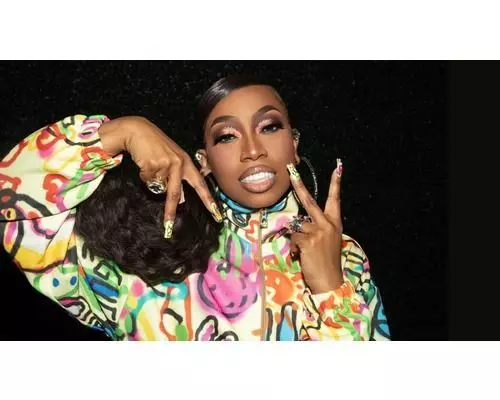 In an interview with VH1, Missy Elliot opened up about what it feels like to be suffering from Graves' Disease:
"My nervous system shut down. Your skin is dry, your hair falls out, you wake up, your eyes feel like they've got rocks in them"
Missy Elliot saw several physicians before learning that Graves' Disease is incurable yet treatable with medicine. There can be a variety of underlying conditions that contribute to weight gain, but in Missy's case, this was the primary culprit, and she has described some of the things she did to reduce weight.
Read More: Pauline Chalamet's Weight Loss
How Missy Elliot Lost Weight?
Missy Elliot lost a whopping 66 pounds after she began her weight loss journey. Once she became aware that she is suffering from Graves' disease and not controlling it can lead to variety of issues, she focused on her weight loss.
The main contributing factors for Missy Elliot weight loss were:-
1) Strict diet
2) Regular workout routine
3) Immense love and support from her fans which motivated her to continue her diet and workout over multiple years
In addition to Missy Elliot, do check out Randy Jackson inspirational story. His weight loss journey showcases how weight maintenance is possible. Similarly, Lizzo weight loss  story has been inspirational as well. Both Randy Jackson and Lizzo have lost 100+ pounds.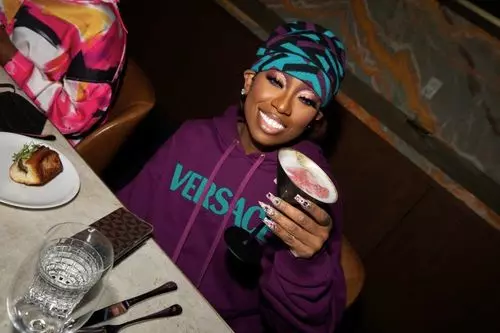 Missy Elliot's Weight Loss Diet Plan
During her weight loss journey, Missy Elliot focused a lot on having portion-controlled meals that are full of nutrients. This was Missy Elliot's weight loss diet:
Breakfast: Missy Elliot had chia seeds and jaggery with eggs for breakfast. Chia seeds are high in fibre and low in calories, which provides a sensation of fullness to help you avoid overeating. The combination of chia seeds and jaggery contains zinc, iron, and potassium, which aids in metabolism. Eggs are also a good source of protein, and they can help you avoid eating too many calories during the day.
 
Lunch: Missy Elliot preferred chicken with brown rice for lunch. Chicken has lean protein and little calories, so it will keep you full for a long period. Brown rice, on the other hand, is high in dietary fibres and can aid in weight loss and fat accumulation.
 
Dinner: Missy Elliot ate a bowl of beans and broccoli soup for supper. Beans are the greatest weight reduction meal due to their high fibre and protein content. While broccoli is one of the most nutritious vegetables, it is also high in dietary fibre and antioxidants.
While she always used to control her diet portions, she also started paying attention to eat a balanced diet. She used to have cup cakes once every 15 days. It became her cheat meal later as she loved having the same.
Missy Elliot also avoided bread and soda completely when she started her weight loss diet. She replaced her unhealthy drinks with water. She made sure to hydrate her body properly.
Interested in finding out the diet of supermodels? Do check out Gigi Hadid diet as cover her daily diet plan. You would be surprised to see everything she has for breakfast, lunch and diner.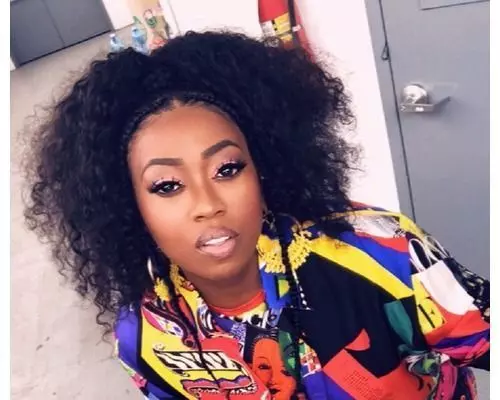 Missy Wrote In An Instagram Post
"See I've NEVER been a water drinker but this has helped my skin…it really restore glow back & I don't feel sluggish…NOW the other thing if I can only cut out JUNK FOOD…sh*t that's my weakness…Facts But if I can give up those other things I'll fight that to [sic]! Maybe two cupcakes a month."
Also check out Tammy Slaton weight loss story as she lost 350+ pounds. Her inspirational story shows us how perseverance and determination are crucial for weight loss.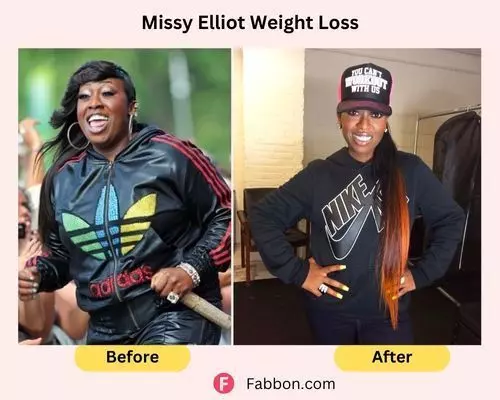 Missy Elliot's Workout Routine
1) Cardio
Time and again, Missy Elliot has emphasized the importance of consistent exercise while on a weight-loss journey. She religiously followed the FOCUS T25 routine, which is designed for people who want to get the most out of their exercise routine without giving long hours to it. The FOCUS T25 routine is divided into three phases, which include these exercises:
A. Alpha Phase (5 Weeks)
- Alpha Cardio
- Speed 1.0
- Total Body Circuit
- Ab Intervals
B. Beta Phase (5 Weeks)
- Core Cardio
- Speed 2.0
- Rip't Circuit
C. Gamma Phase (4 Weeks)
- The Pyramid
- Rip't Up
- Extreme Circuit
Cardiovascular exercises like running, swimming, and cycling can increase your heart rate and oxygen consumption, which can lead to good cardiovascular health. Regular cardio exercise can reduce body fat and burn calories.
Jennifer Hudson weight loss is equally inspirational. From battling various health issues to losing over 80+ pounds, she has shown how anyone can lose weight.
2) Strength Training
Strength training mainly focuses on maintaining muscles and the core. By incorporating strength exercises like weight lifting and bodyweight exercises, an individual can increase muscle and enhance metabolism. Missy Elliot mainly focused on increasing her strength. Engaging in both cardio and strength training can have good results.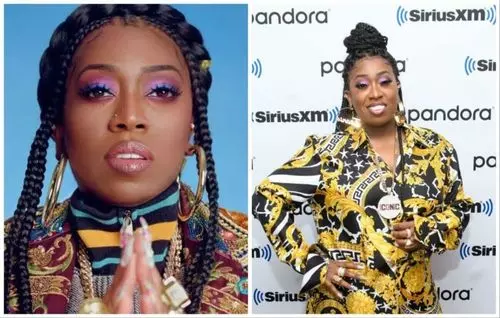 4 Weight Loss Tips By Missy Elliot
1) Missy Elliot shared that her weight loss journey was aided by her consistency and discipline. She emphasizes the significance of trusting the process and staying committed to achieving one's goals.
2) An active lifestyle and regular exercise are the key components to achieving your weight loss goals.
3) Missy Elliot's determination to achieve her weight loss goals was unwavering. She maintained her focus on a healthy diet, steering clear of junk food. Despite the difficulties, she remained steadfast in her resolve. As a reward, she treated herself to two cupcakes every month.
4) Drinking more water can promote clear and glowing skin, and help with weight loss goals, as demonstrated by Missy Elliot's healthy lifestyle.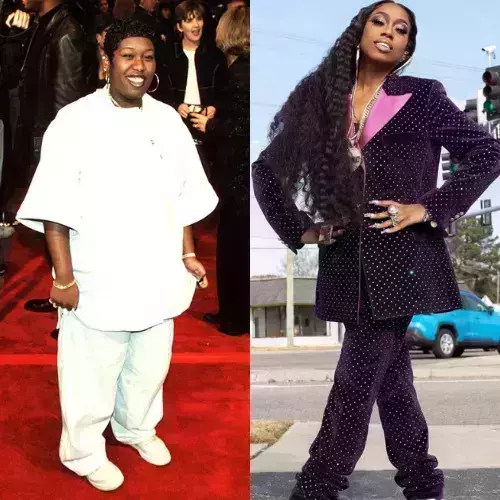 Missy Elliot Before And After Weight Loss
Missy Elliot's weight loss journey is truly inspiring; she has proven how important it is to stay healthy for yourself. She is a role model for women all around the world who are looking to shed some extra pounds so they can stay fit.
Missy Elliot Weight Loss FAQs
Q: How much did Missy Elliot weigh before her weight loss?
Missy Elliot weighed approximately 195 pounds before she realised that she needed to lose weight to lead a healthy life.
Q: How much does Missy Elliot weigh now?
Now, Missy Elliot weighs 129 pounds, she has lost around 66 pounds.
Q: What is Missy Elliot's diet plan?
For breakfast, she has chia seeds, jaggery, and eggs. For lunch, she opts for some chicken and vegetable salad, and for dinner, Missy Elliot has any kind of soup and some portion-controlled, healthy dessert.
Q: What kind of workout did Missy Elliot practise?
Missy Elliot practised FOCUS T25 workout routine, which was designed by celebrity fitness trainer Shaun T.
Q. How much is Missy Elliott Net Worth?
Missy Elliot has been a very successful rapper, singer, record producer, and dancer. She is one of the most powerful persons in the usic industry currently. Missy Elliott's Net Worth is $55 million as of 2023.