25 Stunning Two Cornrow Braid Hairstyles And Haircuts
Ankita Ghoshal
Updated At 09 Jan 23
Two cornrow braids are rapidly becoming one of the top hairstyles for most fashionistas out there. These cornrows not only look stunning but are also very easy to style. If you are looking for interesting two cornrow styles, look no further as we have got you covered. Here are 25 stunning two cornrow braids ideas for you to check out and try.
25 Best Two Cornrow Braids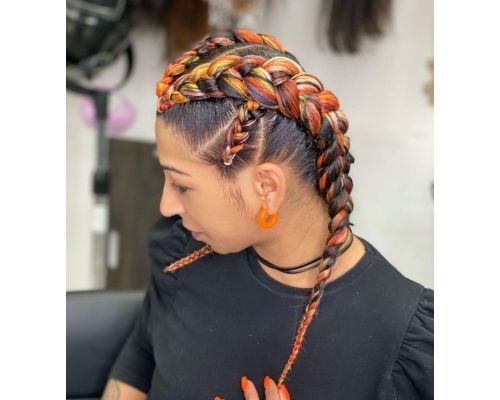 1. Orange And Black
Two contrasting weave colours look fabulous when cornrowed the right way. Using the weaves for braiding your hair will make you look very edgy and sweet at the same time.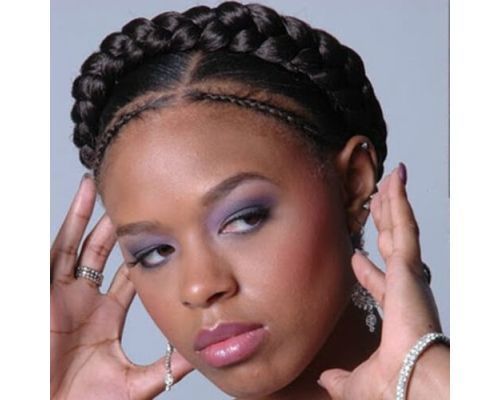 2. Headband Double Cornrows
For creating soft two cornrows for natural hair, a headband style would be perfect. One of the best black hairstyles, the double braids in a headband fashion will frame your face beautifully.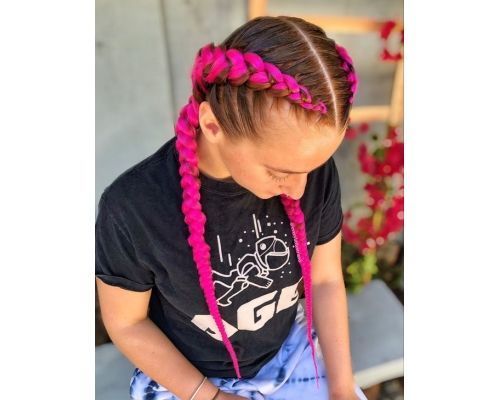 3. Pop of Colour
Be it two cornrow braids or French braids, a nice pop of any bright colour will look super cool on dark hair. Neon yellow, fuchsia pink, or even lime green will look amazing.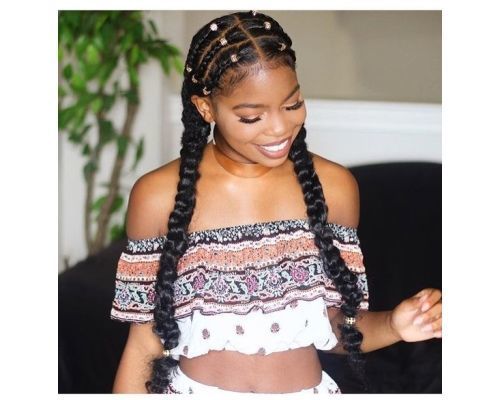 4. Curly Pigtails
One of the most admiring two cornrow hairstyles are cute pigtails with curly ends. Make sure to smoothen your hair before going for the tight braiding. This is a lovely hairdo and you are surely going to love it.
If you are looking for inspiration for curly hair, then do check out our guide on black curly hair as we list 25+ stunning hair ideas.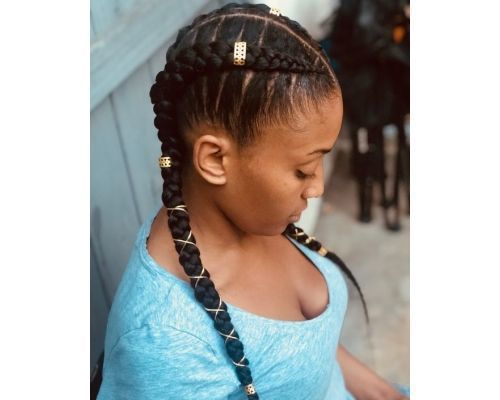 5. Hair Jewelry
Be it beads or stickers, hair jewelry is stealing hearts these days. These accents can amp up even the most basic hairstyles and cornrows are no exception. You can get the most amazing two cornrow styles just by accessorizing them the right way.
Also check out our guide on box braids hairstyles as we list 55+ stunning braids hairstyles which are trending this year!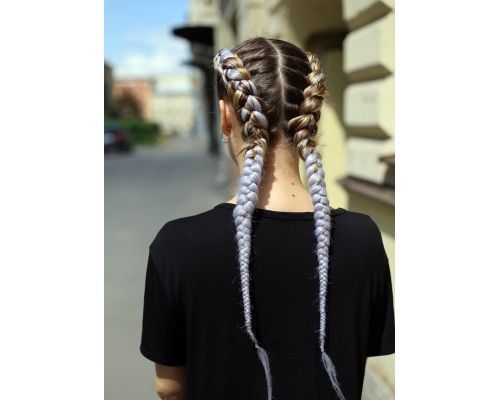 6. Ashy Streaks
Gray or ashy shades are among the most astonishing hair colours to go for. Gray streaks will go very well with your brown hair especially if you have braided it in a two cornrows hairstyle.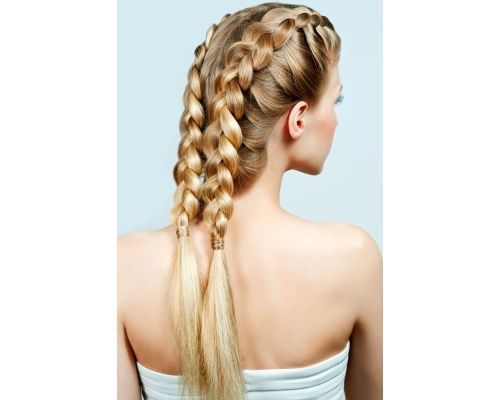 7. Golden Cornrows
A golden brown set of two cornrows will spice up your overall look in no time. They will look incredible on warmer skin tones and will make you totally summer-ready.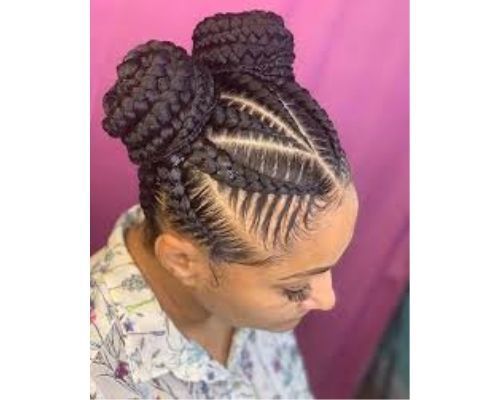 8. Two Cornrow Braids In A Bun
You can easily transform you trendy and cool two cornrow braid styles by pulling them in a bun. This is a very elegant and classy hairstyle that will preserve the stylish vibe of cornrows too.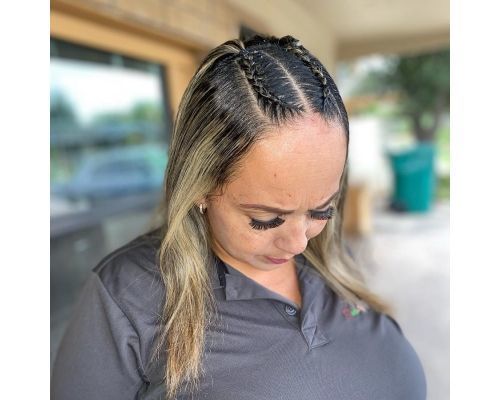 9. Half Top
A subtle way of incorporating cornrows into a hairstyle is by going for a half top. It let you make the most out of a beautiful hairstyle while keeping it professional-looking and workplace-friendly.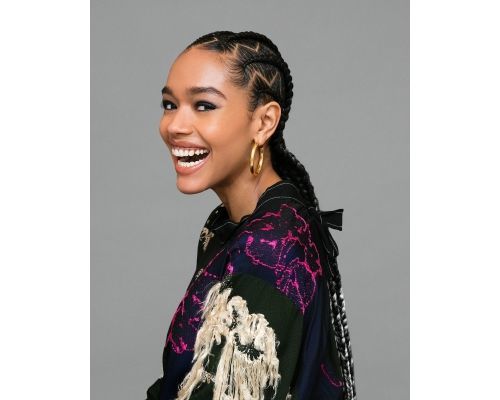 10. Double Cornrows
A zigzag parting will be a refreshing touch to your playful and fun two cornrows. You can even experiment with quirky hair colours to make it look even more interesting. One can also try cornrow braids ponytail as these look unique and can be amazing if you are looking for a new look.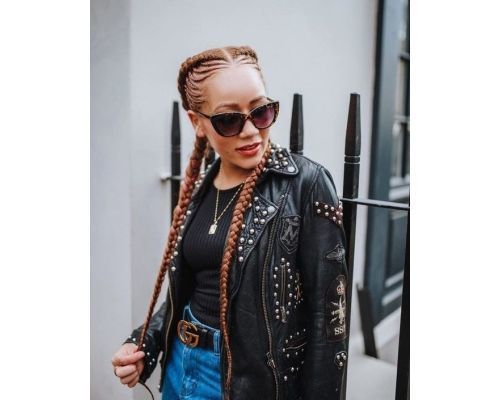 11. Simple Straight Two Cornrow Braids
A straight and simple hairstyle is a great way of flaunting two cornrows for natural hair. You can accessorize them by eye-catching beads and cuffs too. You will end up with an enchanting set of braids if you do it the right way.
If you are looking for new hairstyles, then do check out our guide on afro hairstyles as we list 30+ stunning hair ideas which will be perfect for a hair makeover.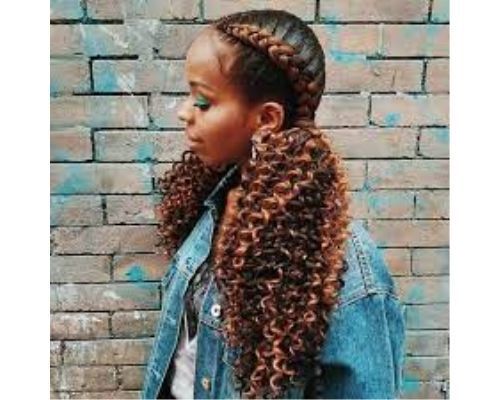 12. Cornrows With Wavy Ends
You can make your cornrows all the more charming and feminine by letting the ends stay wavy and a little messy. The flowy and loose ends will give you a very carefree, holiday vibe.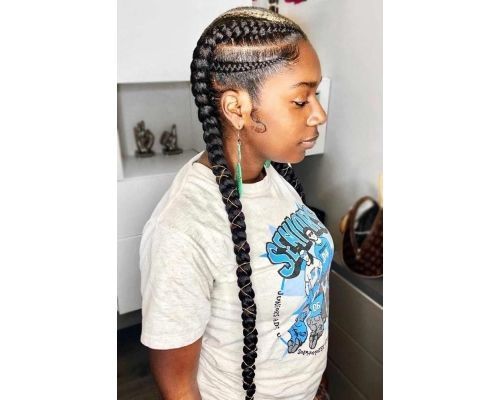 13. Stylish Braids
You can add interesting hair streaks and weaves to make your two cornrows stand out in the crowd. You can use amazing charms to give it a playful twist.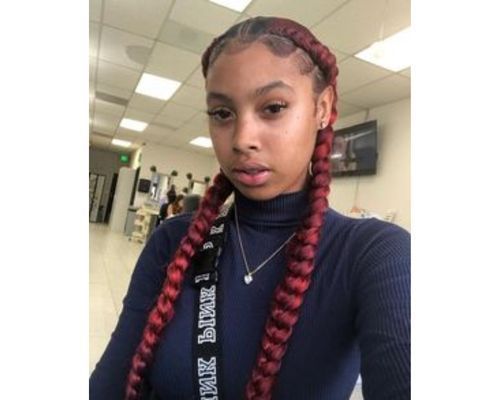 14. Fiery Hues
Dye your hair in fire-like shades such as red, white, and orange to make your double cornrows look bold, fiery and sensual at all times. This will definitely look amazing with basic outfits.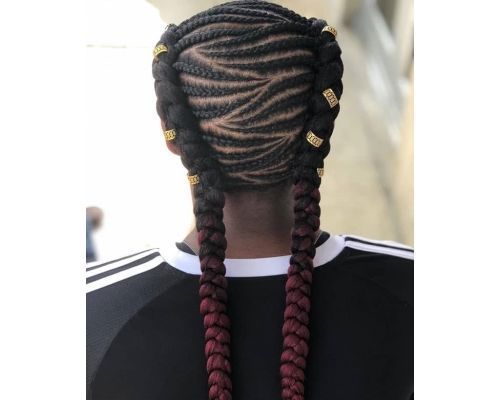 15. Zebra Cornrows
You can give an interesting part between your cornrow braid styles by going for horizontal cornrows in a zebra-like fashion. This impressive look will need some patience but will be definitely worth it.
Knotless braids with beads have been trending this year so it can be another hairstyle which you can try out.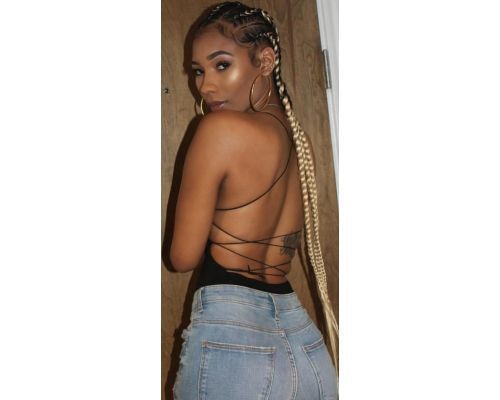 16. Blonde Feed In
You can easily acquire two feed in cornrows style by using extensions. Braid you hair with the extensions in a slight angle so that they can start curving with your natural scalp shape.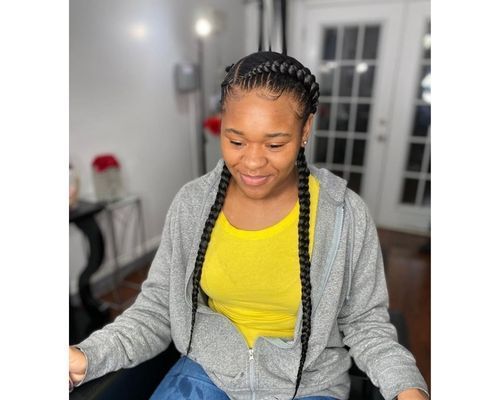 17. Cornrows With Edges And Side Part
Two cornrow braids for black hair are a must-try because of how sleek, shiny and perfect they look. Make a sloping side parting to create a soft and feminine look. Define your edges for a beautiful appearance.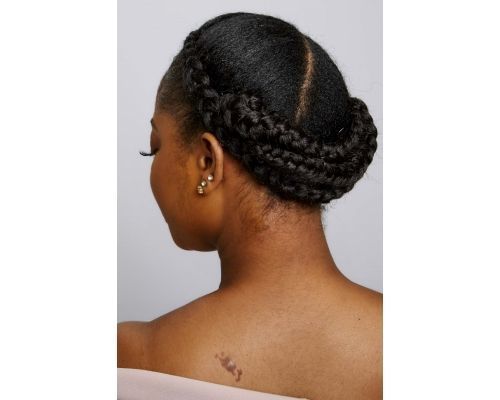 18. Braid Crown
One of the simplest and chicest two cornrow hairstyles is a braid crown. They are perfect for weddings but you can also rock them at any party or event, as per your choice and convenience.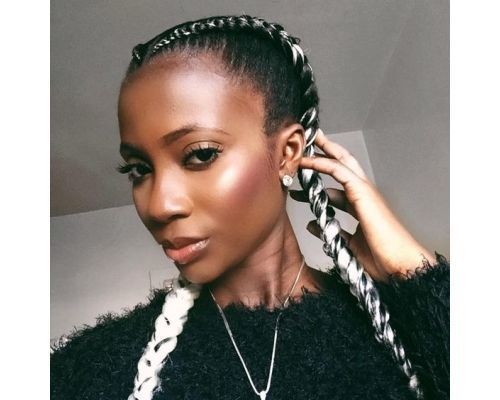 19. Black and White
A timeless two cornrow hairstyle is the combination of black and white- a combo that can never fall out of trend. This is an eternally stylish hairstyle that you need to try at least once.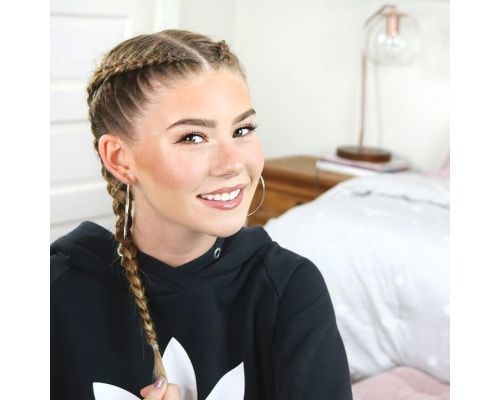 20. Dutch Braids And Cornrows
You can make a very bold fashion statement by mixing cornrows with Dutch braids. Go for a jagged cornrow design and a middle line going from the forehead towards the back of your neck.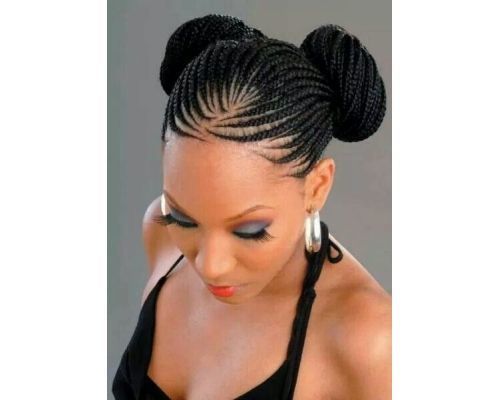 21. Asymmetrical Updo
You can turn your double cornrows into a stylish updo by letting your twisted cornrows originate asymmetrically right from the mid of your head. This is a very cool hairstyle, isn't it?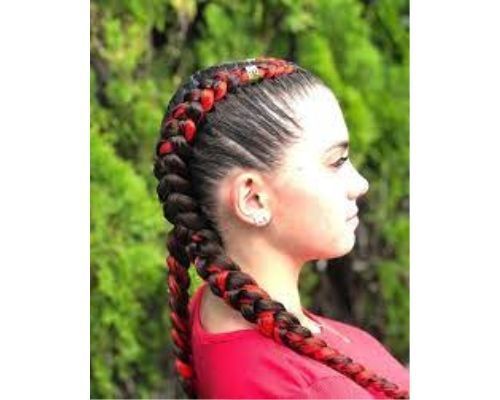 22. Black And Red Cornrows
Adding a red touch to your attractive black cornrows can do wonders to your overall hairdo. It will not just make you stand out but also fetch you a lot of compliments for sure.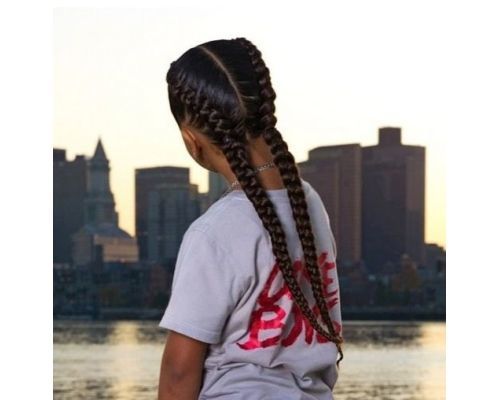 23. Jumbo Cornrow Hairstyle
Your cornrow braids look healthier and lovelier when they are fuss-free and big. As a jumbo cornrow style does not need any tool or products, it is very easy to attain and just irresistible!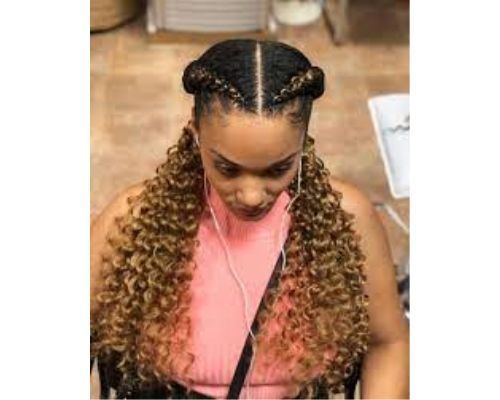 24. Honey Blonde Hairstyle
Another great two cornrows hairstyle is by going for a stunning honey blonde shade This sophisticated and cool hairstyle adds a boost to your simple and plain hairstyle.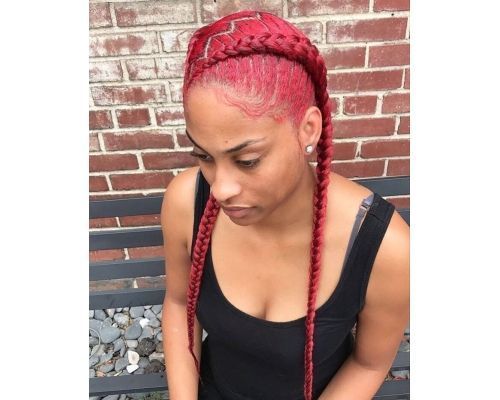 25. Red Cornrows
If you are unafraid of colouring all your hair in a bold shade, this hairstyle is for you! Make your cornrows glamorous and stylish by going for a stunning red colour. This irresistible and attractive hairstyle will blow your mind.
You can never go wrong with two cornrow braid hairstyles and now is the time to try them out for yourself. With these 25 uber-cool ideas, you can give your hair a much-needed makeover in no time.
Related Articles