Jessica Simpson Weight Loss : How She Lost 100 Pounds?
Shalu Bhati
Updated At 11 Aug 23
Wondering how Jessica Simpson lost a whopping 100 pounds? Keep reading then as we will tell you everything about the Jessica Simpson weight loss in this article.
Jessica Simpson is an American singer, songwriter, actress, and fashion designer. She is a remarkable woman and a mother of three. She used to sing in church choirs as a child and at the age of 17, her unique and powerful voice caught the attention of just the right people. And she has not looked back ever since.
Jessica is known for belting hits like I Wanna Love You Forever, Irresistible, I Think I'm In Love With You and Take My Breath Away among others. She has won several awards and nominations for her music over the years. She has also acted in several movies and went on to launch her own fashion line in 2005. She has always been on people's radar but not just for her career.
Jessica Simpson has been in news for undergoing an incredible weight loss transformation. The Jessica Simpson weight loss journey left her 100 pounds lighter. And, in this article, we will tell you all about her journey, the Jessica Simpson weight loss diet, her workout routine along with some of those Jessica Simpson weight loss photos. Also check out Kendall Jenner weight loss story as its equally inspirational.
Let's begin!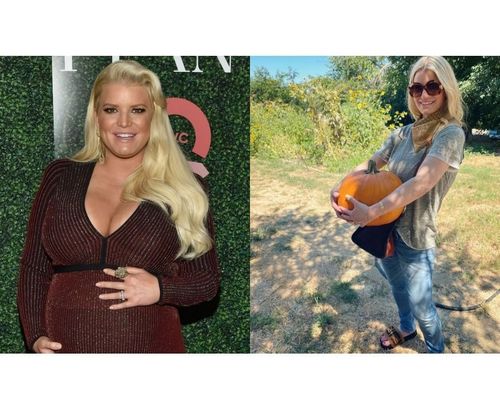 Jessica Simpson Weight Loss Story: How She Lost 100 Pounds
Jessica broke the internet with her incredible 100-pound weight loss. She looks as amazing as always. She has been open about her experiences with weight loss. Jessica underwent three pregnancies and gained significant weight during the course of each of them. She also lost her weight and claimed her body back when she deemed it fit. But having done it more than once doesn't make it easier.
The Jessica Simpson weight loss journey has not been easy for the singer especially with the focus her weight has received in the media over the years. We saw a very fit Simpson in the early 2000s. But it's okay. Times change and with that our bodies. Though no one was kind towards Jessica's changing body.
Women artists in showbiz are expected to look a certain way. There is rampant sexism and producers will not shy away from saying how the female artist should be a particular size. Jessica revealed in an interview that she took diet pills for 20 years because a record executive wanted her to lose 15 pounds.
Jessica was a mother who not only made her name in the music industry but also built her own fashion empire. Though no one was talking about it as much they talked about her body and weight. And it was not a good experience for Jessica to have her body be the topic of discussion not just online but also with various news outlets. It was as if nobody was willing to sew her as a person. She expressed her feelings as:
People were talking about my weight for an entire year. It's like people just couldn't stop talking about my weight fluctuating. It would bother any woman, I would think. I had to get to a place where I had to guard myself. The fact that I was famous last year for gaining 10 pounds, it's ridiculous, and it's really sad.
Also check out the Khloe Kardashian weight loss story as she lost a whopping 60 pounds!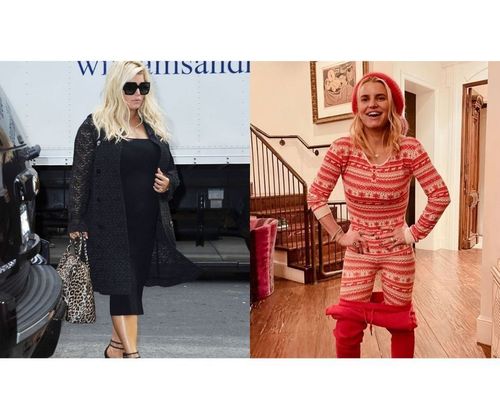 After her third child was born, Jessica was ready to get back in shape. And so began the Jessica Simpson weight loss journey. Harley Pasternak, the famous personal trainer of Hollywood, has helped Jessica get in shape after each of her pregnancies.
Jessica began with a nonspecific goal in her mind. In fact, she even threw away her weighing scales. She just wanted to be able to feel good and that was the measure of her goals. The Irresistible singer brought changes in her lifestyle. She had undergone weight loss surgery after giving birth to Ace, her first child, in 2013. But not this time. This time the Jessica Simpson weight loss was achieved through a sustainable diet and workout regime.
Jessica did her best to brush away the not-so-kind speculations and conversations surrounding her body and weight. She started the Jessica Simpson weight loss story when she was at 240 lbs. Six months later, she was 140 lbs, 100-pounds light.
Also check out Jennifer Hudson weight loss story wherein she lost more than 80 pounds through diet and exercise!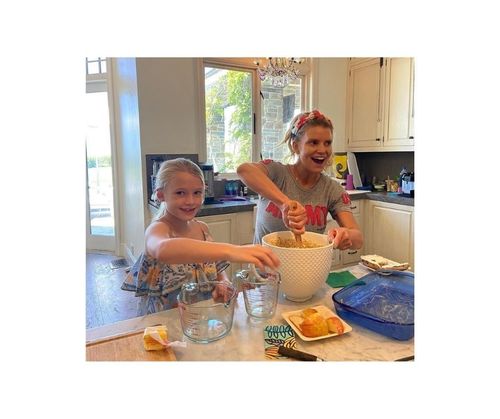 Jessica Simpson Weight Loss Diet
Jessica Simpson followed her trainer's Body Reset Diet that includes three meals a day as well as two snacks. Each of Jessica's meals contained proteins, fibre, and fat while the snacks were a combination of protein and fibre or protein and fat. Jessica ate a lot of green vegetables especially cauliflower.
She believes in eating foods that are the more flavourful yet healthier versions of the things she loves to eat that might not be otherwise so healthy. So, Jessica made healthy and tasty versions of her favorite dishes. She also believes in a balanced diet. This means she eats a healthy and nutritious meal that is not restrictive. She maintains a balance between healthy foods and her indulgences.
It is common for people to have a cheat day when they are undergoing a weight loss program. But, this was not the story of the Jessica Simpson weight loss journey. She did not designate a full day as being the cheat day. Instead, she had cheat meals throughout the week. Eating all that you are craving for even if unhealthy gets too much within a day. Though, when you eat a little of your favorite meals throughout the week, things stay in balance and are manageable. This is how a diet becomes sustainable.
She ensured that she was hydrated throughout the day. And she gave up alcohol that played quite a role in her weight loss. Since we are on liquids, let's talk about the Jessica Simpson weight loss shake. Yes, folks, Jessica could still drink shakes and smoothies but they were from her trainer, Harley Pasternak's book, Body Reset Diet.
Check out the amazing Hilary Duff weight loss transformation story as its really inspirational.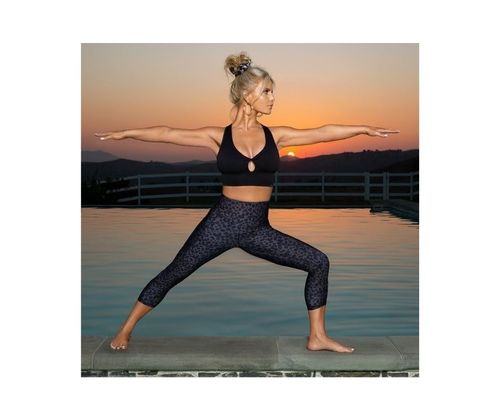 Jessica Simpson Weight Loss Workout
Jessica worked out for 45 minutes three days a week. The Jessica Simpson weight loss workout included full-body workouts along with strength training. The focus was kept on few muscles each day. She later amped up her workout during the lockdown. It helped out her mental health.
Walking is a fun activity especially when you do it with family and friends. It is also q great way of burning calories. Jessica started with a goal of getting 6,000 steps daily and slowly raised it to 14,000. This is something she can easily do with her family. Other physical activities that she does with her family include jumping on the trampoline and going on hikes. When she didn't do these, she got her steps by hopping on a treadmill.
Yoga, as well as swimming, were also part of the Jessica Simpson weight loss workout routine.
Check out the amazing Ariel Winter weight loss transformation story as she lost 30 pounds through a combination of diet, medication change and exercises. We uncover all the secrets about how she exactly achieved it.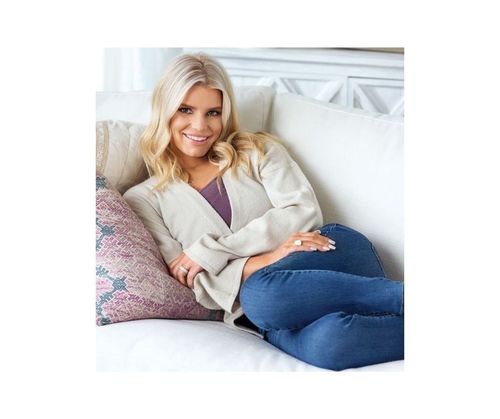 Jessica Simpson Weight Loss Tips
Following are some of the top weight loss tips from Jessica:
Tracking your progress helps with motivation so track away
Diet plays a major role in weight loss so ensure that your diet is balanced and sustainable for the long run
Rest days are as important as active days
Unplug your devices at least for an hour every day for better sleep
Most importantly be proud and accepting of your body
Frequently Asked Questions
Q. What is Jessica Simpson weight and height?
Jessica Simpson weighs 140 lbs and is 5 feet 3 inches tall.
Q. How did Jessica Simpson lose weight?
Jessica Simpson lost weight the traditional way by following a sustainable diet and a workout routine.
Q. Has there been a Jessica Simpson weight loss surgery?
Jessica Simpson underwent surgery in 2013 when she got abdominoplasty twice. It was after she gave birth to her first child, Ace. She, however, has not undergone surgery this time.
Q. How long did it take Jessica Simpson to lose 100 pounds?
Jessica Simpson lost 100 pounds in 6 months.
Q. How much does Jessica Simpson weigh?
Jessica Simpson weighs about 140 lbs.
Q. What is Jessica Simpson diet plan?
The Jessica Simpson diet plan is based on the Body Reset Diet that was devised by her trainer, Harley Pasternak.
Q. How much is Jessica Simpson worth?
The net worth of Jessica Simpson is estimated to be $200 million.
Q. What are the top weight loss tips from Jessica Simpson?
Take rest, indulging is okay, sleep for at least 7 hours, eat healthier and track your progress. These are some of the weight loss tips from Jessica Simpson.
Q. Is Jessica Simpson a billionaire?
No, Jessica Simpson is not a billionaire. She is still a millionaire with a net worth of about $200 million.