How Raven Symone Lost 40 Pounds?
Pooja Angurasu
Updated At 28 Oct 23
Curious to know how did Raven Symone lose 40 pounds? Find out what all Raven Symone did to go down from 210 pounds to 170 pounds. From lifestyle changes to diet, there were multiple factors which have been responsible for her weight loss.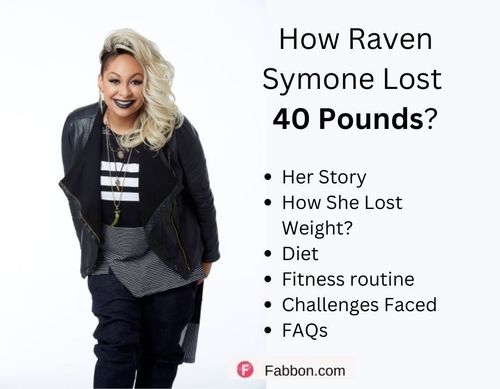 Early Life Of Raven Symone
Raven Symone was born on December 10, 1985 in Atlanta, Georgia. Her full name is Raven-Symoné Christina Pearman-Maday but she is commonly known as Raven Symone. She started her acting career at a young age when she first appeared in the American television sitcom called "The Cosby Show" in 1986. Raven Symone also went ahead and appeared in another Sitcom called "Hangin' with Mr Cooper" in 1993. These two television sitcoms enabled her to get several awards and nominations.
Also Read: Missy Elliot Weight Loss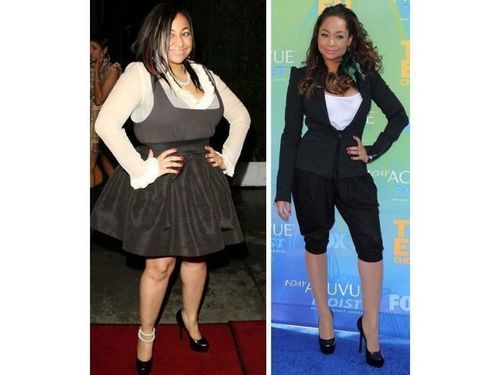 Raven Symone Weight Loss Journey: How She Lost 40 Pounds
Over the last few years, Raven Symone has been working to put her health first and fans are taking notice. The former "The View" host returned to the talk show for its special season 25 celebration and during the episode, she opened up about her recent weight loss.
While visiting "The View" co-host Joy Behar noticed her visible weight loss and said, "You lost a lot of weight!" The 36-year-old was at first reluctant to share how much weight she had lost, but then revealed she had slashed 40 lbs.
Raven Symone mentioned,
When I ended this show and I started Raven's Home I was 210 lb. I am now 170 .
With her incredible 40 pounds weight loss, the co hosts shared how proud they were and asked how and what drove her to make such a change. Raven Symone responded,
What made me want to change was her, gesturing to her wife, Miranda Pearman-Maday, who sat next to her on the set. I want to be here for her as long as I can, and I found out some numbers at the doctor that were not pleasant for someone in my age bracket or any age bracket, to be honest with you.
She also mentioned, With my wife's guidance, love and fantastic cooking skills, which everyone here knows, she helped me kick sugar. And I say kick sugar because it is an addictive drug. I was addicted to it in wheat form, in regular form, and it's out of my system.
Check out the inspirational Khloe Kardashian weight loss story as she also lost a whopping 60+ pounds through a mix of diet and exercise.
Raven Symone Weight Loss Diet Plan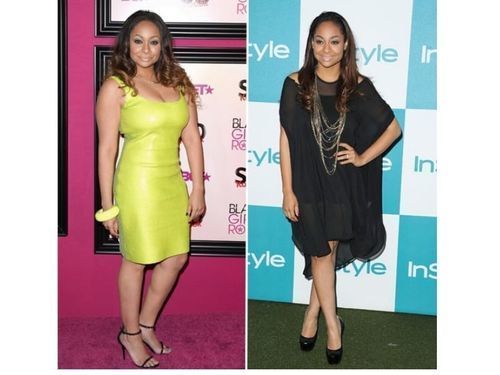 Raven Symone explained that her new diet doesn't just cut out sugar but she also follows a keto diet.
She prefers intermittent fasting, focuses on low carb foods and enjoys whole foods. Raven Symone added that with her wife's help she does eat have a cheat meal like eating cookies but opts for a keto friendly version.
Symone hired nutrition expert, Philip Goglia to incorporate healthy eating habits into her life. Goglia had Symone switch from three big meals to six small meals in a day. Apart from inculcating bountiful nutrient-dense foods such as fruits, veggies, nuts and seeds, Raven Symone eliminated fast foods such as pizza, burgers, potato chips and French fries from her diet.
She also kept their consumption restrained to one day a week. Additionally, She also swapped junk foods with nutrient-loaded foods such as almonds, baked pears, agave syrup etc. 
She didn't get along with exercise and hence she followed a quick and regular walk.
Similar to Raven Symone, Chrissy Metz weight loss story is also stunning as she lost more than 100 pounds naturally!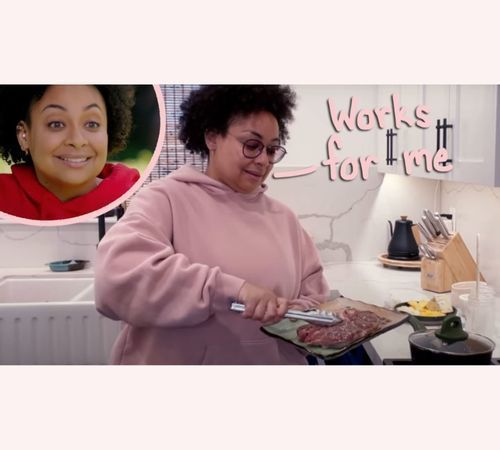 Over the last year, Symoné has shared videos on her Instagram account cooking healthier versions of her favourites with her wife. Raven Symone explains one of her best weight loss tips and says,
I am an avid faster. I make sure that I have a minimum 14-hour fast between dinner and breakfast.
At the time of the interview, the star was taking part in a three-day fast, revealing that "a lot of water," electrolyte supplementation, and bone broth were key to making her fasting period bearable. "I have a goal in mind, so that's what keeps me sustained," says the former Cheetah Girls star.
Raven Symone Workout Plan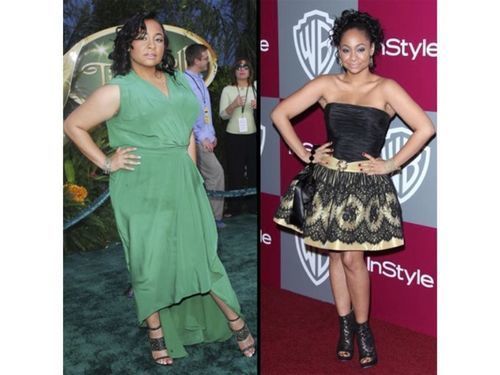 Although Raven Symone said that she lost weight by changing her diet and not exercising, she shared a post on her Instagram walking and in her own words she had mentioned,
I and exercise don't get along, but when we do, it's a quick walk.
Do check out our guide to find out about Jessica Simpson weight loss story and how she lost 100 pounds naturally!
Challenges Faced by Raven Symone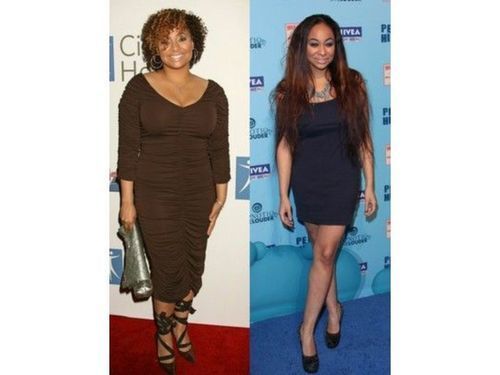 Despite her self-assurance as an adult, the former child star dealt with a lot of negative treatment during her sitcom days, including body-shaming — both on the set of the Bill Cosby series and her show, That's So Raven.
I remember not being able to have the bagel or anything at [craft services] — we call it crafty — where it's just a table of food ready for you to eat whenever you want," the New York native revealed on The View in July 2015. And I remember people were like, 'You can't eat that. You're getting fat.' I'm like, 'I'm 7! I'm hungry!
Her mental and physical health were both significant factors in her weight gain over the years. "It's more than what's just the food — it's what's in the food," Raven explained. "Your cortisol level and your serotonin level have a really strong influence on your body type."
She starred in the Disney series from 2003 to 2007, and by the end of its run, she was at her "heaviest" weight, which she noted was around 185 pounds. At that time, Raven said people would consistently ask her if she was pregnant. "I'm like, 'No, I'm fat, get away from me.' This goes through all of our industry, just fat-shaming in general," the View alum said. "Not accepting of females' bodies."
While Raven-Symoné had previously lost 70 pounds in 2011, she says that the emotional ramifications of the transformation made her weight loss unsustainable. 
"The way people were treating me when I was bigger was emotionally damaging," she had said.
Raven Symone Opinion About Weight Loss And Transformation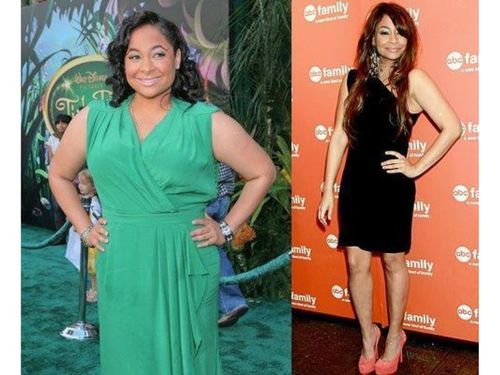 Irrespective of her weight gain, Symone never stopped being comfortable with herself. She reckons, "weight problem cannot snag you unless you allow it does that". Symone is as contented with her present weight as when she was 200 pounds. That's a super attitude indeed and we all shall endeavour to shadow the same attitude in our lives.
Raven-Symoné is feeling better than ever after losing 30+ pounds in just three months and she opened up about her journey in an exclusive interview with "Good Morning America" Friday.
"I'm not over here trying to be a little twig," the "That's So Raven," alum told "GMA." "I'm not trying to be, like, 'Oh my God, look at me.' I have a goal in mind and it's not just weight loss, it's complete body health."
Raven Symone Weight: 170 pounds
Raven Symone Height: 1.57m
Raven Symone Age: 36 years 
Raven Symone Weight loss Tips
Avoid intake of foods which contain sugar.
Eat keto friendly wholesome foods.
Practice intermittent and extended fasting.
Be consistent in quick walking.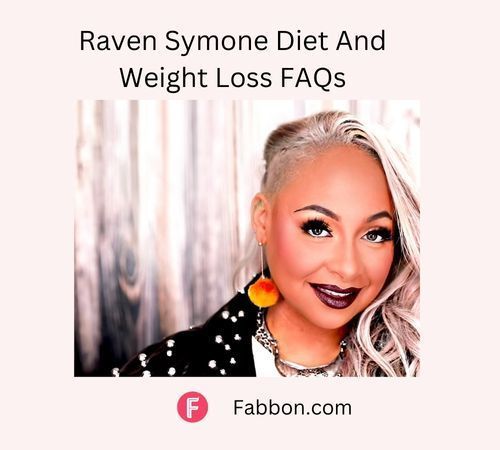 Frequently Asked Questions
Q. How did Raven Symone lose so much weight?
She lost weight by kicking sugar and following a keto diet with intermittent fasting.
Q. How did Raven Symone lose 30 lbs?
To shed the pounds, Raven-Symoné adopted a "low-carb, high-fat" way of eating that she says keeps her satiated in a way that her previous meal plans didn't.
Q. How did Raven Symone lose 30 lbs in 3 months?
In addition to her new way of eating, the star says that she's been incorporating "lots of fasting" and low-impact exercise into her routine.
Q. What is Raven Symone's net worth?
Raven Symone is an American actress and singer who has a net worth of $40 million.
Q. What was Raven Symone's weight loss diet?
The Keto diet with intermittent fasting was the weight loss diet of Raven Symone.