Kelly Ripa Exact Diet And Exercise Routine – 2023  
Smriti Ahuja
Updated At 29 Oct 23
Kelly Ripa is arguably in the best shape of her life, with toned biceps, glowing skin, and impressive abs. She can even perform a full dance routine en pointe like a prima ballerina. However, her fit physique did not happen by chance. She regularly attends SoulCycle classes and works out with her personal trainer and friend, Anna Kaiser, who also trains Shakira.
Kelly is health-conscious and follows the alkaline diet, which she started in 2015. She eats mostly plant-based and alkaline foods to combat inflammation, which she considers to be one of the "great killers of people." In addition to her diet and exercise routine, Kelly keeps fresh produce in the house as snacks, and for dinner, she sticks to a clean eating plan, preferring the taste of the food rather than sauces. 
Table of Contents
Kelly Ripa Diet And Workout Routine
Kelly Ripa's diet and exercise regimen have been instrumental in her overall wellness and vitality.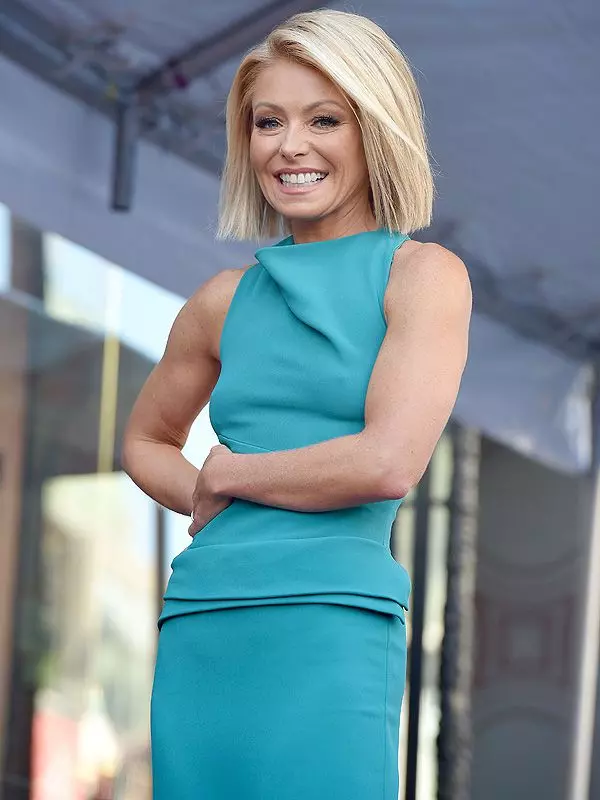 Kelly Ripa Body Stats
Age - 53 Years
Weight - 110 pounds (50 Kgs)
Height - 5′ 3″ (1.6 m)
Waist size - 24 in / 61 cm
Kelly Ripa's remarkable physical shape at the age of 53 is apparent to anyone who has seen her on TV shows like Hope & Faith, All My Children, or her current talk show.
Despite being a wife, a mother of three, and a media powerhouse, she maintains an excellent balance between her personal and professional life while keeping herself in great physical condition.
Her secret to maintaining her fitness is a combination of a healthy diet and a regular exercise routine. Kelly Ripa believes in eating fresh produce as snacks and adheres to a clean eating plan for dinner.
Also Read: Chrissy Metz Weight Loss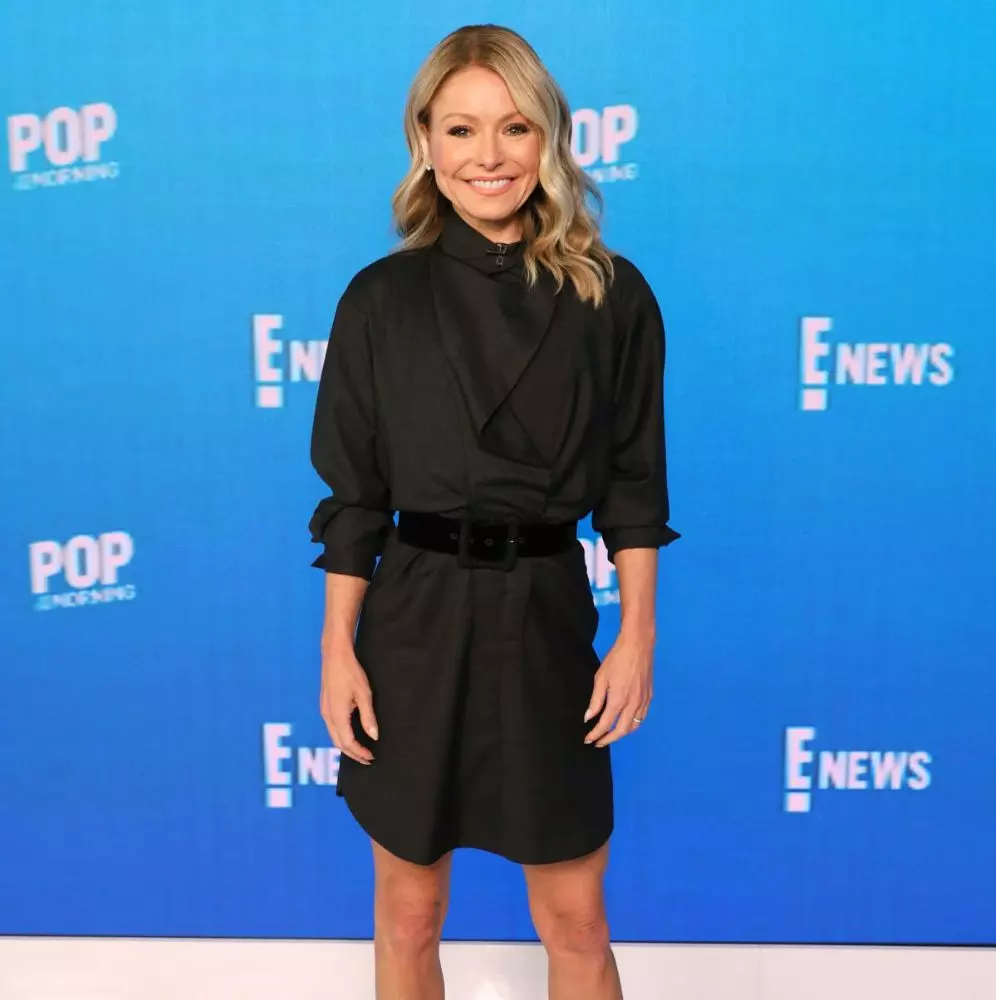 She prefers simple sautéed spinach with a little lemon and olive oil to drenching her food in various sauces. In addition, she underwent an alkaline cleanse that changed her perspective on food and helped relieve her pain. The alkaline cleanse, also known as an anti-acid diet, allowed her to eat more while feeling less hungry. Though she looks like a top model even in her 50s, Kelly Ripa has never officially endorsed or followed the Victoria Secret diet thats so many models go for.
Also Read: Bella Hadid Diet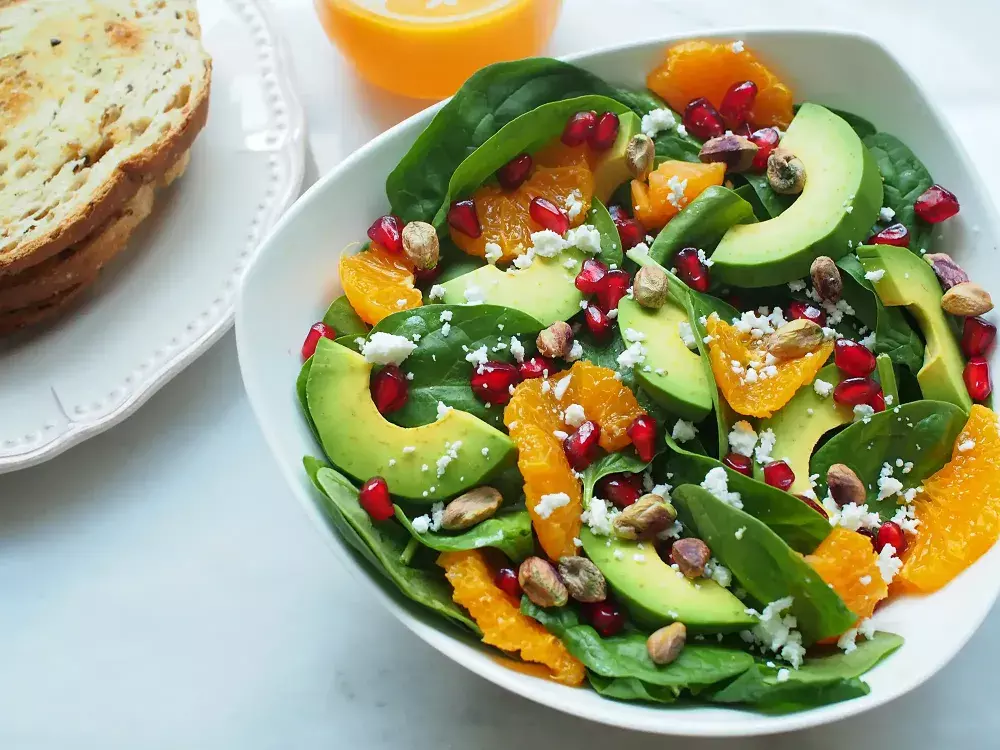 Kelly Ripa Diet Plan
Let's examine the details of Kelly Ripa's low-acid diet. She follows intermittent fasting and only eats in an 8 hour window.
In an interview with Bon Appetit, Kelly Ripa revealed that she skips breakfast before hosting the morning talk show Live with Kelly and Ryan to avoid digestive noises.
She only drinks the half-and-half cappuccino that her husband prepares for her and a triple-shot skim latte at the host chat station afterwards.
Kelly Ripa told the People,
I like to drink coffee. I occasionally will have fish. The alkaline diet is primarily a vegan diet, but I like cream in my coffee. At dinner, I eat a ton of vegetables — and a salad, soup, or a light piece of fish. I try not to have too much cheese or too many high-fat foods, even though I love them,
Also Read: Khloe Kardashian Diet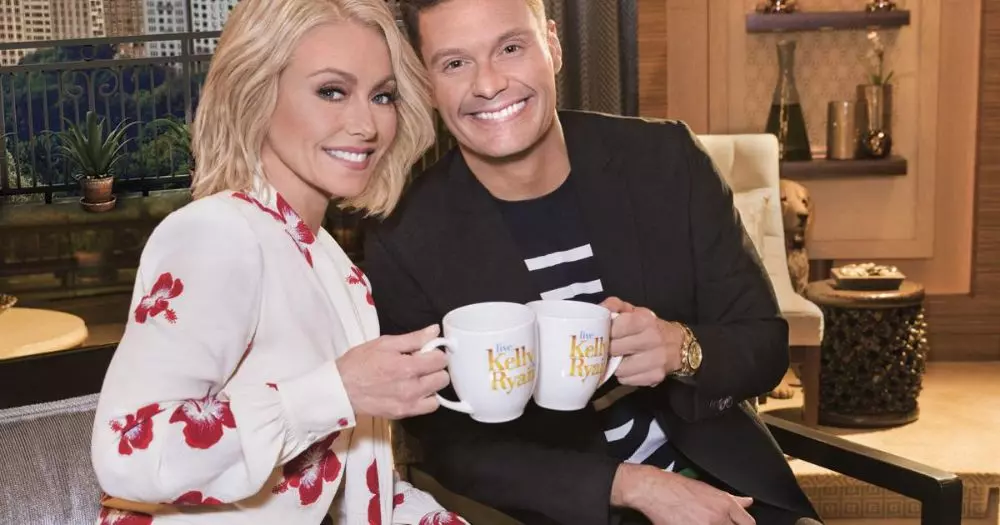 For her other meals, Kelly Ripa typically eats:
Breakfast: does not have it; Only has coffee in morning
Lunch: Microgreens salad, sandwich with avocado toast and toasted nuts, and non-fat yogurt topped with blueberries, pistachios, lavender honey, or granola.
Snacks: Nuts, stale fruit, high-protein bars from ThinkThin, almond butter, flax seed nibbles, and Goldfish crackers from Pepperidge Farm (her favorite snack).
Dinner: Fish, salads, soups with lots of vegetables, chickpeas and sauteed spinach
Kelly's diet mainly includes seasonal vegetables, new fruit, fish, chicken thighs, Greek yogurt, granola, broccoli, kale, vegetable leeks, and a coffee-water blend.
On the other hand, she avoids consuming a fatty diet, junk food, processed food, sour foods, pizza, fries, pancakes, cheese, grains, soft drinks, artificial additives, and alcohol.
Read More: Gigi Hadid Diet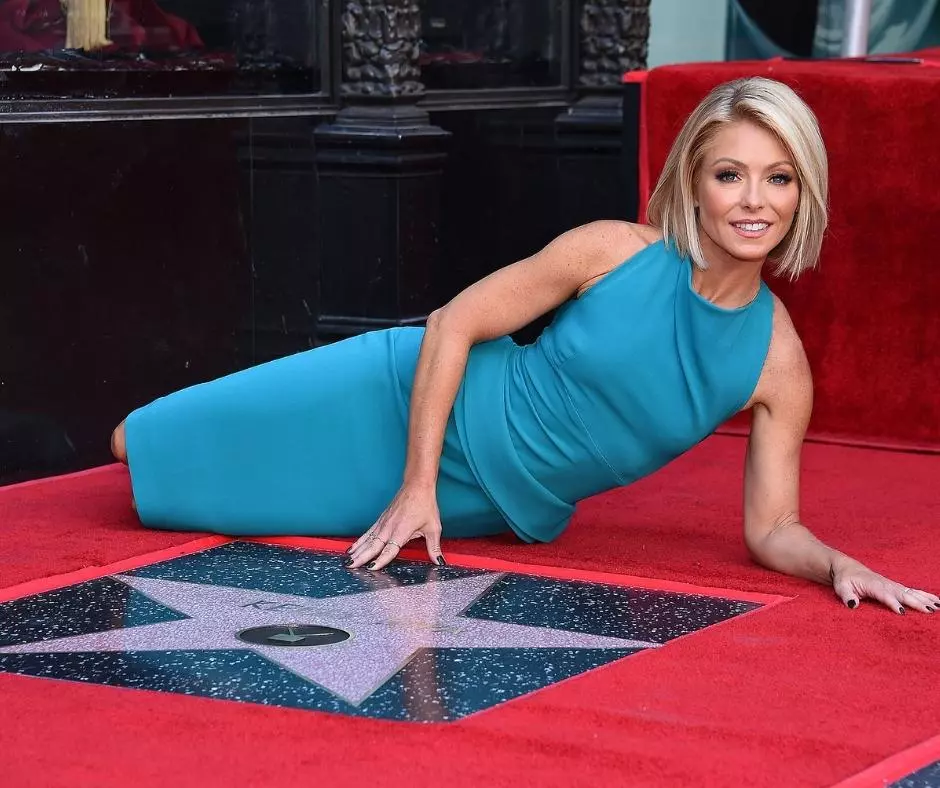 Nutrition Principles of Kelly Ripa
To maintain her fit physique, Kelly Ripa follows a primarily plant-based alkaline diet, but she doesn't stick to a strict regimen and indulges in treats and animal protein occasionally. Her meals typically include a balanced amount of protein, fat, and carbs, and she eats a variety of fresh fruits and vegetables. She also does a seven-day alkaline cleanse from time to time. To supplement her diet, Ripa takes anti-inflammatory supplements such as turmeric, black cumin seed oil, ginger, and peppermint, as well as Persona Supplements to help with digestion and deep sleep. She also takes Alkamind Daily Greens every morning and Alkamind Daily Minerals during exercise.
Kelly Ripa, who follows a 99% vegan diet and is committed to maintaining her health, flexibility, and physique, also takes supplements commonly used by vegans to prevent nutrient deficiencies, inflammation, and support essential bodily functions such as immunity, brain function, bone health, and eye health.
These supplements include:
- Zinc
- Calcium
- Vitamin B12
- Iodine
- Omega-3 fatty acids
- alkamind daily minerals
- CBD supplements
Read More: Sandra Bullock Diet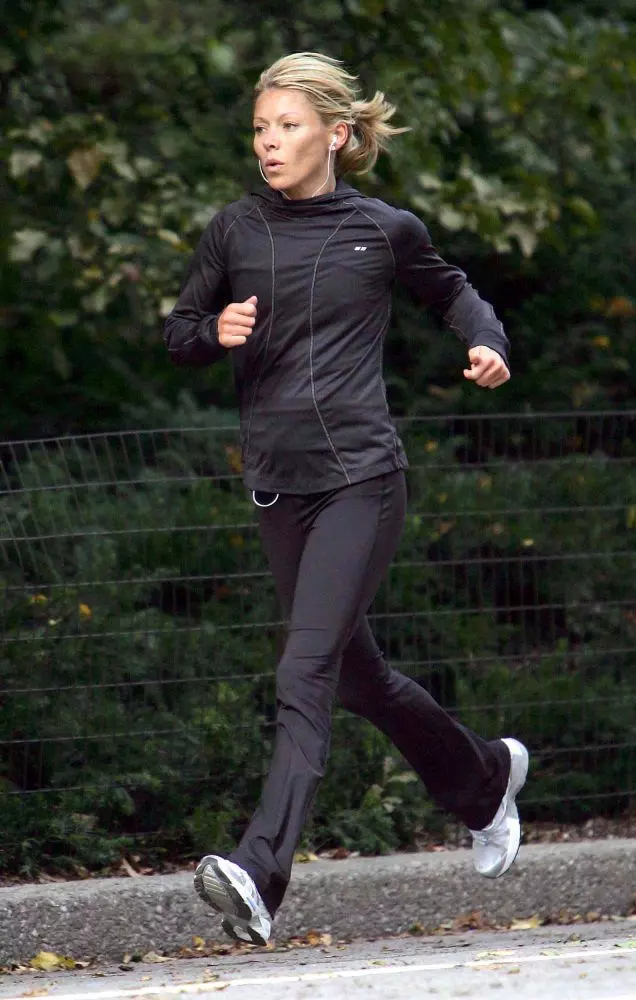 Kelly Ripa Workout
For those who would like to mimic Kelly Ripa's training routine in order to develop her lean physique and high level of energy, here is an example.
Monday
AKT Dancing : A 60-minute Choreographed Dance Aerobic class
Tuesday
45–60 minute SoulCycle class
Wednesday
AKT Bands class is held and uses medium-strength resistance bands suspended from overhead bars to target difficult-to-reach muscles including the triceps and inner thighs. - 60 minutes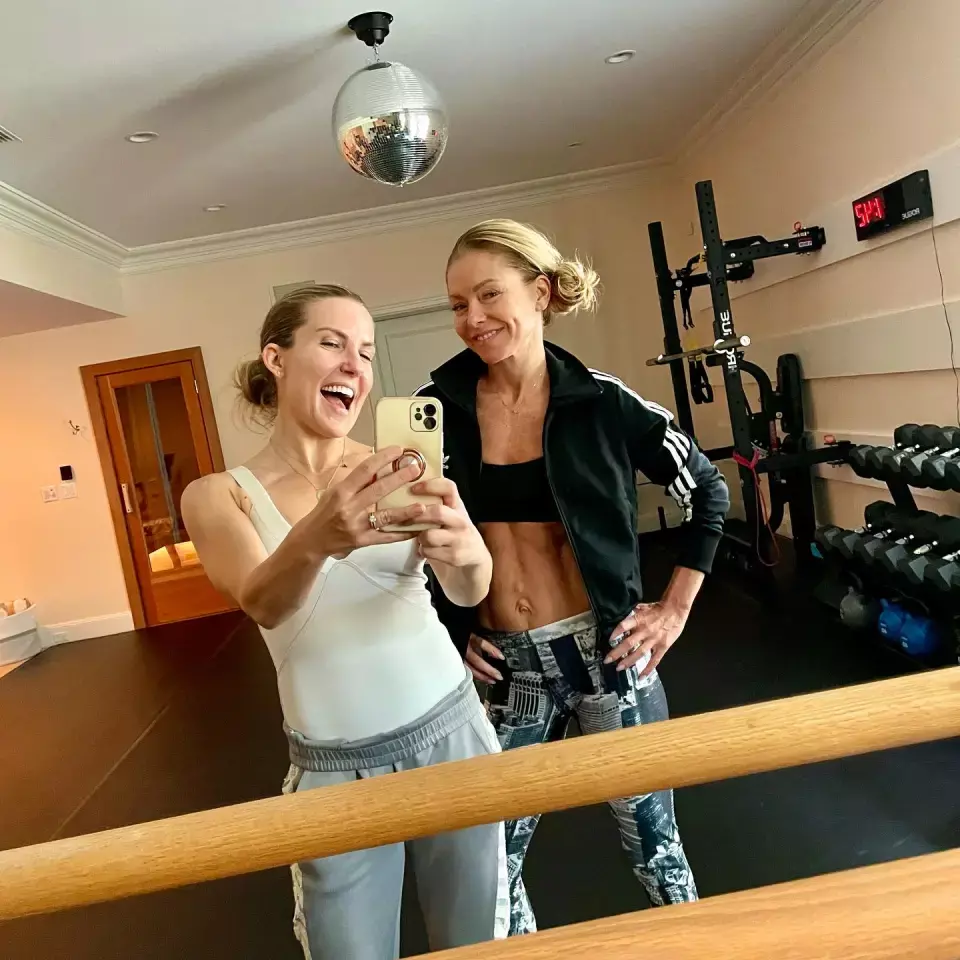 Thursday
45–60 minute SoulCycle class
Friday
AKT Circuit class is a 60-minute, hard aerobic workout with weights.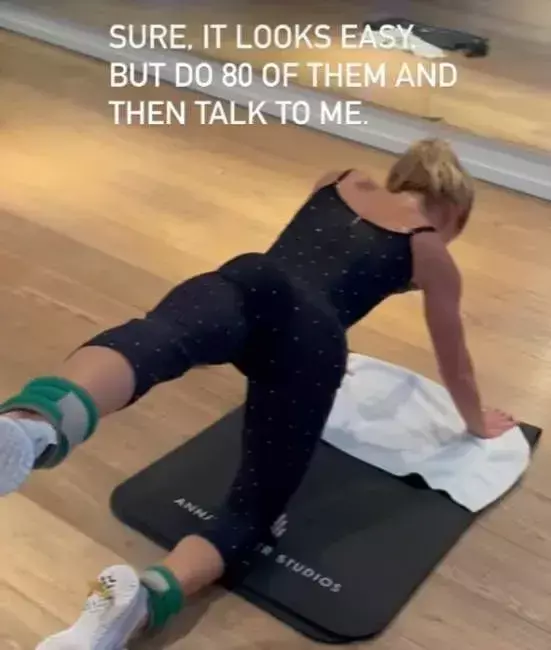 Saturday
 60-minute AKT Mixer full-body exercise or AKT Tone barre-based class.
Sunday
Jog for 60 minutes, practise Yoga or Pilates for an hour, or perform the following exercises at home or in a gym:
·        Tricep dips with crabs (alternating straight and bent legs with each dip) - 8–10 repetitions each leg; – 1–2 minutes per leg;
·        Using a ball, squats (alternating left and right heel raises) 15–30 repetitions per side;
·        Repetitions of rolling crunches for one minute
Also Read: Christina Aguilera weight loss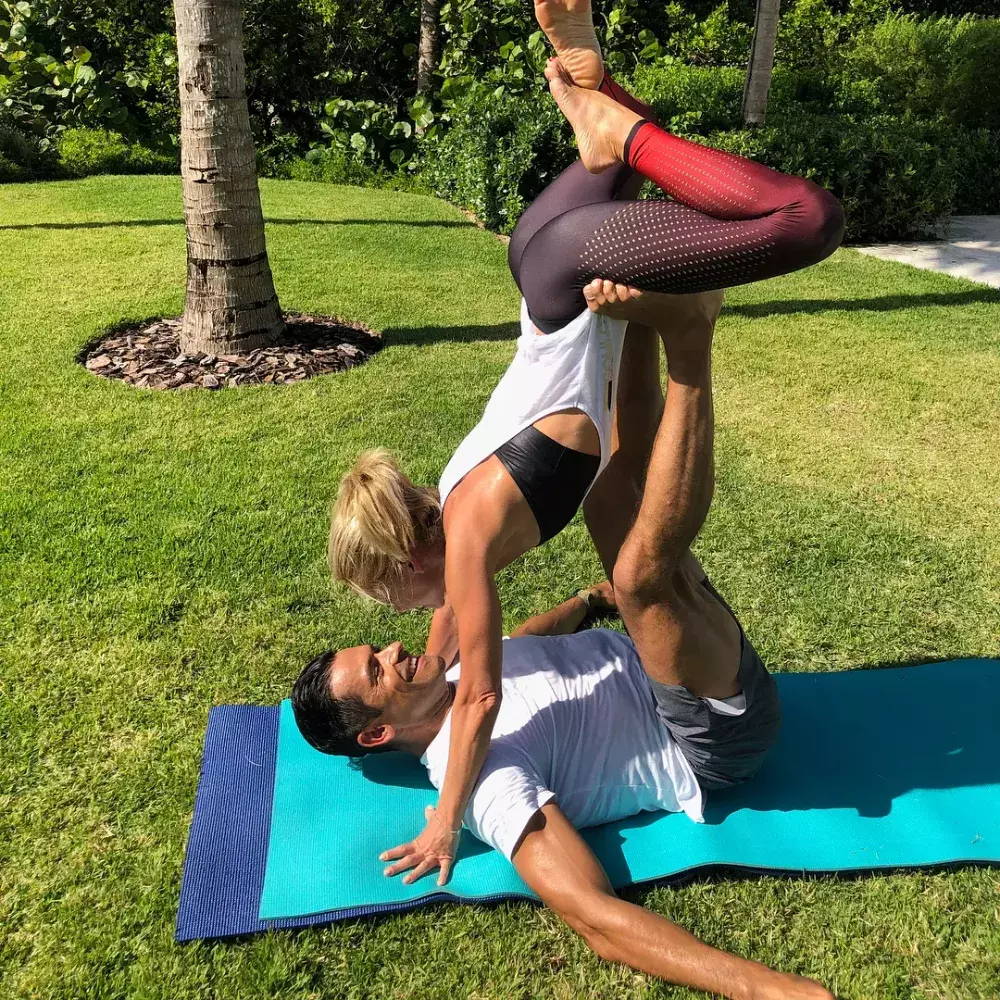 What does Kelly Ripa do for diet and exercise?
Kelly Ripa incorporates a variety of the following very efficient exercises into her regular workout schedule:
·        Dance-cardio-strength courses with Anna Kaiser were choreographed by AKT (AKT founder and trainer) - four to five times per week.
·        Classes at SoulCycle are held twice a week.
·        Running once a week.
·        Pilates and Yoga Power
·        Circuit training for HIIT
·        Functional instruction
·        Cardio exercises using resistance bands AKT
·        Toning drills
She devotes a lot of time to exercising, working out four to seven days a week for 60 to 90 minutes each time, or at least five hours each week.
Kelly Ripa enjoys variety, thus this is why her exercise regimen involves a lot of cardio work:
I try to make my heart beat out of my chest, hard-core, once a day for at least a half-hour. I think that's very important. [...] I don't have the best family history heart-wise, so I really try to keep my heart strong.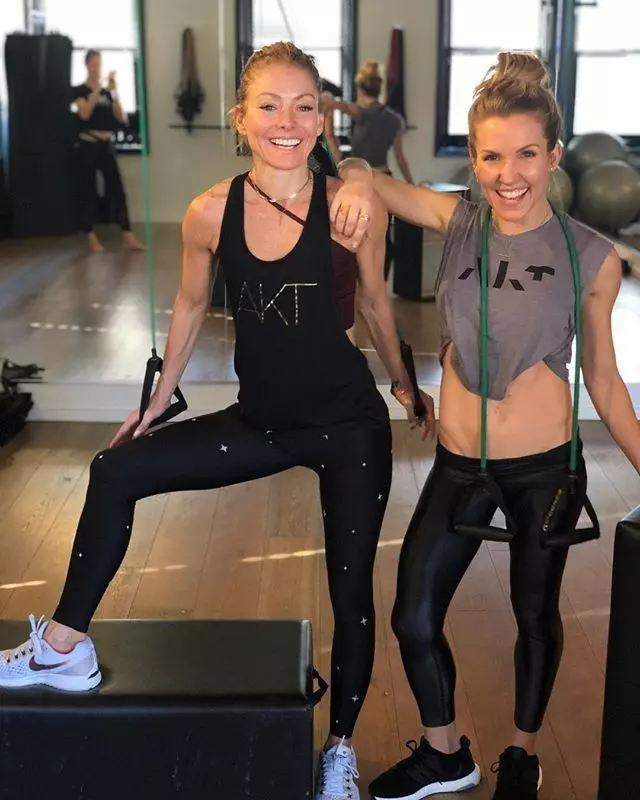 Frequently Asked Questions ( FAQ's)
Q. Can anyone follow Kelly Ripa's diet and workout plan?
Although Kelly Ripa's diet and workout routine aren't overly strict, they do necessitate discipline and commitment. The method and variety of exercises she incorporates into her weekly workout routine are far from light.
Nonetheless, eating a lot of vegetables and fruits in combination with an intense but enjoyable workout routine may be a sure-fire way to a fantastic physique.
Hopefully, making a firm decision to replicate Kelly Ripa's workout routine and diet principles will help you change any bad eating habits and achieve the desired body shape (including those perfectly toned legs) in no time.
Q. Is Kelly Ripa vegetarian?
Kelly Ripa is not a vegetarian as she does have fish and chicken intermittently. Her diet is mainly plant-based though as she prefers including a lot of vegetables in her daily diet plan. 
According to her longtime nutritionist Daryl Gioffre, she has been living an alkaline diet-based lifestyle for years. Her diet is 99 percent plant-based, with a focus on dark green leafy vegetables and healthy fats for lunch and dinner.
Q. What supplements does Kelly Ripa take?
Kelly supplements her diet with alkamind daily minerals, alkamind daily greens, CBD supplements, and anti-inflammatory supplements.
Q. What is Kelly Ripa's height and weight?
Kelly Ripa is 5 feet 3 inches or 160 cm (1.6 m) tall.
Kelly Ripa keeps her weight around 50 kg or 110 pounds and looks timeless!
Q. What is Kelly Ripa's secret to her fitness?
Kelly Ripa claims she can't go a day without exercising, which she says keeps her mentally and physically fit. Her workout consists of a variety of activities, including running, AKT, and SoulCycle. Yoga and dancing are also regular parts of her workout routine.
Q. Does Kelly Ripa do intermittent fasting?
Yes, Kelly has been following intermittent fasting since a long time. She fasts for 16 hours daily and easts only within an 8 hour window everyday. She makes sure to skip the breakfast and usually starts eating around lunch time.