25 Best Olive Nail Designs And Ideas - 2023
Olivia
Updated At 21 Jul 23
Looking for the best olive nail designs which are stylish and are trending this year? If yes, we have got you covered.
Depending on the hue and design, olive nail designs can be subtle, delicate, eye-catching, and vivid. We have chosen the greatest nail designs if you want to be a little different by choosing uncommon manicure colours. Right present, earth-tone hues are dominating the fashion and cosmetics industries. So, we collected 25 exquisite nails in olive nail designs that you'll adore!
25 Olive Nail Designs Trending In 2023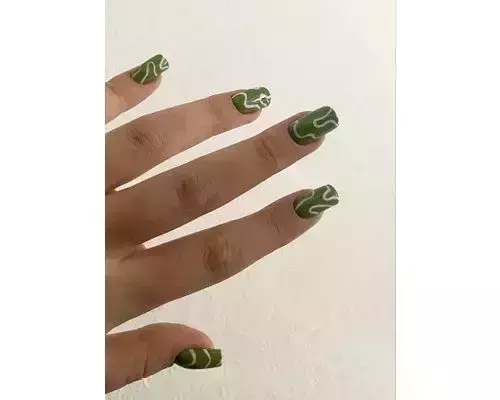 1. White And Olive Green Nails
This whimsical mix of olive green and white, which combines olive green, white, and nude nail paint to create a swirl of colours and tones, comes first on our list of the finest green manicure designs. This design is ideal for a picnic in the spring or any other outdoor occasion. Since you only need three distinct nail polish colours and some experience with freehand painting, it is really simple to reproduce. The core idea is straightforward, and you can create the swirls any way you choose. Although you are free to experiment with different green hues, we advise keeping deeper shades to stand out against the white and bare nails.
Along with olive nails, solar nails are also trending this year. If you want to know more about solar nails and how it can transform your look completely, do check out our guide!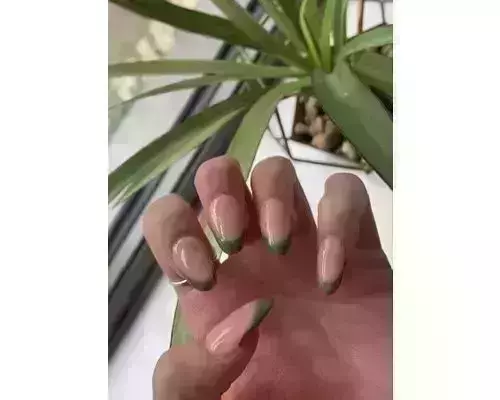 2. French Tip Olive Green Nails
A French manicure will be an alternative approach if you prefer to avoid standing out too much. You use transparent nail polish and a green tone instead of white for the finishing touches. This manicure concept is arguably one of the simplest ones on our list. This manicure is one of our favourites since it's ideal for a formal occasion or even just a regular day at the office when you want to fit in a while yet showcase your flair. While any olive-green nail polish would work for this look, we advise sticking with light colours to keep the French tips visible. Additionally, spring and summer are fantastic times to wear light green nail paint.
Read More: Best Summer Nail Designs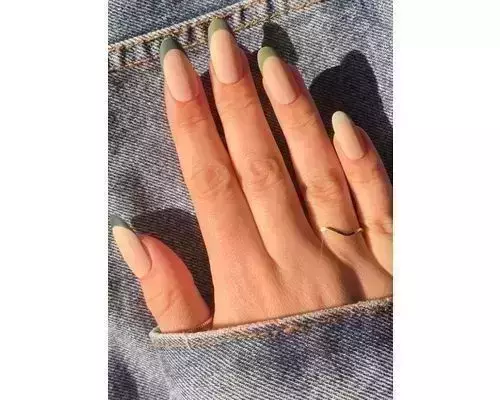 3. Matte Olive Green Nail Designs For A French Manicure
Olive green is a striking hue in general, making it the ideal choice if you want to stand out. The French manicure style is very adaptable, so you may use any colour or style with it. Although not very difficult, it does take some accuracy and ability. Due to its originality and the fact that it's ideal for summertime gatherings when you want to showcase your playful side, we adore this specific interpretation of the French manicure. Acrylic nails are also an amazing option if you are looking to transform your look completely.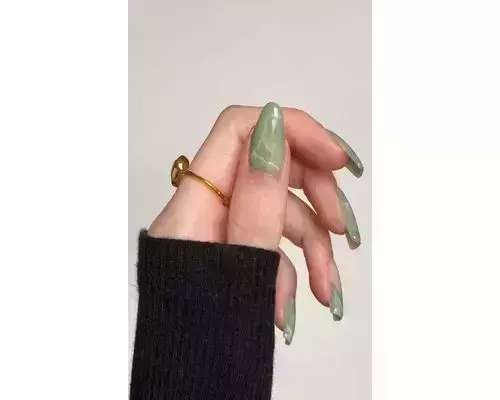 4. Marble Green Nail Art
Try a marbled olive-green manicure reminiscent of jade if you have a thing for beautiful green stones but feel that emerald is much too mainstream. However, creating olive green nails with a marbled pattern takes a lot of work. Therefore, we advise you to practice using the nail paintbrush until you get the hang of it. Your nails will resemble gems once you have mastered the complex and erratic marbled designs.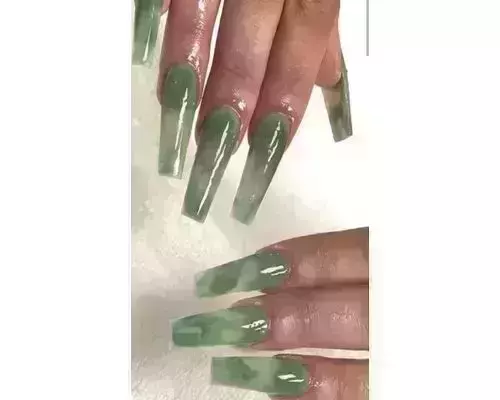 5. Coffin Olive Nail Designs With Marble Pattern
Since marble painting must be limited to the nail, it is considerably trickier than the prior design. However, the coffin olive nail designs are stunning and will catch everyone's eye. Therefore, before attempting this design, be certain that you are comfortable with your nail polishing abilities. Additionally, wearing any jewellery marbling in green will not only complement your nails but also make everyone envious.
Coffin nail shape is one of the trending nail shapes this year and one of the reasons behind it is its unqie nail shape.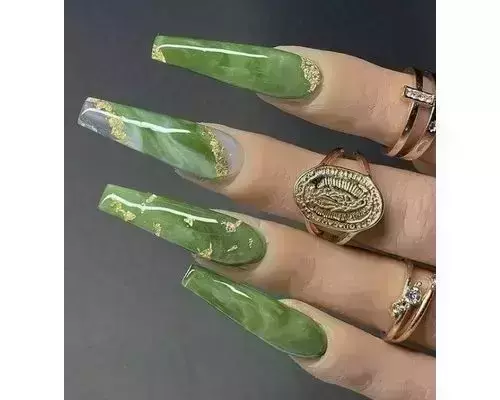 6. Olive Green Nail Design - Rare Precious Stones
Everyone attempts to make their nails look like rare, expensive stones. This green nail art only serves to support that notion. This concept uses coffin olive nail designs and marble patterns, just like some of our earlier submissions. But because it combines green hues with brown and golden stains, it gives a pleasant twist. Your manicure will resemble stunning old Chinese vases as a result. Be aware that despite the patterns appearing random, they call for a particular amount of accuracy. Therefore, keep going if you can't get things right the first time.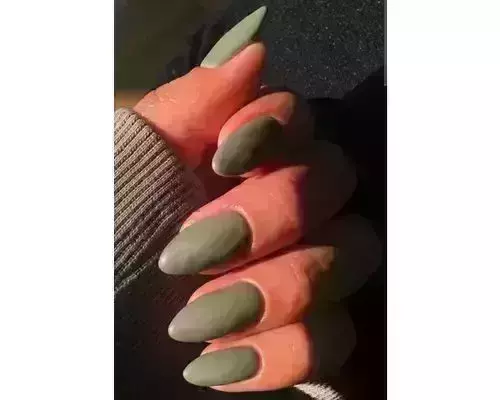 7. Matte Olive-Green Colored Nails
Since many individuals appreciate the simplicity of a single solid colour, only some enjoy nail art. Additionally, olive green nail designs are always a classy option. However, matte olive nail designs stand independently; avoid adding stickers, gradients, or other kinds of designs.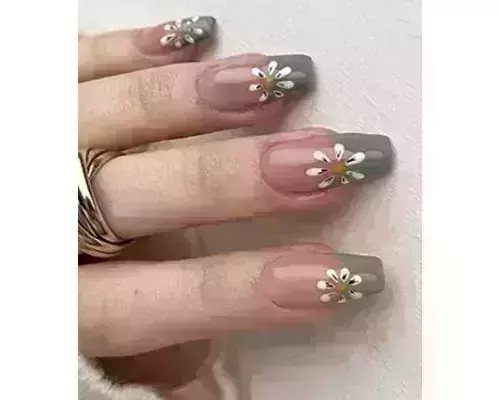 8. Olive Green Flower Nail Designs
Try a cute olive nail design. A green manicure that screams springtime in all its glory, like this daisy-based manicure. The daisies are white and yellow, with a foundation of olive-green nail polish. If your freehand nail polishing abilities could be better, applying nail stickers is not a problem. French manicures should be combined with olive green nails if you want to replicate the look seen in the photo. Any spring or summer clothing looks great with the bright colours of this straightforward and endearing design, especially when the mood is carefree and cheerful.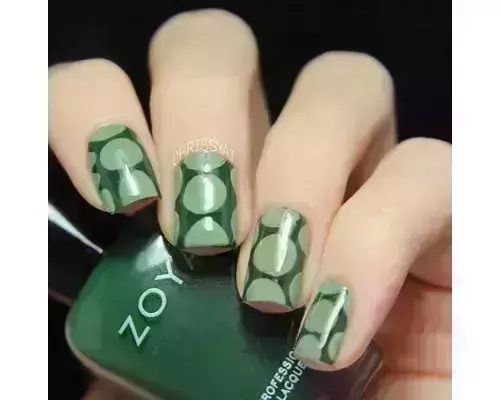 9. Turtle Shell - Green Nail Art
Two olive green nail paints of various hues are required. However, stick to two opposing colours if you want the turtle shell design to be seen. Before applying the design to your nails, we advise practising your brush strokes on paper or the back of your hand. Making the dark green strokes appear to be practically touching one another is crucial. You'll astound your pals with the extraordinarily elaborate and detailed manicure that appears to have sprung straight out of a cartoon once you master these emerald-green nails.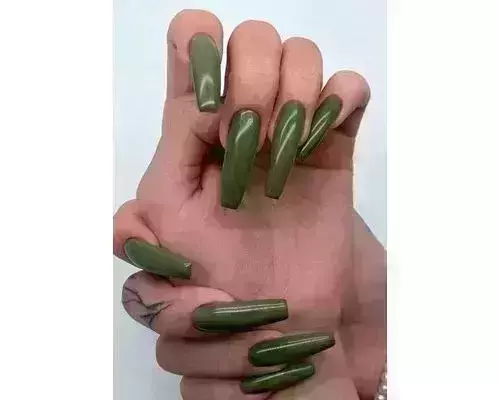 10. Olive Green Coffin Nails
Green acrylic nails are the focus. We advise picking the brightest shade of olive green you can find, as the whole point is to be as dazzling as possible. It would look stunning when worn with all-green clothing.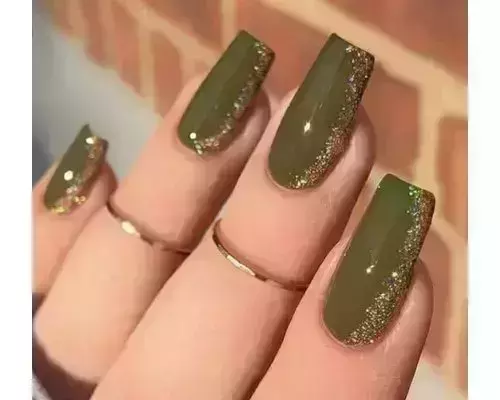 11. Glitter-Coated Olive-Green Nails
When it has gold and green bits, create straight-edge shapes using tape. Please wait until the polish is dry before peeling it off.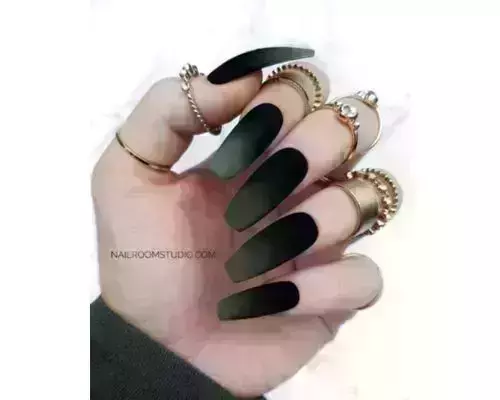 12. Olive Green With Black
The best way to emphasize the green is to keep your nails black at the beds and gradually work your way up to an olive-green shade. This is one of the prettiest matte olive-green designs.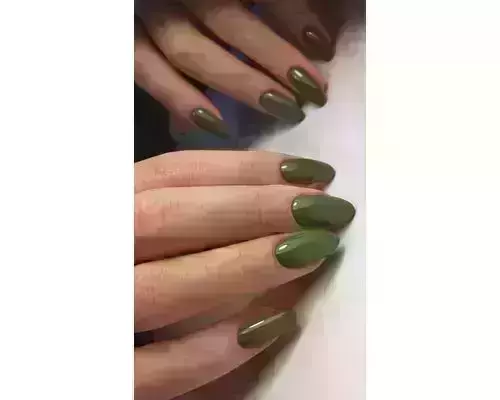 13. Olive Green Gel Nails
With a strong gel overlay, these olive-green nail designs on acrylic nails are full of character and perfect.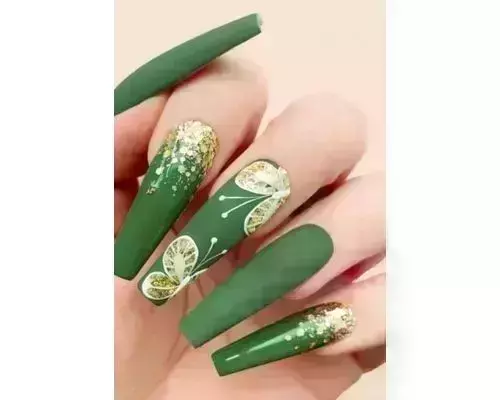 14. Sparkling Olive-Green Nails With Butterflies
When glitter is added, olive green, it becomes even more appealing. Additionally, you may add some contrast by meticulously painting butterflies on a white accent nail, and this cute olive nail design is all you need.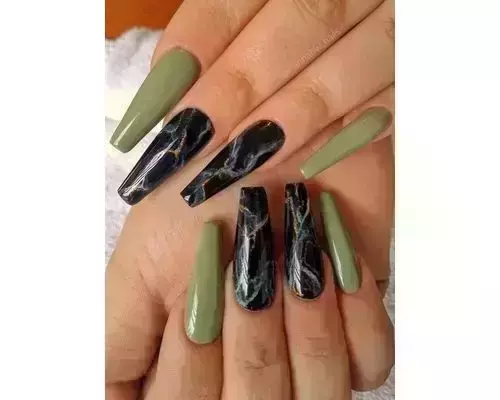 15. Olive Green With Black Marble Nail Designs
These olive-green nail designs are extremely stunning. They have two olive-green and two black marble designs. This image shows two coats, followed by a glossy top coat.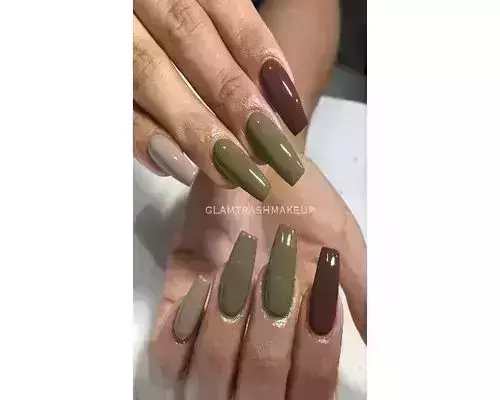 16. Olive Green And Brown Nails
We enjoy the way that the brown and green colour scheme appears with the variously angled edges of this design.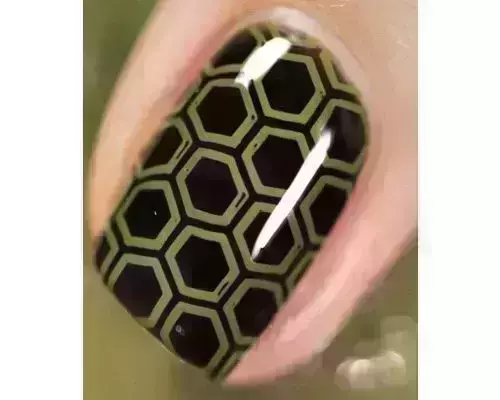 17. Olive Green Stamping Polish
This unusual shade of earth green with a hint of yellow makes for a creative manicure. For immaculate complete coverage, stamp over your preferred base colour or paint the entire nail.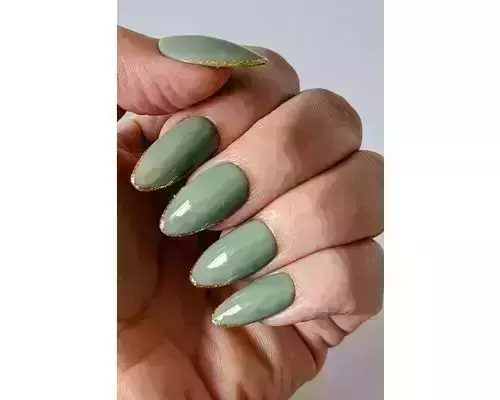 18. Olive Green Nails With Gold Tip
Sometimes a basic solid nail is all your manicure needs to look stylish, especially if you add gold glitter at the very tip by painting each nail.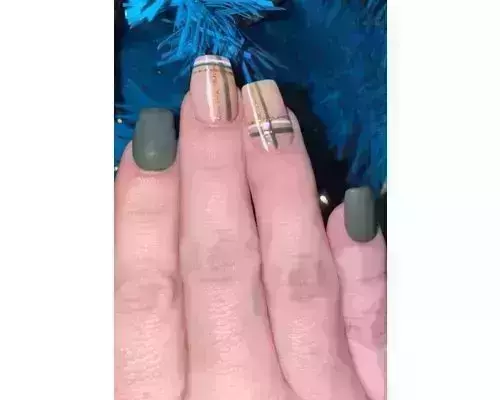 19. Simplicity Olive Green Nail
Olive green should be used with a base of two nails, and on the other two, draw stripes with gold and white, like these from Unique French Manicures, to make it shine out.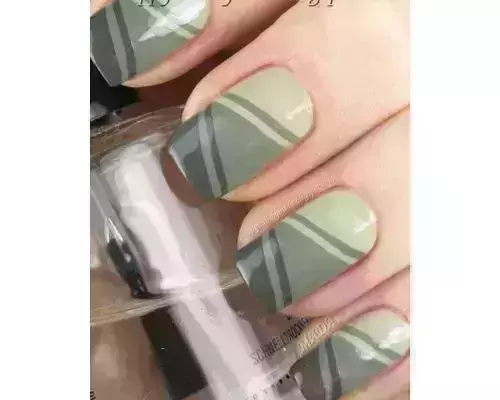 20. Gradient-Striped Green Nails
Like the concept of a gradient but want it to stand out more than just one nail at a time? Try this White Lights approach. Each nail should have many stripes of green, graduated from lightest to darkest or vice versa.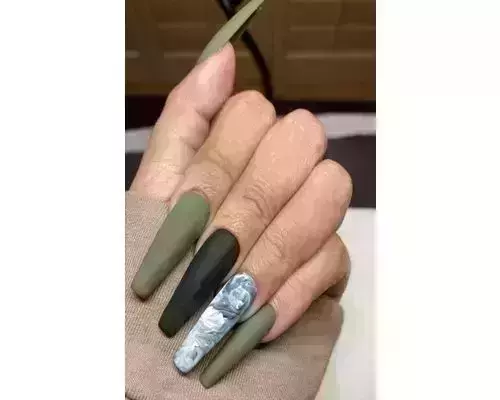 21. Olive Nail Design With Black And White
Feel free to experiment with black marble white and olive green nail polish since this olive shade compliments black very nicely.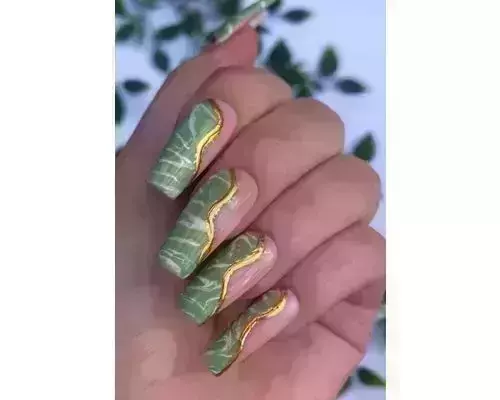 22. Olive Green And Gold
If you frequently like nail art and have had your fill of nails half with olive green shade, try something different by making gold designs on it.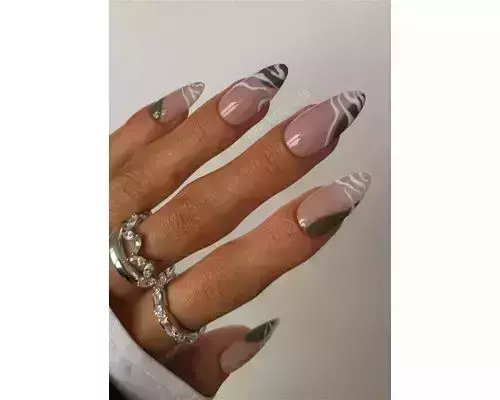 23. Green And White Nail Designs Green With White Glitter Beds
Try this white design over an olive-green shade. Just a spot of olive-green paint on the nails, and then draw patterns with white paint. This creates a simple yet elegant olive-green nail design.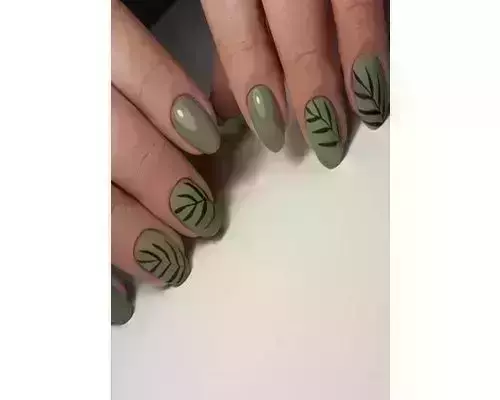 24. Olive Green Leaves
It's time for something outrageously outrageous and incredibly enjoyable. Nothing is brighter or more enjoyable than a manicure that takes its cue from an olive green with leaves. It's pretty easy to understand.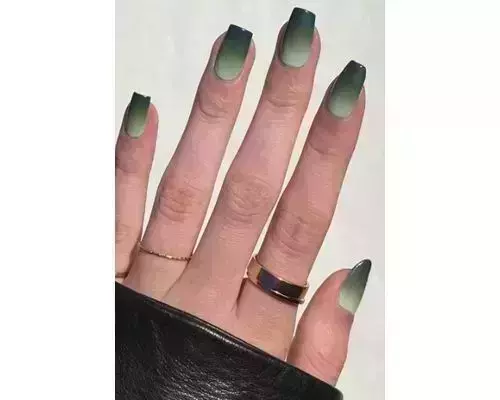 25. Ombre Olive Green Nails
This olive-green nail design combines showy methods to produce ombre olive-green nails. Use the most vivid olive green, the darkest green, ombre techniques, and white finishes.
CONCLUSION
We won't ruin your pleasure by telling you which olive nail designs will best fit your personality and sense of style; instead, we'll let you investigate all the available choices. We sincerely hope that this post has been helpful and that you have at least one green nail idea you want to try.