25 Stunning Nude Nails Ideas For 2023
Rajlakshmi
Updated At 13 Aug 23
Nude nails have been trending recently and we surely cannot ignore the fact behind it. This nail art looks subtle yet so stunning. From Pinkish beige to dark brown, every type of shade is available to complement your skin tone.
But as it has started to trend, the manicures have started to look familiar and ordinary. However, there is no need to worry as we have got you covered with 25 unique nail art with nudes for 2023.
25 Stunning Nude Nail Designs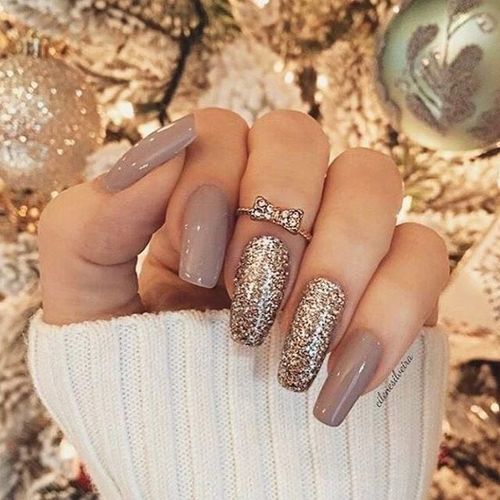 1. Nude Nails With Glitter
One of the most flexible designs of nude nail ideas, it suits every length of nail as well as every skin tone. This design should be on your list because simple nude nails can look ordinary and not so eye-catching at times but adding this little shimmer can make your nails and hands look classy and alluring. If you are looking for inspiration for summer nails then this can be an amazing option.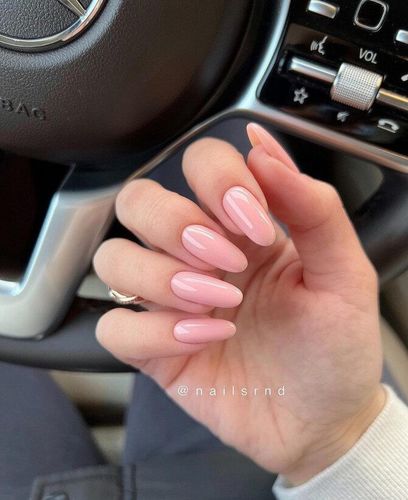 2. Almond Nude Nails
From the collection of classy nude nails, Almond nails are surely one of the best nail arts. If any design of nail art could define elegance then it would be almond nude nails. These nails are also trending this year, hence this is your sign to get them done!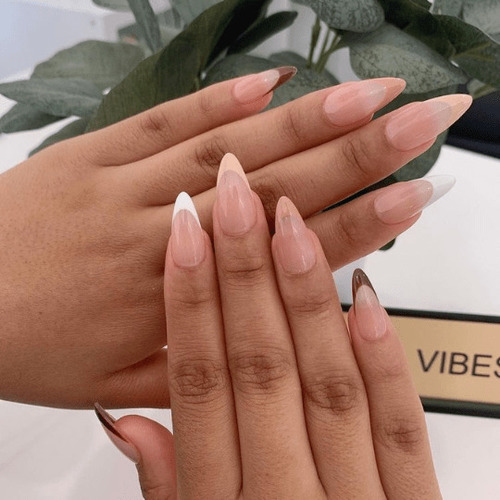 3. Nails With French Tips
Nude nail with French manicure looks unique and beautiful at the same time. This would have nude nail polish as the base and you can design the tip as per your wish. This design is customizable, you may want to have an elegant look with a white tip or you may add shimmer at the tip. This cute nail design can change your look completely.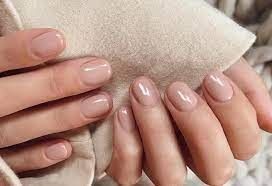 4. Short Nude Nails
Nude polish for short nails can be a fabulous idea. This is a classy nude nail design. One of my favorites about this design is that it is easy to achieve. One can easily get it done at home without going to a professional nail artist.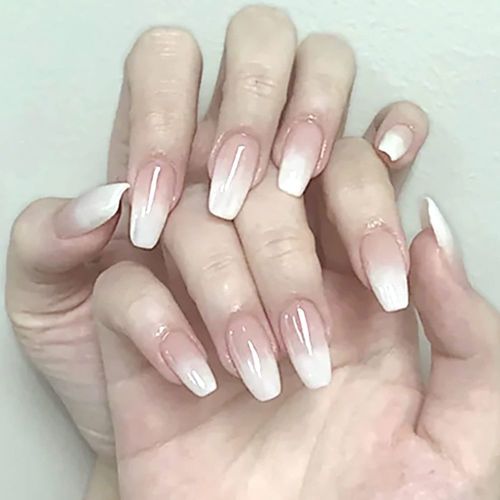 5. Ombre Nudes
The most famous way of French manicure is the ombre nude nails. This kind of nude nail looks fabulous on dark skin. This nail art is quite a luxury aesthetic and will surely make your hands look graceful. This requires a professional so that your ombre nails look perfect.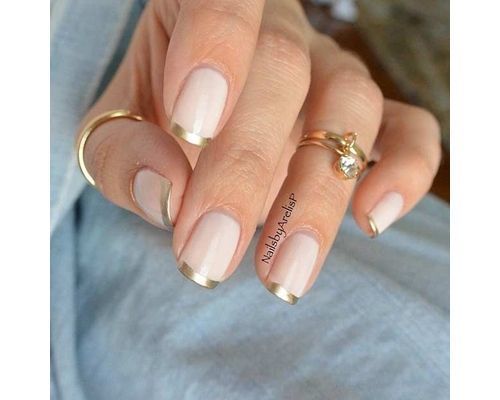 6. Gold Tips
Nails with golden tips are a unique and tasteful idea. The color of gold blends flawlessly with nude nails. This suits dark skin tones a lot. This design is very affordable and they look very real on the nails leaving a sign of luxury behind.
Read More: What Are Acrylic Nails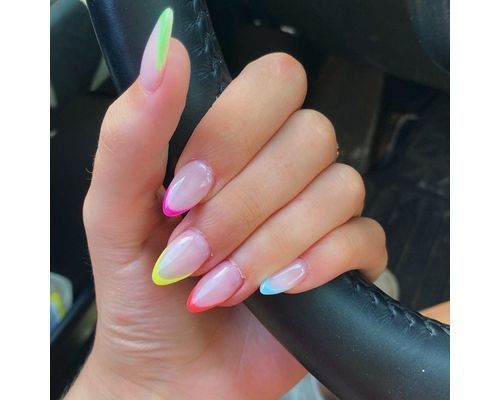 7. Rainbow Nails
Rainbow nails are one of the classic ideas of nude nails. It is funky and pretty at the same time. Another design for rainbow nail art is coloring every tip with different colors of the rainbow, hence this design is highly customizable. Rainbow represents inclusivity and diversity, so you can match this nail art with your personality too.
Please note you can focus on specific colors too. Yellow nails have been trending this year so you can opt for the same as well. Do check out our guide to find inspiration for various designs as we list 55+ stunning options!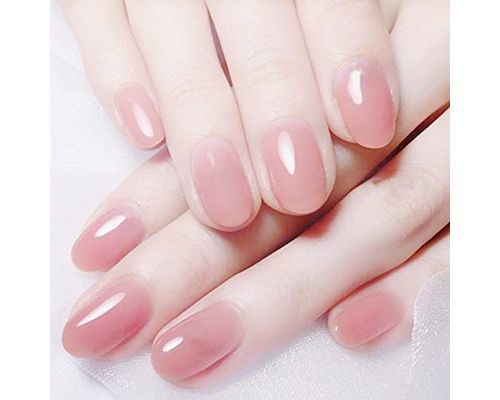 8. Jelly Nails
One of the most unique ideas for nude nails. Jelly nails are the lipgloss version of nail art. This polish makes the simple nails look extra glossy which leaves a classy look. Nude jelly nail art can look real and pretty compared to any other color or shade of nail paint.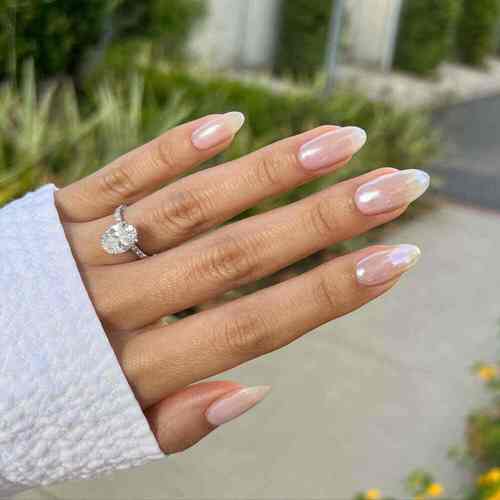 9. Bridal Nails
Bridal nude nails have been trending recently. The obvious reason is the touch of elegance and nature of the manicure. One can even add shimmer or ombre to the manicure. It's all in all a brilliant idea for your big day.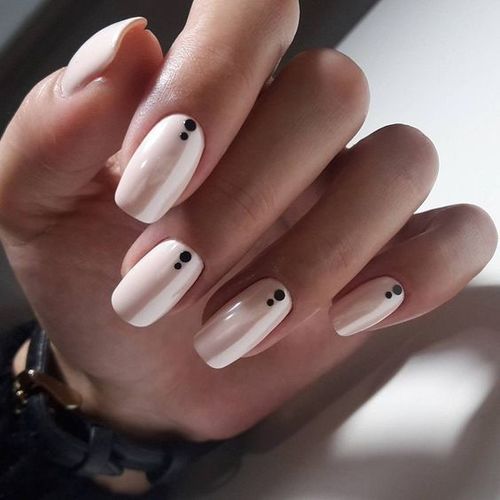 10. Dotted Nail Art
Simple yet gorgeous, Dotted nail art is best for every occasion, be it a weekend party or a weekday meeting. All you need to do is wear a base of nude nail polish and add a dot in the cuticle of the nail. One of the specialties of this design is that you do not necessarily need a professional for this as it can be easily done at home by yourself.
Read More: What Are Solar Nails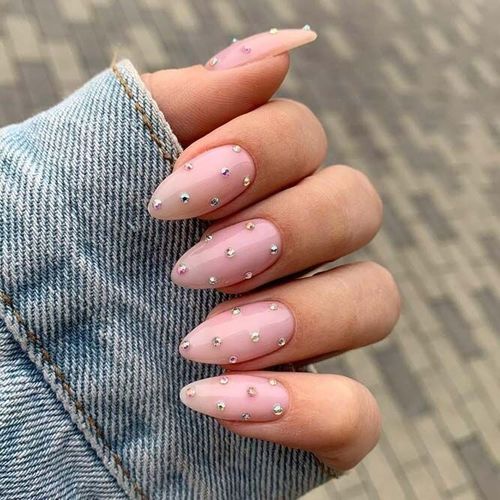 11. Crystal Nails
Crystal nails are one of the most groovy manicures for nude nail art designs. This looks extremely tasteful in dark skin tones. Adding crystals to your nails for a function or event is always fabulous. These nails are even perfect for formal as well.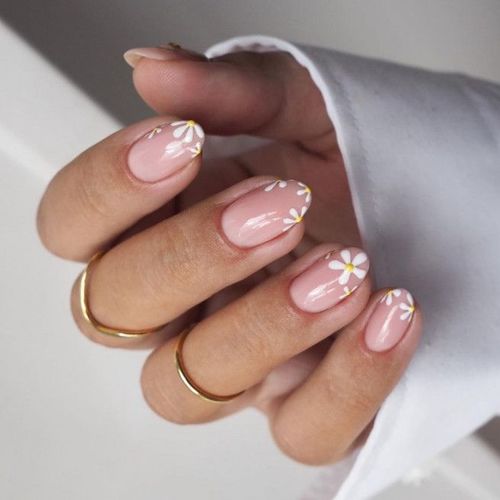 12. Flowery Art
Nail art with flowers has been the summertime inspiration. Using flowery stickers or other impressions of flowers on nude nails can be an elegant idea for this summer. Sometimes, we do not even want to commit to simple nude nails, adding flowers to your simple nails can give you an eye-catching look.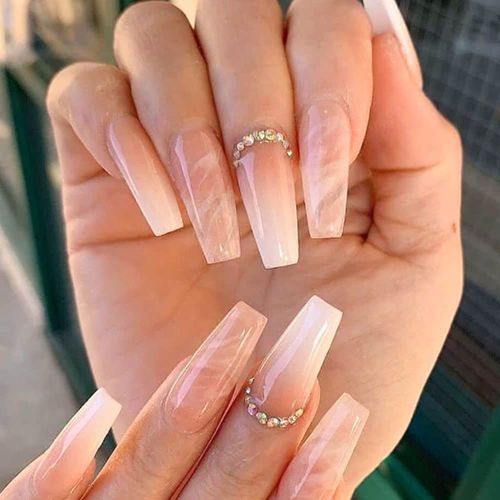 13. Marble Nails
One of the favorites of any woman is the glossy marble-like nail art. This is a glam look for anyone. Nude nail art with a marble shine can be a very graceful and cultivated manicure for you. The best part is, it goes with every length of nails.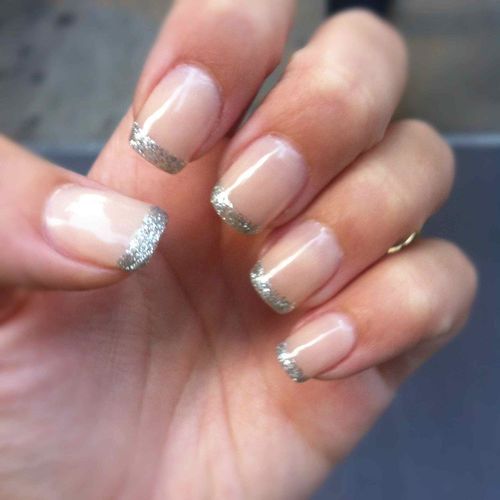 14. Silver Tips
Looking for nude nails with shiny tips? Adding silver to your base of nude shade covering only the tip in a French manicure can be an alluring look.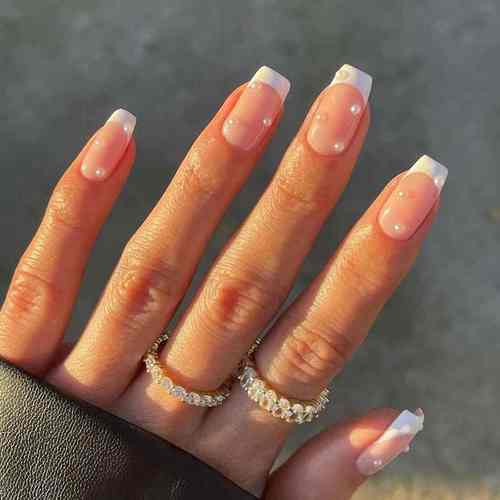 15. Nude Nails with Pearl
The fashionable way of dressing your nude nails with pearl. It might look like you need to go to the professionals for this nail art as it looks so elegant. But you can easily do it yourself at home. One just has to sprinkle and glue pearls on the nails with the help of a toothpick. Easy, isn't it? Get this easy but beautiful look now.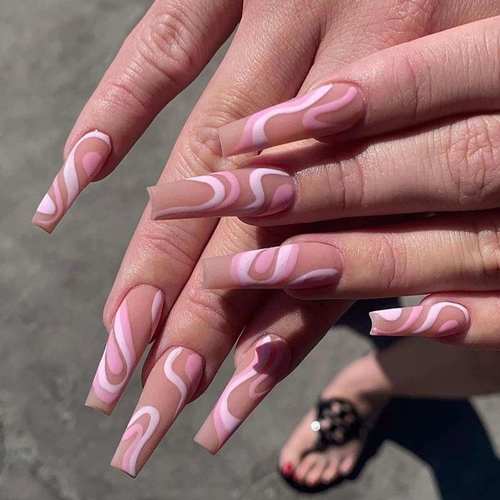 16. Swirls
One of the most trending nail arts of all time is adding swirls to your nail art. Delicate and intricate, this is one of my favorite nail designs. One can even add golden swirls or any other color of swirl that blends in seamlessly. Swirls are the best nude nail design for shades in dark nude nails.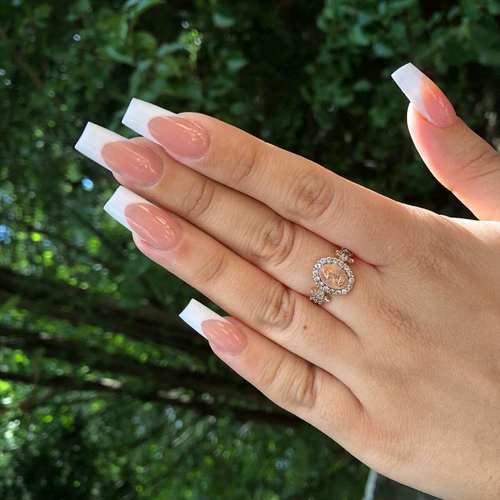 17. Square French Tips
No one can argue about how clean and classic French manicure looks like. Square tips were specifically designed for French manicures. Square tips with nude nails are a complimentary look and works for most of the nail shapes.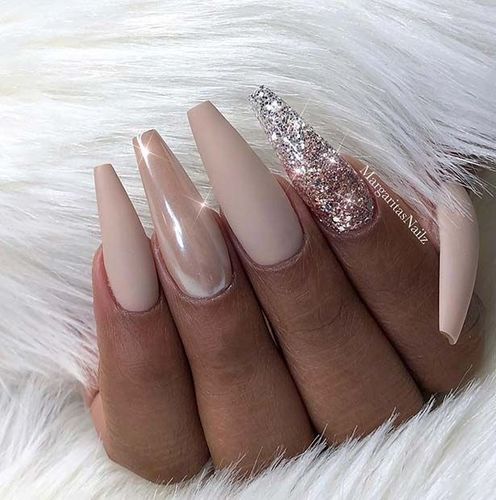 18. Sparkling
One of the ideal looks of nude nail art is the sparkling nude. This even looks natural. It is fit for every type of length as well as every skin tone.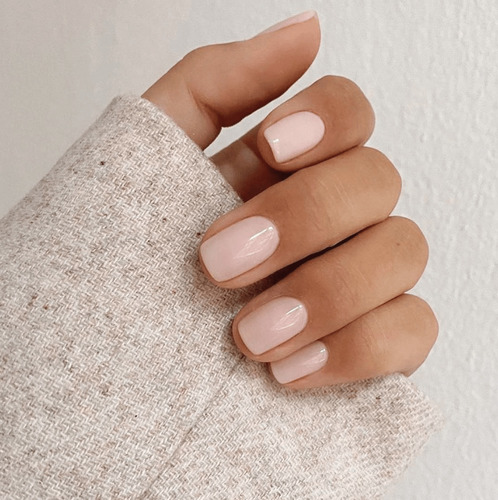 19. Pastel Nude Nail Art
Pastel nail art is one of the trending and best inspirations for summer nails. Adding shades of nude in it takes it to another level.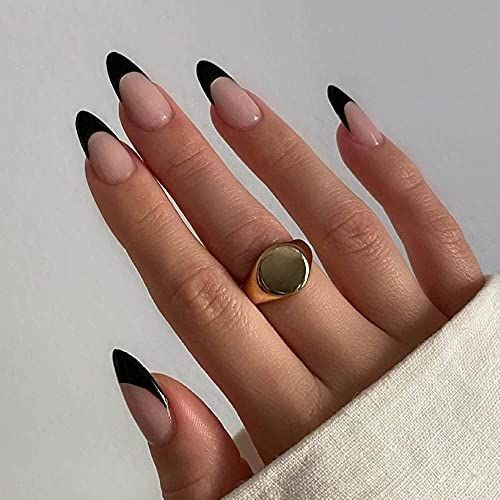 20. Nude Nails With Black
The classic look of all time is the nude nails with black tips. This is a dream come true manicure. This can even get you the gothic look. It's just on you, how you want to style the black tip.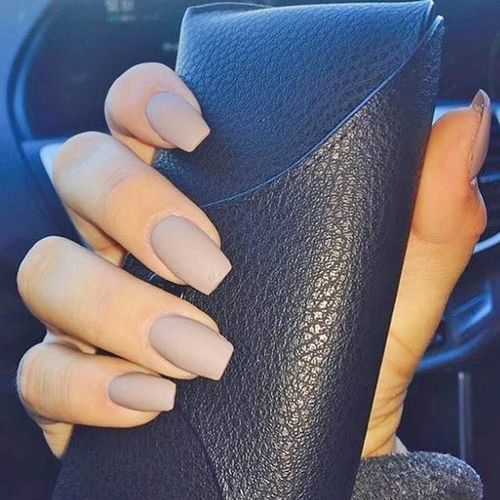 21. Matte Nails
From short to stiletto nails, matte is a fit nail for everyone. The matte nail look appears subtle and stunning. And nothing can look more subtle and classy than nude shades of nail paint. Matte and nude shades are meant for each other. Dark nude nails with matte polish can be your go-to favorite look.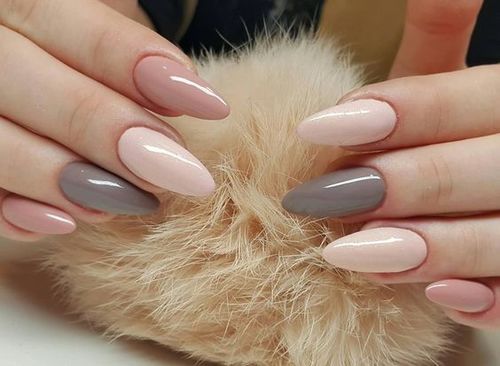 22. Different Shades
If you are someone who is into jazzy looks but not in the mood for any loud nail colors then nude nail shades are surely a thing for you but again, nudes can look too simple at times. To solve this affair, this design is perfect for you. You do not need a professional for this one. You simply have to add different shades of nudes to every fingernail. This design is fit for any length of the nail.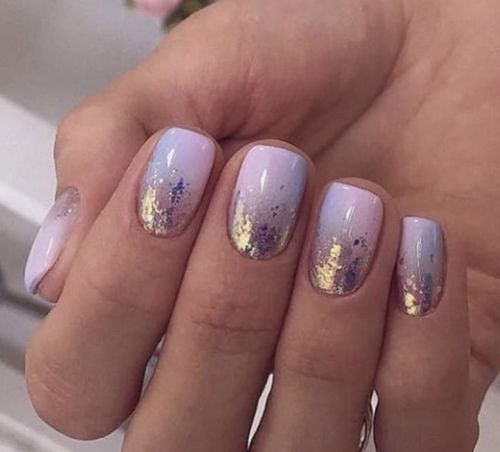 23. Glitter Reverse Manicure
As we discussed different manicures of nude shades with different color tips, here we present a unique nude nail design. Rather than adding shimmer to your tips, you can add it to the cuticles of the nails. This surely looks pretty.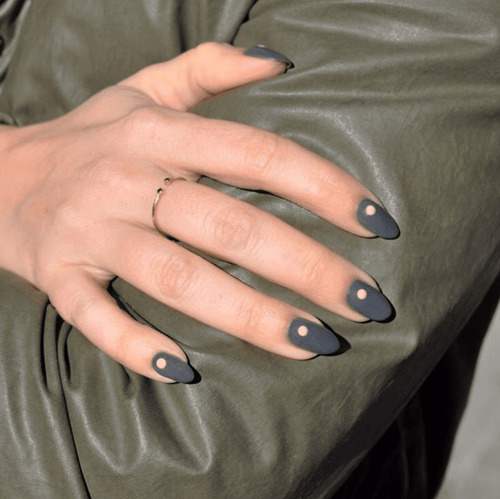 24. Nude Dots
Not into nude nail paint shades, but still want to try nude shades? We have got you covered. It's unimaginable how a single nude shade dot can completely change your nail art's look.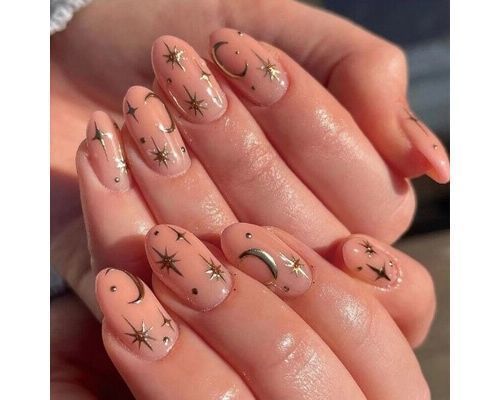 25. Stars
Nail art with stars has been trending for some time now. Golden or silver stars can look amazing. One can even add black or white colored stickers of the stars. Nude nails with white always blends well. It can be easily done at home without any professional.