25 Best Round Nails Designs - 2023
Ankita Ghoshal
Updated At 07 Sep 23
Round nails are a go-to nail shape for women looking for low-maintenance, minimalistic nails. These nails not only look adorable but also make day-to-day chores very easy, as opposed to super long talons. If you think you can't make your short round nails look dazzling, you are wrong. Here are 25 super awesome round nail art design ideas that you can totally rock this season:
25 Best Round Nails Designs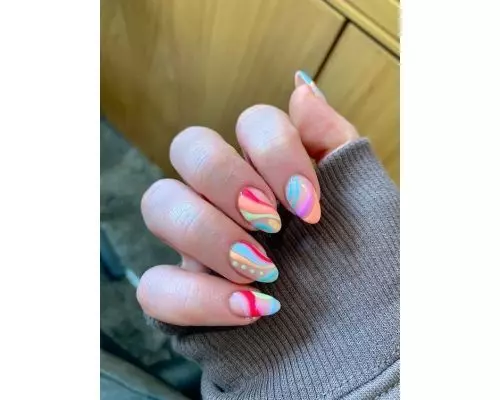 1. Squiggles
As there are no right or wrong ways of doing a squiggle design, you can never mess this nail art. This beginner-friendly nail art design is perfect for your round nails and super customizable too. You can pick any colour and size combination to match your taste.
Read More: Ombre Nail Designs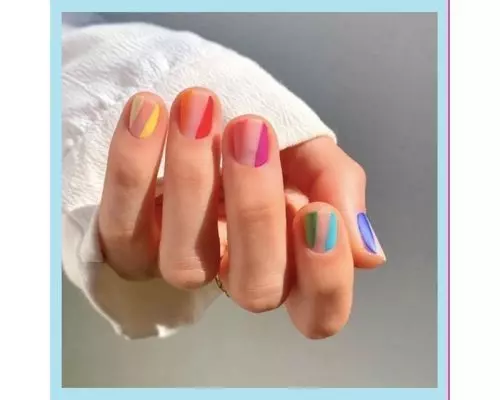 2. Rainbow Designs
Minimalist yet colourful, this nail art of rainbow designs will make your short round nails look very elongated, well-manicured and just stunning. It will also bring life to your basic outfits too without you having to put in much effort. If you are looking for birthday nails, then this can be an amazing option.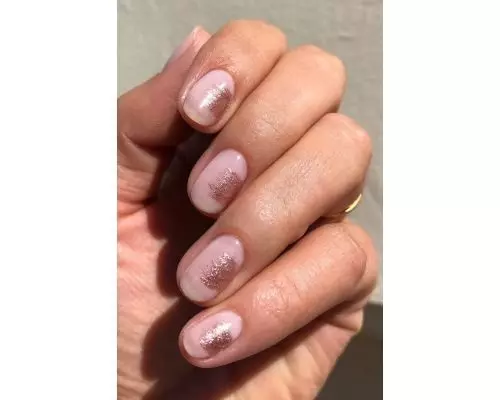 3. Glitter Brushstrokes
Give your solid manicure a hint of sparkle with a horizontal sweep of glitter all across your round nails. This nail art design is perfect if you are headed to a party or just want a little bling in your everyday ensemble. One can also try out nude nails as these look amazing as well.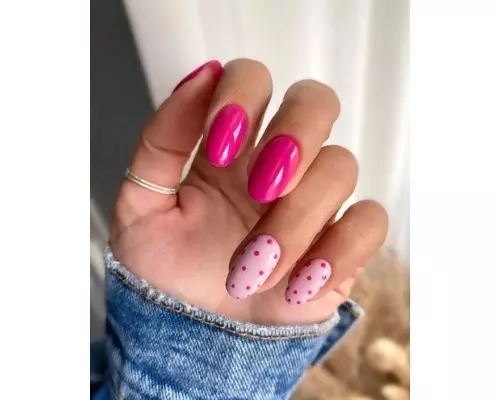 4. Polka Dots
Polka dots can never go out of style, can they? Try this evergreen design to create a fun design on your round nails. You can experiment with size and colour to give it your own twist. If you want a whimsy look, go for bright shades and see them do the magic.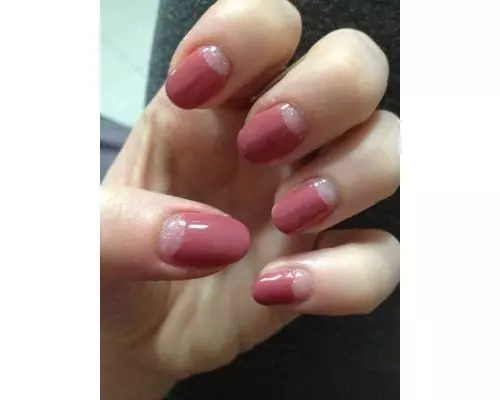 5. Half-Moon Manicure
A classic nail design paired with a timeless nail shape is always a winning combination. You can incorporate negative space, interesting decals and bright paints to give your own fresh take to the half-moon manicure. FI you are looking for short round nail designs then this can be an amazing option.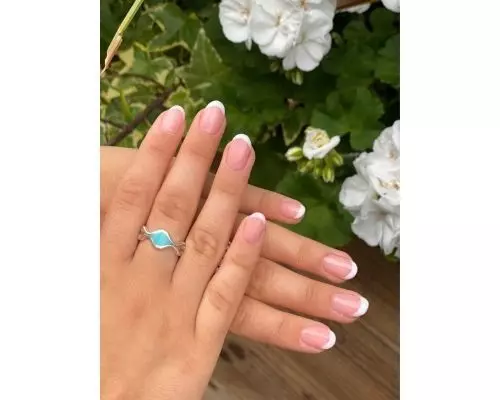 6. French Manicure
The French manicure is always on trend because of how easy it is to customize and style it in a plethora of ways. You can play around with colours, go for graphic finishes, or just give your round nails a refreshing makeover with you own style of French manicure to look stylish.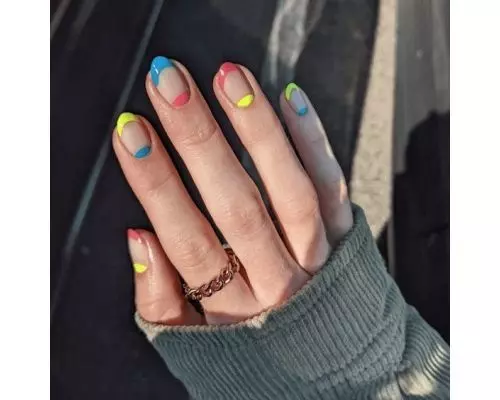 7. Reverse Half Moons
It is time to upgrade your long round nails with classy reverse half-moons. They are going to garner you a lot of compliments because of how unique and stunning they look on long talons.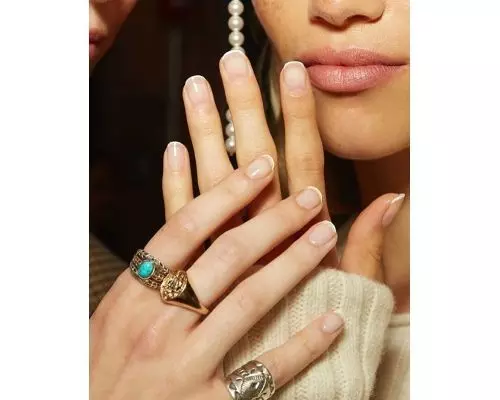 8. Micro French Manicure
To make your round nails look bigger, ultra-fine French tips are the way to go. They will create a fresh colour pairing, if you pick the right kind of colours that go well with each other. Do not shy away from trying bold shades as that will make for a very interesting nail art design. If you are looking for simple round nail designs, then this can be a very good option.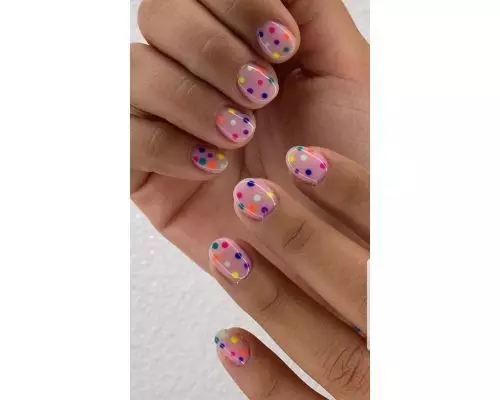 9. Confetti Nail Art
Transform you nails into a party scene by splattering colourful blobs all across the top halves of your nails. You can use the end of a pin or a dotting tool for creating the design with more precision and uniformity. The tool will also help you to get shapelier dots, making your nail art look neater.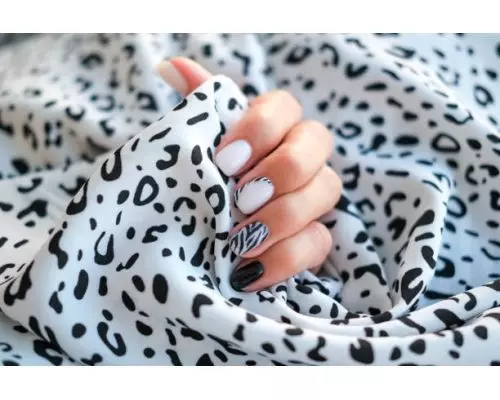 10. Zebra Stripes
Zebra stripes are a big rage in fashion today. Make the most of it by getting those stripes on your round nails for a stellar design. You can use any nail art brush for adding those stripes onto your white nails. You can also color them and replace white with grey color to make them grey nails. It will need a little bit of patience but is going to be totally worth it.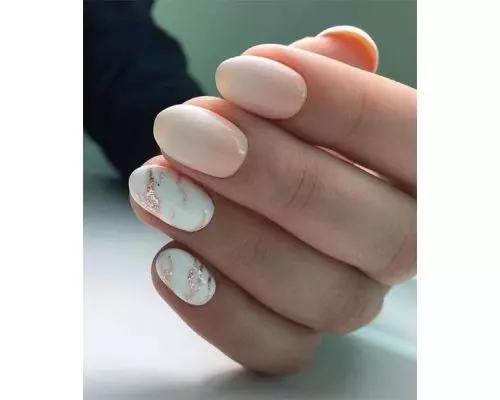 11. Round Marble Manicure
For a fun short round nails design, pick up multiple nail paints and use whatever colour combo you desire to. After dropping the different shades, use a brush for swirling the shades together. Make sure to do it one nail at a time as that will keep the pain wet while you work through it.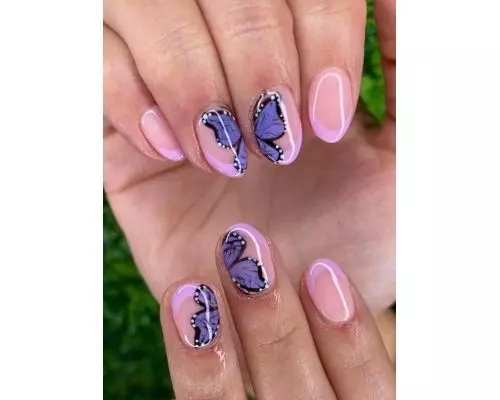 12. Butterfly Nail Design
To make your round nails look beautiful, go for this off-centred butterfly nail design which is dainty and not at all childish. The intricate detailing will require the use of an extremely fine brush but once you get the hang of it, you will ace the design in no time.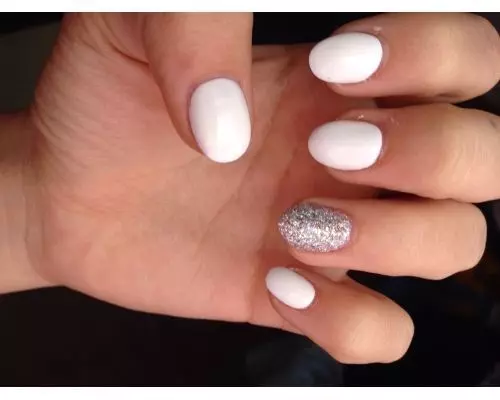 13. Glitter Finger Tips
Flaunt the smooth shape of your round talons by going for a very reflective and chunky glitter paint. Apply it on the free edges of your nails followed by a thick line of black paint on the base. Voila! Your simple and oh-so-glamorous nail art is ready.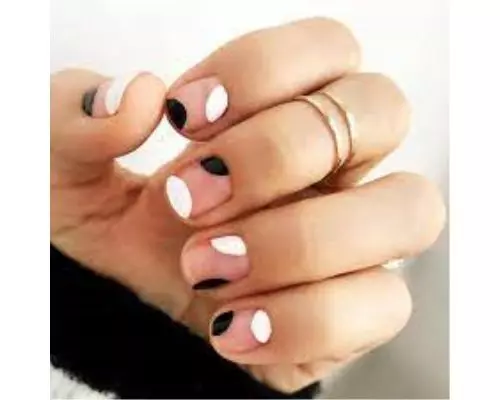 14. Negative Space on Round Nails
Grab all the attention with your intriguing art design comprising of wavy lines and negative spacing. Make sure the edges of the lines are sharp so that your nails look well-maintained and elongated. The bright colour coupled with negative spacing will make for a very elegant nail design.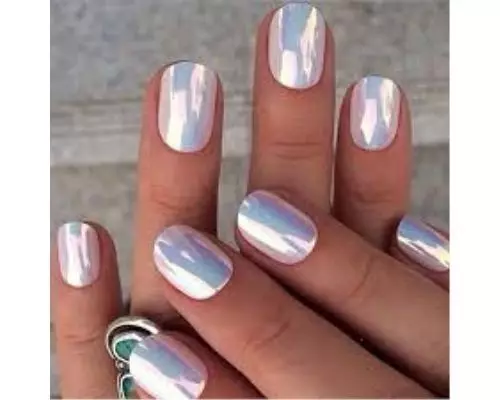 15. Iridescent Nail Art
The tiny dots and thin white streaks are a great combination for medium round nails. You do not need to spend a lot of time in getting this beautiful nail art design but it will make you look like the diva that you are. This is one of the easiest and prettiest nail art ideas to try out this season.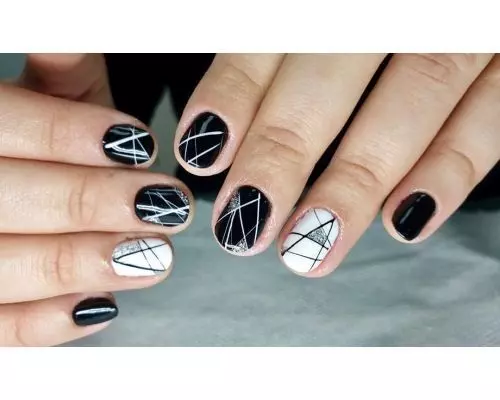 16. Asymmetrical French Mani
If done the right way, this nail art design can enhance your short round nails amazingly well. The lines near the cuticles and the corners will look very different on short round nails than on longer nails. It is one of those nail art designs that you can never mess up.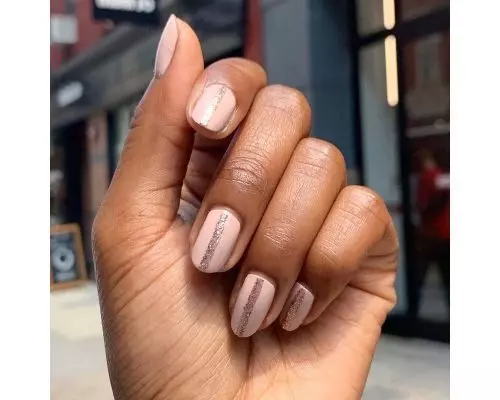 17. Iridescent Lines
You can easily create an illusion of having loner nails by going for a neutral nail paint coupled with an iridescent nail tape on the middle of the nail beds. You can go for a simple silver shade to give it all the glamorous approach that it deserves.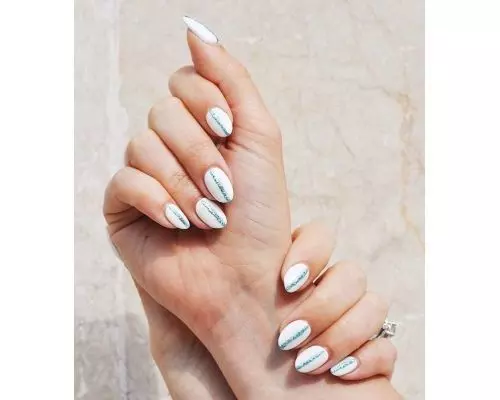 18. Rounded Lines
If you don't have nail tape, even nail paints can give you some incredible nail art designs. Apply one-two layers of matte nail paints and once they dry, go for a different colour to create contrast or make it complementing. That is all you need to create a minimal and stunning nail art design.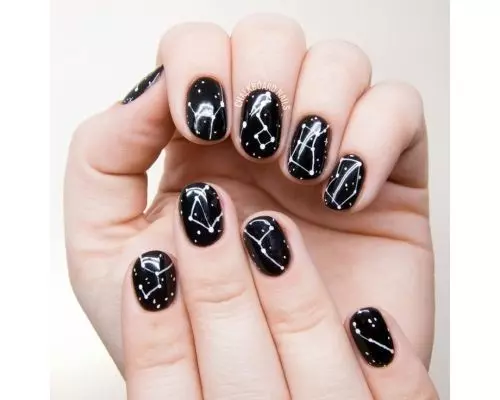 19. Sky-Themed Art
Bring skies on your fingertips by this cloud-themed nail art design for round nails. You can even add sun, moon, and the entire constellations to give your nails the perfect dreamy vibe. You can even buy nail stickers to avoid the hassle of carefully painting your talons.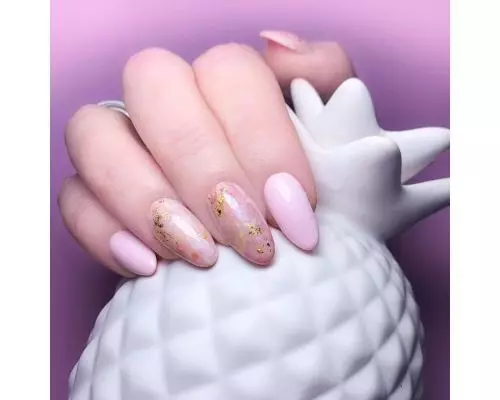 20. Florals and Foils
For this nail design, cover your round nails with foil and then make small flowers using a thin striping brush. You can even add leaves and bushes for a more tropical appearance, but make sure it doesn't make the art look too cluttered.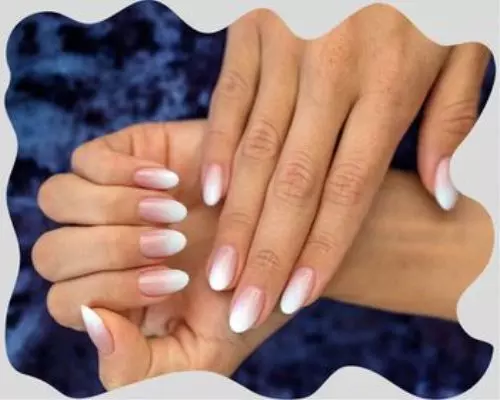 21. Smeared Sheer Polishes
Bring out all your tinted, translucent sheer polishes to make the perfect blended on your nails. Once you are done painting your nails, don't skip on applying a clear top coat for smearing the shades while they are still wet. This lovely, low-effort art design will easily become your go-to.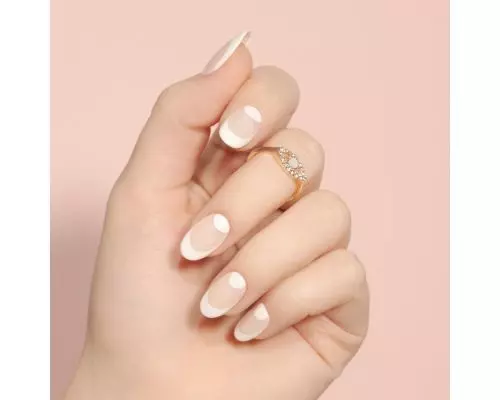 22. Round French Mani with Half-Moons
Even if you do not have a lot of free edges, you can still get your French manicure. Wondering how? use the roundness of your nails as an imitation of half moons. Team up your half moons with round French manicure to give your medium round nails a refreshing makeover.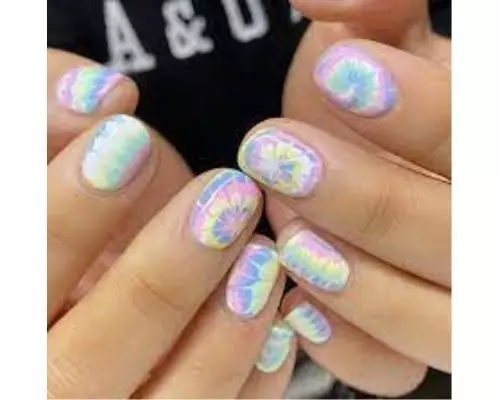 23. Tie-Dye Nails
Go crazy with dots, curved lines, stripes and different shades to attain this super fun nail art design. Do not let the paints dry before using a fine-tip brush for dragging the different colours into each other. Create your playful and quirky designs and just enjoy the process.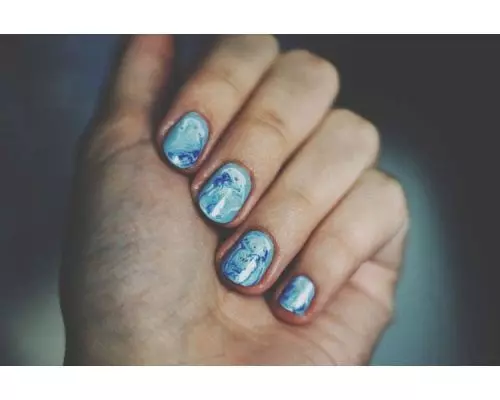 24. Geode-Inspired Round Nails
Geodes are round rocks that have crystal-lined cavities within them. Using their patterns in a neat order on your nails is enough to get the perfect nail art design. You can even use different, contrasting colours and foil to give it your own twists and tweaks.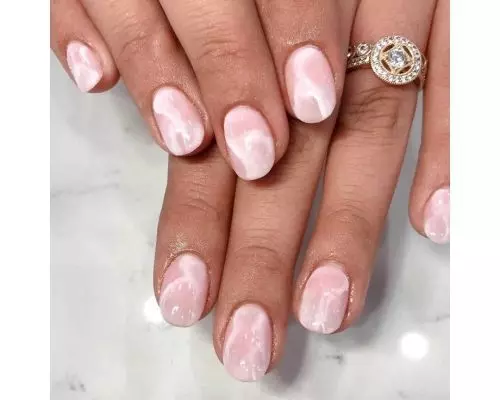 25. Rose Quartz Design
If you like nail art inspirations that involve crystals, you must also try rose quartz. This neutral and very simple mani just uses soft-coloured polishes and beautiful accents to add more element into it. You can customize it however you want and make it your favourite nail art idea.
The next time someone tells you that nail art ideas are not for people with round nails, prove them wrong! Try one of these super easy and stylish nail art designs and make your fingertips look the best at all times.