55 Stunning Summer Nail Designs For 2023  
Rajlakshmi
Updated At 24 Sep 23
Our days are getting longer with the weather heating up and it's finally the time for summer holidays and barbeques. To catch the best summer vibe, you need to have the most fashionable and trendy summer nails. 
To help you plan your summer nails, we are here with 55 summer nail designs that are unique and voguish at the same time.
55 Best Summer Nail Design Ideas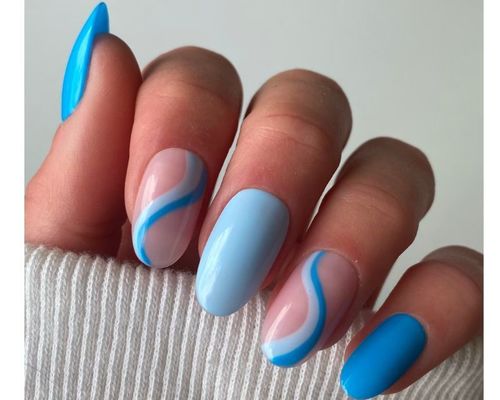 1. Vibrant Blue Summer Nails
The handsome blue sky of the summertime staring at you while you go to the pool to wash the heat away- what a pretty picture of the summer. How about matching this whole experience with nail art? The blue nail art with different shades of blue in it aptly captures all the pictures of blue in the summer- a vibrant blue sky and a vibrant blue pool.
Read More: Solar Nails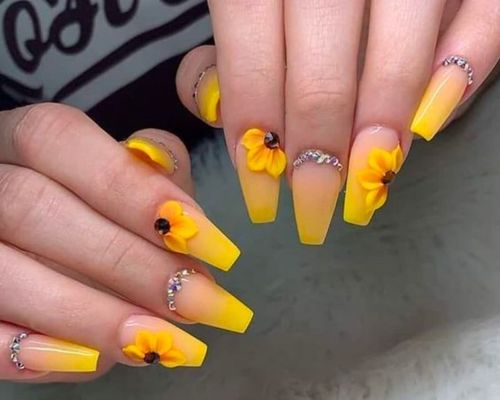 2. The Sunflower Nail Art
Sunflower is known for positivity, beauty, and strength because it turns its head to face the light of the sun and blooms. It represents how life is all about following the light. Sunflower art on nails is a great idea because of all these reasons but this nail art has to be on your list this summer because sunflower blooms only in the summer season. So, let your nails bloom with this art this season.
Read More: Yellow Nail Designs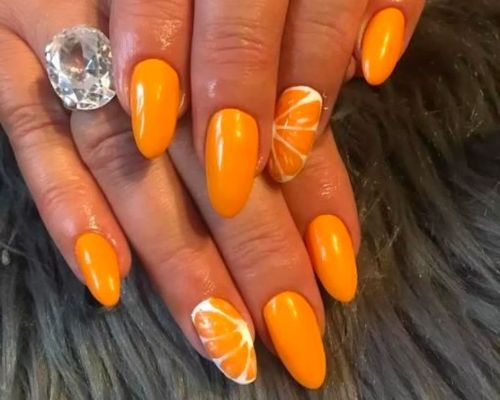 3. The Orange Nail Art
Orange as a fruit is a need on hot sunny days and at the same time, it's a refreshing color that represents the hot summer evenings. This design will surely get you the best vibe of the season.
Read More: Cute Nail Ideas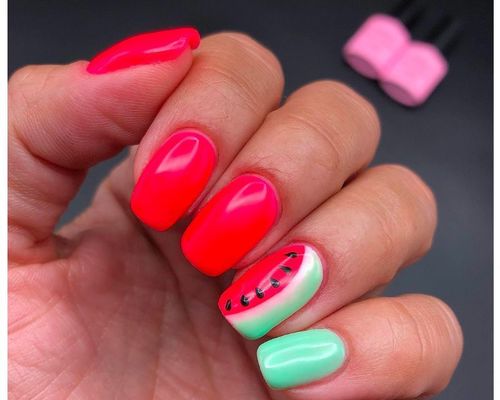 4. Watermelon Design 
Watermelon is one of the go-to fruits of the summer and so is this design. Very beautiful yet elegant, this design is best for summertime nails. Having a watermelon design on one finger makes it look more trendy and funky.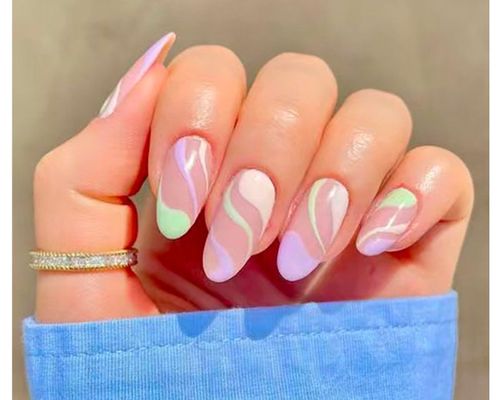 5. Simple Summer Nails
Simplicity drives elegance. If you want something for everyday use then this simple summer nail manicure is the right fit for you.
Read More: Almond Nail Designs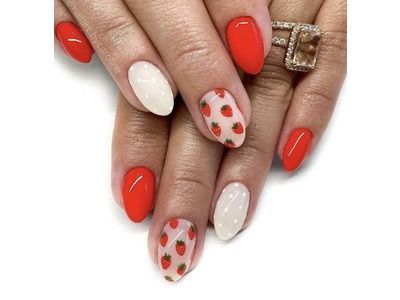 6. Strawberry Nails
Scarlet strawberry nails can give you a whole Dionysiac vibe, perfect for the days in the sun. This is a cute design apt for strawberry summers. the design also has washes of neutral color which make it look sober.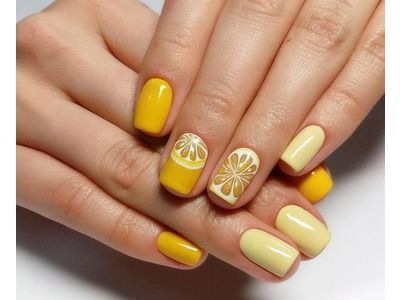 7. Lemon Nails
An adorable design for short nails. As you make your favorite lemonade this summer, flaunt your nails with this design. The color combination of different shades of yellow offers a quirky and unique look.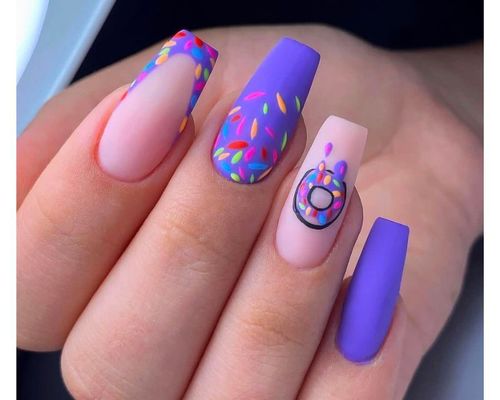 8. Donut Art Summer Nails
This is one of the trending nail art because Hailey Beiber got them. But this is somewhat different from hers. Here the donut and the tinge of different colors is representing the playful mood of summer while the simple purple pastel is making it best for pretty nails.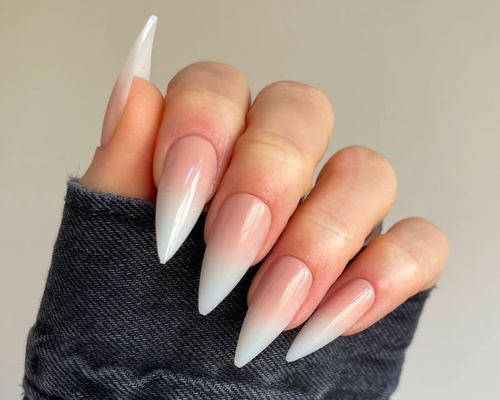 9. French White Ombre Nails
This design is best for almond nails. This is a French acrylic white ombre nails design that looks sophisticated and simple, apt for every occasion, be it a weekend party or daily office life. This gives an effortless chic look.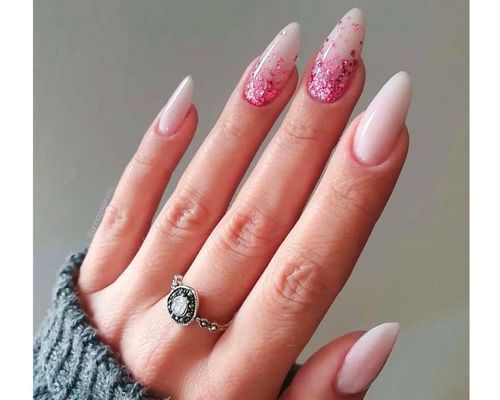 10. Glitter Ombre 
It's time to introduce a touch of shimmer and shine to your nails with this alluring glitter ombre nail art this summer. Not only it looks great but this is a go-to look because you can easily do this at home. As the Sun shines this summer, so will your nails.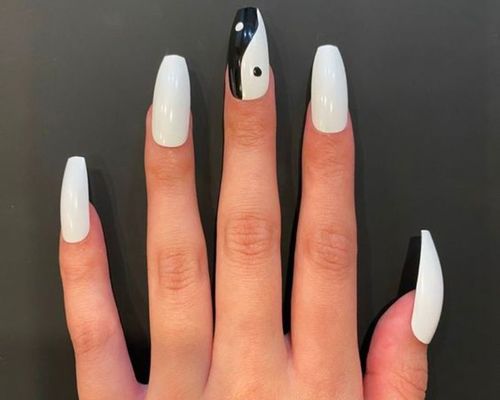 11. Yin-Yang Nail Art
Yin-yang symbolizes that there can be no good without bad, no positives without negatives, and no light without shadow. It represents interconnectedness. Such a deep design in nail art is always a great idea that you should try at least once.
Read More: What Are Acrylic Nails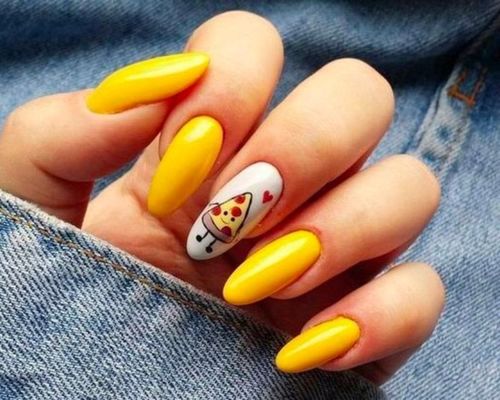 12. Pizza Nails
To the pizza lovers, here is the nail art for you.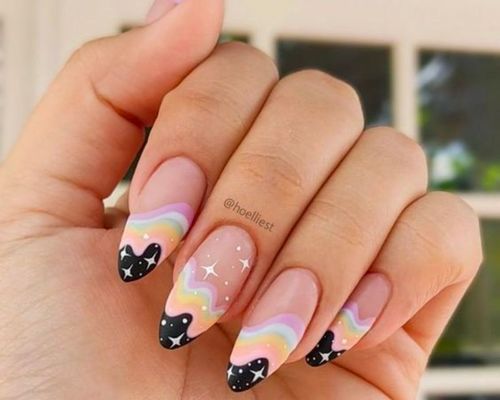 13. Galaxy Nail Art
Modern-day galaxy nail art with a rainbow design is a cool and unique design. Galaxy nails were best for winter party nights but they are surprisingly famous in summer as well. The rainbow is there to give a hint of a happy sunny day.
Read More: Coffin Nails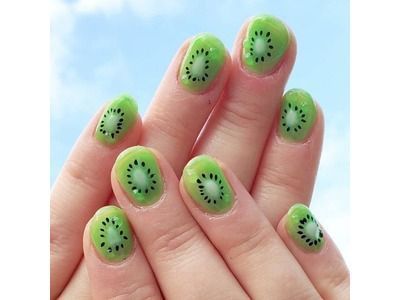 14. The Kiwi Design
Doesn't this design look endearing and cute? This fruity design is again best for short summer nails. Undoubtedly, this is a unique design.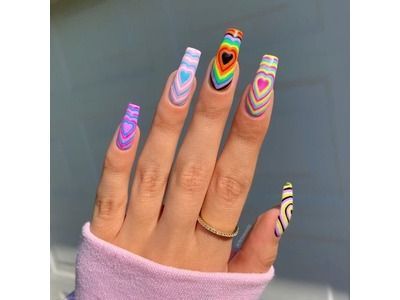 15. Heart Nail Designs
Pride rainbow nails are unique and groovy designs. As summer also has pride month, we covered it too.
Read More: Star Nail Designs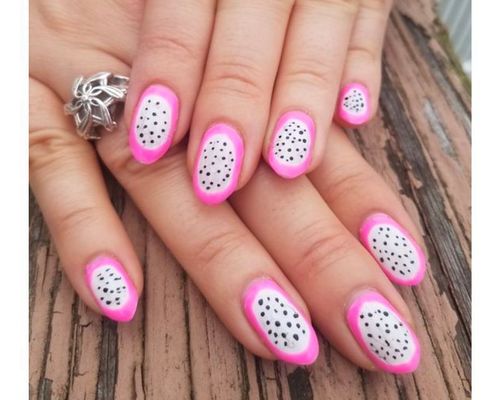 16. Dragon Fruit Nails
Sprinkle black dots on white nail art with pink boundaries or dragon fruit nails- anything you call it. This design offers an eye-catching and lovely look. Best for almond-shaped nails, this is a must-try design this summer.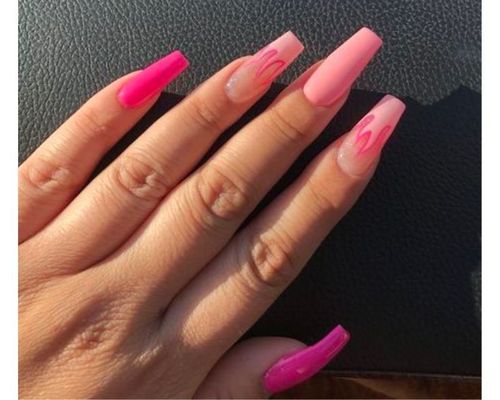 17. Pink Ombre
Pink ombre summer nails are one of the most beautiful yet so feminine designs. Why will someone not want it? It blends in well with summertime clothing. It offers simple summer nail art and it's best for almond-shaped nails.
Read More: Diamond Nail Designs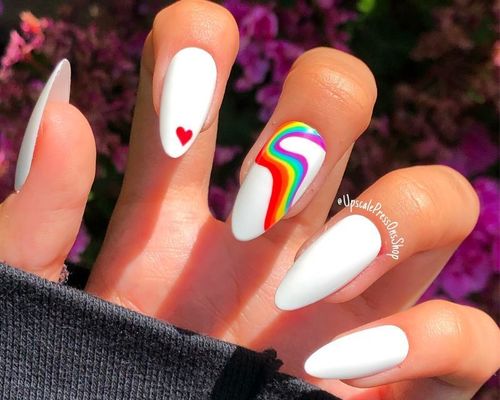 18. Rainbow Nail Art
Rainbow designs for nail art are one of the most favorite designs for summer nails. It's adorable how the tips are painted as a rainbow here. This is a happy summer design as the rainbow is a symbol of happiness, you cannot help but be happy about it.
Read More: White Acrylic Nail Designs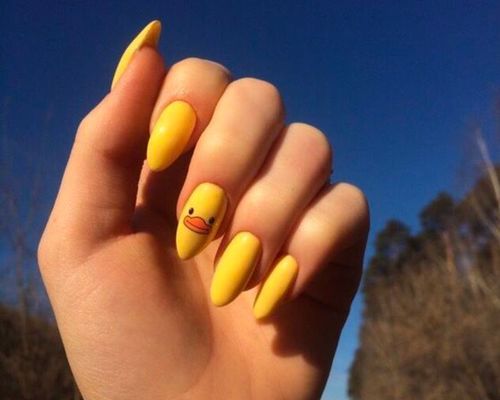 19. Duck Nail Design
What a cute design, right?! This design looks good in both almond-shaped nails as well as short nails. If you are not adding these cute designs to your bucket list then you are compromising with your summer nail art.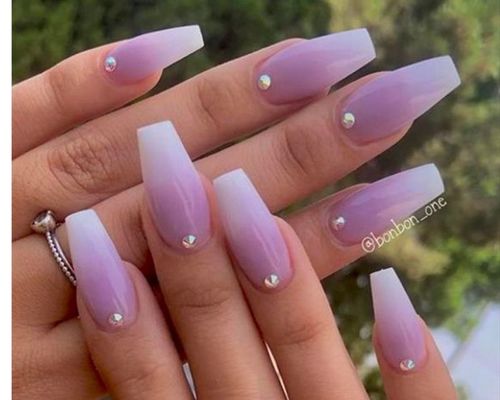 20. Lavender Ombre
Stay breezy and elegant with this design. This is nothing but a French manicure with lavender ombre but what is special here is the shimmery dot which completely changes the look of the ombre.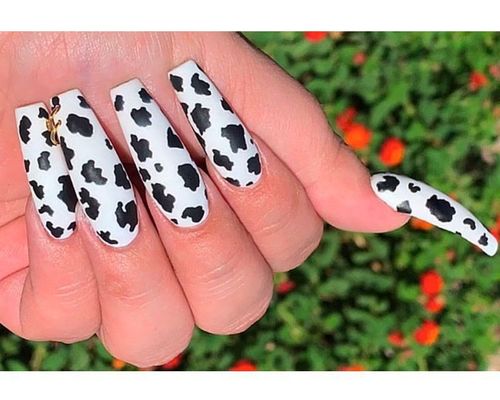 21. The Cow Art
Going to the grazing fields every summer holiday in the countryside is everyone's fond memory of summer vacation. Why not catch this memory with this nail art?
Rather than being synonymous with cow design, this design also offers a cosmopolitan and pretty look on almond nails.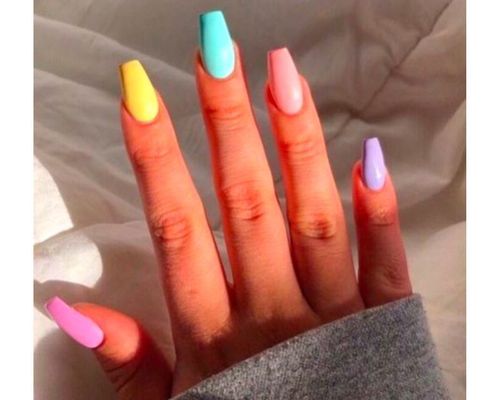 22. Simple Nail Art
A go-to summer nail art. This is a pastel nail art. Pastel nail art is known for its exuberance through simplicity. This design can be easily done at home. If you have not decided on any summer nail art look yet then this design will suffice until you decide on one.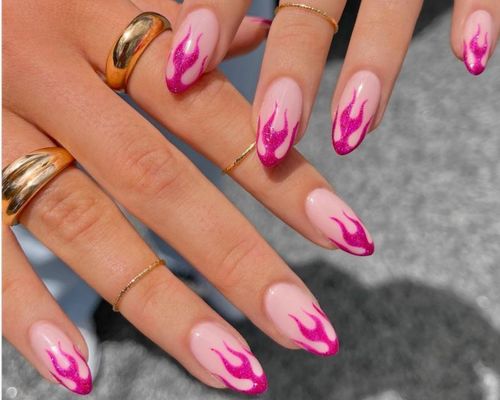 23. Fire Nail Art
Looking for a flamy nail inspiration? Here is your call. Fiery nail art is always a good option during hot days. It offers a groovy look but what makes this design a special one is the pink color.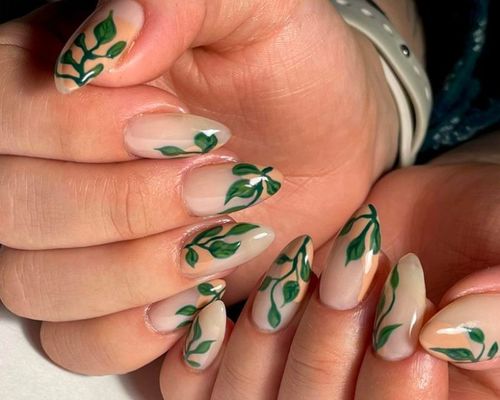 24. Flowery Nail Art
If you are someone who is into delicate flowery looks, then this is the best design for you. This nail art is done over nude nail polish hence it is simple and soft but attractive and goes around with the summer vibes.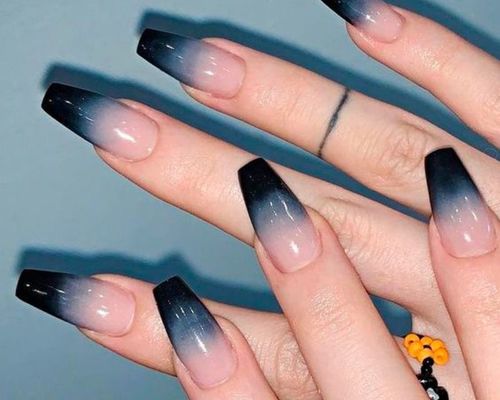 25. Black Ombre 
Black ombre nails are strong, bossy, and bold. Black ombre nail also appreciates the gradient color fading tendency. Looking for more inspiration? Do check out our guide to find the best black nail designs which have been trending this year.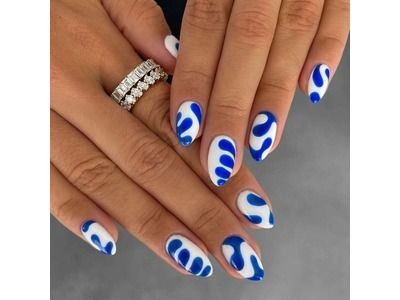 26. Blue Wavy Nails 
This design is ushering in the summer vibes. Very simple yet attractive, this design is going to be the new trend this summer. No doubt the white in between blue offers a classy look to the nail art altogether.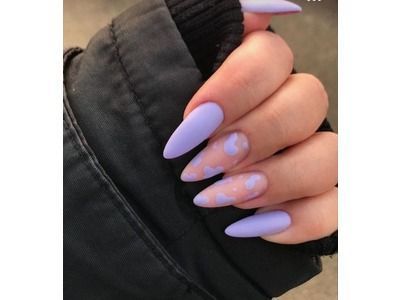 27. Pastel Lavender 
Lavender nail art has always been the trendsetter every season. Posted nail arts are again women's favorite. This pastel lavender nail art design is unquestionably one of the best fits for summer. This is everything at once look- classy, beautiful, simple, and sophisticated.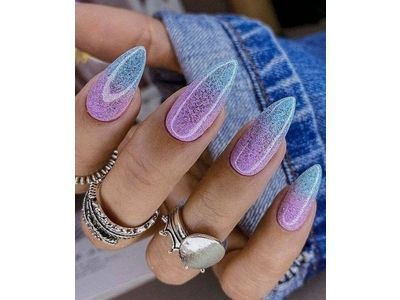 28. Ombre Summer Nails With Glitter
Ombre is always a great idea for summer nails but using a tinge of glitter makes it look so more elegant.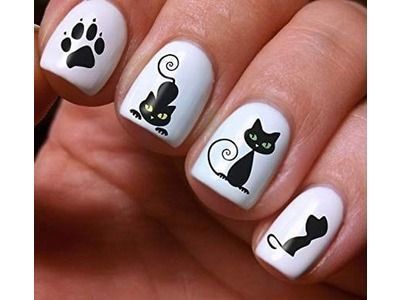 29. Cat Nails
We present you with the best nail art for the cat person in you. This can go with every skin tone and every length of the nail.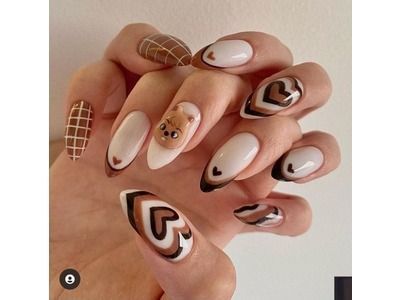 30. Coffee Nail Art 
Brown with teddy and hearts, isn't this amazing? A cute yet classy nail manicure with an adorable teddy is your need for the summer.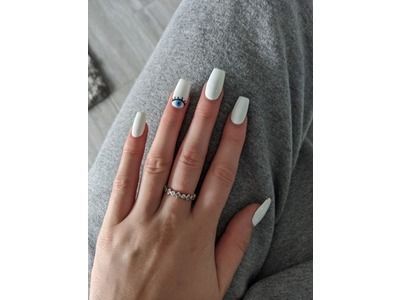 31. Single-Eye Nail Art
This is a groovy and funky yet simple design which makes it look exclusive and elegant at the same time. This eye is also a symbol of good luck and protection.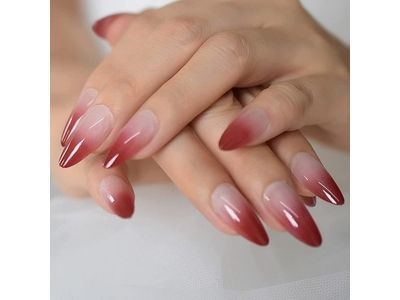 32. Dark Red Ombre 
Best suited in almond nails. This is a gel-based French manicure. The maroonish-red color gives a feel of strength and royalty. Ombre nail art designs offer an everyday classy look anyway but the color combination here is the icing on the top.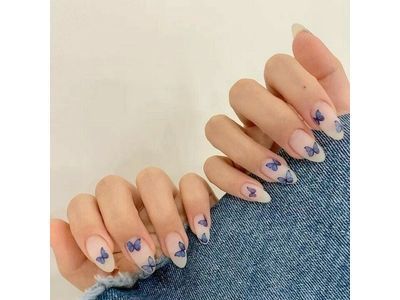 33. Butterfly Nail Art
Sweet, soft, and simple with summery vibes. This is an easy nail art which is also called plain Jane design because of its beauty expressed through simplicity. This is nothing but a coating of nail paint and butterflies over it.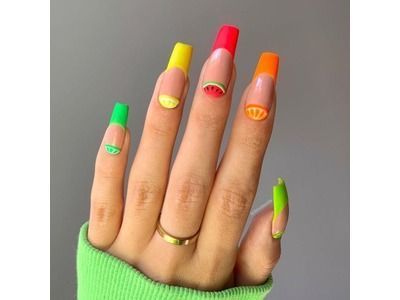 34. Fruity Nail Art 
Fruits are the needs as well as the wants of the season and why not give your nails the same?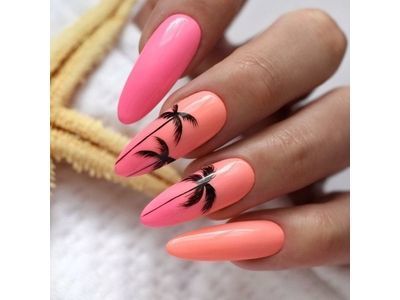 35. The Beach Nail Art
Our favorite vacation destination every summer is undoubtedly the beach. This year, match your nail art with the destination with this alluring and unique design. The first coat is an ombre nail finish over which the coconut tree design has been made. This looks amazing and unique.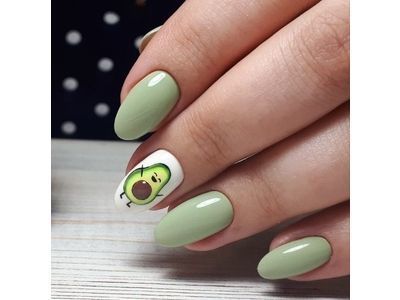 36. The Avocado Design
Every fruity design will remind everyone about the season. Fruity nail art is somewhat common summer nail art but this avocado nail art will keep you distinctive. The beige color is simple and sweet too.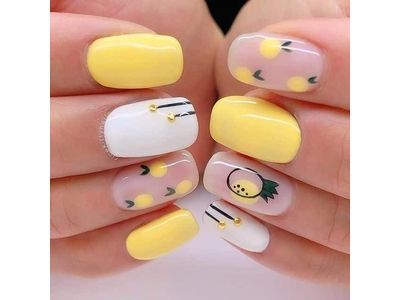 37. Pineapple Nail Art 
Pineapple is a refreshing fruit on a day when the temperature is high, so is this nail art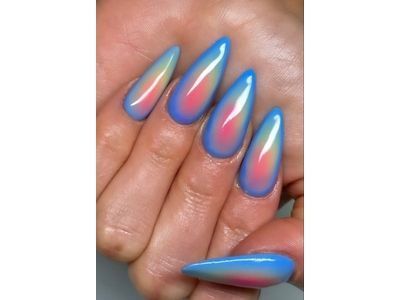 38. Holographic Mermaid
Aura stiletto nails can be your next nail art inspiration. These are holographic mermaid nails that glisten under light. These are beautiful, sparkling, and vibrant. This nail art is the hottest new trend.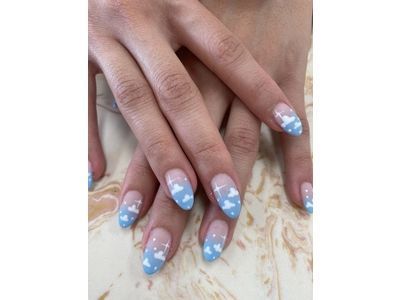 39. Cloud Nail Art
Cloud manicure is the new trend. It aptly suits the summer vibe and can be made in any type of nail- long, short, or acrylic. This can be made even at home. Just paint your nails blue and make clouds using a brush.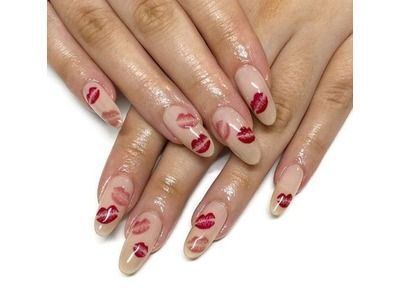 40. Kissy Nails
This stunning and simple nail design is to die for. The nail art is mind-blowing with the motifs of red-colored kisses. The faded lipstick mark is giving a superior and chic look. The base nail paint is defining nail art even more.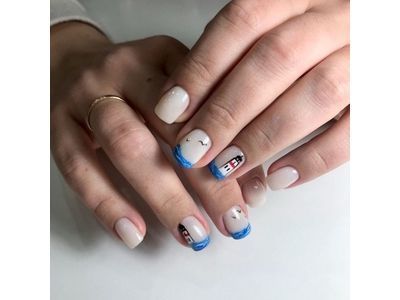 41. The Lighthouse 
You are enjoying your summer holidays away from the hustle-bustle of your daily city life, you are under a starry sky staring at the sea near the lighthouse. What a pretty scenario right? So is this nail art for you?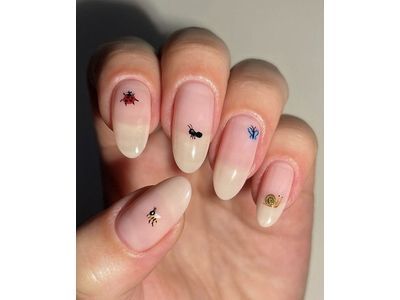 42. Animal Stickers
This nail art is a blast from the past with this cute little lively assortment of stickers in every nail. Every sticker represents a glimpse of summer here. Even if you are not an animal person, you cannot say no to this cute and simple design.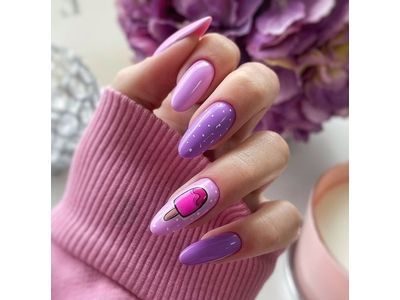 43. Ice Cream Design
Nail art is screaming summer! Here is one of the cute yet elegant designs of ice cream. Ice cream has one of our dearest memories of summer days and matching those memories with this design this summer is a beautiful idea.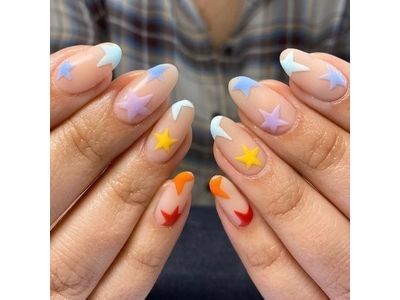 44. Colorful Stars
No matter what season it is, stars are always there for us to make our evenings exquisite. This design suits every type of nail length. This is an easy design that you can try even at home.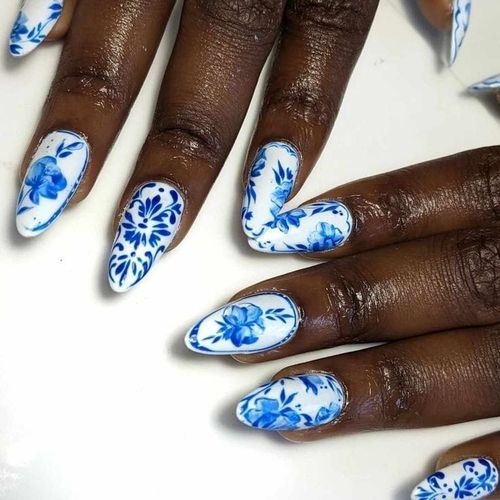 45. Tropical Blue Nails
Summery blue manicure for your seaside vacation, apt for dark skin tone. We have got every skin tone covered.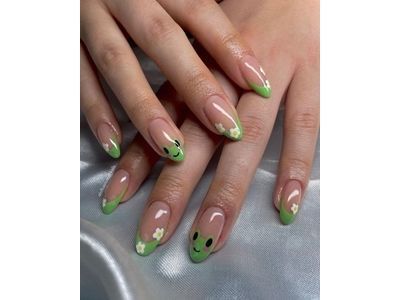 46. Froggy Nails
A simple yet fun design. Here the frogs are simply made on the tips with a simple pink polish as the base. The flowers on the other nails offer a vibe of a frog enjoying its summer and hence, it is a must-do summer nail art.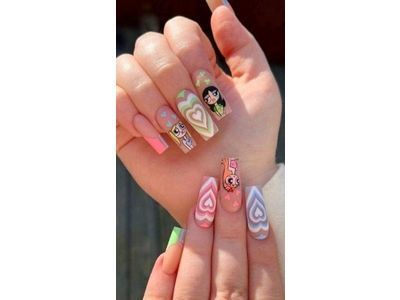 47. Powerpuff Girl Nails
This sassy design displays every girl's summer mood- enthusiastic bubbles being lazy, blossoms being charming and buttercup being pissed. What funky, relatable, and cute nail art for this summer.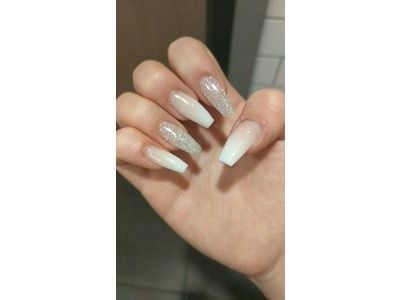 48. Bridal Ombre Summer Nails With Glitter
Yes, we have got everything covered, white nails are important for weddings but white is too common, adding glitters to it will make you stand out from the crowd.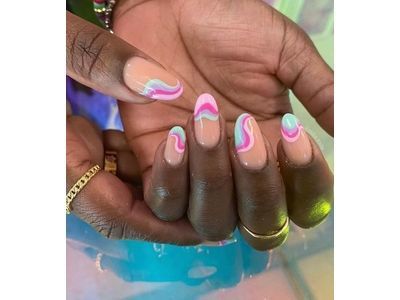 49. Cheerful Nail Art
This nail inspiration for summer is what you are looking for. Best for every skin tone, this is a type of art that radiates happiness and cheerfulness.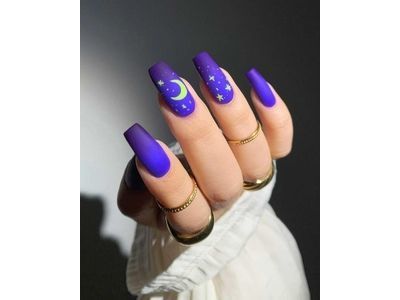 50. Starry Nights
Van Gogh's famous painting can be your next inspiration for nail art. A deep blue base polish with yellow stars offers an otherworldly look. With these nails, you will have a spectacular night sky in your nails.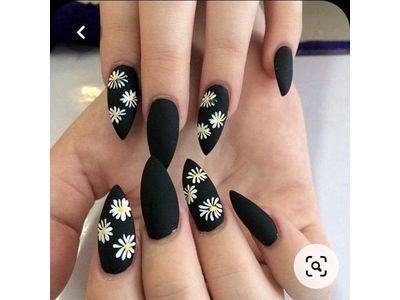 51. Daisy Nails
Black base pastel polish is elegant with daisies on it. This design is for you to flaunt your beautiful almond nails. This is a classic design and will also suit every type of outfit.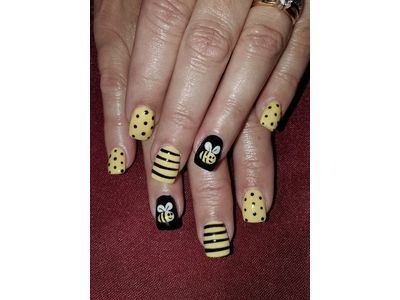 52.  Honey Bee Nails
Honeybees are synonymous with summer. This pretty design can suit every length of nail but it is best for short nails. No doubt it is a fun design for summer. This nail art is also representing the beauty of the summer days.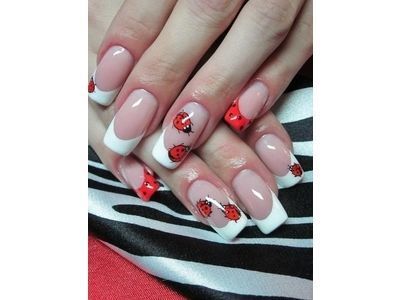 53. Ladybug Nails
Similar to the previous design, we have these cute little ladybug designs. Cute for every kind of nail, it is actual favorite nail art for summer. The light pink makes it look fine with the designs of deep and dark red ladybugs.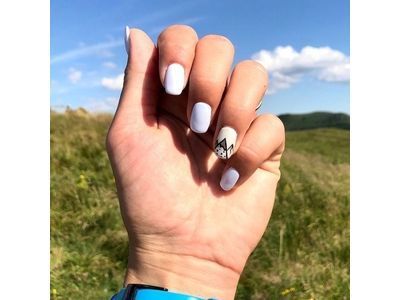 54. Mountain Nail Art
Mountain nail art gives a picture of our holidays in the days of hot temperatures. Apt for every other wanderer, this design is quite simple and modest compared to any other mountain design for nails.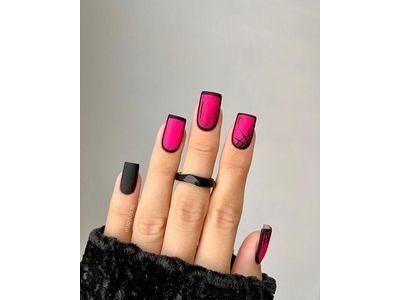 55. Gothic Summer Nails
A gorgeous and simple gothic summer nail design is for you. If you are not much into flowery summer nail art, then this design is for you to unleash your inner rebel. The dark pinkish color represents the sunrise sky of the hot days.