21 Portrait Nail Art Design Ideas Trending In 2023
Olivia
Updated At 07 Jan 23
Portrait nail art is the trending nail art of this season. This is a salon ready nail art design and is specially done at the nail studio or salon by a professional nail artist. Let's check out 21 stunning portrait nail art design ideas trending this year.
21 Best Portrait Nail Art Design Ideas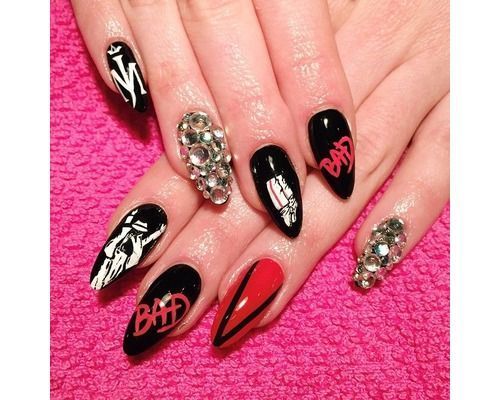 1. MJ Nail Art Design
Let's grove to the Michael Jackson portrait nail art design. This portrait nail design is cherished by music lovers. The portrait of MJ on the index finger and the diamond art on the other fingers are so fancy. All MJ fans, raise your hands for this grovy MJ nail art design.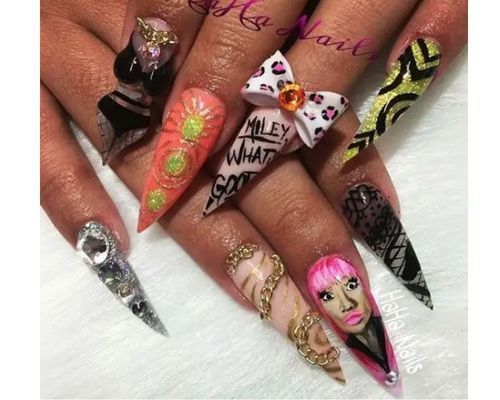 2. Niki Minaj Nail Design
This nail art design is dedicated to Niki Minaj. Niki's portrait is seen on the middle finger, with beautiful diamonds pasted on the long nails. The other nails are also painted in a stylish way creating a happening look with accessories. Concert ready, try this look and you will surely love it.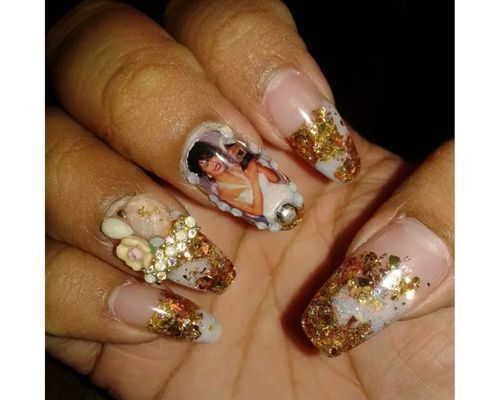 3. The Selena Quinta Nail Art
This nail art is again dedicated to a celebrity, Selena Quinta an American Tejano singer. Her portrait is so beautifully created by the nail artist on the middle finger and matches the overall colour the other nails are also nicely polished with golden sparkle. You can always try your faviotare celebrity portrait on the nails.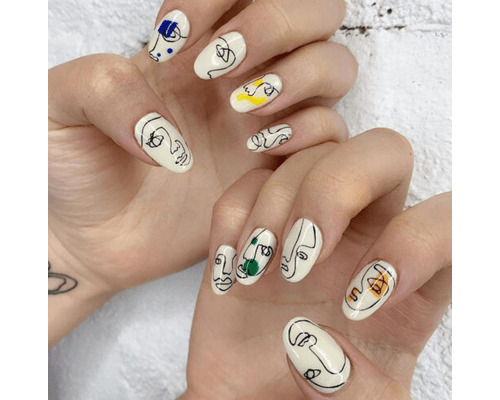 4. The Picasso Nails
Picasso's nails are the newest nail art trend and one of the favourite art designs for many. You can also try a Picasso manicure. An art lover will opt for such designs. This finer art design is a must-try nail art for the season.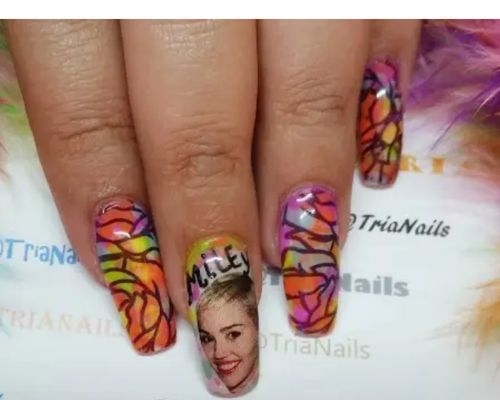 5. Miley Cyrus Nail Art
A fan had created this colourful nail design to show her love for Miley Cyrus, an American singer. Fans love celebrities and they get fascinated with them, hence they create tattoos or nail designs as a loving gesture.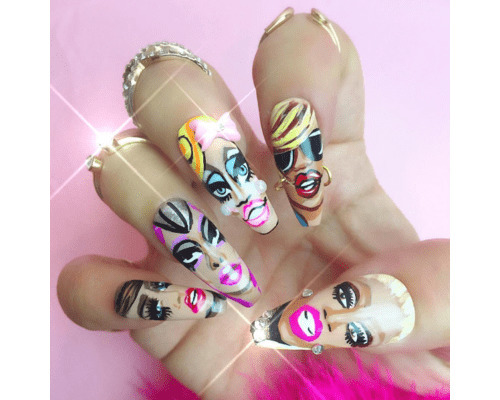 6. The Pop Nail Art
Try creating beautiful portraits of your favourite celebrity, and flaunt such stylish nail work. Such designs go well with fancy attire and a party look.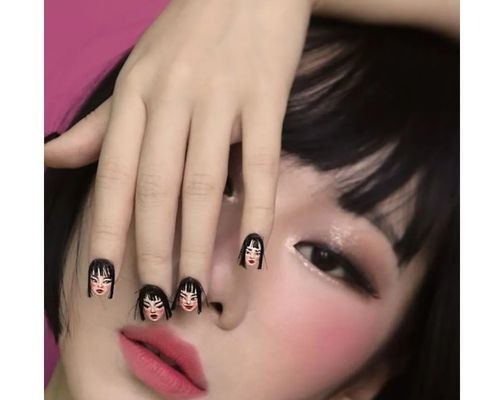 7. Face Nail Art
Try this beautiful face portrait nail art which looks so real. The artist has pasted this fancy hairstyle on the nails, which is making it so lively. You can customize such nail designs. Just show the picture to your nail artist and the artist will surely try to give his best!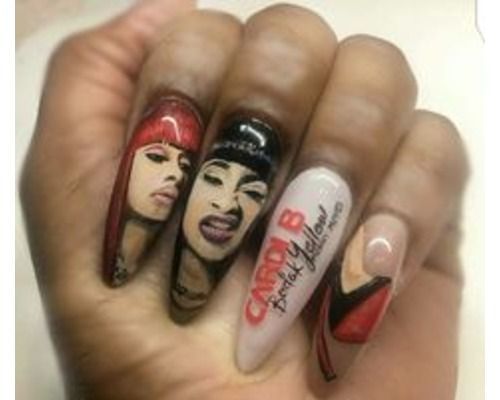 8. Cardi B Potrait Nail Art
Such a cool and power-packed nail art design! This Cardi B nail art design with her portrait on the fingers is a good choice for her fans. You can also write the name or the song name on the other nail finger complimenting the overall look.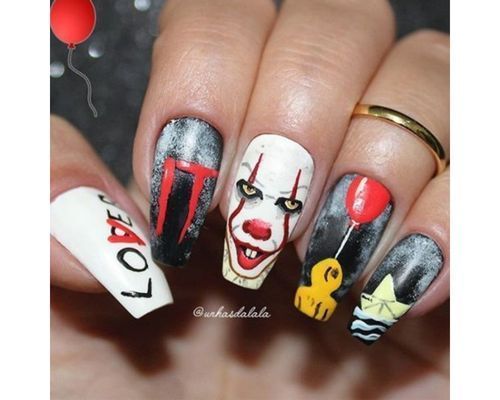 9. Halloween Nail Art Design
This spooky nail art design is perfect for Halloween. Dress up for Halloween and apply these spooky portrait nails and match the theme. You can try different designs related to the Halloween theme.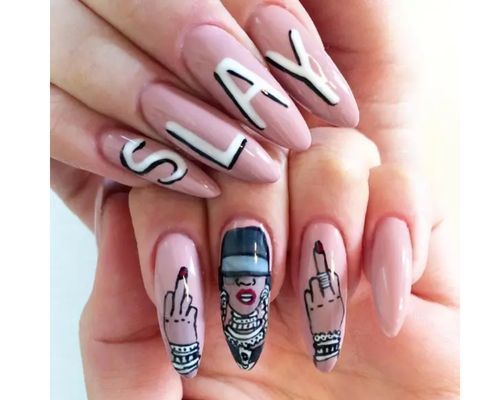 10. Slay It With Nails Design
This design is super bold. Write the letters on each finger and say them with paint. You can try writing happy words and flaunting finger-painted nails in vogue. The other hand also has a portrait drawn on the fingers.
11. Love Nail Art
Perfect for a date night or to shower love. This portrait nail art design is painted with letters which are created by hand gestures. Give a base colour and draw the gestures on the fingers with a top transparent coat. This nail art design is easy and is a make-at-home design.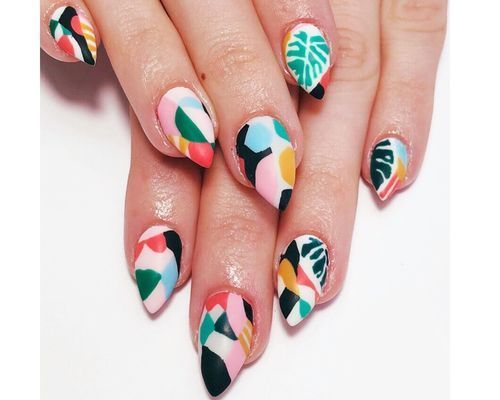 12. Leaf Nail Art
Try this leaves nail art design with such bright summer colours. This nail art design is simple and quick to apply. This nail art is suitable for a casual party or just a go-away look.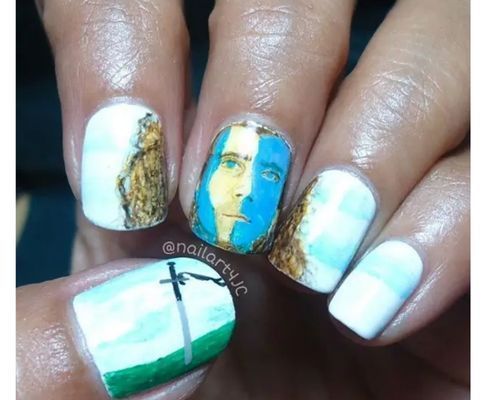 13. Sir William Portrait Nail Art
Want to give tribute to your inspiration or a hero, then try this type of nail art design. In this nail art, an artist has given tribute to Sir William Wallace who was a Scottish knight and became one of the main leaders during the First War of Scottish Independence. You can try replicating this design with your inspiration.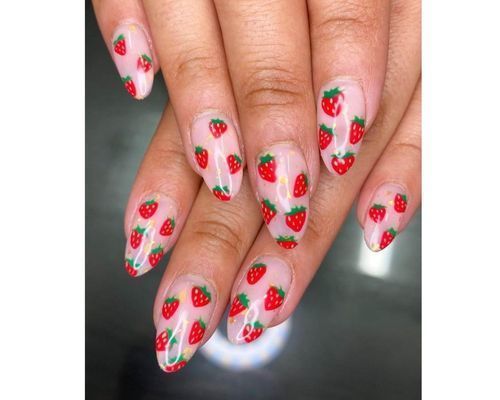 14. Strawberry Nail Art
Looking for a Fruitlicous design? Then try this strawberry nail art. The base coat of peach or nude and the red and green strawberry on it pops out brilliantly.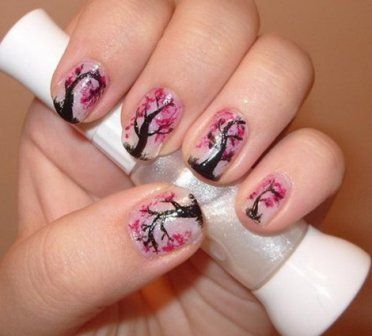 15. Cherry Blossom Nail Art
Cherry Blossom or you may call it Japanese cherry. You can try this nail art which looks cheerful and soothing. The combination of black and pink gives a soothing effect.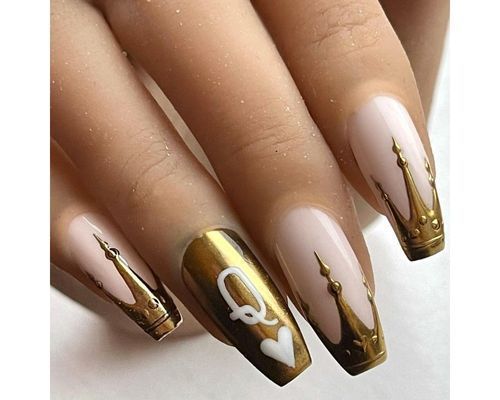 16. Queen And Castle Nails
Either you can paint or stick stickers on this nail art. The nude base and golden castle work look stunning. The ring finger is coated with a golden colour with a heart and the letter Q. Try this design with your nail initials and it would look brilliant.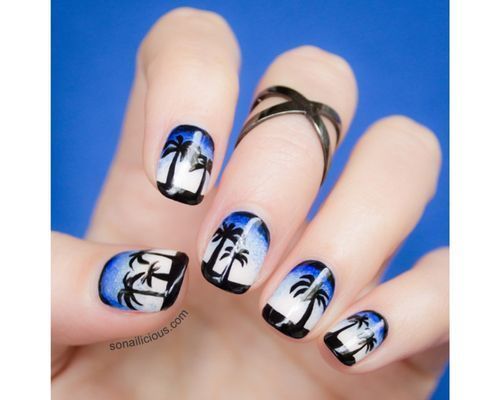 17. Beach Please! Portrait Nails
This portrait nail art design is beautiful. The mesmerising view of the beach, trees and sky looks amazing. The artist has very nicely portrayed the beach look. You will surely love to wear this colour on a beach vacation.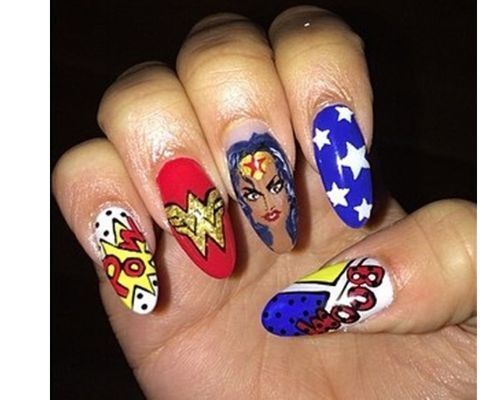 18. The Power Game Nail Art
This design would suit best for game players. If you are a powerful girl and like to reflect the same in your look, then go for it. You can carry these nails with a style statement at a party.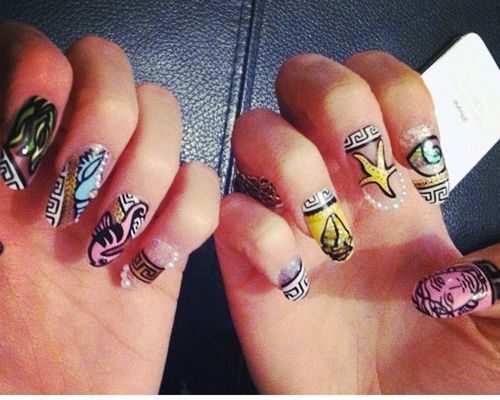 19. Mermaid Versace Nail Art
A different style of nail art of mermaid combined with your favourite brand is a new and trending nail design. Swing with this beautiful nail design and customise it with your favourite brand and coral design. We are sure this will look super pretty.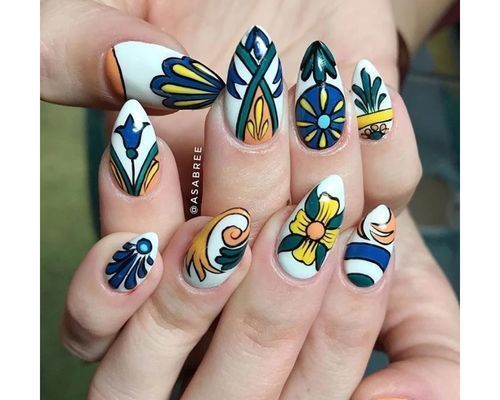 20. Beautiful Tile Nails
Gorgeous is the word for this nail art design. These tile nails are extremely beautiful and colourful. The colours painted are bright and vivid. This design is perfect for a sunny day look.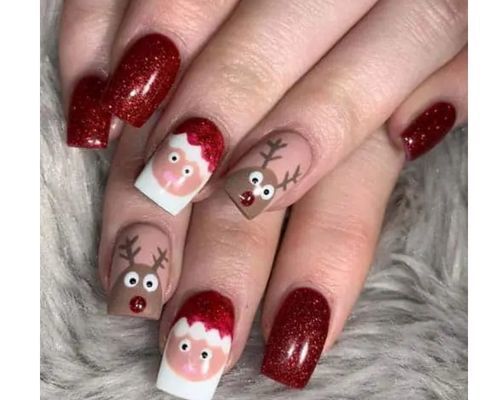 21. Christmas Nail Art Design
The warm tones of white, and cherry red with metallic tones are not only the Christmas nail colours but also a graceful combination to go for. Decorate your nails with a Santa claus portrait and raindeers. This is a winter nail art and will best suit your Christmas party.