55 Stunning Simple Nail Designs You Will Love - 2023
Ashwini
Updated At 29 Jul 23
If you love decorating your nails but aren't looking for a manicure at the salon or the nail artist's studio. Here are some of the simple nail design ideas for you which are trendy and loved by all for every occasion. Dropping below 55 stunning simple nail designs you will love.
55 Best Simple Nail Designs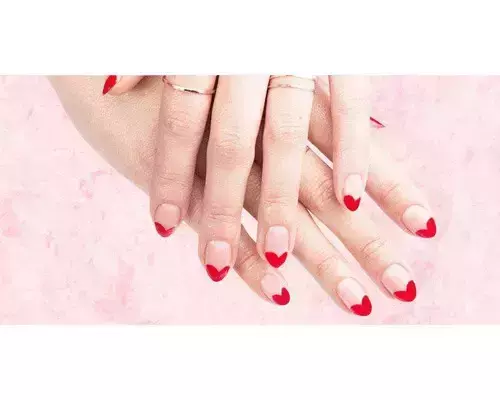 1. Heart Shaped Simple Nail Designs
On your left ring finger, create a dot using the toothpick after dipping it in the polish. Next to the initial dot, make a second dot. Drag one of the dots down with the toothpick to make a 45-degree angle. Create the heart by dragging the second dot down until it touches the first dot. A very cute nail design which can suit women of all ages.
If you are unsure about your nail shape then do check out our detailed guide on nail shapes as we list all the 15 types. From almong nails to coffin nails, we list all of them.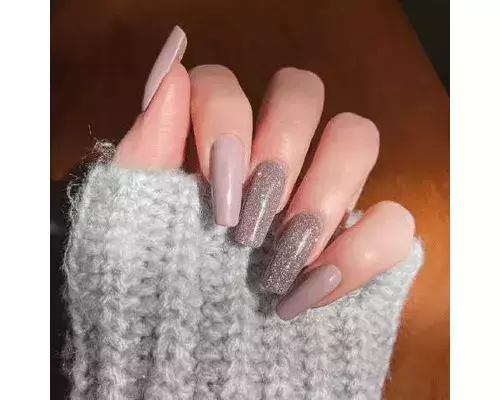 2. Glittery Simple Nail Designs
Create using just a clear base coat, and then with these sparkly silver polishes, add some sparkle to every look. To create an ombre effect, start in the middle and go closer as it approaches the nail tips, after which add more coats. This is a very simple nail design with glitter.
Read More: Pastel Yellow Nails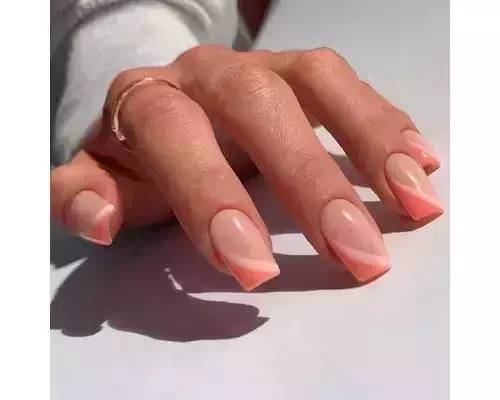 3. Simple Modern Nails
Your nails can be changed into an elegant and simple style with just two colours. To achieve the perfect simple modern creative style, recreate it with bright colours and tape.
Read More: Olive Nail Designs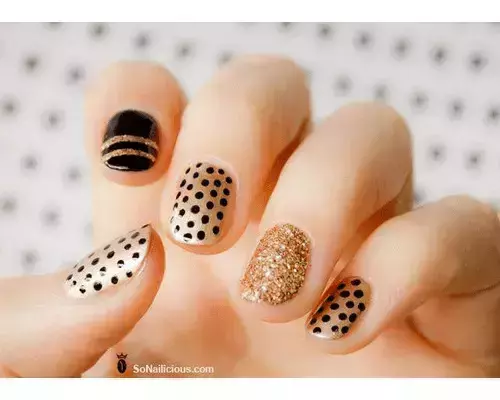 4. Fall Polka Dot Simple Nail Designs
This simple yet elegant nail pattern can be created on a few fingers or all fingers. You only need a dotting tool, some white enamel, and orange to create this amazing pattern. One minute is all it takes to look!
Read More: Short Nail Designs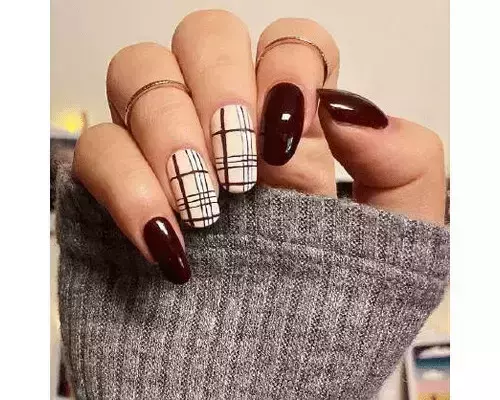 5. Minimalist Plaid Nails
One of the most popular fall nail colour trends is burgundy. It looks very adorable and a little more affluent because of the straight lines and plain melon. One might get confused between these minimalistic nails and almond nails as the shape difference is not much. Do check out our guide to find the best almond nails designs which have been trending this year.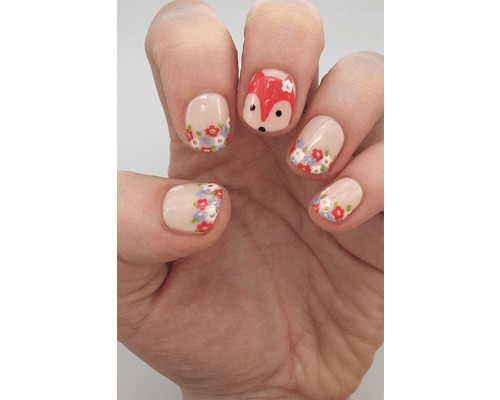 6. Cute Squirrel Nail Art Design
It looks autumnal with the fallen leaves on the white or peach background. The addition of the cute squirrel in the centre just intensifies the autumnal feeling. With a white base coat and orange and black paint, you can easily reproduce the squirrel and the leaves. These cute short nails look stunning and elegant at the same time.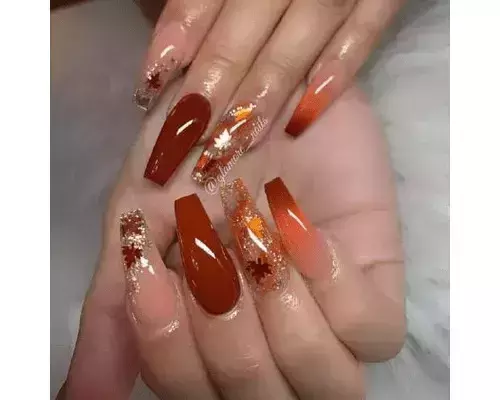 7. Fall Nail Art For Wedding
Another technique to replicate fallen nails with magnificent fallen leaves is to paint the ornaments with a brown base colour so that you won't appear grubby while doing so. This is one of the most simple nail designs for your wedding if you want to keep it bright yet simple. These look similar to coffin nails which have been trending this year.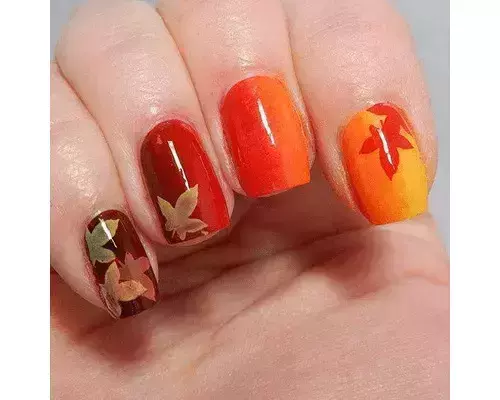 8. Shiny Maple Simple Nail Designs
Another way to replicate fallen nails with lovely fallen leaves is to use a brown base colour so that you won't appear dirty while painting the ornaments.
Read More: What Are Acrylic Nails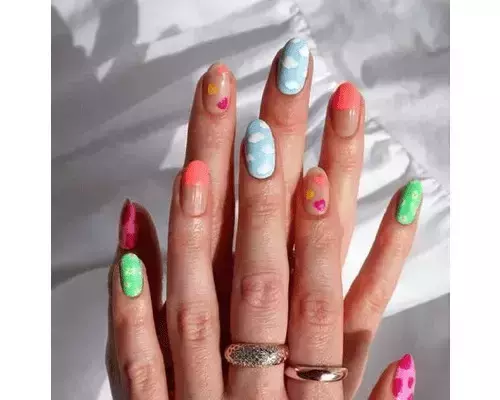 9. Mix And Match
If you're having trouble choosing which design to paint on your nails, choose two or more and experiment with mixing and matching. Nobody will hinder you.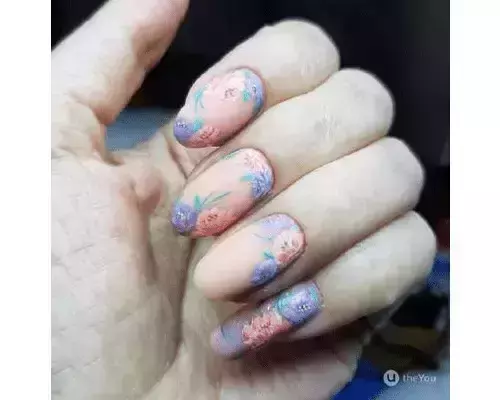 10. Flowers On Glass
We've seen how the nail colours for fall 2023 are the most varied, ranging from green to orange, cobalt blue, and brownish. The nude, which is recommended as the primary colour in many enamel collections, is also declining in popularity this season.
Read More: Star Nail Designs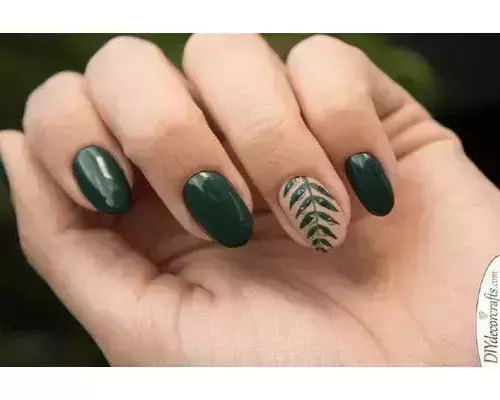 11. Green Forest Simple Nail Designs
In 2023, green will also be present in a variety of contexts, including emerald, basil, and acid tones. A revitalising result! Celebrities like Selena Gómez have already popularised the nail trend for autumn, which will have pale green as a nail colour among them.
Check out our guide on solar nails as we list everything about them which include what are solar nails, comparison with acrylic nails, FAQs and much more.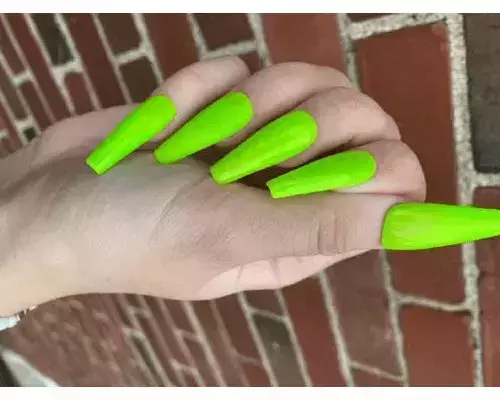 12. Slime Green Designs
A very bright colour accompanies every outfit you wear. This look can be achieved with any slime green nail paint and it does not require any other kind of styling tools for modification. A so Solidour to steal deals in 2023!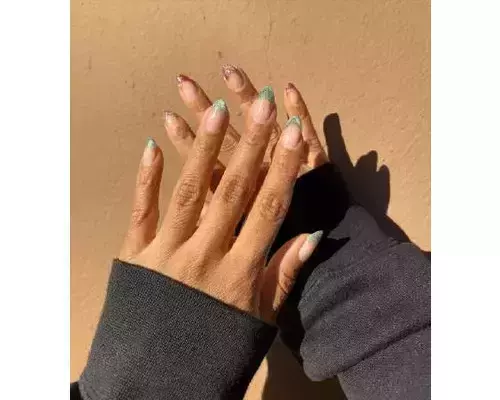 13. Velvet Tips Simple Nail Designs
For the holidays, velvet nails were all the rage on Instagram, but the celebrations are still going on. Keep the sparkle on the tips to tone down the captivating aesthetic (really, you have to see them in motion).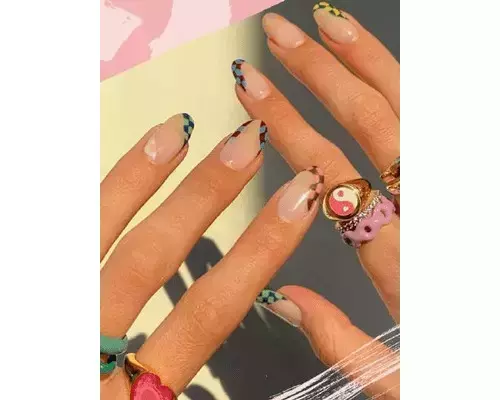 14. Checkerboard Nail Designs
It makes sense that since colourful checkerboards are currently having a moment in fashion—I can't browse through Instagram without seeing the print it has moved to nails. Keeping it only on your tips makes it even more unusual.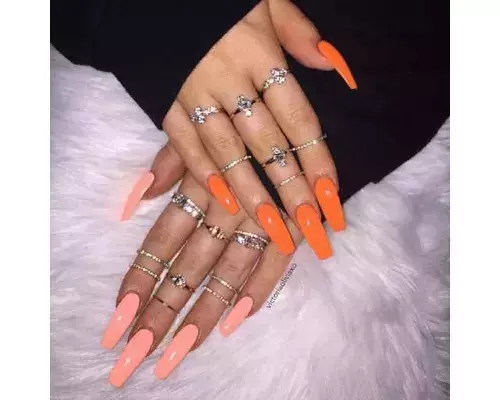 15. Simple Mismatched Hands
Utilise extremely trendy hues like lilac, moss green, orange or bright peach to make it cooler. For a similar mood, try Essie Expressive in Get a Mauve On and Precious Car Go! Extremely casual and trendy nails which go perfectly well with almost all kinds of outfits.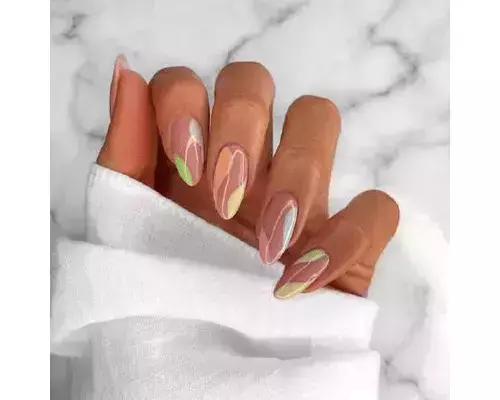 16. Pastel Swirls On Acrylic Nails
You feel more at ease just by staring at this shiny, pastel swirls on acrylic nails. The best part is that they are nail wraps, making it quite simple to achieve the same appearance at home.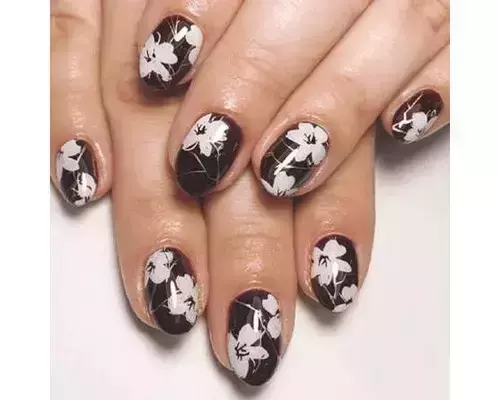 17. Black And White Flowers
Nail art in white and black is very graphic and cool, especially when it's combined with a typically feminine element like flowers.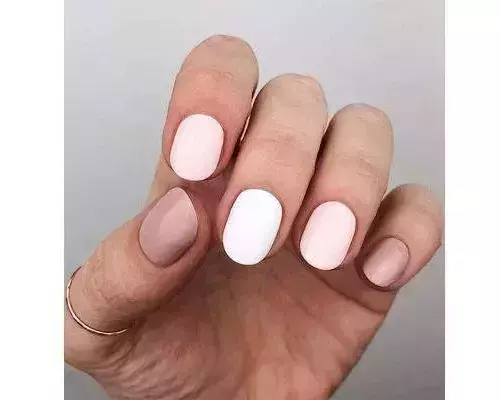 18. Simple Soft Skittles
One of the major trends of the previous two years was the "Skittles mani," often known as rainbow nails with a different tint on each nail. Update it with a faded colour scheme for 2023.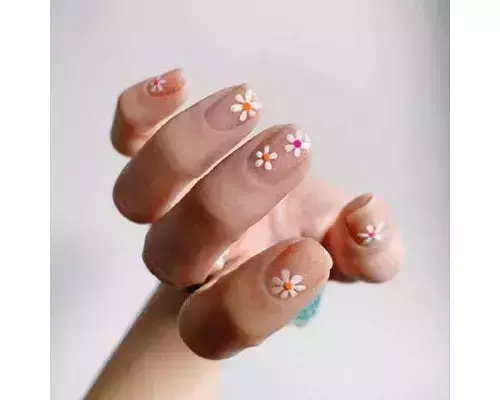 19. Retro Florals Simple Nail Designs
A simple nail design which is still in trend in 2023. To develop this design, paint your nails with a base colour than with the help of a dotting tool, draw flowers of any colour to contrast with the base colour.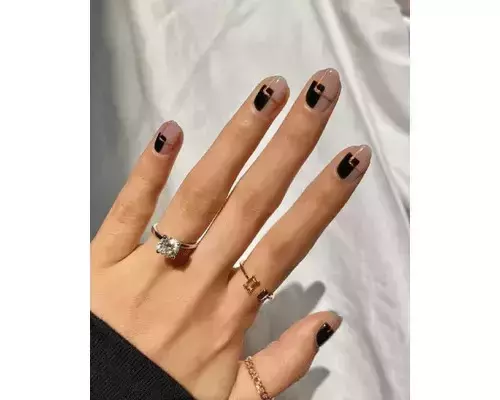 20. Graphic Edged Nails
The greatest method to do nail art will always be with negative space, and we love this graphic black and gold rendition of the style.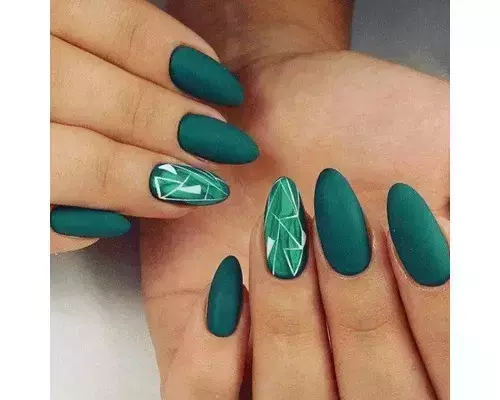 21. Cool Emerald
Deep green is one of our current favourite trendy manicure colours, so the changing seasons are the ideal opportunity to plunge into jewel tones.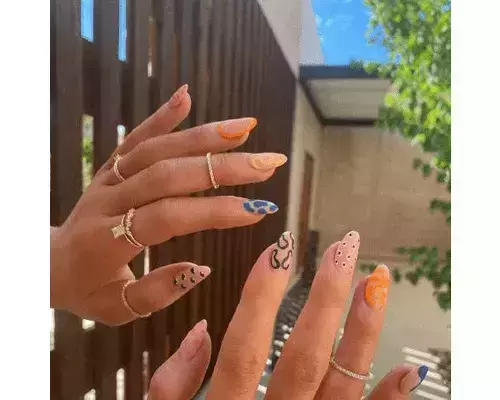 22. Mismatched Art Simple Nail Designs
If you're going to try to create the art yourself, it's much simpler to do something somewhat different on each nail. Bonus: You may use a tonne of different colours. (About hues, we're especially fond of Essie's new winter line.)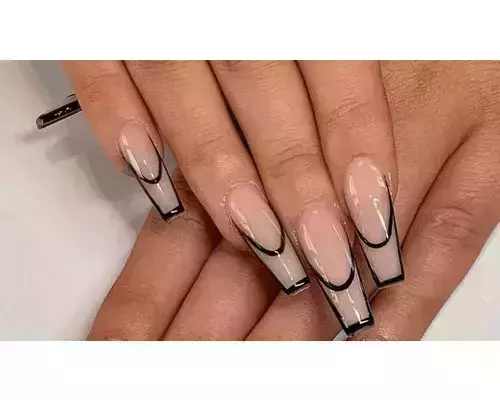 23. Edgy French
French tips that are toughened up with a brilliant red base and black points (we like OPI Big Apple Red and Sally Hansen Insta Dri in Black to Black). It contrasts so well with stacked rings and an all-black suit.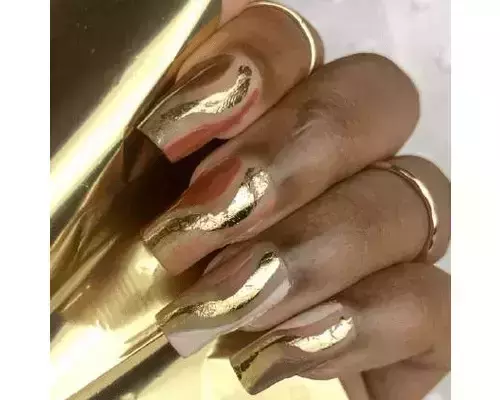 24. Golden Swirls
This elegant nail art looks much more difficult to DIY than it is. Just a tiny detail brush, shiny gold polish, and a bright, clear white are required.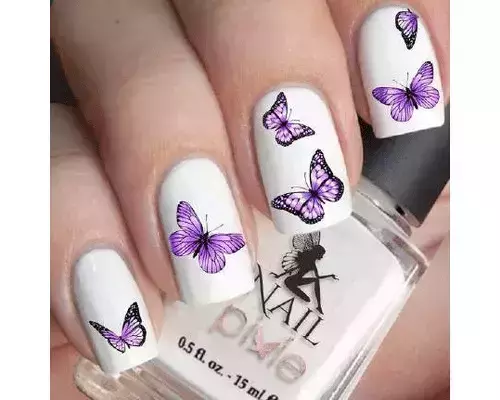 25. Retro Butterflies Simple Nail Designs
Mostly these are acquired with sticker butterflies pasted on the nails with a base coat of a solid white colour. This has been a basic go-to style from the 90s and is again back on trend in 2023. Also, this is one of the simple nail designs for beginners.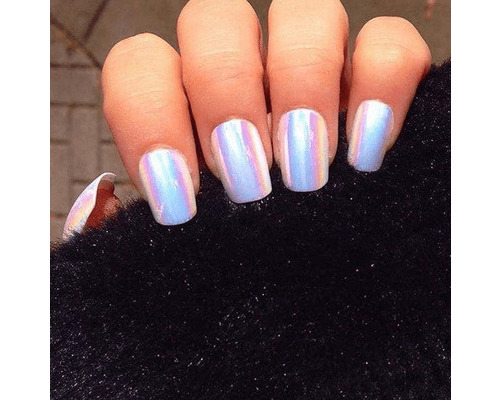 26. Holographic Nails
There is nothing better than an effortless, eye-catching manicure. Holographic nail paint comes into play and takes care of everything. For a sparkly look, one of our favourites is Pacifica's Moonray Hologloss 7 Free Top Coat.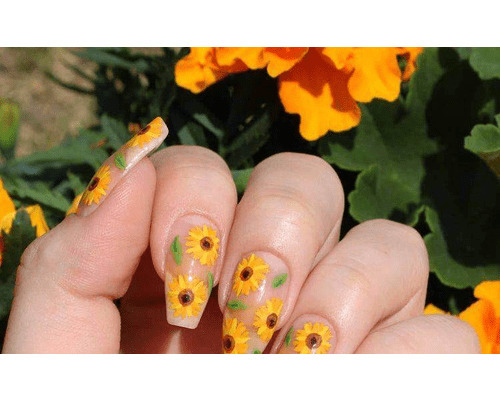 27. Cute Sunflowers
With a toothpick and a strong yellow polish, you can easily make cheerful sunflowers that will make you feel like summer all year long (try Essie Atelier at the Bay).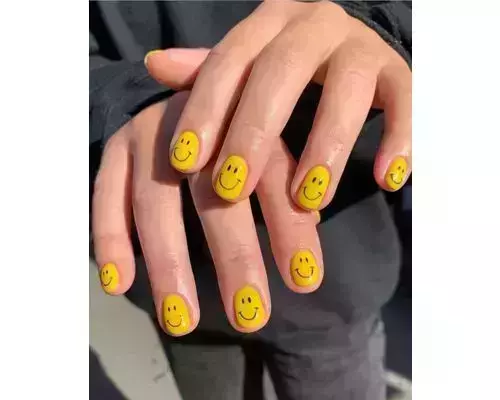 28. Smiley Face Simple Nail Designs
Smiley-face nail design ideas can be found all over the internet, so it seems that people are looking for happiness everywhere they can. They've been seen on just about every nail blogger on Instagram, including Harry Styles and Dua Lipa. If you want simple nail designs for beginners, you can give this a try.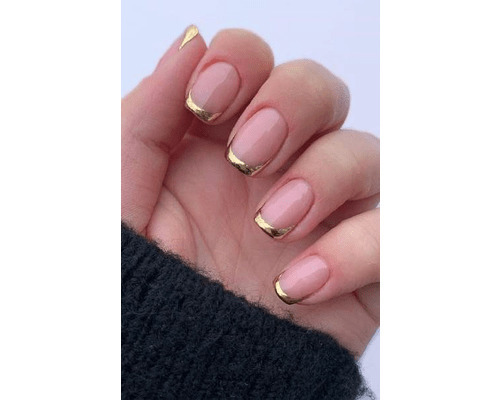 29. Foil French Manicure Nails
Foil French Manicure nails have a foil finish colour at the nail tips giving them an elegant yet simple look. This is among simple nail designs for beginners for long nails and short nails.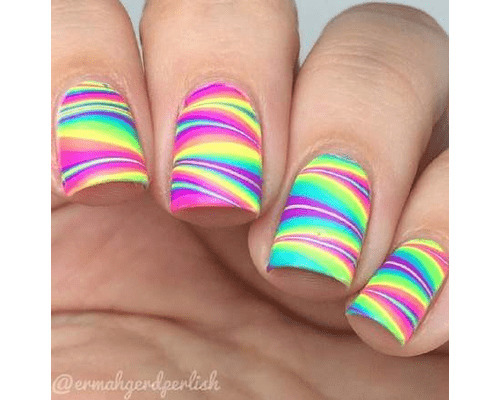 30. Bright Stripes
A super funky nail design gives the nail a rainbow rainbow-like and also has an extremely bright appearance. Perfect for summers but can also be an option for simple Christmas nails.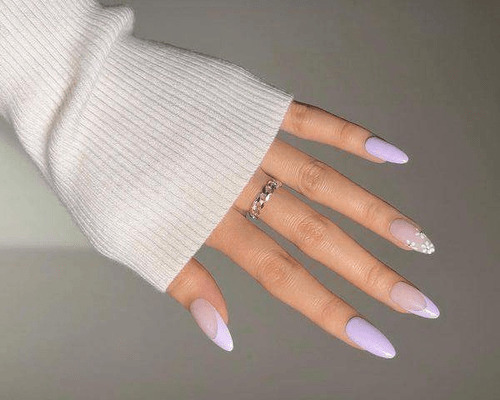 31. Purple Simple Nail Designs
In a word, genius. The graphic forms contrast brilliantly with the delicate purple. You can get it right with the correct purple shades. For example: use lilac, lavender and muse.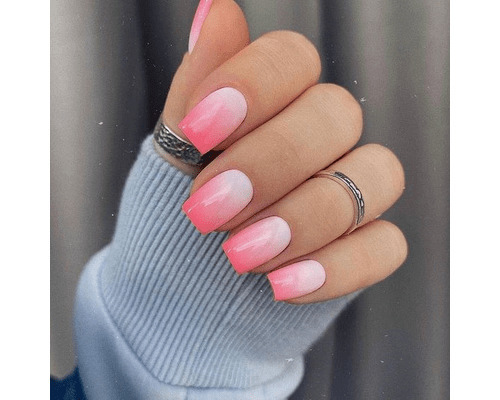 32. Pink Ombre
Unable to settle on just one colour? Use a distinct shade of one colour on each nail to make the most of your polish collection (or just mix your base shade with varying levels of white for the same effect). This is one of the most simple nail art designs.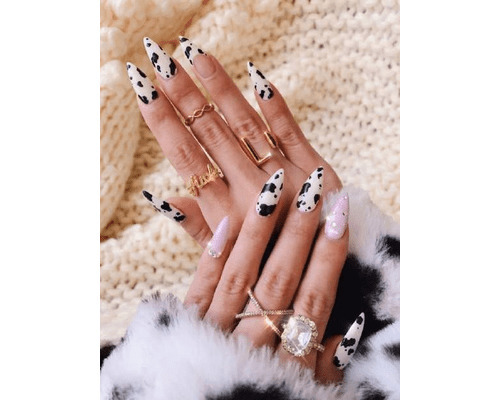 33. Cow Print Designs
The underappreciated, incredibly flexible pattern pairs beautifully with every item in your collection, including neutrals, vibrant colours, and even other animal prints is a simple nail art for everyone out there.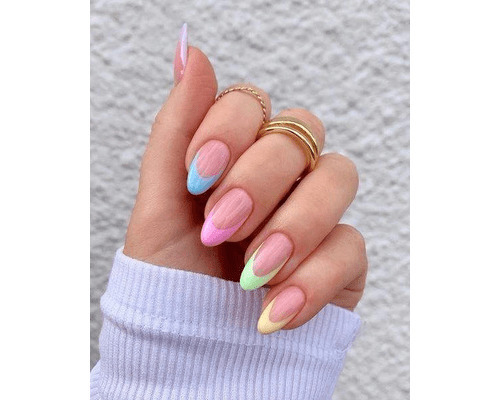 34. Pastel Tips Simple Nail Designs
Although pastel nails may conjure up images of Easter egg hunts and country club sweaters, they don't have to be so predictable. Of course, light pink will always be a classic. Ballet Slippers are one of the most popular colours of all time for a reason and are some cute simple nails.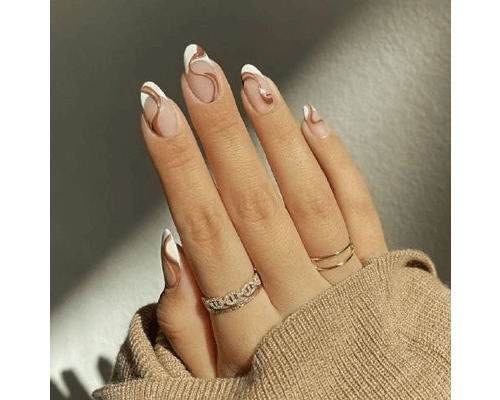 35. Espresso Swirls
The fact that this trend is incredibly DIY-friendly is arguably its best feature. All you need is a quality manicure brush, a variety of mouthwatering neutral nail polishes in dessert-inspired hues, and to let the lovely drizzle take over these cute simple nails.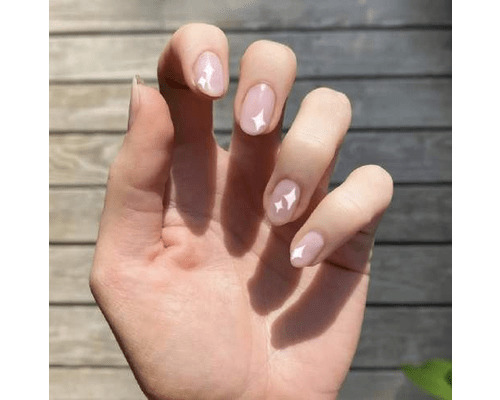 36. Graphic Sparkle
This is for the ones who do not like their nails to be shiny or sparkling with glitters yet want a tinge of it. A cute graphic sparkle on a pastel base colour does the work. Even those who are the least fond of glitter can enjoy this "sparkle" art.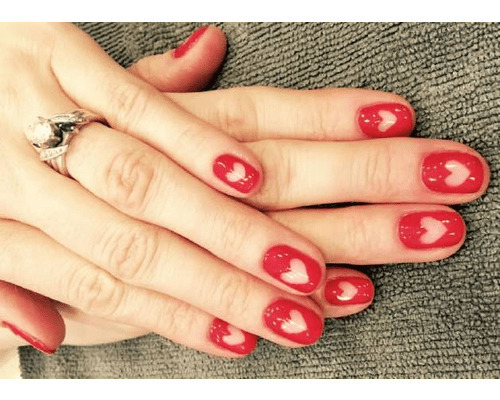 37. Negative Space Heart Art
Positive white space and poppy red make hearts stylish, not adorable. Simply paint over a sticker in the shape of a heart, let it dry, and then peel it off. Simple Christmas nails like these will surely steal deals.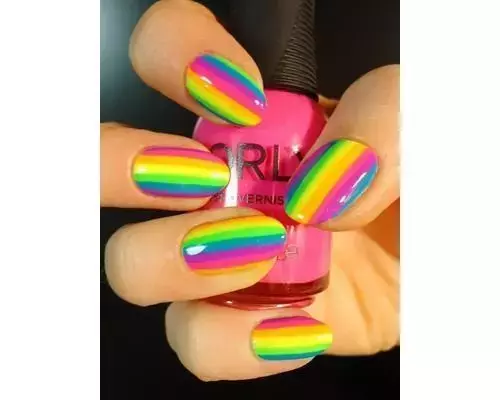 38. Multicolour Stripes
If you're not interested in colours, you must be blind; colours can lift your spirits. Everyone enjoys seeing rainbow colours because they embody the beauty of vivid colours. These multicolour stripes form a bright look upon the nails and can also be categorised as simple Christmas nails.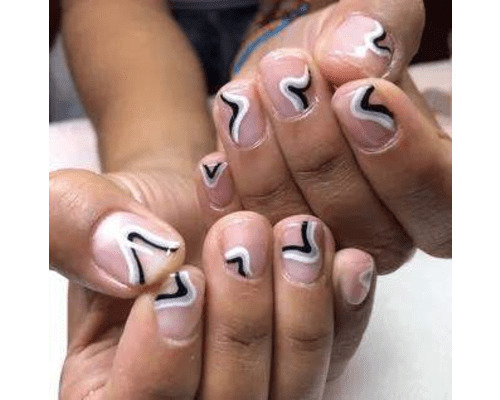 39. Oreo Squiggle Nails
The artwork is based on wavy or abstract lines that are drawn to create an artistic impact. The nicest thing about this is that, after getting a manicure, you can do them yourself as well. This is considered one of the simple nail art designs which can complete the complicated-looking pattern at home.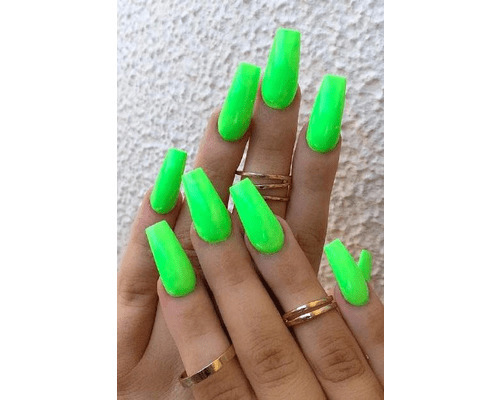 40. Pure Green
Even though our Nickelodeon days are behind, we still adore slime. To make the green pop, apply a bright green shade from the roots to the nail tips. This will give your nails a fine edge and an elegant look.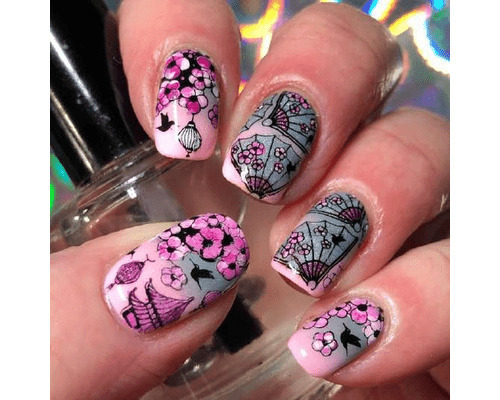 41. Bright Blossom Nails
Start painting your nails with a pastel pink and make a grey gradient. Add some spring elements such as birds, and flowers and complete the look. A perfect summer simple nail art good to go with every outfit you desire to wear!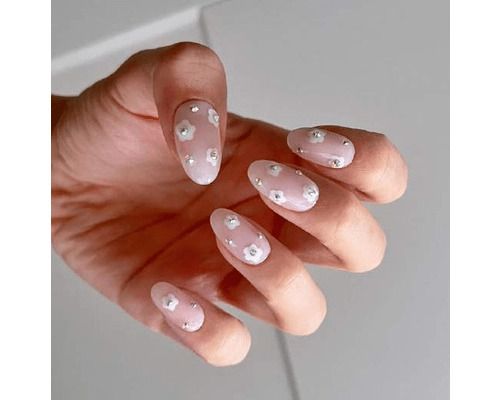 42. Daisy Nails
By putting some stones in the centre, you may make a traditional daisy even cuter. If you have longer nails, fill up any bare spots with a scattering of stones for even more shine.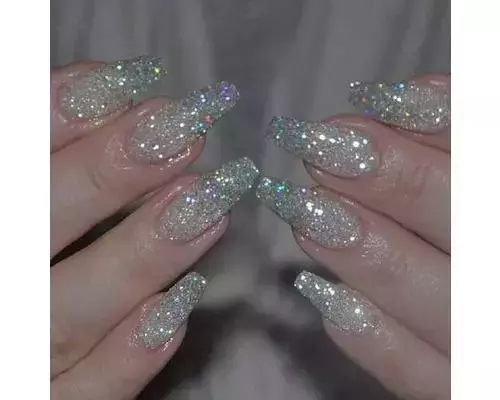 43. Silver Shimmer Simple Nail Designs
A high-coverage glitter is your best bet if you want something a little fancier than your standard manicure but don't want to visit the salon. This is one of the simple nail designs with glitter.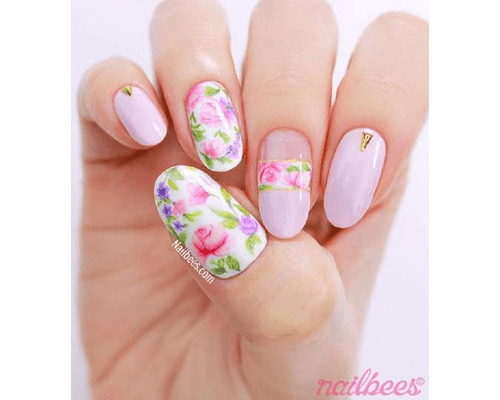 44. Realistic Flower Nails
A whole new world becomes accessible as you fall down the rabbit hole that is Etsy nail decals. Even the most plant-phobic person might be won over by these photorealistic roses.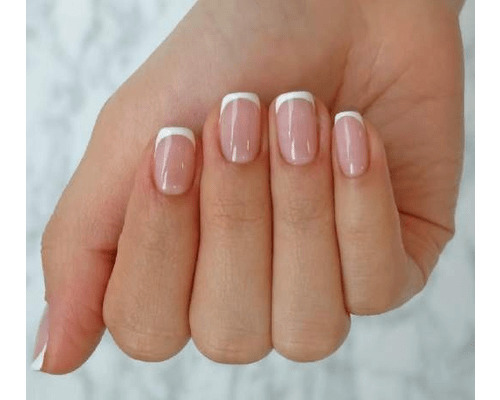 45. Baby French Nails
On shorter nails, the delicate lines are very adorable, but bigger tips would make a cute acrylic nail design. Add two hues of pink to a French manicure if you want to intensify it otherwise white tips are good to go.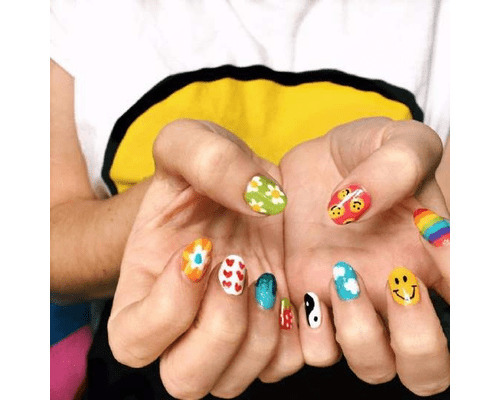 46. Doodle Nails
Treating each nail like a page in a scrapbook was one of the trendiest manicure trends of 2021, and it won't be going away any time soon. For the coolest blend, combine stickers and hand-painted artwork.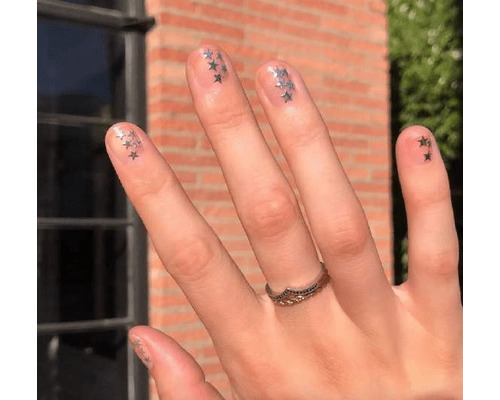 47. Star Nail Designs
For a high-impact, low-effort manicure, omit the nail paint entirely and cover your nails in attractive stickers. This can also be done under simple nail designs with glitters.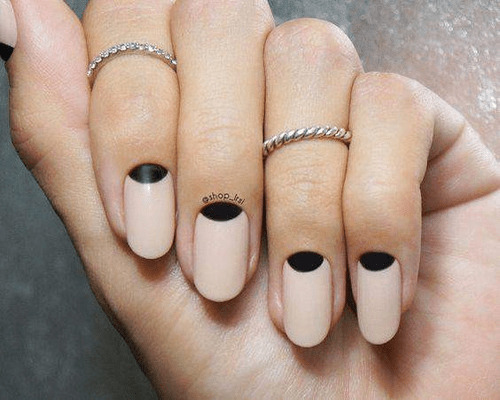 48. Moody Half Moons
A lunula this e term for the half-moon-shaped area at the base of your fingernail. Just above the cuticle, at the base of your nail, are lunulae. In one word it is a very chic design.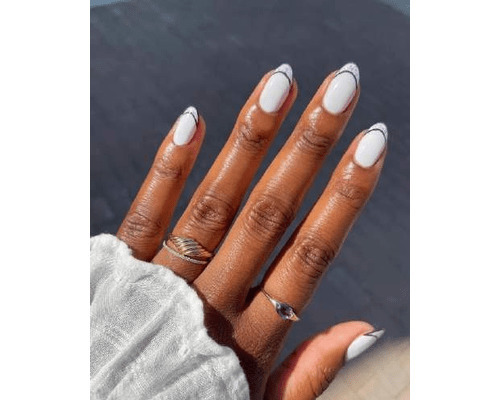 49. Negative French Manicure
Create a French tip out of the empty area to give a classic a new twist. If you don't like the normal french manicures, you can opt for this.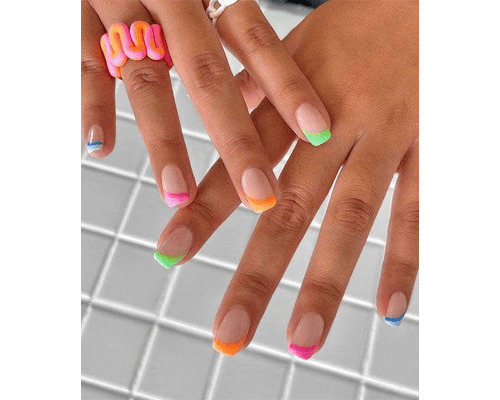 50. Colourful French Nails
Use a different colour tip on each nail for a different stylish take on the French manicure. An additional distinctive touch is a gold decal.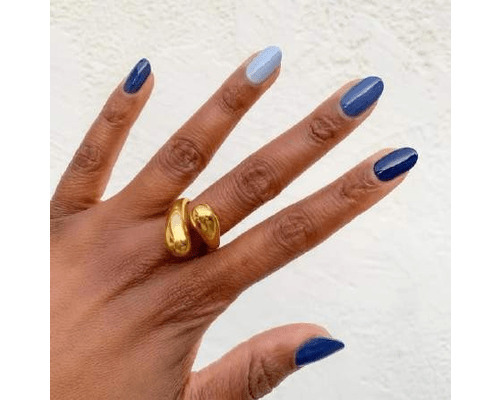 51. Blue Ombre
Adding some more simple flavour to your go-to manicure? For a chic ombré effect, use several shades of the same colour on each finger.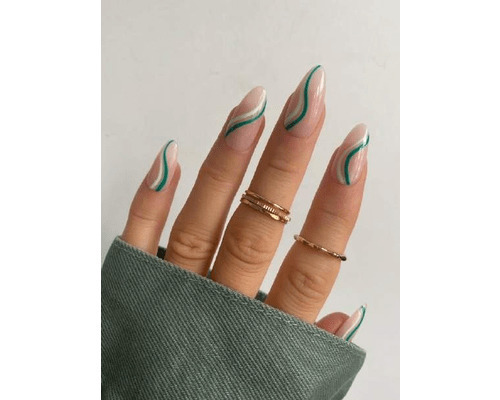 52. Green Swirls Simple Nail Designs
Both in design and on our nails, green is having a significant moment. Make the most of your manicure by using two hues of green and a cool swirl pattern.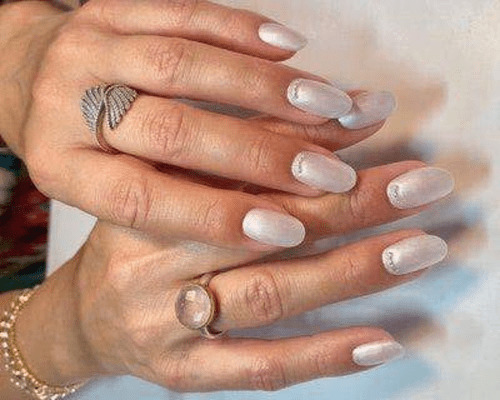 53. Pearly White
You can put teeny-tiny pearls at the cuticle line to intensify a frosty-white manicure. This is one of the simple nail designs for weddings.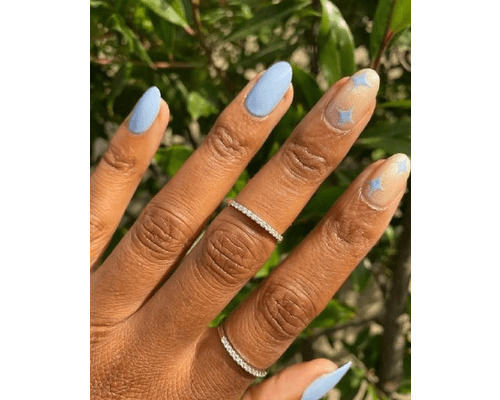 54. Blue Sparkles
Decorate just a few nails for an alternative spin on cartoon sparkles. A colour scheme of ice blue keeps everything looking new.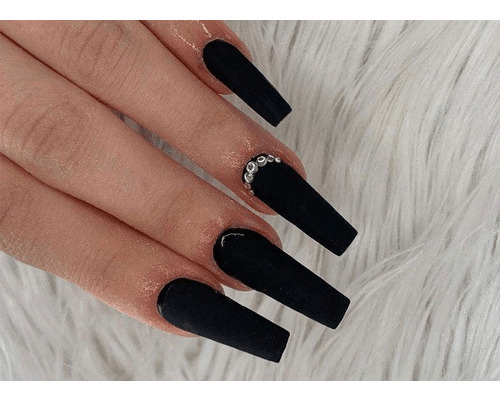 55. Long Black Nails
It's not simply gothic to wear black acrylic nails. They might be spectacular or traditional, daring or understated, lighthearted or dramatic. They can transition seamlessly from that board meeting to drinks after work at a trendy rooftop club while still looking sharp and fashionable. Black nails are yet another "little black dress" wardrobe need, and this year's finest nail trend is designer nails done in this style. Pay attention if you're a nail junkie.