25 Stunning Star Nail Designs And Ideas For 2023
Olivia
Updated At 24 Sep 23
Every makeover is incomplete without a perfectly painted set of nails. The nail art industry has advanced tremendously. From simple stars to human faces, everything can be drawn on those tiny nails. Stars may be just balls of gas but when painted on nails, they are beautiful tiny pieces of art that we cannot adore enough.
These picture-perfect star nail designs are a show-stopper and you would love getting them on your next manicure session. Get inspired by these star nail design pictures and re-create one of these designs this season.
25 Trending Star Nail Designs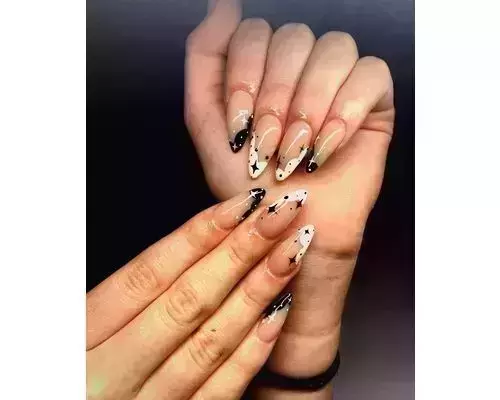 1. Tiny Stars On Colored Circular Tips
The little coloured stars perfectly complement the medium-length almond nails. The black and white combination of stars painted on a nude coat makes these stars extra vibrant and artsy. Instead of a simple french tip, this star nail art uses continuous semi-circles for a unique look.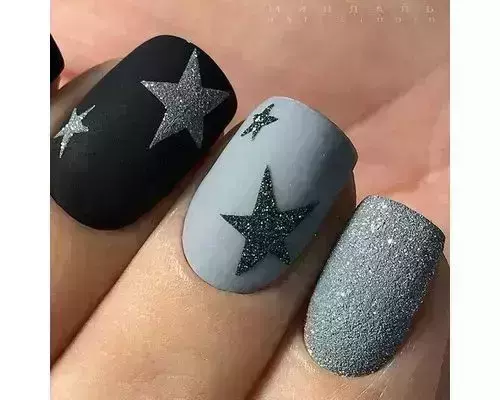 2. Sequin Stars
Glittery star nail designs are one of the most popular during the festival season like Christmas. Add the sparkles this festive season with sequin stars on your star nail art. They would go perfectly with both matt and glossy nail colours. You can keep it simple with pastel-coloured nails and a couple of nails decorated with stars.
Do note that star nail designs are different from solar nails. Do check our guide to find out everything about solar nails!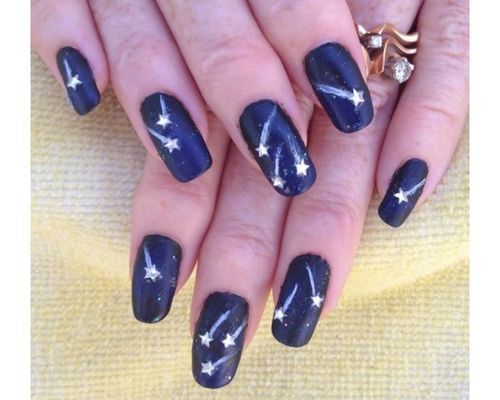 3. Shooting Star Nail Designs
One of the most popular and trendy nail design ideas has been the shooting star nail art. Depending upon the size of the nails, one can vary the number of stars. Having the stars on darker shades like dark blue, black looks amazing as it puts the focus on the stars. Try this nail design idea and you will not regret it!
Looking for more inspiration? Chcknout our guide on black nails as we list 50+ designs which have been trending this year.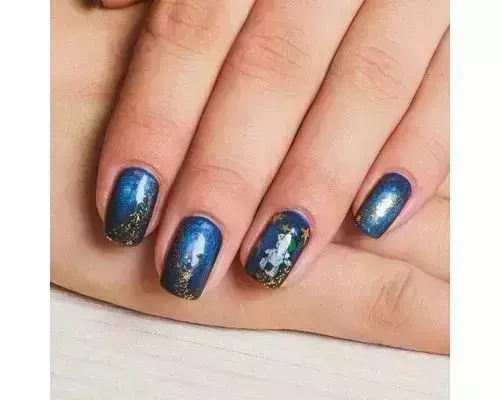 4. Blue And Bling
If you like bold and glitter, these nail art designs are perfect for you. Sparkly stars painted on bright shimmery blue nails are an absolute favourite. The important thing is to choose nice star nail designs, otherwise, it can come out disastrous. Our favourite is turquoise blue with golden sparkly stars.
If you are looking for different ideas to transform your nails completely, you can also try portrait nail art as these look very different and trendy. You can also pick your favorite celebrity and check out our guide to find ideas for inspiration.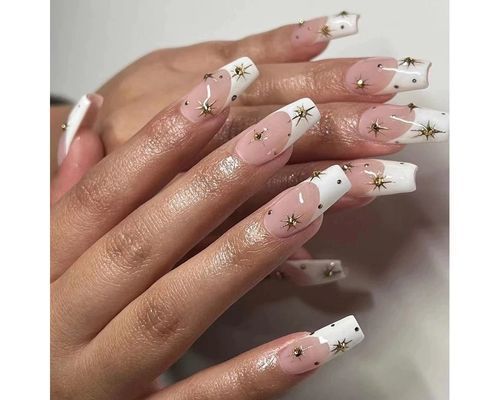 5. French Manicure And Stars
French manicures are classic and evergreen. They however can sometimes be too simple for some occasions. In such situations, some golden stars would add sparkles to this classy nail art design. The white tips with stars are always a good choice for elegant events.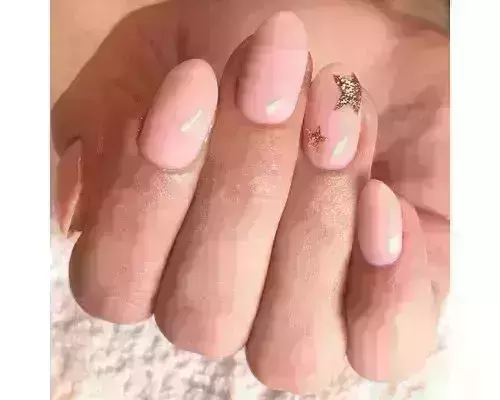 6. Accent Star
Once accent nails were a rage in the nail art industry. However, the trend started dying after a while. Some still like this design because they are simple and elegant. In the accent star design, you only have a star made on one finger, and accent nails if you like. You can play with the colours as you like, but they should be complementary.
Read More: Simple Nail Designs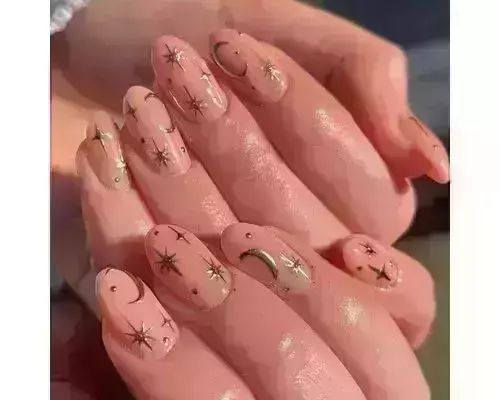 7. Combination Of Moon And Stars
For Astro theme star nail designs, it's perfect to go for small moons and stars. Moon and stars go hand in hand, so why leave any, right? These celestial things will pop more on a natural nail colour. These golden moons and tiny stars on a nude nail scream classy and festive to us.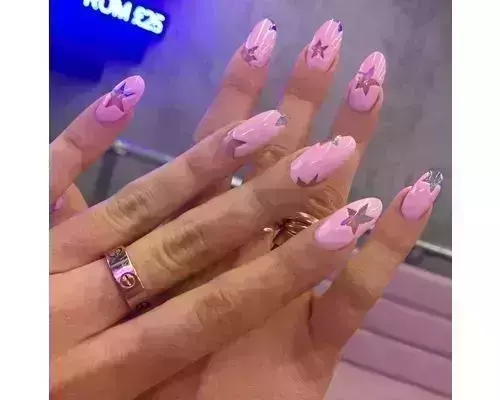 8. Negative Space Star Nails
They are one of the simplest star nail designs that even you can create at home. All you need is nail paints, stencils, and nail paint remover. All you need to do is place the sticker on the nail and paint it all over it. Remove the sticker after the paint dries and voila!!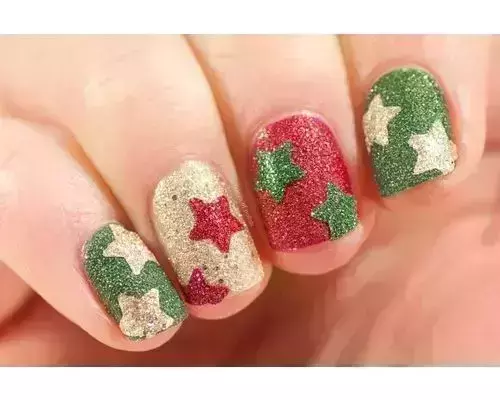 9. 3D Star Design
Plain nail colours are boring. If you are also bored with those solid nail coats and want to experiment, you should get this nail art done. With 3D star nail designs, you can create layers of textures on your nails. Add sparkles, add gems, and get a snowman! This trendy nail art is trendy and absolutely pretty. When styled properly, short nails designs can be very attractive.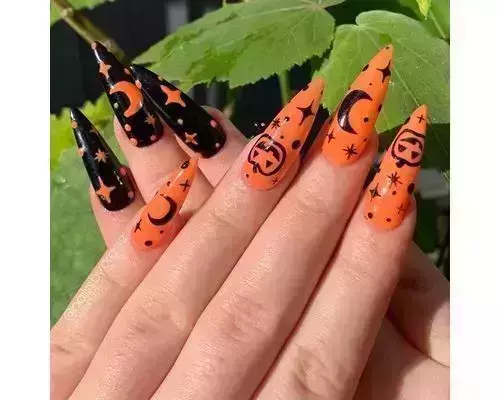 10. Halloween Star Nails
Halloween is all dark, neon, scary, and pumpkin. And your nails should be too. These gothic star nail designs are perfect for this occasion. The combination of bright/dark colours and tiny black stars is simple but magical. There are hundreds of ways you can combine Halloween and star nail designs.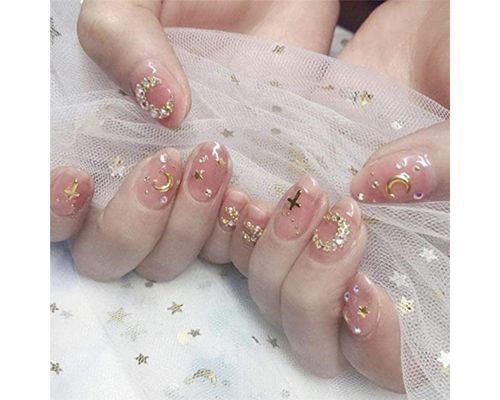 11. Bejewelled Stars
Who needs bracelets and rings, when you can have a brilliantly accessorized set of nails? Bejewelled nails look shiny and boujee. This is the year to have that dreamy rimstone studded starry nails for your birthday or any special event. They can be costly but we believe you deserve them.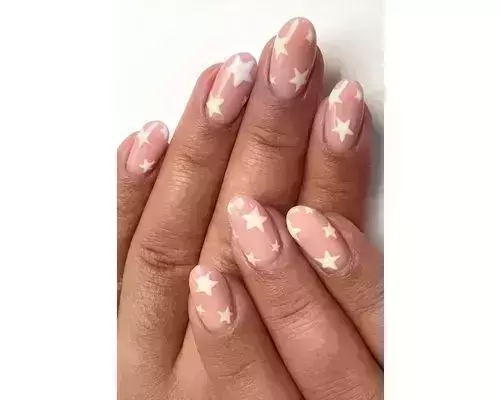 12. Minimalist Stars
Minimalist star nail designs are your friend when you want to keep it simple but fun. You can get any nude-coloured base coat and top it up with white or black tiny stars. You can either get one star on each nail or a few stars on each nail. nude-colouredThey both look great. Our star nail designs pictures collection would be incomplete without this one.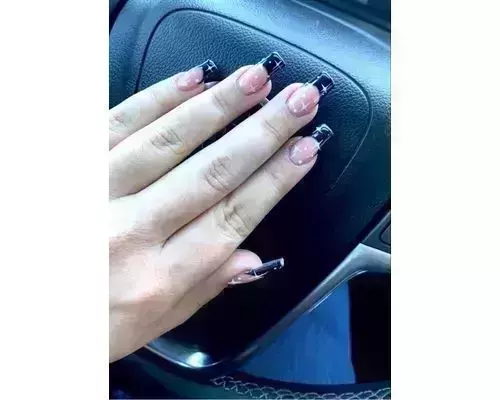 13. Black Tips And Stars
Add a surprising twist to those dull French manicures with this star nail art. You swap the typical white tip with black coloured tips and it completely changes the whole look. All that's left is to do those missing shiny bits of stars and it's done. Using others colours like blue, silver or soft pink instead of black is also a great option.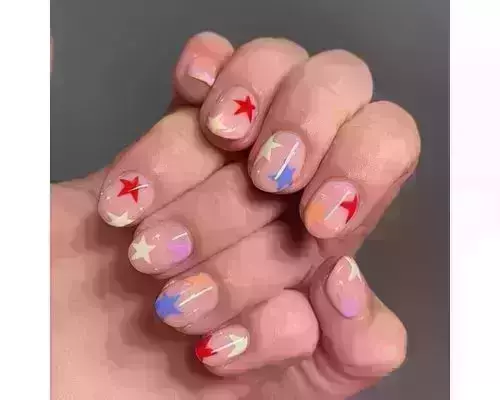 14. Colorful Stars
This star nail art is quite straightforward. You get a combination of colourful stars in red, yellow, green, etc. on a nude base coat. The neutral colour beneath makes the colour even more vibrant. Well, now you don't have to match your clothes with a certain nail colour because you got it all.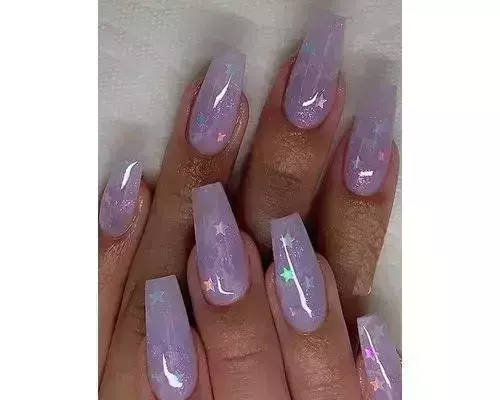 15. Pastel Holographic Stars
Pastels are almost everyone's favourite nowadays. It is a soothing and light colour that looks elegant and classy. And pairing sparkly pastel lavender with holographic stars is a cherry on top. It's a one-of-a-kind nail art that you don't many people get. This nail art is a perfect combination of colour, glitter, and artsy.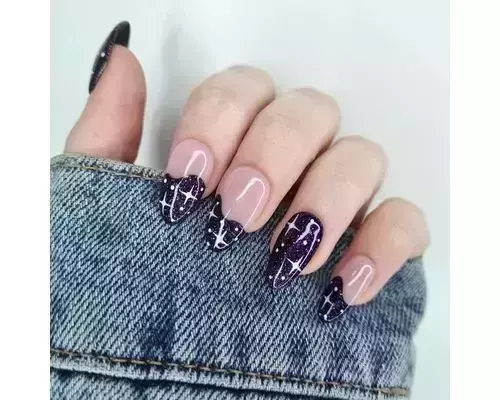 16. Half Colored With Accent Nail
The wavy half-coloured nail art design reminds us of sea waves. Here, instead of a straight cut, the artist opted for creating glittery waves covering half of the nail. The base colour is a soft pink which perfectly aligns with the purple glitter and white stars. This star nail art design is a beautiful take on a simple half-coloured nail.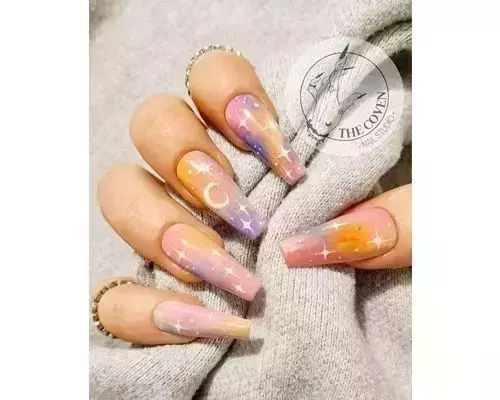 17. Multicolour Star Nails
Why not get them all when you can't decide between three or four colours? Multicolour long nails decorated with a crescent and small stars look dreamy. The colours chosen in this design are pastel and go together effortlessly. This eccentric nail art design will get you compliments wherever you go.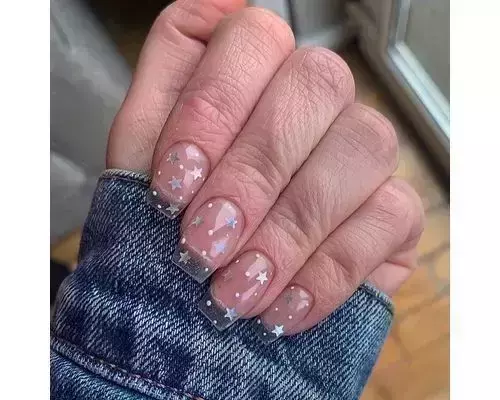 18. Transparent Nails With Stars
Who says transparent nail arts are outdated? We can still make it work. You can opt for completely transparent nails and get stars on top. But it can look a bit dull. To elevate the design, paint the nail with glitter/transparent nail paint and get colourful 3D stars on top of that. With a little glitter and stars, you can make everything picture-perfect.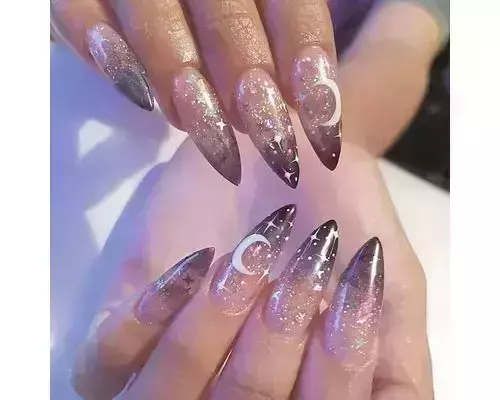 19. Ombre And Golden Stars
Ombre nails are one of the most trending nail designs this year. The two shades of colours seamlessly blended getting blended are a treat to watch. The design will be more aesthetic by getting different-sized golden stars on top of the ombre effect.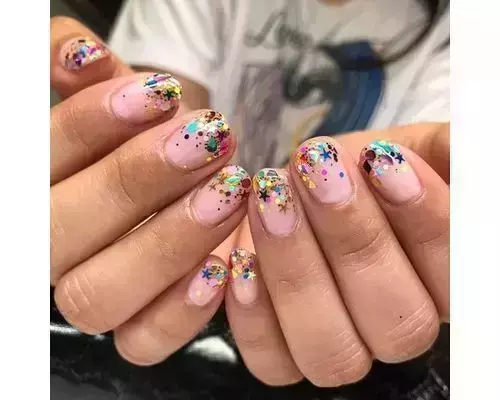 20. Party Stars
This design takes us back to our childhood birthday parties and art projects. It is colourful and looks so much fun. This design can be easily created by glueing plastic stars you can get from any art store. Seal the deal with a coat of transparent nail polish.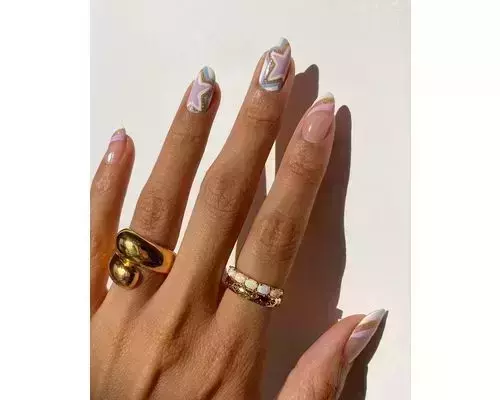 21. Pop Stars
This would one of the coolest star nail designs. You start by creating a star with a pastel pink colour and keep outlining it with different colours and glitters until to cover the nail. The choice of making the stars on only two nails keeps the overall design subtle and pleasing.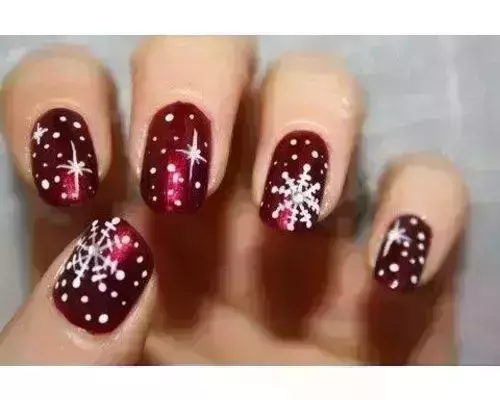 22. Stars And Snowflakes
Another festive star nail art design is to add both stars and snowflakes in the design. Snowflakes symbolize the winter season and there's no better way to incorporate that into all our festive preparations. You can get a combination of red and green over a nude base to match the theme.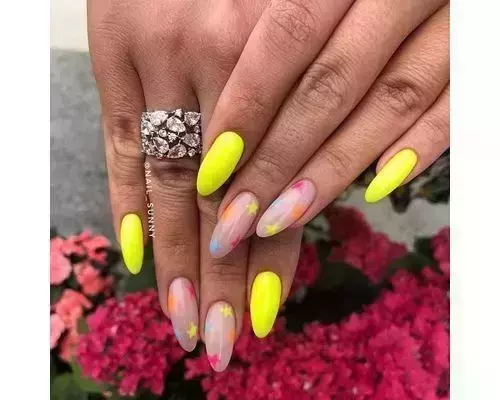 23. Neon And Colorful Stars
Neon colour nails with colourful stars might sound tacky at first, but the end product will blow your mind. We have found a perfect balance between both. The combination of three neon-coloured nails with two transparent nails covered in coloured stars works surprisingly well.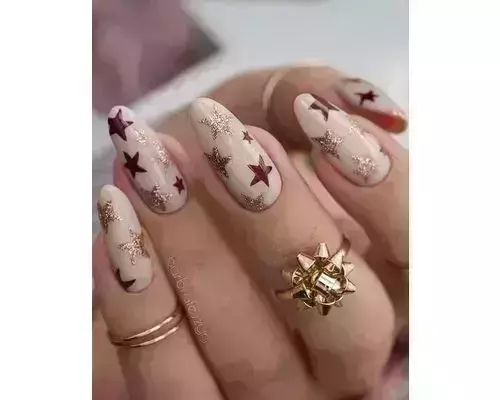 24. Nude And Golden Stars
Nude colours are everyone's favourite and you'll find almost every influencer and celebrity wearing these colours. By adding golden stars, you can add oomph to this simple design. They work for all nail length and looks divine.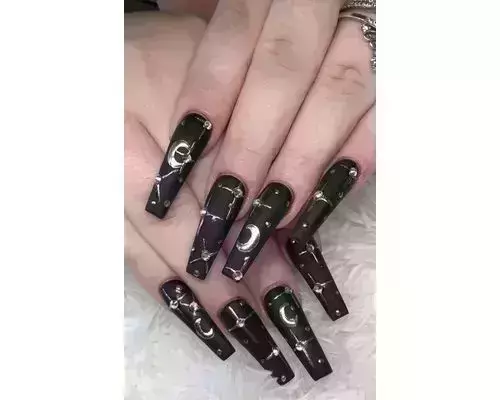 25. Matt Nails And Stars
Golden or silver-coloured stars look even more blingy and beautiful over matt nail paints, especially black. If you love goth, you cannot stop yourself from getting this nail design. Add a few gems to it and you have Pinterest-worthy nails.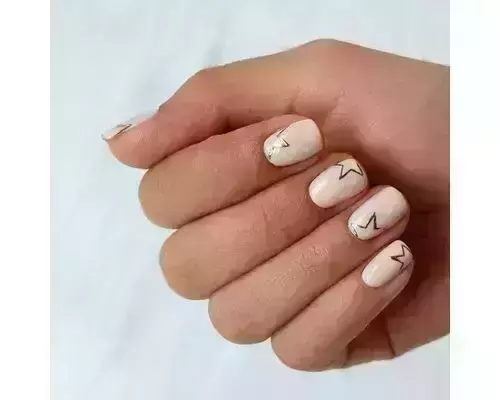 26. Incomplete Stars Silver Coloured Nail Design
This one is a different take on the negative space star nail designs. Here the stars are made on the corners of the nail over a neutral nail paint. It is made directly with a sleek brush and can be difficult to do by yourself.