25 Stunning Diamond Nail Designs And Ideas - 2023
Olivia
Updated At 15 Aug 23
Diamond nail designs may seem expensive, but these perceptions are simply those of those who haven't tried it. Real diamonds can adhere to your nails, but there are also many less expensive alternatives. For instance, it's simple to order fake diamonds and other jewel stickers online, which will be delivered directly to you. There's a good chance that they'll be using the same, inexpensive stickers when you visit a typical nail salon. In high-end salons, they do provide you with the option of using real gemstones at a higher cost.
25 Best Diamond Nail Designs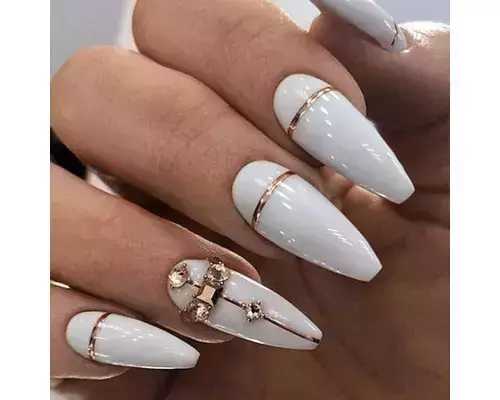 1. Diamond Nails With Gold Details
In addition to being much more subdued, adding diamonds to a feature nail eliminates the risk of your nails catching on to objects. It is a great way to make your hands, and one finger, in particular, stands out. To highlight their engagement or wedding rings, many women decide to flash their ring finger.
If you are interested in white nails, do check out our guide on white acrylic nail designs as we cover 25+ stunning white nail ideas which have been trending this year.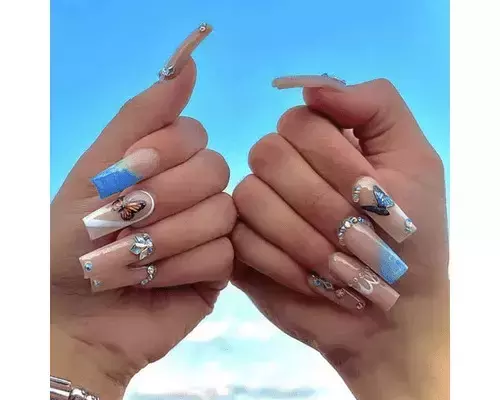 2. Rhinestones And Butterflies Diamond Nail Designs
The nail art style that will have you daydreaming about a vacation is one with rhinestones and butterflies. This combination is striking, vibrant, and enjoyable, and it has a summery feel about it. You can either make each nail identical, with small butterfly nail decals and rhinestones, or you can come up with a unique design.
Check out our guide to find about all the different nail shapes and how they are different. We cover all 15 different nail types and explain each one in detail.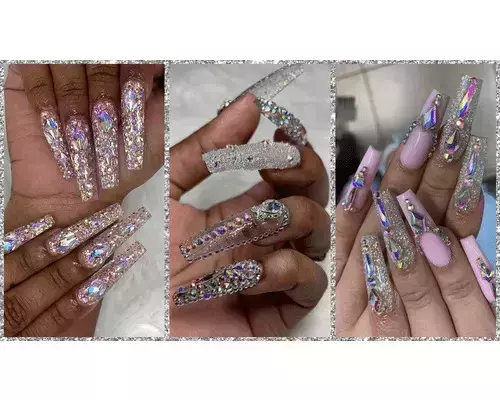 3. Playful Diamond Nail Designs
The nail art style that will have you daydreaming about a vacation is one with rhinestones and butterflies. This combination is striking, vibrant, and enjoyable and it has a summery feel about it. You can either make each nail identical, with small butterfly nail decals and rhinestones, or you can come up with a unique design. You can also use acrylic nails to make this look even better.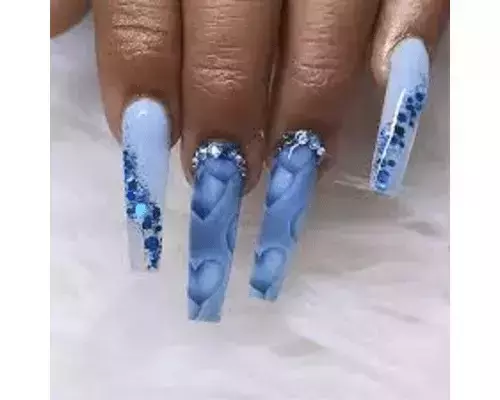 4. Blue Heart And Rhinestone Diamond Nail Designs
The colour blue has a calming, peaceful effect. It is a soft tint that goes well with many skin tones and is simple to wear. There are many different colours of blue available; depending on how dramatic you want your nail art to be, pick your favourite or combine a few. Solar nails are another type of nail designs which have been trending this year. One can refer to these for nail inspiration as well.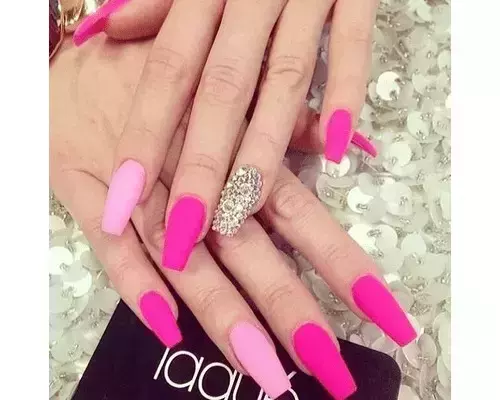 5. Matte Pink Diamond Nail Designs
Pink matte nail polish is a timeless classic that looks well on all skin tones and nail shapes. You can embellish it with stickers and gems to create a one-of-a-kind and intriguing piece of artwork because it is simple to wear, attractive and adaptable. The shape of these look similar to coffin nails, however the different pink shades and diamonds set up apart.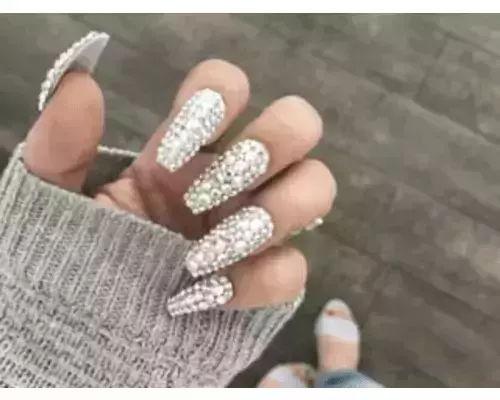 6. All Over Diamonds
If you're a woman who wants to subtly comment with your nails, this is the look for you because diamonds are also meaningful. The gem is frequently linked to money, luxury, and the finest things in life and stands for power, chastity, and fidelity.
7. Diamond Nail Ring
The diamond nail ring, which is both comfortable to wear and eye-catching, comes midway between these two groups. By placing a fake diamond clip over your nail, you may draw attention to only one fingernail. Use a clear or neutral polish to soften the rest of your manicure, and decorate one or two additional fingernails with a few tiny beads or diamonds.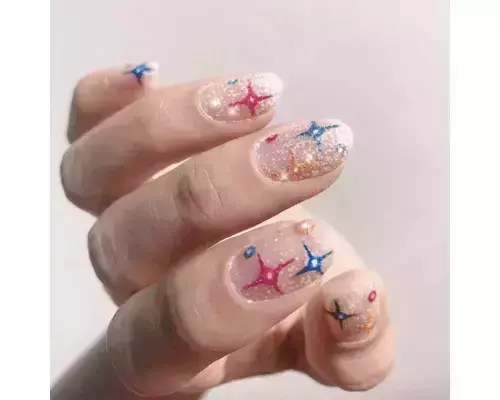 8. Stars With Mini Diamonds
The small diamonds and stars nail art combination is one of the most lovely ones. The brightness of the gems enhances the entire appearance, giving the impression that the stars on your nails glitter and are reminiscent of the night sky. For a more subdued effect, you can choose to make the stars one colour. These pretty short nails with diamonds are perfect for a special occasion and would go with any look.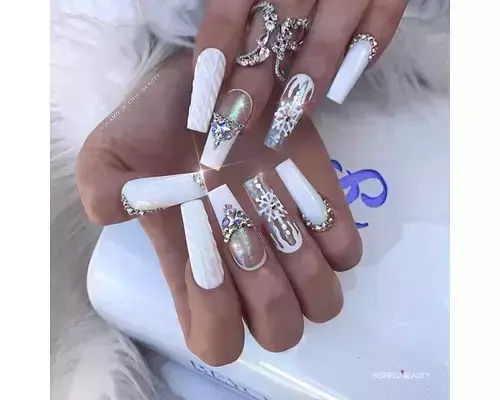 9. Elegant Diamond Nail Designs
Faux diamond nail art is so well-liked since it is true that diamonds are a girl's best friend. This is the style to go for if you want something sophisticated and lovely without being too overt.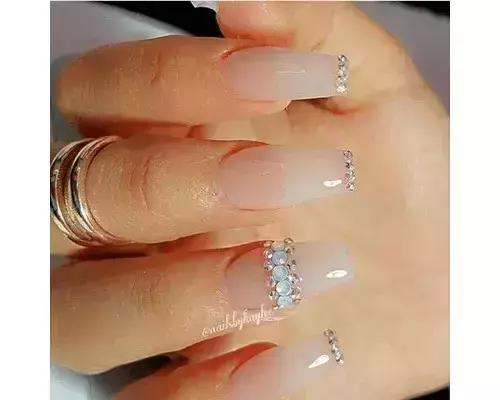 10. Natural Nails With Diamonds
This elegant, understated design is simple to achieve and works well for a variety of settings. Additionally, it functions with nails of various sizes and forms. After adding a clear base coat, pick one diamond for each fingernail.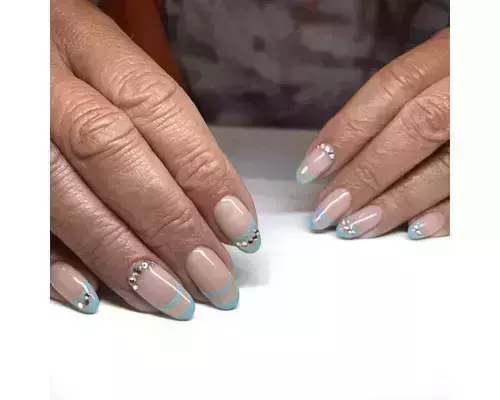 11. Mint Nails With Rhinestones Diamond Nail Designs
Rhinestones always make for a highly eye-catching manicure, so adding them to your nails is a wise choice. Gems are fantastic since they can be worn in a variety of ways. One such way is to try out mint nails with rhinestones. The hue is popular for 2022 and is light and refreshing. These look like almond nails however, the diamonds and the eye catching design sets them apart.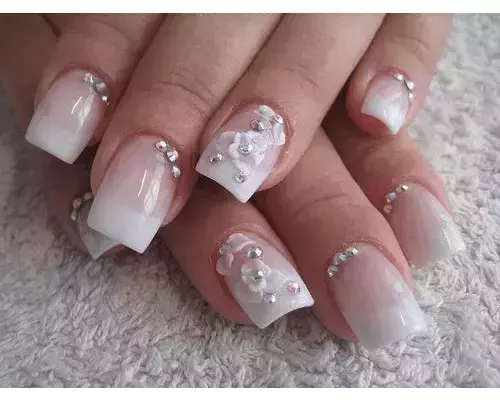 12. French Manicure Diamond Nail Designs
The French manicure with rhinestones is for you if you prefer to combine the traditional with something chic and fashionable. If you think the standard selections are too simple for you, it is a great option for a wedding. French manicures are known for their white tips, which exude sophistication, but using various jewels would be more contemporary. You can also try simple nail designs if you want to keep it simple and do not want to experiment a lot with your nails.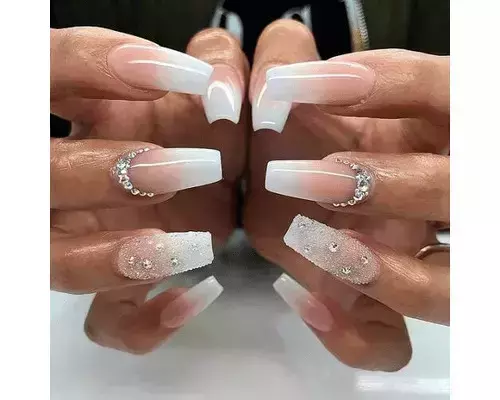 13. Ombre With Diamond Nail Designs
Why pick only one colour when you can mix them? The key to this method is combining two colours—typically one light and one dark—to produce a gradient effect. It doesn't get any better than this until you adorn your nails with fake diamonds. This original manicure design is ideal for the fashion-conscious woman and will make your fingernails shimmer and draw lots of attention.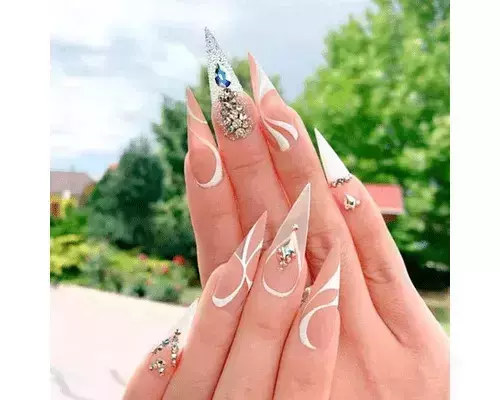 14. Mountain Tip With Diamond Nail Designs
Rhinestones are a terrific way to add sparkle to your manicure, and they are adaptable enough to go with a variety of nail art and colour schemes. They can also be added to nails of any length and form. However, some are more striking than others, and the rhinestone-studded mountain peak nails are a style that draws attention. Also check out portrait nails as these look stunning as well.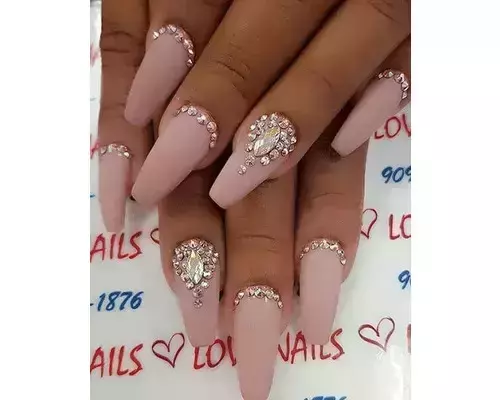 15. Wedding Diamond Nail Designs
Diamond wedding nails are still beautiful yet give a tiny bit of glitter to your ensemble. Since you will be placing the most significant ring of your life on your hands on your special day, it only makes sense to have a manicure you can be proud of. This design is perfect if you want something unique but not garish.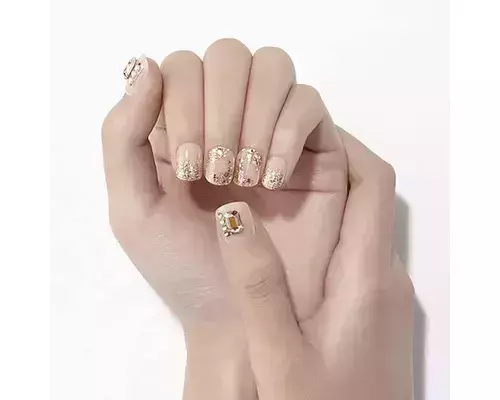 16. Gold Flakes With Diamond Nail Designs
Gold is a favourite colour for nail art for a reason—it conjures images of regal riches and privilege. There are various ways to include this deep shade in your manicure, but gold flakes and diamonds are one of the greatest and most well-liked choices.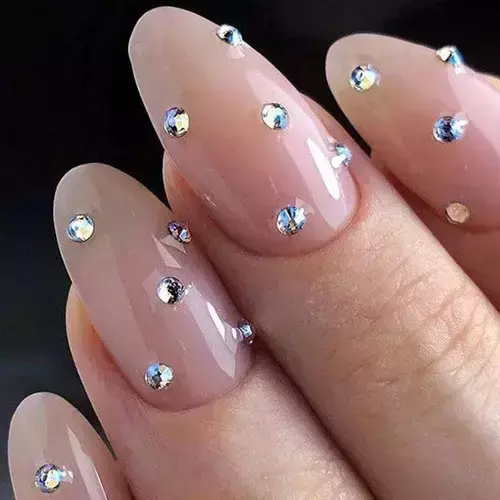 17. Polka Dots With Diamond Nail Designs
A timeless and adaptable pattern, polka dots can be made using a variety of nail colours, wraps, or, for a highly sparkling appearance, imitation diamonds. This manicure is a stylish update on a classic and is simple to apply.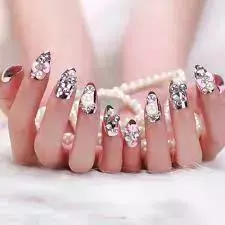 18. Flower Diamond Nail Designs
The flower and diamond combination is a perfect choice if you desire a subtle yet eye-catching appearance. Blooms may convey a strong message and are a symbol of beauty and growth. Aside from the symbolic meaning, flowers are a lovely and well-liked option for nail art because of their adaptability.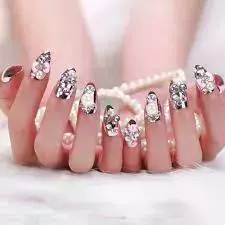 19. Large Rhinestone Nails
Making a statement with large rhinestone nails is a terrific idea. The fact that they are large, obvious, and difficult to overlook is the idea. You won't be able to wear these nails everywhere because they aren't the most practical. Having said that, they are great for formal situations where you can be yourself.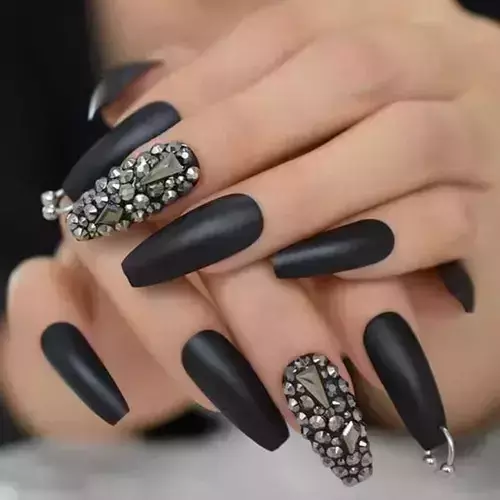 20. Black Matte Diamond Nail Designs
You've seen your favourite celebs or fashion icons wearing black matte nail polish because it is so fashionable. The finish is quite fashionable, especially when paired with silver rhinestones due to the contrast, and the colour is linked to sensuality, refinement, richness, and mystery.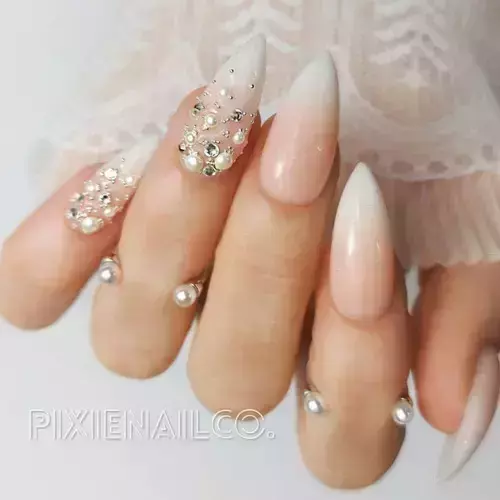 21. Ombre Stiletto Nails With Diamonds And Pearls
The bold two-toned ombre colour and stiletto design of these nails signal that they are ready to strike. Every nail is bordered with diamonds and pearls, making sure that no one will miss these jewel-encrusted hands. Although these nails might need some upkeep, the final appearance is definitely worth the time and work.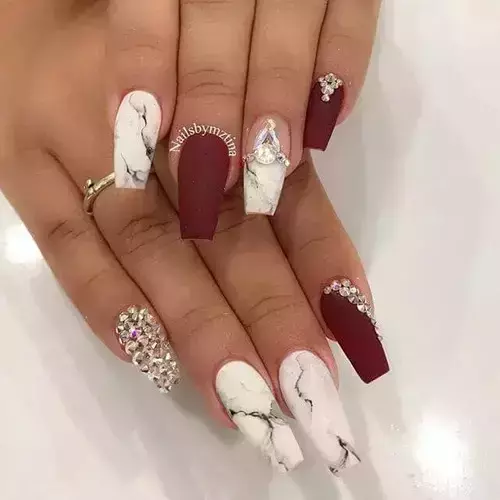 22. Marbled Ballerina Nails With Red Diamonds
This nail art displays the pricey earthy material at your fingertips, so you may match your fancy marble countertops! The red accent nails and sparkling diamonds will draw attention if the distinctive style isn't enough. These nails are for you if you enjoy timeless yet not basic designs.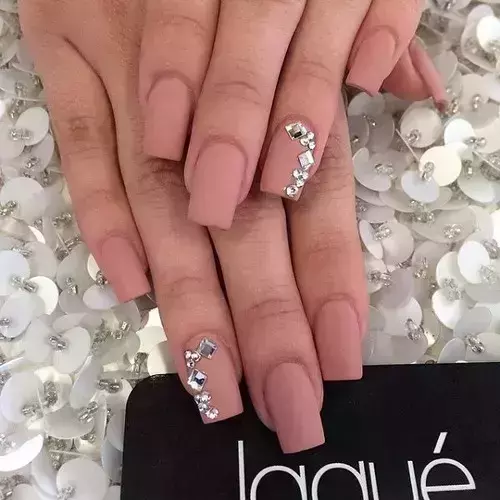 23. Nude Matte Colour With Diamond Nail Designs
Even though each nail in this palette has a distinct shade of the same hue, the overall monochrome effect creates a stunning final appearance. Each colour works beautifully with the one before it, and the abundance of diamonds on the accent nail gives the overall look a dramatic yet elegant factor. These nude nails look stunning.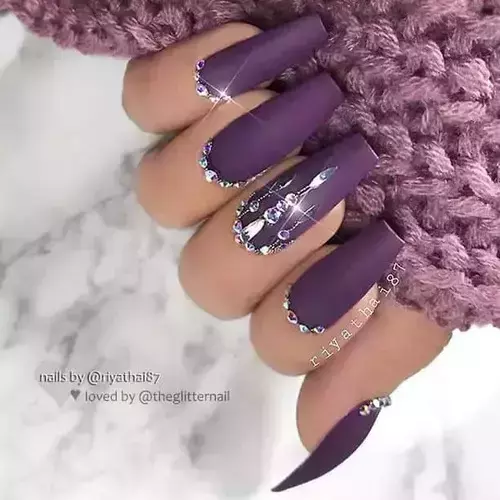 24. Stiletto Purple Diamond Nail Designs
These playful, eggplant-coloured nails go well with both daytime and evening attire. The diamond-framed cuticles and accent nail art add gloss to the matte colour. Diamonds should shine freely in both natural and fluorescent lights.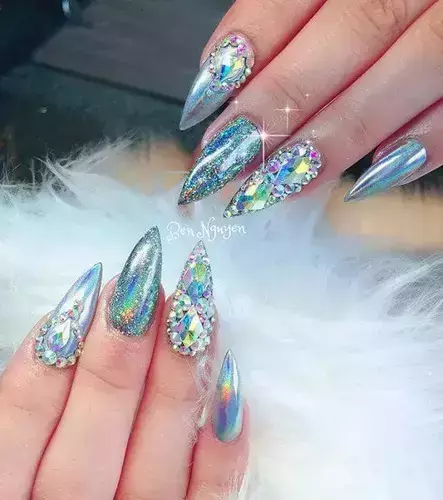 25. Dazzling Aquamarine Diamond Nail Designs
The holographic effect, which seems to be very in right now, enhances this lovely aquamarine shade. Anyone who is considering going to the beach or who simply enjoys admiring marine life of all kinds will love the overall appearance, which is reminiscent of sea foam at the edge of salted oceans.