6 Best Christmas-Inspired Eye Makeup Looks This Festive Season!
Kritika Mishra
Updated At 13 Sep 22
Christmas 2017 is right ahead of us and it is time to hunt some makeup muses!
We bring to you the 6 best Christmas inspired eye makeup looks of this festive season!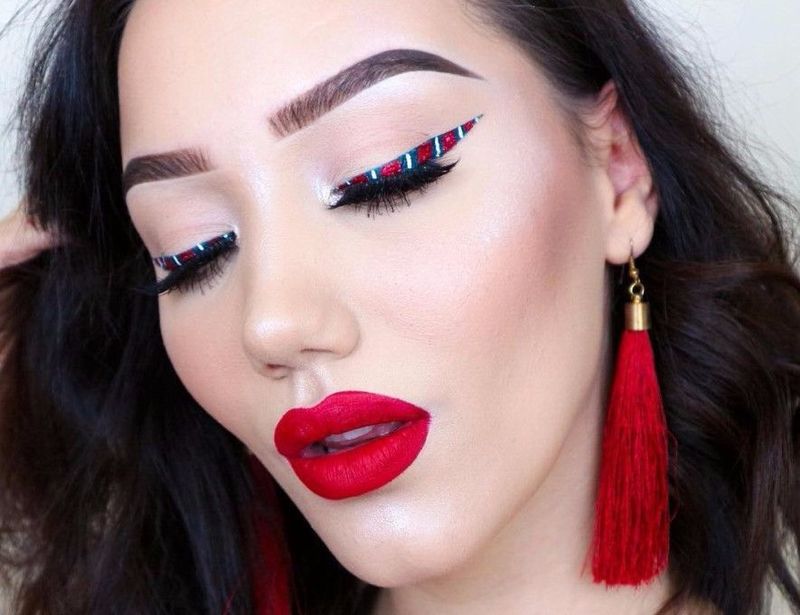 1. Christmas colors and snow
Add some scarlet and snow on your eyes! All you need is color blue, red and white cream eyeshadows!
Start with tracing a winged eyeliner across your eyes. Start sectioning them in the form of stripes. Fill in the stripes using alternate colors of white and red. Outline each sectioning using blue eyeliner! Complete the look with dabbing some highlighter in the inner corners of eyes and false eyelashes!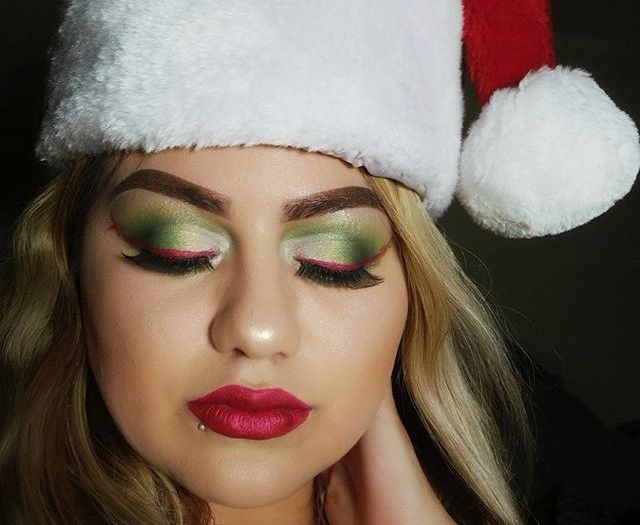 2. An X-mas winged eyeliner
Add some X-mas touch to your winged eyeliner! Start with dabbing some metallic green eyeshadow on your eyes! Now, line the lids using a creamy red eyeshadow. Brush some golden eyeshadow under the brow bones to add extra glow!
Complete the look with false lashes and mascara!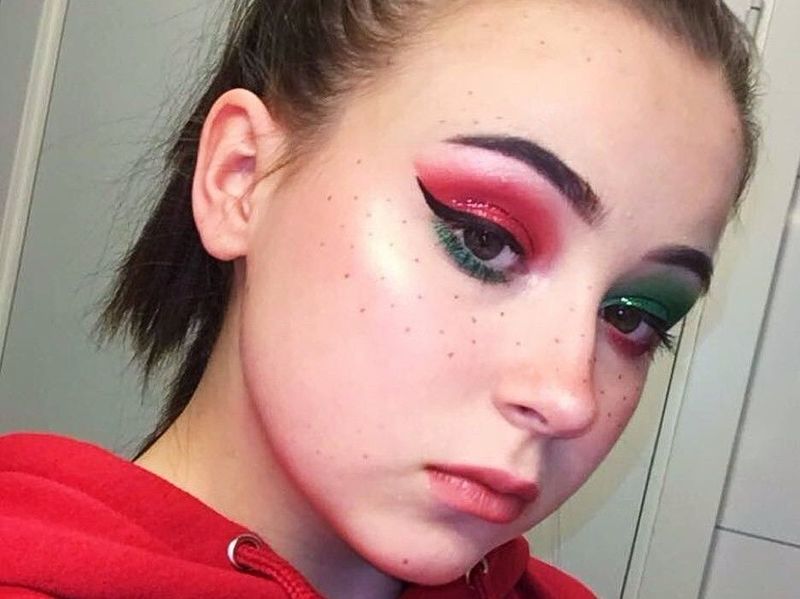 3. Christmas tree inspired smoky eye
This is not your average smoky eye! Get playing with the Christmas colors on your eyelids! You need a shimmery based red and green eyeshadow for this. Take a fluffy brush and smudge the red eyeshadow on the top eyelid. Now, gently smudge some green eyeshadow under the bottom water line. You can also use red glitter to line the upper lids too. Complete the look with a sharp winged eyeliner and white kohl on the waterline.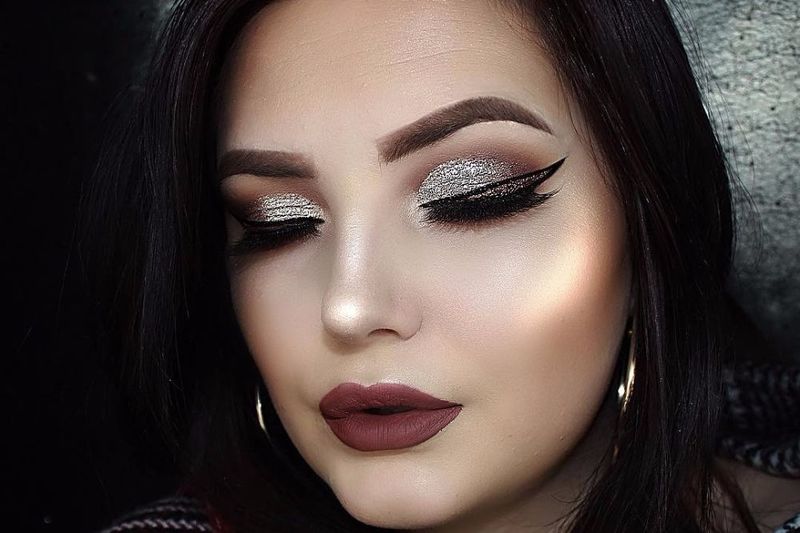 4. Silver and Gold
As the Christmas golden and silver trinkets hang around the trees, get those colors on your eyelids for some Christmas fun! You need a gold eyeshadow, silver glitter eyeshadow, and black eyeliner. Start with contouring the eyelids with gold based eyeshadow.
Now, add some silver glitter to the middle portion of the eyelids. Using an angled brush. Draw a straight edged winged eyeliner and do not fill it. Let it stay like a stencil outline. Finish the look with some false lashes!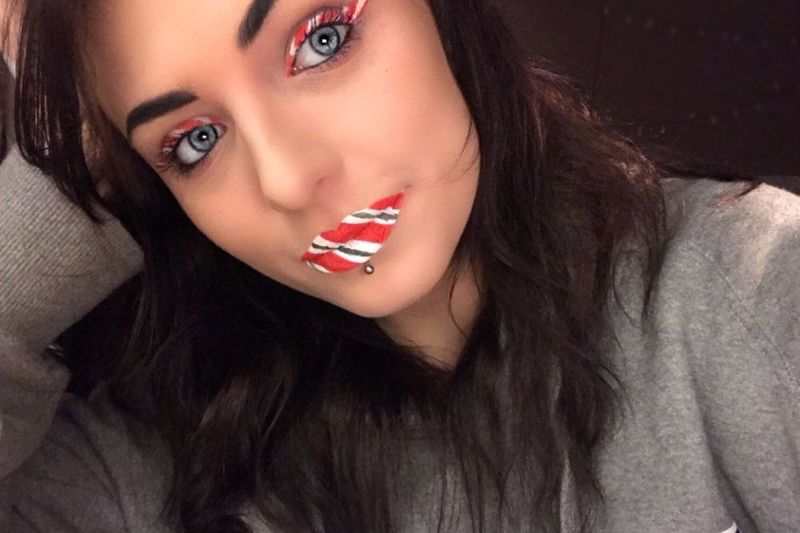 5. Candy cane eyes
Highly inspired those yummy Christmas candy canes, this eye makeup look Delicious! You need a gel based or creamy red and white eyeshadow for this! Start by tracing a winged eyeliner across your lids. Now, fill in according to alternated stripes in shades of red and white. Complete the look with black kohl on bottom waterline and mascara coats!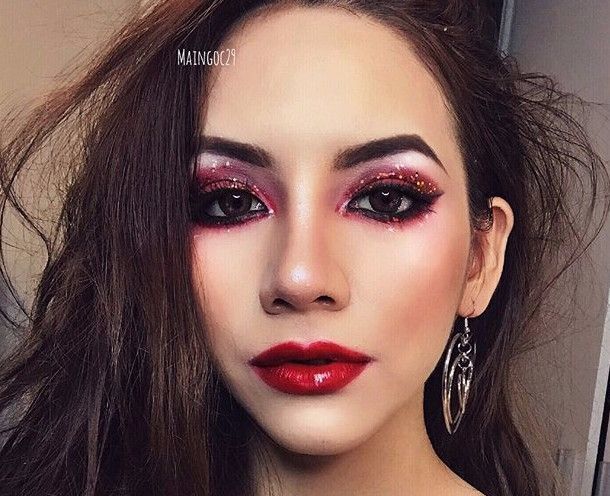 6. Santa eyes
Get some Santa sparkle on your eyelids this Christmas! All you need is red glitter eyeshadow and gel liner!
Dab some red eyeshadow glitter on your eyelids and underneath your waterline and smudge them evenly.Line your eyes with gel liner on the bottom and top waterline. Make sure to get an Arabic eyeliner look, that is basically having an extended line of liner on the inner corners of eyes that goes till the outer corner. Complete the look with good coats of mascara!
Are you Christmas ready? Get your hands on some seasonal makeup hues and make your eyes pop with some Christmas spirit!
Which look did you like the most? Let us know down below!
Related Articles: