25 Most Popular Jennifer Lopez Outfits
Debaleena Ghosh
Updated At 16 Sep 22
Looking for the most popular Jennifer Lopez Outfits?
Look no further as we have curated a list of Jennifer Lopez clothing ideas that has taken the fashion fraternity by storm. This includes the trending dresses captured from Jennifer lopez instagram and pinterest accounts. Jlo costumes have been trendsetters like the uber popular jlo green dress costume. Lets begin!
25 Most Popular Jennifer Lopez Outfits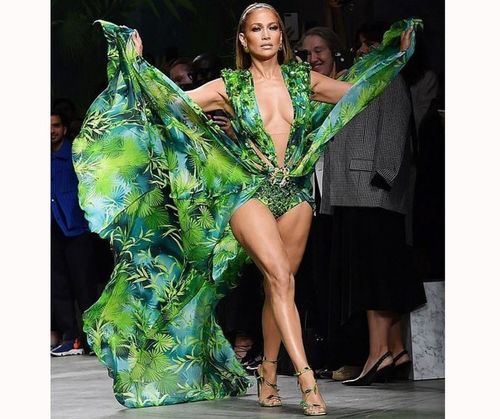 1. The Iconic Versace Green Dress Costume
JLo's Instagram account is flooding with posts of her ramp walk in the phenomenal Versace JLo green dress costume. Over the time she has proved that no one can carry that dress better than her and it flaunts off her perfectly sculpted body so well.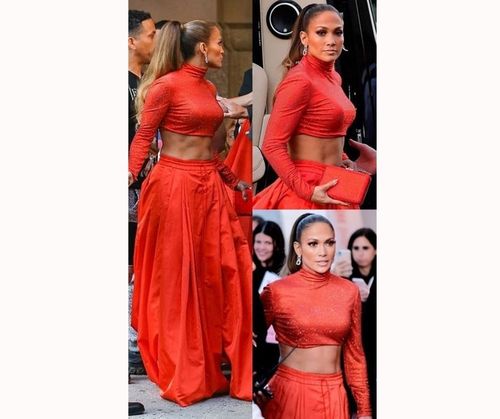 2. Ravishing In Rust Orange
In this JLo costume you can see her flaunting those perfectly toned abs. JLo is wearing a full sleeve crop top and a waterfall side-slit long skirt. The elegance of this Jennifer Lopez outfit has been notched up with plain nude make-up, clean high-rise pony and exquisite diamond danglers. If you are looking for something gorgeous, this Jennifer Lopez attire is a perfect pick for you.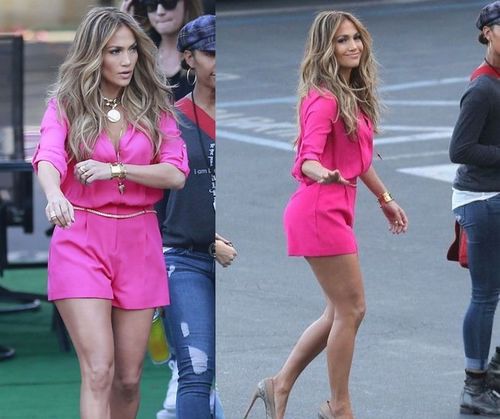 3. The Sassy Boss Look
This Persian rose JLo outfit brings out the bossy and leadership persona of JLo. She is seen wearing a Persian rose pink jumpsuit for a reality show event. The golden accessories- necklace, bracelets and belts are complimenting the JLo attire. The nude pencil heels and her golden hair adds elegance to the outfit. This Jennifer Lopez costume shows us work-wear doesn't always have to be boring.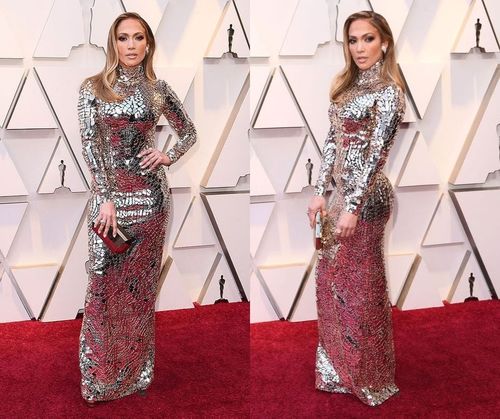 4. Sequin Evening JLo Gown
One of the top liked post on JLo's Instagram account was her bodycon sequined gown. This elegant and mesmerizing party gown is a value addition to any fashionistas wardrobe.
5. QUAY X JLO
JLo flaunted her sculpted body in this yellow two piece- crop top and bodycon pencil skirt in this eye-ware photoshoot. Another most popular post on JLo's Instagram we are in love with this yellow outfit.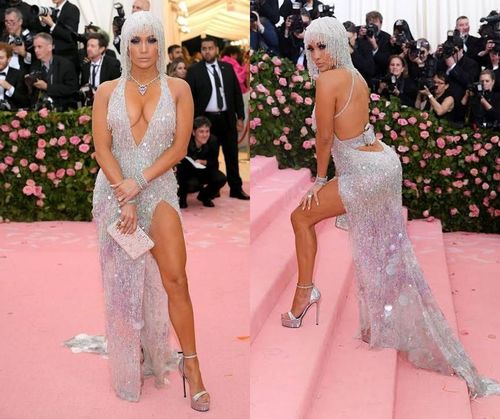 6. JLo Met Gala Dress
If you want some experimental out of the box fashion wear you can borrow some inspiration from this JLo Met Gala gown. This divine silver dress created a rage in the top fashion websites. This dress is one of the top voted posts on JLo's Instagram account.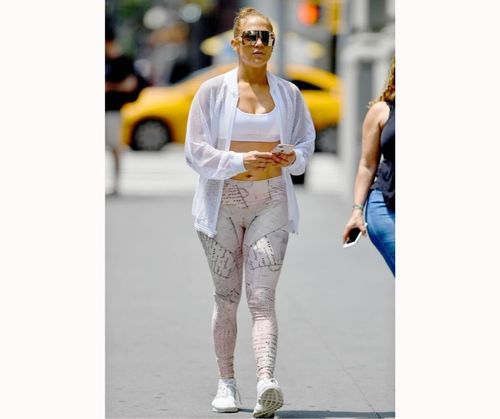 7. Fresh In White
JLo surely knows how rock white. She has teamed up a white sports bra with a white see-through sports jacket. The black geometric printed white leggings she is wearing is giving a perfect contrast to the white upper wears and giving the whole JLo outfit a refreshing look.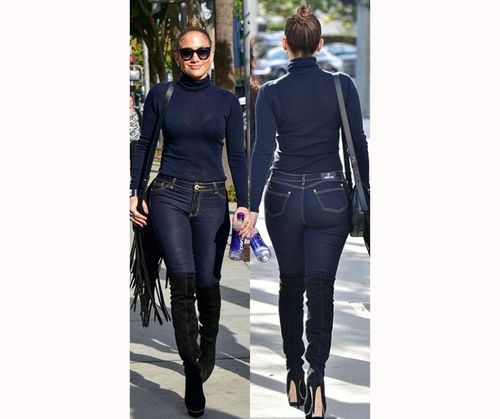 8. Classy Casuals
Casual and classy sounds bit of an oxymoron but not for JLo. Jennifer Lopez outfits always has some different edge to them. In this JLo style, she is wearing a blue turtle neck body suit, which of course compliments her curves, paired up with a blue skinny jean and knee-high leather boots. The clean tied up high bun which adds a clean formal look to the entire attire. The accessories are kept bare minimal by just wearing a simple black goggle and carrying a simple plain black sling bag.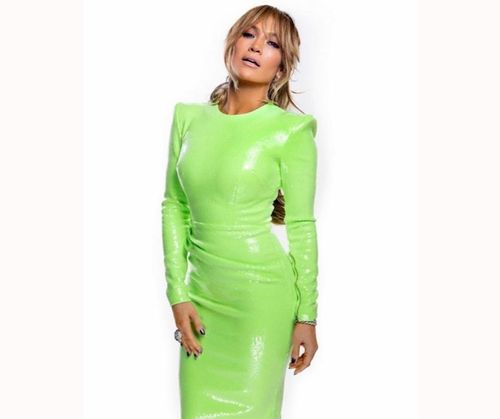 9. The Popular Jlo Green Dress
The green Versace JLo costume took internet by fire in 2001. Again, this year JLo wore a neon green bodycon dress. This JLo Instagram post again made a huge rave in the fashion industry. JLo knows how to flaunt that hour-glass figure. If you want to make a fashion statement you can surely pick this dress.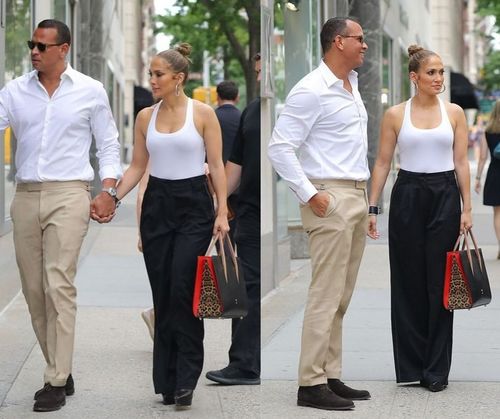 10. The Co-ord Game
This black and white Jennifer Lopez outfit will give you goals for date outfits. If you want your date attire to be simple, you will fall in love with this black and white co-ord JLo costume. The plain black palazzo and the skin hugging white tee will make you look sexy yet relaxed. You can team it up with minimal jewellery as JLo as has done with a hoop earring.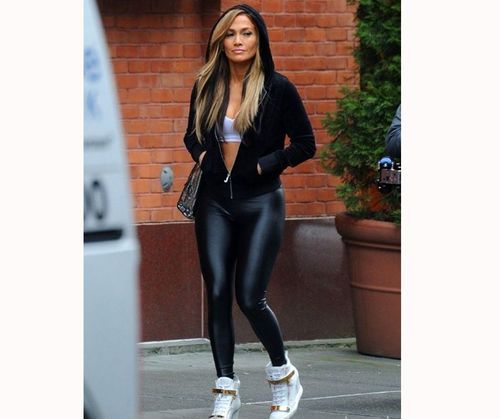 11. Leather Outfit
The 48-year-old stunning actress has been turning heads with her leather leggings outfit. She has been recently spotted wearing this chic outfit for shooting of her latest movie "Hustlers". Jennifer Lopez's Instagram post of the attire is going viral. And yes, we can't take off our eyeballs from this JLo costume. JLo styled up this classy leather leggings with a black jacket and a white crop top. Minimal and simple. JLo is aging like fine wine, we can't really guess JLo's age.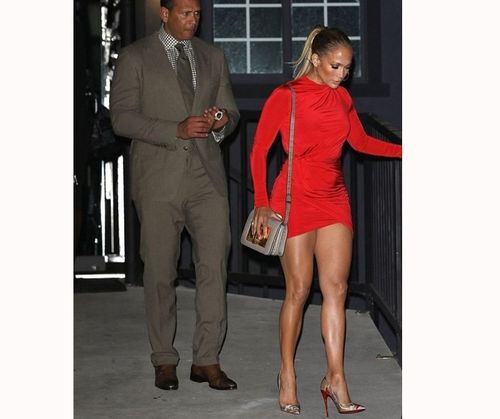 12. Perfect For A Date Night
JLo is seen her flaunting her hour-glass figure in this red hot bodycon Jennifer Lopez clothing. If you want to look stunning for your date night but don't want to wear same old LBD, this JLo outfit is perfect for you. Pair it up with golden danglers and a clutch or a sling bag like JLo.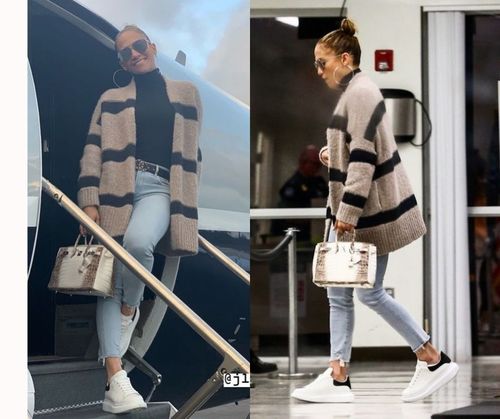 13. Travel With Fashion
Jennifer Lopez's Instagram account is flooded with vacation pictures and we are surely drooling over it. But this JLo costume is our favorite. Black bodycon top, washed skinny jeans, beige and black striped woolen jacket and that brilliant smile. With this JLo outfit she has followed her common minimal accessory line and the results are stunning.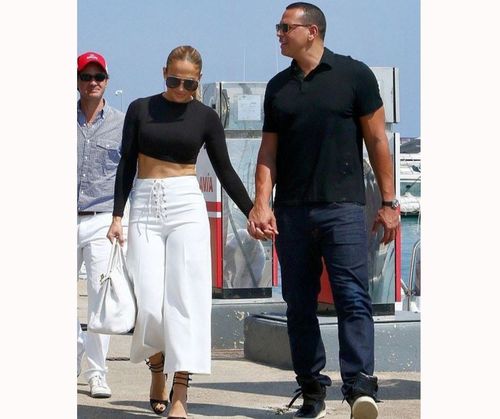 14. Cult Culottes
JLo has created a fashion statement and has shown the world how to wear culottes. We love how effortlessly and elegantly she carries the culottes.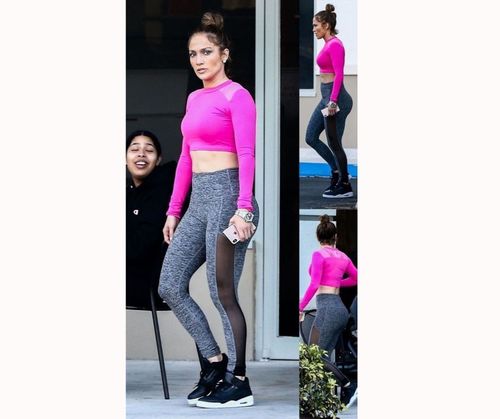 15. The Gym Lady
Workout outfits can be glamorous and JLo shows us how to do it. You surely want to make a room in your wardrobe for this JLo gym costume- pink crop tee, grey side silt mesh leggings and black sneakers. JLo has now given us a reason to hit the gym. One should learn from JLo how to age backwards. We can't surely guess JLo age here.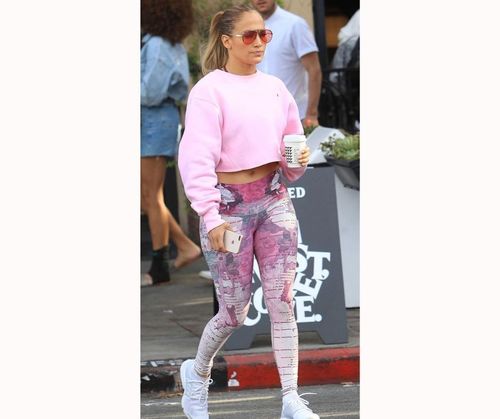 16. Pretty In Pink
JLo's wardrobe has some exquisite collection. She never fails to astound us with the JLo outfits. We heart her pink sweatshirt and geometric print pink leggings.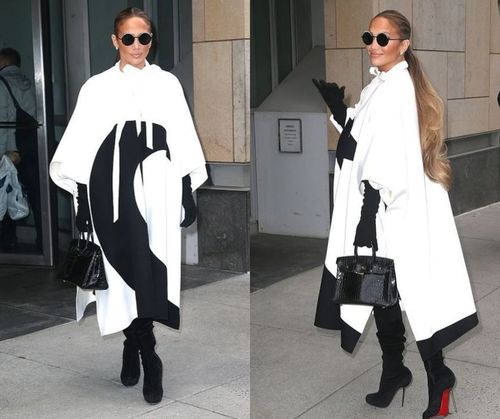 17. JLo Winter Style
Winter is coming and JLo has given us some serious winter wear goals. She stuns in black and white crescent printed cape JLo attire with pointed heel boots. Black hand bag adds on to the elegance.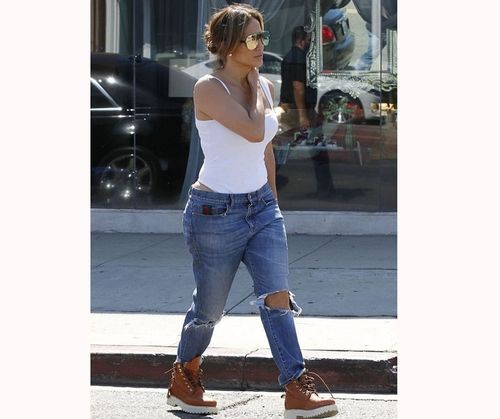 18. Messy Is Chic
The spaghetti white body suit and ripped boyfriend jeans enhances the glamour quotient of this 47-year-old diva. JLo consistently proves that age is just a number.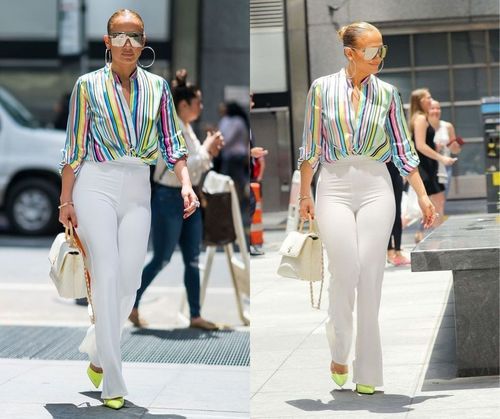 19. The Summer JLo Outfit
In this JLo costume the V- neck rainbow top and boot cut trousers teamed up with neon heels are a perfect combination for summer outfit. JLo is surely ageing like fine wine.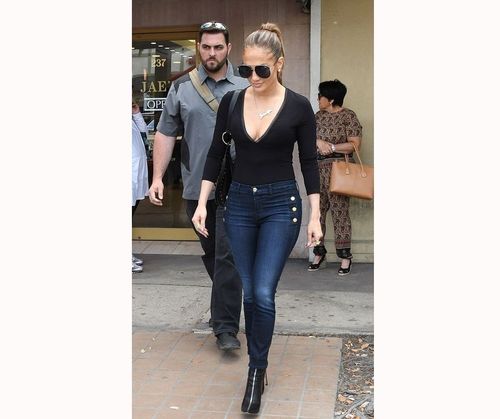 20. Simple Yet Sexy
JLo prefers to keep her wardrobe simple. So, if you are looking for something smart and casual this might be your go to outfit. JLo flaunts her style a simple plunged neckline black tee and blue skinny jeans.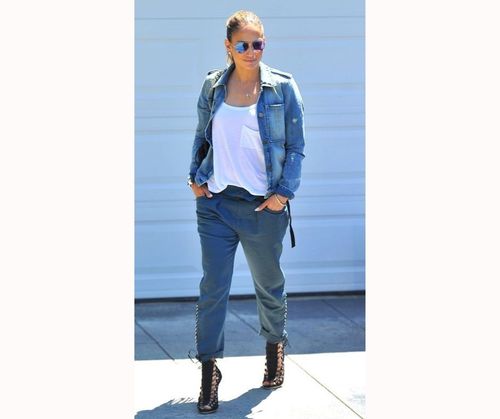 21. The Denim God
This JLo costume is ultimate guide for wearing denim the right way. JLo is clad in Denim wearing a denim jacket and straight cut denim trousers A casual white tee blends in perfectly with the denim jacket.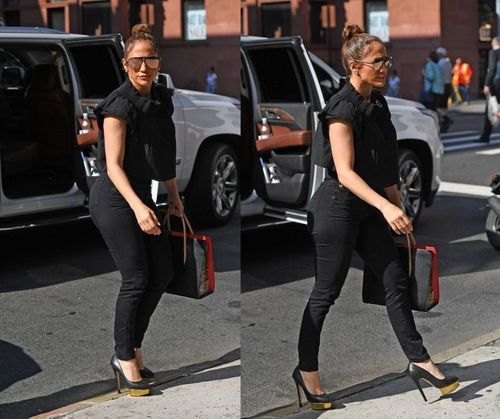 22. Black Beauty
A head to toe black outfit is a must in every celebrity's wardrobe. In this Jennifer Lopez attire, she is wearing a ruffled black top and skinny black jeans.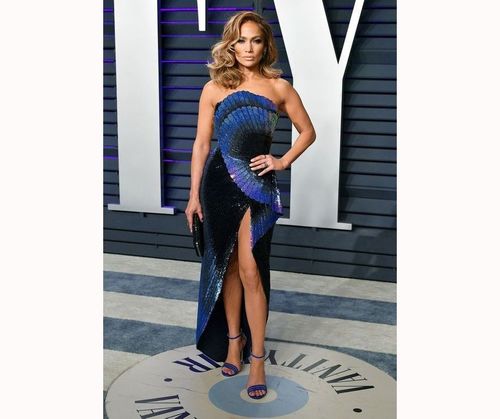 23. Party Animal
JLo took the fashion world by storm when she posted this beautiful sequined Oscar after-party dress on the Instagram account. A must have party wear.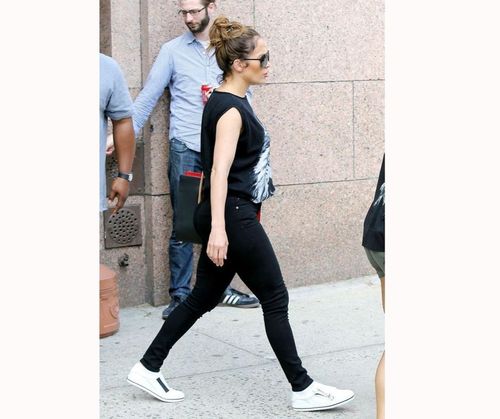 24. The Basics
Black denims are a must have for its versatile appearance. In this JLo attire she has rocked this basic look by teaming up a black denim with a simple basic graphic black tee.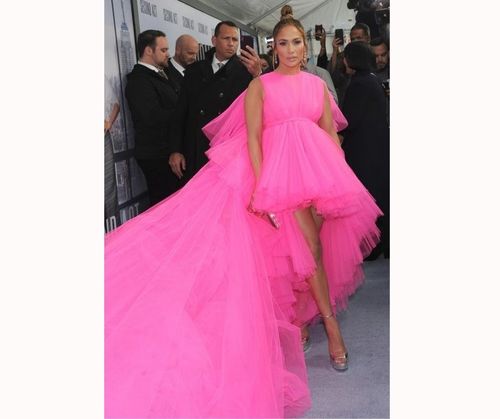 25. The Princess Look
Looking for a special dress for your birthday? Jennifer Lopez gives us birthday dress ideas. Take a sneak peak into JLo's wardrobe. Another Instagram trending dress from JLo's wardrobe- Pink fluffy mesh dress is another top listers amongst the fashionistas.
Related Articles