Here's Why Padma Lakshmi Is One Of The Top Beauty Icons
Kritika Mishra
Updated At 25 Sep 22
An American author, model, television host and executive producer, Padma Lakshmi joined hands with MAC and launched her makeup collection recently! With a dynamic personality and striking features, we bet you cannot ignore this Gorgeous lady with multi-faceted talents!
Her style is remarkable and effortlessly classy!
Padma Lakshmi x MAC is a talk of the town with all praises for the gorgeous lady of Indian descent! Her roots can be clearly seen imprinted on her latest creation! But before we jump onto her makeup collection, let us get to know more about her!
We tell you why Padma Lakshmi is one of the top beauty icons! Lets begin!!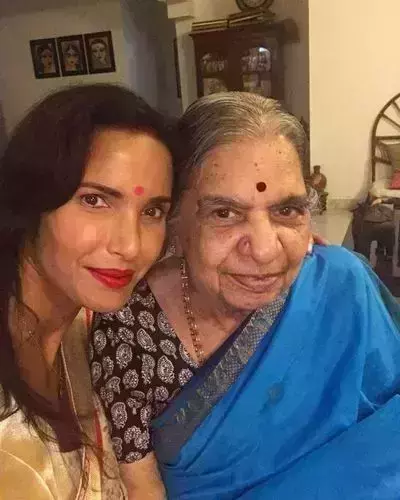 1. Her Never Say Die Attitude Is Inspirational!
Starting from the very beginning, Lakshmi always faced issues but she always found ways out and never gave up which indeed is inspirational!
She was born in Chennai but moved to United States at the age of 4.
She experienced the New York City through her palate as she could eat only rice since she was used to indian food and found it difficult to move over to American foods.
Lakshmi suffered from a medical condition – endometriosis which was undiagnosed for a long time and she went through painful periods thinking them as normal. It wasn't until she was diagnosed properly and treated the condition which again involved several surgeries, that she found out what normal actually was.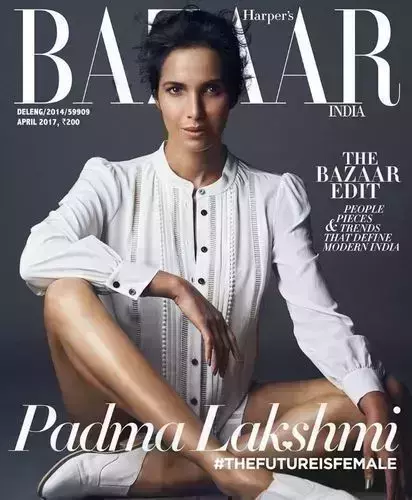 2. She Cancelled Her First Shoot As She Wasn't Comfortable!
She began her modelling career at the age of 21! An agent discovered her at a café in Madrid! She was one of the first Indian models to have a career in Paris, Milan and New York!
She has said,
I was the first Indian model to have a career in Paris, Milan, and New York. I'm the first one to admit that I was a novelty.
She always stood by her principles and never shied away from saying NO to things that she felt umcomfortable.
Very early in her carrer, when she was approached by the prolific fashion photographer, Helmut Newton, Padma Lakshi rejected the first shoot as it was supposed to be a nude one which she didn't feel comfortable with!
She received a temporary setback as the agents got mad at her since she rejected the opportunity to work with Helmut Newton but as destiny had it, she received the call again 6 weeks later and started working with him!
Gifted with a brilliant fashion sense and great taste for style, Padma Lakshmi has also been featured on the cover pages of Cosmopolitan, Marie Claire, Harper's Bazaar and modelled for top designers likes Armani, Versace, Ralph Lauren and Cavalli!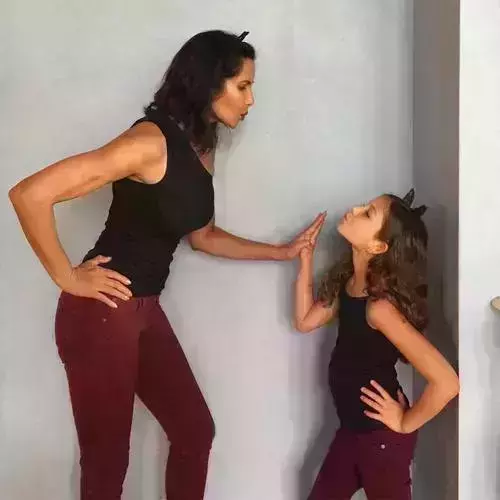 3. She Has Been Vocal About Her Choices And Decisions!
From marrying novelist Salman Rushdie to getting divorced and then being in relationship with Adam Dell to finally raising her daughter as a single mother, Padma Lakshi has always been in the news. But she has always stood by her decisions even when the going was tough!
Raising her daughter as a single mother, she makes sure her daughter sees both sides of the world. She does that by ensuring they travel frequently to India and participate in as many festivals as much as possible.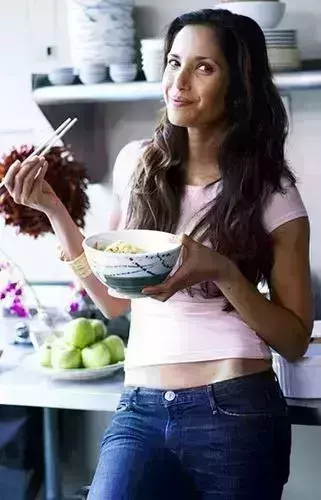 4. She Believes In Beauty From Within and Focuses A Lot On Her FOOD!
Padma Lakshmi wrote a cookbook called Easy Exotic which are compilations of recipes and short essays! The book was awarded as the Best First book at the 1999 Gourmand World Cookbook Awards at Versailles! She also hosted a show on Food Network called Padma's Passport where she cooked recipes from around the world!
In 2006, she landed on the cooking reality show Top Chef as a host and one of the judges! In 2010, she was nominated for the Emmy Award for Outstanding Host for a Reality or Reality-Competition Program!
In an interview in 2022, she outlined how adding specific ingredients like Kale in her diet leads to a balanced diet. She captured 3 different amazing recipes using Kale which are tasty and healthy at the same time.
Padma Lakshmi believes that Food alongwith the state of mind plays an important role to get the glow on your face. She tries to get messages as often as possible to keep herself relaxed. Additionally, apart from using makeup products, she tries to use natural remedies which is embedded in her daily life because of her indian heritage.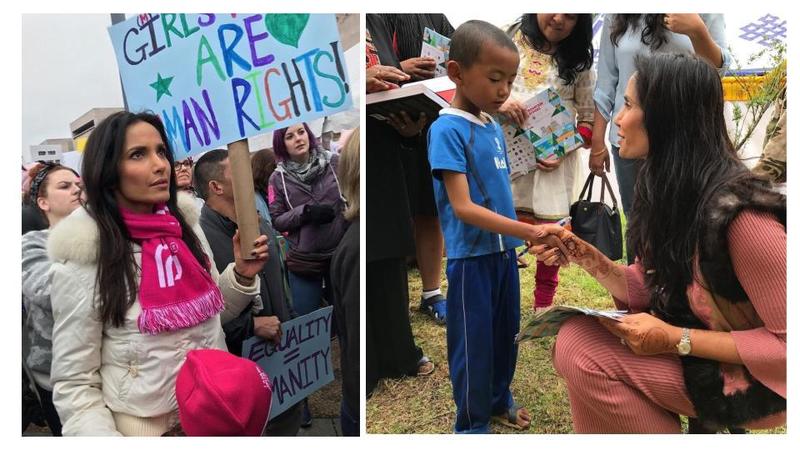 PADMALAKSHMI / INSTAGRAM PADMALAKSHMI / INSTAGRAM
5. She Is A Philanthropist!
Padma Lakshmi is the co-founder of The Endometriosis Foundation of America! She herself was diagnosed with the same disease at an early stage which made her take up this mission to increase awareness about this disease across the world!
She is also the Global Ambassador of Keep Child Alive and has travelled across India for the same!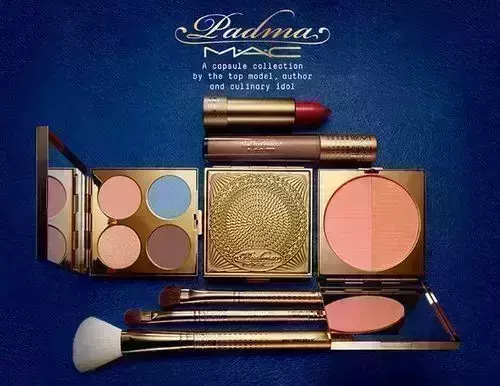 6. She Built Her Own Makeup Line With Products For All Skin Tones!
With many feathers in her cap, what remained constant with Padma Lakshmi was her love for beauty and style! But the journey wasn't easy!
I've been hoarding lipstick since I was about 6 or 7 years old" Padma Lakshmi says during an interview at a New York City MAC Cosmetics store. "I have very strong, fully formed opinions about makeup." Her strongest one? "I want makeup that looks good on medium and darker skin tones as well as Caucasian skin." Says Padma Lakshmi.
All her life she has struggled to get apt shades of her skin tone! Hence, she created one for herself and many other women globally! Her makeup line is inspired by 'Indian-ness' as she has loads of earthy and warm shades best suitable for all skin tones!
She says,
I just wanted to make the colors I didn't find in the marketplace when I was growing up. If you are dark skinned, you can find a lot of gray eyeshadow to do a smoky eye, but can you do a colorful smoky eye?
Padma Lakshmi's love for MAC has been perennial and she loves the fact that many brands now are accepting the different forms and colors of beauty and creating products for everyone!
As per her, MAC was the first company that did really rich, luxurious pigments that were supersaturated.
Padma Lakshmi's makeup line has two mini palettes that have bold and nude colors as well!
Smitten by the makeup line ? You can buy these over here!
She shares a great eyeliner tip as well! She goes about,
In those days, you would light your eyeliner with a lighter or a match to get it to soften a little bit before you put it on. That would give you a deposit of pigment that you wouldn't get otherwise. Those of us who had darker skin had to do stuff like that. We were doing all kinds of homemade things like that to make our makeup fit our skin.
She shows gratitude to her modelling career for refining her style and beauty sense in many folds!
Padma Lakshmi shares a beauty stigma shared by many and her creation is a legend in itself! She empowers women around and speaks about beauty as diverse! Her brand is now a beauty legacy that she shares with all of us!
Related Articles: