25 Stunning Kate Middleton Outfits Of All Time
Olivia
Updated At 23 Jan 23
Kate Middleton has an ageless, elegant taste, a fondness for fascinators, and a general air of calm. Every piece of clothing Kate wears is quickly purchased by ardent followers who want to imitate her style. The Kate effect is a common name for this. Kate Middletong has made a significant impact on fashion, and this trend doesn't seem to be slowing down anytime soon. Here, we'll take a look at 25 of Kate Middleton's most stunning outfits. These Kate Middleton dresses include all her popular ones.
25 Best Kate Middleton Dresses And Outfits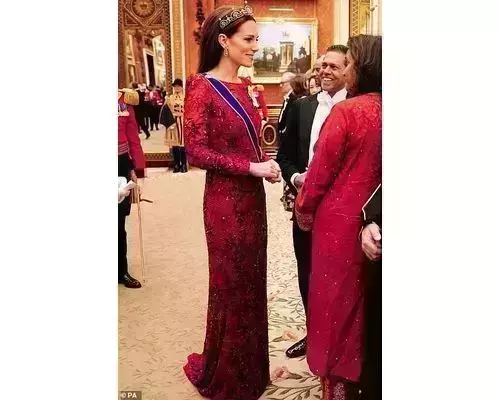 1. Kate Middleton Red Gown
For the annual Diplomatic Corps reception at Buckingham Palace, Kate chose a Jenny Packham red gown with embellishments and long sleeves. She accessorised the ensemble with a set of Queen Elizabeth's diamond earrings and the Lotus Flower Tiara, also known as the Papyrus Tiara. This Kate Middleton dress looked stunning and her accessories along with makeup were complimenting it perfectly.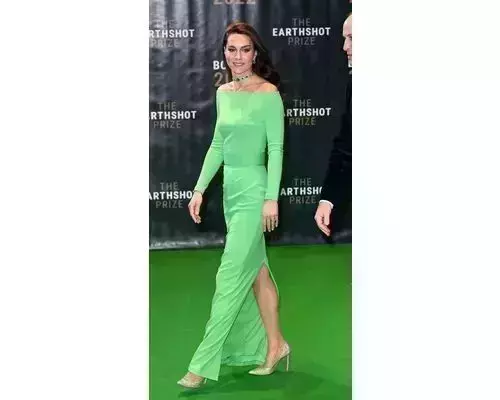 2. Kate Middleton Green Dress
The Duchess of Cambridge wore a vibrant green off the shoulder dress from Solace London as she made her way to the Earth shot Prize Awards green carpet. She accessorised Princess Diana's emerald necklace and matching earrings with the vivid gown.
Also check out Kate Middleton diet and workout plan as we cover her exact daily diet plan to reveal whar she eats in lunch, dinner and snacks.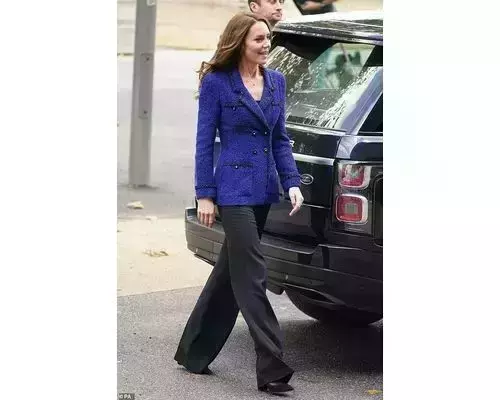 3. Kate Middleton Blue Blazer Look
Catherine, Princess of Wales made a surprise visit at a Boston Celtics game while she was in Boston for William's Earth shot programme wearing a classic blue Chanel blazer with black pants and pumps. She added a gold chain link necklace and hoop earrings to complete her elegant look.
Check out our guide to find out 25 best Meghan Markle outfits of all time. These include her all the popular dresses like red dress, green gown, wedding dress, black and white outfit and many more.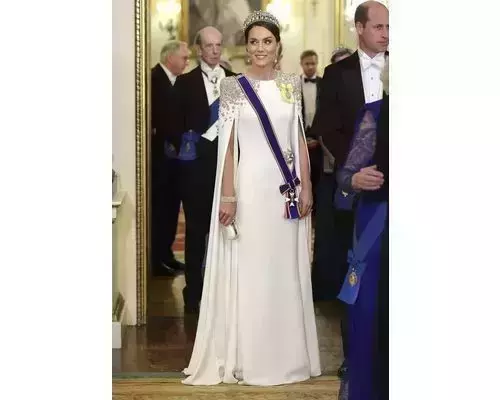 4. Kate Middleton White Dress
For the first state luncheon held at Buckingham Palace under King Charles III, Kate Middleton resembled a radiant bride. Kate Middleton dazzled in a white Jenny Packham gown for the event, which featured beaded accents on the shoulders and billowing sleeves. She added the Queen Mary's Lover's Knot tiara to her bridal-inspired outfit as a very unique finishing touch. This Kate Middleton dress looked beautiful and perfect for the important occasion.
Check out our guide to find out the 5 best Kate Middleton perfumes she uses regularly. A few of them are really surpirsing!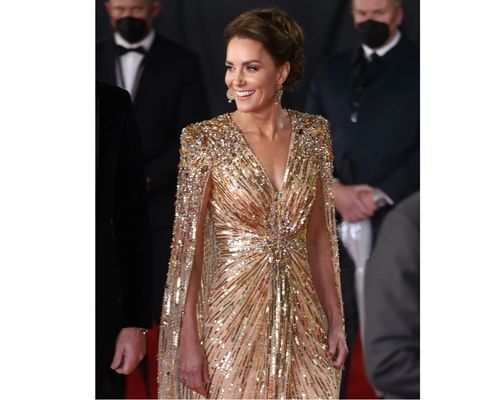 5. Kate Middleton Gold Dress
In September 2021, Kate Middleton attended the James Bond No Time To Die movie premiere wearing Jenny Packham's Goldfinger gown. The sequined gold outfit she was wearing was gorgeous. The gold metallic dress has a billowing cape and striking shoulder details. The garment has a base of sparkly tulle and is embellished with glistening sequins. The gold cape gown was created by Jenny Packham in partnership with EON Productions, the production firm for the James Bond movies, for a special 007-themed capsule collection. The glitzy gold dress was given the James Bond movie Goldfinger's moniker. The well-known scene where Jill Masterson is doused in gold paint served as the inspiration for this Kate Middleton dress.
Check out our guide to find out all of Kate middleton beauty secrets as we uncover her top beauty tips and skincare secrets.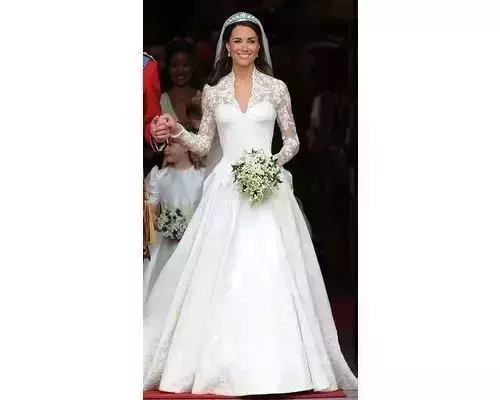 6. Kate Middleton's Wedding Dress
Kate Middleton's wedding gown, which she wore on April 29, 2011, was created by English designer Sarah Burton, the creative director of the prestigious fashion business Alexander McQueen.The gown was eagerly anticipated and received a lot of media attention due to its significance, design, and potential influence on Western bridal gown trends.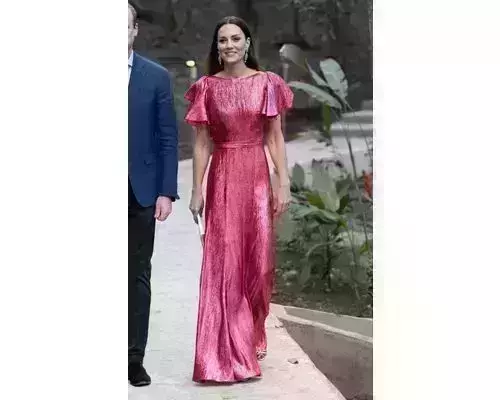 7. Kate Middleton Pink Dress
In a glittering pink dress by The Vampire's Wife, the rapidly expanding company established in 2016 by designer Susie Cave, the spouse of singer Nick Cave, Kate Middleton looked stunning. Kate Middleton complemented the dress with silver Jimmy Choo heels, Onitaa earrings, and a Mayan-inspired handbag made in the area.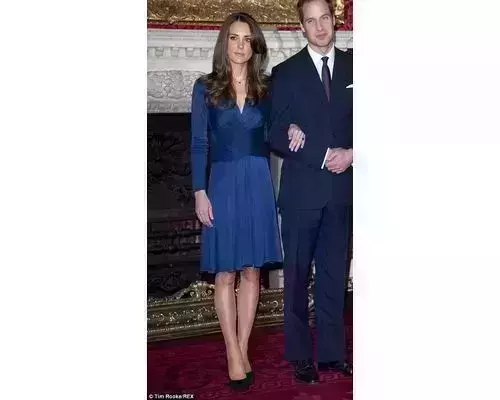 8. Kate Middleton's Blue Dress
The future Duchess of Cambridge looked lovely while announcing her engagement to Prince William in 2010 while wearing a royal blue twist front wrap dress by Issa London. Kate wore a blue Issa wrap dress with bracelet-length sleeves and a v-neckline. The skirt of the dress flows in delicate folds and is belted at the waist.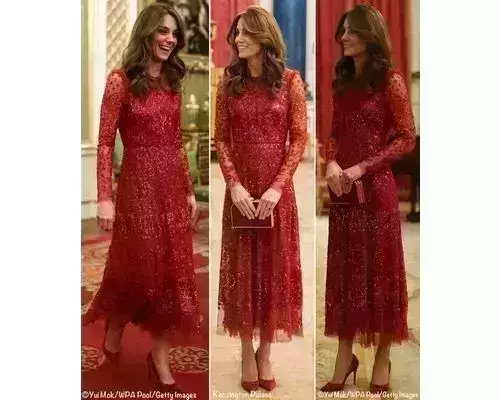 9. Kate Middleton's Red Dress
Kate posed in front of a beautiful Christmas tree in a beautifully adorned room for the Christmas carol service while donning a glittering red gown that she had previously worn to a state reception in January 2020. The Needle & Thread sequined midi-length gown has short ornamental ruffles over the collar, shoulders, and elbows, a tight sequined bodice, long sheer sleeves embellished with floral appliques, and a long sheer skirt. With her hair in loose curls and a set of elaborate earrings, Kate completed the look.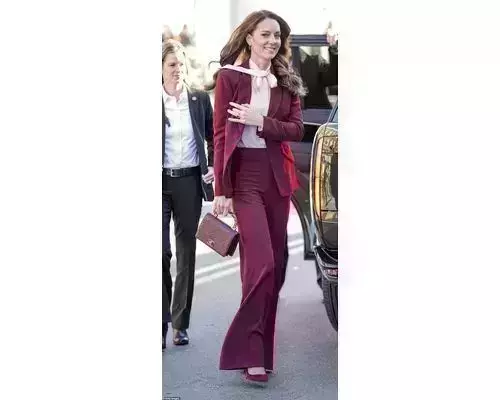 10. Kate Middleton Pant Suit Look
When Kate visited Greentown Labs, North America's largest clean-tech incubator, she wore a burgundy Alexander McQueen pantsuit and a pink pussy bow shirt. She finished the look with maroon shoes that matched, a Chanel handbag, and gold hoop earrings.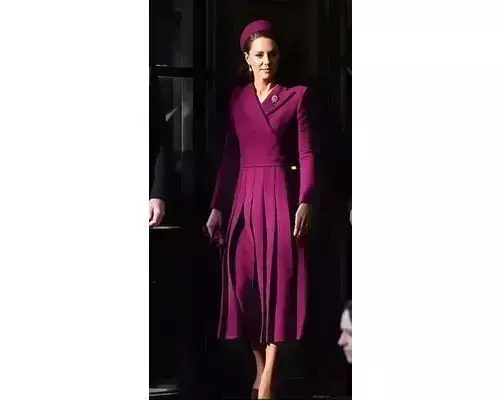 11. Kate Middleton Burgundy Coat Dress
As she joined Prince William, Camilla, the Queen Consort, and King Charles at the Horse Guards Parade, Kate looked stunning in a burgundy coat dress by Emilia Wickstead. She accessorised the stunning dress with a pocketbook, suede pumps, and a pillbox hat in the same colour. The Princess of Wales completed her ensemble with the Prince of Wales's feather brooch, which is thought to have been a gift from the Queen Mother to her late mother-in-law. She also wore Princess Diana's pearl drop earrings.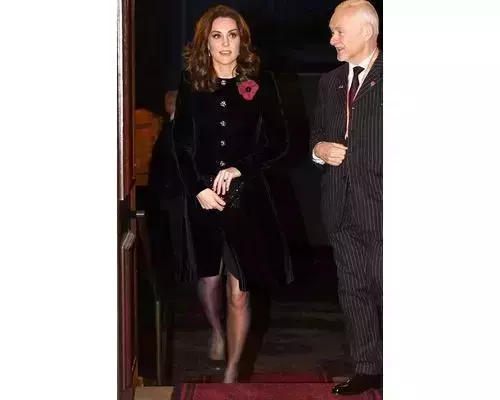 12. Kate Middleton Black Outfit
While Prince William and Kate were present at the Festival of Remembrance at London's Royal Albert Hall, Kate paid tribute to Queen Elizabeth with her jewels. She accessorised her all-black look with Bahrain pearl drop earrings and a four-strand pearl necklace that belonged to her late grandmother-in-law. This Kate Middleton dress looked stylish and perfect for the occasion.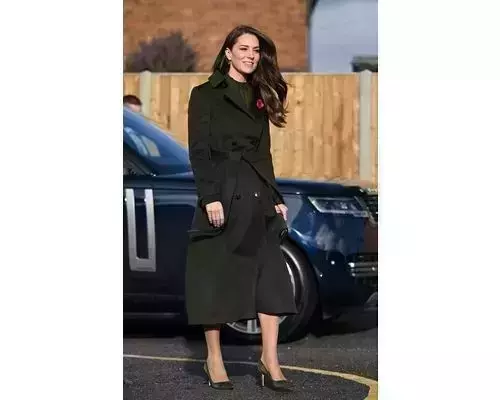 13. Kate Middleton Olive Green Look
During a meeting with the Maternal Mental Health Alliance Patronage, Kate Middleton wore a full olive green outfit and looked seasonally gorgeous. She wore a $60 identical midi dress from Mango underneath a Hobbs London cashmere coat. Kate completed her ensemble with a Jimmy Choo purse with crocodile embossing, Kiki McDonough drops earrings, Gianvito Rossi shoes, and a poppy pin to remember those lost in battle.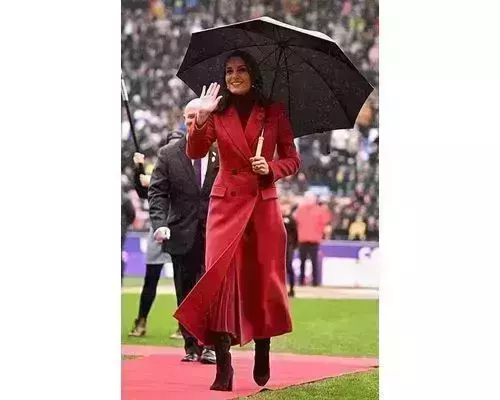 14. Kate Middleton Red Coat Look
Kate donned a vivid red Alexander McQueen coat over a burgundy turtleneck from Gabriela Hearst and a matching pleated midi-skirt from Co. for an England vs. Papa New Guinea rugby match. She accessorised the look with brown suede boots and pearl drop earrings.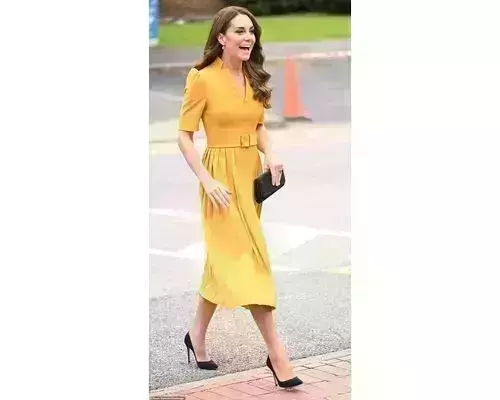 15. Kate Middleton Yellow Dress Look
Kate looked stunning in a bright yellow belted dress by Karen Millen for an engagement at the Royal Surrey County Hospital's Maternity Unit. She accessorised her colourful look with a blue purse and matching shoes.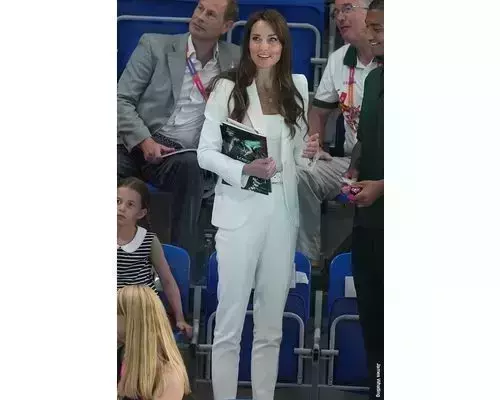 16. Kate Middleton White Suit Look
While attending the 2022 Commonwealth Games with her husband and their 7-year-old daughter Charlotte, Kate looked gorgeous in all-white attire. The royal mother chose her go-to Alexander McQueen suit and accessorised it with a matching necklace and earring set. She also wore two-tone slingback heels.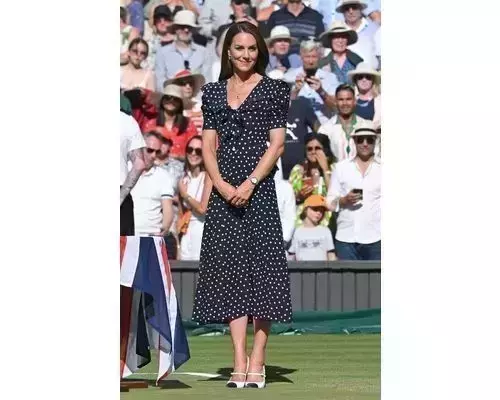 17. Kate Middleton Polka Dot Dress
Kate Middleton - Duchess of Cambridge chose a chic polka-dot midi dress by Alessandra Rich for the last day of Wimbledon, pairing it with the brand's two-tone heels. She completed her ensemble with a Cartier watch, a matching jewellery set, and matching earrings.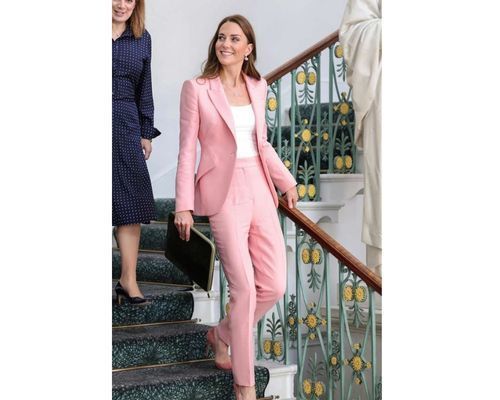 18. Kate Middleton Pink Power Suit Look
Kate hosted a roundtable with her Royal Foundation Center for Early Childhood while sporting an Alexander McQueen pink power suit. She accessorised her appearance with Mappin & Webb earrings and matching suede pumps.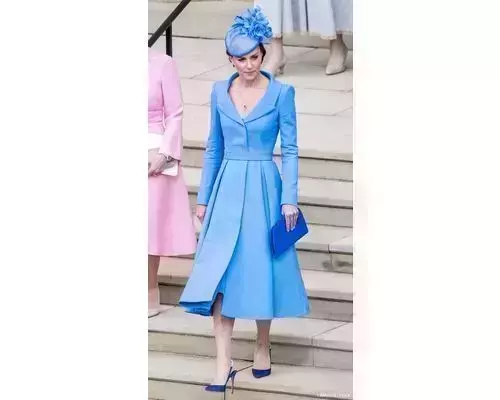 19. Kate Middleton Blue Coat Dress
At the Order of the Garter Service in Windsor, Kate looked magnificent in a blue ensemble from head to toe. She was decked out in a blue dress, matching heels, a hat, a clutch, and jewellery that included tanzanite and diamonds that she had worn before.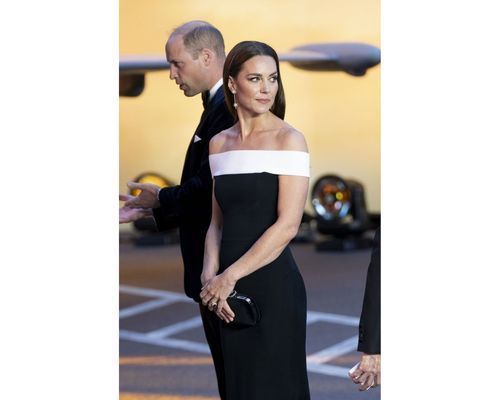 20. Kate Middleton Monochrome Gown Look
At the Top Gun: Maverick premiere, Kate Middleton arrived on the red carpet in style. William kept things simple in a stylish tuxedo, while Kate chose a form-fitting, off-the-shoulder black and white design by Roland Mouret. This Kate Middleton gown looked stunning and her accessories completed it perfectly.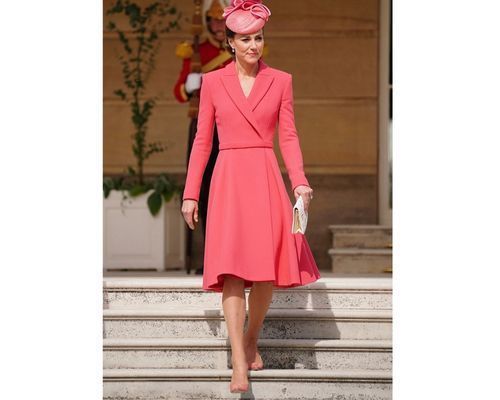 21. Kate Middleton Coatdress Look
In a coral Emilia Wickstead coatdress, Kate looked stunning when throwing The Queen a garden party. She accessorised the colourful dress with a white purse, suede shoes, and a matching fascinator.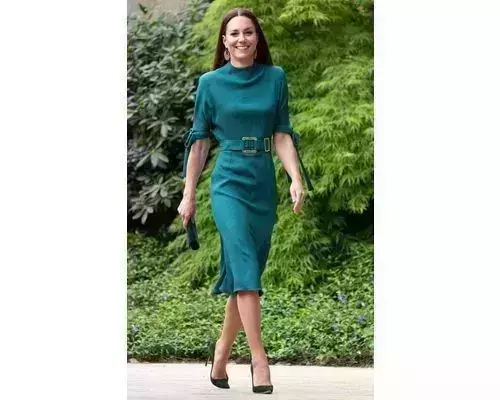 22. Kate Middleton's Belted Green Dress
At a ceremony given by the British Fashion Council at the Design Museum in London, the duchess presented The Queen Elizabeth II Award for British Design while looking elegant in green. She chose a mid-length dress by Canadian-British designer Edeline Lee with a belt, accessorising with matching heels, a handbag, and gold earrings.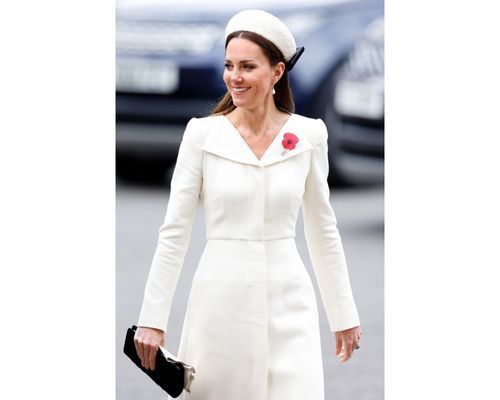 23. Kate Middleton White Coat Dress
For Anzac Day, a major day of remembrance for New Zealand and Australia, Kate dazzled in white. She reused an Alexander McQueen coat dress that she had worn to Princess Charlotte's christening in 2015, and she accessorised with Princess Diana's pearl drop earrings and a headpiece that matched.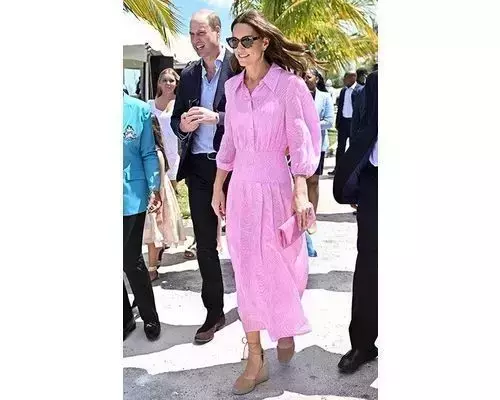 24. Kate Middleton Pink Dress
Kate chose a pink Rixo dress with pink zebra print shoes, a matching clutch, and espadrilles for the last day of the Caribbean cruise. She also wore accessories made by Bahamas-based jewellery designer Nadia Irena and Finlay sunglasses in tortoiseshell.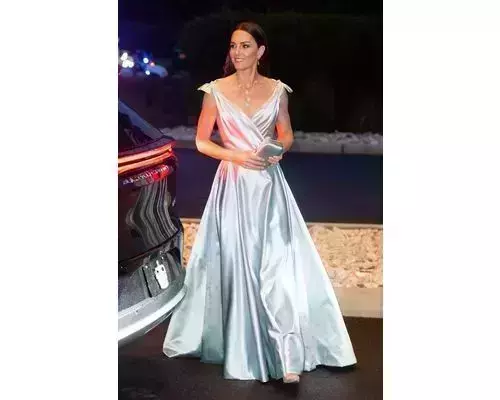 25. Kate Middleton Icy Blue Ballgown
Kate dazzled during a banquet held by the Bahamas' governor general, Cornelius A. Smith, in an icy blue Phillipa Lepley gown. She completed her ensemble with a coordinating purse, studded shoes, and Van Cleef & Arpels jewellery.