How David Harbour Lost 80 Pounds?
Olivia
Updated At 24 Jan 23
Looking to find out how David Harbour lost 80 pounds? If yes, we have got you covered as we discuss in detail how David Harbour went from 270 pounds to 190 pounds. We cover David hairbour diet and his workout in details which helped him to lose substantial weight.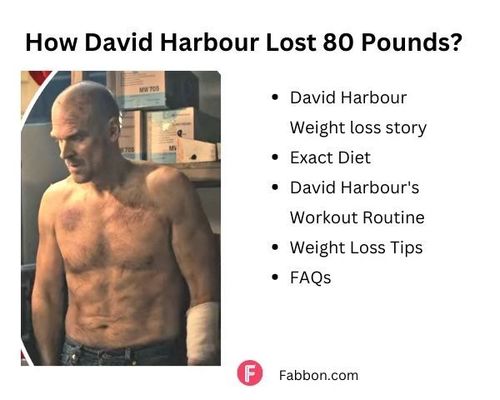 Who is David Harbour?
David Harbour is an American actor and producer. He has starred in such feature films as Hellboy, Brokeback Mountain, Quantum of Solace, State of Play, The Green Hornet, End of Watch, Snitch, The Equalizer, Black Mass, Suicide Squad, Sleepless and Extraction. He is also known for his work on the television series House of Cards and Stranger Things. In 2018 he won a Golden Globe Award for Best Actor – Television Series Drama for his role as Jim Hopper in the TV series Stranger Things.
David Harbour has been an inspiration for many, with the amazing acting he has set records which are hard to break. People love him for as he is but his recent weight loss transformation has left people speechless and admiring him and his hard work even more. Read on to know about his weight loss journey and weight loss tips.
Rob kardashian weight loss story is another inspirational one. Do find out how he lost 50 pounds through a combination of diet and exercise.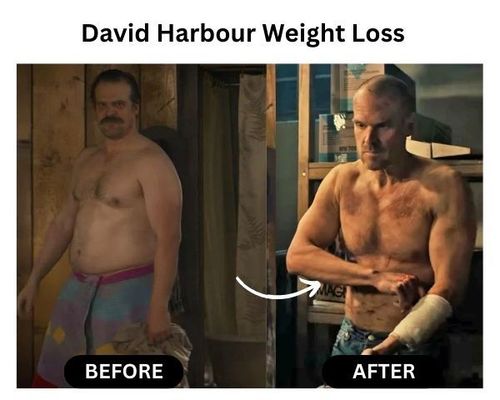 How David Harbour Lost 80 Pounds - His Weight Loss Story
David Harbour's amazing transformation has left people stunned and wondering how he lost 80 pounds. We wanted to know about David Harbour's weight loss and his diet, now that he has shed about 80 pounds. David Harbour gave an interview to GQ magazine where he shared about his weight loss journey- about how much did he struggle to lose weight and why did he do so.
David Harbour's weight was nearly 270 pounds before he started his weight loss journey. By the end of seven months, David Harbour had lost about 80 pounds and was at 190 pounds, revealing the leaner and much healthier version of him. David Harbour's height is 1.9 m, he said it was important for him to maintain a healthy weight and that he was overweight for many years. During an Instagram live as well, David Harbour discussed alongside his trainer about his weight loss and how he did it.
David Harbour revealed that he lost weight by doing intermittent fasting and following a regular workout schedule. Inspired by the story many people looked up to David Harbour's intermittent fasting and decided that it is the right option for them.
Before we begin explaining what intermittent fasting is let us warn you that you should always start with a new diet after consulting with your doctor and taking the help of a certified dietician.
Intermittent fasting is a technique that allows you to fast intermittently, or sporadically. This means that you can alternate between periods of total abstinence (not eating anything) and periods of partial abstinence (eating specific types or volumes of food). The goal is to help your body adapt and improve its metabolism while also helping to reduce chronic inflammation. Is intermittent fasting safe? There are many different types of intermittent fasting, so it's important to research which one is right for you before starting. In general, most forms of intermittent fasting are considered safe for healthy adults as long as they adhere to the guidelines.
Do check out Seth Rogen weight loss story as he lost 30 pounds in 10 weeks through diet and workouts.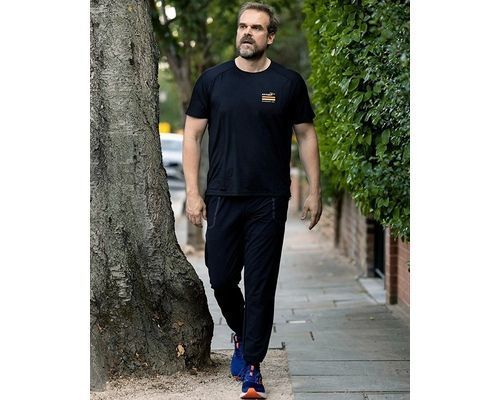 David Harbour Weight Loss Story
Another question that came to the mind of his fans was why did David Harbour lose weight?
David Harbour revealed he lost weight for his latest project which is Stranger Things season 4. The third season of one of the most popular and liked series- Stranger Things was released in 2019 and for the role of Jim Hopper, David Harbour lost about 80 pounds. David Harbour appeared lean and fit in the latest episode of Stranger Things. Harbour said that he lost a major amount of weight which is about 40 to 50 pounds in just three months. His weight loss timeline was intervened by Covid 19 which caused lockdowns and inaccessibility to gyms and grocery stores as well for everyone.
As mentioned by David, one of the most important reasons behind his 80 pounds weight loss was that he wanted to portray the character properly in Stranger Things season 4. He mentioned the following on his instagram,
When I took my shirt off, I wanted to reveal this body that had been hardened by this prison. You know, a guy who was more brutal but was also thinner and had not been eating well.
As David Harbour was following the intermittent fasting diet, he also went on regular walks and was also sometimes spotted by his fans. David Harbour's before and after has stunned his fans and made them wonder about how he did bring about such a drastic change. David Harbour has himself talked about his weight loss journey, his diet and his workout as well.
Do check out our guide to find out more about Simon Cowell weight loss story and how he lost 60+ pounds. His before and after weight loss pictures showcase the amazing transformation.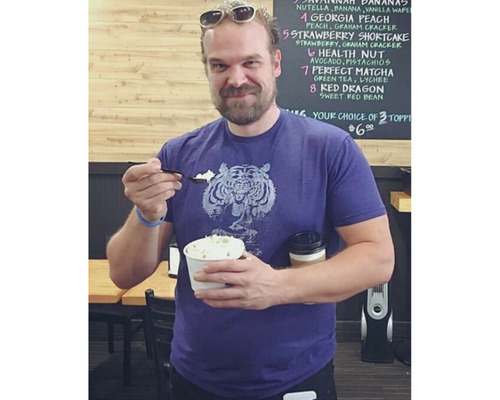 David Harbour Diet
In his Instagram live David Harbour revealed his diet and workout regime. David Harbour's diet included more vegetables and he had drastically cut down sugar. Though he followed intermittent fasting, but he still ate junk foods like burgers once in a while.
David Harbour's weight loss included more portion control and controlling the time he had food more than actually minding what he was eating. He said he would not eat until noon and would also stop eating after 8 pm. Keeping 24 hours fast overall, per week was one of the most important parts of David Harbour's diet.
As he saw some progress, David Harbour's diet became cleaner and healthier as he started eating more vegetables. Skipping breakfast to cutting on sugars, the diet made a huge role in David Harbour's weight loss journey.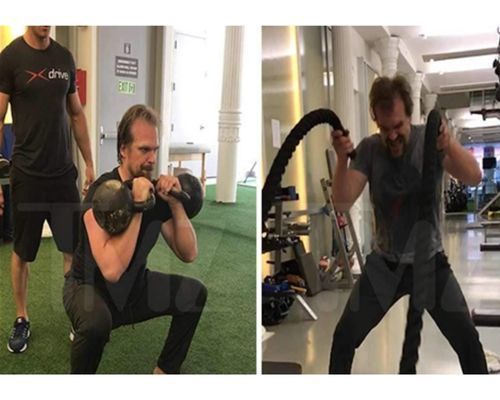 David Harbour Workout Regime And Tips
It's always 80% nutrition and 20% workout, but this doesn't mean we completely skip on workout and expect good results. Studies have shown that physically active people tend to weigh less than those who aren't. This has been attributed to two primary reasons: Exercise burns calories, which leads to fat being burned off in the body; and regular exercise helps improve insulin sensitivity (the ability of cells to absorb glucose efficiently), which reduces the likelihood of obesity or diabetes developing over time. However, it's important not to get too wrapped up in numbers - everyone responds differently to physical activity and dieting will undoubtedly be more successful if it's tailored specifically towards you. There is no one-size-fits-all approach when it comes hand losing weight - each person needs something different for them to lose weight successfully.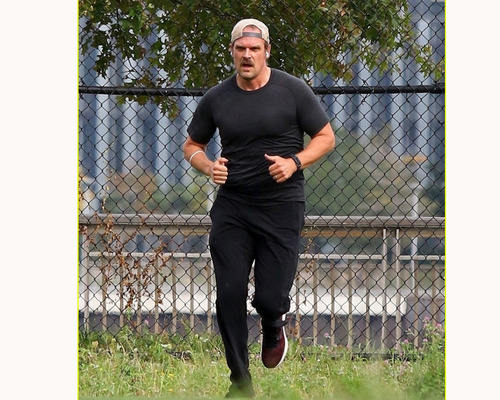 David Harbour's workout included pilates, weight training, steady-state cardio and stretching, muscle activation training.
During his Instagram live, David Harbour said
I think [Pilates] is something where it allows your instrument to be strong but also expressive. I think that's why dancers are drawn to it.
We always tend to overlook the importance of weight training and cardio together. It's a misconception that only a cardio/ aerobic workout is going to help with losing weight. Resistance training is as important as cardio in the weight loss process. We do lose body fat through cardio but muscles build much more easily and effectively through resistance training which is also referred to as weight training. Weight lifting or resistance training using body weight is one of the most important steps as at one point where there is no more fat to lose in the body, the body outlook will stop responding to the cardio and the desired weight and structure may only be achieved if you start lifting weights. Cardio is really important to losing weight and it also helps maintain heart health. David Harbour's workout also included an equal proportion of cardio and resistance training. David Harbour revealed the cardio mostly included running but it was slow past running which has helped with his breathing a lot.
David Harbour mentioned,
The cardio was a lot of running but with very low intensity over an extended period, around 60 to 90 minutes at a heart rate of about 165. It helped with my anxiety and my breathing rate.
To strengthen the core, core training and stabilization are also important which was also included in David Harbour's workout regime. As David Harbour talked about running he revealed that he used to run a lot when the pandemic hit and he continues that.
"Running gave me this freedom from the phone and this freedom from constant stimulation and activity," he said. "You're just out there and your breathing slows down. There's just this meditative quality to it."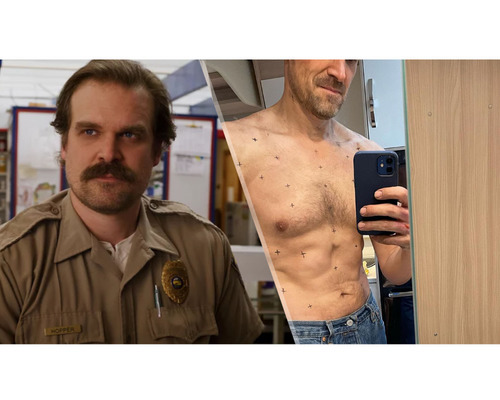 David Harbour Workout Tips
There is no question that a good workout is important for overall health and fitness. However, it's also worth noting the importance of including some type of aerobic activity in your routine as well.
Aerobic exercise can help you to lose weight and tone your muscles while increasing your heart rate and breathing rate. In addition, aerobic exercise has been shown to improve mental clarity and concentration. So, whether you're looking to reduce stress levels or just maintain a healthy physique, incorporating aerobic activity into your workouts will be a big help!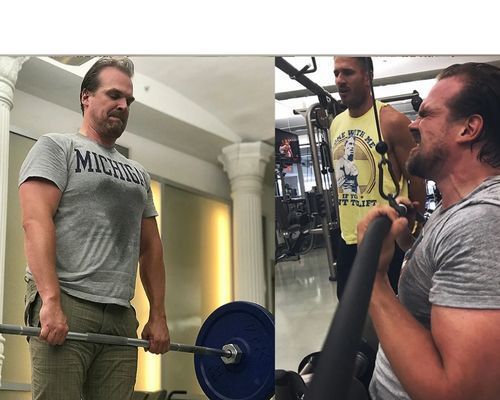 There is no doubt that a good workout is essential for overall health and fitness, but what about the importance of workouts for weight loss?
Does exercise always lead to weight loss?
The answer to this question depends on a variety of factors, including your activity level, diet, genetics, and sex.
Understanding Eating disorder- David Harbour also has a tip for people who wish to lose weight and begin a healthy life. He says that there is a delicate line between eating problems and how far you can go. There has to be a balance between the two.
Would David Harbour want to reduce weight again?
David Harbour mentions that losing 80 pounds to go from 270 pounds to 190 pounds was really difficult, and he would prefer not to do it again.