51 Stunning Honey Blonde Hairstyles Trending In 2023
Ankita Ghoshal
Updated At 26 Aug 23
The realm of hair trends is ever-changing, and one colour that has lately made waves is honey blonde hair. This lovely and adaptable colour gives warmth and brightness to any haircut, making it a popular choice for many fashion-forward people. Honey blonde is an excellent choice for either a comprehensive hair transformation or a subtle modification. Here, we will explore 51 lovely honey blonde hairstyles that will be popular in 2023.
51 Best Honey Blonde Hairstyles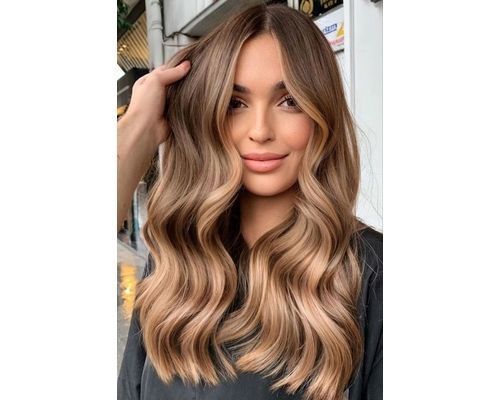 1. Honey Caramel Blonde
This is one of the most adorable honey blonde hair styles. Caramel honey golden hair combines warmth and grace well. Combine this sun-kissed look with a gentle face frame and a medium-length cut for a fashionable look that is appropriate for any season. One can also opt for caramel balayage if you are looking for a new hairstyle which can transform your look.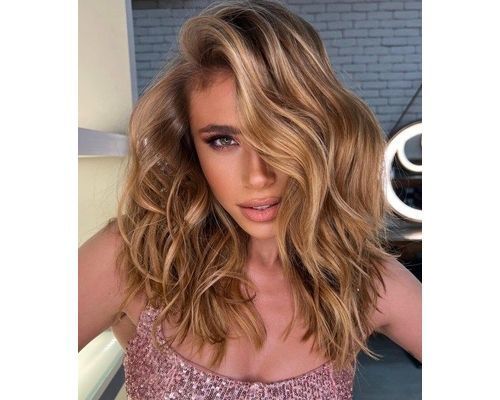 2. Balayage Warm Blonde
Balayage is unquestionably here to stay! This is one of the most cherished honey blonde hairstyles of all time. For this, your hair colourist will use a honey blonde hair colour to produce highlights and then tousle your hair into gentle waves for this stylish yet basic style.
Read More: Honey Blonde Highlights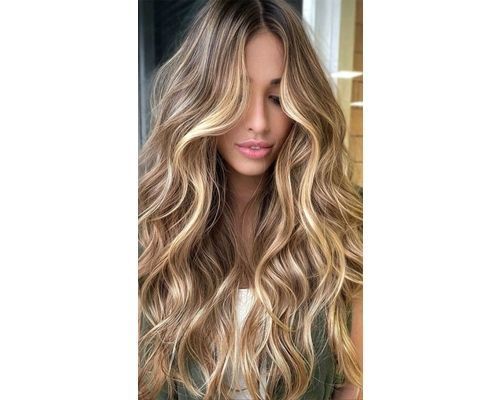 3. Honey Blonde Nude Waves
This honey blonde tint provides a touch of carefree vibe to an otherwise pretty warm shade for your long hair. Use a curling iron to add waves and volume for a look that is appropriate for both work and pleasure. If you want chilled-out blonde balayage hairstyle, try this one.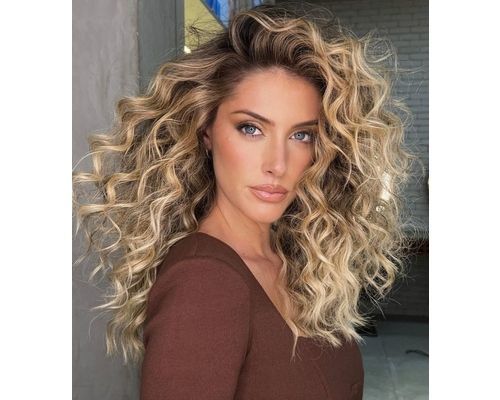 4. Honey Blonde Loose Curls
Ribbons are used to add depth, dimension, and brightness to your hair in this eye-catching style. The end result is attractive, feminine, and playful, especially on long, silky waves.
Read More: Ash Brown Balayage Hairstyles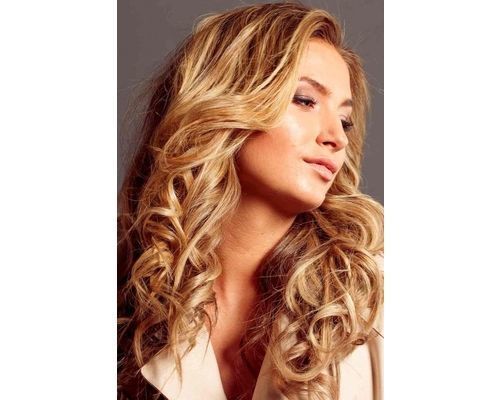 5. Sunny Honey Blonde Ribbons
This is the one hairstyle that will stay until the end of the century. These stunning honey blonde ribbons are feminine and classy and will undoubtedly be on "best of" hairstyle lists for many years to come.
Read More: Face Framing Highlights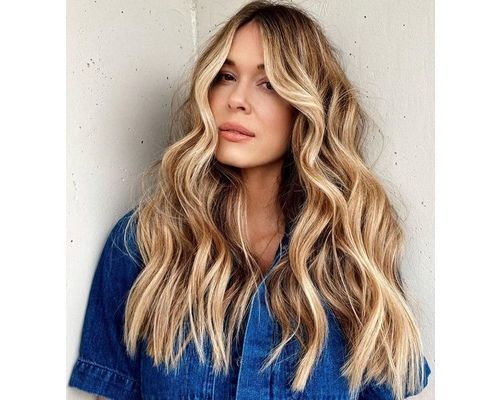 6. Honey blonde with Root Shadow
This lady had her natural hair colour boosted from the mid-lengths to the ends and matched with a darker tone at the roots for a low-maintenance, lived-in look.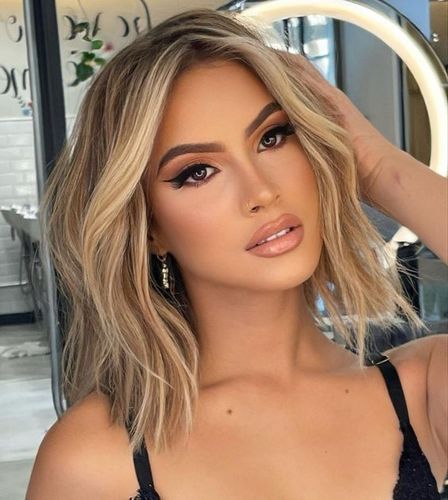 7. Shoulder Length Light Honey Blonde
Combining a delicate honey tone at the base with a creamy champagne blonde around the periphery keeps the overall colour scheme more lighter and softer. This neck length haircut just looks gorgeous and can go well with various looks as well.
Read More: Chocolate Brown Balayage Hairstyles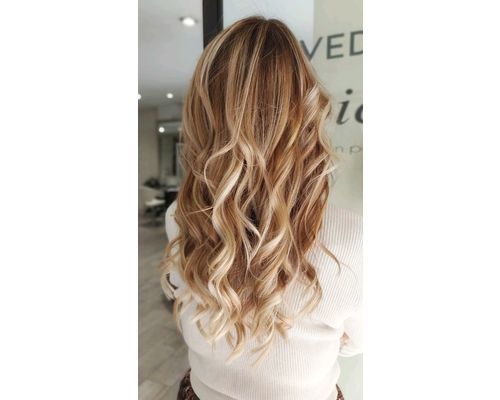 8. Honey Blonde with Vibrant Ribbons
Tiny streaks of a brighter blonde add sparkle to the basic honey colour and highlight the movement created by superb layering and a little curling.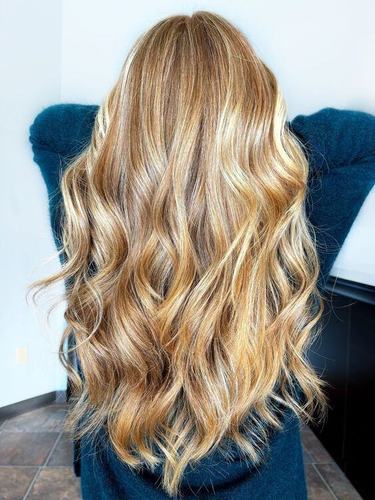 9. Honey Blonde Balayage with Low Contrast
This beautiful colour job combines honey blonde hair dye with well-blended low-contrast highlights to create a soothing, warm style.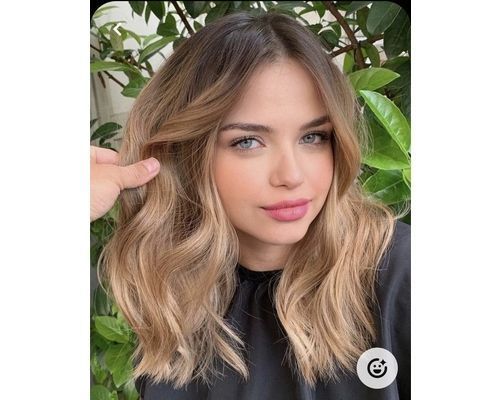 10. Dark Root Honey Blonde
Dark roots are no longer a sign of a sloppy colour job: mixing dark roots with honey blonde hair may add depth and brightness, transforming your look into something eye-catching and original. One can also try out wispy bangs as these look amazing and have been trending this year!
Read More: Balayage Curly Hair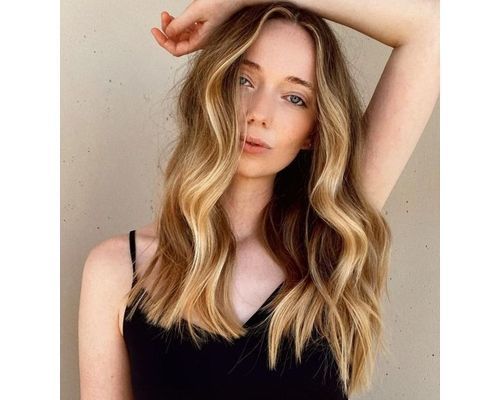 11. Warm Blonde Colour
Warm blonde hair is timeless, whether you're strolling down a seashore boardwalk or bundled up in winter jackets. This soft, charming colour is feminine and elegant, and it works well for women of all ages.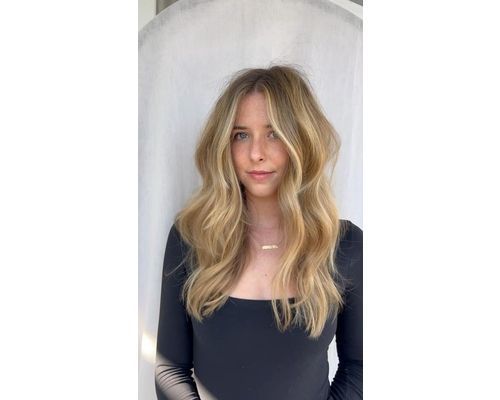 12. Windblown Neutral Blonde Waves
If you've ever wanted to look like Natasha Romanoff, combine long, elegant curls with a honey blonde colour to create an appearance suitable for both movie stars and superheroes.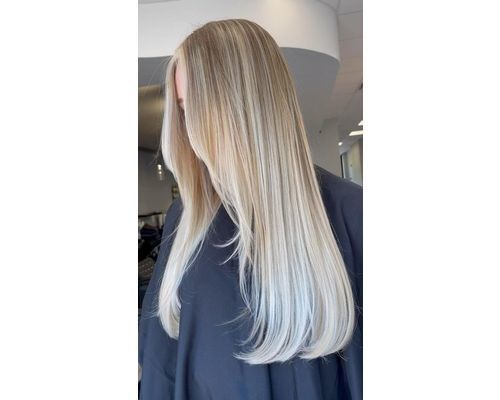 13. Cool Toned Gleaming Blonde
Although honey blonde is primarily a warm colour, it may be adapted to different complexions by glossing it with a metallic tint, which cools the warmth and makes it suited for moderate skin tones.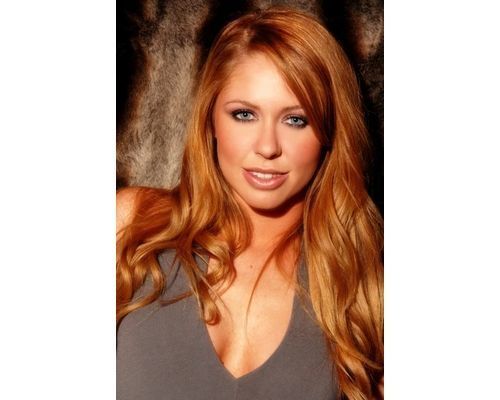 14. Balayage in Amber-Tinted Honey Blonde
Girls with medium to dark warm skin tones will adore this choppy long hairstyle with a dark honey base that has been softened around the face and towards the ends.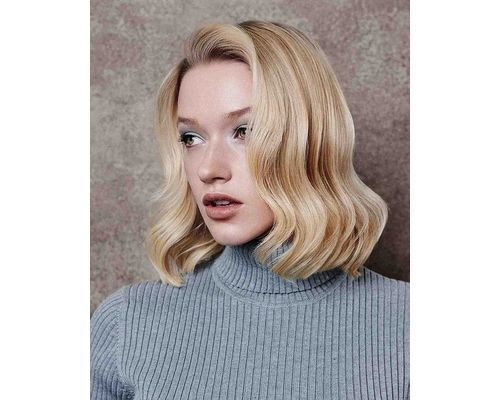 15. Creamy Blonde with a Honey Flavour
This wonderful blowout adds volume to the hair while also adding depth thanks to the lovely blend of buttery blonde and light brown. One can also opt for brown balayage as it can transform your look completely.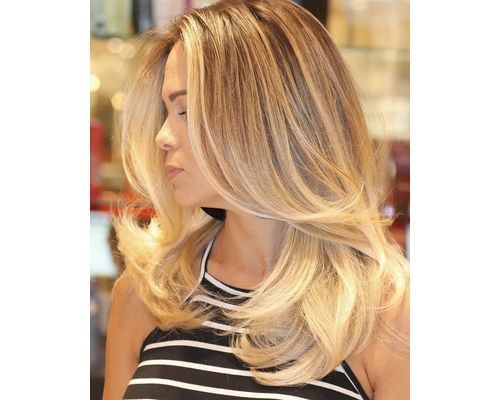 16. Lightly Toned Honey Blonde
Use a light honey blonde hair colour and a curling iron to transform even the most lifeless style into something eye-catching and magnificent, making even Farrah Fawcett green with envy.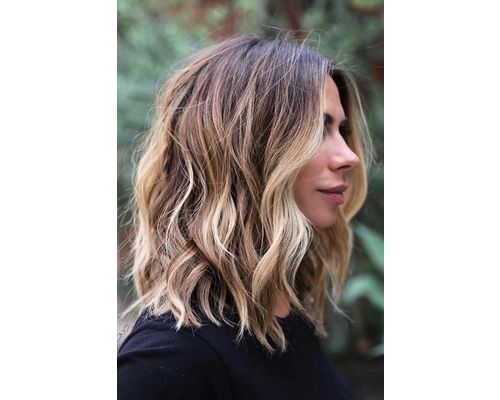 17. Honey Bronde and Tousled Bob
This honey hair colour is created by meticulously blending a neutral medium brown and a dimensional golden blonde along the length, with the greatest pops of colour in the front. If you are looking for new colorful hairstyle, you can definitely try out blue black hairstyle.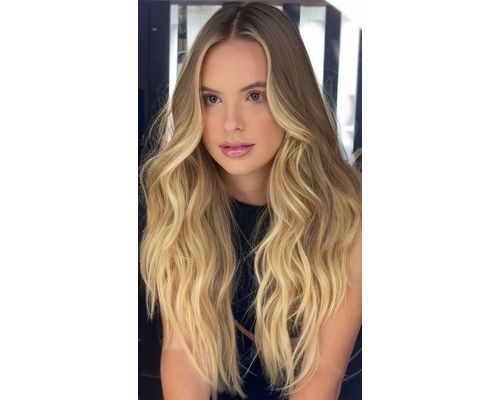 18. Honey Blonde with a Dramatic Money Piece
Face-framing highlights are everywhere these days, but it's up to you whether you want them to be smoothly diffused or to shine out.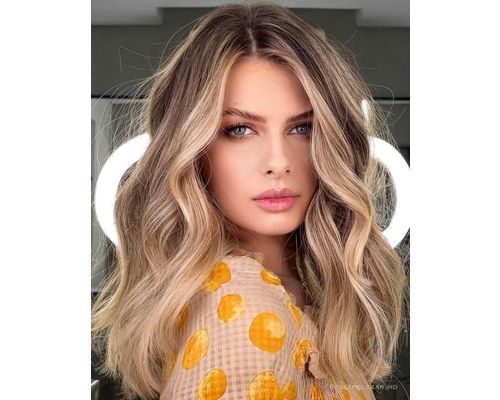 19. Honey Blonde Highlights
Oh, all, honey blonde highlights are timeless for a reason: they complement almost every skin tone. Pair them with cool-toned blonde highlights and a jagged lob cut for a more edgier look.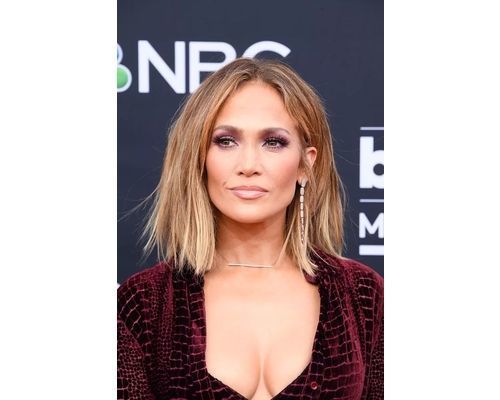 20. Honey Blonde Bob
Bobs never go out of style, and this shaggy light honey blonde bob is no exception. Use a flat iron to create elegant, flirtatious waves for an even more trendy effect. ,Honey blonde bob on natural hair looks wonderful too.
Do check out our guide to find out the best Jennifer Lopez hairstyles as we cover her 25 most popular haircuts. From bob cut to layered cut, we cover all of them.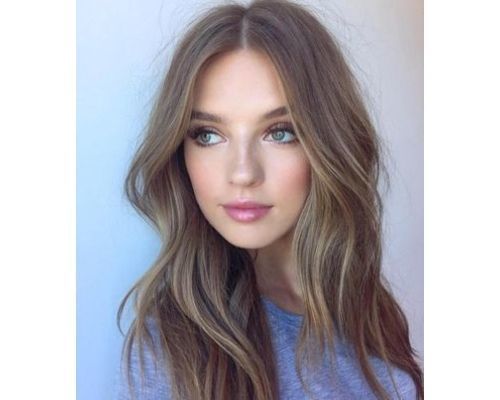 21. Honey Blonde with an Ashy Undertone
Even ginger can be infused with ash to match your skin tone, and this flowing balayage provides the misty form of the honey blonde hair colour.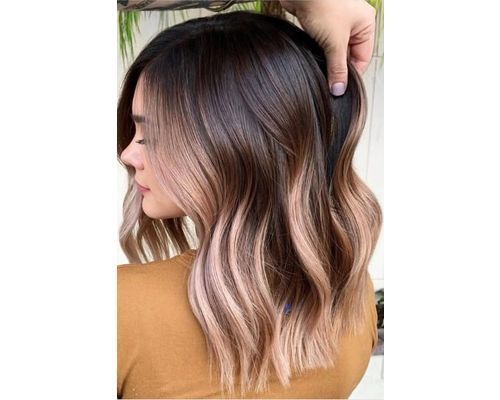 22. Brunette Blush Balayage
Honey blonde is available in a variety of shades, including these almost strawberry-blonde highlights incorporated into the warm, natural brown foundation for an illuminated brunette effect.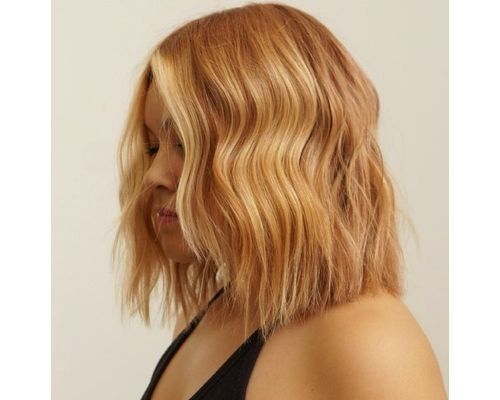 23. Honey Blonde Short Hair
A trendy, choppy chin-length bob may flatter many face shapes, and combining the cut with honey blonde highlights will help you get a down-to-earth appearance that is suitable for almost everyone.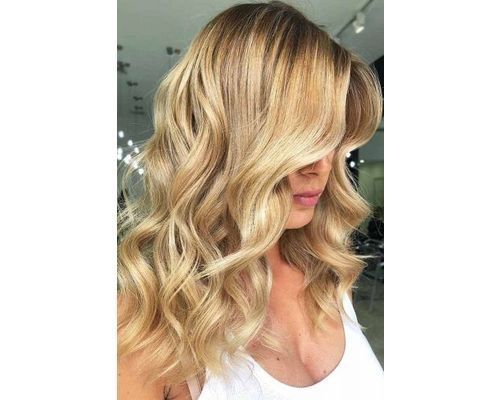 24. Cali Chick Waves in Honey Blonde
This gorgeously textured hair features effortless waves and expertly placed bright blonde highlights for an extremely beautiful summer look.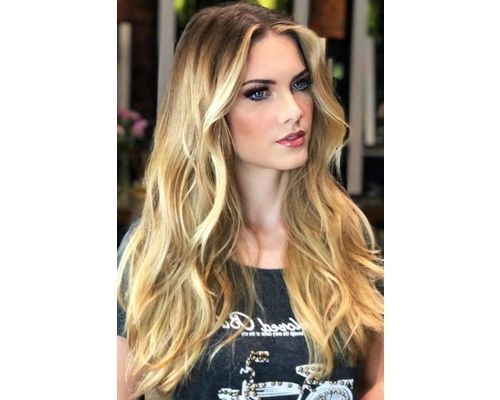 25. Sun Kissed Bright Honey Blonde
Unlike many of our other styles, this hair sparkles with small droplets of a lighter colour throughout the length rather than gathering the blonde around the ends or near the face.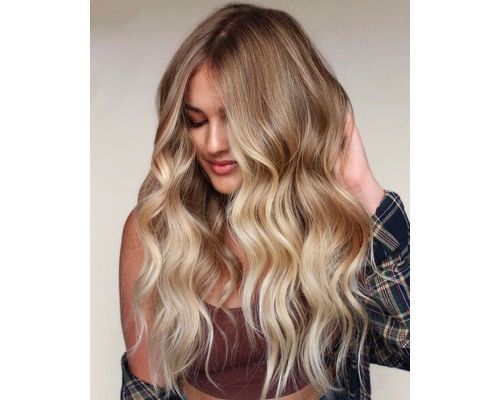 26. Balayage in Muted Honey Blonde
A dimensional balayage enhances the volume of this gorgeous mane, and the face-framing pieces are toned down to complement the overall dusty colour scheme.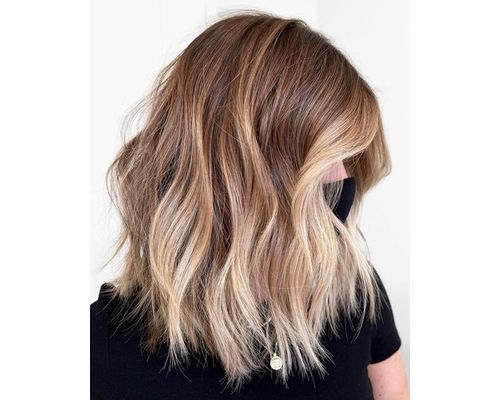 27. Shaggy Honey Blonde Lob
This laid-back, ultra-cool lob exudes confidence and flair. To get a confident, Instagram-worthy style, run your fingers through your hair or use a flat iron.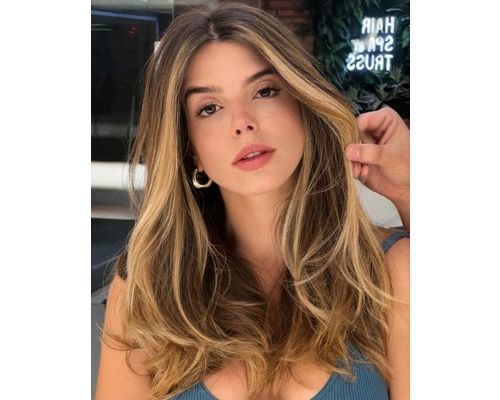 28. Dark Honey Blonde Hair with Streaks
This girl demonstrates how to appropriately adapt two hot and occurring trends for brunettes: the 1990s streaky appearance and the wonderful honey hair colour.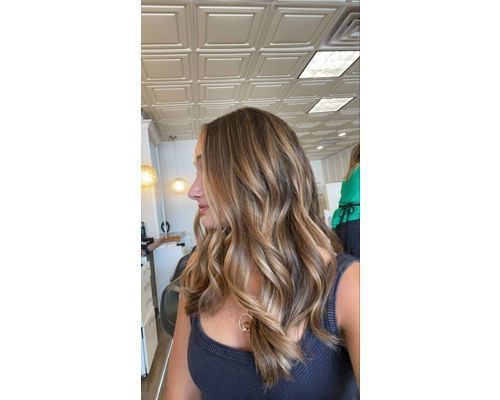 29. Golden Bronde with Toasted Tips
These thickly placed honey blonde highlights have almost completely transformed the brunette into a blonde, yet the dark brown poking out from beneath the light tone provides tonnes of depth and contrast.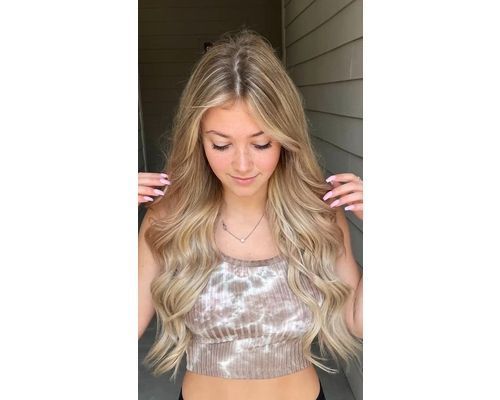 30. Hide and Seek Honey Blonde Highlights
With no hard lines interrupting the natural flow of the tresses, this gentle balayage meticulously mixes hand-painted highlights into the light brown tone to bring out dimension and accentuate light reflections.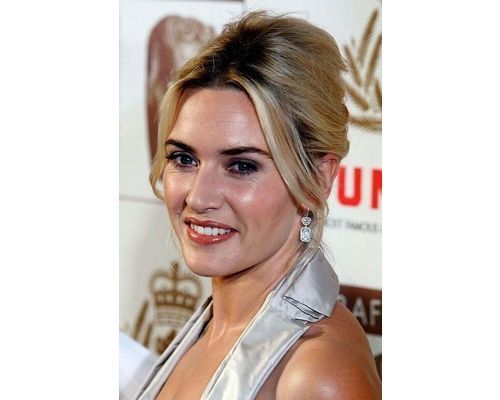 31. Honey Blonde Updo
A honey blonde updo is a wonderful alternative for special occasions or formal parties. The honey blonde colour lends a touch of elegance and sophistication to your entire look, whether it's an intricate braided updo or a sleek bun. You can also check out our guide on Celebrity hairstyles to take inspiration from all the popular celebrities like Jennifer Aniston, JLo, Jennifer Garner, Heidi Klum and many more.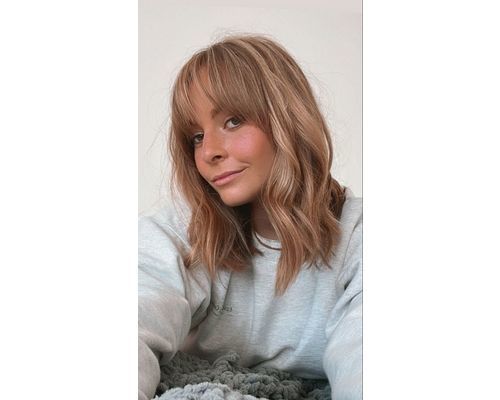 32. Honey Blonde Bangs
Bangs may radically transform your appearance, especially when matched with honey blonde hair. Whether you like your fringe blunt, side-swept or wispy, the honey-golden colour gives a bit of appeal.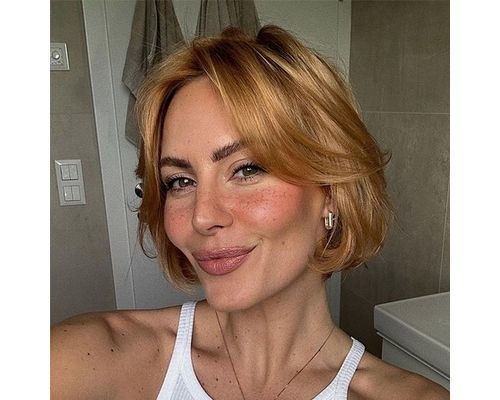 33. Honey Blonde Pixie
A honey blonde pixie cut is a wonderful choice for people who want to make a dramatic statement. This edgy and stylish hairdo provides a pop of colour to your outfit while drawing attention to your facial features.
34. Ombre Honey Blonde
Ombre remains a popular style in 2023, and when mixed with honey blonde colours, it provides a gorgeous and sun-kissed image. The smooth transition from darker roots to lighter ends is both easy and noticeable.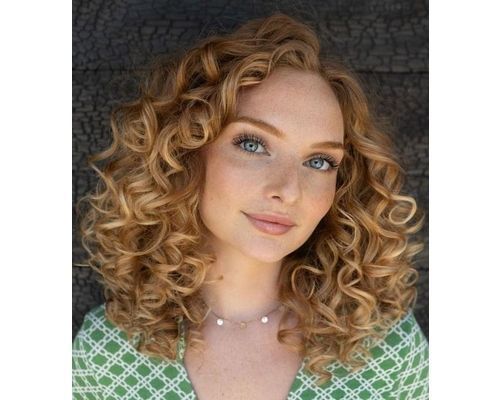 35. Honey Blonde Curls
If you have naturally curly hair and are looking for brown and blonde hair ideas, this is the one for you. Adopting honey blonde tones can enhance your curls. The mix of voluminous curls and warm golden colours creates a dramatic and elegant image.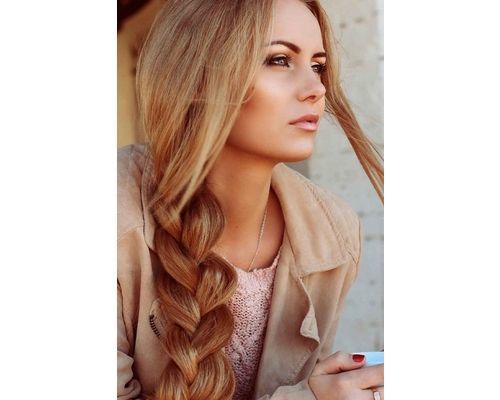 36. Honey Blonde Braids
Braided hairstyles have endless creative possibilities, and when matched with honey blonde hair, they become even more enticing. Honey golden hair gives a magical touch to elaborate styles like a fishtail braid, a Dutch braid, or a braided updo. You need to give honey blonde braids a shot for sure.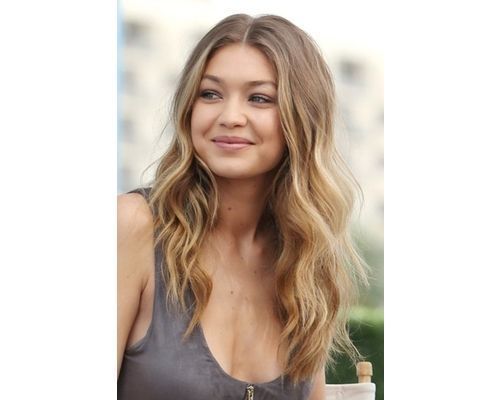 37. Honey Blonde Beach Waves
Effortlessly tousled beach waves are always in fashion, and when highlighted with honey blonde highlights, they convey a carefree, sun-kissed mood. This hairstyle is ideal for individuals who want to look relaxed and summer-ready.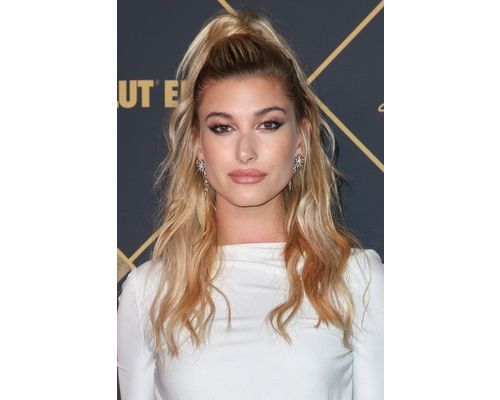 38. Honey Blonde Half Down, Half Up
Consider a honey blonde half-up, half-down hairstyle for a trendy and adaptable look. This choice allows you to show off your beautiful blonde hair while keeping it out of your face.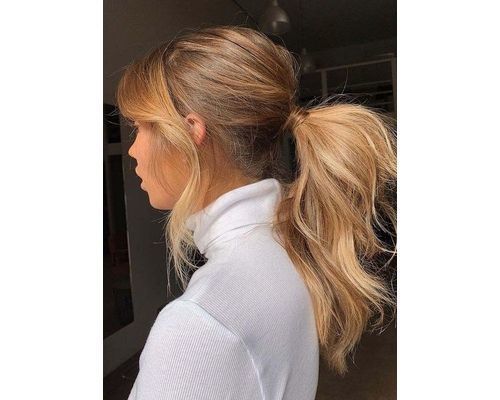 39. Honey Blonde Ponytail
A honey blonde ponytail is a basic yet elegant hairstyle. The golden colours offer a touch of luxury to this traditional look, whether it's a sleek high ponytail or a low, voluminous ponytail.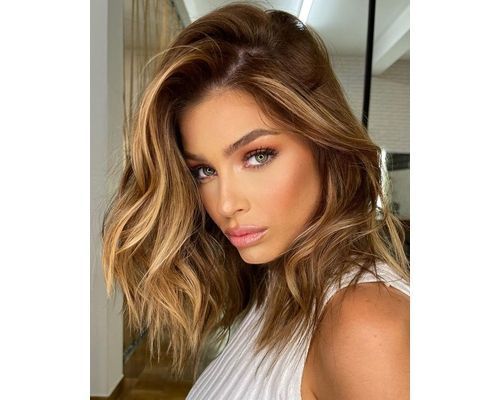 40. Honey Blonde Shag
In recent years, the shag haircut has made a comeback, and when mixed with honey blonde tones, it creates a contemporary and simple style. The layered hairstyle and warm tones create a sleek and trendy look.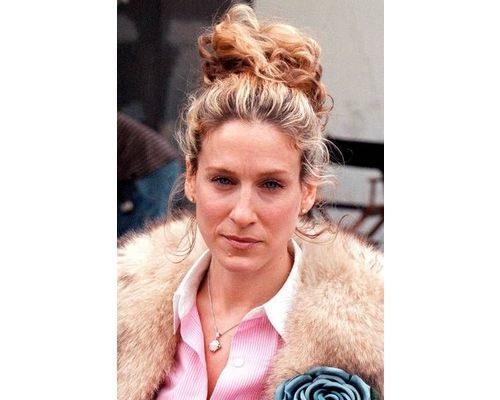 41. Honey Blonde Top Knot
The top knot is a chic and functional updo that looks great with honey blonde hair. This haircut keeps your hair out of your face while providing an impression of sophistication and elegance.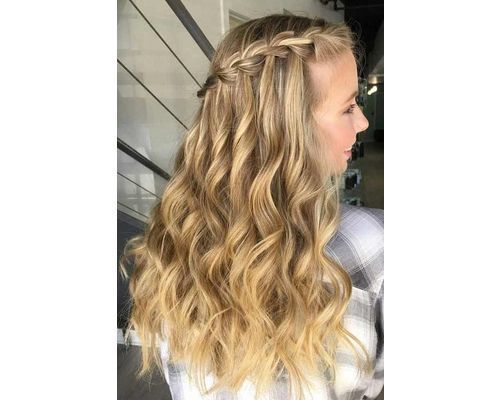 42. Honey Blonde Waterfall Braid
Incorporate a waterfall braid into your honey blonde locks to create a captivating hairdo. This elaborate braid sweeps down one side of your head, highlighting the lovely honey blonde colours.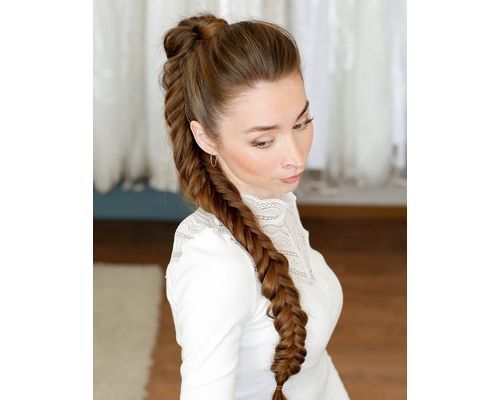 43. Honey Blonde Fishtail Ponytail
Add a fishtail braid and honey blonde highlights to your classic ponytail. Make a high or low ponytail with your hair and weave a fishtail braid through the length. The honey blonde highlights lend complexity and refinement to this sophisticated hairdo.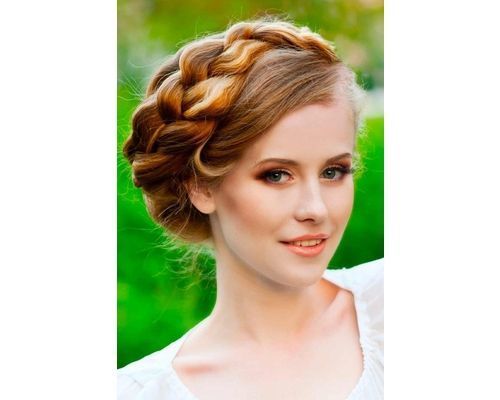 44. Honey Blonde Halo Braid
A honey blonde halo braid encircling your head like a crown will make a great statement. This airy and romantic haircut highlights the honey blonde tones brilliantly while adding a touch of refinement to your overall look.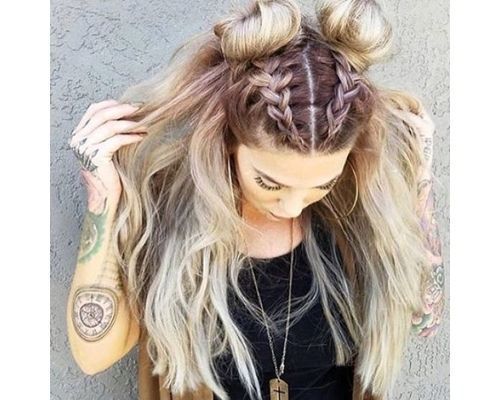 45. Honey Blonde Space Buns
Use honey blonde space buns to express your creativity. Make two high buns on top of your head by dividing your hair into two portions. The honey blonde colour gives this engaging haircut a lively and whimsical feel.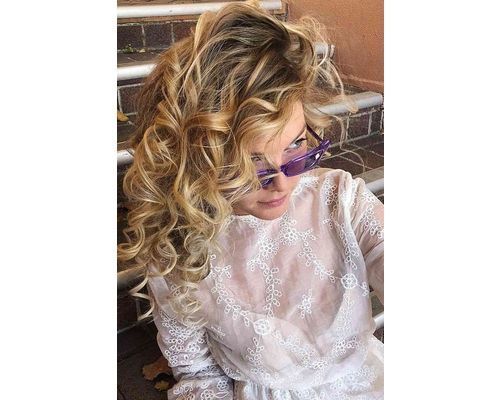 46. Honey Blonde Mohawk
Consider a honey blonde Mohawk hairstyle for a daring and edgy look. Shave or pull back your hair on the sides, leaving a strip of honey blonde locks down the centre. This hairdo radiates self-assurance and uniqueness.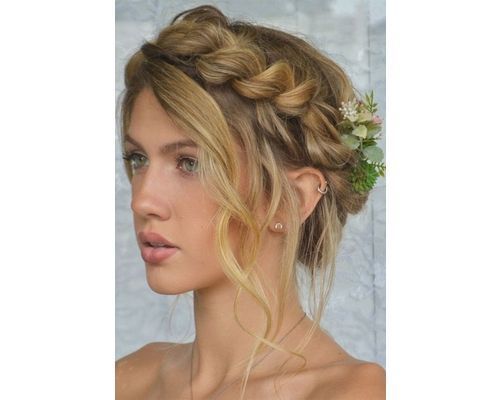 47. Honey Blonde Braided Crown
A honey blonde braided crown can be used to create a bohemian-inspired aesthetic. French braid your hair along the hairline, forming a crown around your head. This one-of-a-kind and inventive haircut highlights the honey blonde colours while also adding a touch of elegance. One of the top wedding hairstyles, honey braided clown is an amazing option for brides and bridesmaid.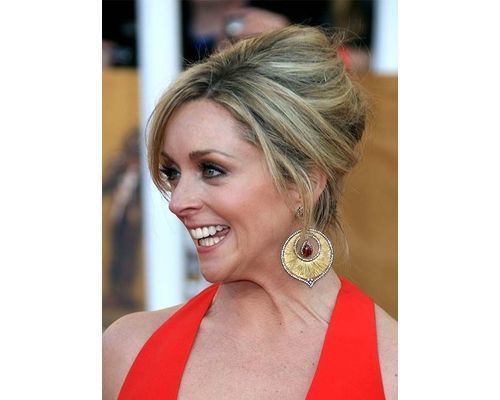 48. Honey Blonde Twisted Updo
A honey blonde twisted updo will up your updo game. Twist and pin pieces of your hair into a textured and complicated updo. The honey blonde tones highlight the twists and swirls, resulting in an enthralling and artistic hairstyle.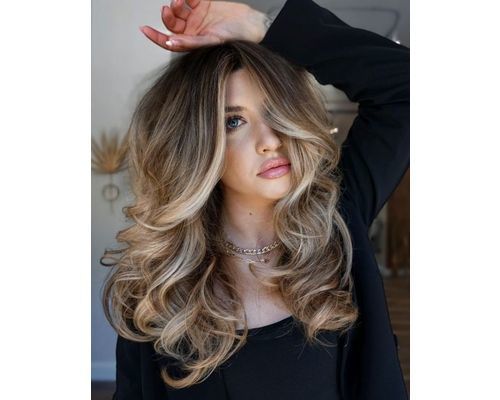 49. Honey Blonde Peekaboo Highlights
Peekaboo highlights provide a touch of surprise and inventiveness to your honey blonde hairstyle. Choose a contrasting colour and add faint streaks of it underneath your honey blonde top layer. This unexpected splash of colour gives a distinctive and whimsical touch.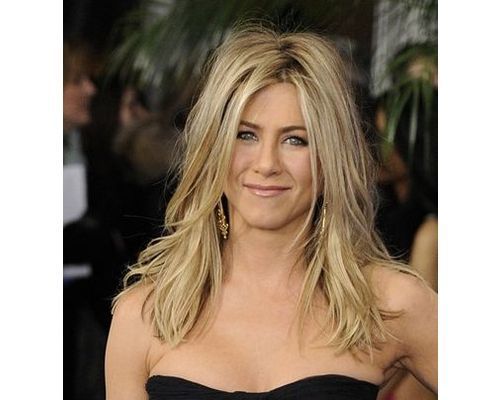 50. Honey Blonde Zigzag Parting
Incorporate a zigzag parting into your honey blonde strands to create a visually appealing hairdo. Instead of a straight centre or side part, create a zigzag pattern with your parting for a unique and creative style. Rachel green haircut can be an amazing option for trying out a new and stylish haircut!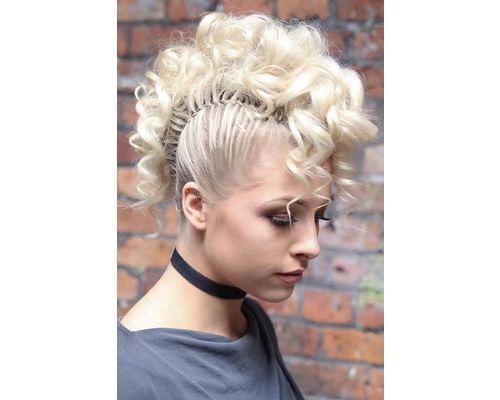 51. Honey Blonde Braided Mohawk
A honey blonde braided Mohawk combines the edginess of a Mohawk with the elegance of braids. Braid portions of your hair from the sides together to form a braided strip. This inventive hairdo gives the classic Mohawk a new and artistic spin.
Honey blonde hairstyles will continue to dominate hair trends in 2023, providing a wide range of alternatives for individuals wishing to embrace this warm and lively colour. Honey blonde provides a touch of glamour, radiance, and natural beauty to any hairdo, whether it's balayage, ombre, curls, or braids. So, whether you're looking for a dramatic transformation or a subtle alteration, these 51 honey blonde hairstyles will turn your attention and keep you on-trend in 2023.