Makeup Do's And Don'ts To Get A Flawless Makeup Look - 2023
Bhagyada P
Updated At 17 Apr 23
Everyone dabbles with makeup. Some enjoy wearing it, and some are forced to. But makeup is a very important part of our lives. Yet there are certain makeup mistakes that we all make.
Here are some makeup dos and don'ts that will surely make your life much easier.
Now before diving any further into the article, we must realize that the goal here is to get a flawless, full-coverage, most natural looking makeup. Everyone has a different aesthetic style and thus these are some basic beauty hacks that you can use to avoid the makeup mistakes . These are easy makeup dos and don'ts that give a beautiful finish.
The do's are certain easy techniques that everyone must be aware of, certain hacks to make sure your makeup looks good as well as stays on longer. These hacks will make your makeup experience easy and smooth. Follow these makeup dos and don'ts for a natural and subtle eye makeup look.
The don'ts are certain trends or techniques that we all were following without knowing they were absolutely wrong. The don'ts will leave you with cakey makeup. Knowing not do these things will improve your makeup game and take it to the next level.
Follow these makeup dos and don'ts for a natural and subtle makeup look by avoiding all the makeup mistakes.
Makeup Do's And Don'ts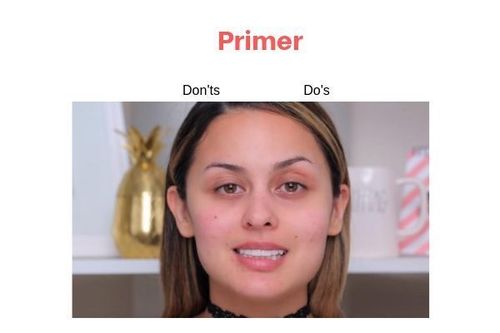 Primer
Don'ts
Never skip using the primer as it makes the skin smooth and also helps in creating the perfect base for the makeup.
Do's
It is very important to apply primer on your face. It preps your skin and makes it ready for the coming chemicals. It is very good for your skin and it keeps it protected. Applying primer leaves a smooth surface and helps the makeup last long.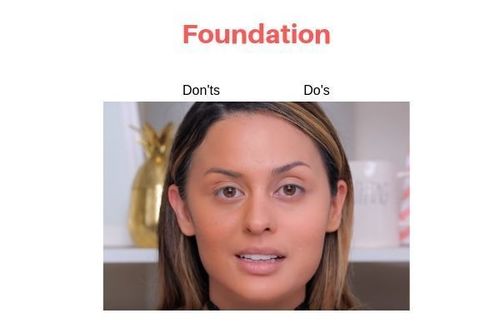 Foundation
Don'ts
It is very easy to fall in the trap and choose a very light or a very tan foundation. We all tend to choose the shade that we wish we actually were. And this is a very common mistake. Know how to choose a foundation as picking the wrong shade will make the makeup look uneven. Your neck does not match your face which looks funny.
Also using a brush and rubbing your foundation around for a full-coverage is a very bad idea. It leaves our face looking cakey.
Do's
Choose a shade that matches your neck and chest. This way the foundation shade will also match the rest of your body. This will look very natural.
Use a beauty blender to slowly dab the foundation on your face. This will give an easy and professional finish. Don't forget your neck as well as your ear.
Don't apply much to the under eye area, as we will be taking care of that in the following step.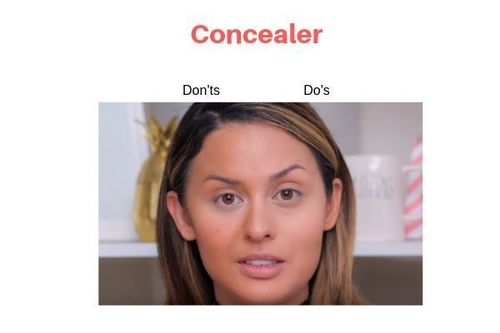 Concealer
Don'ts
Don't use under-eye concealer that's two shades lighter than your skin color. It will brighten the under-eye area but will create a strong, distracting contrast to the remaining foundation. This will actually draw a lot of unwanted attention to the under-eye and it will end up looking cakey and fake.
White looking circles under the eyes should never the goal.
Do's
Use a concealer which is only one shade lighter than your foundation. If you are confused about the shade and texture, find out how to choose a concealer which matches your skin tone.
Draw out a large triangle shape that follows your nose, goes beyond the under-eye crease. With a beauty blender, blend the concealer in. Use small dabbing motions for a perfect application. This will help blend it in with the existing makeup and it will look flawless.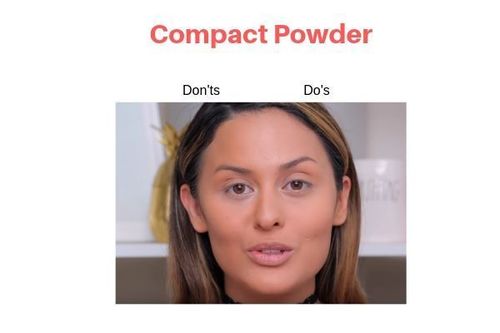 Compact Powder
Don'ts
Don't apply heavy power on your face without the foundation and concealer drying properly. Don't use a big poufy brush to load it with water and brush it on your face. It looks very cakey and patchy.
Do's
Wait for the makeup to dry and then use a translucent loose powder on your face.
Use a beauty blender for even application under your eyes.
Follow the beauty blender with a poufy brush and lightly tap it on your forehead, cheeks and chin for a perfect canvas for contour and highlighting.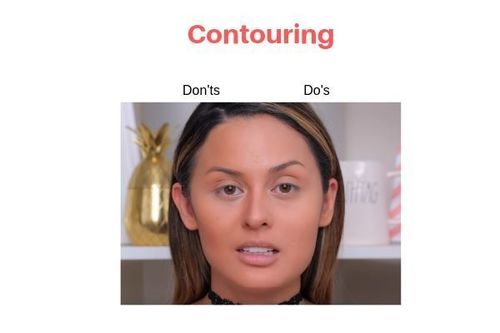 Contouring
Don'ts
It is a big No to use an orange bronzer on your cheekbones. It not only makes you look a weird colour, it also fails to add the warm dimensions on your face.
Don't cover up your entire cheek.
Don't use a poufy brush. You don't want to go way low on your cheeks or way closer to your mouth. Bronzers add warmth to your face, whereas contour adds depth to the natural shadows on the face giving the face the dimensions.
Don't blend the shade downwards as it creates a "five o'clock" shadow.
Don't draw a definitive stratight line on your nose, as it adds to the attention and size of the nose.
Do's
You would want to use an ashy contour colour for your face. Then if you notice your face, you'll notice the subtle gray tone shadows that your face naturally has.
What we want to do with the contour is add to these shadows. So take an angled brush and lightly tap in some contour shade. Begin very close to your hairline and don't move past the apples of your cheek when you blend. Make sure you blend the contour shade upwards.
For contouring the nose, begin where your natural shadows start and gently sweep the shade down. For the tip of the nose, focus the shade in a small v shape.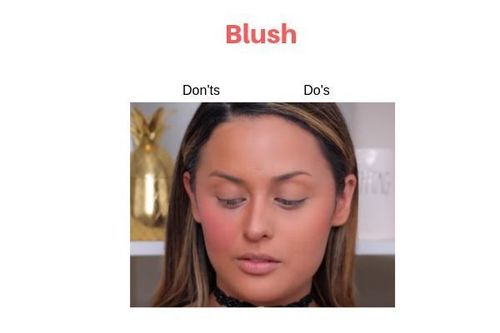 Blush
Don't
Blush is great if used properly. But you don't want to go all crazy with it. One of the worst things to do is to pack a lot on a poufy brush and rub it all over the apples of your cheeks, smiling.
Do's
Use a stippling brush as it gives you the freshest looking wash of colour. It is all about the pressure you put on your face. That is a game-changer.
What you want to do is lightly tap the blush on the mid apple of your cheek and softly sweep it towards the back. This lifts your face very well.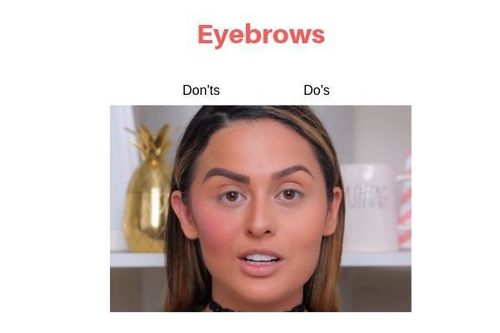 Eyebrows
Don't
You do not want to overdo the eyebrows. Don't over line them and darken them. Drawing them out too much makes it look boxy. You don't want it to look like a stamp.
Do's
Use a very light hand and gently brush the hair on.
Focus on the parts where there are not a lot of hair and very smoothly with a light hand draw some in. Start at the bottom to add definition and shape. It looks very light, airy and feathery.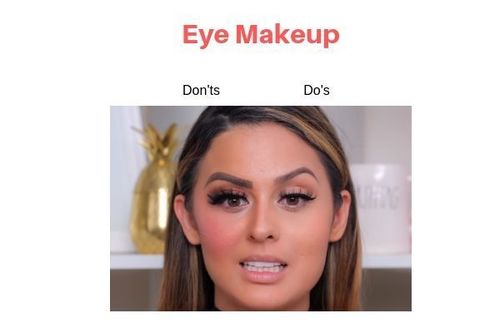 Eye Makeup
Don'ts
Don't use a shimmery eye-shadow.
Don't blend it over the crease with a poufy brush. Don't rub the shadow in.
Over lining the eye with a black eye-liner also adds up to the raccoon effect. A huge wings draws too much attention.
For the lashes, don't get a full lash, and do not apply a lot of glue on it, as it takes a long time to dry.
Do's
Choose a best eyeshadow and use a small angled brush. Begin with the crease and blend it slowly and lightly inwards.
Follow the natural shape of the eye with the liner and draw a small clean wing.
For the lashes, choose a softer lash, which is not as thick. This will highlight the natural shape of the eye as well as the eyeshadow colour can be seen clearly.
Pick the right mascara and then apply the same. Brush the natural lashes to the fake ones and then go back and mesh the two together.
Do make sure you pick your makeup brush from the best affordable makeup brushes available in the market.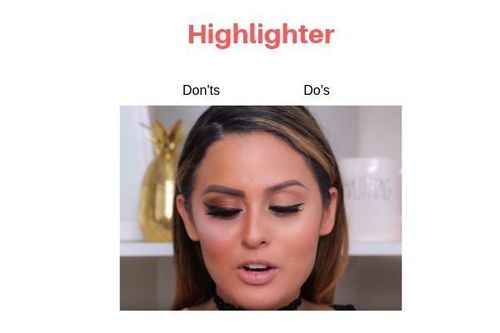 Highlighter
Don'ts
If you use too much highlighter all over your cheekbones, it will completely highlight all your pores. Too much sparkly highlight can make you look like a big disco ball!
Do's
Use the highlight strategically on your cheekbones with a small brush. Apply it lightly, right where the light hits your cheekbones. You don't have too many pores there, but the highlight will still give you the bright glow.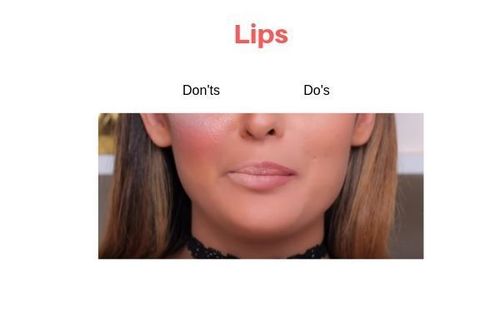 Lips
Don'ts
Don't smear the lipstick all over your lips. Don't over line your lips. Don't forget the corners of your mouth.
Do's
Always use a darker shade of lip-liner to properly line your lips. Then dab the lipstick in and blend the liner in. This gives a very good full lip. You will have a gradient lip which is light in the middle and darker towards the corners.

Follow these makeup do's and don'ts as captured by Christen Dominique in her makeup tutorial as they are sure to improve you makeup game. Don't be scared to let your natural personality shine through the makeup. After all the makeup is nothing but an extension of yourself!
FAQs On Makeup Do's And Don'ts

1) What are the eyeshadow do's and don'ts ?
There are various eyeshadow dos and don'ts like beginning with applying primer on your eyes, starting the eyemakeup by applying lighter transition shades, picking the right blending brush and many more.
Check our guide on eyeshadow do's and don'ts to know all the details.
2) Do you put foundation on your eyelids ?
No, foundation is not put on the eyelids as it may go inside the eyes. Additionally, it may unset your makeup so it is considered best to avoid foundation on eyelids.
3) Can i wear eyeshadow without foundation ?
Yes, you can wear eyeshadow without foundation. It is your personal choice. For best results though, you can apply a concealer to make your eyeshadow stand out.
4) Should I curl lashes after using mascara ?
Using a curler after applying any eyeliner or mascara is a common makeup mistake. Always curl up your lashes before applying mascara and eyeliner as this will help you to get natural curly lashes.
5) How to make sure that the eyebrows aren't too loud?
Another common makeup mistake is to have loud brows.
Yes, bold brows are trending but sometimes we go overboard. A simple beauty hack to prevent this is by using an eyebrow brush. Start by brushing the hairs up and then down. Repeat this till the blending is perfect. continue to do so this they look natural.
Related Articles