55 Beautiful Ombre Nail Designs For 2023
Hanisha Sharma
Updated At 26 Sep 23
Looking for the best ombre nail designs which have been trending this year? If yes, we have got you covered.
If you are looking to amp up your nail game, ombre can be an excellent choice. It offers limitless opportunities to try out different color combinations and get the perfect manicure, as desired.
Depending upon personal preferences, one can opt for specific ombre nails like pastel colored ombre nails, almond shaped nail shapes, various nails designs with glitters and many more. We pick the 55 best ombre nail design ideas which will help you get your desired look! Check out all these cute nails and pick the one you love! Lets get started.
55 Most Popular Ombre Nail Designs For 2023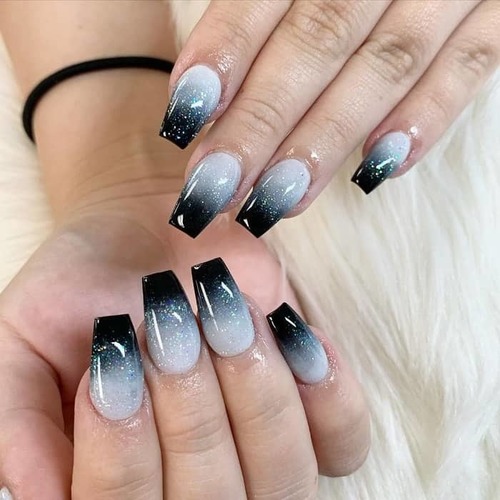 1. Black to Grey Ombre Nails 
Black ombre nails exude sophistication and beauty. Start with a deep black coloration on the cuticle, and steadily combine it right into an elegant gray color in the direction of the pointers. This graceful and edgy layout is best for creating an ambitious statement. One can also add glitter and pick a relevant nail shape like coffin to make it look even better.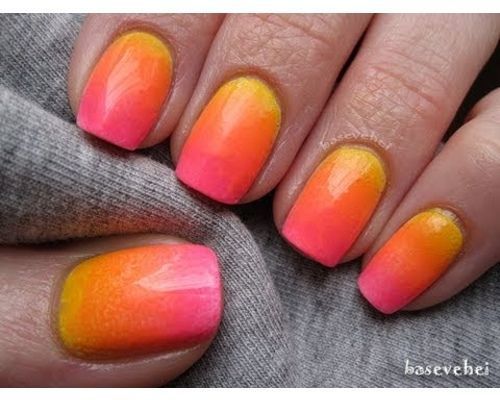 2. Vibrant Sunset Design
Summer is the ideal season to include colorful hues on your nails, and summer season ombre nails are a high-quality fashion trend that you cannot miss. Blend vibrant colors like orange, crimson, and yellow to recreate the spell-binding hues of an enchanting summer sunset.
Read More: Yellow Nail Designs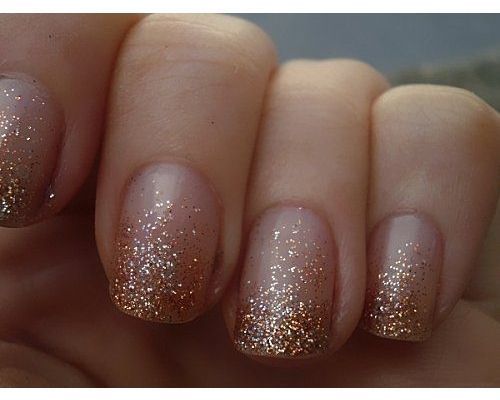 3. Glitter Gradient Nail Design
For people who love a hint of sparkle, combining ombre with glitter is the fashion trend for you. Apply glitter polish steadily from the cuticle to the end of the nails, making a lovely gradient effect that is eye-catching and shimmery.
Read More: Summer Nail Designs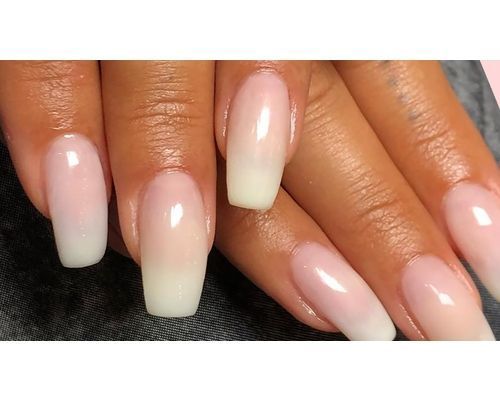 4. Classic Nude Ombre Nails 
If you like a more subtle appearance, then choose the ombre with nude colors. Start with a mild nude coloration at the bottom of the nails and steadily transition to a darker tone when you reach the cuticles. This undying and flexible fashion enhances any outfit.
Read More: Nail Designs With Diamonds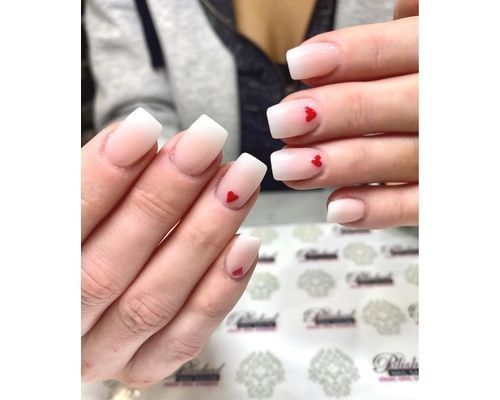 5. Nails With Heart
Short nail designs can be an excellent option if you want to experient. Choose smooth pastel shades or a monochromatic appearance with various intensities of identical color. The gradient impact will add style and dimension to your short nails.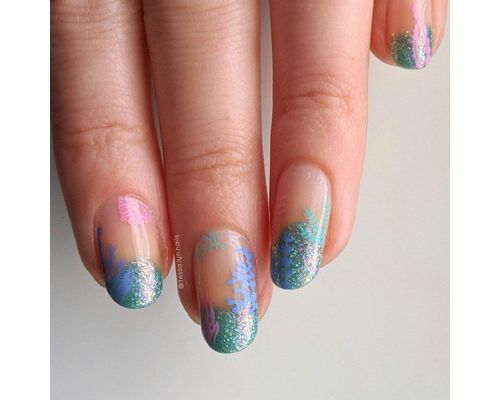 6. Coral Reef
Bring the beauty of the sea to your fingertips with a coral reef-stimulated ombre style. Blend shades of colorful coral, crimson, and turquoise to recreate the spell-binding hues found in the depth of the ocean.  
Read More: Olive Green Nails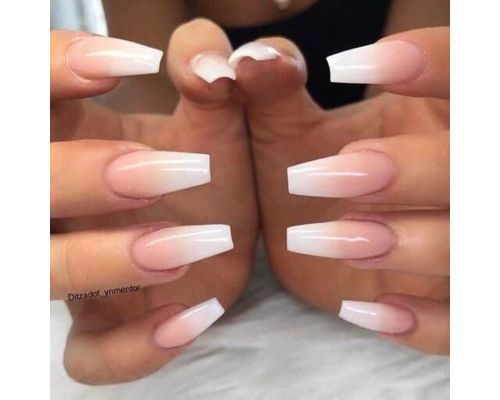 7. Coffin Shaped Nails
Coffin nails are all of the rage, and mixing them with an ombre layout takes them to another level. Experiment with ambitious color mixtures or a subtler transition from mild to darkish shades for a sleek and swish appearance.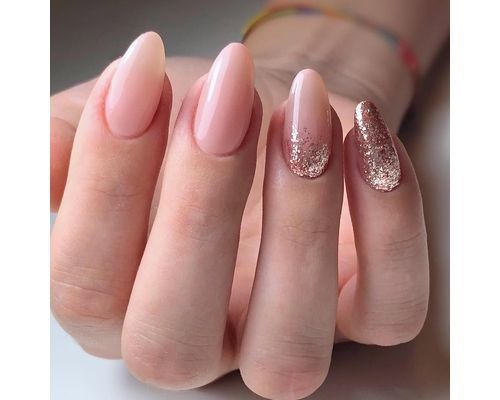 8. Rose Gold 
Rose gold is known to dominate the style and beauty industry, and ombre nails aren't any exception. Start with a smooth blush coloration at the bottom of the nails and transition to a shimmering rose gold tone in the direction of the pointers for an expensive and rich-looking desired effect.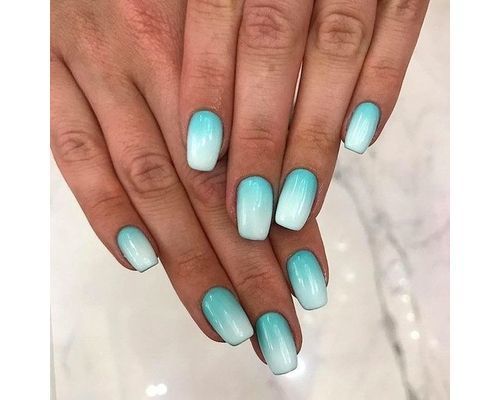 9. Teal To Mint Green Ombre Nails 
Cool and refreshing, teal to mint green ombre nails are best for the summertime. The gradient impact from a rich teal coloration to a mild mint is cool yet calming and creates a chic and elegant summer nails design.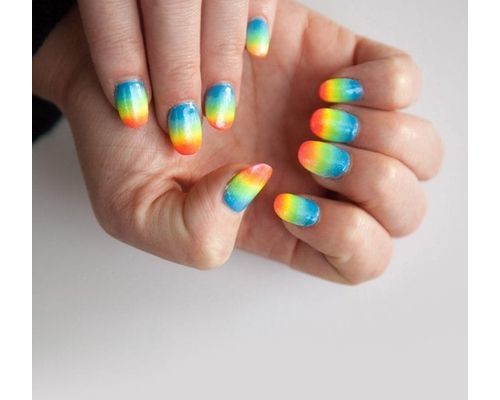 10. Rainbow Ombre Nails
Embrace your colorful side with rainbow nails. Use more than one color to create a never-ending gradient impact on your nails, showcasing a lovely spectrum of colors on your nails that never goes out of style.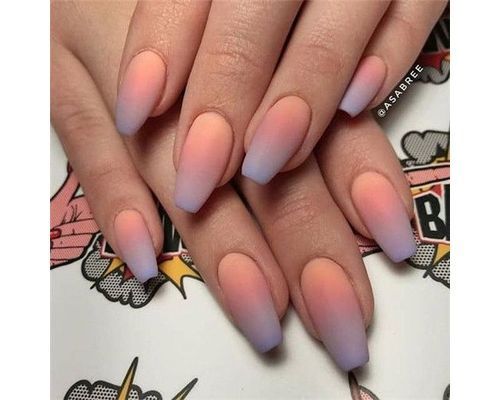 11. Matte Shade 
Matte nails have gained popularity due to their chic and modern appeal. Combine the matte trend with ombre nails by using matte polish in different shades for a sophisticated and understated ombre nail design.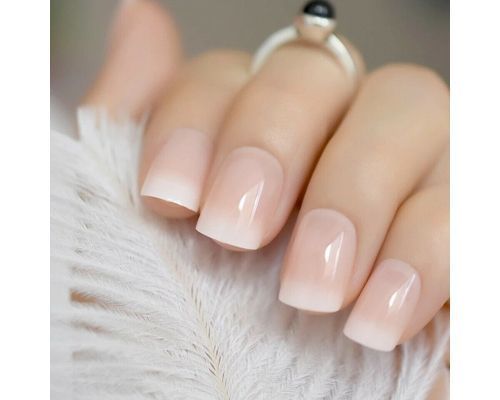 12. French Ombre Nails 
Twist the classic French manicure by incorporating an ombre design. Replace the traditional white tip with a subtle gradient effect using shades that complement your skin tone, creating an elegant and refined trending nail design. You can also have snowflakes design on these and it can give you the perfect christmas nails.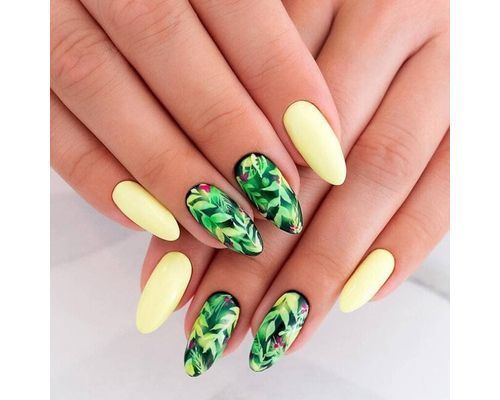 13. Tropical Paradise 
Transport yourself to a tropical paradise with a colorful ombre design inspired by lush greenery and unique flowers. Combine shades of green, yellow, and crimson to recreate the colorful environment of a tropical getaway on your nails.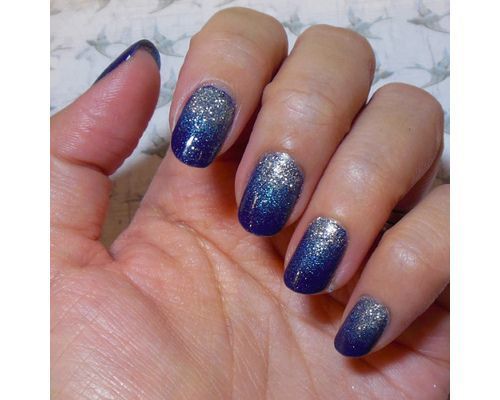 14. Navy Blue Nails With Glitter 
This design is known for its sophisticated and elegant appeal. Blend the deep navy shade of the cuticle into a shimmering silver. It creates a mind-blowing effect of a starry night. It is a design that you want to add to your list.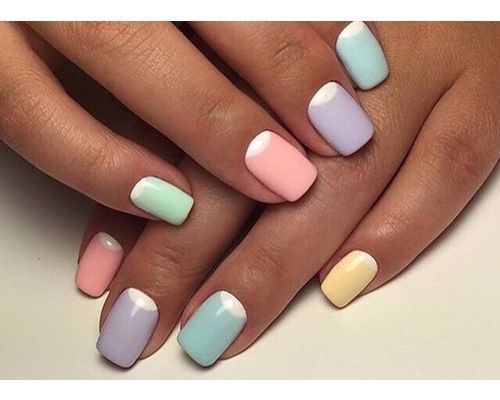 15. Candy Coloured Ombre Nails
Channel your inner sweetness with candy-colored ombre nails. Choose shiny and playful colors like pastel crimson, mint green, lemon yellow, or baby blue to create a youthful and radiant ombre effect on your nails.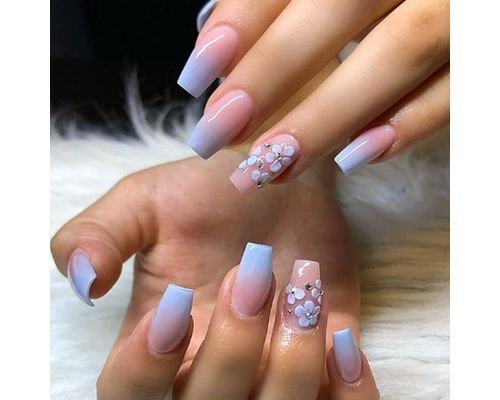 16. Nails Design With Floral Accents
Elevate your ombre layout with sensitive floral accents on your ombre nail layout. Apply the ombre impact to the bottom of the nails and add floral styles or petals to create a beautiful and an always trending nail layout.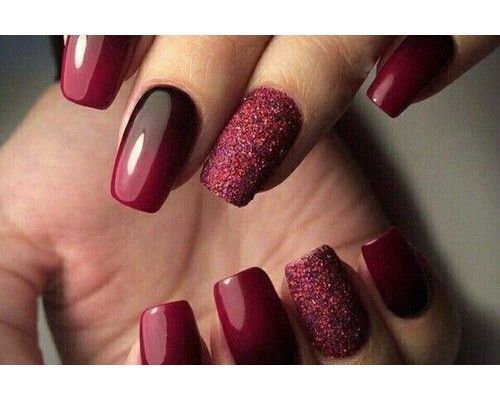 17. Red Wine Ombre Nails 
For a sultry and glamorous appearance, try red wine ombre nails. Blend deep burgundy shades with rich wine tones, creating a luxurious and sophisticated design that is perfect for a night out in your ombre nail design.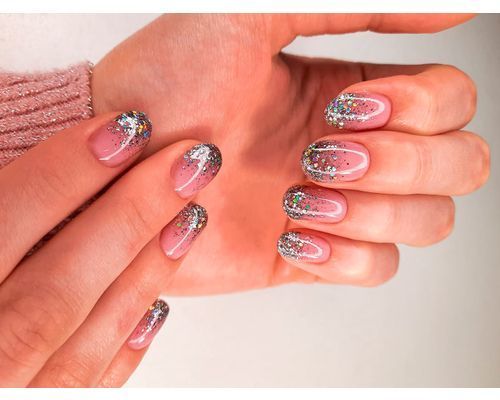 18. Glitter Ombre French Tips 
Add a hint of glamour to the conventional French manicure by adding glitter into the ombre design. Apply glitter gradually from the tip of the nails, fading into a solid color towards the cuticle, for a dazzling and modern twist in your ombre nail design.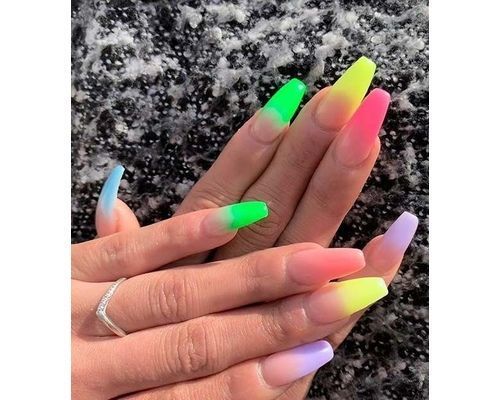 19. Neon Ombre Nails 
Make a bold appearance with neon ombre nails. Experiment with colorful and bright shades of crimson, green, orange, or yellow to create eye-catching nails that are best for summer season parties or festivals.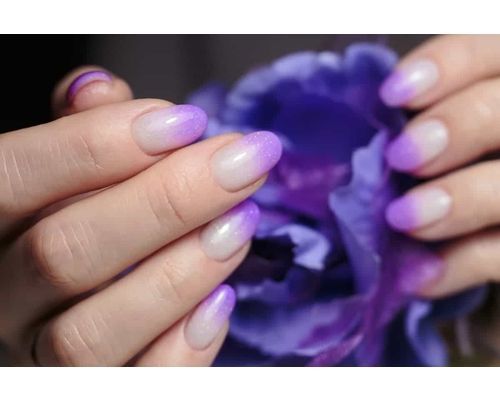 20. Purple Haze Ombre Nails 
Indulge with the mystical charm of purple haze ombre nails. Blend shades of purple, lilac, lavender, and deep purple to create a beautiful and dreamy manicure that reflects elegance and grace.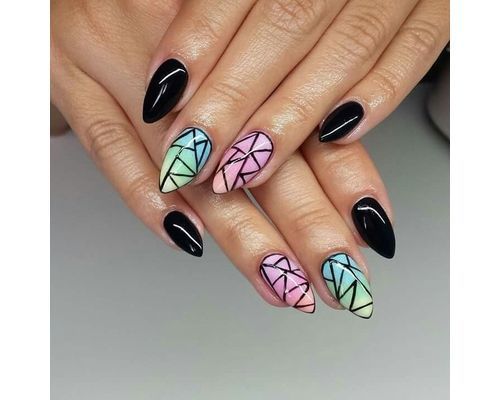 21. Geometric Nails 
Add a modern twist to your ombre nails with geometric styles. Use tape or stencils to create sharp traces and angles, combining trending shades to make your nails look even more chic.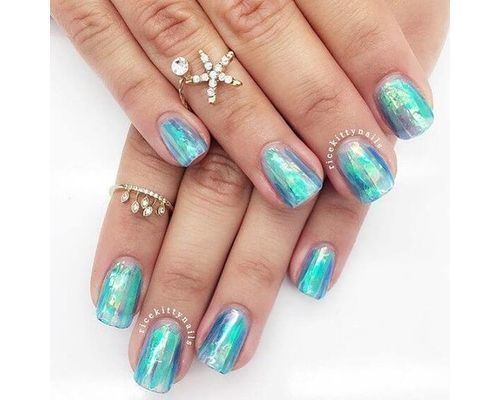 22. Mermaid Inspired Nails 
Let your inner mermaid out with a stunning mermaid-inspired ombre design. Blend shades of turquoise, teal, and shimmer to create a captivating and enchanting look that reflects the beauty of the ocean on your nails.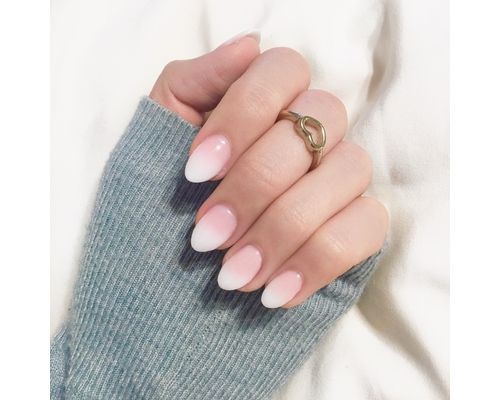 23. Ombre Nails For Almond Shaped Nails 
Almond nails provide a perfect canvas for ombre designs. Choose colors that reflect and compliment the shape of your nails, creating a graceful and sophisticated manicure for almond-shaped nails, the look is very trendy and modern.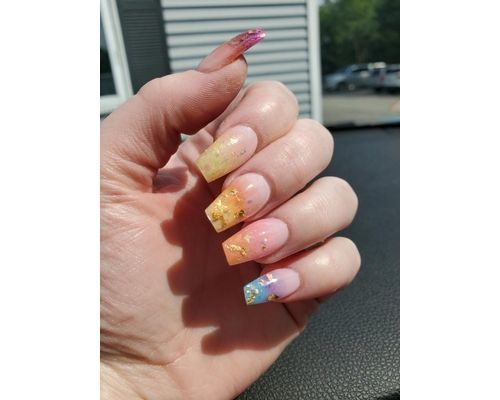 24. Gold Foil Ombre Nails 
Create a luxurious and enchanting look with gold foil nails. Apply gold foil gradually from the cuticle, fading into a solid color towards the tips, for an elegant and high-fashion appearance.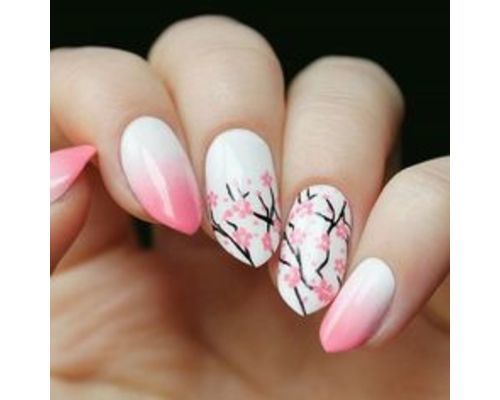 25. Cherry Blossom Ombre Nails
Celebrate the beauty of cherry blossoms with a delicate ombre design. Blend shades of soft pink and white to recreate the gorgeous and romantic feel of cherry blossom season on your nails.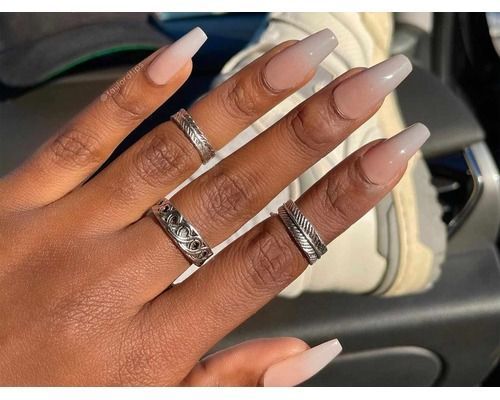 26. Classic Fade
This design is a timeless choice; blend two or more colours together from light to dark to create an elegant and chic look on your nails.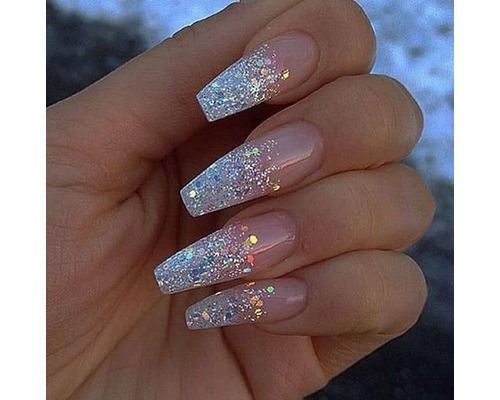 27. Sparkling Glitter
Add a touch of glamour to your ombre nails with glitter accents. Choose a glitter shade that complements the ombre colours to create a dazzling effect that catches the light.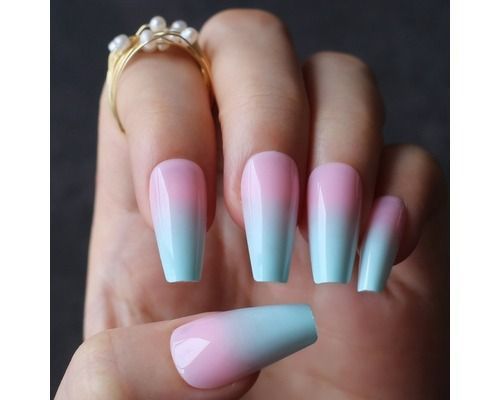 28. Pastel Perfection
Pastel nails have been the choice of someone who wants to go for a soft and dreamy aesthetic, which makes them a perfect candidate for your nail design list.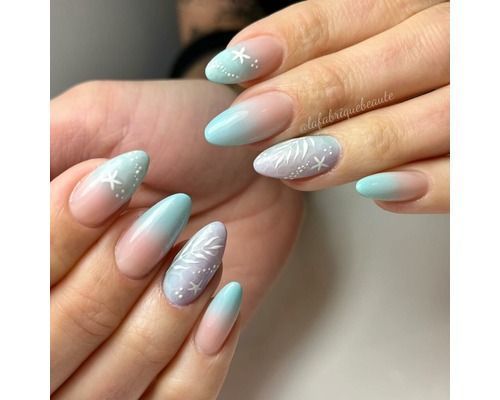 29. Beach Vibes
Embrace the summer spirit with beach-themed ombre nails. Combining shades of blue, turquoise, and sandy beige, these nails will transport you to a tropical paradise.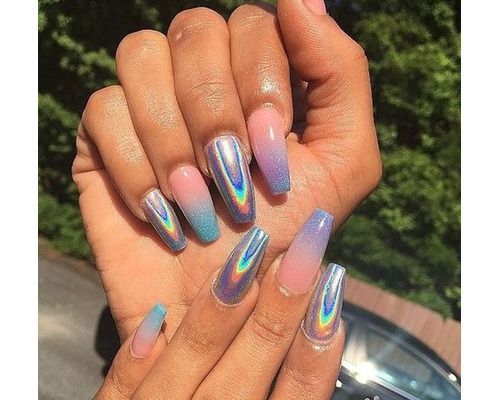 30. Ethereal Holographic
Holographic nails are an otherworldly nail design that you should definitely go for if you are looking for something that will mesmerise everyone with its dazzling beauty.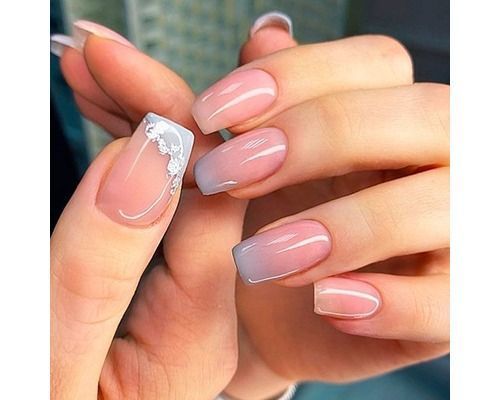 31. Vintage Elegance
To infuse a vintage charm into your nails, go for soft and muted colours that are reminiscent of the past. Combine dusty pinks, pale blues, and antique gold for an elegant and timeless manicure.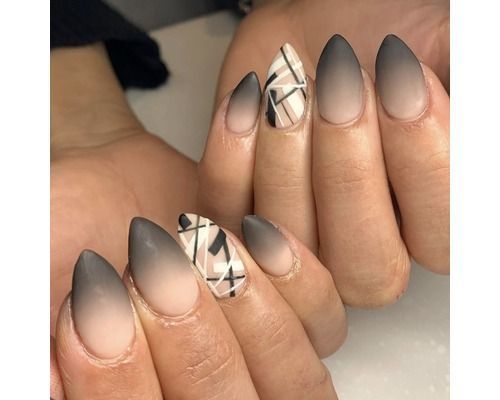 32. Abstract Art
This is an ombre nail design that never goes out of style. Use various shades and create free-flowing shapes to express your artistic side.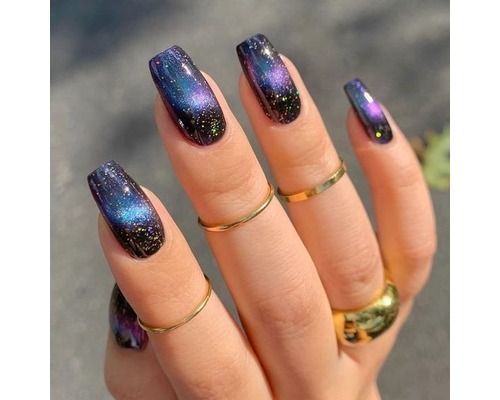 33. Midnight Galaxy
Capture the beauty of the galaxy on your nails with this enchanting nail design. Blend deep purples, blues, and blacks to evoke the beauty of the midnight galaxy.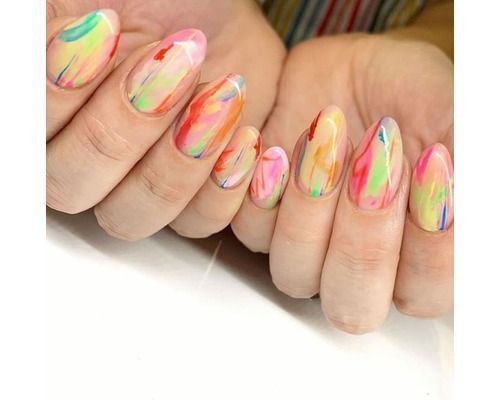 34. Watercolour Dreams
Channel the delicate strokes of watercolour paintings with watercolour-inspired ombre nails. Soft and dreamy hues create a soft and romantic look that is perfect for any occasion.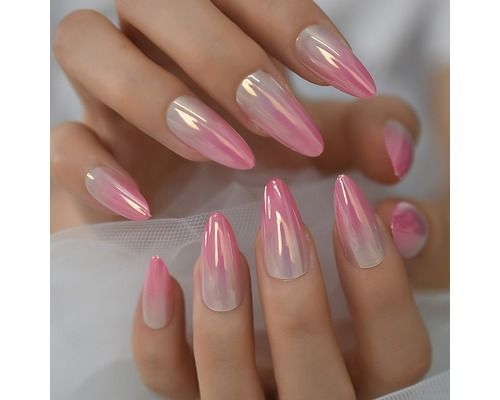 35. Futuristic Chrome
Capture the high-fashion vibe on your nails with a chrome finish. This metallic finish is bound to turn heads and is worth adding to your nail design list.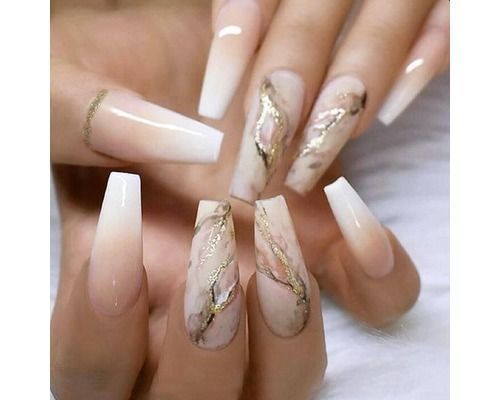 36. Marble Magic
Capture the elegance of marble on your nails with a marble-inspired ombre design. Swirling patterns in soft tones create a luxurious and sophisticated look.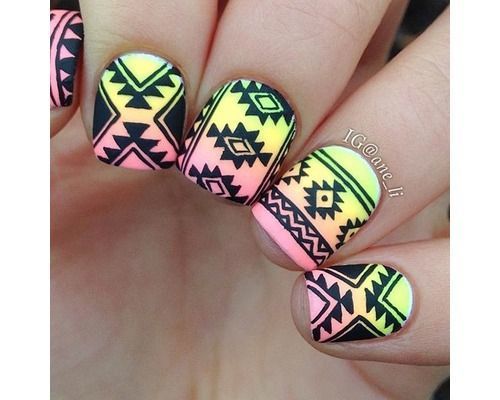 37. Tribal Fusion
Blending tribal patterns with ombre nails is bound to give off a culturally rich vibe. The mix of bold geometric design with ombre nails and gradients adds visual appeal.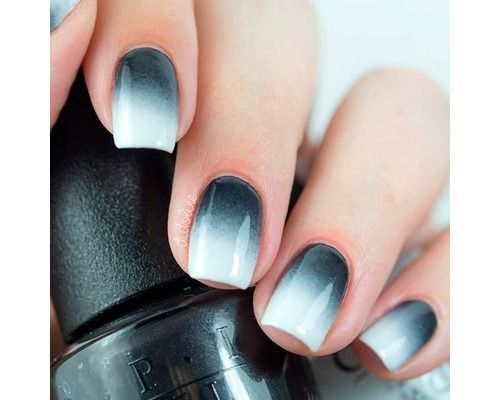 38. Monochrome Magic
Embrace the simplicity of monochrome with black and white ombre nails. Sometimes, less is more, and this design surely gives off rich and elegant vibes.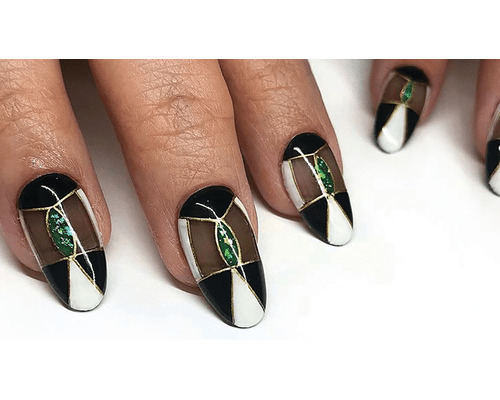 39. Art Deco Glam
Get into the Art Deco era with an ombre nail design that consists of gold accents and intricate geometric patterns. It gives a luxurious and glamorous look.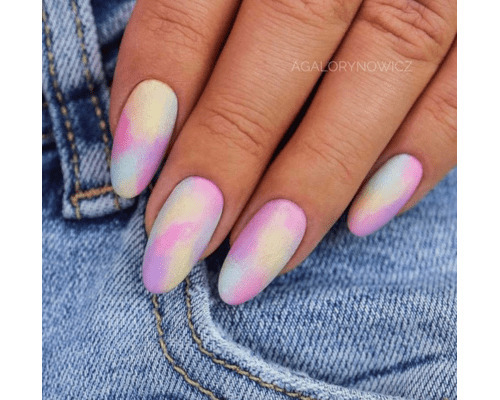 40. Tie-Dye Twist
Revive the retro tie-dye trend on your nails with tie-dye ombre nails. The mix of swirling colours creates a vibrant and groovy manicure.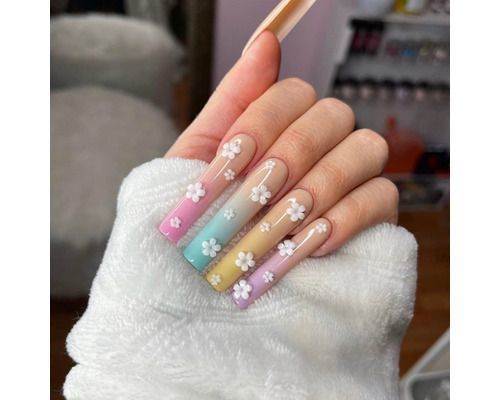 41. Floral Garden
If you are a nature lover, then this is the design for you. Opt for delicate colours with floral patterns that give off a romantic and feminine vibe.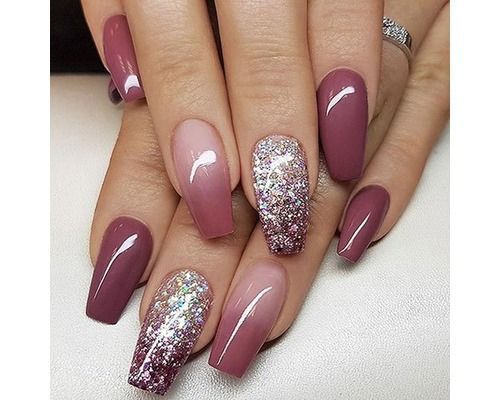 42. Vintage Glamour
Combine vintage elegance with modern ombre gradients to achieve a chic and glamorous nail design. Choose classic shades like burgundy, navy, or emerald for a touch of old Hollywood charm.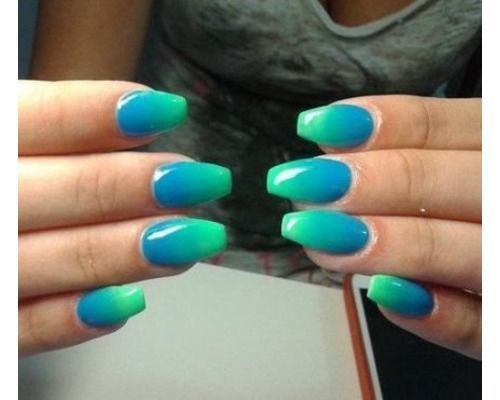 43. Earthy Tones
Add shades of greens, browns, and greys to get a nature-inspired look in your ombre nail design. This look is bound to attract a lot of attention.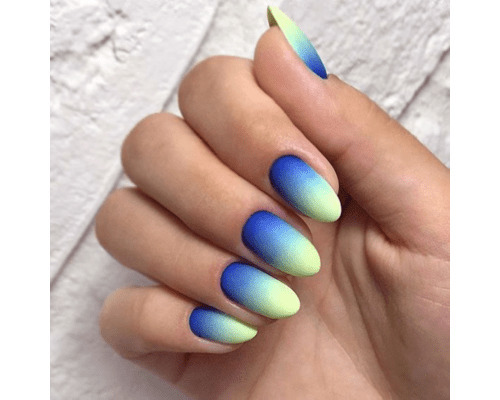 44. Bold Contrasts
Create a striking look that never goes out of style by pairing dark and light colours to create a high-impact look that will surely catch the attention of everyone.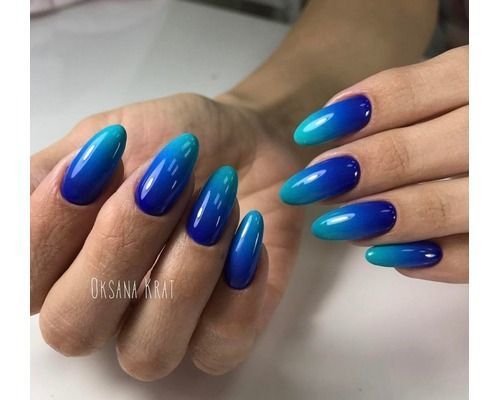 45. Water Element
Bring the fluidity and calmness of water to your nails by doing a water element ombre nail design. Use shades of aqua, teal, and navy blue to represent the serene nature of water.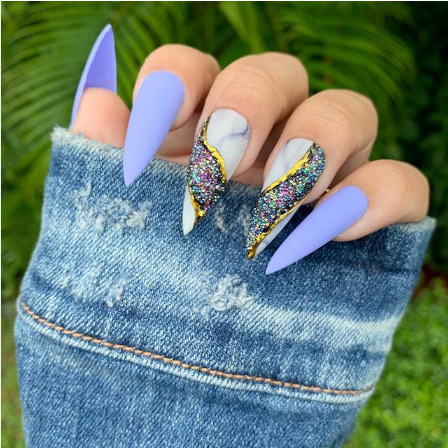 46. Geode Glamour
Channel the enchanting beauty of geodes with this Geodes Glamour ombre nail design. Blend vibrant gemstone colours with glitter accents to create a mezmerizing design that will turn heads.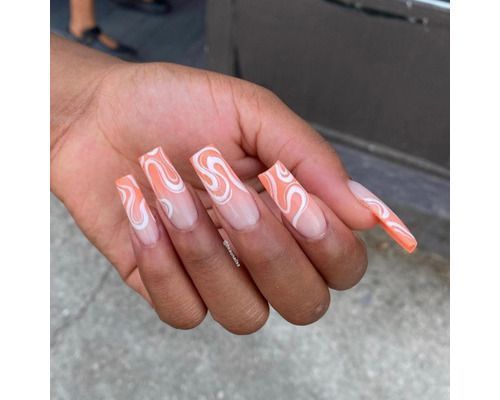 47. Minimalist Swirls
Achieve a minimalist yet artistic look with swirling ombre patterns. Softly blending two colours in a subtle swirl creates a modern and eye-catching design.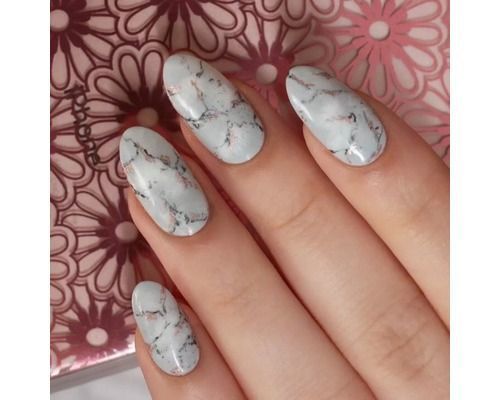 48. Refined Marble
This design gives a sophisticated look to marble nails. Try adding metallic accents and sleek lines for a polished and elegant look.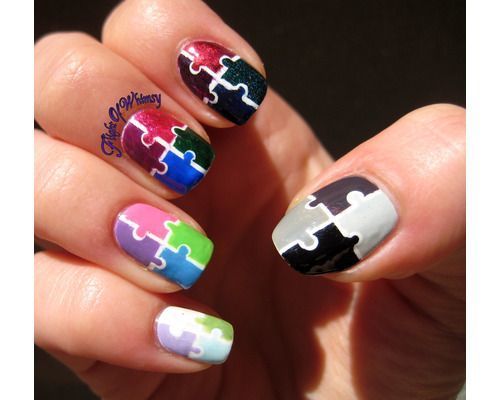 49. Puzzle Pieces
In this unique and artistic design, each nail represents a different piece, and they make a bigger picture when brought together. This ombre nail design is for those who like to add a playful touch to their nails.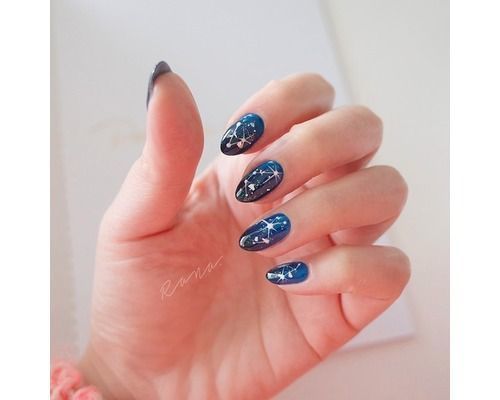 50. Zodiac Constellations
Incorporate your astrological sign on your nail with a zodiac constellation ombre nail design. You can arrange stars in the pattern of your zodiac sign for a personal touch.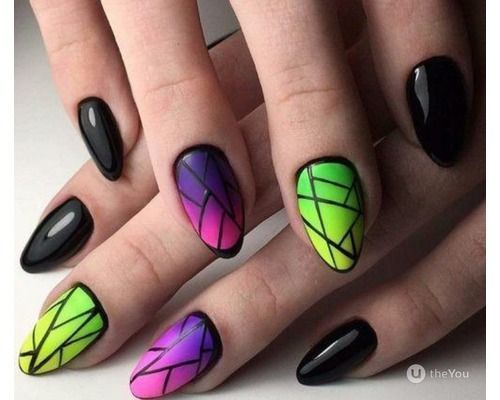 51. Futuristic Neon
Combine the vibrant shades of neon with geometric patterns. This will give an edgy and modern look to your nails.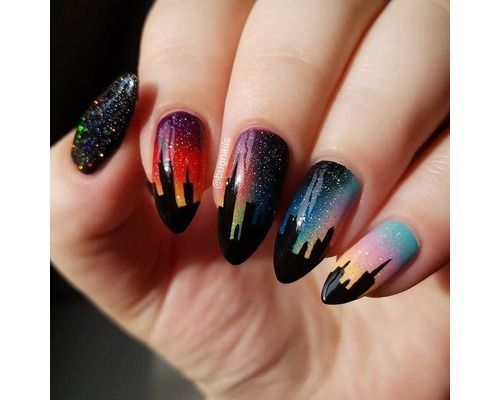 52. City Skyline
Capture the urban allure with city skyline ombre nails. Blend dusky shades of purple, blue, and grey to represent the mesmerising colours of the cityscape at twilight.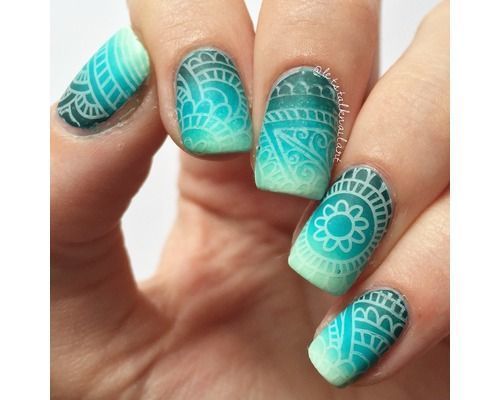 53. Boho Chic
Celebrate the bohemian vibes with boho-chic ombre nails. Incorporate earthy tones, dreamcatcher patterns, and creative mandalas for an artsy and creative look.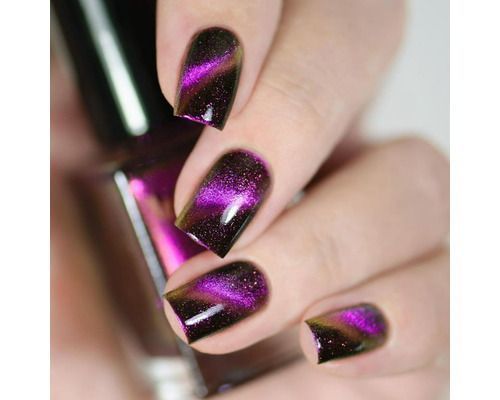 54. Enigmatic Nebula
Embrace the beauty of Nebula by incorporating it into your nails. Blend deep purples, cosmic blues, and shimmering silvers to imitate the beauty of the universe.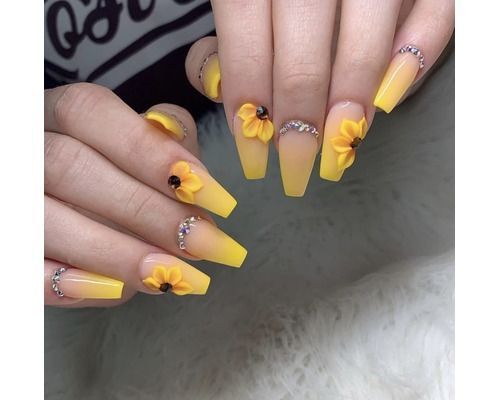 55. Sunflower Bloom
Gradually blend sunny yellows and earthy browns for a cheerful manicure that represents the beauty of the sunflowers. Immerse yourself in the beauty of nature with this design.
We hope this list helps you in embracing the ombre nail trend with style and elegance.
Embrace the ombre trend with grace and creativity, and let your nails become a stunning canvas for self-expression and artistry.