55 Festive Christmas Nail Designs For 2023
KRITIKA GUPTA
Updated At 26 Sep 23
The greatest time of the year to take part in celebrations is around Christmas. For Christmas, there are many hassle-free ways to flaunt your unique sense of style and originality. Your clothing choices are important to maintain your holiday-ready appearance, but you can also make the season with attractive highlights by painting your nails. You should coordinate your outfit for your Christmas dinner or lunch to match the usual red and green colours, and your nails should be perfectly festively shined. 
Here are some of  Christmas nail ideas that will make this Christmas season merry for you. Christmas nail ideas including snowflakes, Christmas trees, Santa hats, reindeer, and the typical colours of white, green, and red which are all represented in these manicure designs. Really, they are the ideal option for your festive nail art ideas. Explore our collection to find these simple christmas nails inspiration.
55 Best Christmas Nail Designs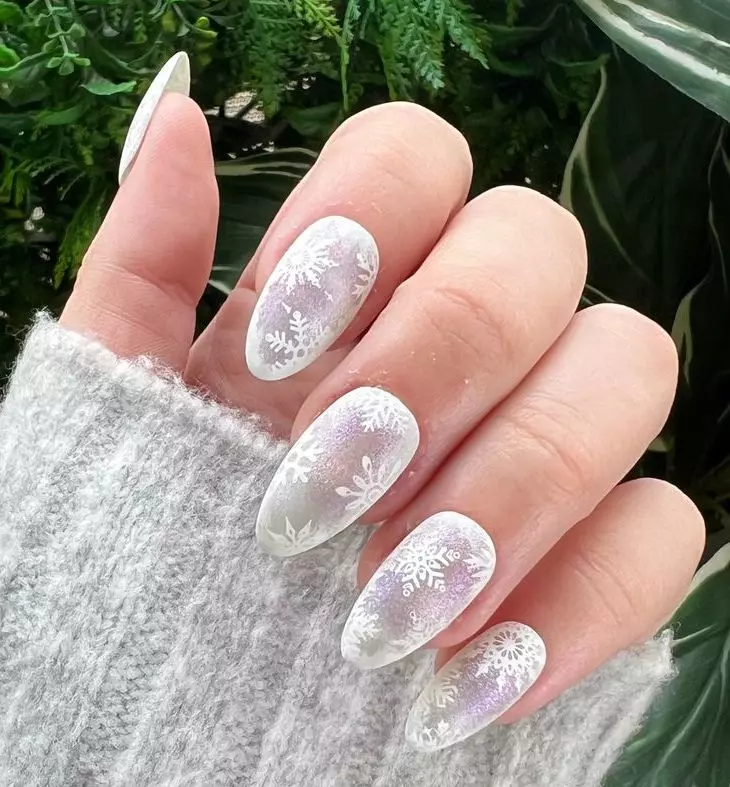 1) Abstract Snowflake
Over the red and green? Could we recommend a white Christmas nail design and choose a design of an abstract snowflake instead? For an unforgettable appearance, don't forget to add stud embellishments. This Christmas nail art is the most simple and preferred cute nail art design.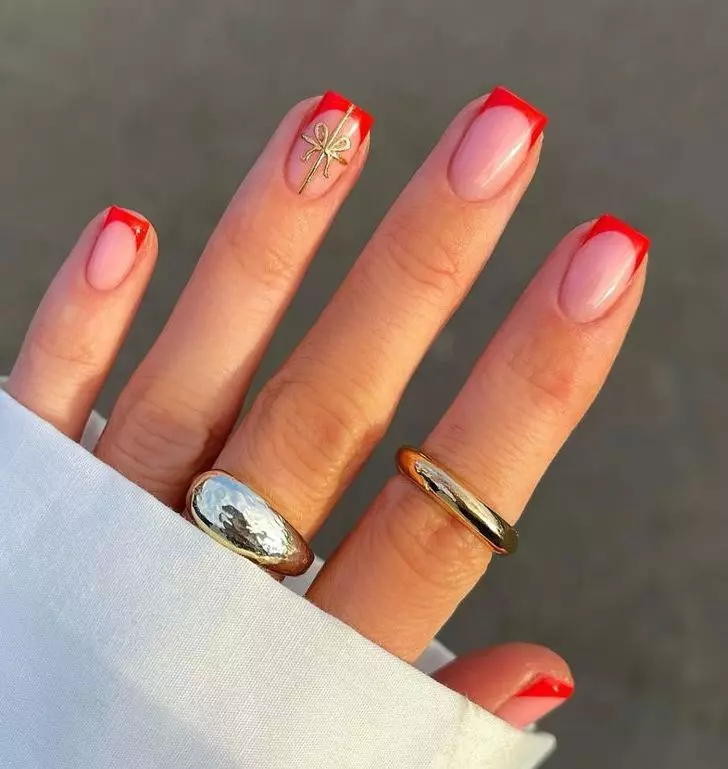 2) Gift Wrapped
Treat yourself with this Christmas nail french tip manicure that is inspired by presents. With its bare base, crimson tips, and gift-wrapped style with gold accents, it's giving Santa's lovely list. Need I say more?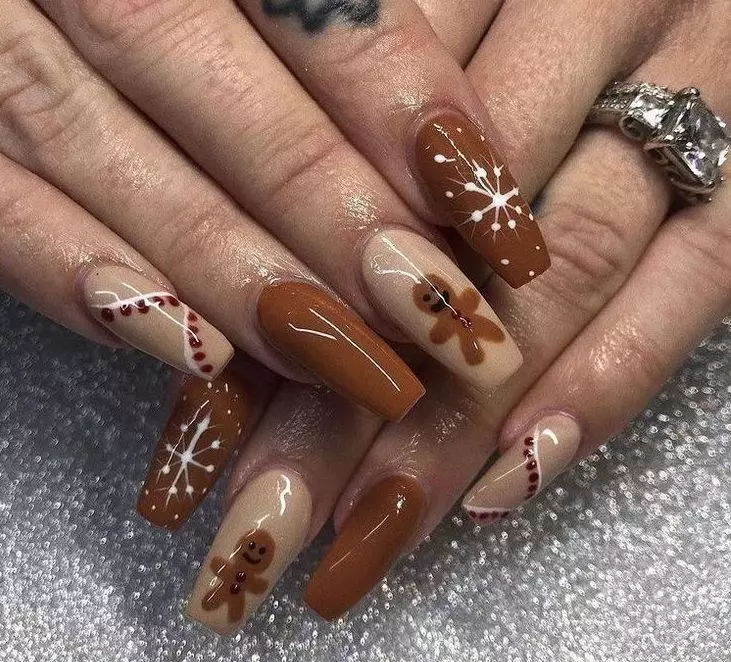 3) Gingerbread Nails
Thanks to the combination of accent nails and negative spaces, this glittery-gold gingerbread manicure feels both bold and neutral. These Christmas dip nails look absolutely stunning.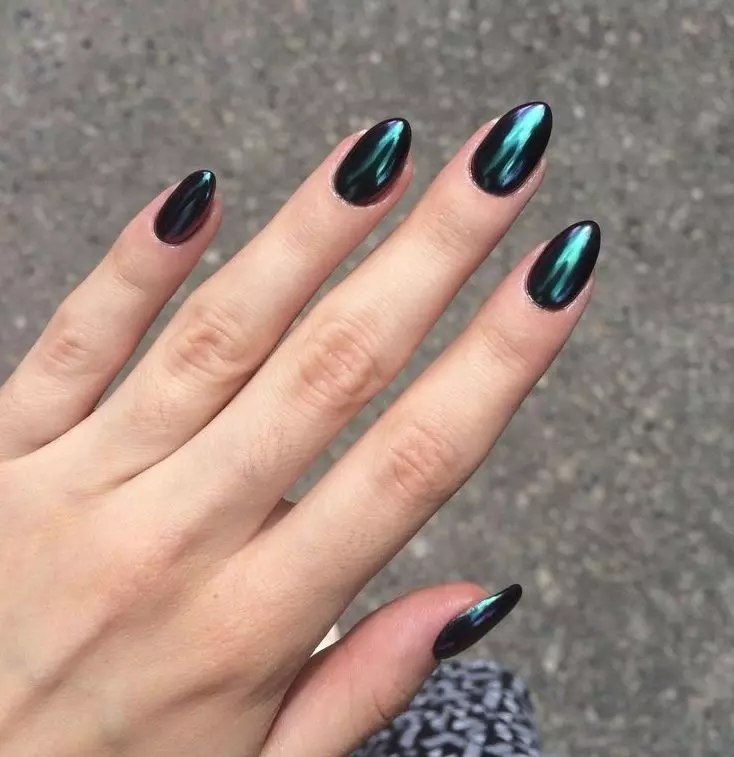 4) Iridescent Emerald
This iridescent emerald mani is equal parts festive and fashion-forward, but the best part? It's easy to recreate when it comes to creating cute christmas nails.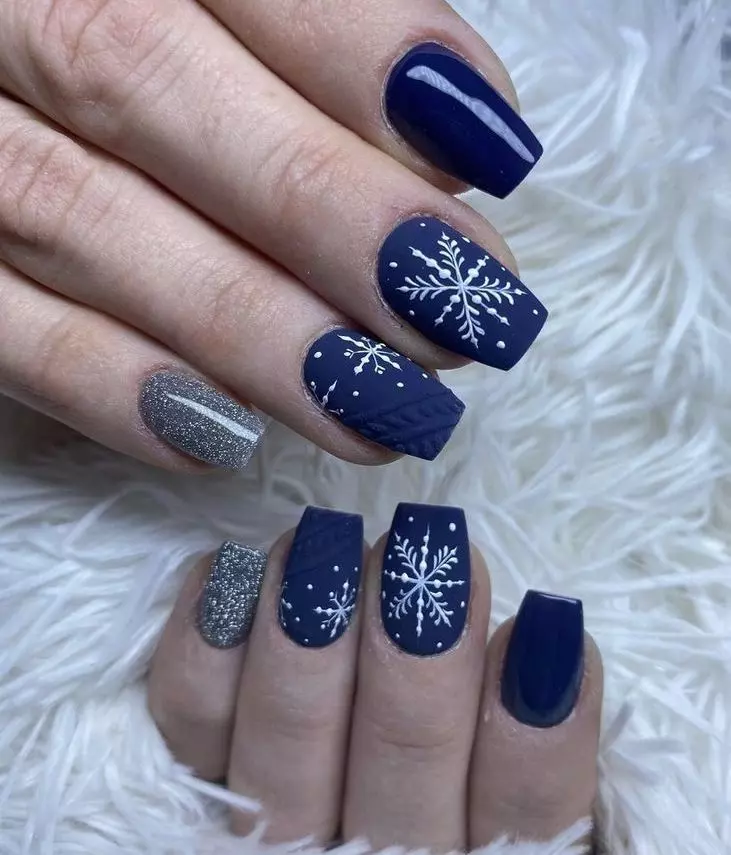 5) Snowy Sapphire
Give blue nails a whole new meaning with this sapphire style. This is the most classy Christmas nails version when looking for something to be done with your nails.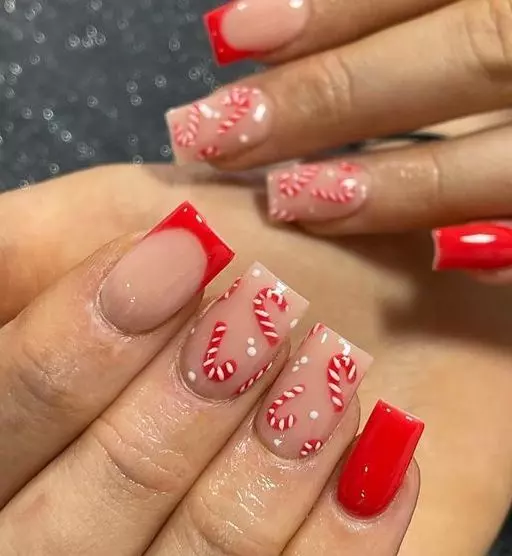 6) Mini Candy Canes
What more embodies Christmas than miniature candy canes? We adore this festively themed design with these Christmas red nails.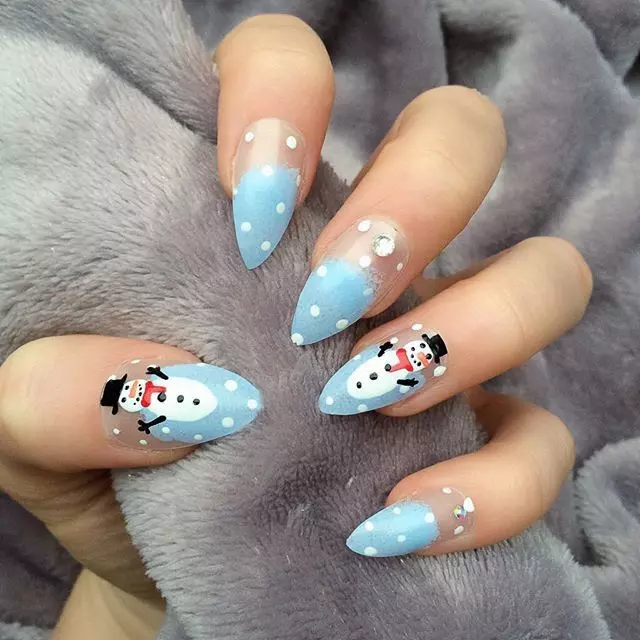 7) Snow globe
This icy white sparkle is perfect if you want to nod to Christmas while keeping it chic and simple. This simple yet pretty Christmas nail design will make you stand out of the crowd.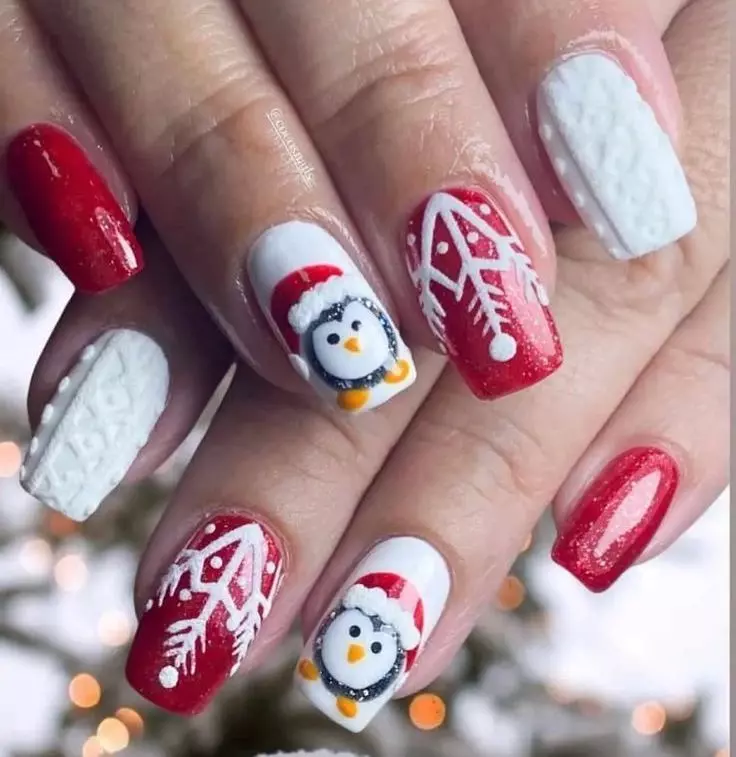 8) Penguin Christmas Nails
Imagine a stylish penguin wearing a Santa hat on one of its claws. The additional claws? Totally glam! Use a gold background with polka dots in red, black, and white to create this christmas gel nail design.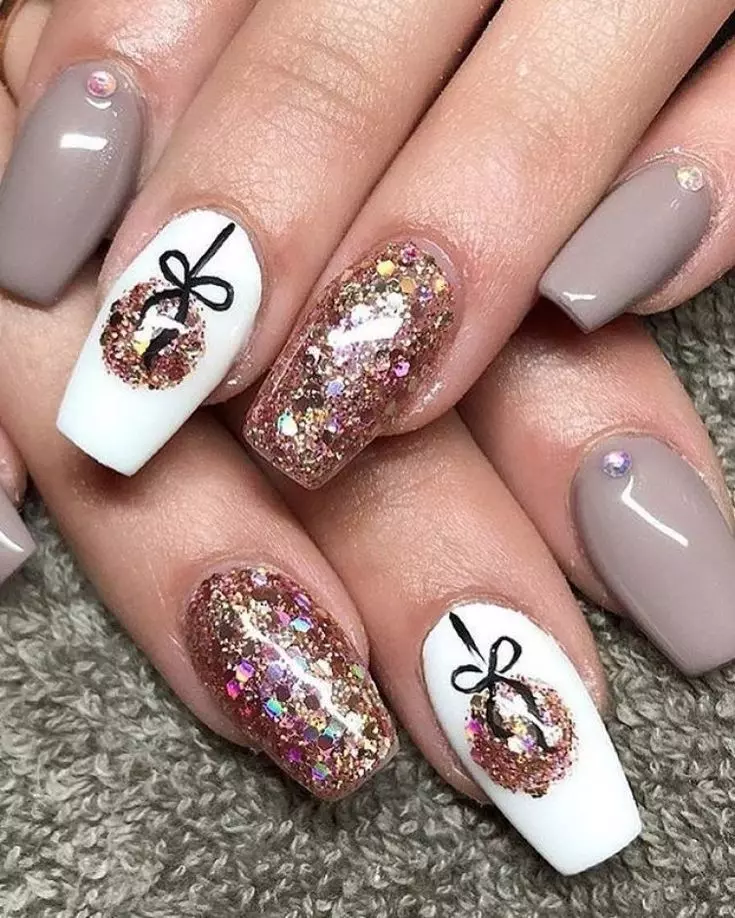 9) Baubles Nails
Brilliant for Christmas nail art are baubles! They glam things up and give them a festive feel. The same way you accessorise an outfit, baubles add glitz to your nails and make them shine with Christmas spirit.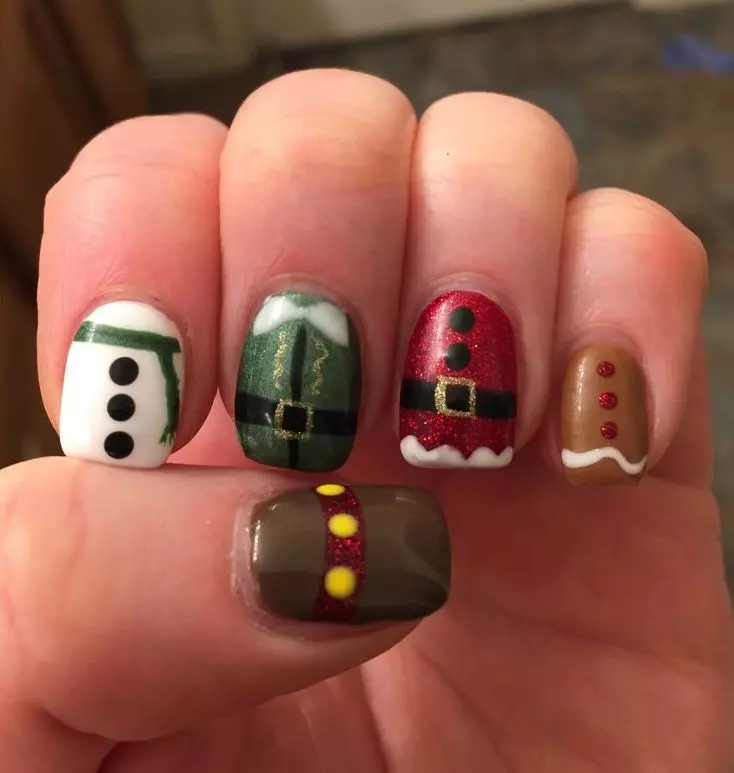 10) Santa & Elf Belt Nails
Santa and elf belt nails are the height of fashion. Bright red and green nail polish, a golden buckle, and presto! For the holiday season, you're ready for the runway with these absolutely gorgeous short christmas nails.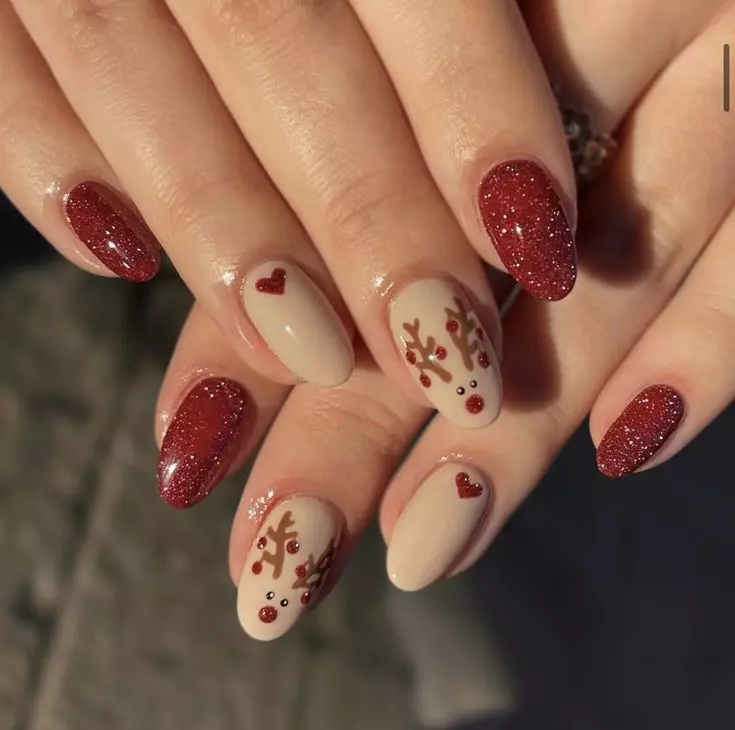 11) Reindeer Nails
Start with giving your nails a nice red or green colour that matches the tree or Santa's attire, respectively. Then, create little brown reindeer heads close to your cuticles using a toothpick or a tiny brush.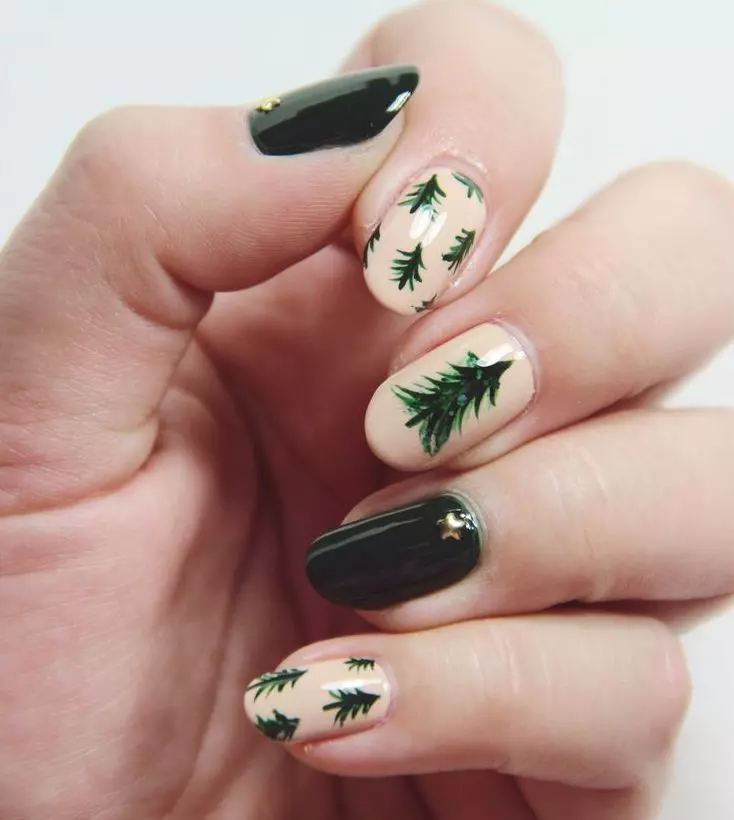 12) Christmas Tree
With some amazing short Christmas nail art, be ready to sleigh. Just like those luscious evergreens, begin with a strong green base. Add some brilliant red and gold decorations after that. Put a shining star on top to finish it off! These olive nails do look stunning.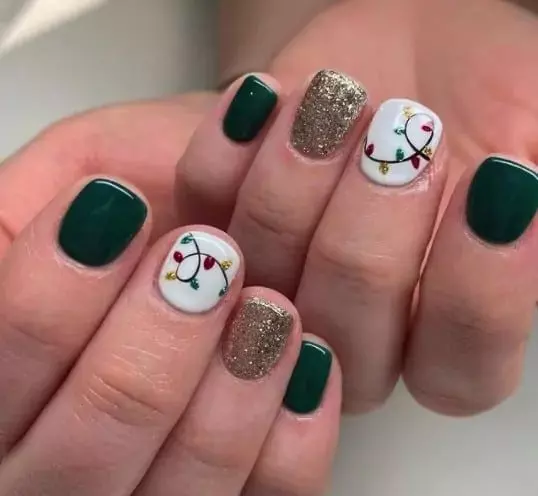 13) Fairy Lights
Imagine having tiny, sparkling lights on your nails that resemble those on a Christmas tree. Sparkly polish can be used to make them shim.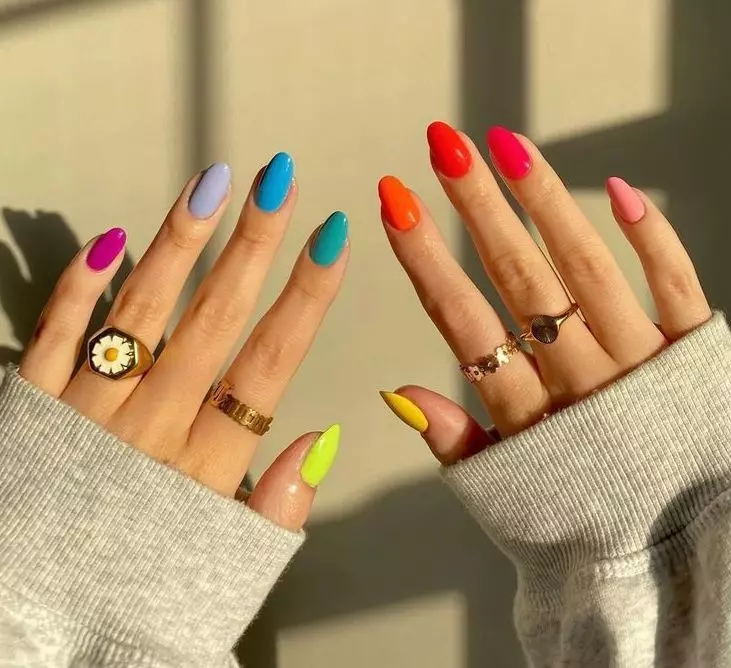 14) Skittles Nails
Make it purple for a surprising twist if you want to use red, green, and something in-between. These unique Christmas nail colors will set you apart from the competition.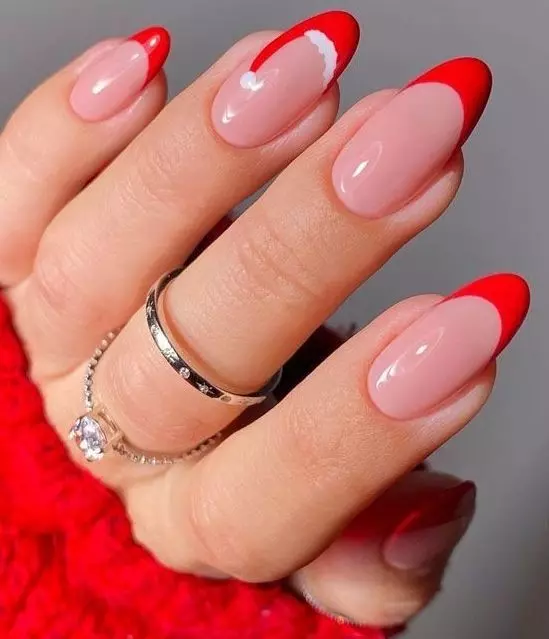 15) Santa Hats
You know it's Christmas when each of your 10 fingers gets its very own Santa hat. These Christmas nails french tip are an absolute treat to the eyes.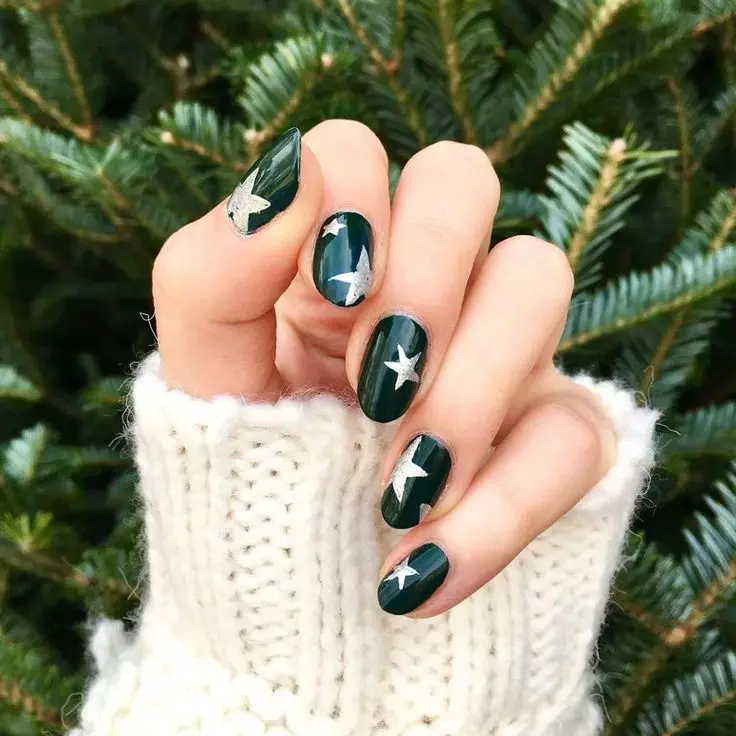 16) Fir Green Stars
Instead of your typical vampy red, deep hunter green Christmas nails are the perfect dark holiday manicure to be chosen and you can add silver stars to make it even more.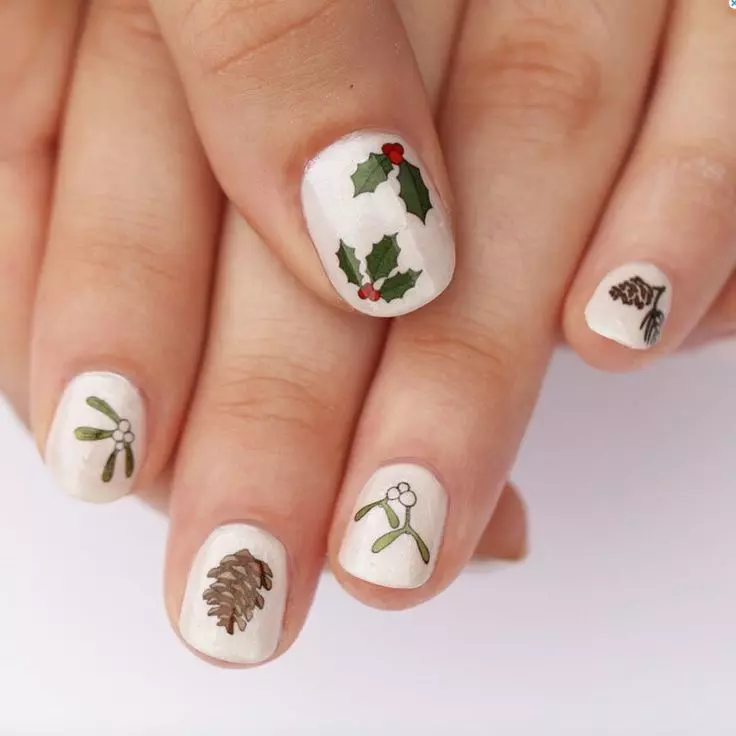 17) Holly, Jolly Stickers
When you have these simple decors in your possession, indulge your wildest holiday whim. You'll be the belle of the (Christmas) ball between the holly and the mistletoe with these absolutely stunning christmas dip nails. Get this pair of classy Christmas nails during this festive season.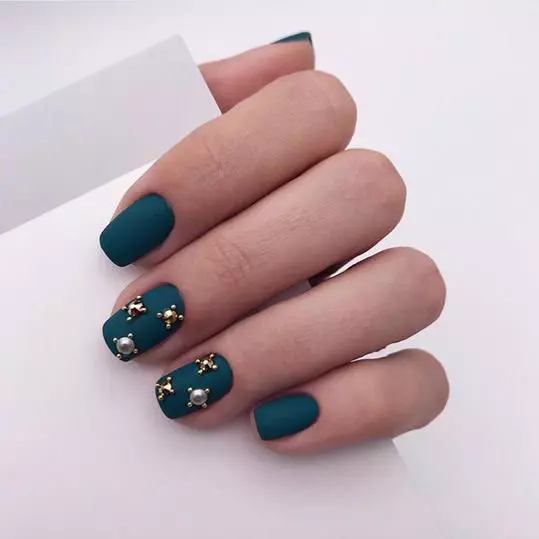 18) Jingle Jewels
Try this matte style for a festive manicure that will last you into the Christmas Eve. Nail jewels add added flare to jewel-toned green Christmas nails.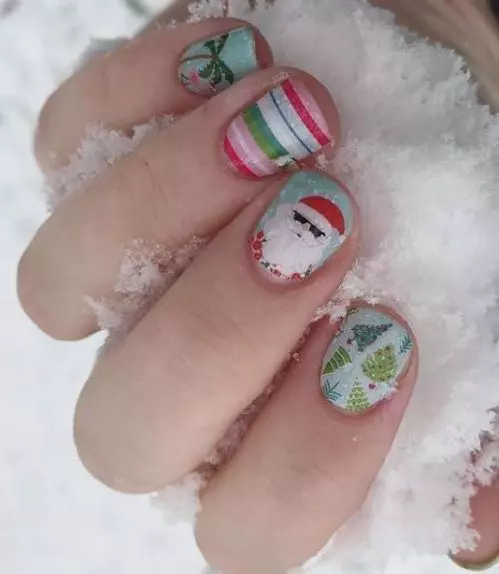 19) Tropical Christmas
This tropical manicure design is a unique Christmas nail design to complement if you plan to spend this Christmas near white sand beaches and crystal-clear waterways.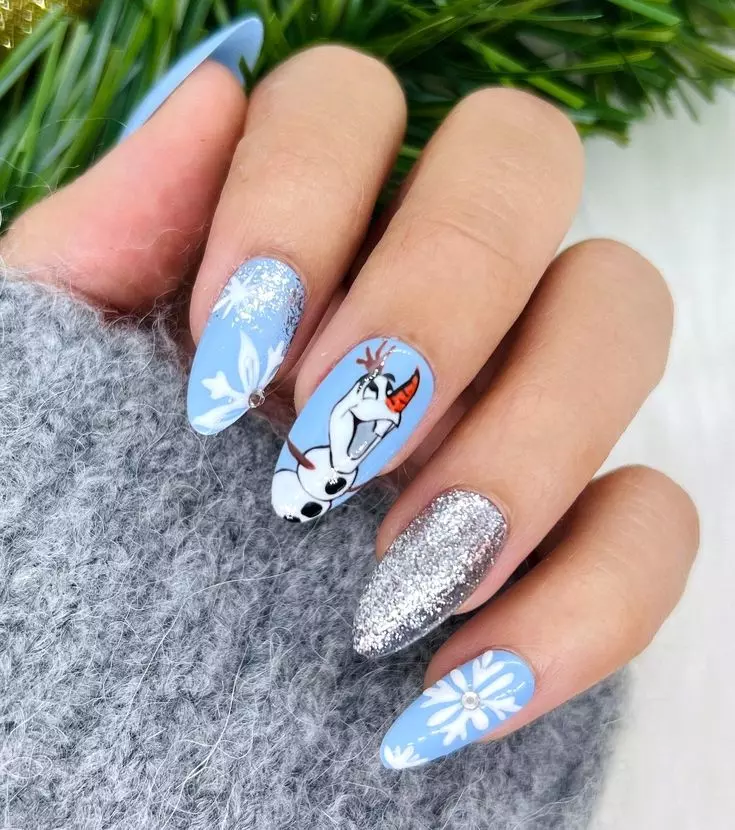 20) Frozen-Inspired
Prepare to be the coolest person ever in the season with these long Christmas nails. This nail art pays homage to the jolly snowman, Olaf.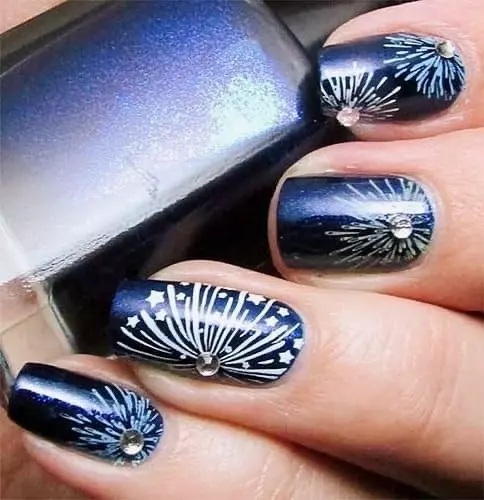 21) Firework Nails
"I'm ready to skip ahead to the New Year," says these Blue Christmas Nails. That is supposedly how time operates. This christmas nail inspiration attracts a lot of people to get these nails done during the festive season.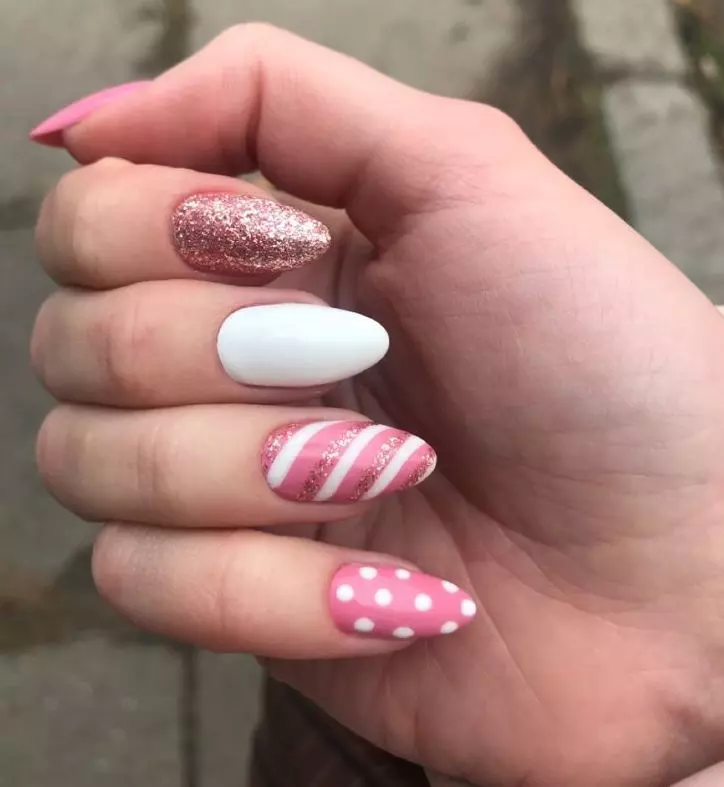 22) Christmas Pudding Nails
Choose an uncommon option that includes Christmas pudding! You can either create these as bespoke nail art or hunt around for some nail stickers. These pink Christmas nails are an absolute cute choice for your festivities.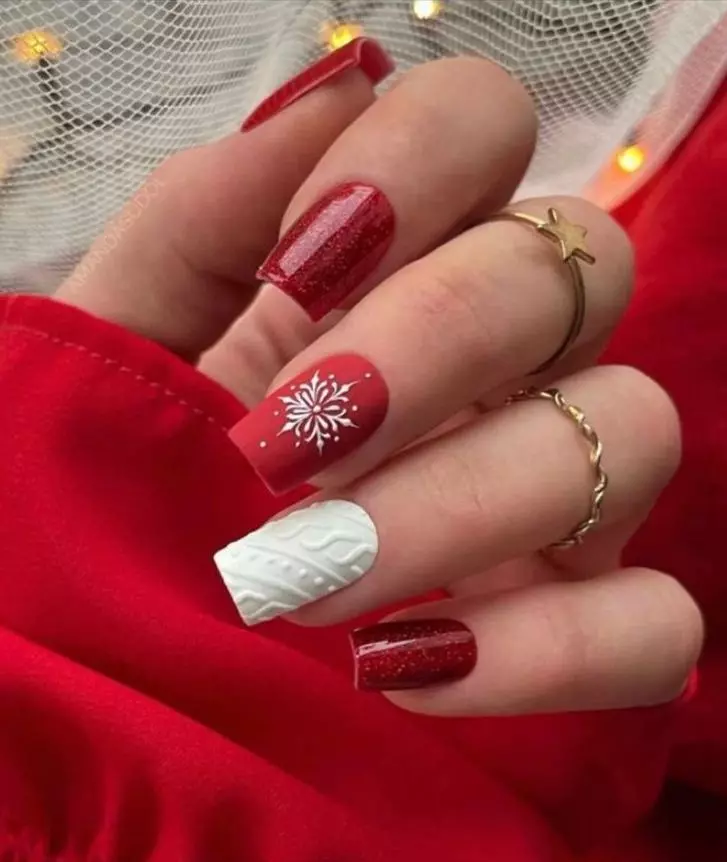 23) Christmas Mittens
Okay, these short Christmas nails might just be the cutest ever! I like the pale, bare pink complements the glittering red quite well. Just look at those lovely mitts! An absolutely easy Christmas nail design to get as soon as possible!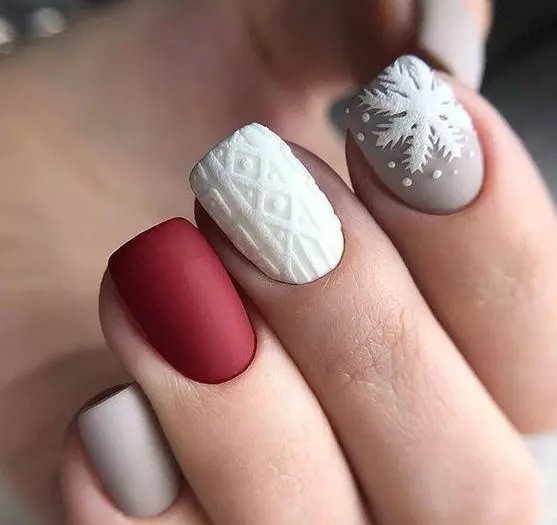 24) Holiday Sweater Nails
Winter is when jumper nails really call to us, and using lovely colours to do them is like a dream come true. These acrylic christmas nails are adored by everyone.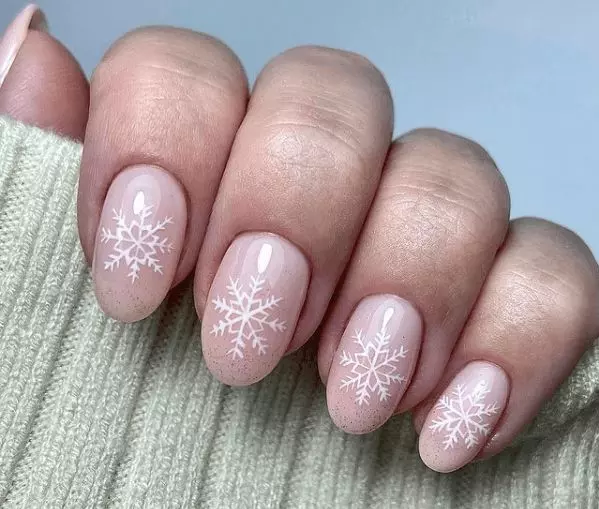 25) Soft Pink Christmas Nails
This understated yet incredibly festive manicure design is the one to grab right now for those searching for a straightforward, soft glam for their pink Christmas nails! Everyone will enquire about where you had them done because they're so lovely and adorable. one can also try out nude nails as these looks gorgeous as well.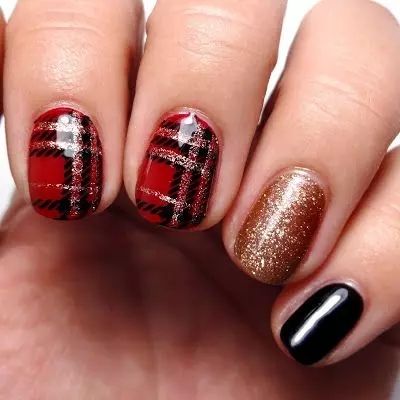 26) Plaid Christmas Nails
Any arrangement of festive colours will do, such as this one's deep crimson, black, and silver. This perfectly creates the classy christmas nails which everyone wish to have.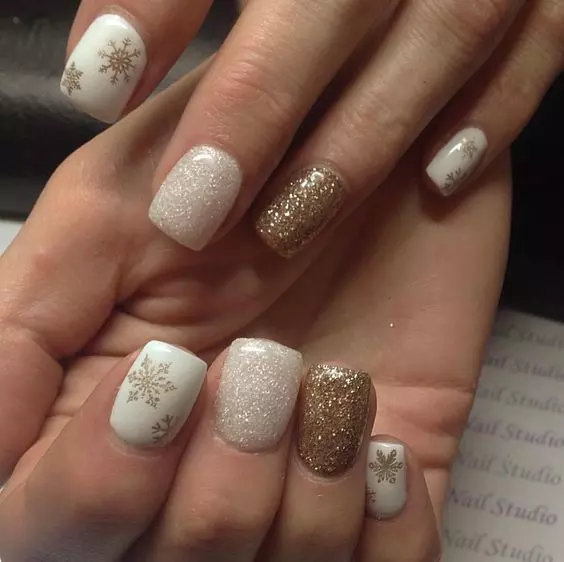 27) Gold Snowflake Nails
Not a fan of the overly festive atmosphere? We understand. This is why we adore these understated gold snowflakes, which make us feel festive without using red and green. A gold snowflake sticker, two coats of white nail paint, and a layer of shiny top coat are all that are required to complete these at home.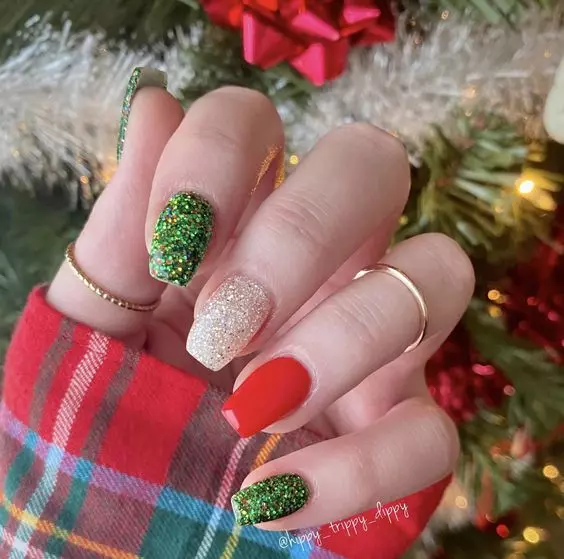 28) Colorful Christmas Nails
This year, change up your Christmas nail colors by substituting vibrant pastel colours for the "classic" hues. This negative-space manicure looks like West Elm in nail art form and has a mid-century modern Christmas mood without being outmoded or corny.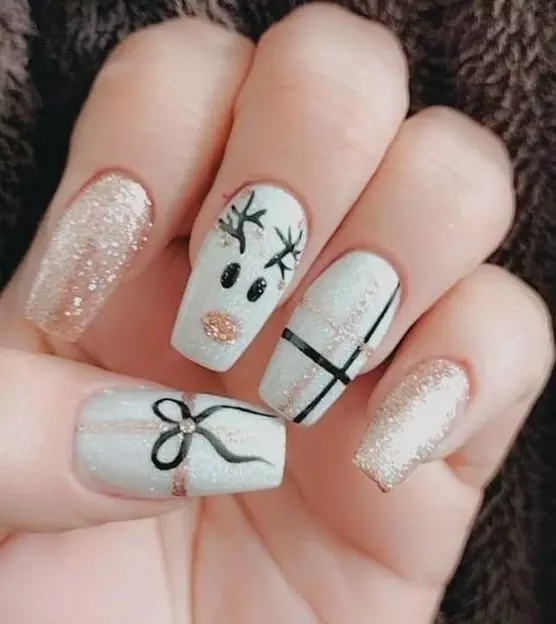 29) Shimmery Christmas Ornament
Start with a glitter base coat rather than a glitter top coat if you want to boost the festiveness of your Christmas manicure without making it look garish. The sheer sparkly white base of these vintage ornament nails, gives it the most cute Christmas nail look.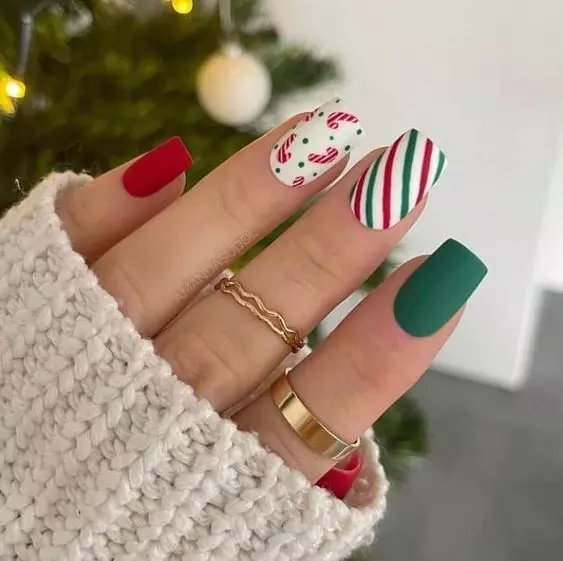 30) Muted Christmas Colored Nails
You undoubtedly relied on fall nail colours like olive green, oxblood, ivory, and gold last season. But when combined, they create a stunning and rather subdued Christmas manicure. And if you don't feel like doing exact nail art today (common), just paint each nail a different colour instead.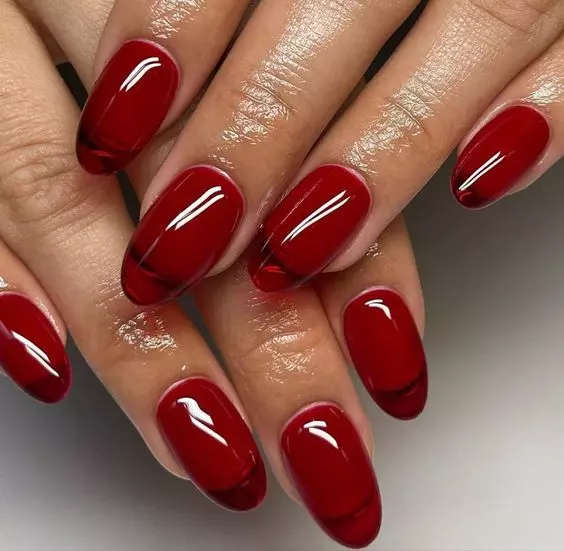 31) Red Jelly Nails
These acrylic Christmas red nails are perfect if you want an Instagram-worthy manicure that merely has a hint of the Christmas season (but especially in December). For gel nail extensions, you'll probably need to visit a salon, or you could buy a set of clear press-ons and paint them with a mixture of equal parts red nail polish and clear top coat to create the appearance of sheered-out jelly.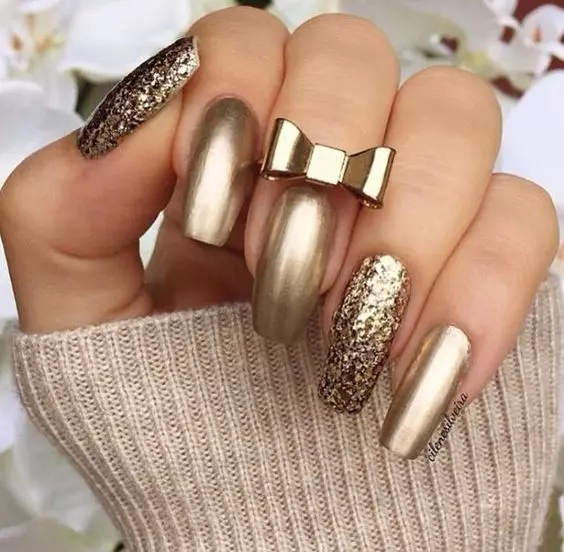 32) Gold Bow Nails
If anyone asks, these nails are worth a present to everyone this year. Although one could use monochromatic yellow-gold for the French tips, you could definitely swap in a Christmas-y red or green, or go for an unexpected baby blue or silver for fun.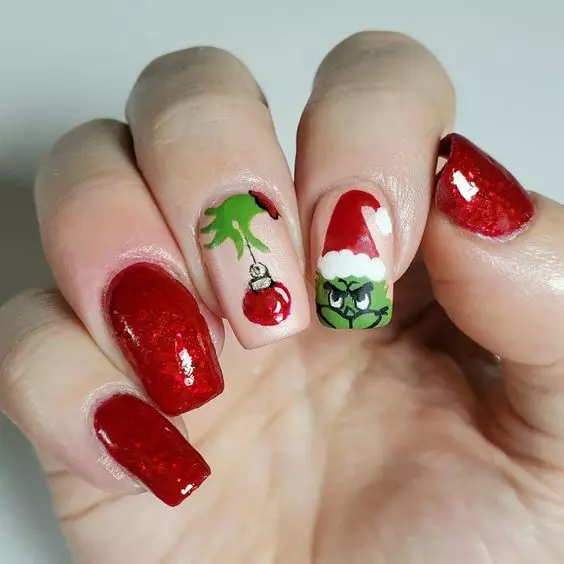 33) Grinch Christmas Nail
This holiday season, pay homage to everyone's favourite Oscar-winning movie with a joyful red-and-green manicure that includes a Grinch sticker. With this Christmas nail art you can attract everybody's attention easily.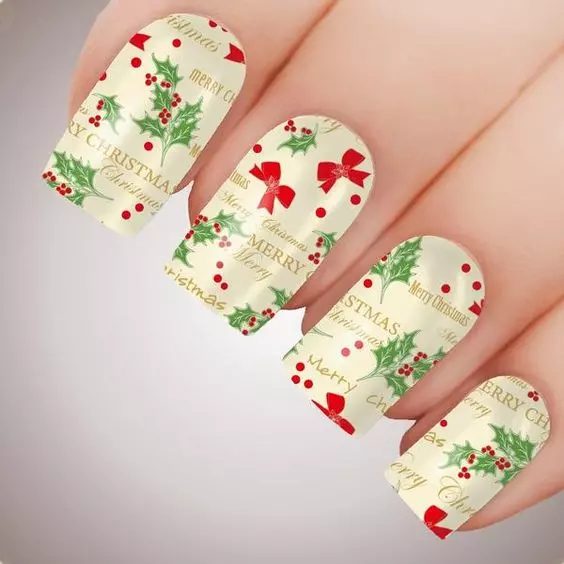 34) Wrapping Paper Nails
These Christmas nail art designs are flawless in contrast to most Christmas jumper prints, which have much to be desired. Install pre-painted decals to expedite the procedure unless you have exceptionally stable hands.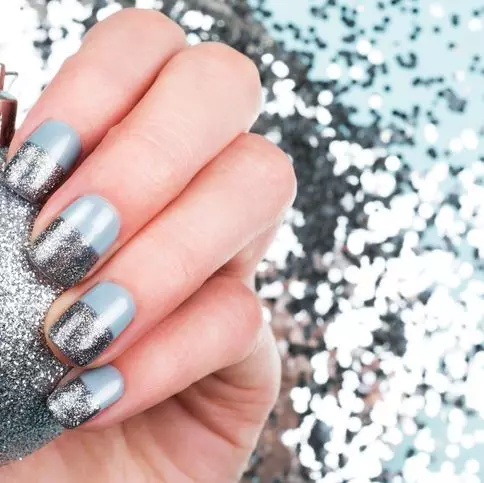 35) Silver Bells
Long into the new year, icy tones like this light blue and silver glitter will be in style. Alternate designs for a more graphic aesthetic, or choose just one glitter accent nail for a cleaner appearance.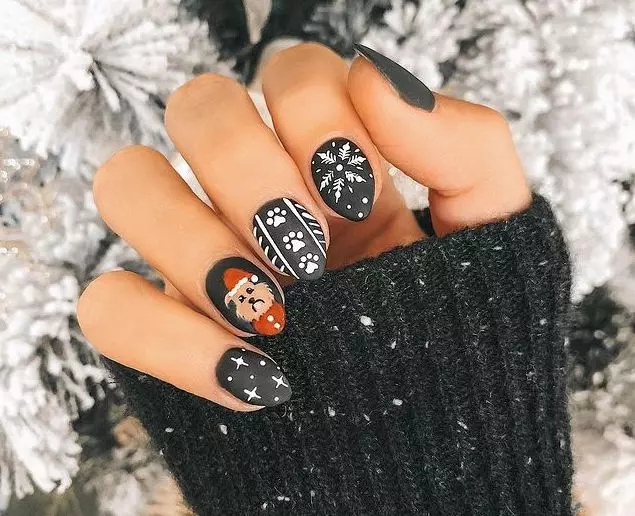 36) Wild Christmas Nails
Go ahead and get a little sassy with your nails this season! Pick an accent nail or two and apply a wild design that's sure to turn heads.
37) Pink And Purple Christmas Nails
Purple-colored Santa hat? And why not? From the delicate snowflake nail stickers to the ombre nails with pointer fingers, teenage females will go crazy for this fantastically bizarre design.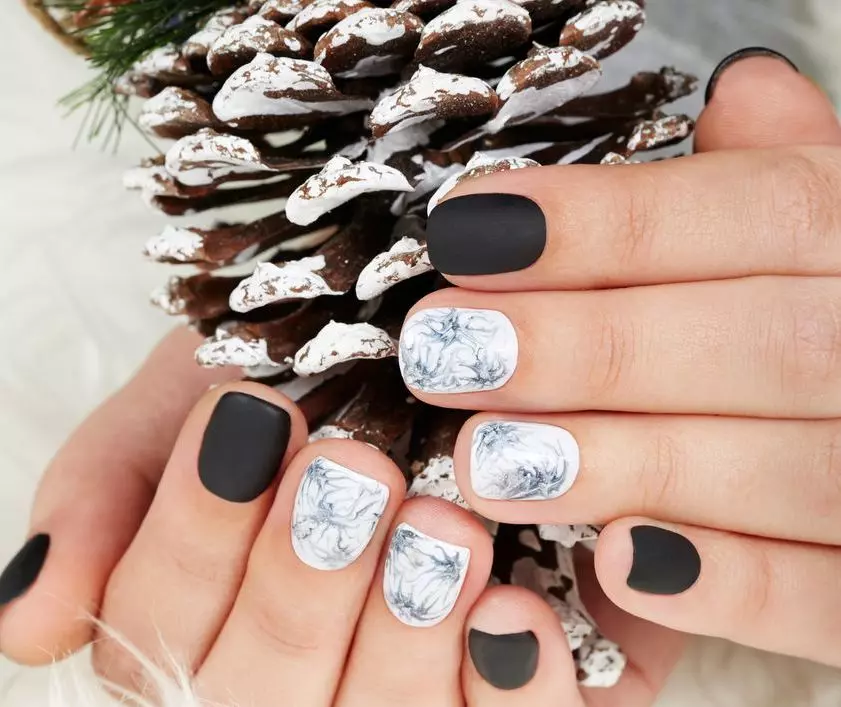 38) Marbled Christmas Nail
Christmas gel nails doesn't always have to be red and green. For winter days, this matte black and marbled appearance seems appropriately subdued. To create the marble effect, just apply black nail polish over a base coat of white using a dotting tool. It's simpler than it appears!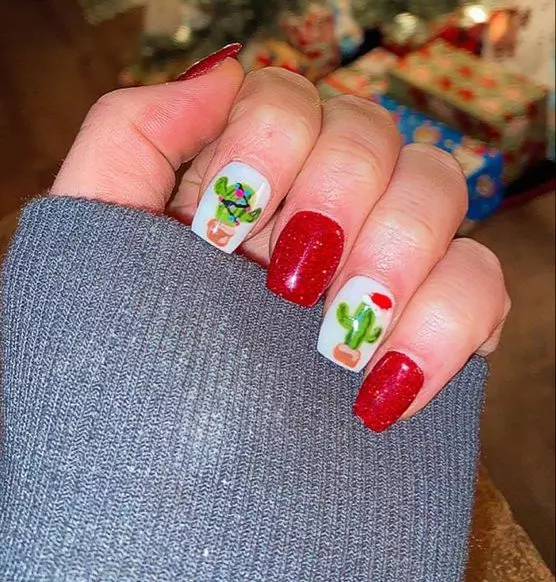 39) Christmas Cactus Nail
Greetings, plant mothers! Your name is all over this vibrant and adorable cactus nail art. Use a durable top coat to protect these works of art.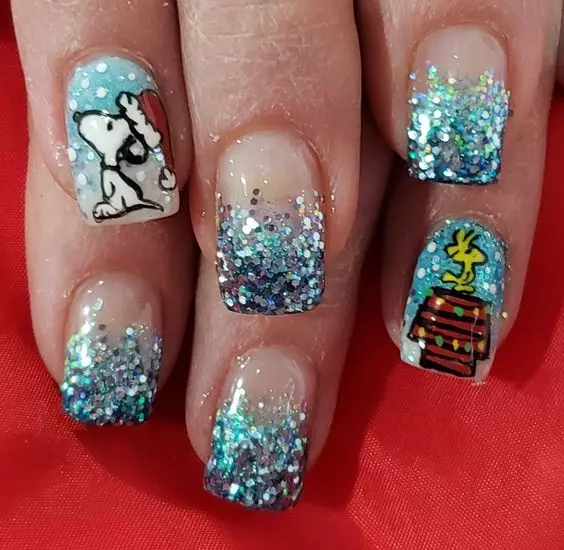 40) Peanuts Christmas
Join everyone's favourite gang for a holiday celebration that includes Snoopy, Woodstock, and friends—as well as, of course, the recognisable Charlie Brown Christmas tree. To pull this one off, you'll need patience!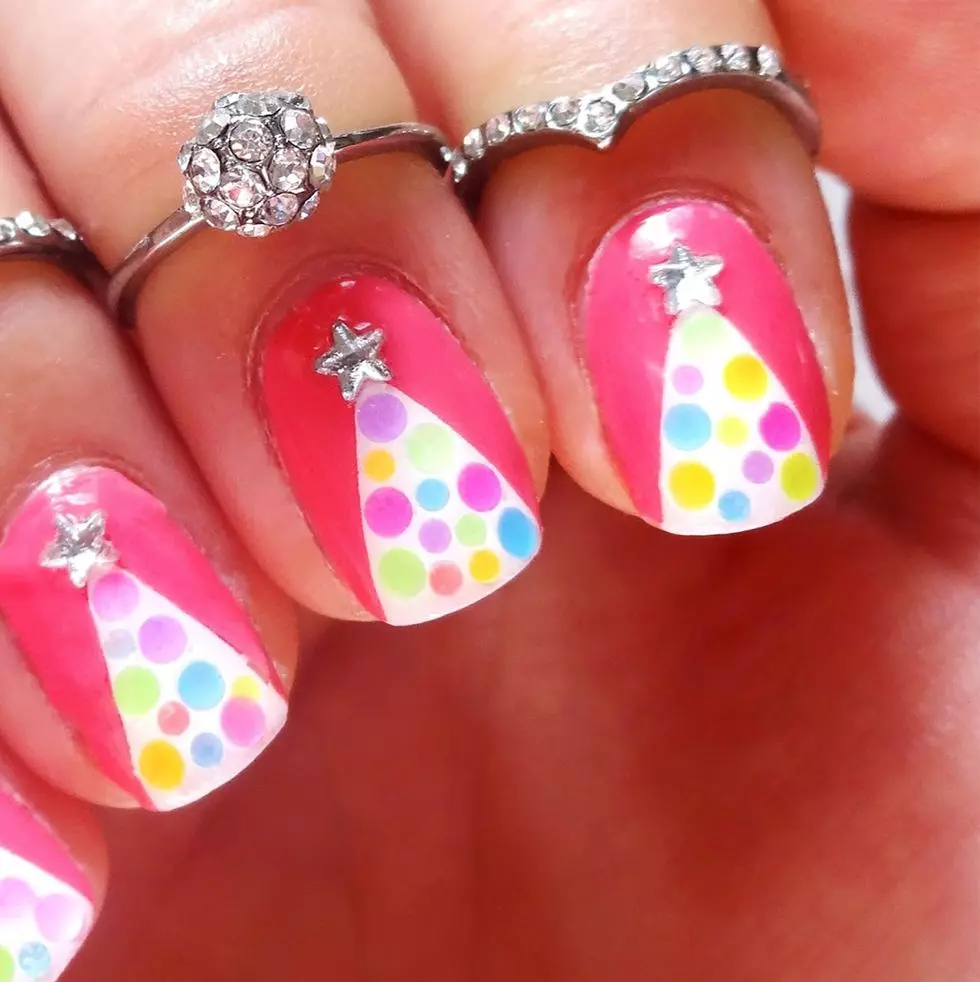 41) Whimsical Winter Wonderland
Give a pop of pastel color to traditional trees and transform your hands into a whimsical wonderland. Use a nail dotting tool to help get perfectly round circles.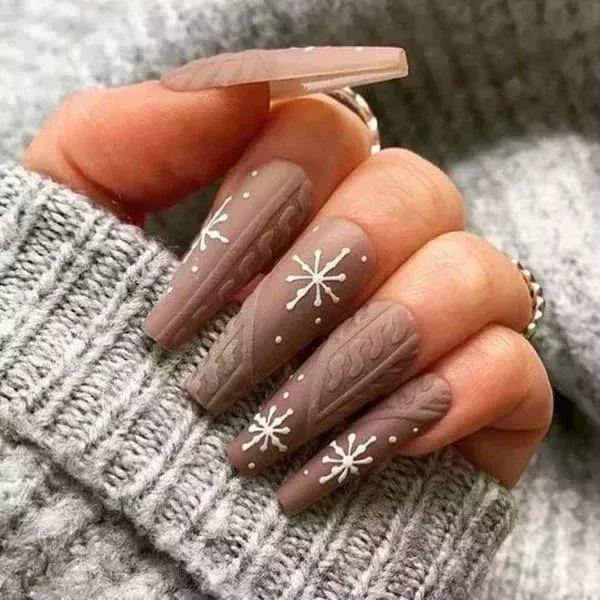 42) Brown Tones
With a light brown base and white nail art, you may create a charming variation to the traditional styles. White and browns are a stunning combination that go well together. Due to the muted colours, it is simple to wear and goes well in a range of settings, even more formal ones.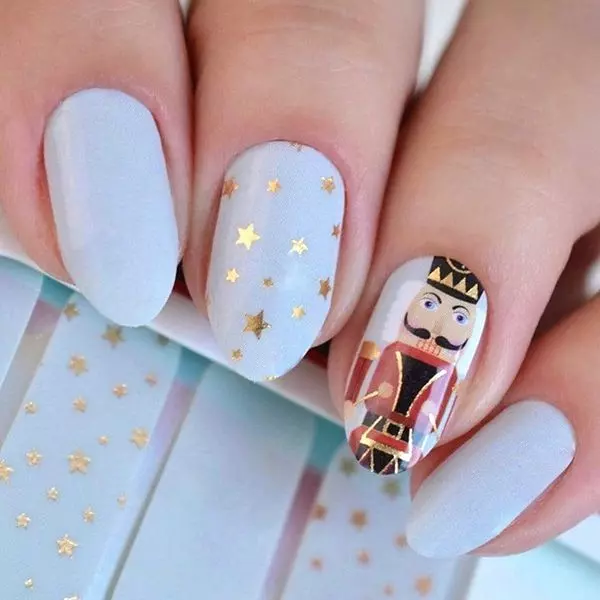 43) Nutcracker Nails
Nutcrackers are a popular Christmas icon that also represent protection and good fortune. It is not difficult to understand why someone might be drawn to this image for their holiday nail art because they can also stand for strength and goodness.
44) Ho Ho Ho Nails
The slogan "Ho Ho Ho" is connected to Santa Claus and serves as a representation of his joy and laughter. This might be your go-to manicure if you want a straightforward, upbeat look that will make you grin.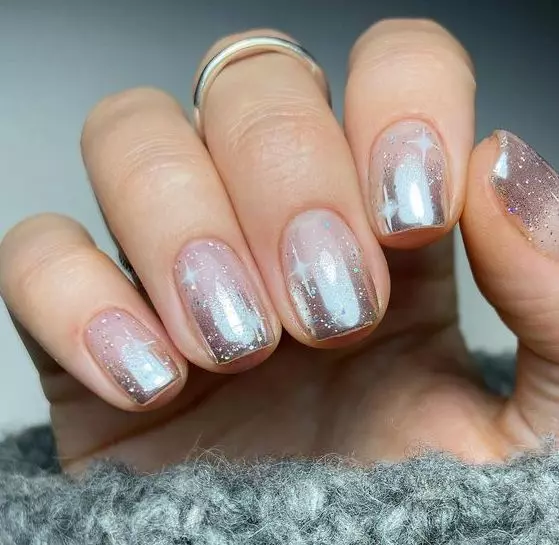 45) Chrome Winter Night Sky
It's the ideal manicure for holidays like Christmas and New Year's Eve. Apply the base coat before creating this nail art pattern. The nail should then be polished with chrome powder to produce a silver ombré look. Finish the appearance with a top coat that is incredibly sparkly and a few hand-painted white stars.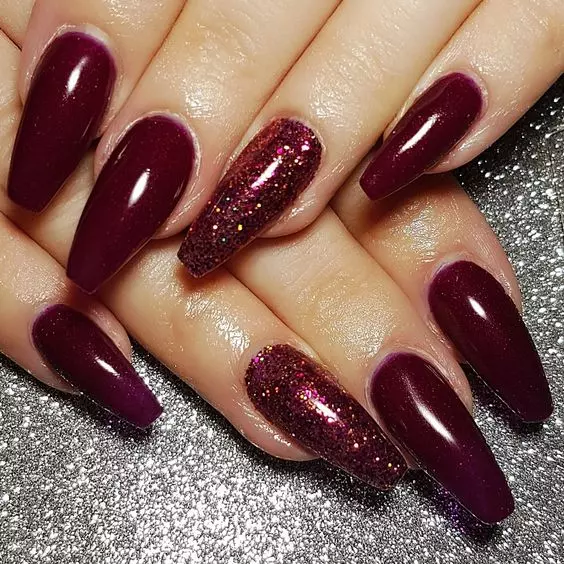 46) Deep Red
Red glitter nails are the perfect choice for Christmas. Choose a deeper maroon colour that will work with all of your festive attire for a more sophisticated spin on the trend. Choose two similar red tones at the nail salon for a more neutral finish, or alternate between standard and glitter polishes to add additional interest.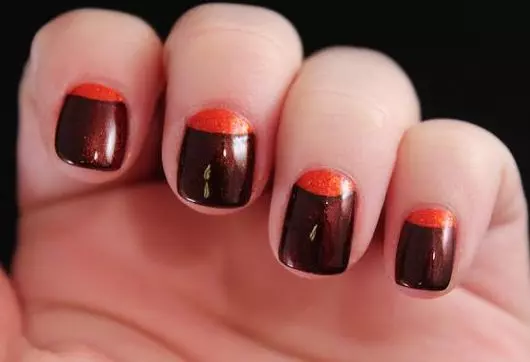 47) Christmas Crescents
This is one of our favourite simple Christmas nail art designs. The nicest aspect is that only one colour is required. By painting around it, you can conceal the crescent form and let your natural nail colour show through. To wipe off any edges, dab a cotton swab or fine, flat brush in nail polish remover.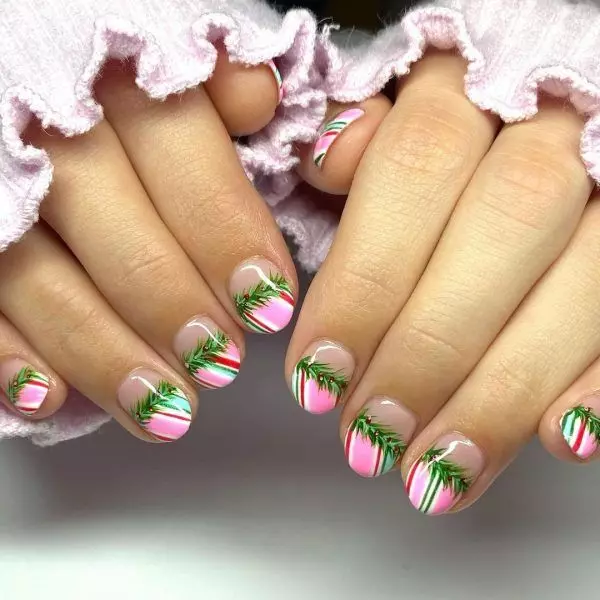 48) Classy Holidays
Holiday nail design will complement any colorful image and draw attention to the details of your image. Colorful stripes, gentle patterns, and red rhinestones will create a beautiful nail styling.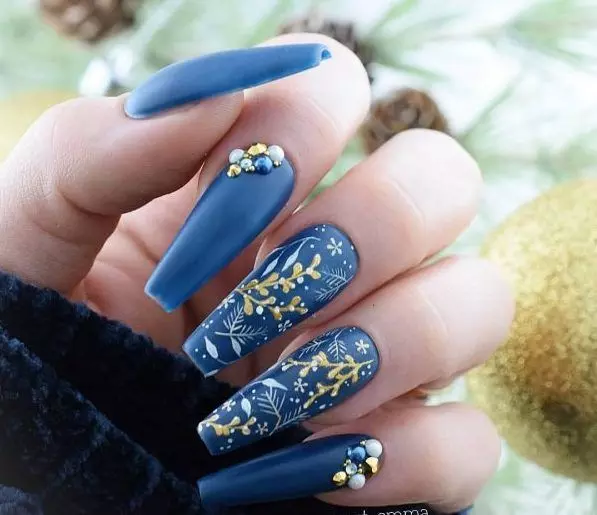 49) Blue Christmas Evening
Every woman can try something new with royal blue Christmas coffin nails. Original designs and multicoloured rhinestones will accentuate your personality and go well with matte nails.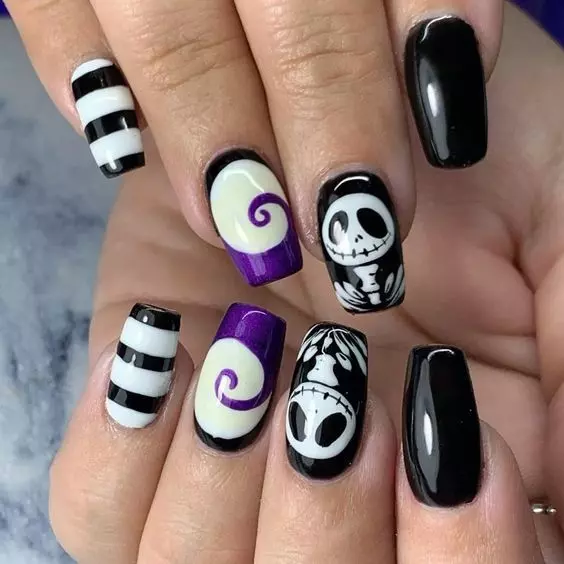 50) Nightmare Before Christmas
These Christmas gel nails along with their gothic-style will brighten your appearance and give you confidence. Small amounts of matte-finish glitter coupled with glossy nails and vibrant accents will create a distinctive manicure style.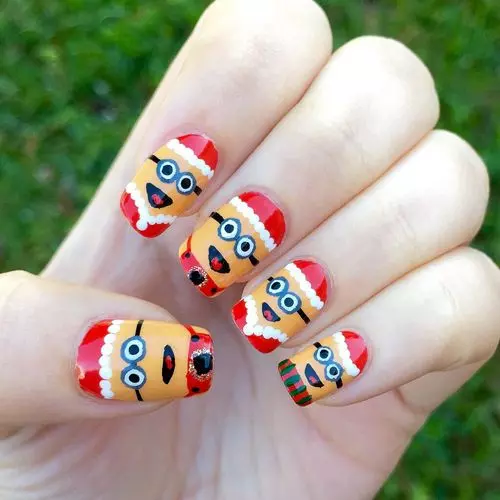 51) Santa Minions
Any woman will feel cheerful and look festive after getting a unique Christmas nails manicure. Silver inclusions and nail polish with a shiny look cannot go unnoticed.
52) Chrome Christmas Rainbow
In a manicure, the contrast of white and green appears chic and distinctive. Contrast will be created with red chrome nail polish, which will also brighten any woman's appearance.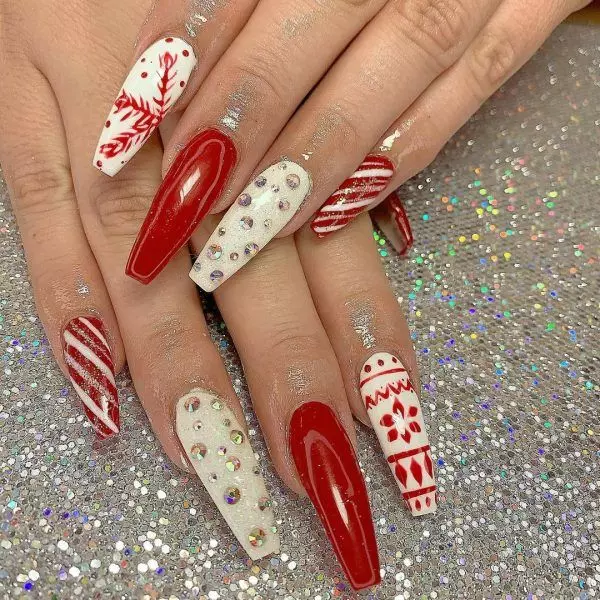 53) Rhinestones Accent
Although a white and red manicure is thought to be basic, you can add distinctive patterns, designs, and silver drawings to make it stand out. Your image will be embellished and completed with these long Christmas nails.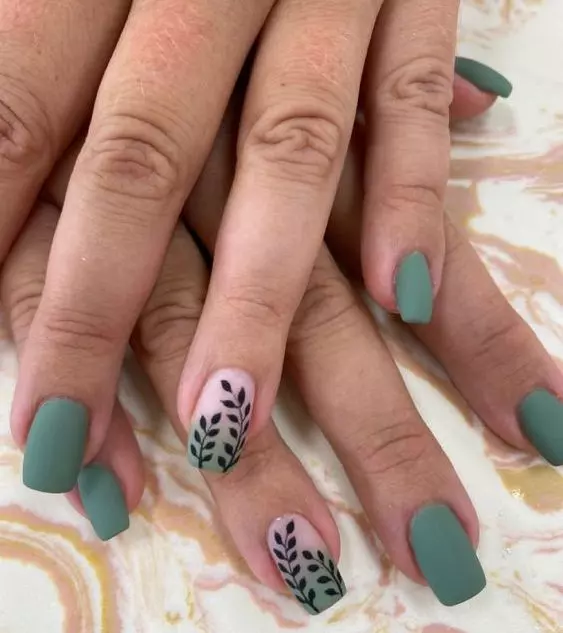 54) Pine Branches
The aesthetic painted nails are distinctive and intriguing. Your manicure will be flawless thanks to the one dark green nail that your manicure artist drew and the silver impressions.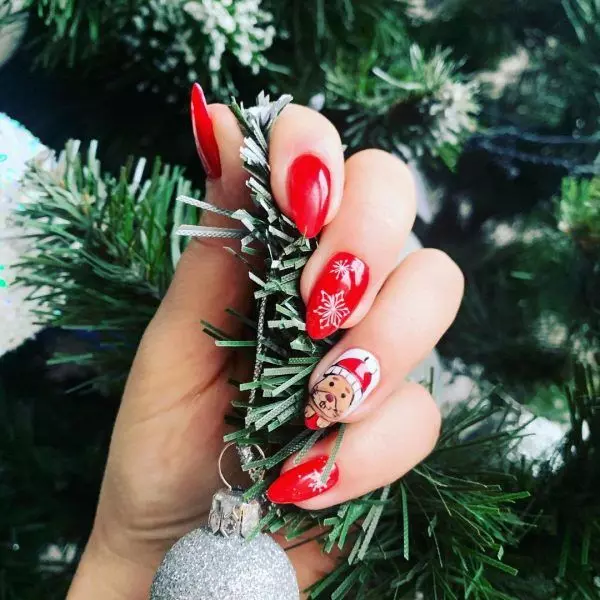 55) Funny Rabbit
Red glossy nails have always been considered succulent and expressive. A funny rabbit on one nail and refined snowflakes will make nail styling any woman unique and attractive.