25 Best Coffin Nails Designs For 2023
Rituparna Priyadarshini
Updated At 11 Nov 23
Have you tried out the new and exciting coffin nails designs yet? If not, then we are sure after reading up about all the enchanting coffin nails ideas, you would want to get it done. But before you start, let's take a look at what are coffin nails exactly. 
Coffin nails resemble the shoes of a ballerina, with their pointed yet well-sculpted edges that give them a sharp, tender look. For the sake of the coffin nails shape, they are often called the "ballerina nails". Now that you know what they are, let's take a look at some of the best coffin nails designs. These will help you understand the style you desire to give your nail technician some of your coffin nails ideas. 
25 Best Coffin Nails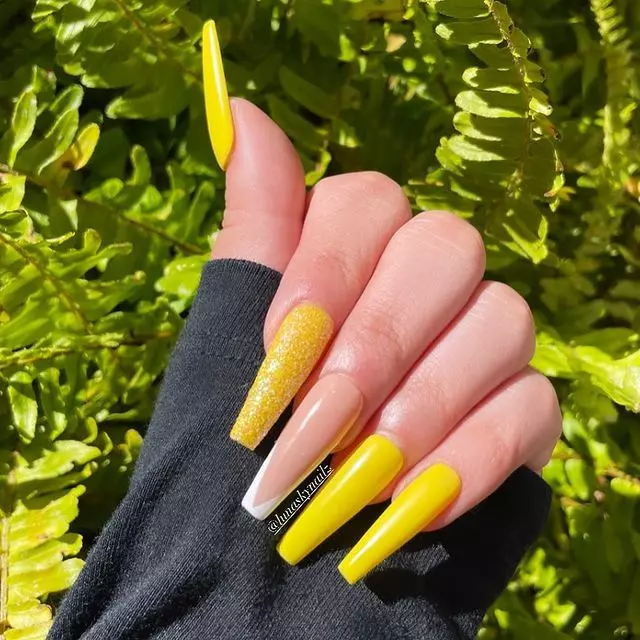 1. Stylish Yellow Coffin Nails
Some people frequently misinterpret coffin nails meaning. It does not always need extra-long nails with loud colours and patterns. You can also go right with a toned-down yellow color and add lines or structures to different nails of different colors to bring ou the yellowness more and add an X factor. This design is for all the corporate or working girls as it goes from office style to party style in no time.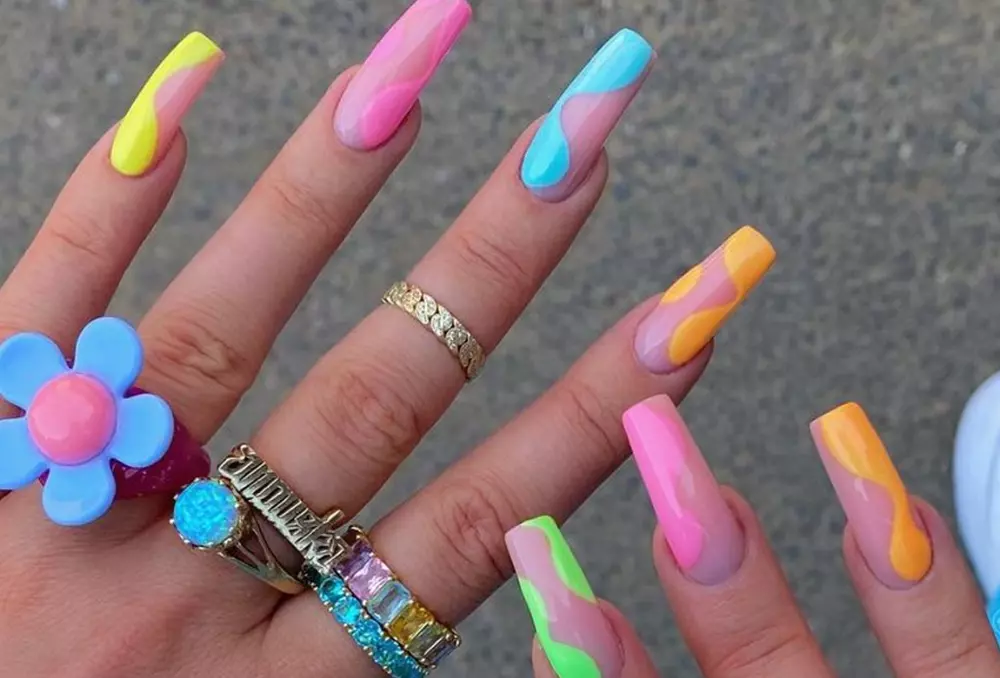 2. 80' Twist Coffin Nails
The 1980s have made a resurgence in the fashion world and are now making their way into coffin nail art. It's an easy technique – start with a neutral base like transparent, nude, or peachy polish, then embellish with trendy swirling patterns using harmonious and vibrant colors. For an added twist, experiment with various color combinations to achieve a unique look. Let your creativity flow as you create crafts and produce your own fashionable nail art designs.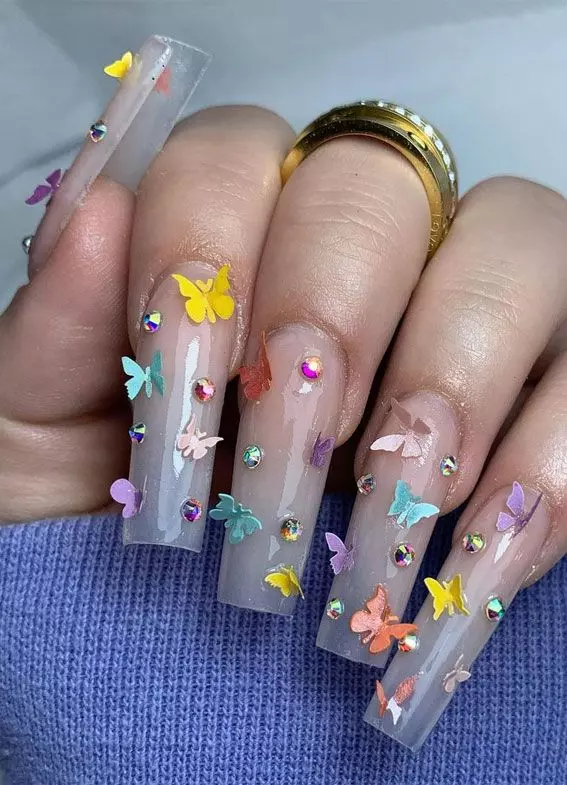 3. Long Coffin Nails With 3D Effects
If you are feeling particularly undaunted, then go for unconventional 3D art on your nails. You can choose any figure or even your spirit animal to add meaning to it.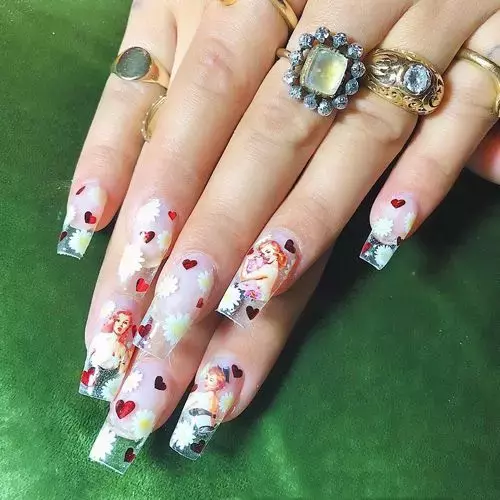 4. Portrait Perfect
Every woman wants to be unique in her little way. And what can be more remarkable than heavenly creatures on your nails? You can opt for nude coffin nails and decorate them with pictures or portraits of fantastical creatures to create magic. It can also be a great coffin nails designs for a theme party. But remember, I prefer having long coffin nails to have space enough for all the portraits.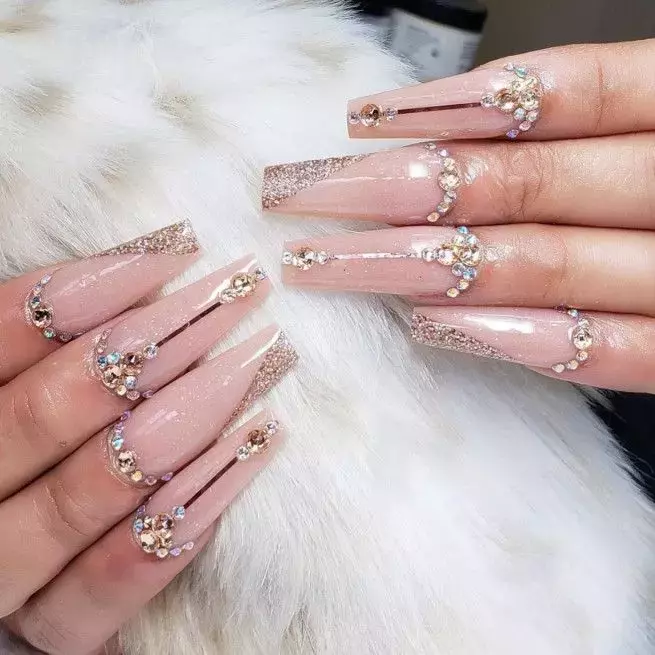 5. Dazzling Nails
Who doesn't love a little glam and glitz? Every woman fascinated by the whole coffin nail art scenario wants her nails decorated with little stones, sparkling nail paints and more. You can always go for a lighter base and include small accessories or ornamentation, such as flowers or stones, to make the coffin nails shape look prettier.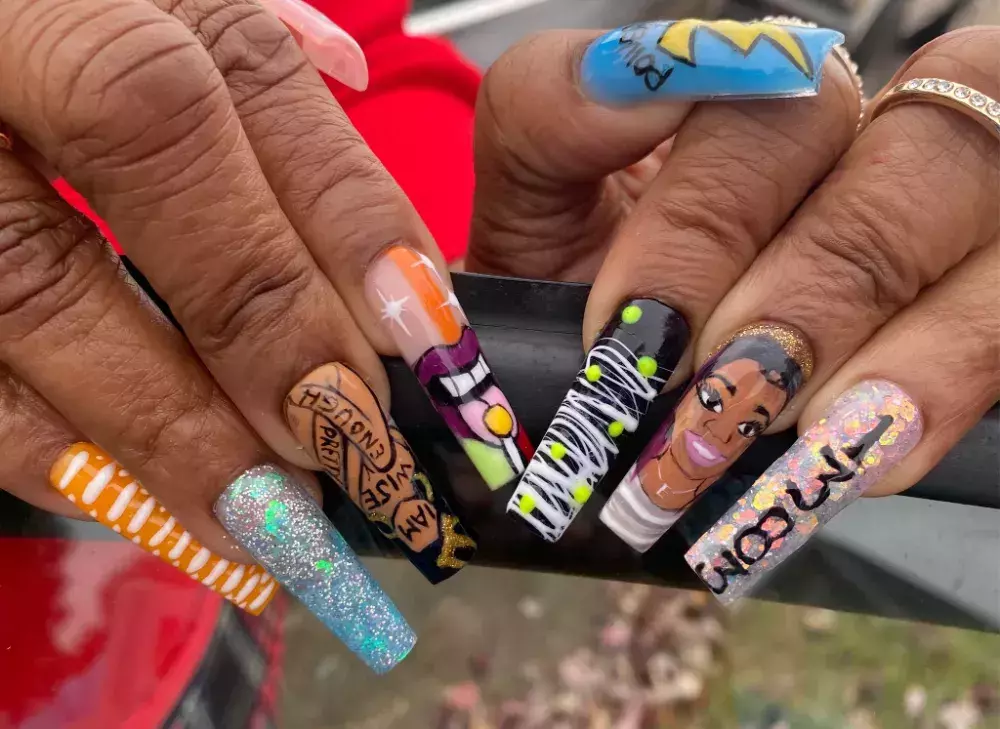 6. Trending Nail Art
Well, as times are changing and fashion is becoming more GenZ-focused, the nail art scenario is also transforming. Nowadays, the use of funky or unique art is becoming more relevant. If you also wish to adapt to the changing styles, then all you have to do is select your colour palette and go for different art styles on other nails. It's better to have long coffin nails for this purpose, as above.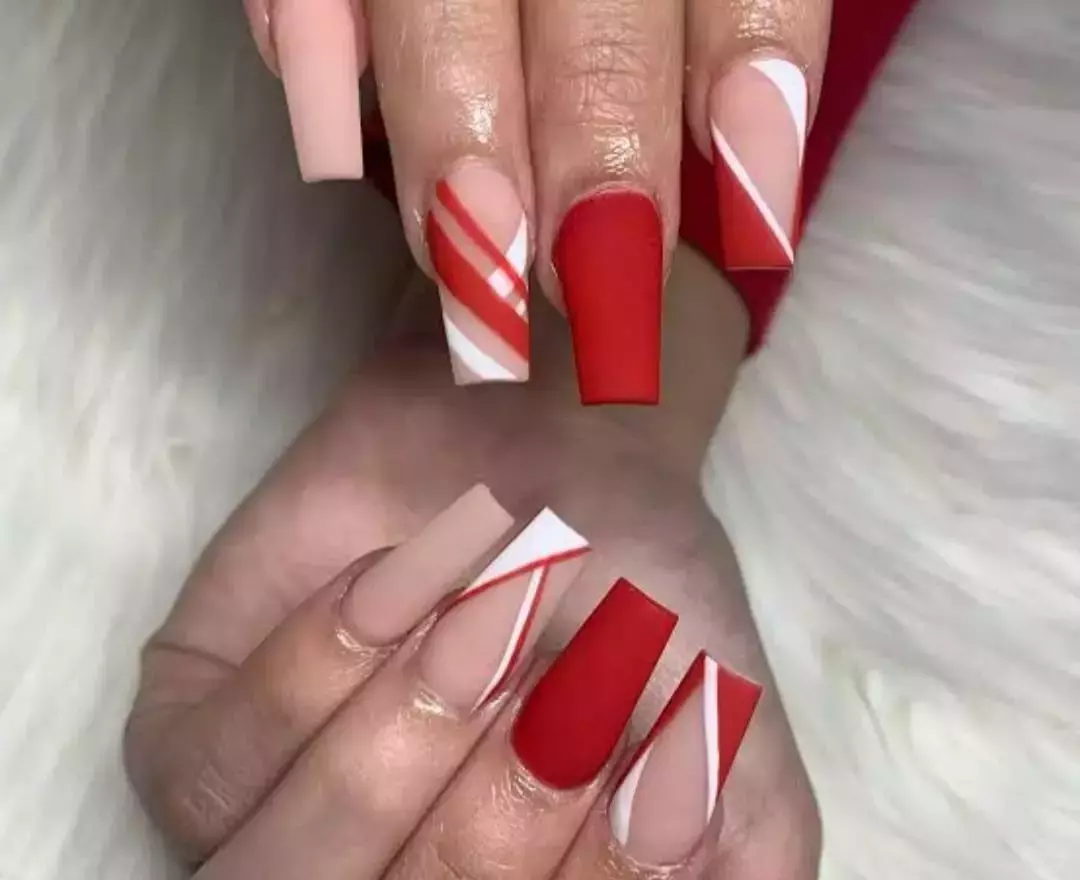 7. Red Coffin Nails
Do you want your mail style to get noticed without being too obvious? If yes, then opt for the red coffin nails with white patterns on certain portions that are strategically drawn. These abstract patterns against a nude background can be the perfect combination of subtle yet sassy.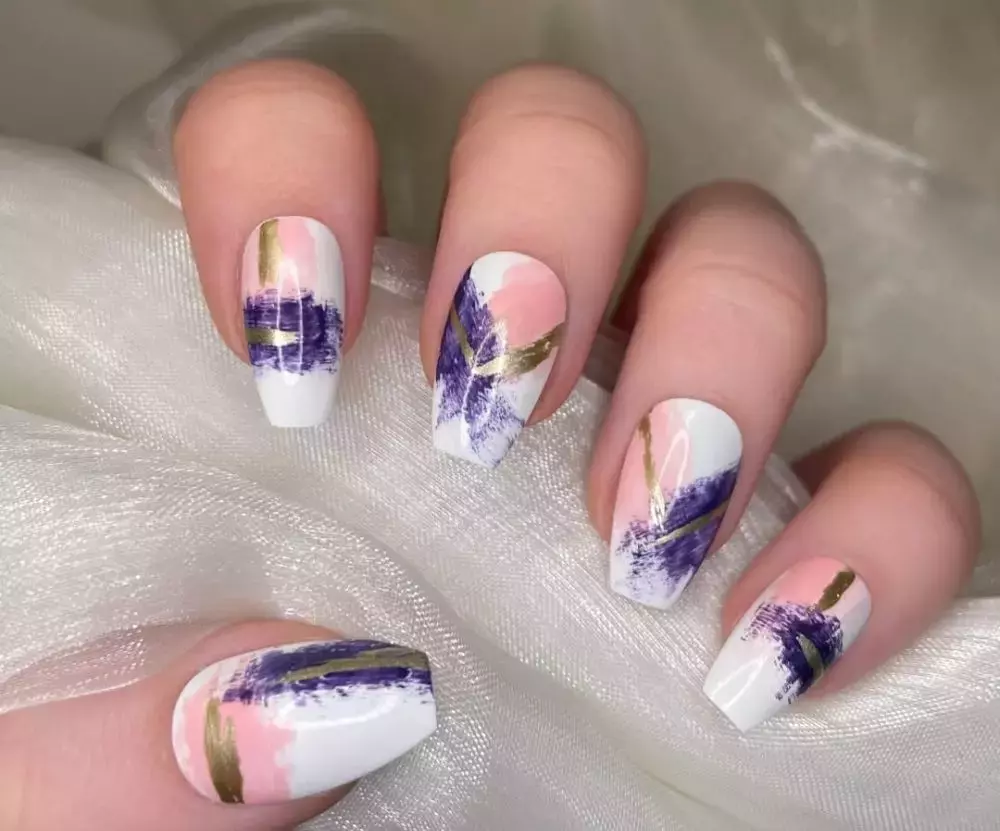 8. Short Coffin Nails
Women are now preferring all things abstract. But their choice has evolved from straight lines and patterns to dissheveled figures and structures. By mixing subtle light colors with deep dark hues, you can get the perfect abstract print that can elevate your style to a whole new level with pretty short nails.
9. Geometric designs
If you prefer a little bit of organization and a whole lot of style, then what better option to choose than the geometric design? It is one of the most preferred coffin nails designs because you can select a variety of bright colors and go for color blocking that accentuates the vivacity of each shade.This is a design that will never disappoint you.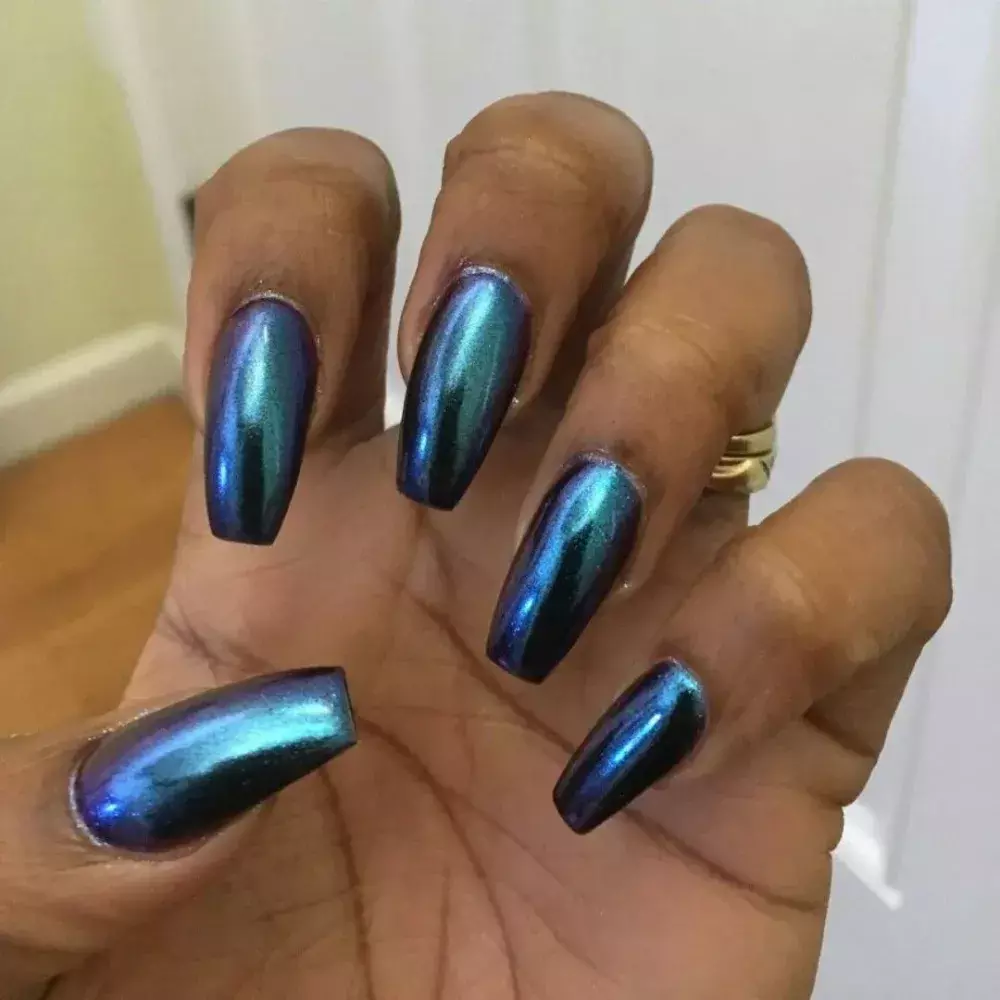 10. Chromatic Nails
Chromatic coffin nails ideas do not require your creative imagination to run amok. It can be the best option for women who are in a rush for a party or for an everyday outing, as you can give yourself this look at home. All you have to do is get chromatic nail paint, apply it, and voila!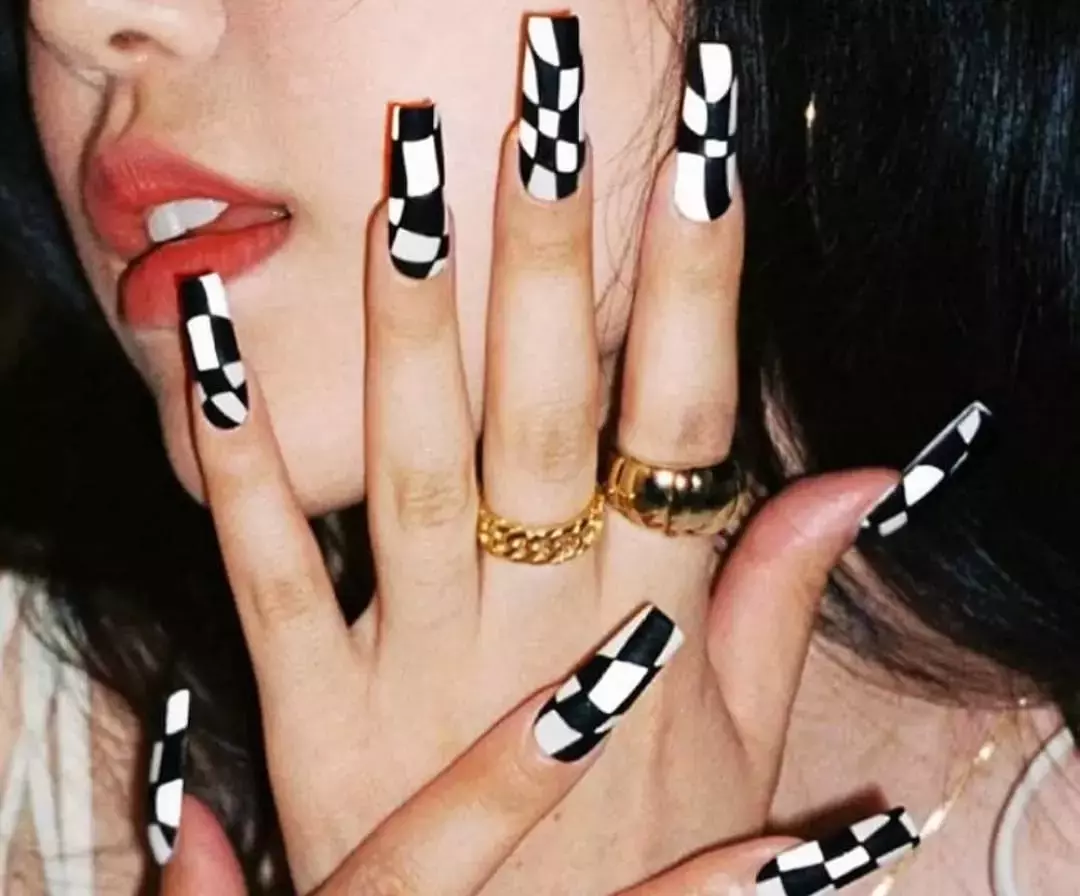 11. Cute Nails
When you talk about cute nails designs, it is impossible to leave out all the quirky coffin nails ideas out there. One such is the checkboard print, which uses white and black paints to create the appearance of a board (but a rather messy one). It can make your nail art appropriate for everyday styling as well as parties.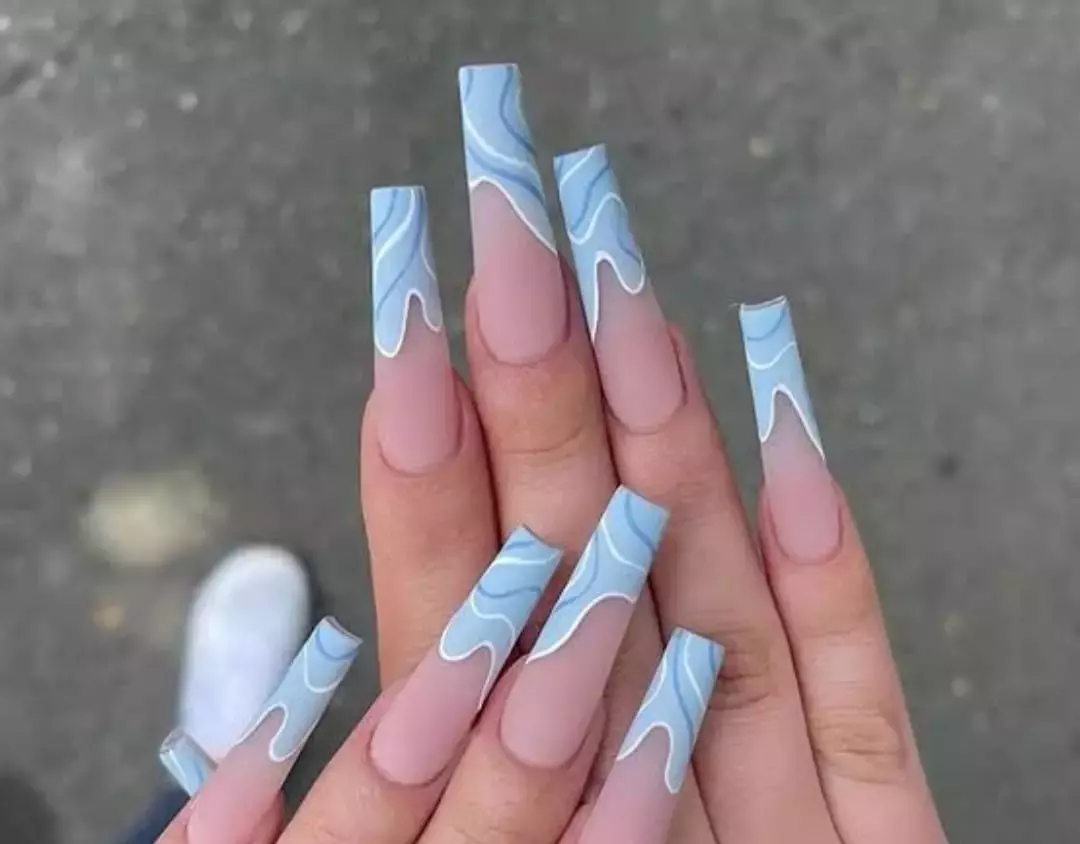 12. Soft Coffin Nails With Abstract Tips 
Some women like to keep their coffin nails art very minimalistic. Their vision is to create a style that is eye-catching yet not too loud. For them, the abstract tips pattern can be the best as they can go for a lighter shade or transparent nail paint and decorate the tips with uneven patterns of different colours, also known as the coffin nails french tip style. Additionally, it helps if they keep the nails short but not too much.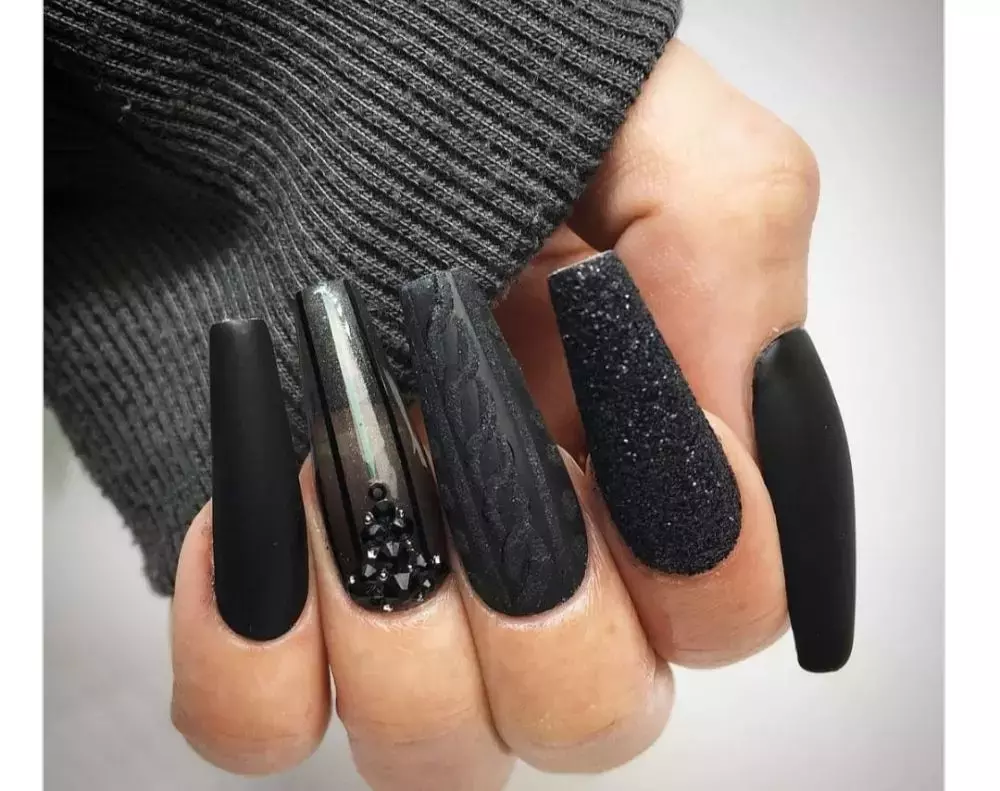 13. Multi Textured Long Coffin Nails
It's a common problem with women that there are a wide range of choices, which creates a dilemma of what to go for. However, by going for the multi-textured pattern, you can mix and match with patterns and designs on each nail. For example, you can paint your whole nail with sparkling nail paint and opt for a matte finish on the other.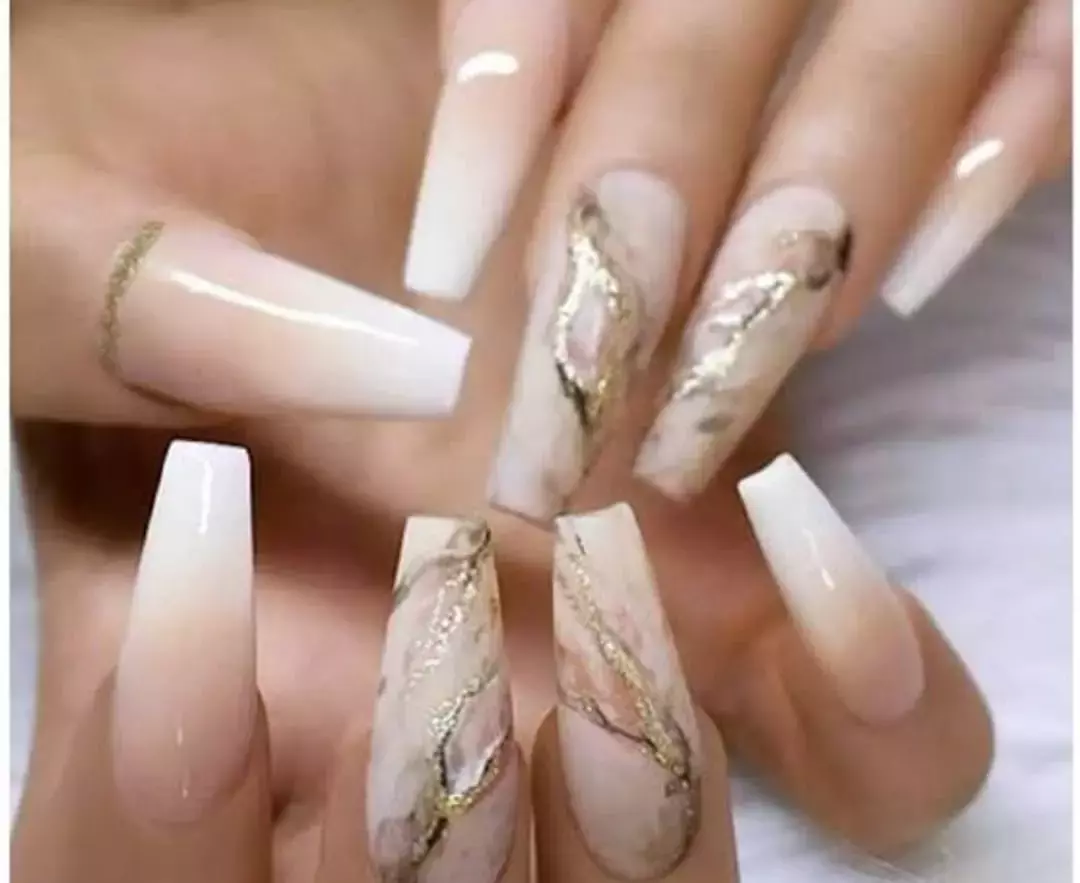 14. Marble Coffin Nails
Do you find polished marbles fascinating or alluring? If so, why not create a nude coffin nails design with a mixture of white paint and go for an ombre pattern? You can even include little jewels to add the extra glamour quotient and bring about the marble finish, with the shine fading into the white and nude patterns.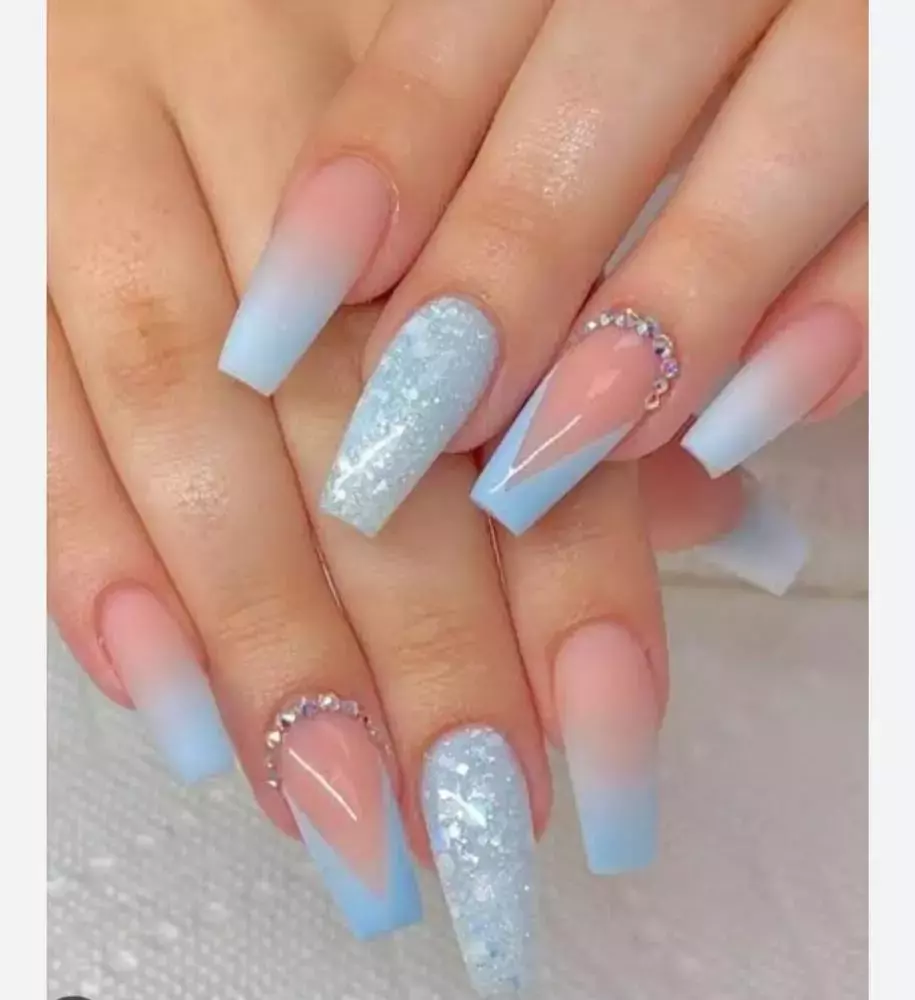 15. Complimentary Colors
When you are working with long or short coffin nails or different patterns, it is essential to select those colours that complement each other. Ensure picking out those colours that not only look good with each other but also bring out the vividness. Simple designs with perfect colours that match or contrast can be a subtle yet powerful style.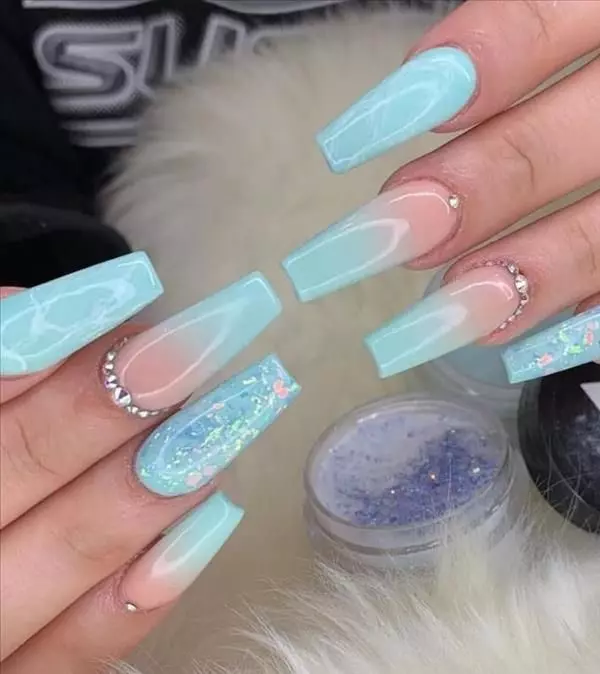 16. Pretty Pastels
Pastel colours have become the go-to option for women of all ages. If you are obsessed with pastel hues, you can combine different shades of pastels and ask your nail artist to create an ombre effect. This style can be the perfect choice for all your special days or days when you're feeling remarkably coy. You can opt for either long or short coffin nails, per your convenience and add some jewels for that extra glam.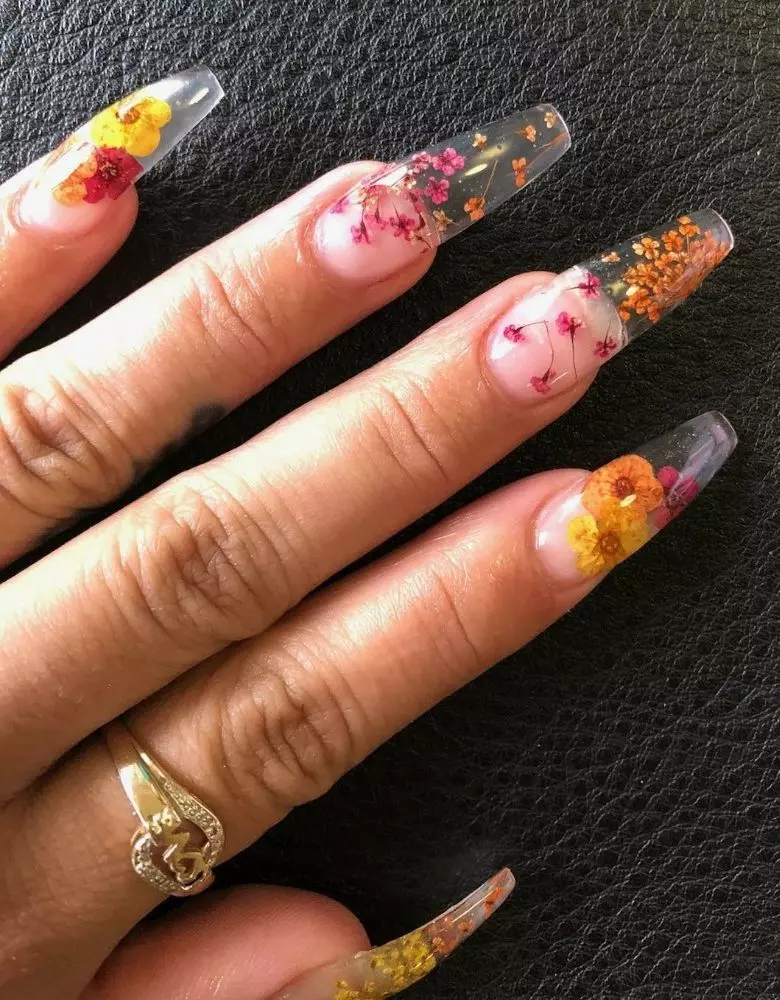 17. Vibrant Floral Design
Flowers can never go out of fashion. If you believe the same, we suggest opting for coffin art with bright and vibrant colours such as orange and adding little flowers. However, it is essential to strike a balance, as too much of it can make the whole look shabby. Add a few flowers at the base or create a coffin nails french tip wuth transparent paint as base, for that perfect preserved flowers effect.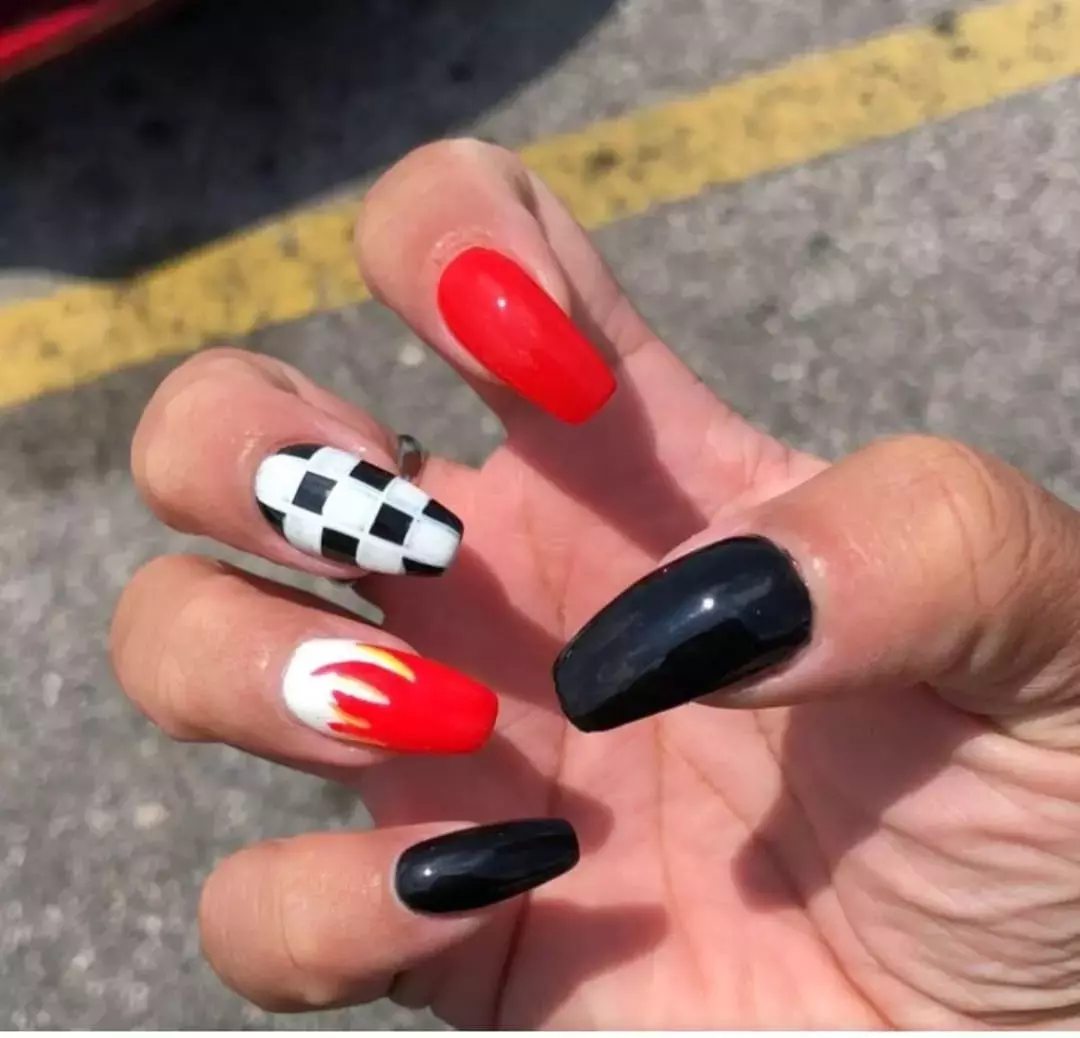 18. Multi Printed Nails
Much like the multi-textured one, this particular style allows you the flexibility to go for different prints on different nails. Bring out your fun side and experiment with all the patterns you love.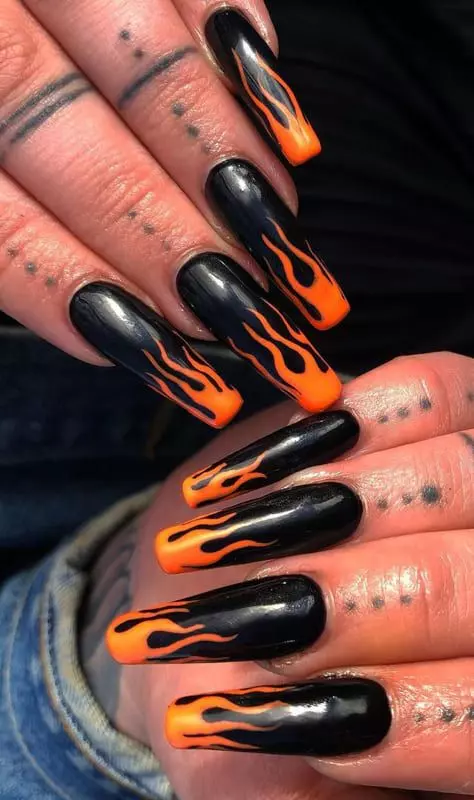 19. Hot Wheels Nail Art
Well, neons have an exuberant appearance that can elevate a simple design to create a bold statement. If you want your nail art to be simply bold, draw your nails with downward flames from the tip and create the base with a black paint to accentuate the curves of the neon flames to make it even more fiercer.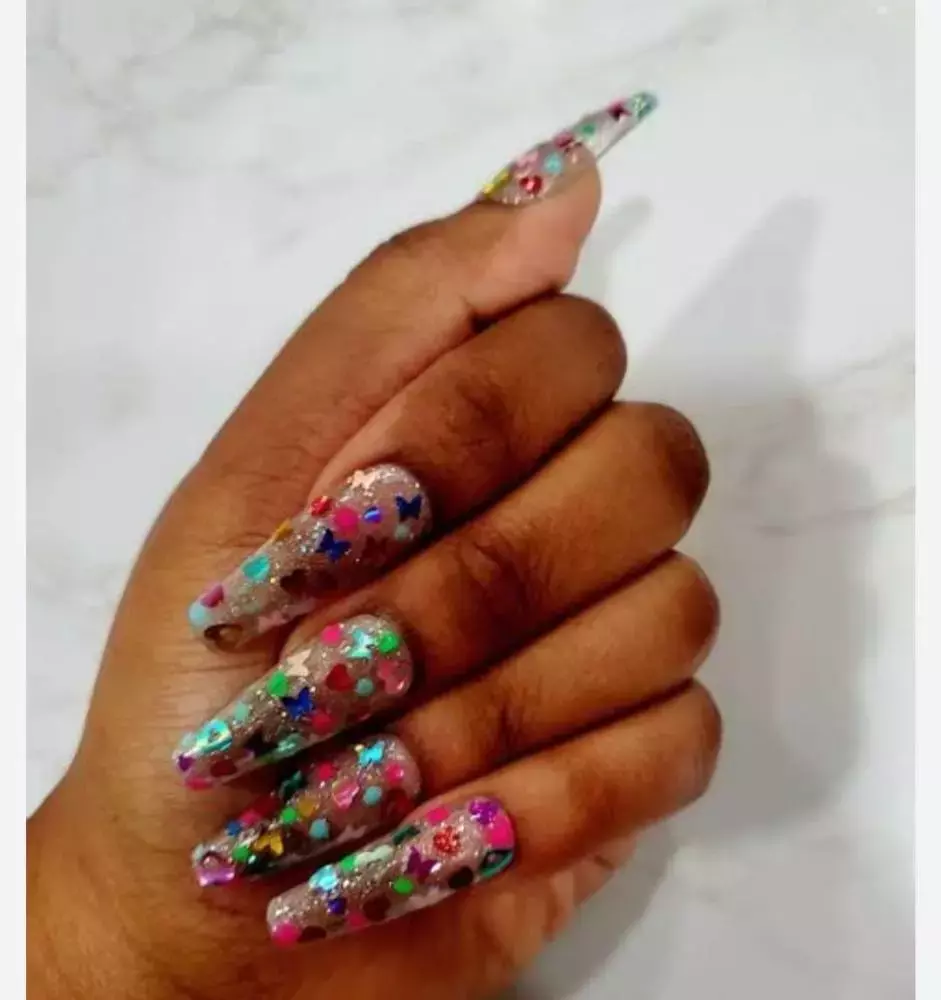 20. Confetti On Coffins
Make your mail art a celebration of your style and your personality by opting for the confetti designs. With the little lines in different colours on shining nail paint, your nails will look like they just came out of a party while bringing out the playfulness in your personality.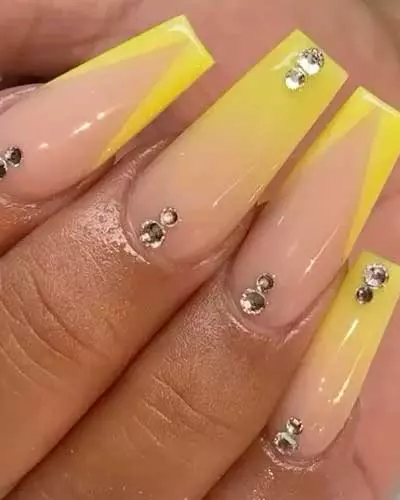 21. Vivacious V-tip With Ombre Pattern
In answer to the question of what are coffin nails, we found that these are nails that are well-structured with flat edges. However, if you want to add a slight sharpness or edge, you can create that effect with v-tips. Always use a neon colour to draw the v-tips and match it with a subtle nude shade, generating an ombre effect.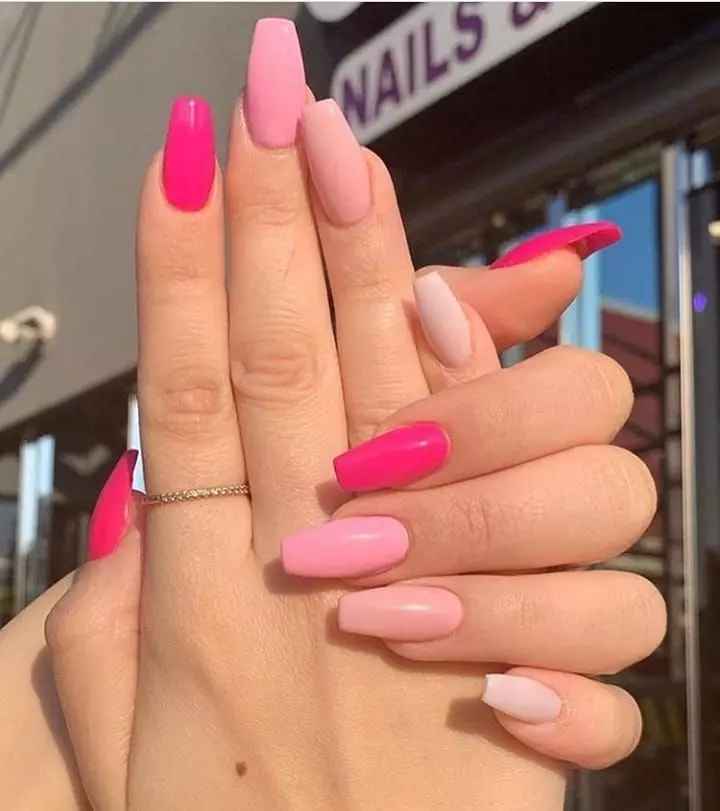 22. Perky Pinks
Enter into your own Barbie world with shades of pink. To make it more alluring and to add that extra edge, you can go for different patterns on different nails. For example, you can add glitter and a symbolic accessory or jewel to the other.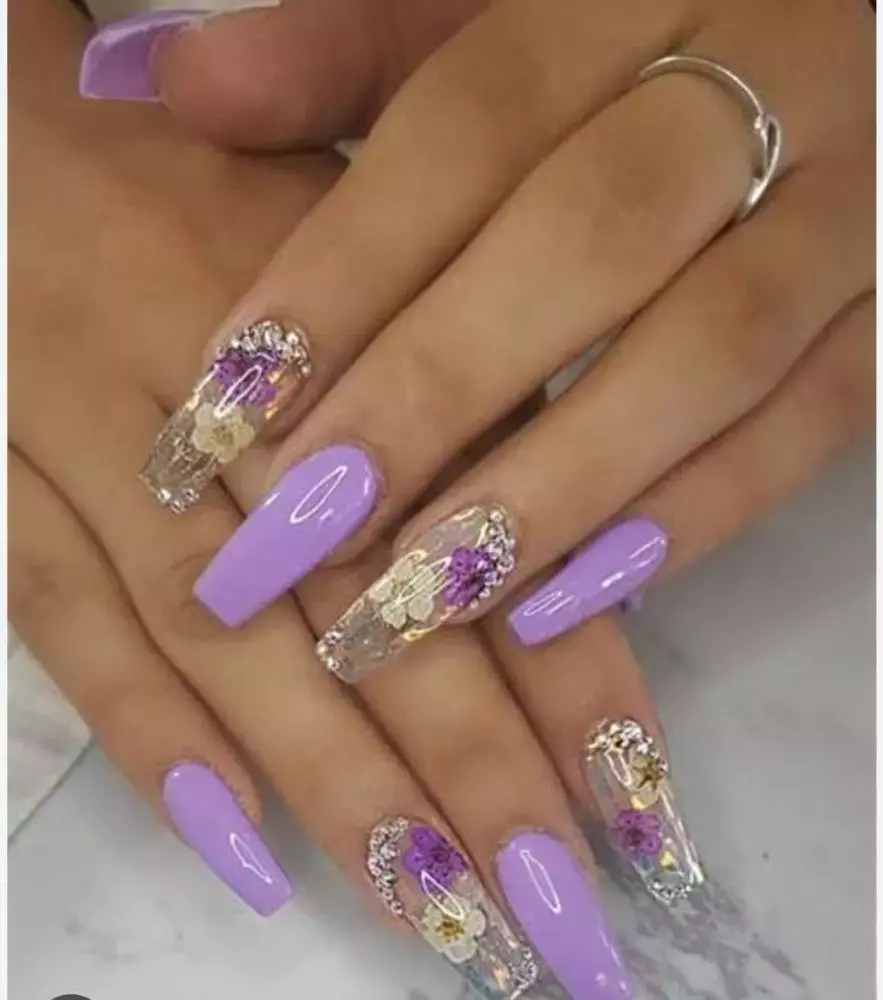 23. Purple Coffin Nails
As the shades of Purple are in fashion right now, you can explore it with your nail art by mixing all the hues of Purple and using them to create different designs on each nail. For example, you can create a base with a subtle purple nail paint and add one or two painted flowers in a deeper purple colour.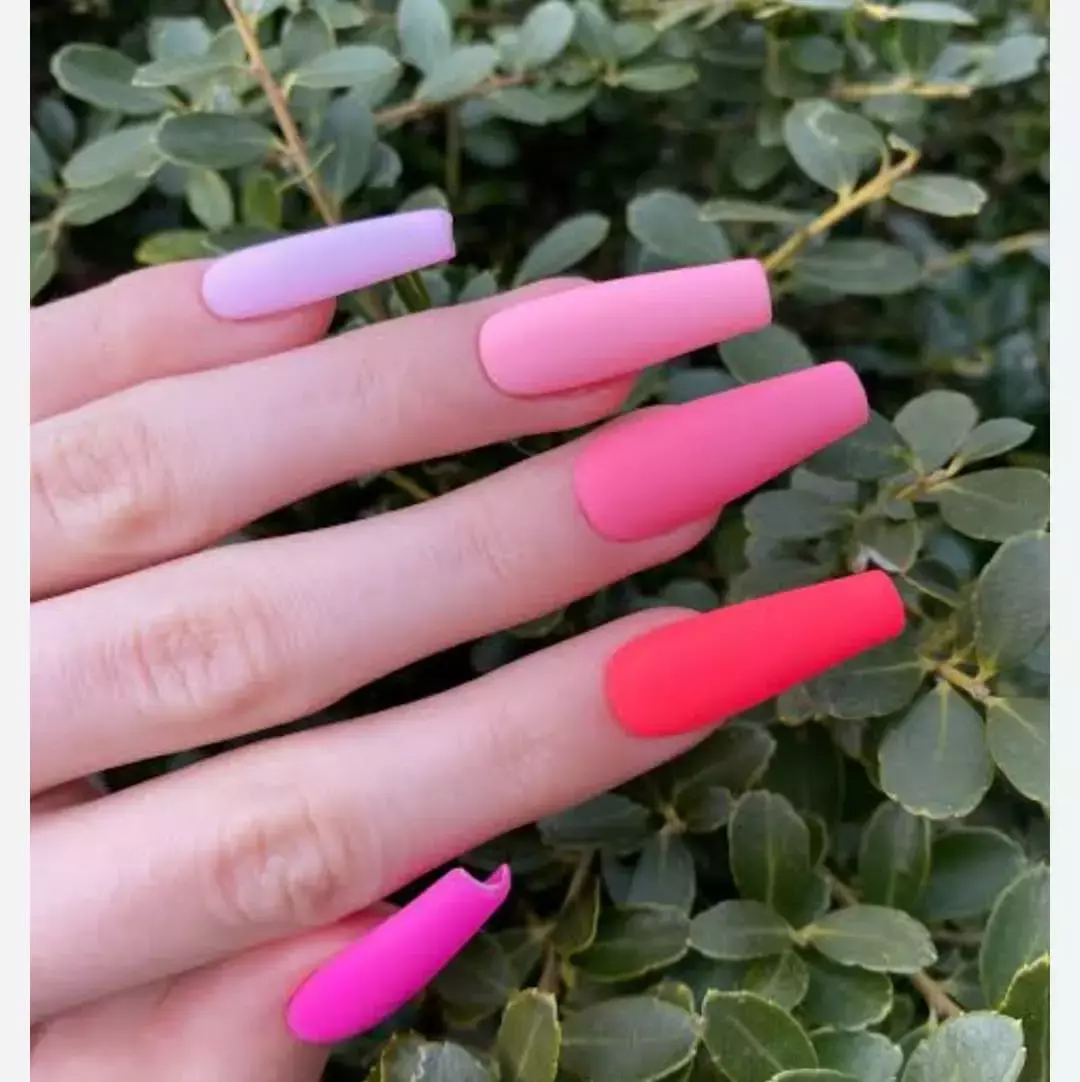 24. Matte Finish With Neon Colours
Next time you visit your salon, ask your nail technician to select a nude shade and then go for the neon prints on your nails. There are only very few designs that are appropriate for all ages, and this style is one of them.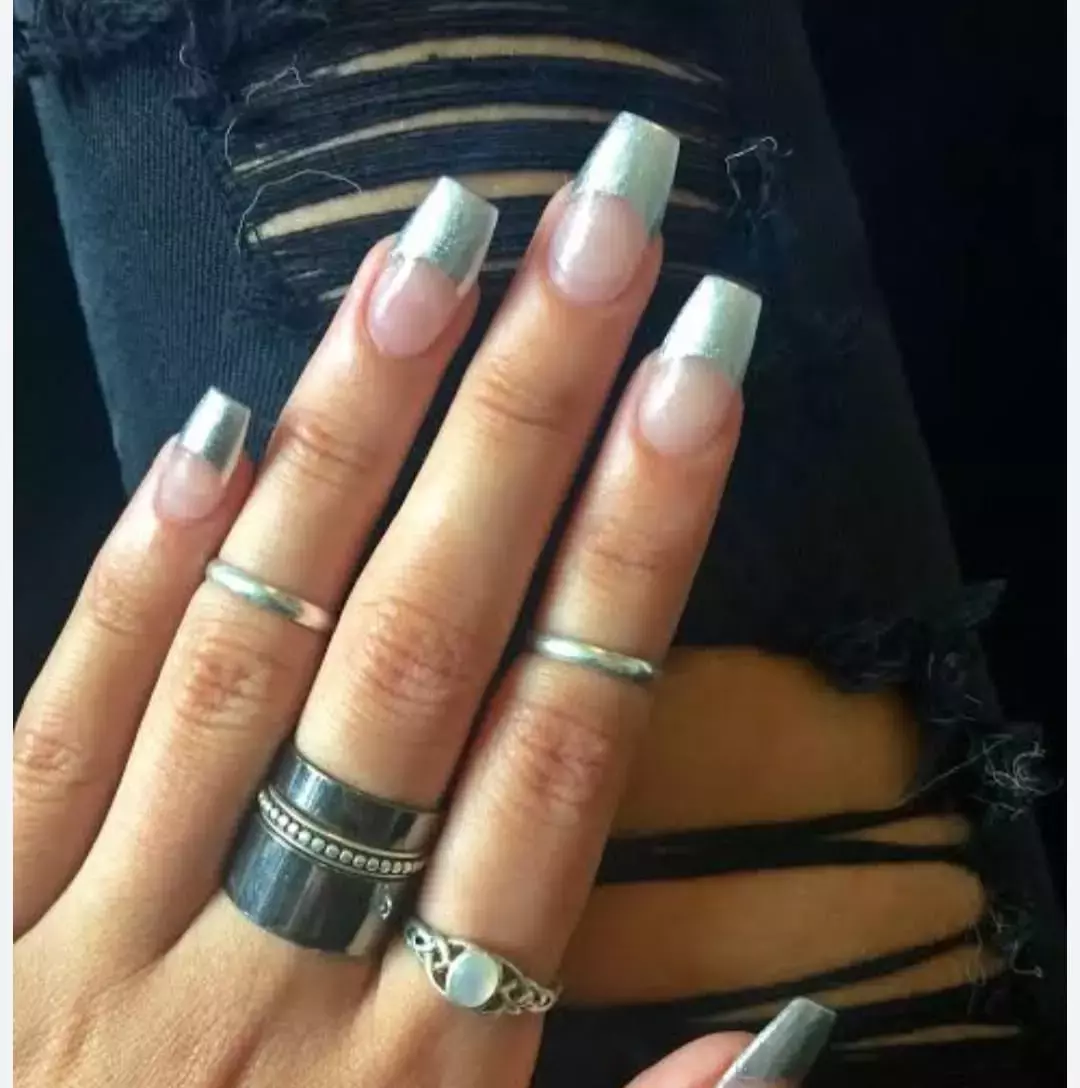 25. Silver Hued Tips
Well, it does not differ vastly from the chromatic nails. However, as the name suggests, you do not need to paint your whole nail silver; you can add it to your tips and ornament it with a few jewels. The best part is if you have a silver nail paint lying around, you can get it done yourself without any fuss.
Coffin nails meaning has evolved over the years. The designs and patterns are not only about fashion but what one wants to represent through that fashion. Therefore, we hope our selection of nail art styles can assist you in finding your style.