Jennifer Aniston's Skin Care, Diet And Workout Secrets
Mohini Banerjee
Updated At 10 Aug 23
Rachel Green is the ultimate 90s fashionista, and her legacy carries on even today. Jennifer Aniston skin care, diet and het beauty secrets have been mainly responsible for her glowing skin. Jennifer Aniston is undoubtedly one of the most beautiful women to have ever graced the film industry. It seems like she is ageing in reverse because she looks just as youthful today as she did ten years ago. You might have heard of her because of the Jennifer Aniston perfume The entire world is in awe of her charm and elegance. If you haven't checked Jennifer Aniston haircut then you are missing out on the popular ones which can add color to your look.
The secrets of Jennifer Aniston's diet, skin care and workout are coveted by everyone. We are disclosing some of them today just for you, so that you can derive inspiration from this wonderful woman.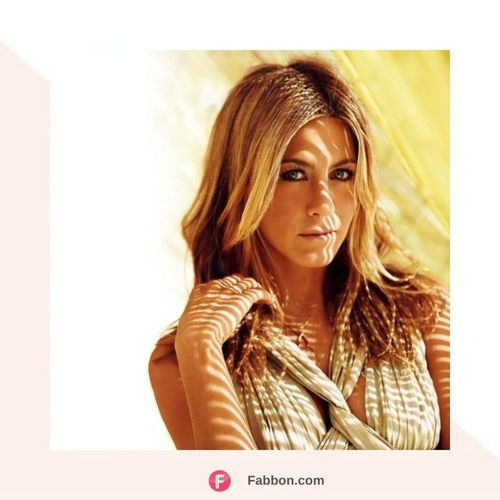 Jennifer Aniston Skin Care Tips

Jennifer believes, staying fit and drinking a lot of water gives her skin a natural glow.
She likes to steam her pores regularly. After that, she washes her face and uses a toner and a Cetaphil moisturising lotion.
One of her favourite tricks is to immerse her face in ice-cold water where the cubes help to reduce her pores and the puffiness around her eyes.
Also Read: Jennifer Lopez Skin Care And Beauty Secrets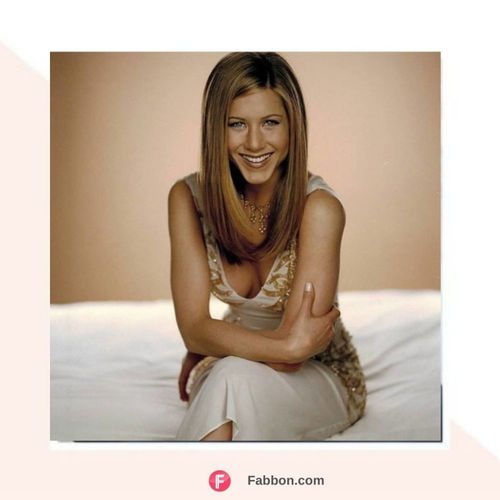 If she ever faces a pimple problem, she applies a drying lotion on it. One of her most favourite drying lotions is from the house of Mario Badescu.
Jennifer Aniston believes that sunscreen should be your best friend if you want good skin. She loves the Aveeno's SPF 50 which is moisturising but effective.
When it comes to makeup, Jennifer is a firm advocate of, "Less is more." But, she loves the Laura Mercier sheer tinted moisturiser and the Armani Face Fabric.
Her favourite cosmetics products include: Bobbi Brown Pot Rouge For Lips & Cheeks in Rose, Charlotte Tilbury Legendary Lashes Mascara, Estée Lauder's Automatic Lip Pencil Duo and the Chanel Moisturizing Bronzing Powder.
Also Read: Ariana Grande Skin Care And Makeup Secrets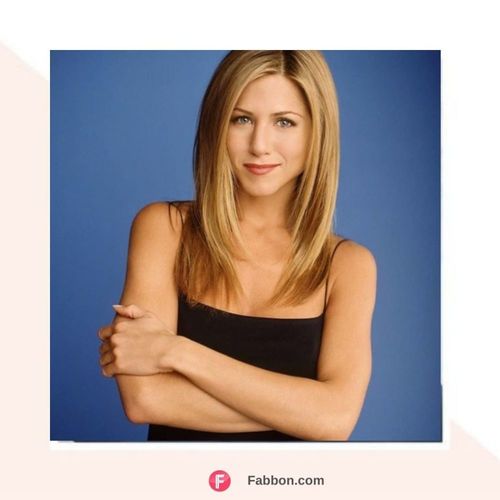 For her in-flight look, Jennifer prefers taking her makeup off using a cleansing wipe. She follows that up with a toner and a moisturizer. Sometimes, she even masks while relaxing.
Jennifer Aniston is exceptionally fond of lip balms and eye drops. She loves Alcon Naphcon A and Dr Hauschka lip balm. The By Terry Rose Balm also features on her list of favourites.
She believes in the power of an infrared sauna when it comes to skin detoxification and cell rejuvenation.
Jennifer considers Sunday to be her spa day. She indulges in a facial followed by a scrub and a mask.
The vitamin A treatment from Anna Lotan, Rénova, and Dr LeWinn's Ultra R4 Restorative Cream are Jennifer Aniston's favourites.
She believes that microcurrent facials give the muscles a much-needed workout. Electrically charged pads are used to stimulate the facial muscles which help in tightening the skin and making it even.
Jennifer swears by Clear and Brilliant laser treatments which make the skin look young and healthy. She also indulges in the Thermage treatment which utilises radiofrequency to increase the production of collagen.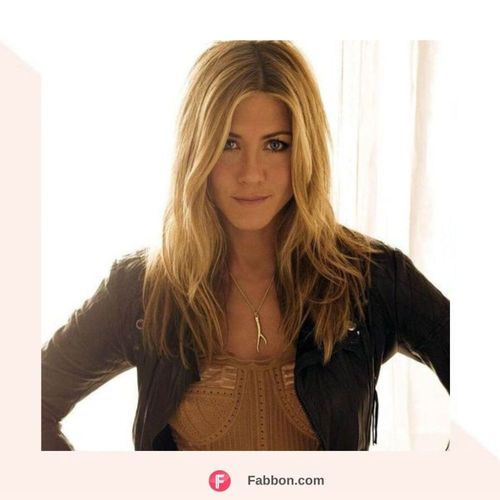 Jennifer ensures her hair adapt to the latest trends and she has kept experimenting with different hair colors over the years.
The Jennifer Aniston shampoo is the Living Proof of Perfect Hair Day Shampoo and she also uses the Unite 7Seconds Leave In Detangler.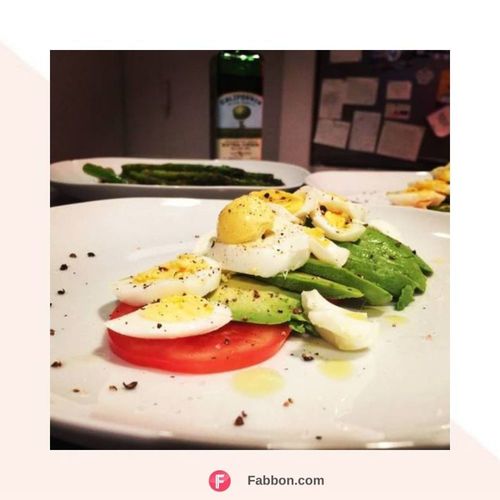 Jennifer Aniston Diet Plan

Jennifer says,
I eat really well, and I work out, but I also indulge when I want to. I don't starve myself in an extremist way.
Jennifer believes in starting her day with a cup of hot water containing a slice of lemon.
When it comes to breakfast, she makes very wise choices as she knows that it is the most important meal of the day. Toast and poached eggs with avocado with a sprinkle of coconut oil is a favourite of hers.
She also loves millet cereal made with almond milk and bananas.
She believes in the power of a good shake or smoothie above everything else. Her recipe contains, "pure protein, then bananas, blueberries, frozen cherries, stevia, a vegetable mix of dynamic greens, maca powder, and a little cacao."
For breakfast, Jennifer also has oatmeal mixed in with a whipped egg white sometimes.
Also Read: Gigi Hadid Diet And Workout For The Perfect Body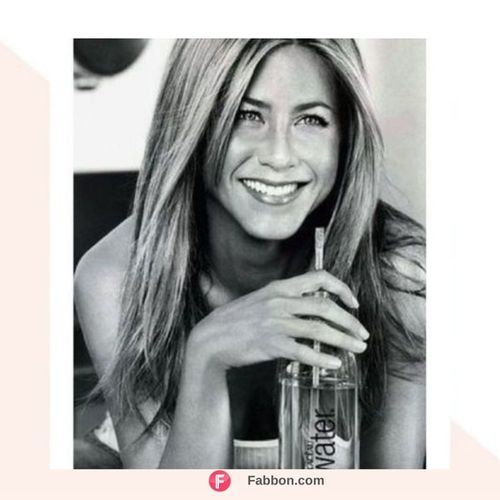 Jennifer Aniston consumes more than 20 Smart Water bottles throughout the day in order to keep herself hydrated.
Her lunch consists of vegetables in the form of a salad along with a healthy dose or protein. Cheese, lentils, cucumbers, white beans and tomatoes are common ingredients in her lunch. She also loves celery soup.

For snacks, Aniston has frozen grapes or an apple or a helping of nuts.
When it comes to dinner, she has either fish cooked with a lot of veggies or a salad.
The key to Jennifer Aniston's diet is to follow a high-protein, low-fat eating routine that provides the body with plenty of omega-3-rich fish oil.
When not dieting, she loves indulging in some good Mexican or pasta.
She focuses on cutting out the bad carbs and having more lean proteins.
Also Read: 10 Juice Recipes You Need To Know For Weight Loss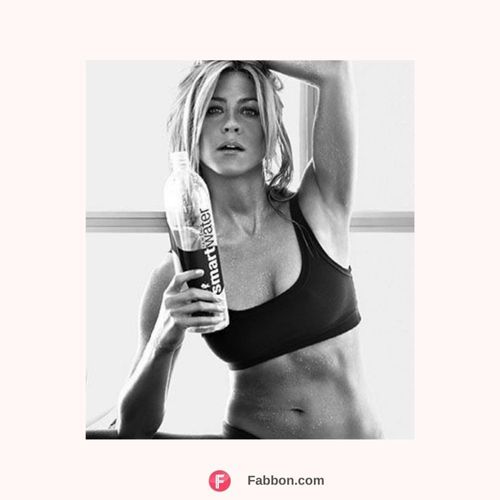 Jennifer Aniston Workout Routine

Jennifer works out five days a week. She gives herself a break on sundays.
She believes in keeping her workout regimen simple but interesting. She likes to use different cardio machines like the bike, the treadmill and the elliptical alternately.
Jennifer quotes,
I have a lot of favorite workouts. Variety is the key for me.
She likes to switch between low intensity and vigorous exercise because she finds one pace to be monotonous.
Strength-training is also something that she likes to perform without fail.
When she had a hip flexor injury, she followed the barre method.
On days when she feels lazy, she tricks herself into working out. She promises to exercise for just ten minutes, but that is enough for endorphins to push her to do more.
Also Read: Adele Weight Loss Story: How She Lost 14 Pounds?
She loves the 30-minute total-body climbing workout at Rise Nation and Taryn Toomey's The Class. While the former challenges her physically, the latter is all about cleansing the psyche.
Jennifer truly believes in the power of yoga. The five sun salutations and postures like bridge, butterfly, and tree pose are part of her routine. She also tries scissor kicks and lunges sometimes.
She also tried out a martial art known as the Budokan. It combines meditation and yoga into a martial art that is good for both the body and the spirit.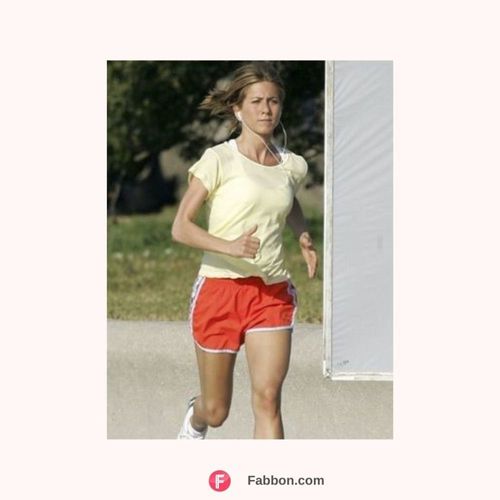 Swimming, running and fitness spinning also feature in her fitness regimen more than once a week.
She also loves pilates.
Isn't Jennifer Aniston beautiful and the coolest? Just like her perfume is heavenly, the lady herself is a youthful angel.
Now that you know her secrets, are you ready to motivate yourself?