51 Most Popular Black Nail Designs For 2023
Hanisha Sharma
Updated At 24 Sep 23
Black nails have always been a timeless and versatile choice in the world of nail art. Whether you are opting for short and understated nails or long and extravagant ones, black nails offer a canvas for endless creativity. Black nail designs have transcended mere fashion trends to become an enduring symbol of sophistication, elegance, and creativity.
If you're looking for some inspiration for your next nail salon visit then we've got your back. Together, we will delve into the enchanting world of black nail designs and explore the 51 most popular and captivating black nail designs.
51 Most Popular Black Nail Designs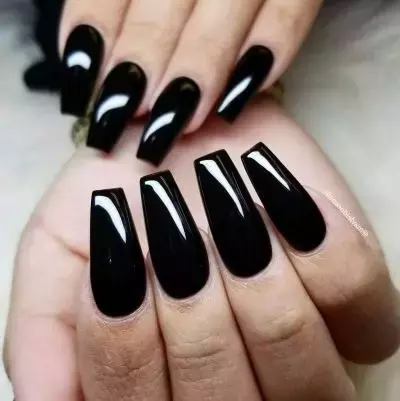 1) Classic Black Nails
The design of classic black nails shows why they are a staple in the world of nail art. The sleek and glossy finish of plain black nails can add a touch of elegance and grace. Classic black nails are a go-to choice for many. If you are looking for cute nails, these can be the perfect option.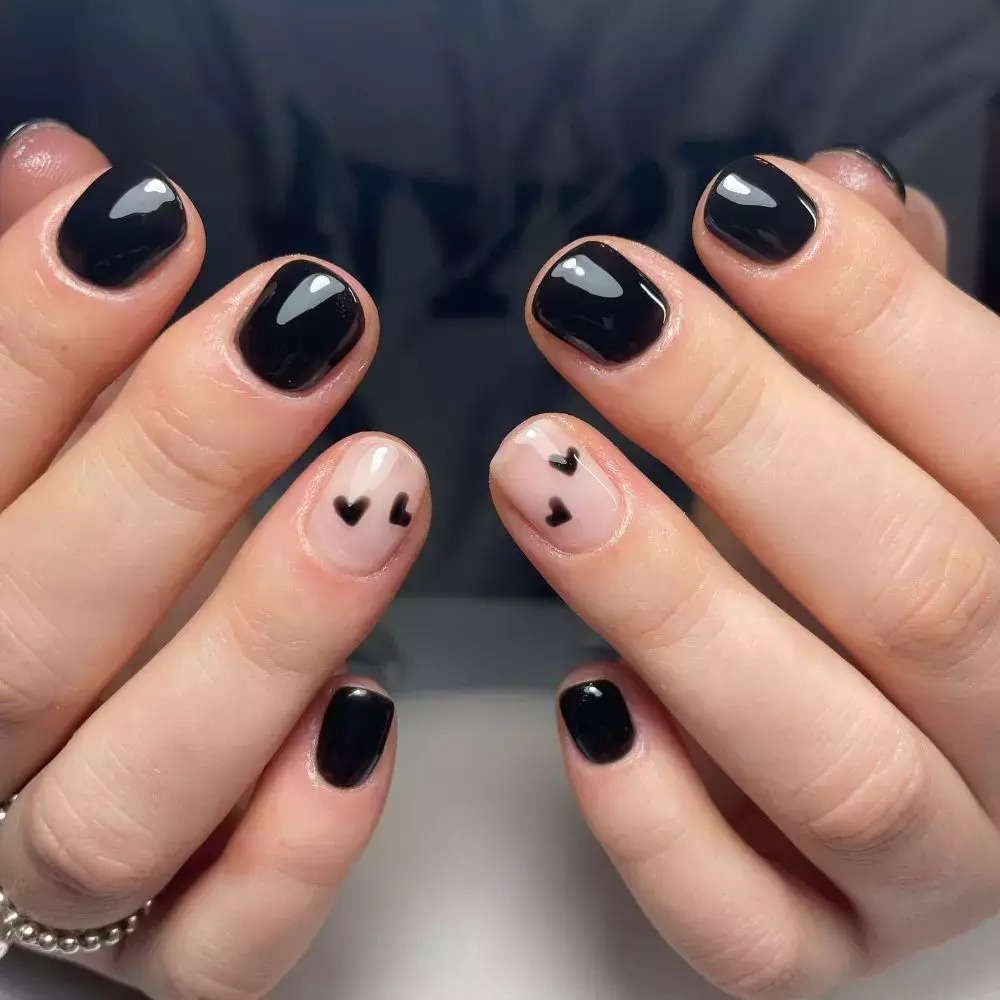 2) Short Black Nails
These nails are mostly trimmed to manageable length which makes them suitable for everyday wear. Classy and elegant short black nail designs never go out of style. Short black nail designs can also be adorned with intricate designs, making them more versatile.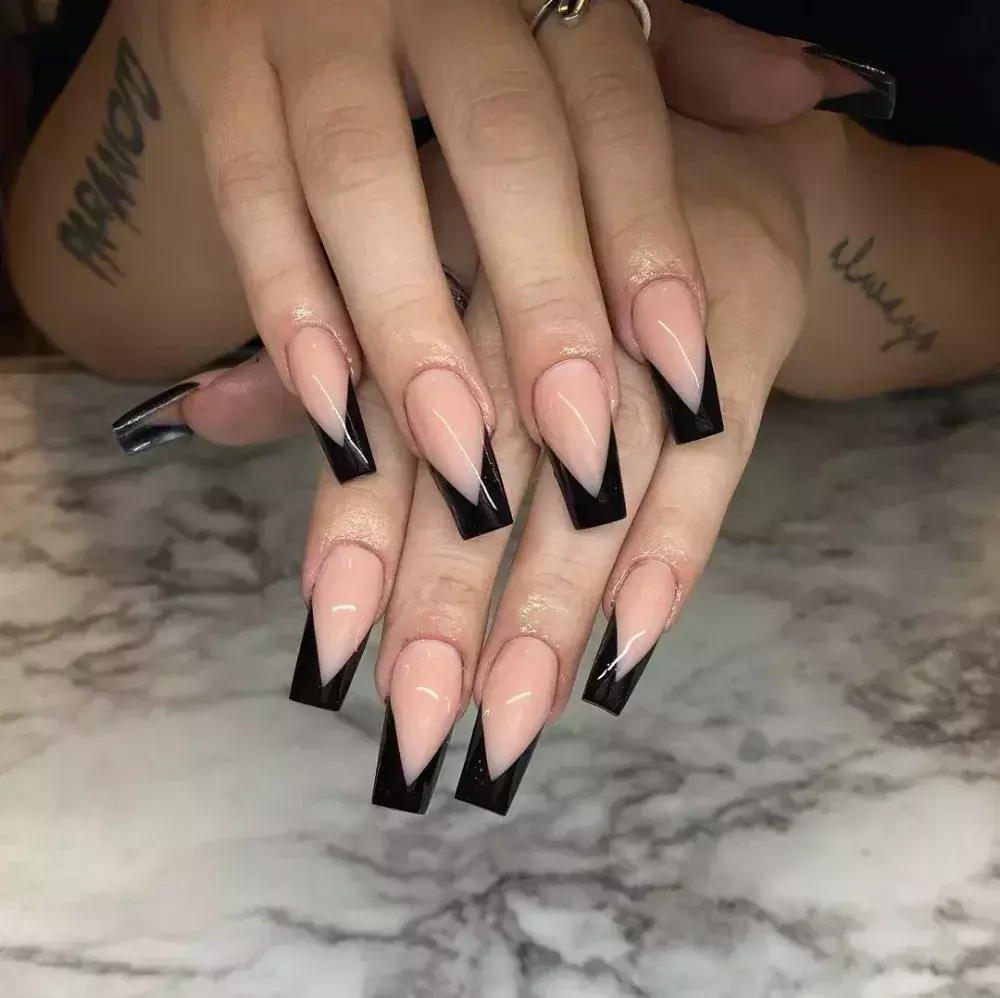 3) Coffin Black Nails
Coffin black nails are named for their distinctive shape, which resembles a coffin or ballerina slipper. This nail shape adds a modern and edgy twist to classic black nails. The elongated shape offers a stylish canvas for various designs.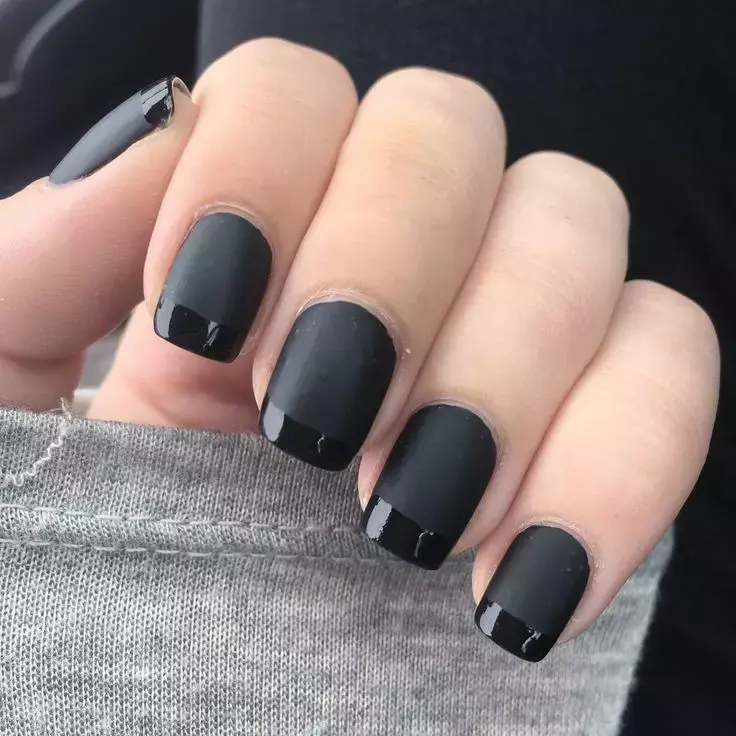 4) Matte Finish Black Nails
A matte finish can add a unique texture to your black nails. It gives them a velvety appearance which adds a subtle yet sophisticated charm to them. It makes your nails perfect for a modern and chic look.
Looking for inspiration in white nails design? Do check out our guide on white acrylic nails as we list 50+ trending designs of this year.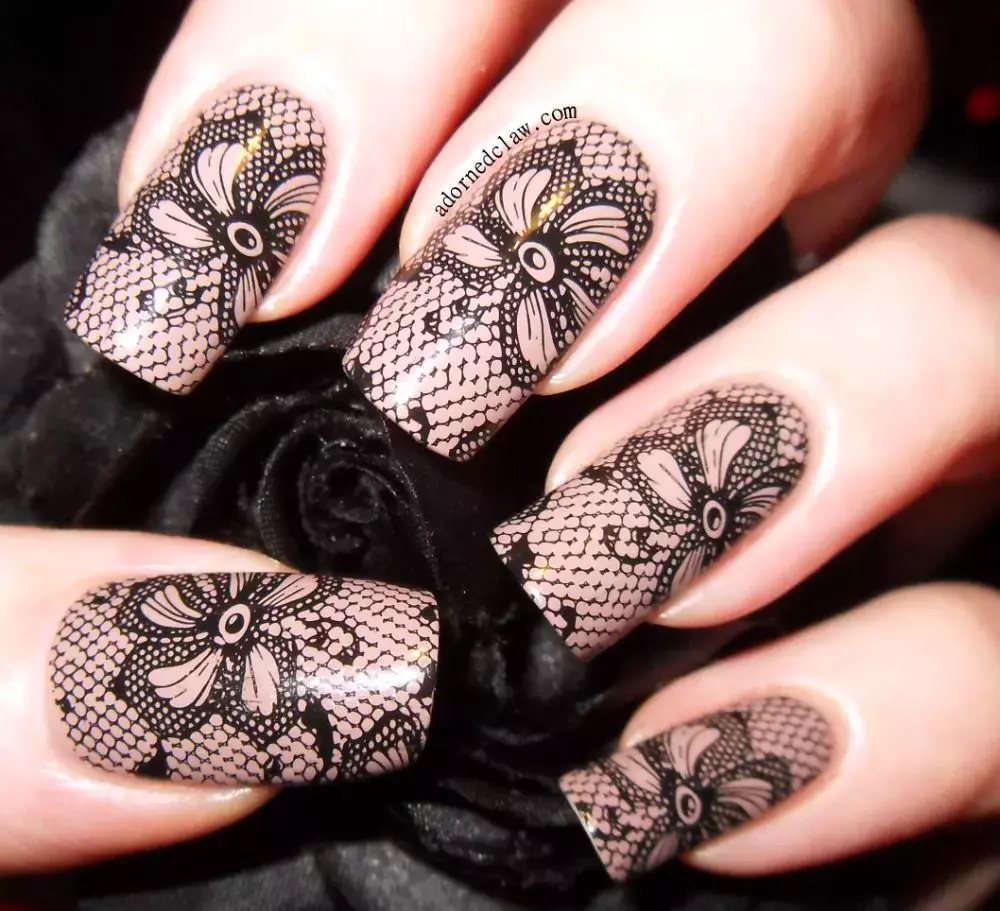 5) Black Nails With Lace
Lace patterns on nails can add a romantic and intricate aesthetic to your nails. This design can be both dainty and bold, as per your desire. This is one of the best black nail designs.
Want to know more about other trending designs like solar nails? Do check out our guide as we explain what are solar nails, pros, cons and capture 30+ stunning new designs.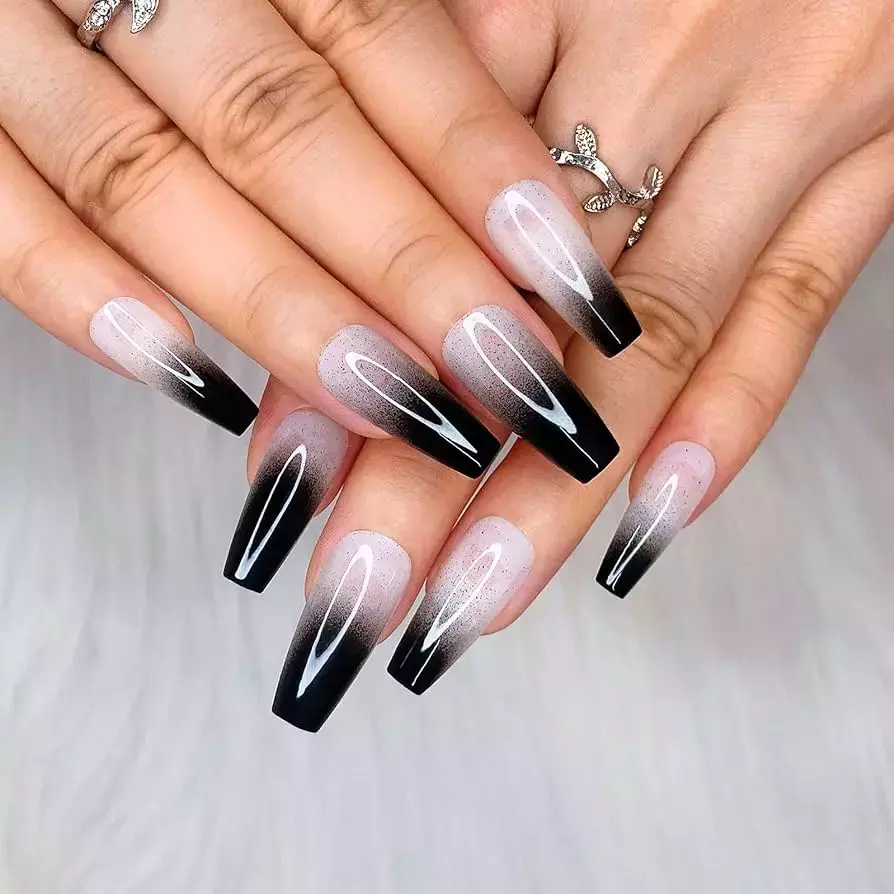 6) Ombre Black Nails
Ombre black nails blend shades of black seamlessly, creating a gradient effect. This technique can be applied with other colors for a striking contrast or using different shades of black for a subtle transition.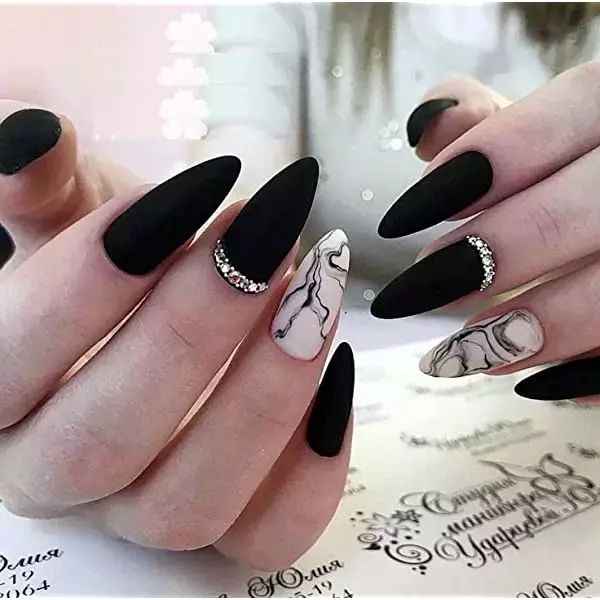 7) Almond Shape Black Nails
Almond shape black nails are another trend to add to your list. The almond shape has a tapered tip that resembles the tip of an almond. Almond nails are versatile and can be customized in many different ways.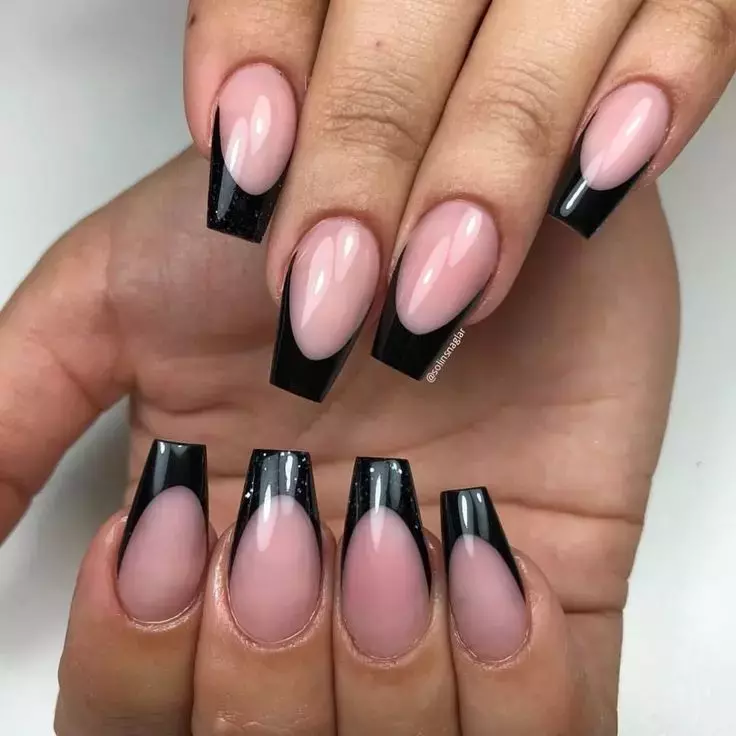 8) Acrylic Black Nails
Acrylic black nails are known for their durability and polished finish. Acrylic nails allow you to expand your creativity because of their durability. You can create different shapes and lengths on your acrylic black nails.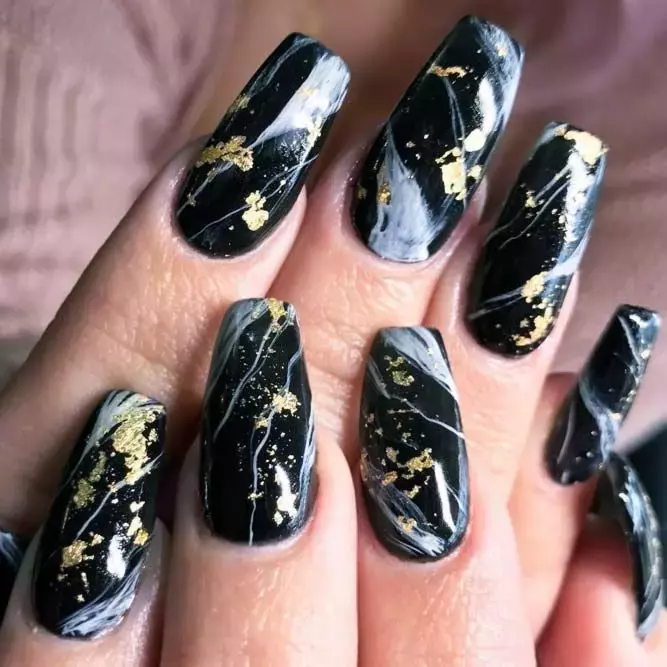 9) Black Marble Nails
Black marble nails mimic the look of luxurious marble countertops. With swirls of white or metallic veins against a black base, these nails offer a high-end and artistic appearance.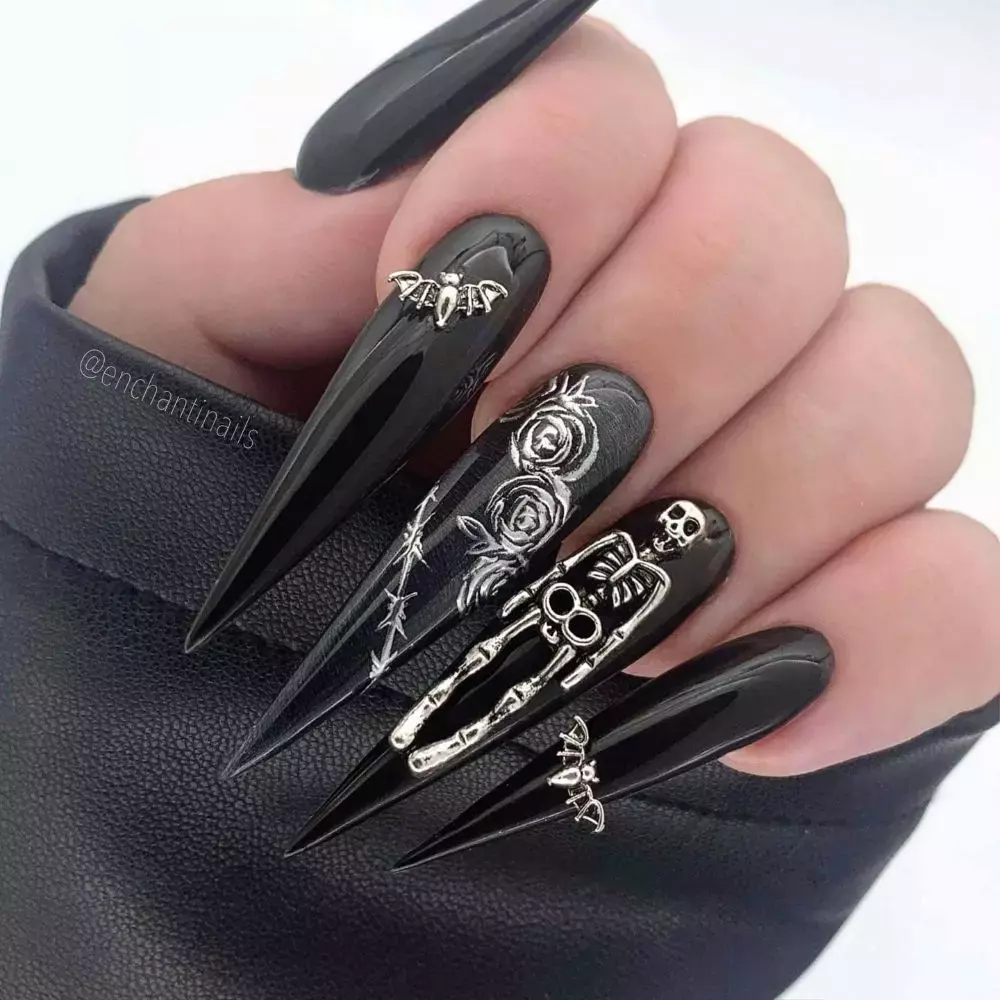 10) Gothic Black Nails
Gothic black nails are known for their dark, dramatic, and often intricate designs. You can add lace, crosses, and occult symbols. Gothic black nails are perfect for those with a dark and mysterious vibe.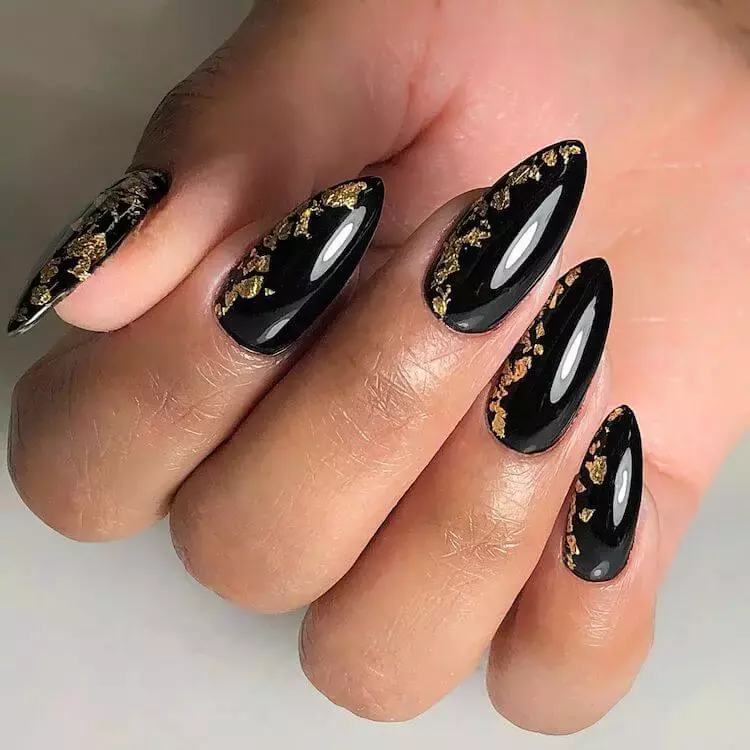 11) Black Nails With Gold
Black and gold are known for being a classic and luxurious color combination. Black simple nails with gold accents or patterns create an elegant and graceful appearance. The contrast of a dark base and gleaming gold adds an element of richness to the black nail designs with gold.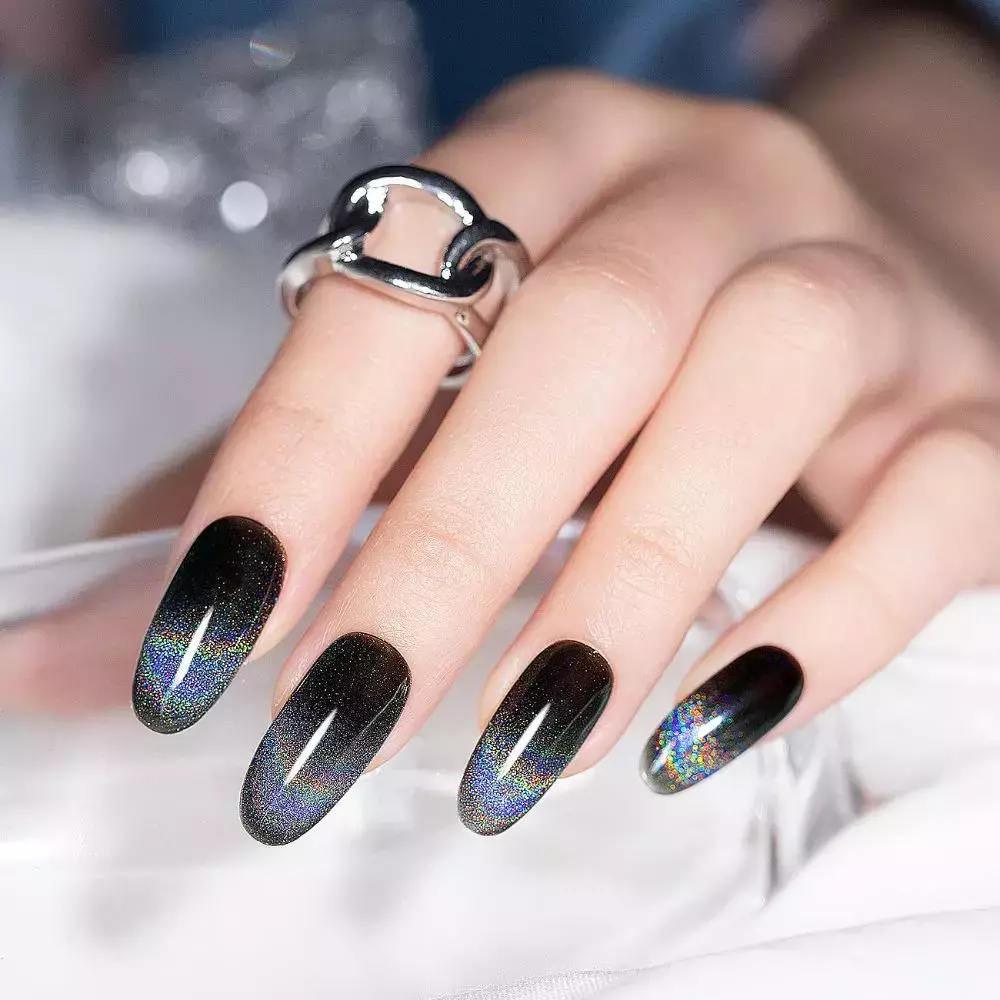 12) Holographic Accents
Holographic elements add a futuristic twist to your black nails. Black nails with holographic accents create an eye-catching and mesmerizing look as the shimmer of the holographic glitter shifts in the light.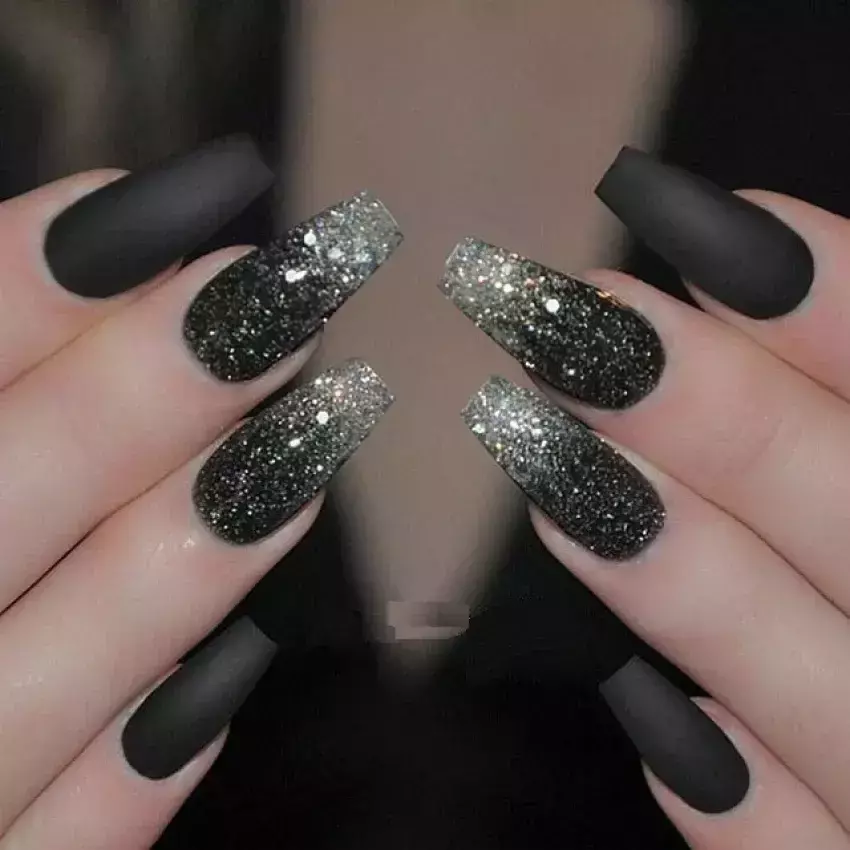 13) Black Nails And Glitter
Black nail designs with glitter add a touch of shimmer and glamour to your fingertips. Glitter can be featured in various ways, in accents or full-blown glitter gradients. Black nail designs with glitter add depth and sophistication to your nails. You can try out olive nails designs with glitter and it can look amazing as well.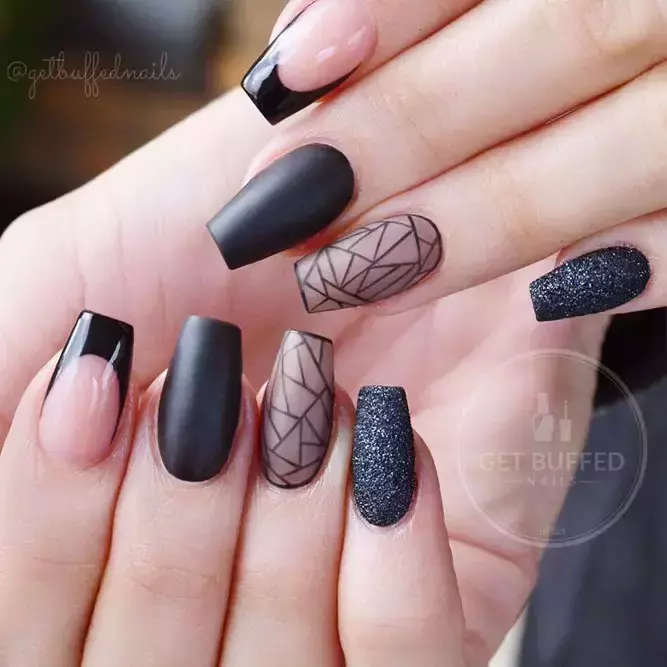 14) Geometric Patterns
Geometric patterns on black nails are a modern and stylish choice. Triangles, squares, and lines can be used to create intricate, symmetrical designs for a contemporary look.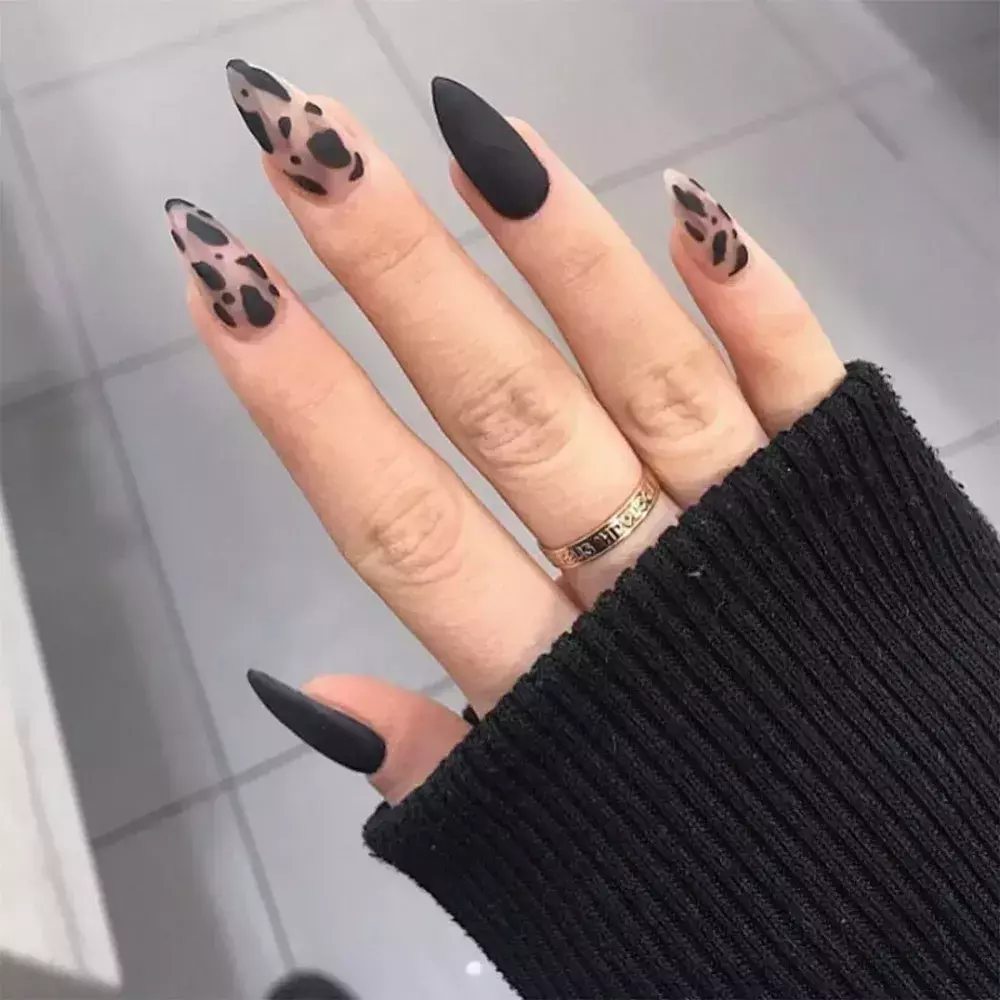 15) Animal Prints
You can incorporate animal prints like leopard, zebra, or snake in your black nails designs to make a bold statement. These nails offer fierce and fashionable black nail art inspired by the wild.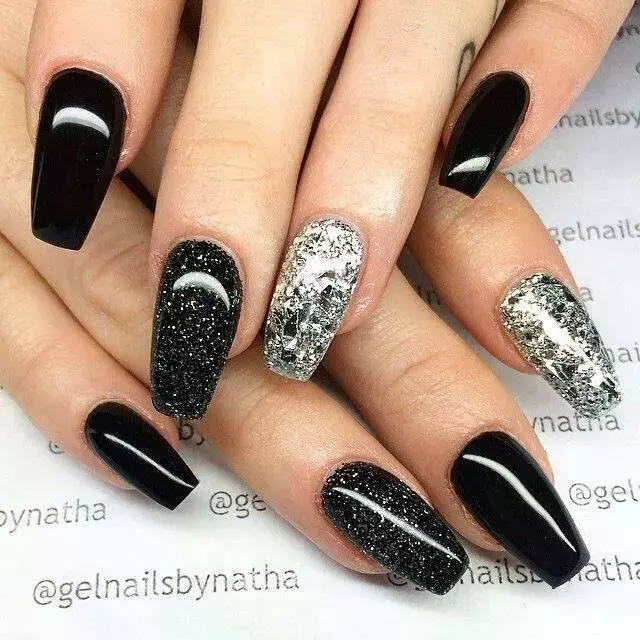 16) Black And Silver Nails
Pairing black with silver is always a good idea because it creates a striking contrast. Black and silver nails are elegant and eye-catching which makes them suitable for both formal and casual occasions.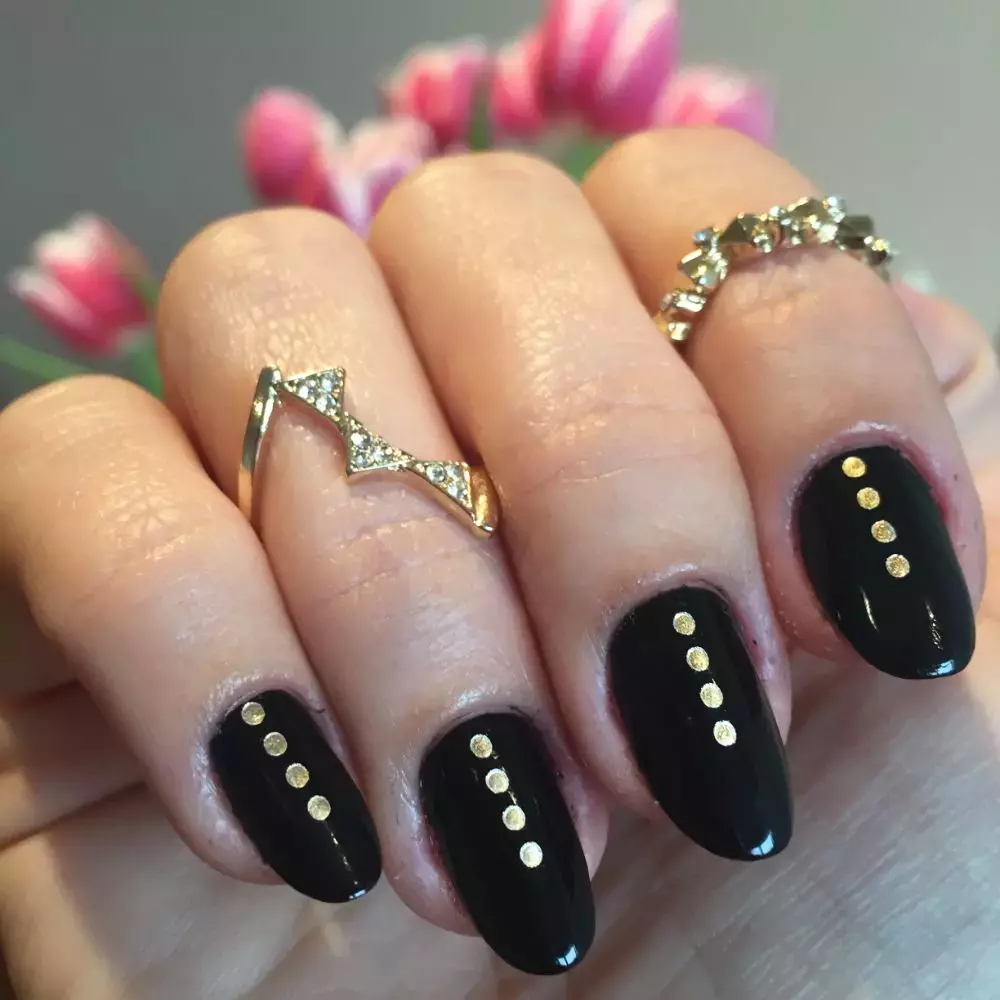 17) Black Nails With Dots
Black nails with dots create a playful and whimsical design. You can arrange dots in various patterns, from polka dots to intricate pointillism-inspired art.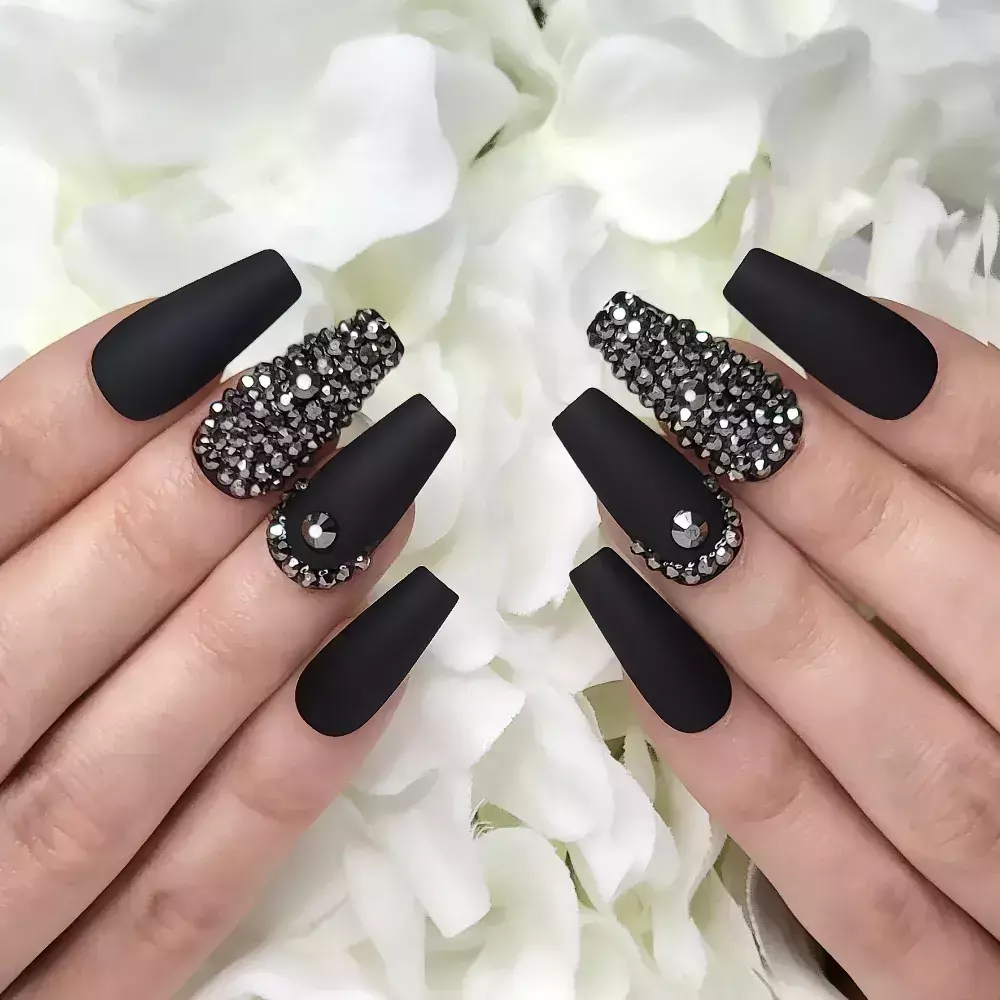 18) Black Nails With Rhinestones
Black nail designs with rhinestones are a popular choice for adding sparkle and glamour to your nails. These tiny, sparkly gems can be used to create intricate patterns, like geometric or elegant swirls. Black nail designs with rhinestones are a dazzling option that looks stunning when they catch the light.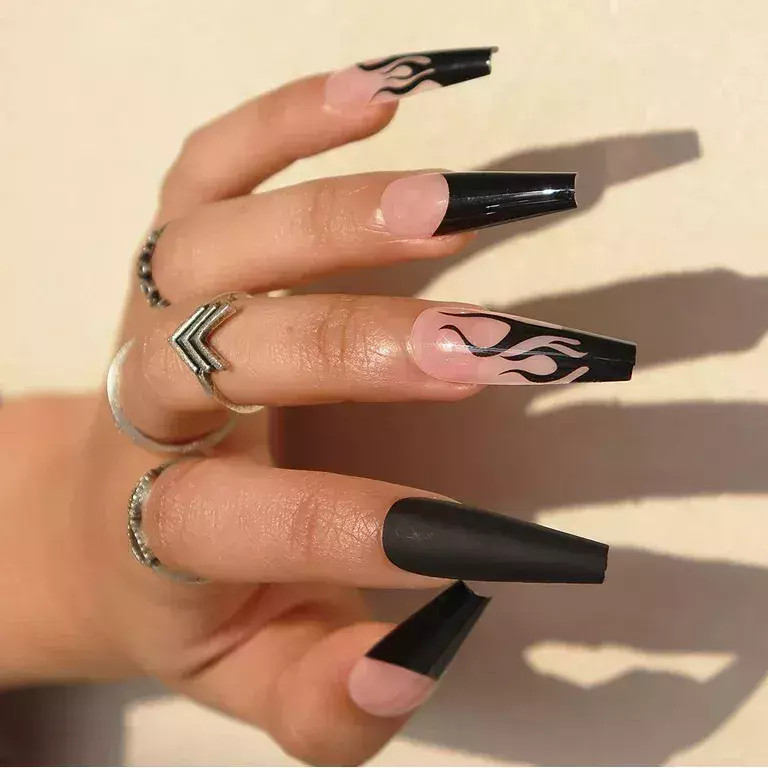 19) Long Black Nails
Long black nail designs always create a bold and dramatic statement. With their extended length, these nails provide you with the creativity to flourish. Long black nail designs create a canvas to let your creativity shine.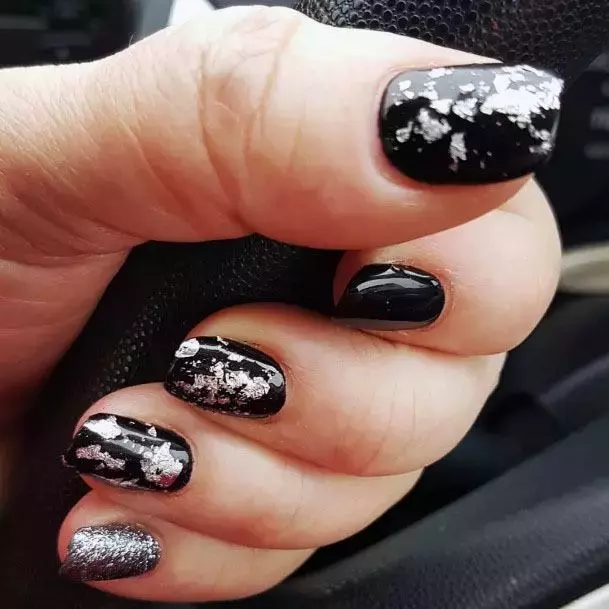 20) Metallic Foils Nails
A metallic foil can be applied to black nails to achieve a futuristic and metallic sheen. This technique creates a captivating and avant-garde appearance.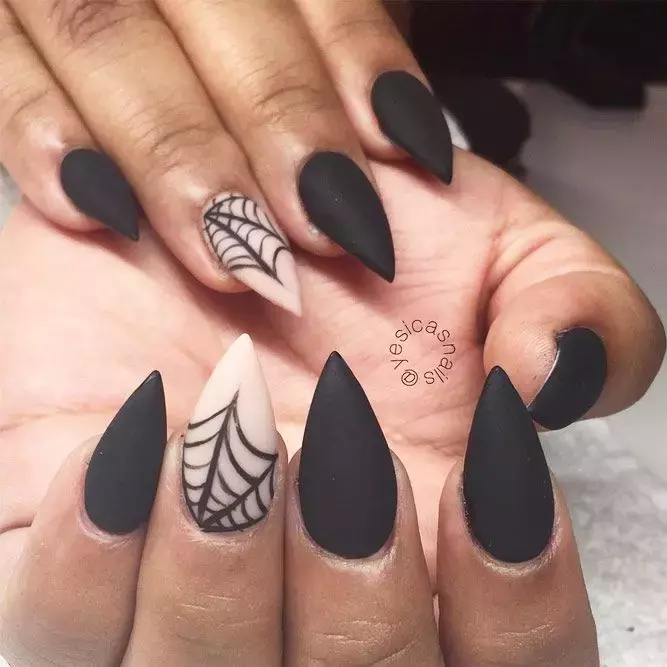 21) Stiletto Black Nails
The stiletto nails feature a sharp, pointed tip that adds drama and edge to your black nail designs. These nails are perfect for those who want to embrace a bold and fierce style.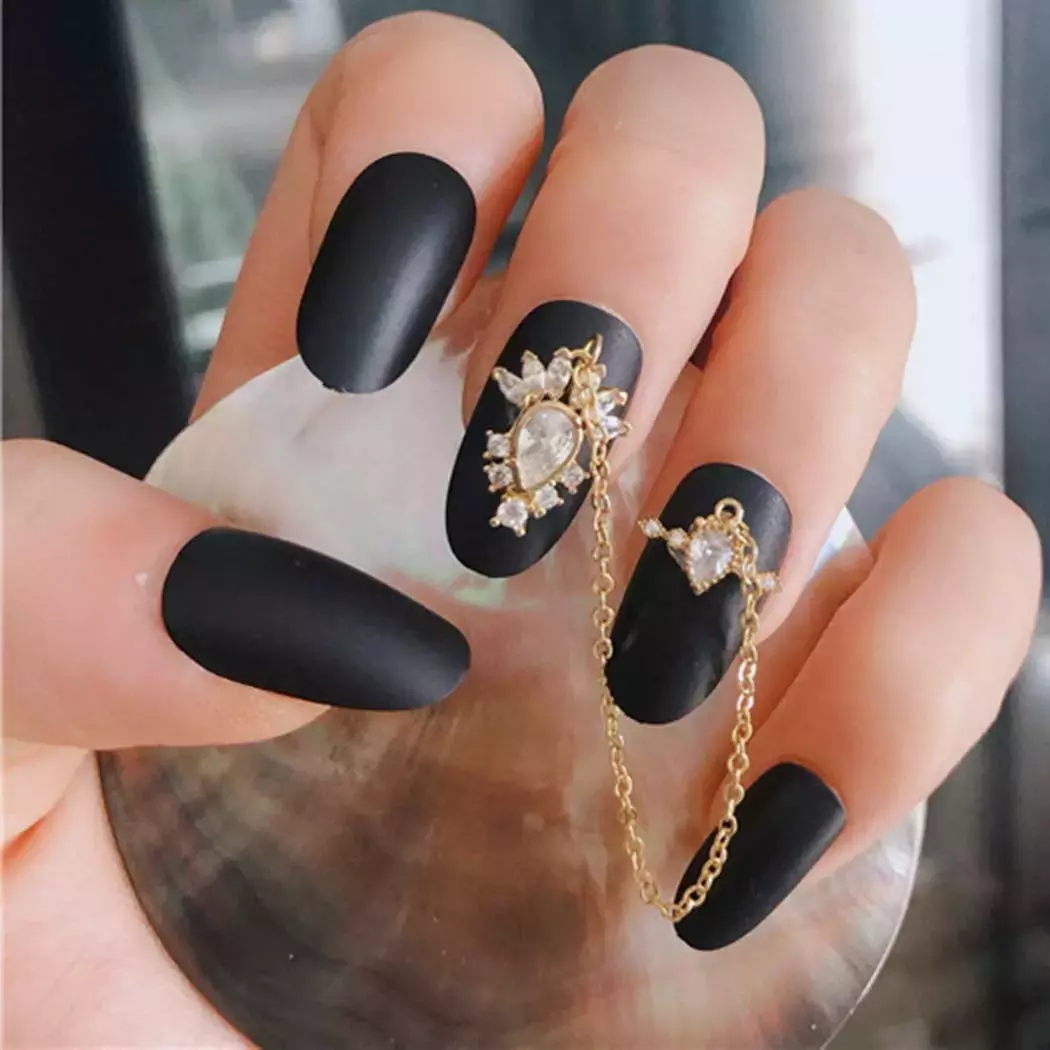 22) Black Nails With Chains
If you want to go for a rebellious and edgy style, consider adding chains to your black nail art. Chains can be used to drape across the nails or to create intricate patterns, giving your nails a fashion-forward appearance.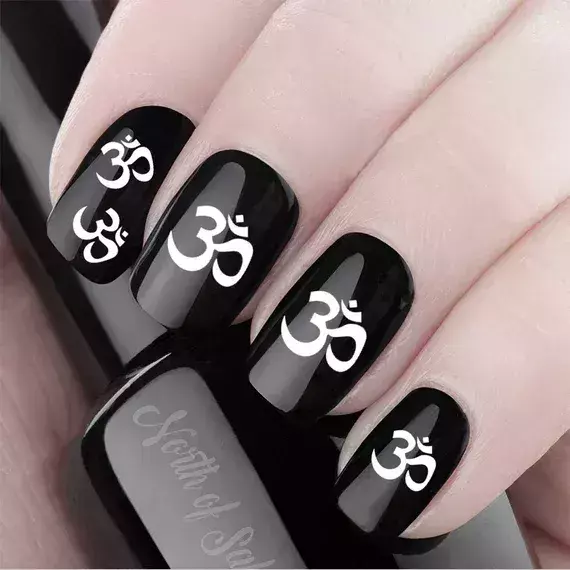 23) Om Symbol
For adding a spiritual and meaningful touch to your nails, adding an Om symbol would be a good choice. These symbols, originating from Hinduism and Buddhism, represent the essence of the universe and can add peace and tranquility to your nails.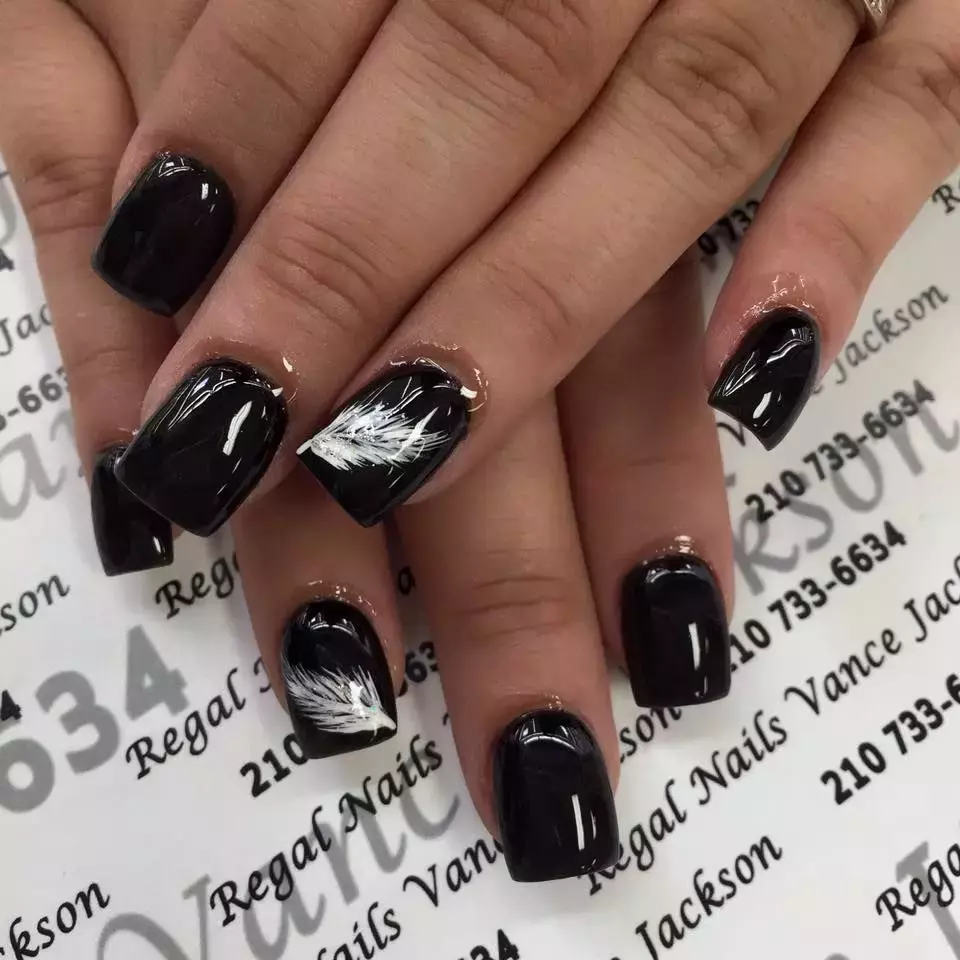 24) Black Nails With Feathers
Feathers on black nails create a Bohemian and free-spirited vibe. You can choose to use real feathers or opt for artistic feather patterns for a unique and nature-inspired look.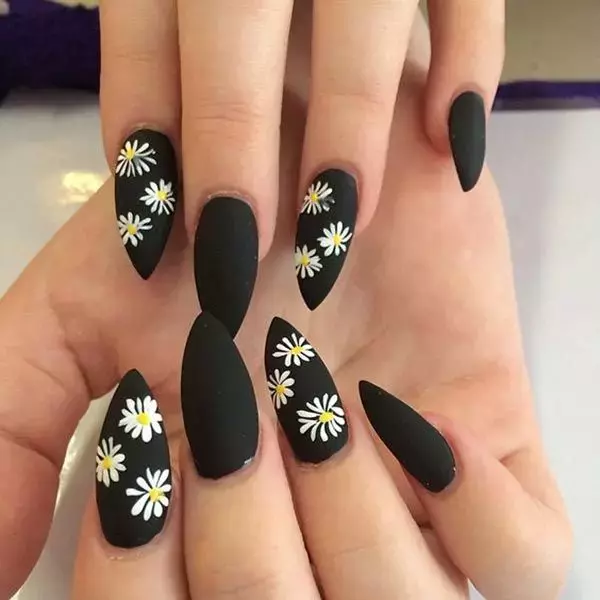 25) Floral Essence
Black nail designs with flowers are a combination of the elegance of black and the beauty of floral patterns. Choose any flower that you like, black nail designs with flowers are an artistic and striking choice. They also add a nature-inspired charm to your nails.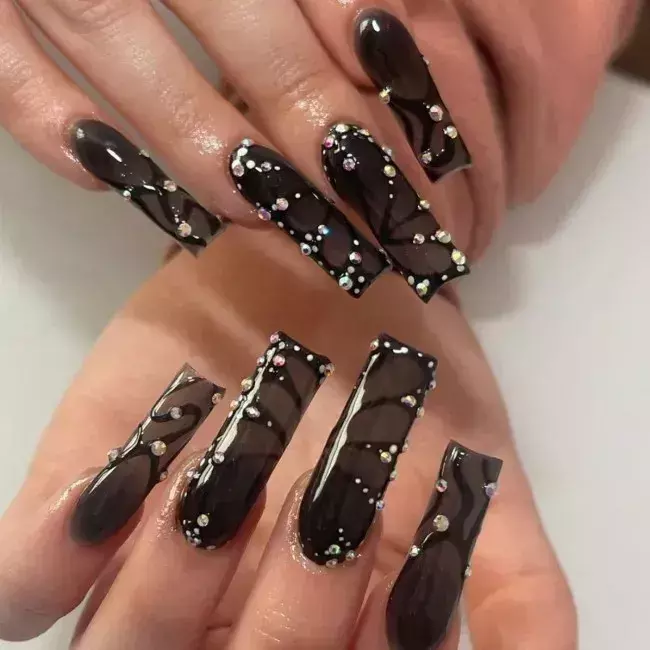 26) Black Nails With Stones
Black nail designs with stones or gemstones take your nails to the next level. These small, sparkling embellishments can be strategically placed to create intricate and eye-catching designs. Black nail designs with stones are sure to create a statement.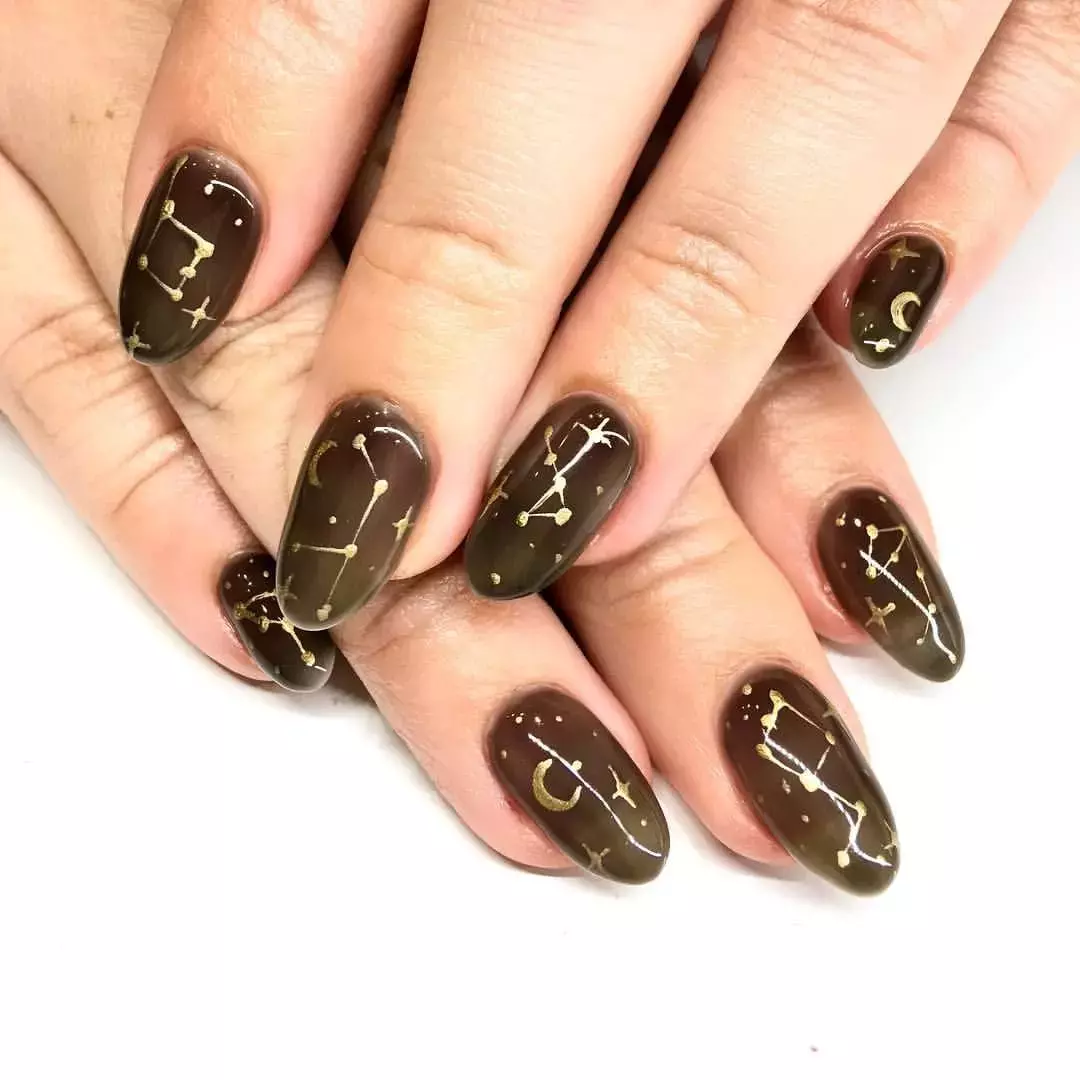 27) Black Nails With Constellations
Constellation designs on black nails add a touch of cosmic beauty. You can recreate your zodiac sign or choose your favorite constellation to adorn your nails with stars and celestial patterns.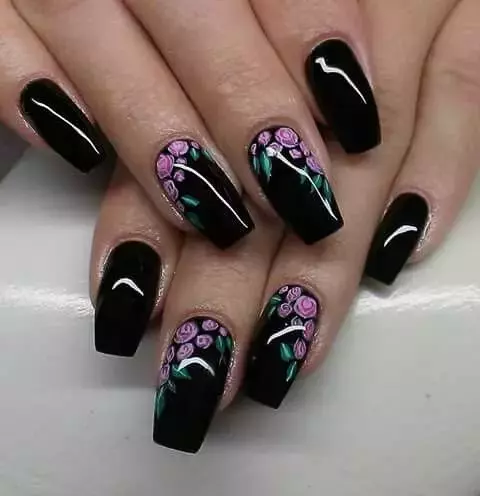 28) Vintage Roses On Black
Vintage roses on simple black nails are sure to add an old-world charm. These black nails designs with roses can be delicate and romantic or bold and eye-catching, depending on your choice.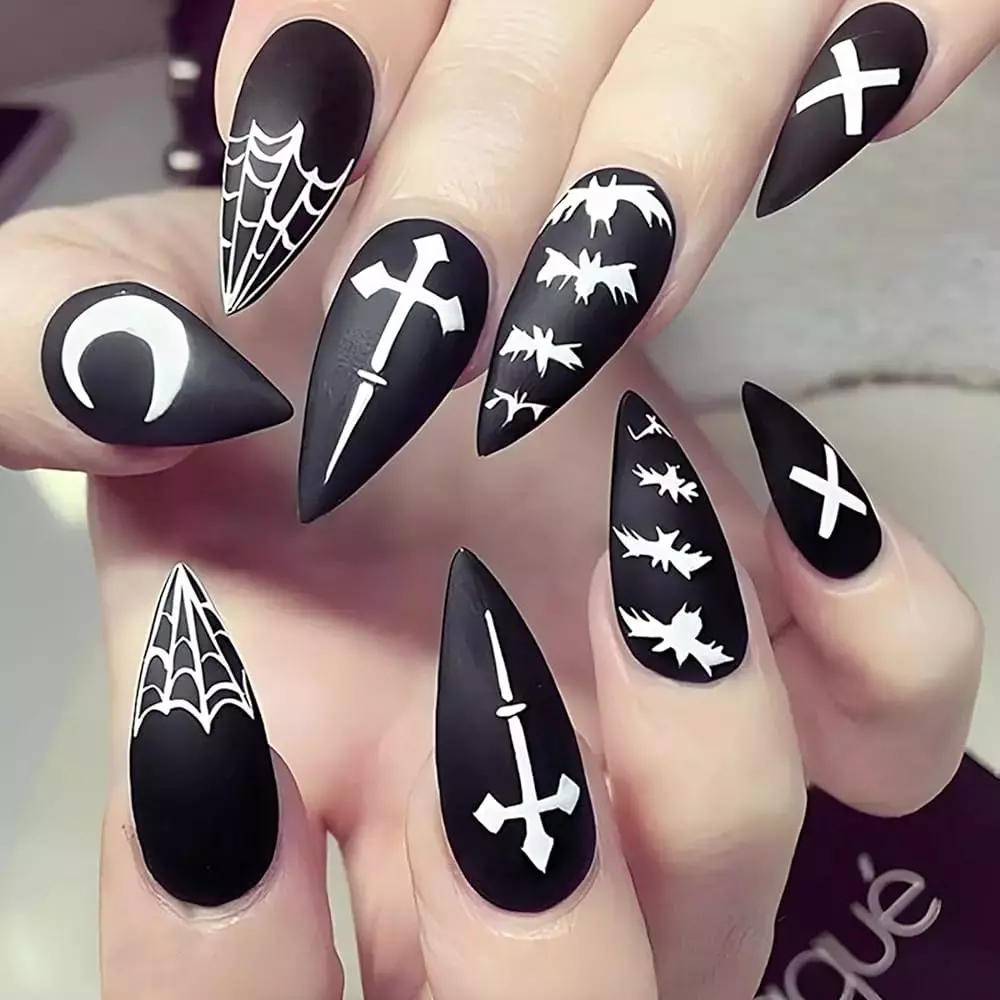 29) Gothic Crosses
Gothic crosses on black nails will surely add a mysterious allure to your nails. Black nails with gothic crosses are a popular choice among those who appreciate the intricate and symbolic designs of gothic art.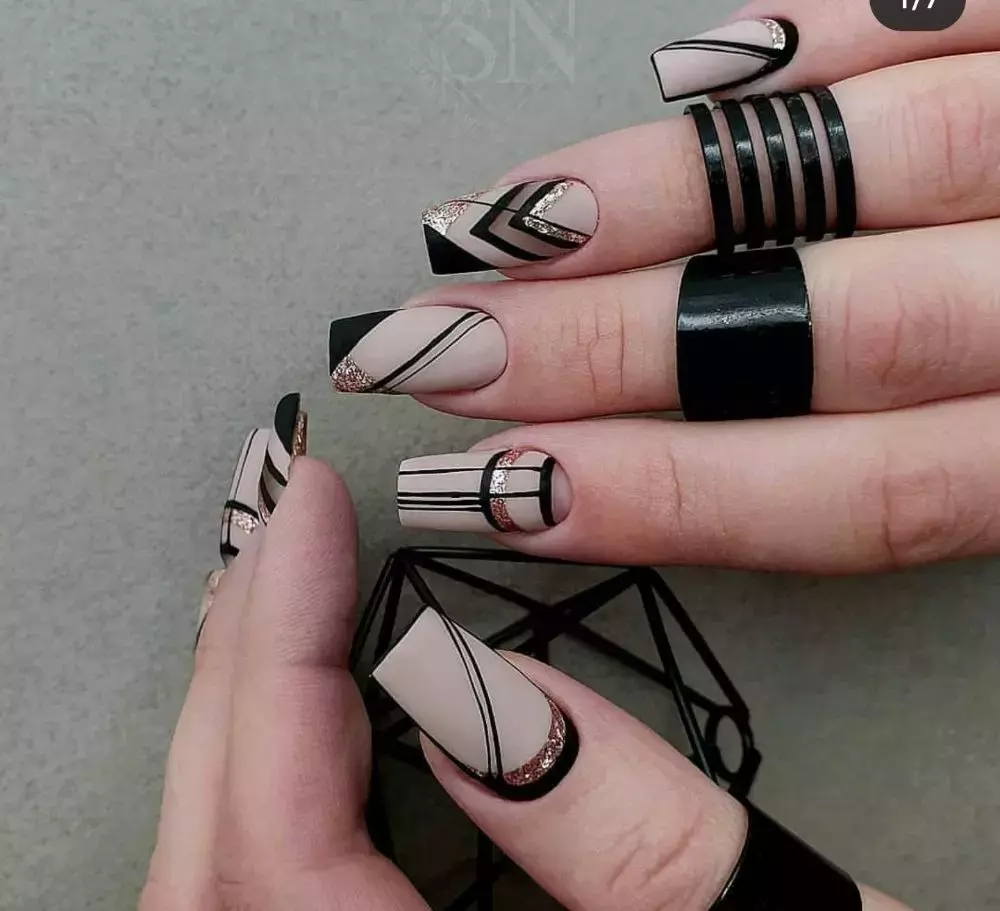 30) Art Deco Accents
Art Deco accents on black nails bring a touch of 1920s glamour to your fingertips. Geometric shapes, bold lines, and metallic accents create a vintage yet timeless look.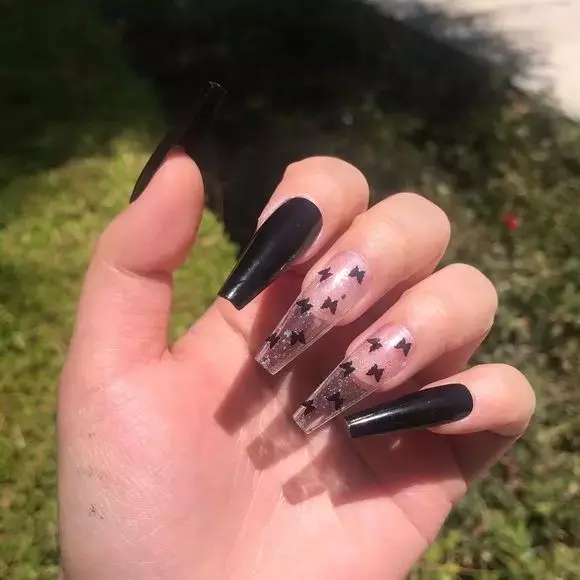 31) Butterflies On Black Nails
Butterflies are a representation of transformation and beauty which makes them a symbolic choice for nail art. Adding butterflies to your simple black nails can elevate your nail art. Designs can range from delicate and realistic to bold and colorful.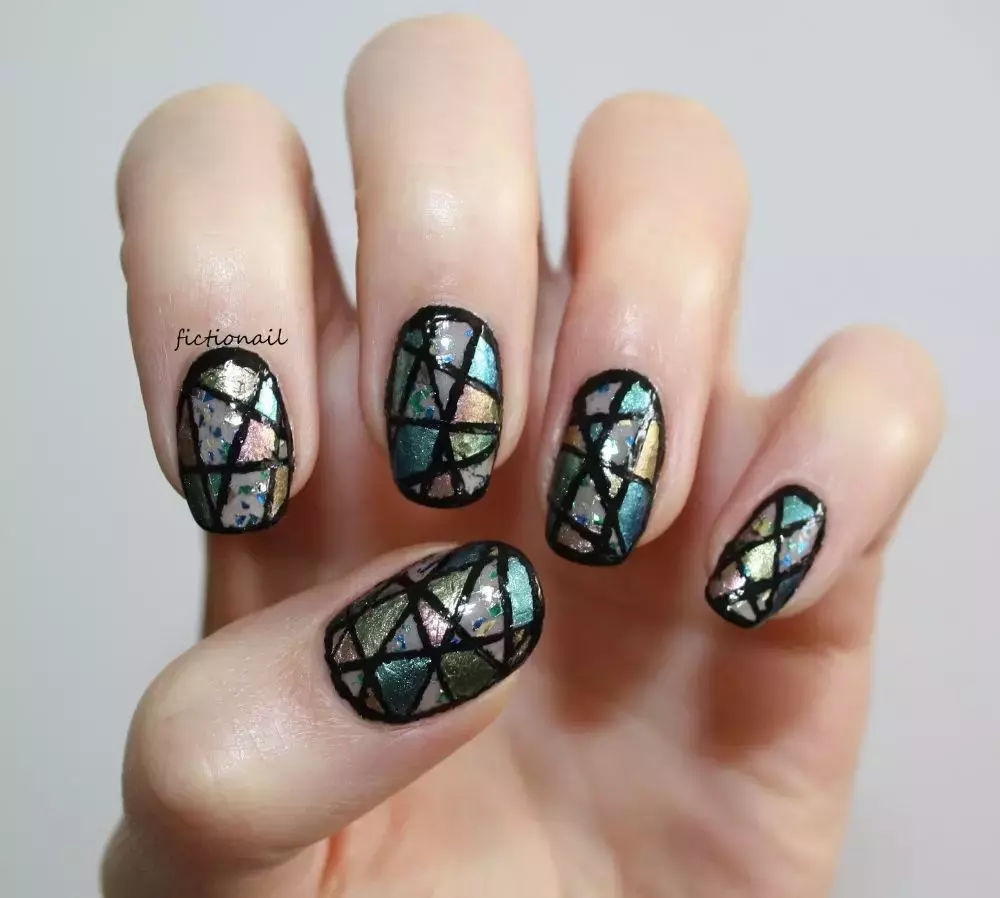 32) Stained Glass Patterns
Stained glass patterns on black nails create a mesmerizing and artistic effect. With their vibrant colors and intricate details, these nails are like miniature works of art.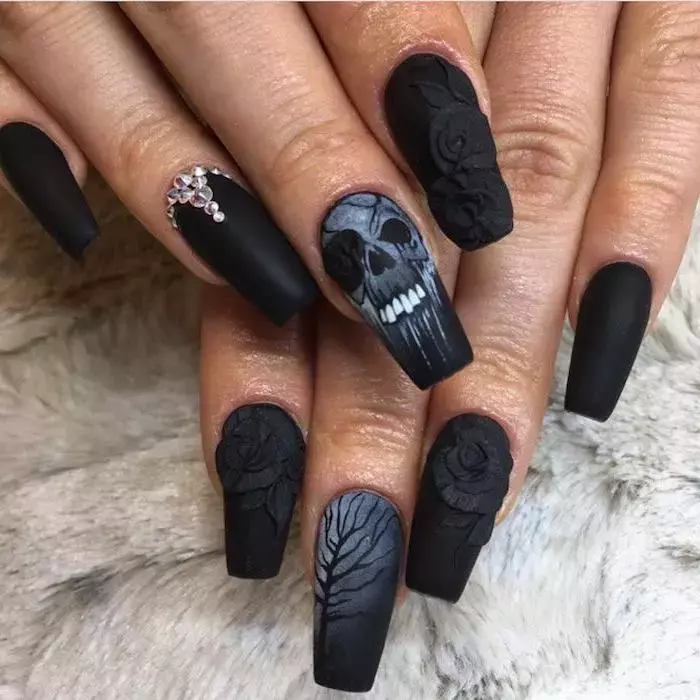 33) Skulls On Black Nails
Inspired by the Mexican holiday Dia de los Muertos, Day of the Dead skull designs on black nails are intricate and vibrant. These nails can pay homage to the cycle of life and death while celebrating the beauty of the departed at the same time.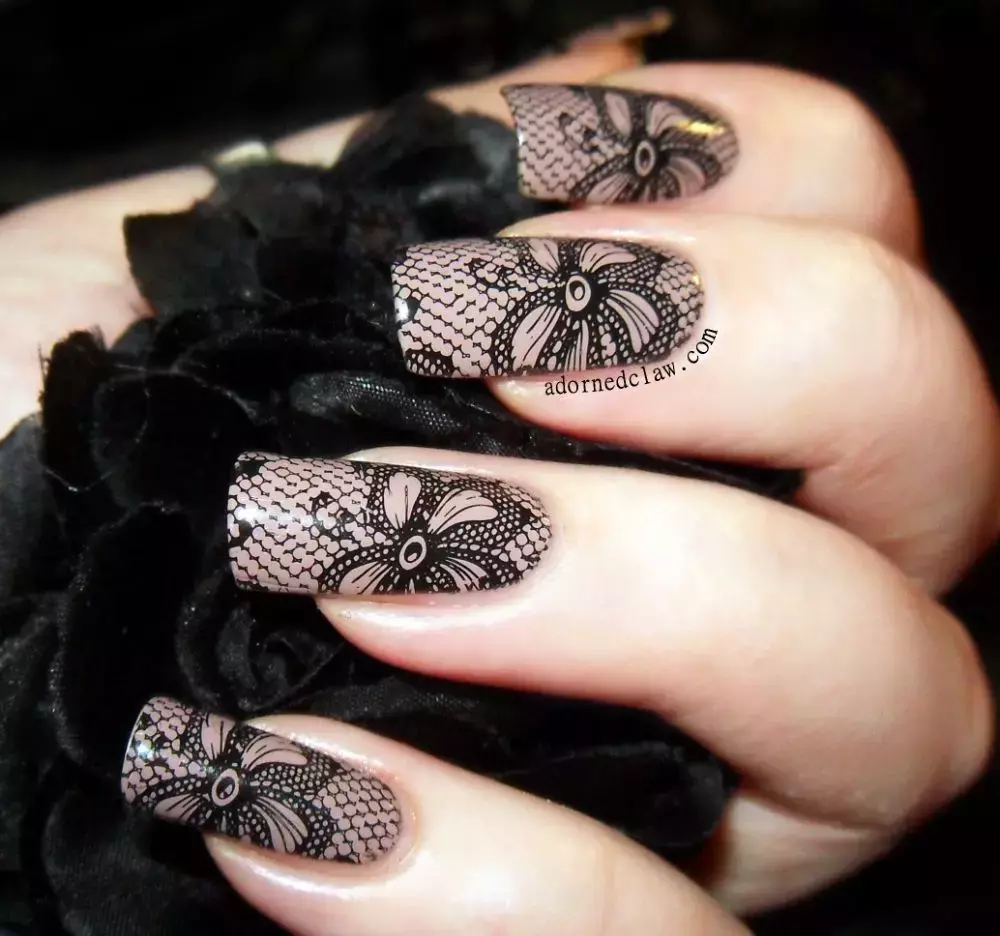 34) Vintage Lace Gloves
For a touch of vintage glamour, consider black nails with lace glove patterns. These nails create the illusion of wearing elegant lace gloves, adding a touch of sophistication to your look.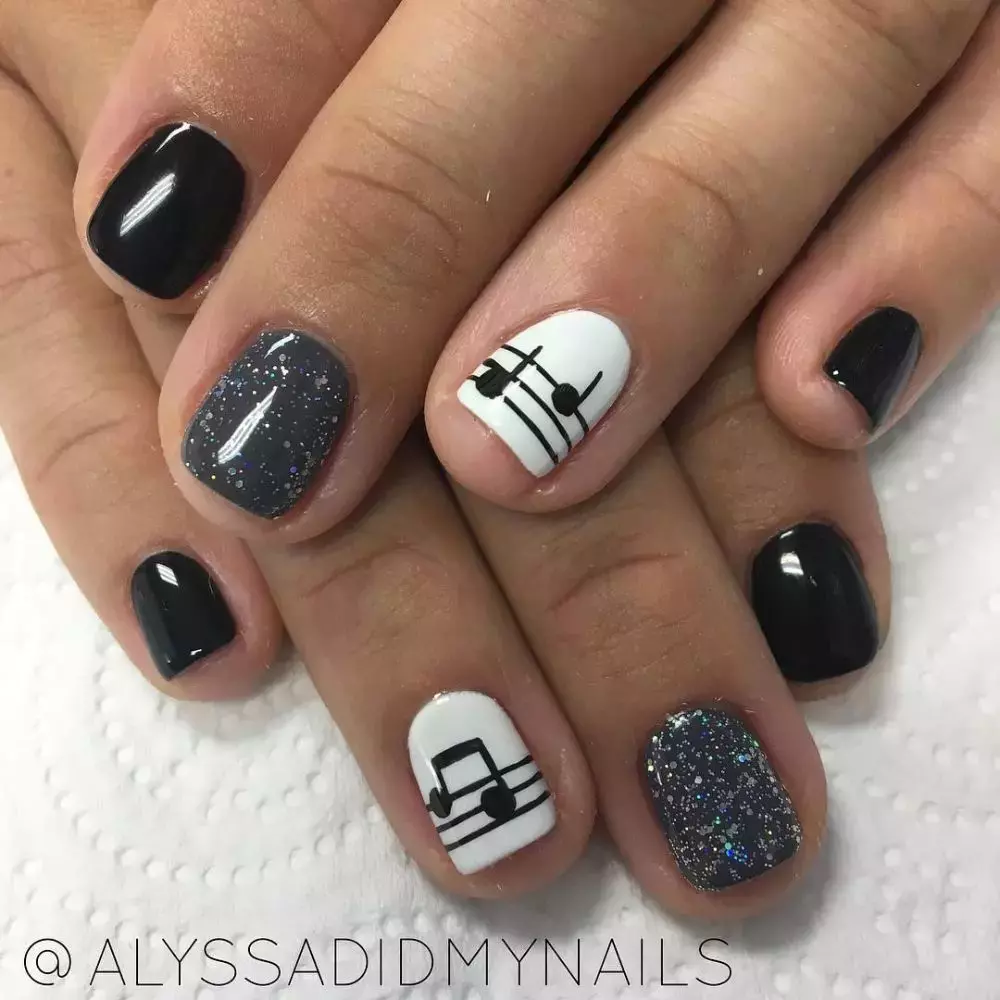 35) Musical Notes
If you have a passion for music, then adding musical notes to your black nails will pay tribute to your passion. These nails can feature your favorite music symbols or even the notes to your favorite songs.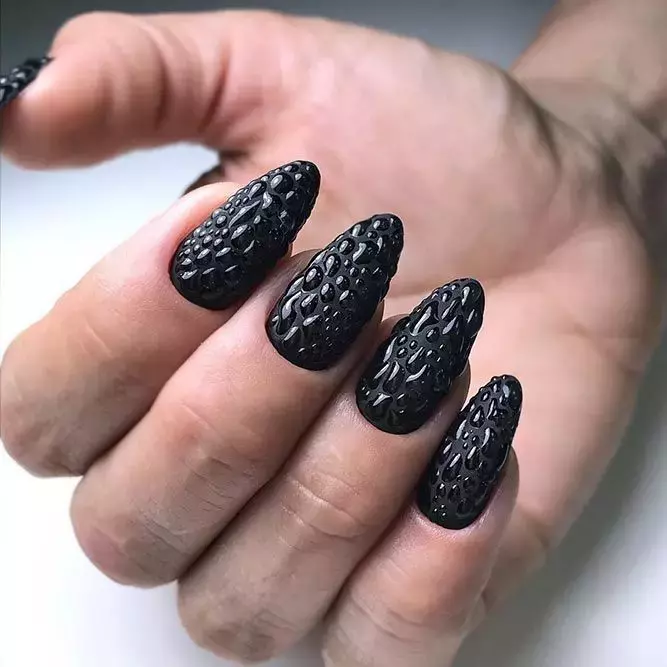 36) Black Nails With 3D Elements
Adding 3D elements to your black nail designs can add depth and dimension to them. These can include raised patterns, gems, or even tiny sculptures, creating a tactile and eye-catching appearance.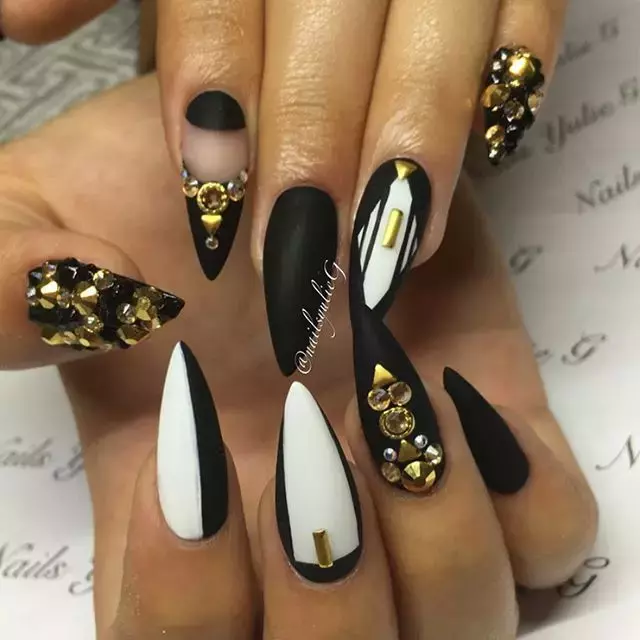 37) Vintage Cameos
Cameo designs on black nails evoke the elegance of vintage jewelry. These nails can feature intricate portraits or silhouettes, creating a sense of timeless beauty.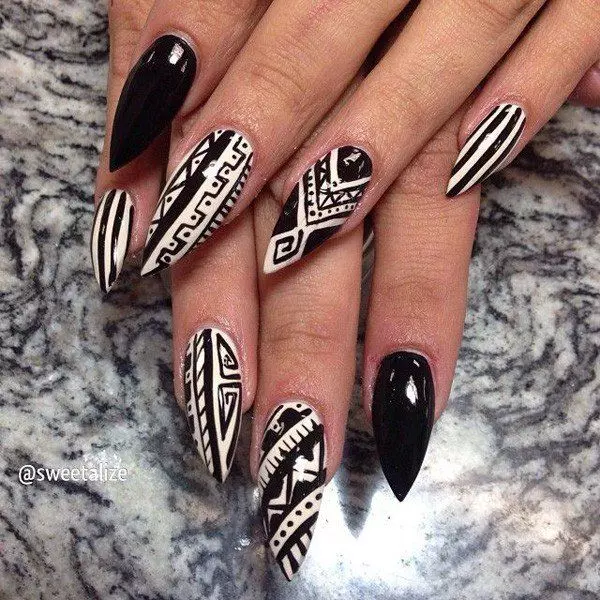 38) Tribal Patterns
Tribal patterns are known for being bold and expressive. Black nails with tribal designs can incorporate geometric shapes and patterns, bold lines, and intricate details for a striking and culturally inspired look.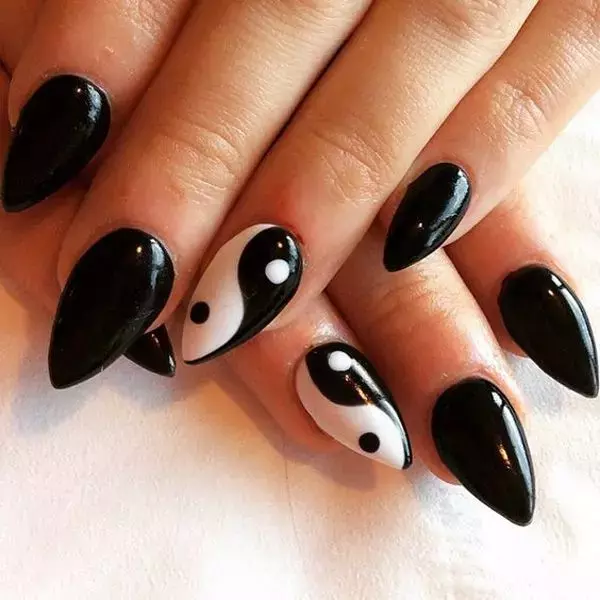 39) Yin And Yang Symbols
The Yin and Yang symbols are the symbols of peace, balance, and harmony. Incorporating these symbols into your black nail designs can evoke a sense of peace and tranquility.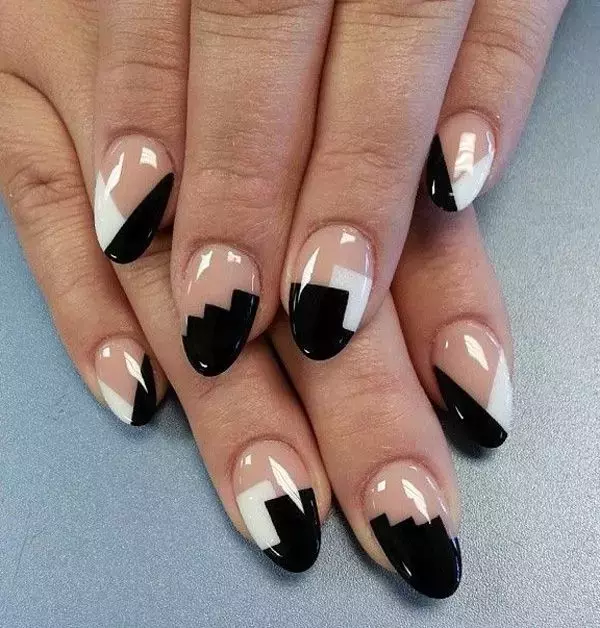 40) Abstract Art
Abstract art on black nails offers limitless creative possibilities. You can use bold colors, unconventional shapes, and free-flowing lines to express your artistic side.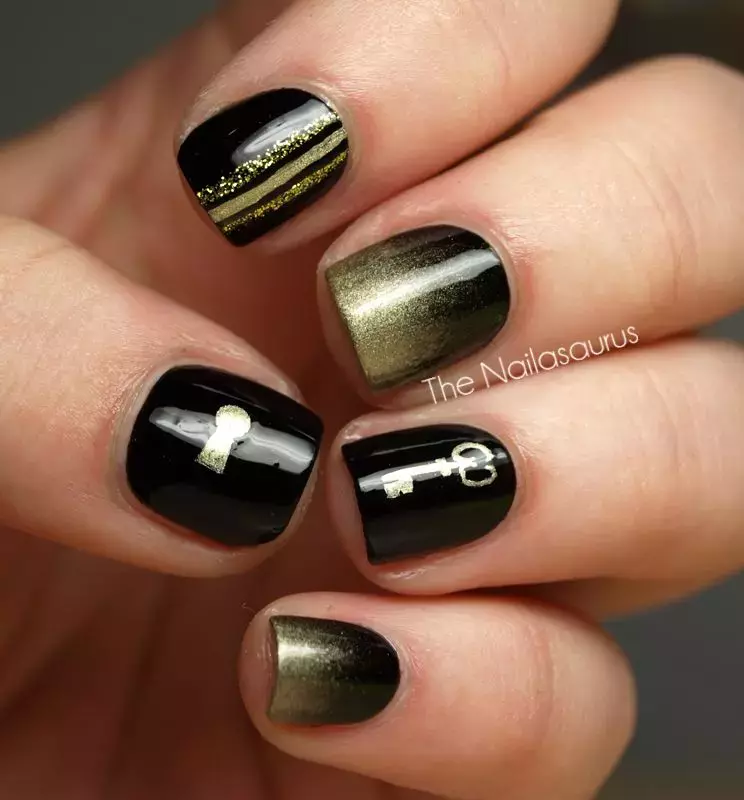 41) Black Nails With Vintage Keys
Vintage keys are a symbol of mystery and discovery. Black nails with vintage key designs add an element of intrigue to your nail art, which makes them a great choice for those with a passion for adventures.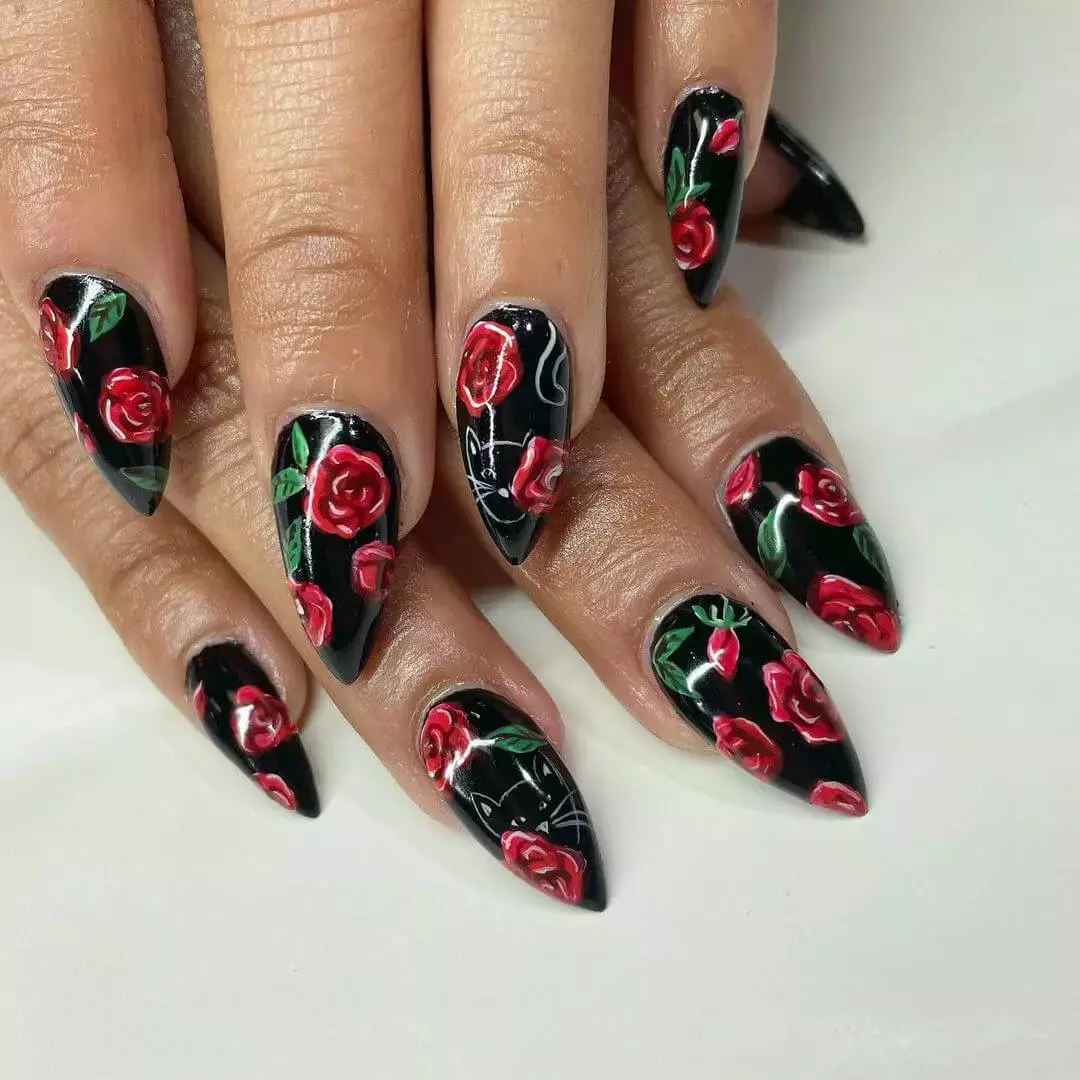 42) Black Nails With Red Roses
The combination of black and red is both classic and dramatic. Black nails with red roses create a striking contrast, symbolizing passion and beauty. This is one of the most beautiful black nail designs.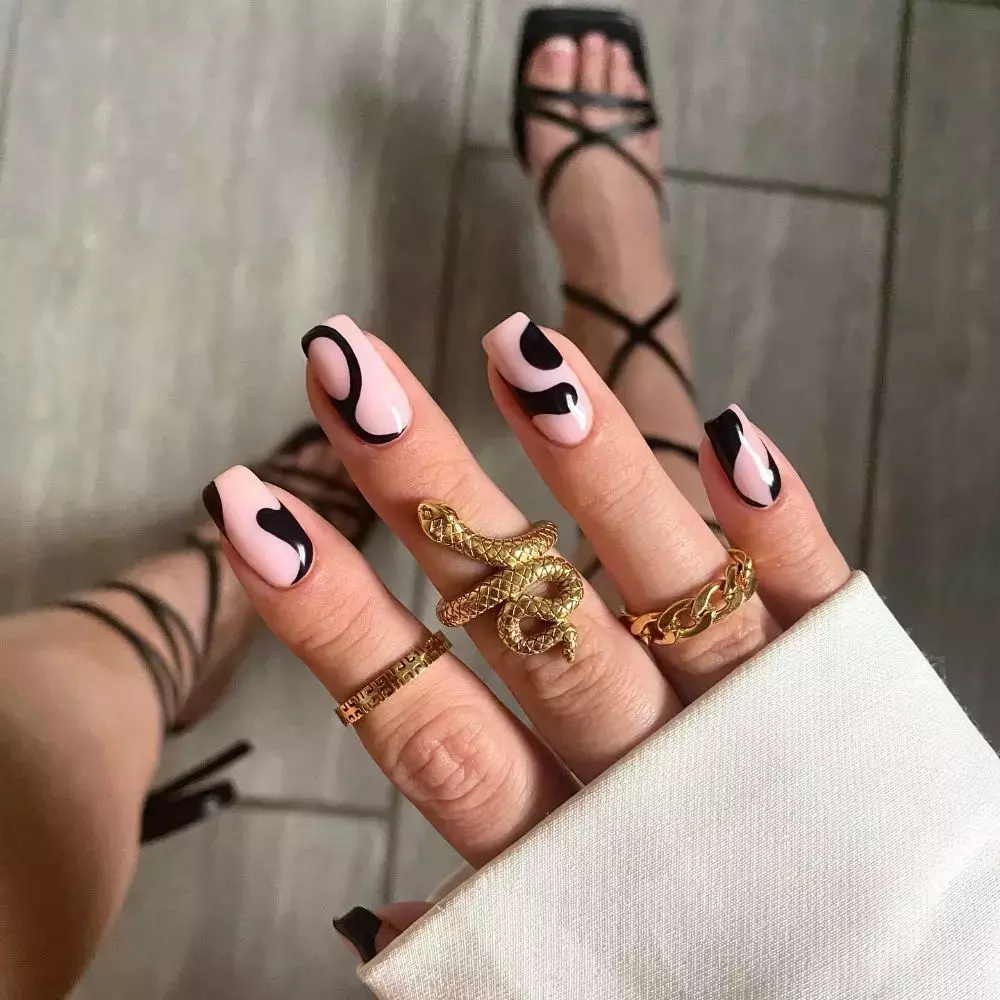 43) Abstract Swirls
Adding abstract swirls on your black nails can add a sense of movement and flow. These designs can be elegant and minimalist or bold and avant-garde, depending on your choice.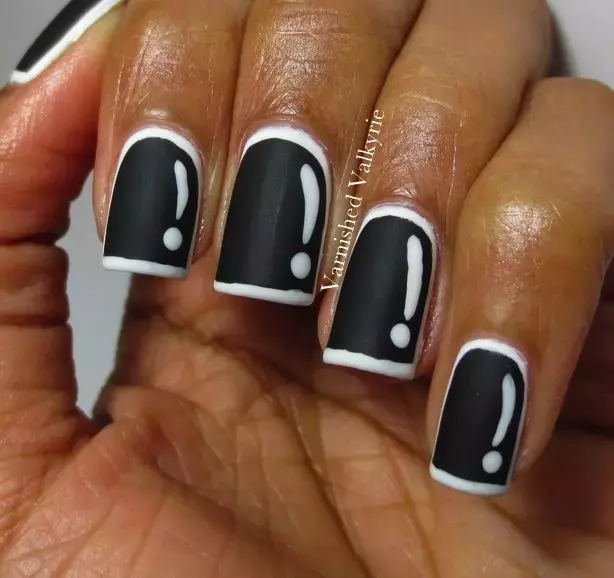 44) Pop Art Nails
If you want to go for a playful and fun look, then consider adding comic book pop art on black nails. These nails can feature iconic comic book elements like speech bubbles, and vibrant colors.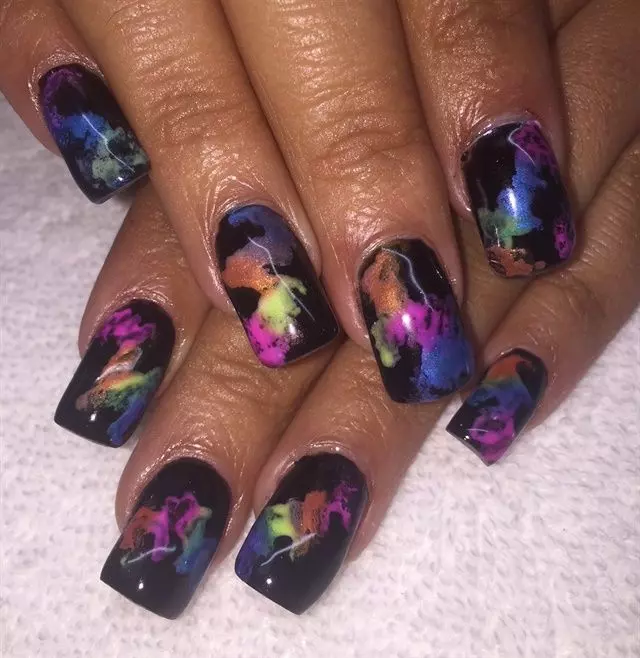 45) Watercolor Accents
Watercolor accents on black nails create a dreamy and artistic appearance. The blending of colors on the dark canvas of black nails can evoke a sense of ethereal beauty.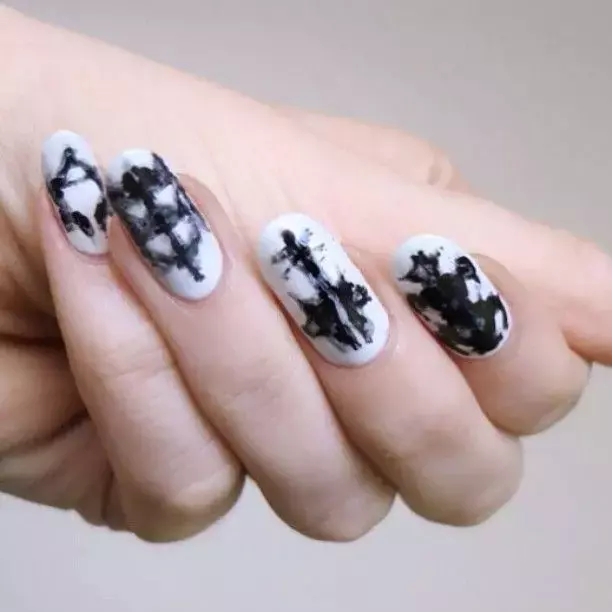 46) Abstract Rorschach Patterns
Rorschach patterns are known for their intriguing and ambiguous shapes. Incorporating these designs into your black nail art adds an element of mystery and interpretation.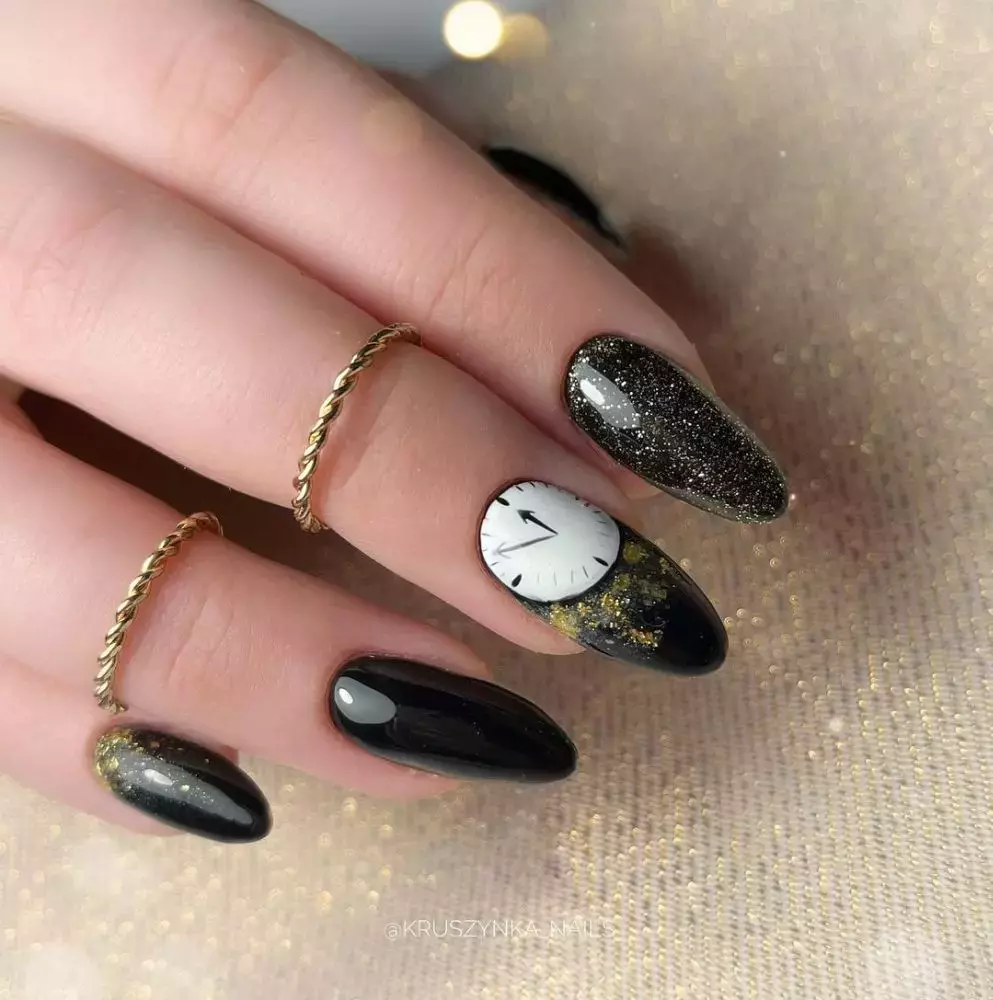 47) Black Nails With Vintage Clocks
Vintage clocks on black nails are a representation of the passage of time and the beauty of nostalgia. These nails can feature beautiful clock faces or watch hands, creating a sense of timeless elegance.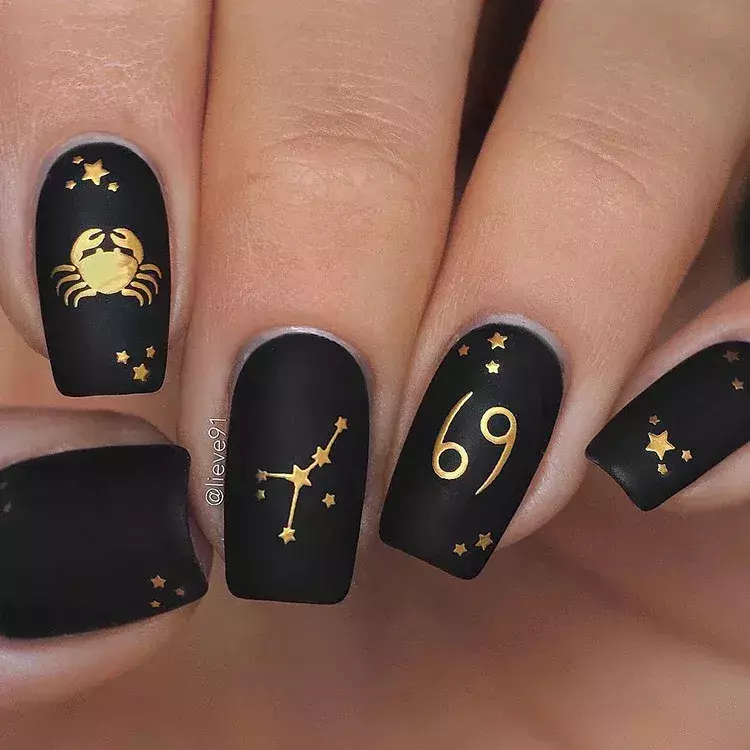 48) Zodiac Signs On Black Nails
For astrology enthusiasts, black nails with zodiac signs offer a personalized touch. You can choose to showcase your zodiac sign or explore the symbolism of other signs.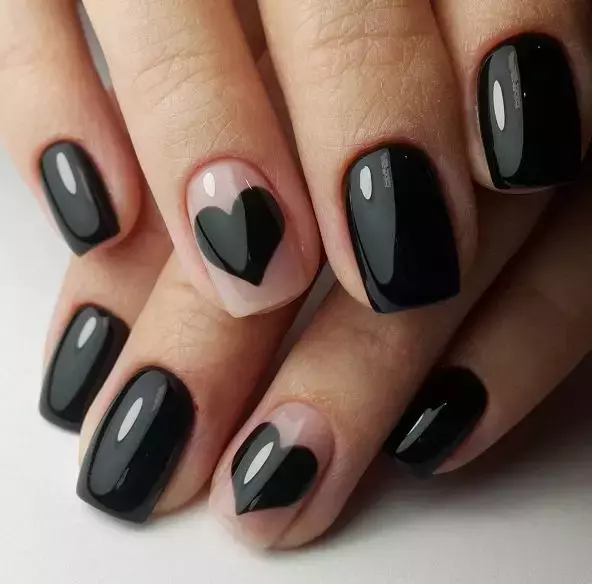 49) Black Nails With Heart
Sometimes, less is more. simple black nails are all about minimalism and understated beauty. A single coat of black polish with a heart and glossy finish can be striking on its own.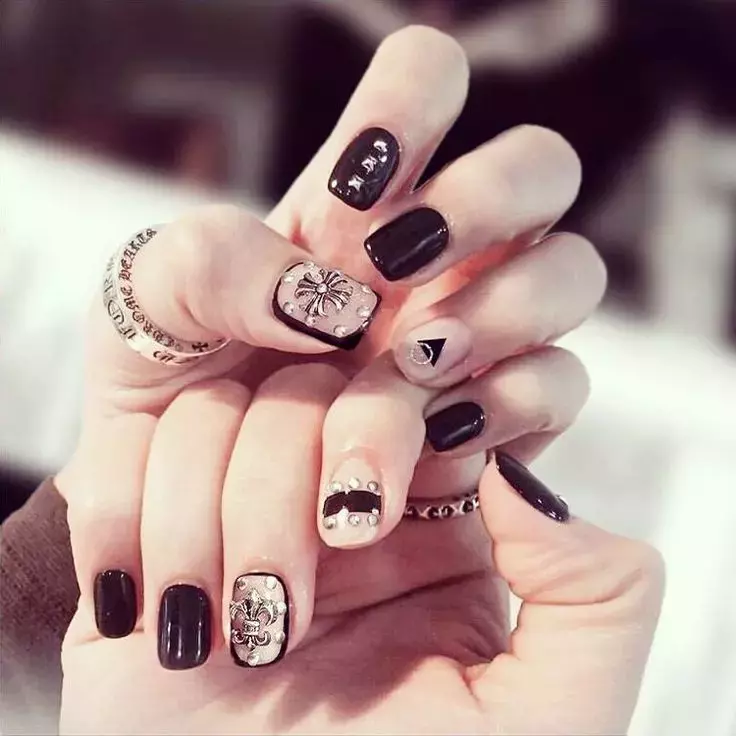 50) Vintage Black Nails
Vintage postage stamps on black nails can create a sense of nostalgia and wanderlust. In these nails, you can incorporate iconic patterns, vintage lace, or exotic gemstones.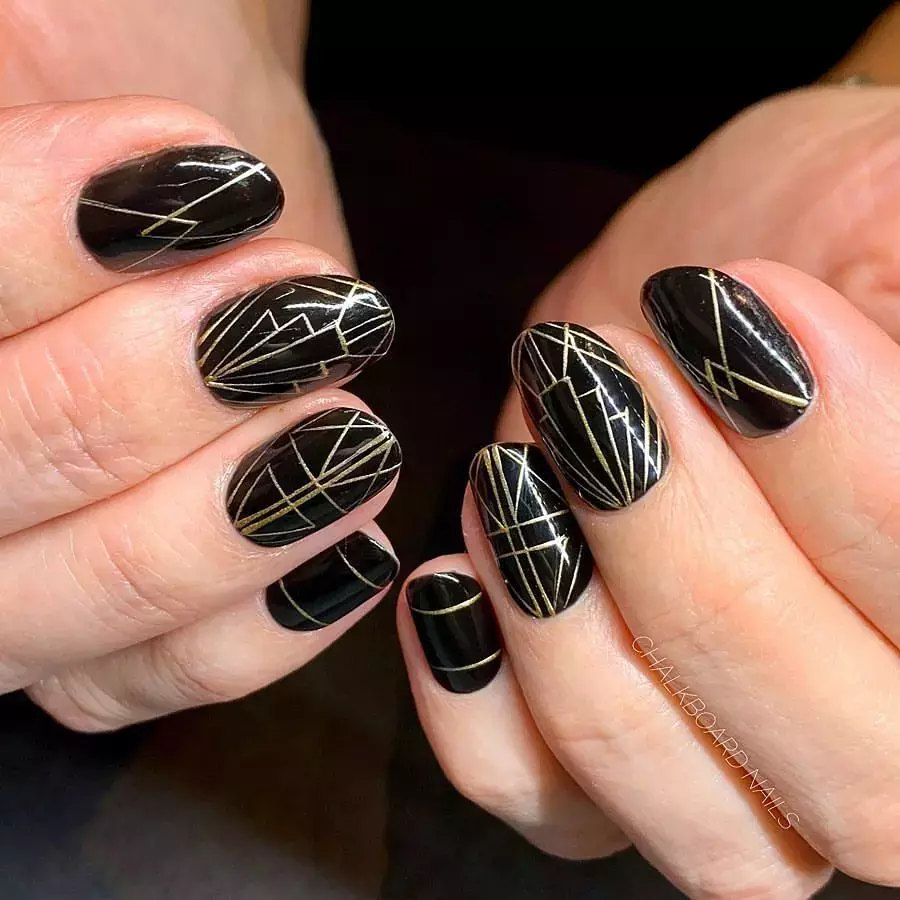 51) Art Nouveau Accents
Art Nouveau is known for flowing lines, organic shapes, and intricate details. Adding Art Nouveau accents to your black nails can create a sense of beauty and sophistication.
Black nail designs offer endless creative possibilities, ranging from classic and elegant to bold and avant-garde statements. Whether you prefer short or long nails, subtle or extravagant designs, there is a black nail design that will suit your taste and occasion. Take inspiration from these 51 popular black nail designs and let your creativity shine as you adorn your fingertips with stunning and unique nail art.