25 Stunning Red Coffin Nails Design- 2023
Olivia
Updated At 29 Jul 23
A new nail design feels like a completely different personality, a new self. It's always amazing to try new designs to make our nails look good and fancy at all times. Red is always the first choice for people who want to add a classy and bossy vibe to their nails. Red nails go with so many outfits and are always the first choice for parties.
It's always a struggle to choose the right nail design ideas, but don't worry, we have collected the 25 best red coffin nail designs for this year. These striking red coffin nails will have you covered whether you're looking for something unique and eye-catching or just want to add a touch of vibes to your look.
25 Best Red Coffin Nails Design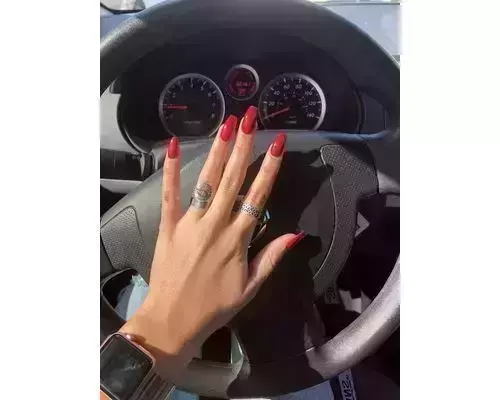 1. The Classic Red Coffin Nails
One thing that will never go out of trend is the classic nails. No matter what colour or nail shape or size it is, the easiest and the most convenient nail design is simple/ classic nails. These coffin nails are classy and accessible and it complements the outfits perfectly.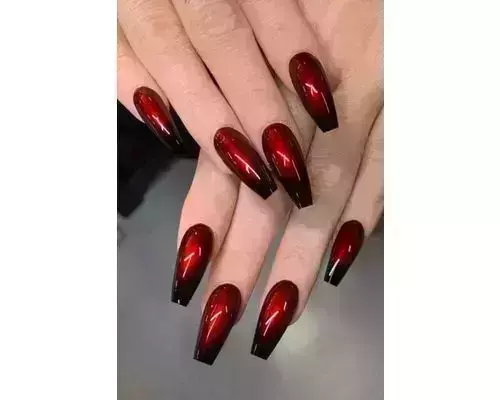 2. Red And Black Coffin Nails
This red coffin nail design is perfect for a date night. This red and the black colour combination is eye-catching and will leave a lasting impression on your dates or any other event. This is a very dominating and sexy red coffin nail design. This gradient nail art does not require a lot of effort or time however it will give the desired look easily.
Read More: Types Of Nail Shapes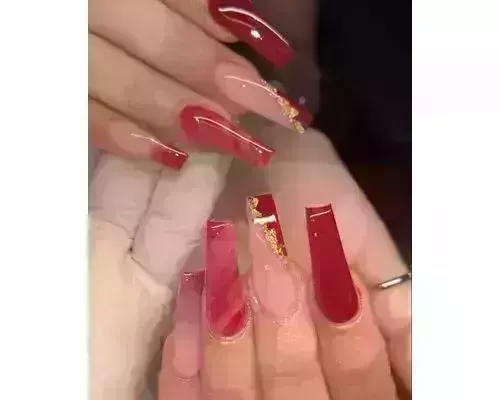 3. All-in-One Red Nails
This All-in-One red coffin nail design is very unique and special as it combines various kinds of nail art designs into one. Classic Red nails, red coffin nails with glitter, marble textured coffin nails and red and pink ombre. All these red coffin nail arts are combined to create this beautiful nail design.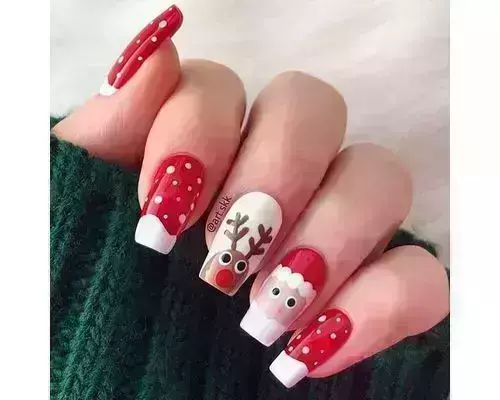 4. Christmas Nail Design
These cute red coffin nails are perfect for the occasion and will add to your Christmas spirit. With little polka dots to Santa Claus and his reindeer- these red coffin nails consist it all.
Read More: White Nails Ideas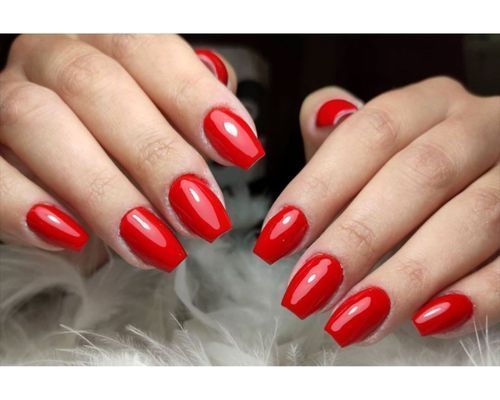 5. Short Red Coffin Nails
Short nails are easy to maintain and work with and what better than short red coffin nails? This classic design is perfect for short nails and is also very accessible. These short coffin nails look amazing on all finger sizes and also add a pop of colour to your outfit. It's a win-win.
Read More: Short Nail Designs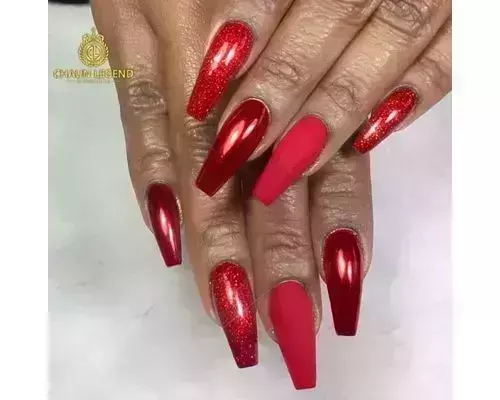 6. Matte and Glossy Nails
This matte and glossy version of red coffin nails is perfect if you do not wish to give up on any of these two styles. If you're one of those people who like the matte look but don't want to give up on glossy nails, then this version is perfect for you! It combines the best features of both matte and glossy nails without compromising on either style.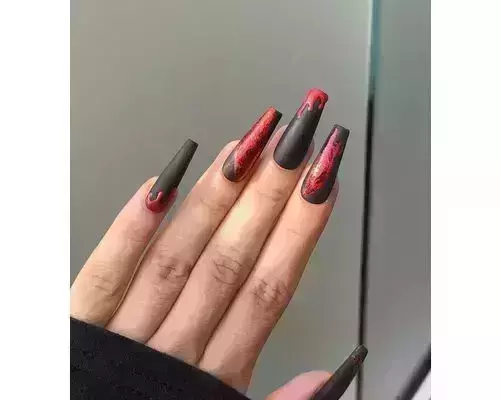 7. Bloody Mary Red Coffin Nails
If you love and want to add that extra spice to your nails, this red coffin nail design is for you. With Black polish as a base, red colour polish is used to give the horror effect. Bloody tips or bloody edges, both are enough to scare someone off. It is a perfect red coffin nail design for Halloween as well.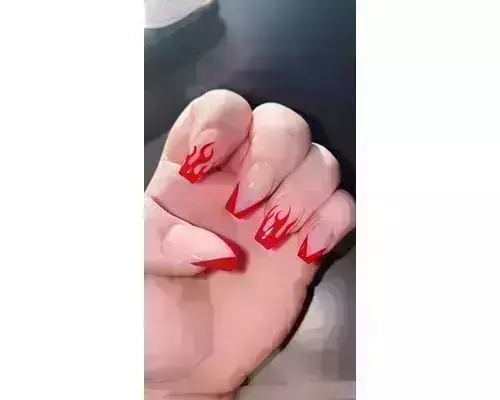 8. Fire In My Nails
These red coffin nails are a perfect combination of red French tip nails and fire nail art. These red coffin nails are both beautiful and deadly - just the way you want your nails to look! With this design, you get the classic dramatic effect that fires up everyone's attention when they see them.
Read More: Simple Nail Designs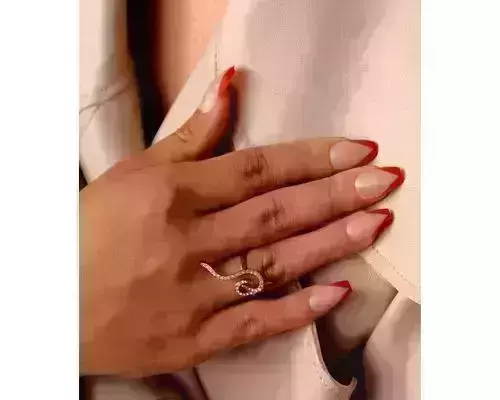 9. French Tip Coffin Nails
French nail art has been in trend since the beginning of this year but French Tip Red Coffin Nail designs just won the trend. The tips are curved and sleek, giving the nails a high-end look that's perfect for special occasions or formal events. This particular style is ideal for anyone who wants to add some extra glamour to their appearance.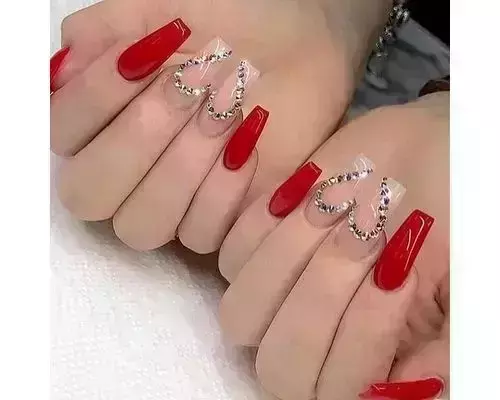 10. Red Coffin Nails With Rhinestones
It's always a wonderful idea to add those beautiful and glamorous rhinestones to your nail art. These red coffin nails with rhinestones are an amazing choice for a date or any romantic event. Rhinestones are making the heart design more noticeable and stunning.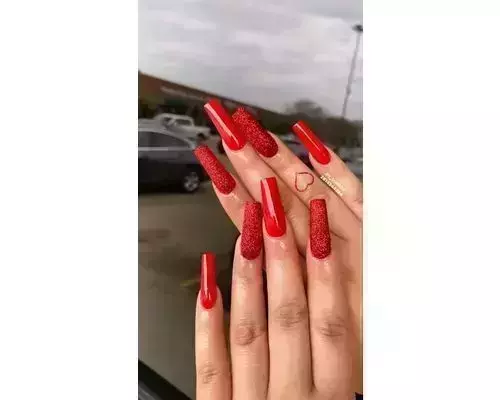 11. Red Coffin Nails With Glitter
Shine and Party, these red coffin nails with glitter are up to this same theme. This nail design is a combination of red glossy coffin nails and red glitter nails all set up together to create the perfect red coffin nails with glitter design. Whether you want to go all out and wear matching nails and clothes, or just add some glitzy polish to your normal look, these nails are sure to impress.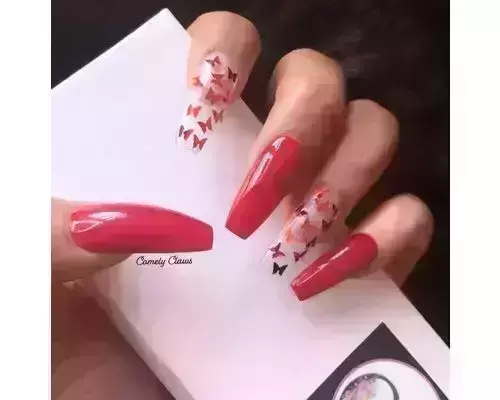 12. Red Coffin Nails With Butterflies
Butterflies always add that cuteness to our lives and butterfly nail art is always one step closer to getting the cutest look. These red coffin nails with butterflies are going to be the best addition to your manicure by giving you the calmest and the most beautiful look ever.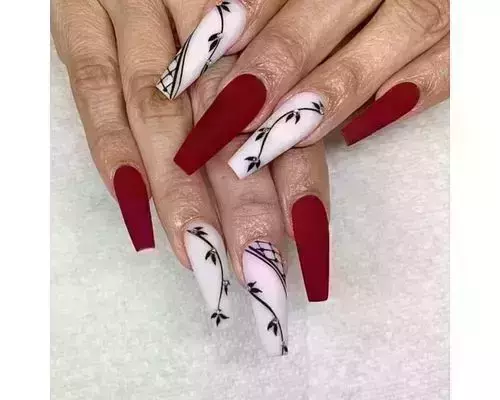 13. Red And White Coffin Nails
There's something special about red and white nail art that makes it so popular among beauty lovers. Whether you're looking for a quick and easy way to add some colour to your nails, or you want to create an elaborate design, these colours are perfect for you. With a little tint of black nail polish, you can create leaves and lines to make your nail art stand out.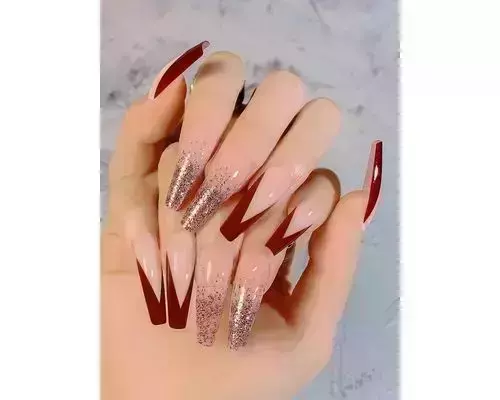 14. Red French Nails And Glitters
Adding a little bit of red to your French nails can add a pop of colour and interest. To begin with, it's always a great idea to polish your nails with a light colour base coat and then go for dark nail shades. You could also try painting your nails with various shades of red before adding the glitter, for even more visually-pleasing red French nails with glitter.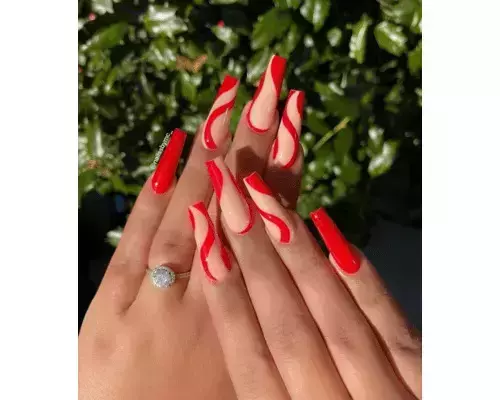 15. Red Swirly Nails
A bright red nail polish and a swirly design are all we can ask for the winters. These red swirly nails give your personality a fun look. These red coffin nails blend perfectly with your finger accessories including diamonds or gold and are a really good red coffin nail design for long nails.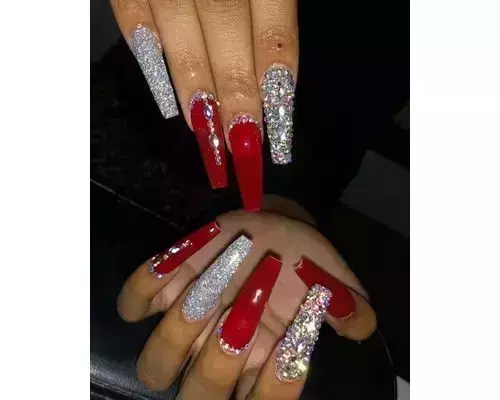 16. Red Coffin Nails With Diamonds
We also love to find new ways to wear diamonds just like Marilyn Monroe. This is a perfect way to add that shiny and glamorous look to your hands. Red coffin nails with diamonds are something special - it's elegant and stylish. The addition of diamonds brings out all the other colours in your nails and dresses them up a bit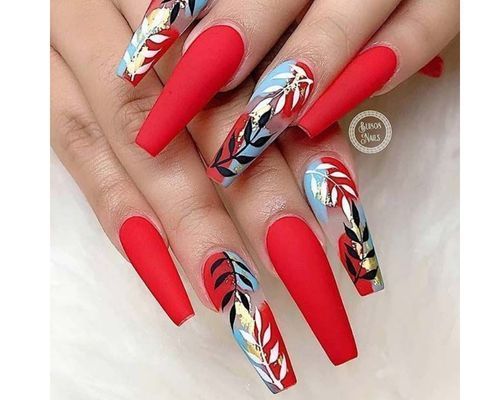 17. Let That Feather Fly
This simple and sweet red coffin nail design can work with either glossy or matte nail polishes. Black and white or simply white feather design are enough to change the entire look of your nails. They are also super easy to do - simply apply your favourite nail polish as usual, then use a small makeup brush or Q-tip to apply some feathers along the edges of the nails. You'll be amazed at just how impressive this simple design can be!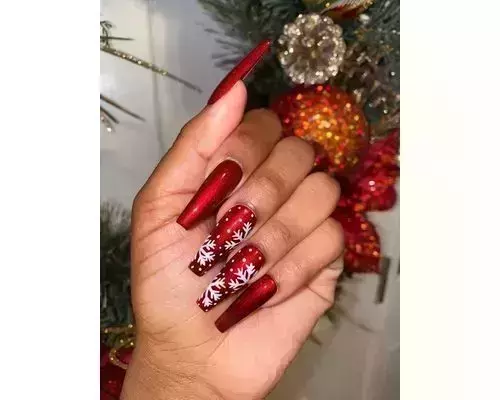 18. Snowflake Winter Nails
If you want your nails to match these snowflake-red coffin nails are just for you. These snowflake red coffin nail designs are super easy to do and will also be a wonderful addition to your Christmas outfit. This design is perfect for both special occasions (like New Year's Eve) and everyday wear. It looks wonderful with any outfit, and it's easy to achieve using simple nail art supplies.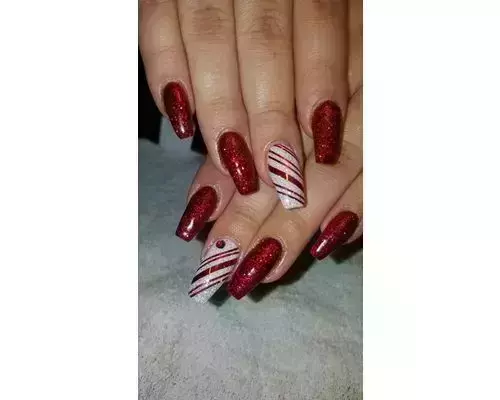 19. Stripes And Glitter Coffin Nails
Another super easy nail art is the stripes design. It can either be done using nail art fine brushes or small stripe stickers. I'd everything else fails, red tape is going to do the trick for you. Adding the sparkle will make the Red Coffin Nails even prettier.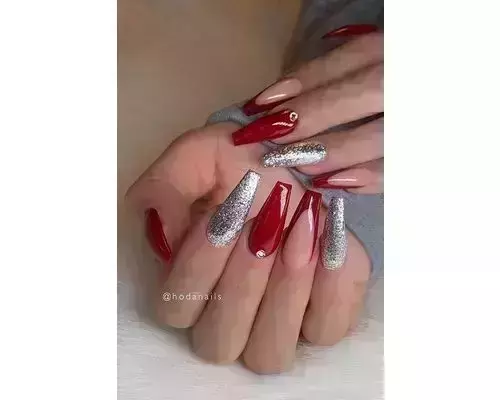 20. Silver And Red Coffin Nails
The silver and red combination is our forever favourite. If you like the extra pop of colour in your nail design, go for silver nails. They are bright and eye-catching, perfect for a fun and flirty evening out. They also look sophisticated and high-end, which is why they're often worn by celebrities and fashion designers.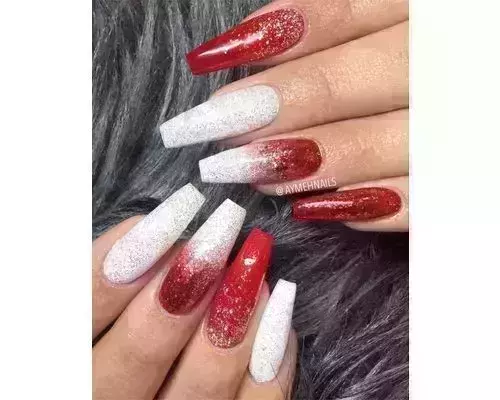 21. All That Glitter Isn't Gold
Red coffin Nails with glitters are going to be our favourite designs for 2023. When we talk about Glitter, we always think of the sparkly gold or silver look but red coffin nails look amazing with different Glitter shades as well. White nail Glitter can be used individually or can be added on top of red nail polish as well.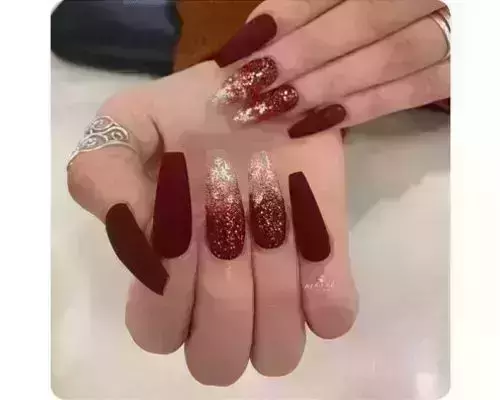 22. Red Winter Ready Nails
Red nails can give you a warm and cheerful look during the winter months. Applying a darker shade of red and styling it with glitter snowflakes will give the perfect winter-ready nails. These red coffin nail designs work wonderfully with matter nail polish however if you have the glossy red polish you can either apply a matte top coat or just leave it glossy.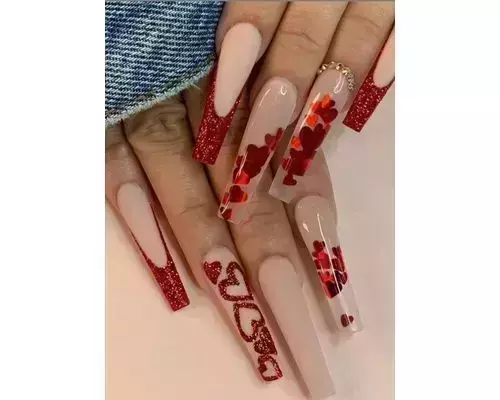 23. I Heart You Nails
Are you ready to know a new and unique way to celebrate Valentine's? Here we bring to you red coffin nails with shimmery hearts. These super cute nails do good on both- short and long coffin nails. Ready-to-stick miniature heart designs are easy and accessible accessories to help style your valentine's nails. Including a French tip or leaving a nail with a light base will give the nails an elegant look.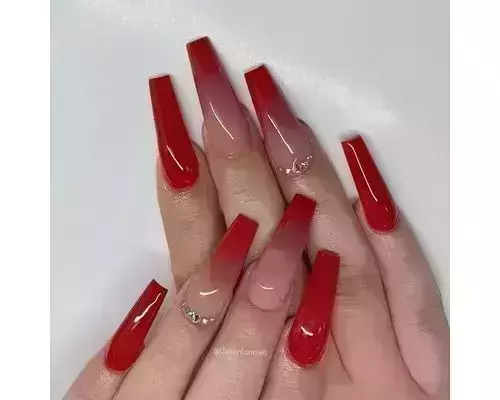 24. Red Gradient Diamond Nails
When it comes to nails, there's no one-size-fits-all style. That's why so many people love the mix of classic and trendy styles that red gradient nails offer. Essentially, red gradient nails involve painting your fingernails in alternating layers of dark and light colours, from top to bottom. The dark colour is usually used on the tips of your fingers, while the lighter colour is used near the base of your nail.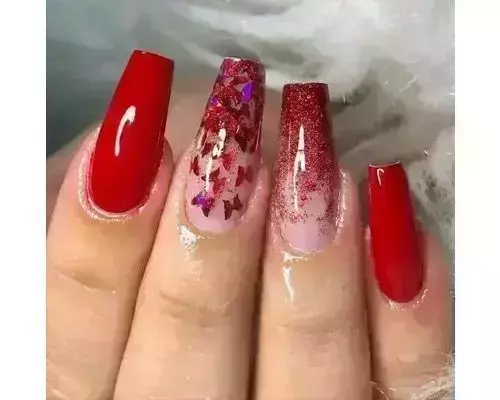 25. More Butterflies And Glitter
The more Butterflies the better. Butterfly designs are becoming more and more popular, not just for people who want a pretty look on their nails, but also for those who want to show off their creative side. These delicate designs can be created using any colour you like, as long as it is shimmery or reflective. For the perfect butterfly design, use red nail polish to create the wings and glitter glue to add sparkles where needed.
Conclusion
No matter what kind of personality you have, we are sure these 25 stunning red coffin designs of 2023 will surely make a statement. All the designs we shared here can be easily achieved by following some simple steps like choosing the right colour and adding more accessories to your nails. From Matte to Ombre, there's no shortage of ideas when it comes down to nail art!
Did you like these 25 stunning red coffin designs? Leave a comment and tell us in the comments section!