25 Stunning Blue Nail Design Ideas For 2023
Ashneet Kaur
Updated At 26 Sep 23
Nails reflect our personality, and no one wants to come off as unsophisticated. Blue, the color of coolness, calmness, sincerity, and intelligence, is the one which will help you showcase your brilliant side through your pretty nails.
With blue as your prime color this season, enhance the beauty of your fingers by using these elegant and charming blue nail designs carefully curated by us in this article.
Please note that we don't claim ownership of any of these pictures, and we truly appreciate the work of all nail artists.
25 Best Blue Nail Designs
Read on to know and ideate on how to make some easy blue nail designs that you can make on your own or get some professional to make for you, so that your hands give off a sophisticated and cool vibe: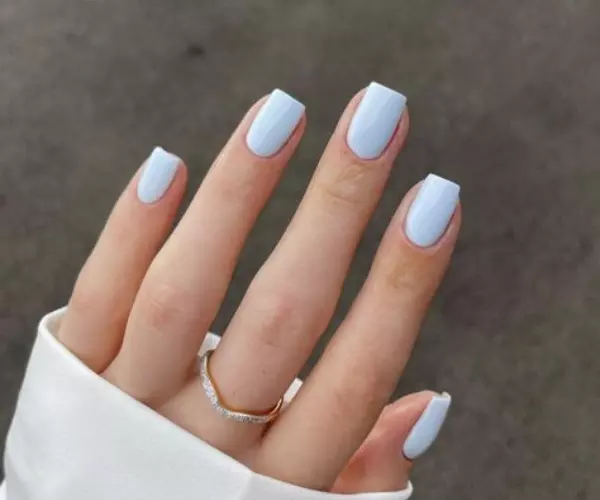 1. Simple Blue Nails
Simple blue nails suit anyone and everyone, with the coolness of the oceanic color shining through. Different shades of blue can be used to adorn the nails, with some simple artistic elements serving as a cherry on the top. These simple elements can be a tiny heart, some miniature white jasmines, few microscopic glittery dots making the nail look like the galaxy, or even painting one nail on each hand with a different hue. Such a nail art is easy and fun and can be done on your own. If you are looking for simple and cute nails, this can be a very good option.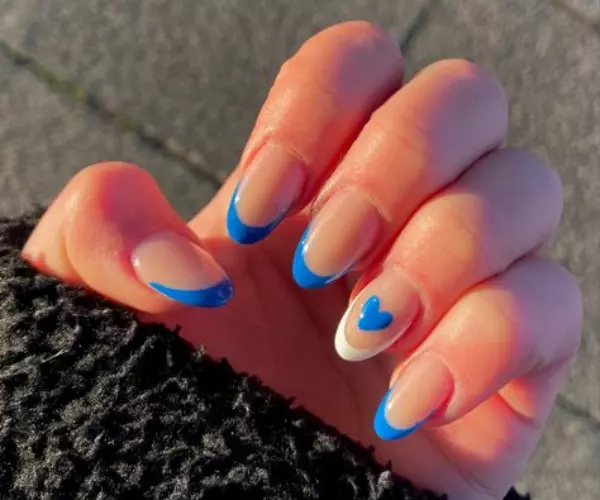 2. Blue French Tips
The classic French tips are perfect to go with hands decorated with rings and accessories. What's more, these can be paired up with one nail fully painted or just painted differently using a meaningful symbol. For those who don't like too much paint on nails, this one choice is splendid, unique, and just overall perfect. If you are looking for inspiration for summer nails, then this can work perfectly well.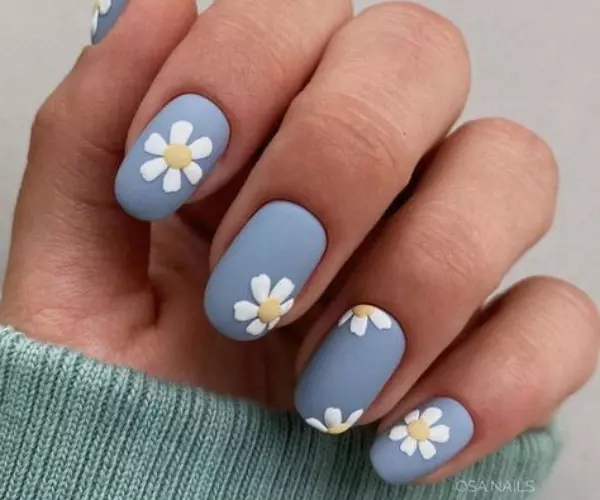 3. Blue Nail Designs With Flowers
This blue nail design gives a plethora of choices. You can make French tip flowers, flower on one nail while the others are just simple blue nails, one simple flower on each nail, two nails simple while other two having blue nail designs with flowers on it, and thumb painted with a combination of both. So much choice! A combination of different blue shades with a tint of white looks absolutely adorable. Flowers also symbolize romance, so why not show love through your fingertips? The world needs it! Flowers look good really good on yellow nails as well.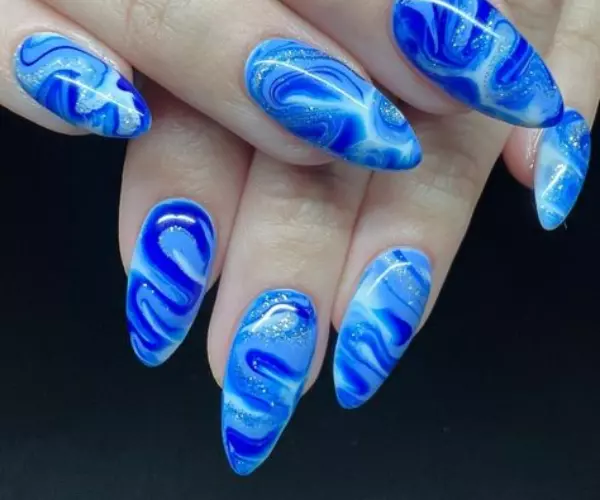 4. Marble Art
Attracted to the earthy-stony themed designs? Marbles are the way! This one nail art gives the nails an oceanic look, making them worth staring at. There are so many patterns and all of them are free-handedly made, giving off a vibe of freedom, calmness, and a down-to-earth personality. A lot of shades and hues of blue can be mixed and matched to render the perfect marble effect.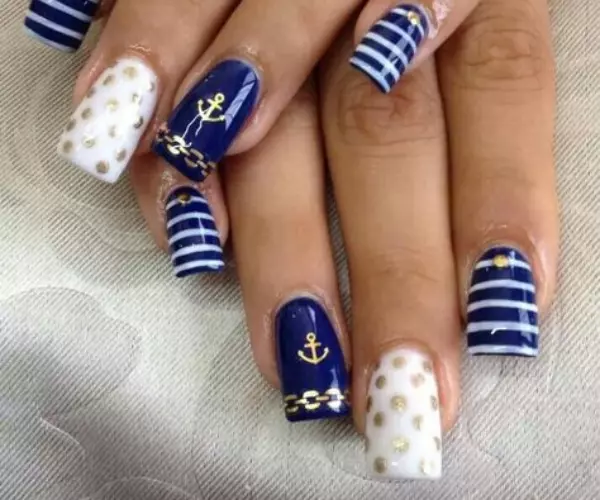 5. Nautical Nails
The oceanic color with elements of the sea is a must-try for your next blue nail design. Make your nails look elegant by drawing on them some of the nautical elements like anchors, ships, ship's wheel, and of course the unforgettable waves! The sea-and-ocean based vibe will render coolness to the mind even in stressful situations.
Looking for more inspiration? Checkout our guide on black nails as we list 50+ designs which have been trending this year.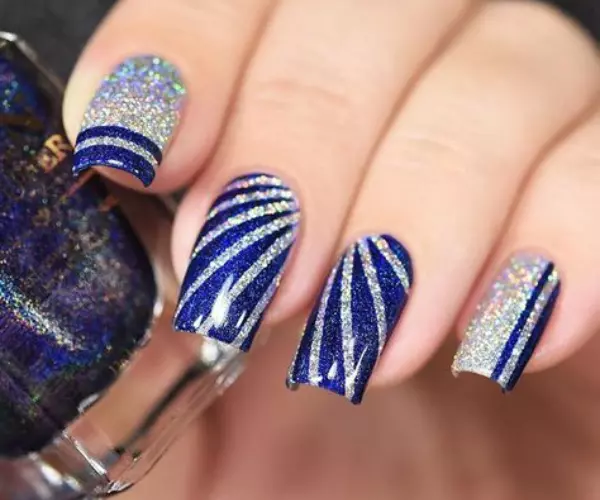 6. Blue Nail Designs With Glitter
Who doesn't love the shine of sparkly glitters? The glitter design has been in use since ages, and classics are always appreciated. Glitters can easily make the nails look like the Milky Way. There are tons of blue nail art designs that can be made using a combination of a variety of blue shades added to silver or golden glitter, be it with matte or glossy nail paint. It's worth decorating the hands with one such combo. Blue nail designs with glitter enhance luck, prosperity and abundance, as glitter is believed to do so in many cultures.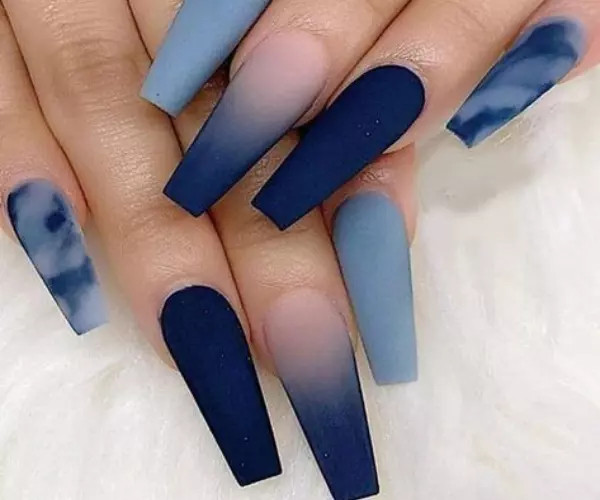 7. Coffin Blue Nails
Acrylic nails go perfectly well with coffin nail shape. A coffin nail shape is the one where the length of the nail is increased and the tips are flattened, rendering the nails a feminine, powerful, unique, and romantic look. With an increased surface area, a variety of nail art can be done on it, be it by using sparkles, making marble effect on the tips, a gradient effect on the bottom and a floral French tip, and so on. Coffin blue nails are majorly preferred by strong, independent, and classy women.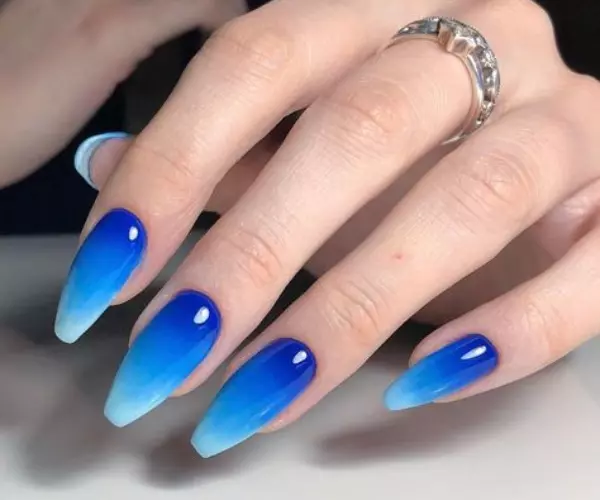 8. Ombre Blue Nails Design
Ombre nails look so elegant that no one can even resist putting a short glance at them. Mostly these can be combined with another shade of blue, going from dark to light or vice versa, but using shades like rose pink, off-white, white and light purple can make people go gaga too. They look stylish and classy and justify spending the extra bucks on. Topping them with cute microscopic elements like silver or golden flowers, hearts, diamonds, planetary designs, and leaves can make the nails look the best of them all present in the room. Worth putting in the effort!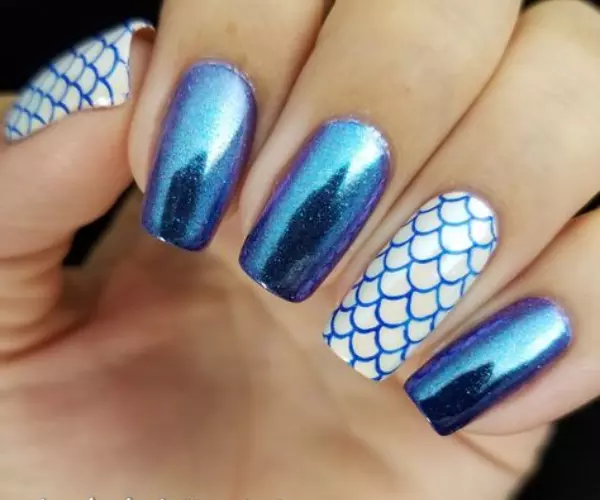 9. Mermaid Scales
In love with aquatics? Well, one can feel the vibe of living in the deepest of the oceans by simply making his/her/their nails resemble a mermaid's scales. The otherworldly look can be achieved simply by painting the nails with different hues of blue and putting in the scale-like pattern using a nail stencil, or a thin brush commonly used for nail art. A gradient-blue base can serve as an icing on the cake too. Let it be blueberry then!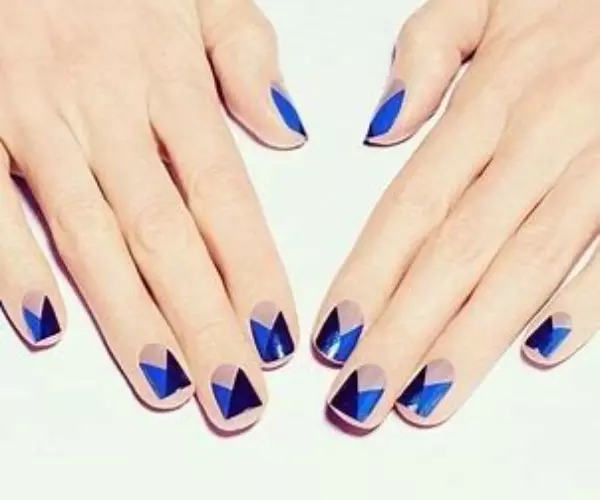 10. Geometric Patterns
Whatever our relationship was with math earlier, blue nail designs with geometry are set to improve it. They look so gorgeous and stunning that even a non-math person will fall in love with their unique patterns that can be created using simple geometrical shapes. Be it lines, triangles, rectangles or circles, they all invite stares and appreciative questions from strangers. These patterns work beautifully well for both short nails and long ones.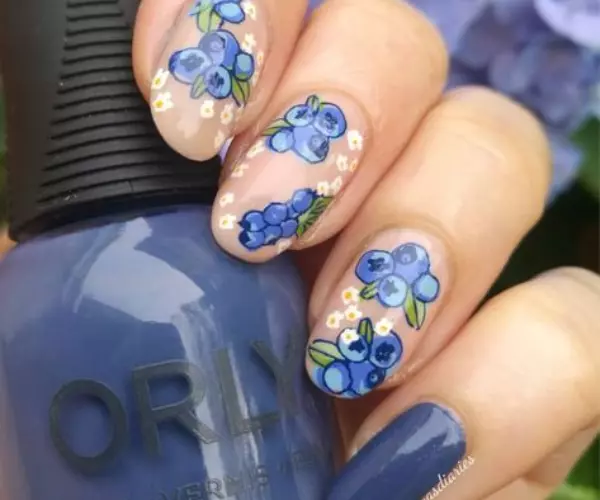 11. Blueberry Design
This fruity look goes well with a cutesy personality. Blueberries can be made large or small, as bunches or as singulars, and even on all nails or just one or two, others painted in plain blue. This can be made both using a matte nailpaint or a glossy one since it looks pretty in both the styles. You can also go for star nails as these look good with blueberries.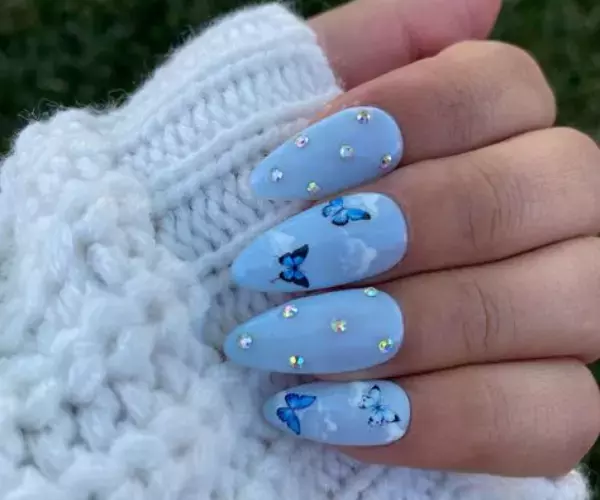 12. Blue Butterflies
Fluttering butterflies look fascinating on the nails, be it alone or paired with pearls, flowers, leaves or even a blue-hued heavenly garden. Another unique idea is to use butterflies as French tips: looks alluring! This nail makeup is a perfect one to go for in the summer season.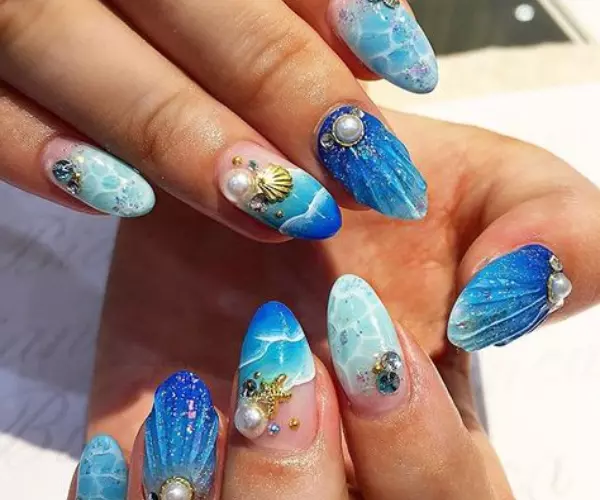 13. Aquatic Blue
Explore the depth of the ocean through your nails. Different varieties of blue can be combined, mixed and matched to bring forth a nail art which is truly an artpiece: with a combination of sea-beings and the oceanic waters. Top it off with pearly beads to give a 3d and realistic effect. Mixing green will also be useful in portraying seaplants.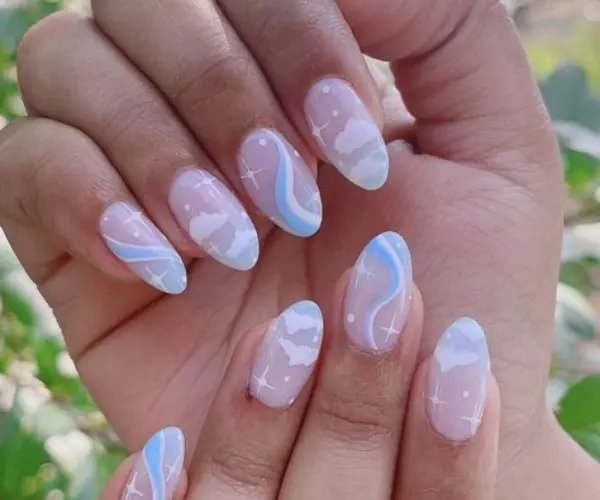 14. Dreamy Clouds 
Who doesn't want to sit on the clouds and experience the heavenly wind? This nail design can be made by giving a light blue gradient in the background, and making blue clouds on the top. In addition, some twinkling stars and one or two blue-hued rainbows can be made. You can also go for almond nails and it will look absolutely dazzling!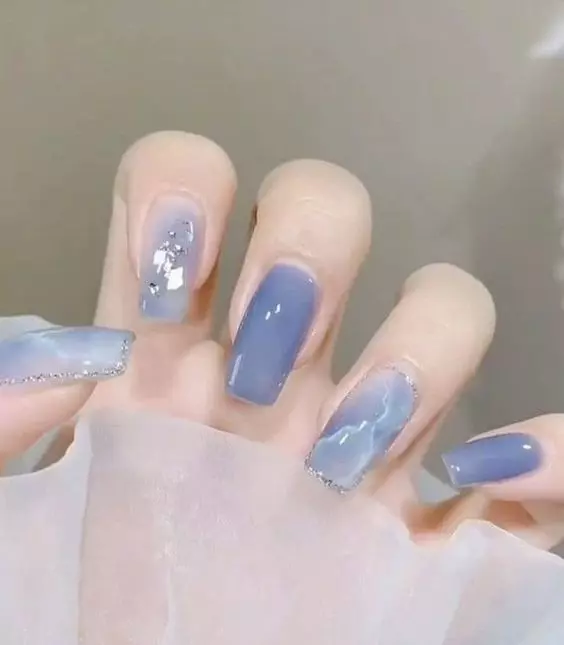 15. Jelly Blue Nail Design
Jelly nails look soft and attractive. They have this jelly-like look that even someone who is not into nail art would love. This look is unsurpassed in its ability to make one's hands look enchanting and lovely. Pairing up aesthetic greyish blue with silver as its lining will look absolutely charismatic.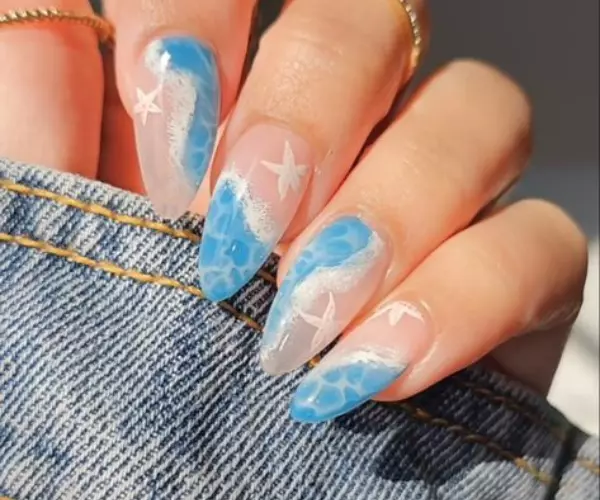 16. Ocean Waves
Just the water in this, along with the beauty of the oceanic froth. It reflects pure serenity, and the design emits the vibes of peace and calmness. This design looks elegant, and its ease of making depends on how the design is desired to be. The ocean can be made using different blue shades and the froth can be made using white. The froth can be made to look 3d as well, if desired. Otherwise too, it looks good to go for any occasion.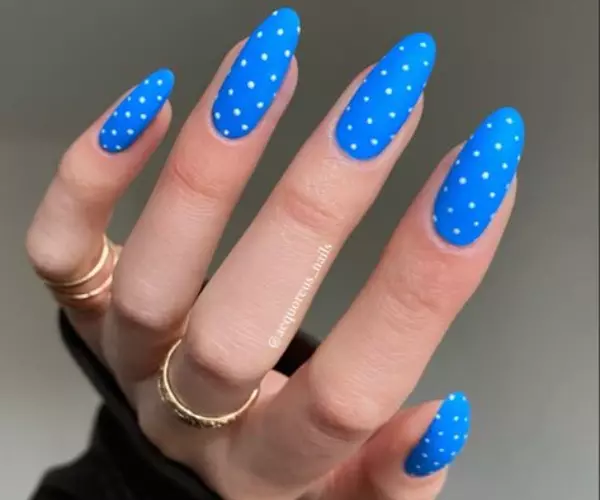 17. Polka Dots Nails
Using bright blue in the background-prefereably royal or navy, and putting polka dots with white on it brings out this perfect and simple yet elegant nailart. Making sure to do it with perfection is the key here. The background blue needs to be dark enough to make the dots brightly visible. Putting double coating of acrylic or matte will shine up the work. Top it off with white dots, and maybe add some silver to two or three of the dots to make it shine more.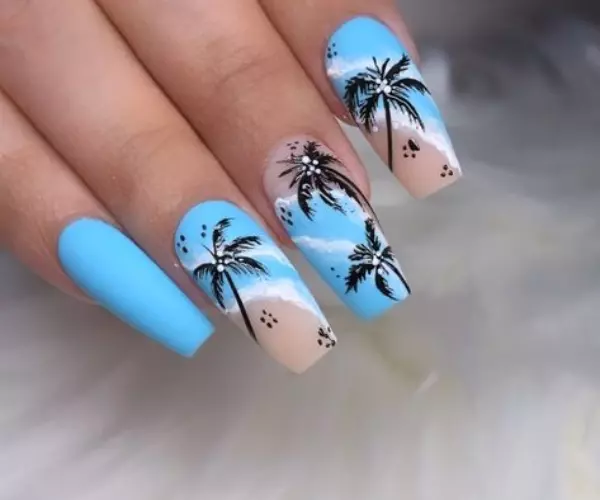 18. Tropical Blue Nail Design
This design gives off the tropical feels: the feels of the seaside and the sun shining bright. It can be made by making seawaves in the background with light blue and white color, and when it has dried, adding palm trees, specifically coconut ones, on top. Using a light yellow shade will also enhance the look. This can lighten up the scene and will make the hands look artistic and enticing.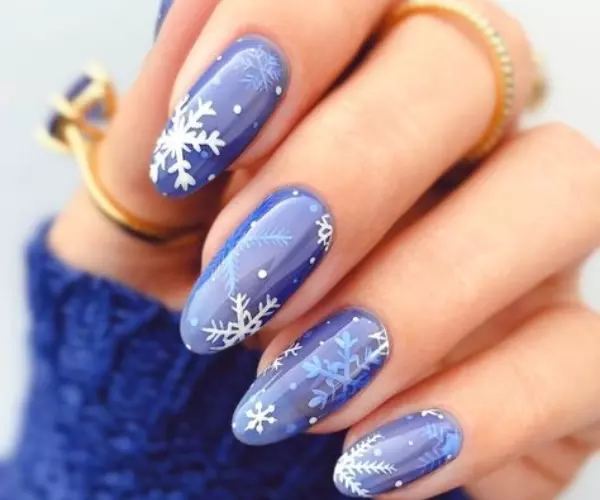 19. Snowflakes Blue Nail Design
This wintery nail look can be achieved by painting the background with a dark blue acrylic nailpaint. Then adding snowflakes with different lighter shades of blue and finally with white will bring out the most alluring snowy look ever. Make it different on each nail. Adding tiny snowballs will be an extra beauty-enhancing touch.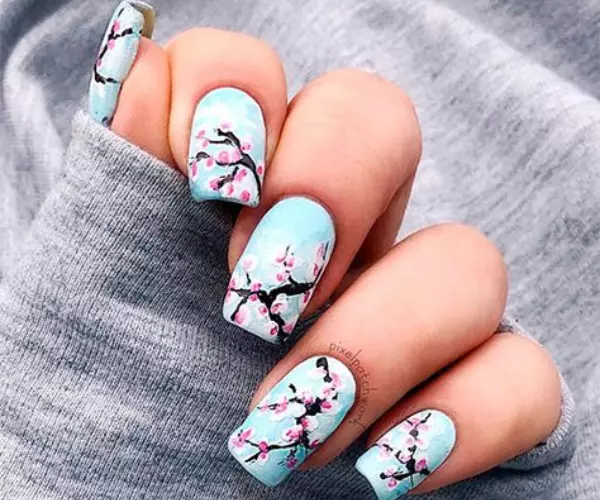 20. Blue Cherry Blossoms Nail Design
Cherry blossoms symbolize renewal, peace and strength. Having it on fingernails will be a constant reminder of staying motivated, because they bloom for a short period but are remembered forever. Simply giving a background of light blue and making pink cherry blossoms along with thin tree branches will render a beautiful nail design.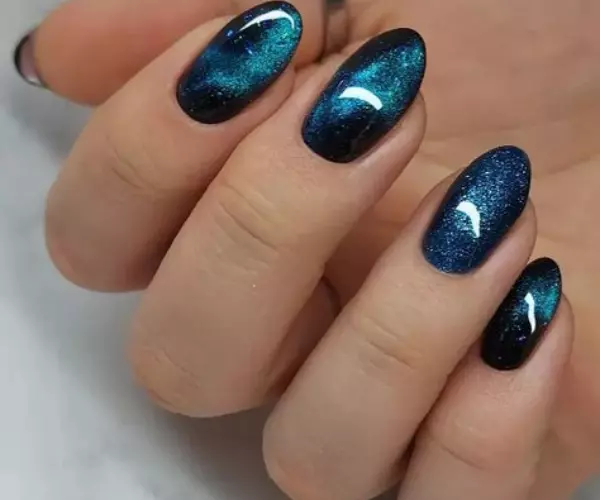 21. Cat-eye Blue Nail Design
The cat-eye trend is one of the best things that has happened in the nailart industry. A cat-eye nail-design-look can be achieved by making the nailpaint shine by using only glossy acrylic paints, and a combinations of different blue hues. Cat's eyes are always shiny and bright, keep that in mind while bringing out the perfect desirable nailart that anyone and everyone would swoon over.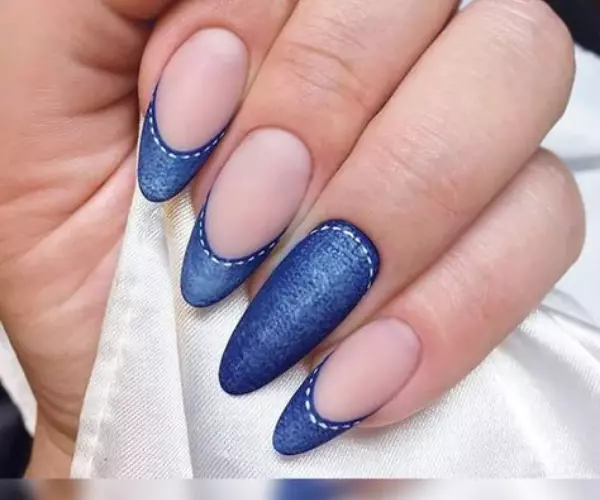 22. Denim-based Blue Nail Art
This matte blue nail design is a replica of denim jeans we are so fond of. The more detailed the jean look is, the better it comes out. The design can be enhanced by adding zippers, torn parts and threads to it. Playing around with the different designs of same theme on different nails looks wondrous too.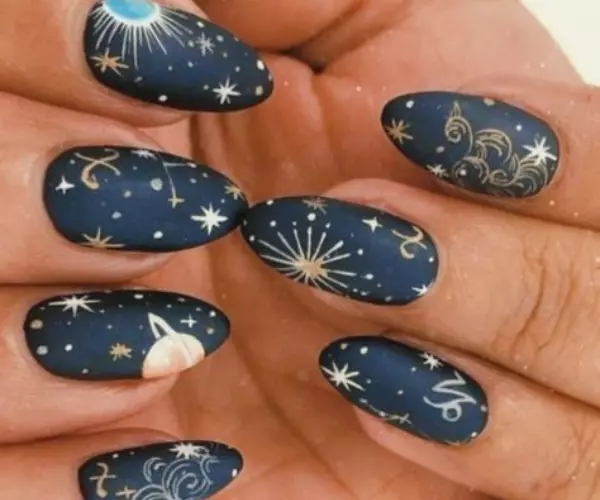 23. Planet Designs
In love with Astronomy? This design is calling for you! There are just so any astronomical objects that can be fitted into  the ten fingernails. Focusing on the planets, and adding stars and galaxy will make this design look elegant and unique, catching stares from afar and showing the person's love for the Space.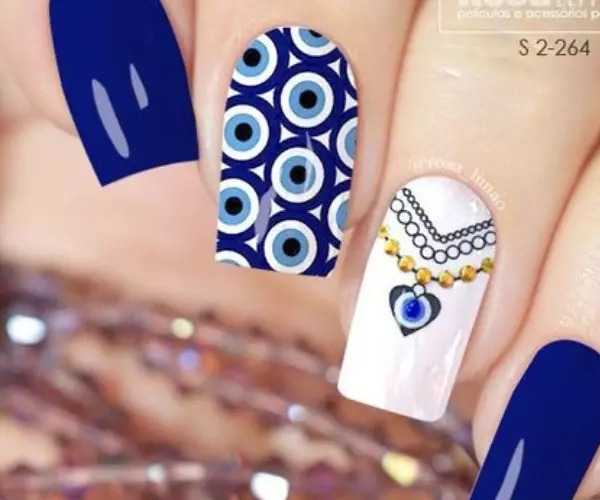 24. Evil Eye Protection
We all gotta remain safe from evil intentions of others. People are inherently good, but what if some bad person encounters us? This pretty nail art design symbolising protection from evil eye is not just pretty on the outside, but it is believed that this sign can protect us against bad intentions of people who mean harm to us. So, why not be safe and pretty at the same time?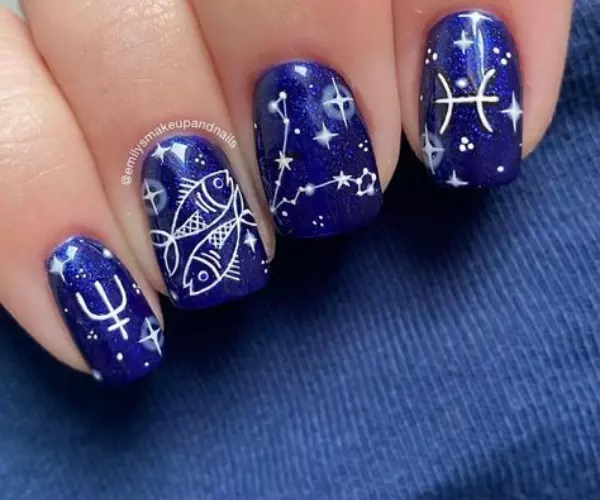 25. Zodiac Sign Blue Nail Design
Have belief in Astrology and sunsigns? This one's for you. A blue background can be topped with Milkyway and the person's sunsign, along with some lone stars sparkling and scattered hither and thither. The sunsigns can be made using white line art or by coloring within, both the art forms look perfectly amazing. Using glossy nailpaint will look better, but matte looks good too. Glitters can serve as an icing on the cake.
So, what have you selected? We're sure that your new acrylic blue nails look glorious, elegant, and stunning just like the rest of you. Reading this must have been worth it!