Kangana Ranaut's Beauty Tips, Workout Routine And Diet Plan
Bhagyada P
Updated At 16 Sep 22
Want to know more about kangana ranaut beauty tips and her beauty secrets?
Kangana Ranaut has a beautiful fiery personality. Her amazing hair, expressive eyes and stunning skin is just the beginning of her persona. She is unabashedly honest and beautiful! However she has achieved all her success and her efforts are tremendous as life was not always a cake walk for this beauty. She is hardworking and focused.
One of the most "real" celebrities out there, and to add on to that we present to you some tea on Kangana Ranaut's beauty tips, workout routine and diet plan.
We specifically unravel Kangana Ranaut beauty secrets and cover the following:-
Kangana Ranaut's Beauty Tips
Kangana Ranaut's Diet
Her Workout Routine
Her Beauty Routine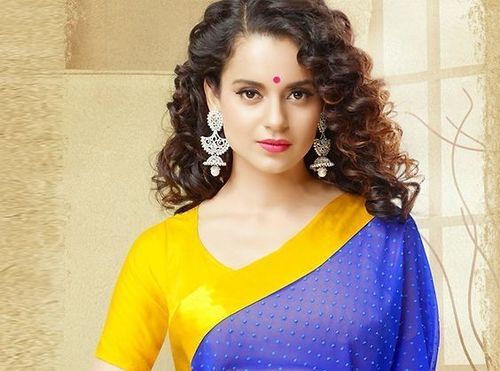 Kangana Ranaut's Beauty Tips
Before we discuss her beauty tips, lets firstly look at kangana ranaut's body stats -
- Kangana Ranaut's height - 1.68m (5 Feet 6 inches)
- Her weight - 55 Kgs
- Kangana Ranaut age - 32 years
Kangana sticks to the following beauty tips. These are easy and can be implemented by anyone.
1) Moisturize all the way!
Moisturizing your skin is the best way to prevent a lot of skin problems. Using a good moisturizer under your make-up or even as a night cream keeps your skin hydrated, glowing and soft.

2) Always go the home-made organic route
Kangana supports natural home-made beauty remedies like honey, turmeric masks, egg whites etc. it is always better to use these ingredients as you are sure of their quality, plus it avoids use of chemicals. Natural remedies are a great skincare option and thus are a big part of kangana ranaut's beauty tips.

3) Sleep your dark circles away
Kangana Ranaut's beauty tips include getting a good 6 hours deep sleep. Sleep relaxes your body and gives it the much needed time to rejuvenate and heal. Sleep helps keep your skin clean and even helps keep your body fit. A good sleep is key in terms of kangana ranaut's fitness routine.

4) Hair is the crowning glory
Embracing your hair and styling it is a big part of kangana ranaut's beauty tips. Hair is one of the most neglected part of beauty. Taking good care of your hair is as important as skincare.

5) Take care and be aware
Awareness about your body is very important. What type of products suit you, what foods are very beneficial for you etc. it is very essential that you take immense care of yourself, because the love you show towards yourself is reflected onto your physical body. This is the top point of kangana ranaut's beauty secrets.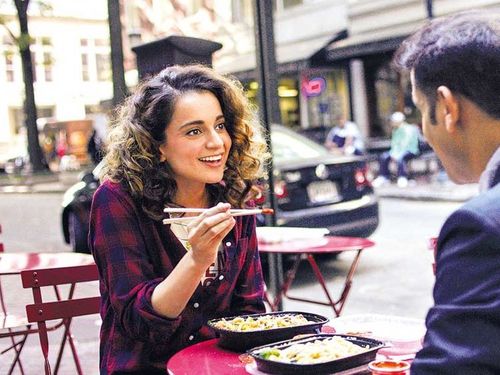 Kangana Ranaut Diet
Kangana Ranaut diet plan includes a healthy mix of vegetables, proteins and fresh fruits. She sticks to the folllowing diet plan.
Breakfast - daliya (porridge), whole grain cereal with milk
Snacks - fresh fruits, protein shake, brown bread
Lunch - salad, rice, roti, dal, boiled vegetables
Dinner - vegetable soup, boiled vegetables and a salad
Kangana stays away from junk, oily and fast food. It affects the health as well as her fitness. She works very hard to maintain her perfect figure and thus pays very close attention to her diet.
Kangana Ranaut's diet includes of proteins, carbohydrates and some fats. She keeps a check on her cholesterol level by staying away from oil as much as possible. She eats fresh vegetable and fruits. She focuses on boiled vegetables as they are very healthy and easy to digest. She loves to eat tasty and healthy food. She also prefers Indian food. She makes sure to drink a lot of water, as everyone knows how important hydration is.
Kangana Ranaut's diet is very wholesome as she prefers to eat healthy food, in small proportions every two hours in the day.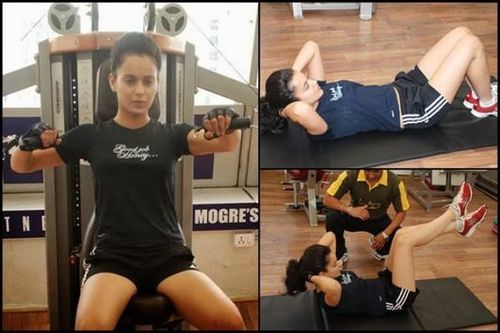 Kangana Ranaut's Workout Routine
Kangana ranaut varies her workout and sticks to the following workout routine to maintain her fitness.
Run everyday - She is seen running every day. She enjoys running. She was seen running laps on a hill too. Running helps your metabolism and keeps you fit. It is the most organic part of kangana ranaut's fitness workout.
Gym time - Kangana spends a lot of her time in the gym. She focuses on cardio and also includes some weights in her workout. She loves gymming and is always enthusiastic.
Yoga - Kangana Ranaut's fitness routine includes yoga as she knows it is very important for her body. Yoga helps flexibility and tones the body very well.
Meditation - She meditates every day. This is a part of kangana ranaut's fitness related to her mental health and well being. She is a part of a very difficult and ever changing industry and meditations helps her ground and centre herself. Meditation is thus a very important facet of Kangana Ranauts's workout routine.
Kickboxing - Kangana is also seen kickboxing. She enjoys these sports and puts her heart and soul into them. They provide a great alternative to her every day routine.
Swimming And Dancing - There are some days when bored of Kangana Ranaut's regular workout routine. That is when her trainer pulls out all the stops to make it interesting. Swimming, dancing are routines that work as a great alternative. Kangana Ranaut's fitness regime also varies slightly with every role that she takes up.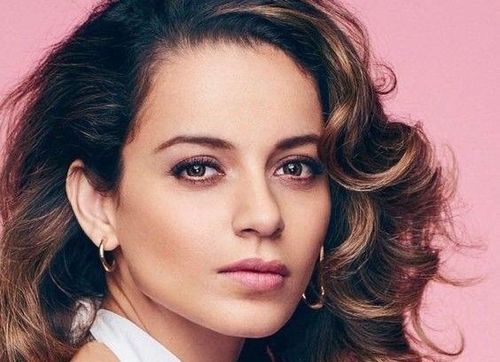 Kangana Ranaut's Beauty Routine
Prime it first - Kangana knows the importance of primer before make-up. She uses the primer, moisturizer duo as a base.
CTM - Kangana religiously follows the clean, tone and moisturize routine. A fun fact about the mega-star is that she completely avoids using soap. Soap is known to strip your skin off essential oils and thus she steers away from it. She also uses some eye-cream every day.
Skincare Essentials - Kangana actually doesn't go for a lot of facials. She gets a clean-up regularly though. This is to keep away from unnecessary chemicals on her face. She applies natural facemasks that are Ayurvedic or natural one with ingredients like neem, or a nice hydrating gel pack.
Product Loyalty - One of the greatest thing about Kangana is that she is very loyal to her brands as she is very specific about the products that she uses on herself. A concealer, MAC Studio Fix, a blusher and a lip balm are certain products that one will always find in her vanity.
Retro glam- Kangana's way to make-up look is the evergreen retro glam. A winged eyeliner, bright red lips with some pretty blush is a staple.
Curls all the way – Kangana loves her curls. She flaunts them everywhere. She is a natural curly head and takes immense care of her tresses. She oils and steams them; she also regularly visits the spa. She uses Fabindia shampoo's as she prefers natural products.
Honey is right!- trust honey for its anti-oxidizing agents. It is a part of the well-kept kangana ranaut beauty secrets. She applies honey regularly as a part of her beauty treatment.
Wipe it off with care – taking make-up off is a big deal. She spends a minimum of 15 minutes on cleansing her skin properly. She believes that it is a horrendous mistake to sleep with even a little bit of product on your skin. Never does she sleep with make-up on her face.
Makeup stays away – Kangana loves to be glammed up, but she loves to have a naturally glowing skin much more! She actually enjoys taking her makeup off and spends a lot of time on it. She never sleeps with her makeup on.
Now that you are aware of Kangana Ranaut's beauty tips and her amazing beauty secrets, its time to take inspiration and aim for a lot more in our life as well!
Related Articles