25 Stunning Meghan Markle Outfits Of All Time
Olivia
Updated At 15 Jan 23
Meghan Markle is swiftly becoming as the most preppy new "it" girl in fashion, sporting everything from striped blazers to clean button-downs. From her first public appearance as Prince Harry's fiancée and her famous royal wedding gown through her many royal tours and the clothing Meghan wore to reveal baby Archie to the world, we are commemorating her memorable fashion moments here. Here are some of Meghan Markle's best dressed moments. We cover all the popular Meghan markle dresses and outfits which have become popular over the years.
25 Stunning Meghan Markle Dresses And Outfits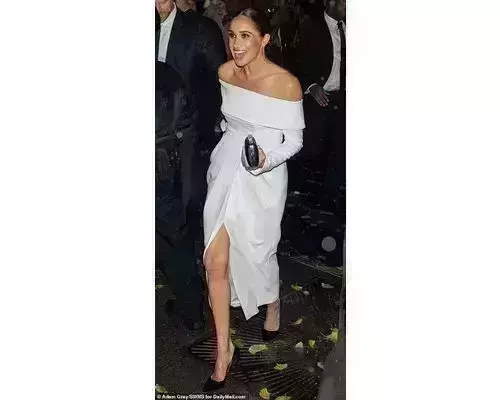 1. Meghan Markle Cream Off Shoulder Gown
For the Ripple of Hope Award, Meghan donned a cream off-the-shoulder gown. This Meghan markle dress looked stylish and had become very popular.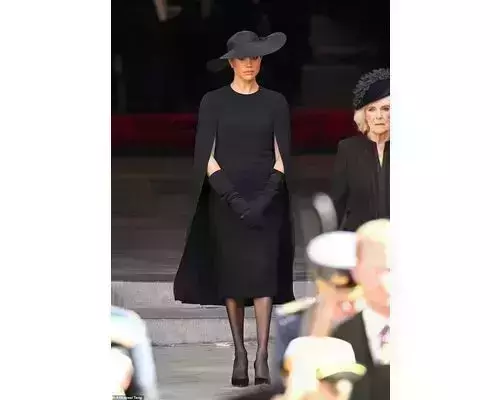 2. Meghan Markle Black Dress
For Queen Elizabeth's state funeral, Meghan wore a black cape dress, gloves, and a wide-brimmed hat.
Also check out our guide to find out everything about Meghan Markle diet and exercise as we cover her exact diet plan and workout details.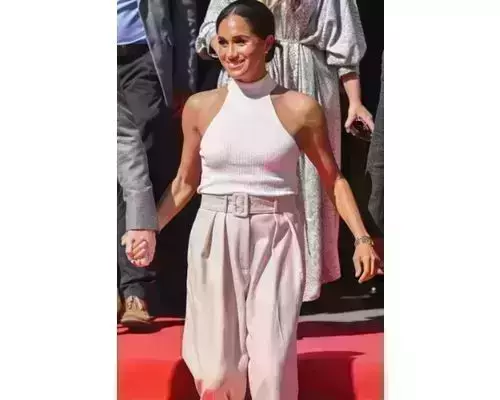 3. Invictus Games Meghan Markle Outfit
Meghan wore a blouse by Annie Bing and bottoms by Brandon Maxwell at the Invictus Games: One Year to Go celebration in Düsseldorf, Germany. Their brief tour of Europe included a stop in Germany, where they had to help organisations with which they had a history of strong collaboration.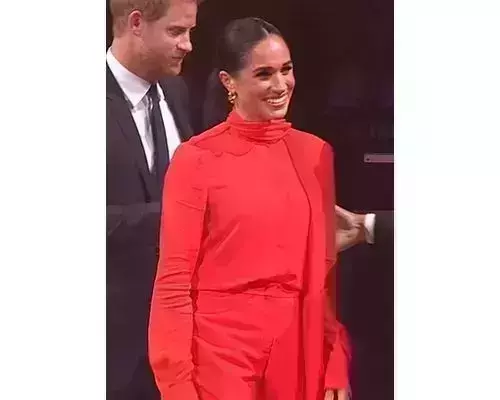 4. Meghan Markle's Red Dress
Meghan wore a crimson, all-red dress to the One Young World Summit's opening ceremony in Manchester. This Meghan Markle dress looked stunning and had been a trendsetter.
Also check out Kate Middleton diet and workout plan as we cover her exact daily diet plan to reveal whar she eats in lunch, dinner and snacks.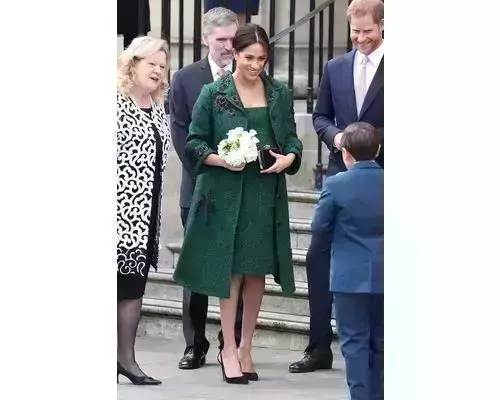 5. Meghan Markle Maternity Dress
Meghan Markle is setting maternity fashion goals in a green Erdem coat and dress in black Aquazura shoes for a Commonwealth Day event at Canada House in London.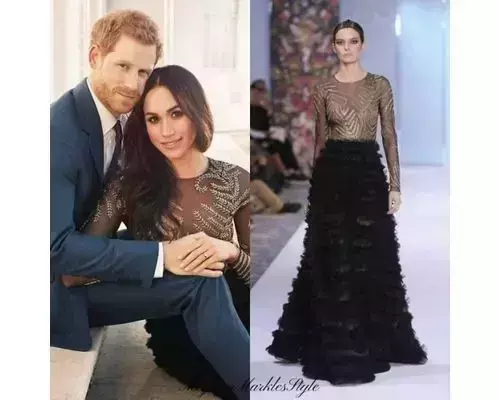 6. Meghan Markle Engagement Dress
Meghan Markle wore a full-length gown from Ralph & Russo's 2016 fall/winter collection, which is said to have cost $75,000 for her engagement."Black tulle gown with a silk organza skirt, hand appliquéd with silk tulle ruffles and embellished with gold feather thread-work" is how it is now described on the official website. The dress now seems to be available solely through customized orders.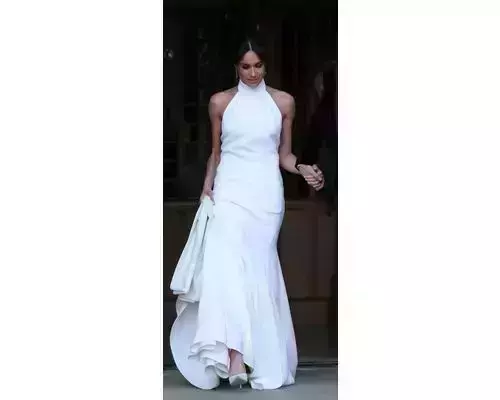 7. Meghan Markle Reception Dress
For the wedding reception, Meghan Markle made an entrance wearing a stunning gown. The bride selected a dress by British fashion designer Stella McCartney. The Stella McCartney dress has a flowing, slightly flared skirt and a high, halter-style neckline.
Check out our guide to find out 25 best Kate Middleton outfits of all time. These include her all the popular dresses like red dress, green gown, wedding dress, green outfit and many more.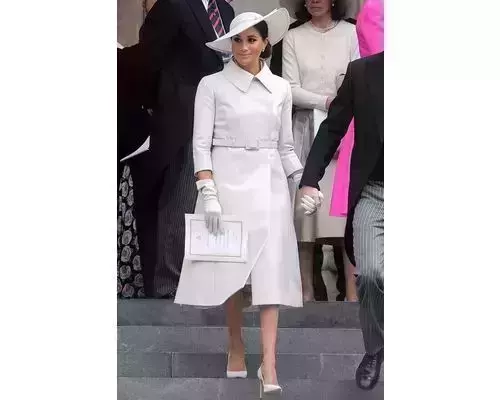 8. Meghan Markle Jubilee Outfit
In a gorgeous Dior coat dress, Meghan Markle attended Queen Elizabeth II's Platinum Jubilee. She accessorised with gloves, a hat, little diamond earrings, a bangle, and pumps over a skirt and top. She also donned a coat dress. The Dior Haute Couture Trench Coat In Greige, designed by Creative Director Maria Grazia Chiuri, served as the focal point of her ensemble. This Meghan Markle dress looks amazing as the accessories and makeup complements the dress perfectly.
Check out our guide to find out all of Kate middleton beauty secrets as we uncover her top beauty tips and skincare secrets.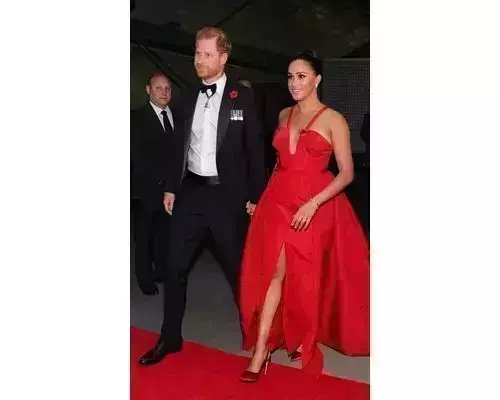 9. Meghan Markle Carolina Herrera Outfit
Meghan Markle chose Wes Gordon's Carolina Herrera, who has become one of her go-to designers, especially for significant events, like the black-tie Salute to Freedom Gala event. With a towering train and a custom strappy dress in the house's trademark crimson colour, Meghan walked the red carpet. Her matching red Giuseppe Zanotti pointed-toe shoes were seen through a slit in the front of the skirt. She and Prince Harry both wore poppies as brooches as a tribute to Remembrance Day; he was dressed in Giorgio Armani.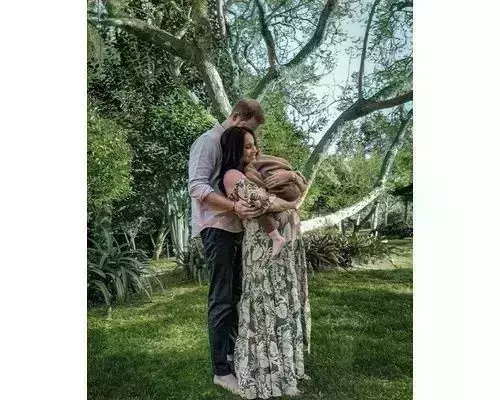 10. Meghan Markle La Ligne Pyper Dress
In 2021, Meghan wore this loose, off-the-shoulder Pyper dress by La Ligne while she was pregnant. In honour of the couple's announcement that they are expecting a child, photographer Misan Harriman posted a picture of Meghan wearing the outfit on International Women's Day in 2021.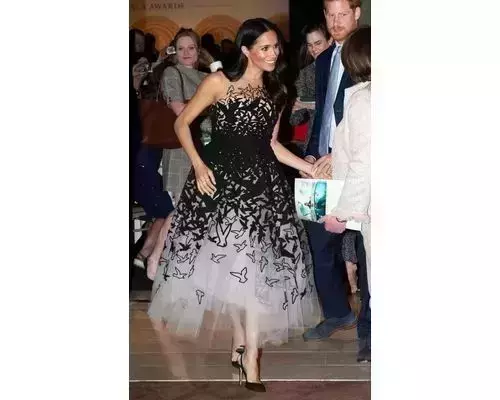 11. Meghan Markle Oscar De La Renta Lemon Dress
Meghan Markle attended the Australian Geographic Society Awards while wearing a pre-fall 2018 Oscar de la Renta gown made of tulle and embellished with laser-cut seagulls. This Meghan Markle dress looks stunning and her accessories complement her look perfectly.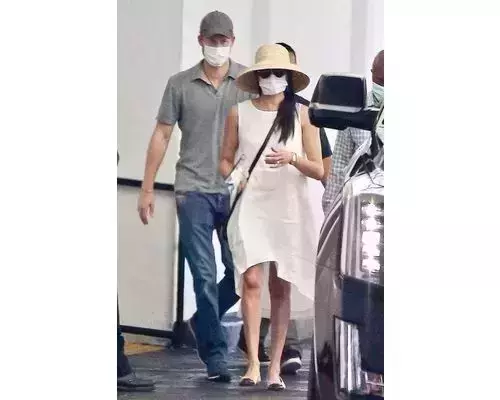 12. Meghan Markle Linen Dress
Meghan Markle is stepping out in a flowing, gorgeous Magic Linen dress. Meghan's outfit selection is ideal for a summer day out because the Toscana linen dress is airy, light, and flattering on all body types.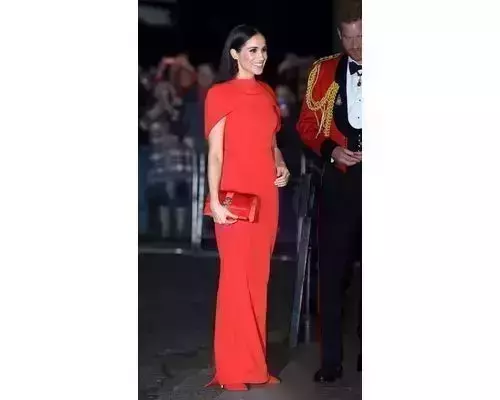 13. Meghan Markle Cape Dress
At London's Royal Albert Hall, Meghan and Harry attended the Mountbatten Festival of Music. When Meghan made her last official royal appearances at that time, she opted for a series of eye-catching monochrome looks, including this fiery Safiyaa cape dress. She accessorised the dress with a coordinating satin Manolo Blahnik clutch, Stuart Weitzman shoes, and beaded drop earrings by Simone Rocha.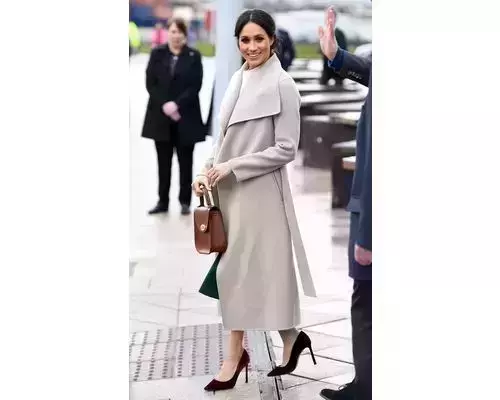 14. Meghan Markle Coat Dress
For the national Thanksgiving Service, Meghan Markle looked stunning in an all-white coat dress by Dior Haute Couture. To give her look the two essential elements for any regal ensemble, Markle accessorised the mid-length gown with a pair of matching cream gloves and a white enormous hat. She wore a pair of white suede Dior shoes, which added to the all-white aesthetic. Last but not least, she accessorised the monochromatic ensemble with dangling white gold earrings from Birks that she had previously worn to the Salute to Freedom Gala in November 2021.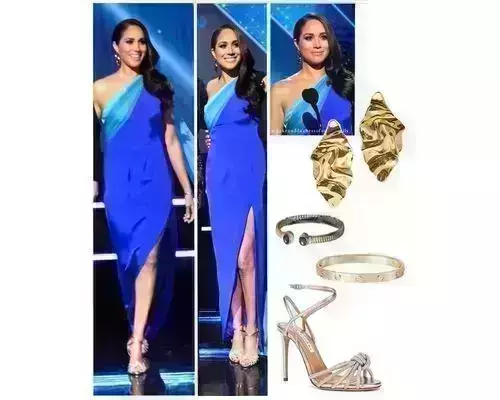 15. Meghan Markle's Blue Dress
Meghan chose a striking blue one-shoulder gown with aquamarine panelling along its edges for a summertime coastal twist when she was spotted attending the 2022 NAACP Image Awards with her husband Prince Harry. The asymmetrical, figure-hugging Meghan Markle dress had a thigh-high slit, a multicoloured train, and other fun details. Markle chose to accessorise with Alexis Bittar earrings and Aquazzura heels in addition to softly bronzed skin and expertly styled side-swept curls for her hair.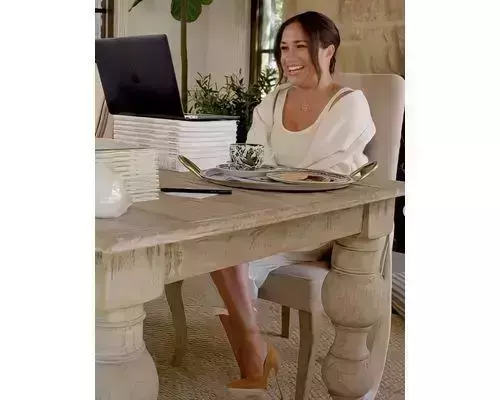 16. Meghan Markle's 40th Birthday Dress
Meghan Markle started the 40x40 initiative in honour of her 40th birthday to assist women who have left employment. Markle video chatted with Melissa McCarthy while sporting an all-ivory outfit, camel-coloured suede shoes, and stacked necklaces in the promotional video.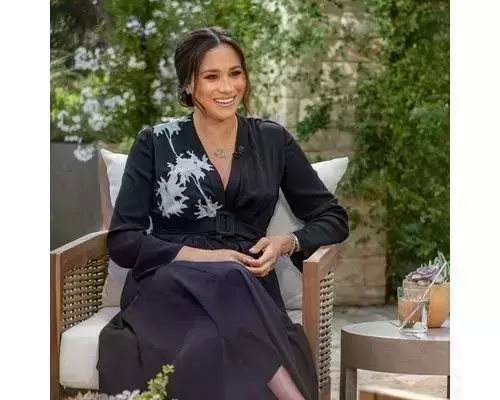 17. Meghan Markle Oprah Interview Dress
For her and Prince Harry's television interview with Oprah, which was shot in Santa Barbara in mid-February, Meghan opted to wear an Armani dress with a lotus blossom theme. The Fashion Museum Bath has named the classic black Giorgio Armani dress that Meghan wore during her March 2022 interview with Oprah Winfrey as the Dress of the Year.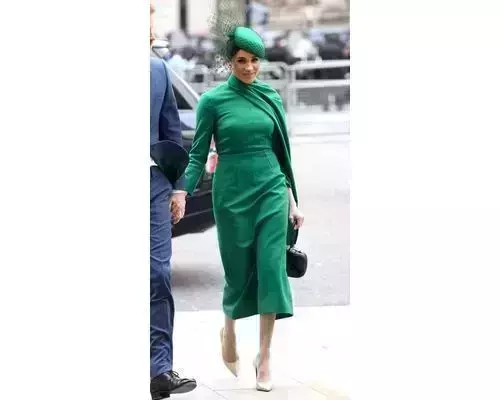 18. Meghan Markle Emilia Wickstead Dress
Meghan arrived at Westminster Abbey in a lovely Emilia Wickstead dress, accessorised with a William Chambers hat, Aquazzura heels, and a Gabriella Hearst handbag for the annual Commonwealth Day Service.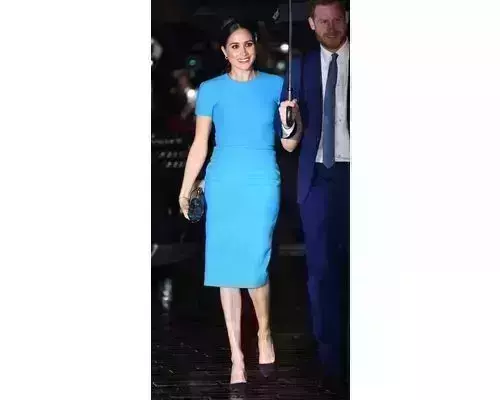 19. Meghan Markle Electrifying Blue Dress
Meghan chose a turquoise Victoria Beckham dress, black pumps, and a Stella McCartney clutch for one of her last public outings as a working royal. The royal couple took part in the annual Endeavour Fund Awards, which recognises wounded service members who employed sports or adventurous tasks to speed up their recuperation.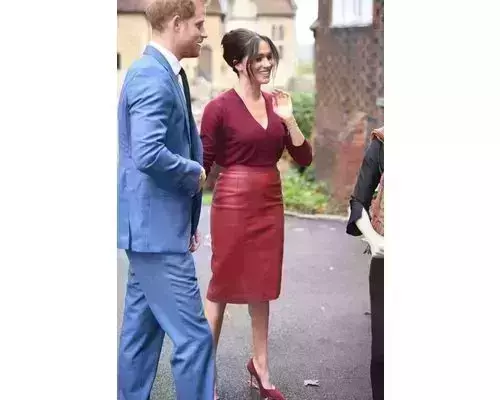 20. Meghan Markle Monochrome Look
For a discussion on gender equality, Meghan opted for a monochromatic ensemble.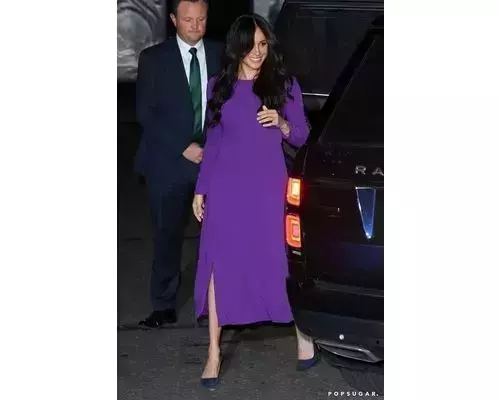 21. Meghan Markle One Young World Summit
Meghan Markle wore a purple Aritzia dress and blue Manolo Blahnik shoes as she arrived at the One Young World Summit.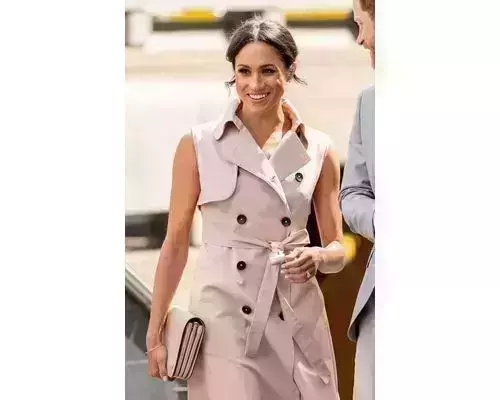 22. Meghan Markle Pink Sleeveless Trench
For a meeting with Graça Machel, the worldwide women's rights activist and widow of the late President Nelson Mandela, Meghan once again donned a pale pink House of Nonie trench dress. She last appeared in this outfit in July 2018. For the event, Meghan also wore revealing pumps and her hair was pulled back in a loose bun.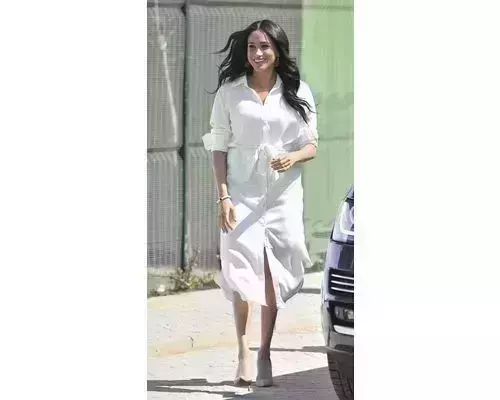 23. Meghan Markle White Shirt Dress
Meghan and Harry visited the Tembisa community outside of Johannesburg as part of their ongoing royal tour. For the occasion, Meghan chose a white shirt dress with neon pink earrings and revealing heels.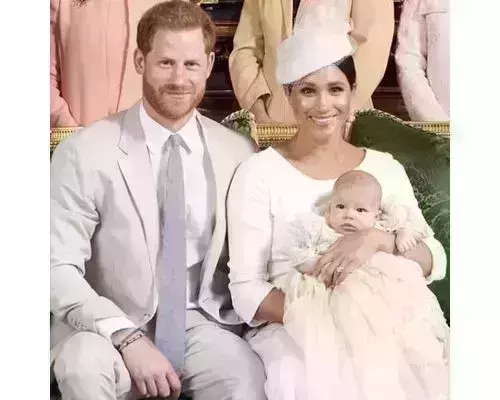 24. Meghan Markle Archie Christening Dress
Meghan attended Archie's christening dressed in a white Dior gown and headpiece.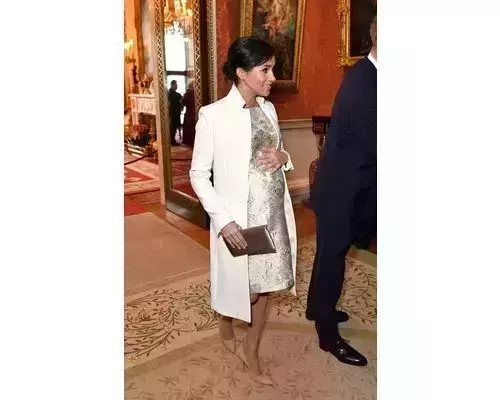 25. Meghan Markle Brocade Dress
For Prince Charles's 50th Anniversary Investiture reception at Buckingham Palace, Meghan Markle wore a metallic brocade dress with a rose gold handbag, bare Paul Andrew heels, and a repurposed Amanda Wakely cream coat.